I am so excited to announce that I am accepting applications for the 2015 Creative Team!!
My goal has always been to deliver amazing content and inspiration to my readers. I am looking to add a few talented people to my team of contributors who would love to share their creativity with the Yellow Bliss Road community. Think you're a good fit? Keep reading!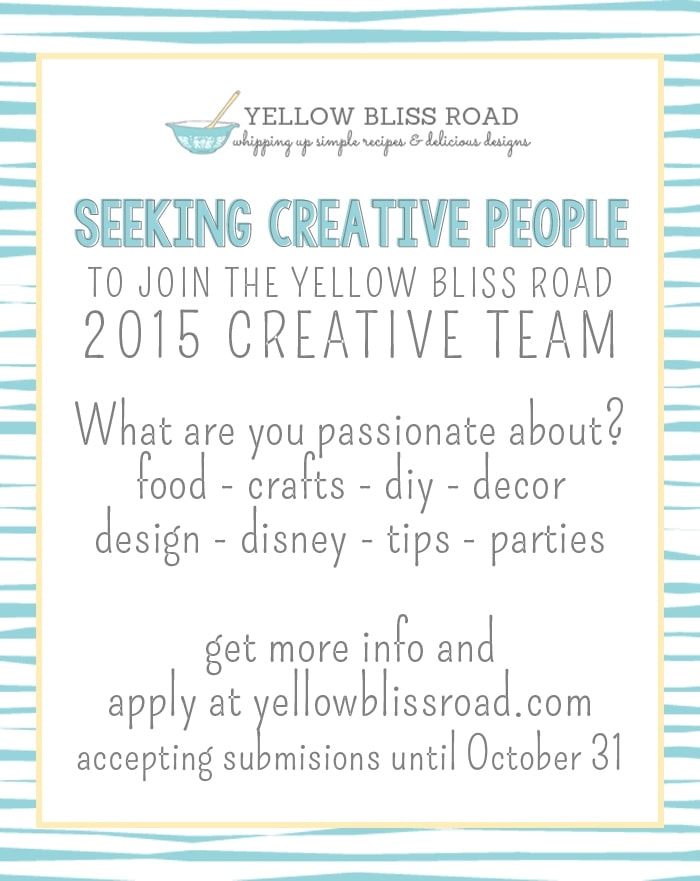 WHAT I'M LOOKING FOR:
Recipes, Crafts/DIY, Tips & Tricks, Kid Friendly Ideas, Printables/Graphic Design, Gift ideas, Party Ideas, Disney Tips, Round Ups
Someone with creative ideas, who is organized and punctual.
Beautiful, clear photos and quality writing skills.
Experience with WordPress and photo editing software is a plus, but not required.
WHAT IS EXPECTED:
One original post each month. (You can repost to your own blog after a waiting period).
Post ideas and content to be delivered on time.
Quality photos and content.
Share your post on your own social media.
Be an active member of our team.
A one year commitment.
THE PERKS:
$$! Yes! You will receive a small compensation for each post that appears on my site.
Access to a Group Pinterest board where you can pin your projects. I love to pin these my biggest group boards!
Your photo and bio at the end of each post and on my contributors page, with links to your blog and social media.
Not only will you gain traffic to your blog, but you'll have to opportunity to showcase your talent to the fabulous readers at Yellow Bliss Road and gain some new friends along the way.
You'll get to participate in our private Facebook group, a place to ask questions and share ideas.
Think this is something you'd be interested in? I'd love for you to apply!
Take your time filling out the form below, and be sure to share your BEST work. I can't wait to meet you!
The deadline for submissions is October 31. New contributors will be notified by November 15. Please note that due to the volume of  applications, I am not be able to respond to everyone.