Orange Coconut Banana Muffins
I am super excited to share these orange coconut banana muffins with you today. They are tender and fluffy with just a hint of citrus. They were definitely a hit with my family!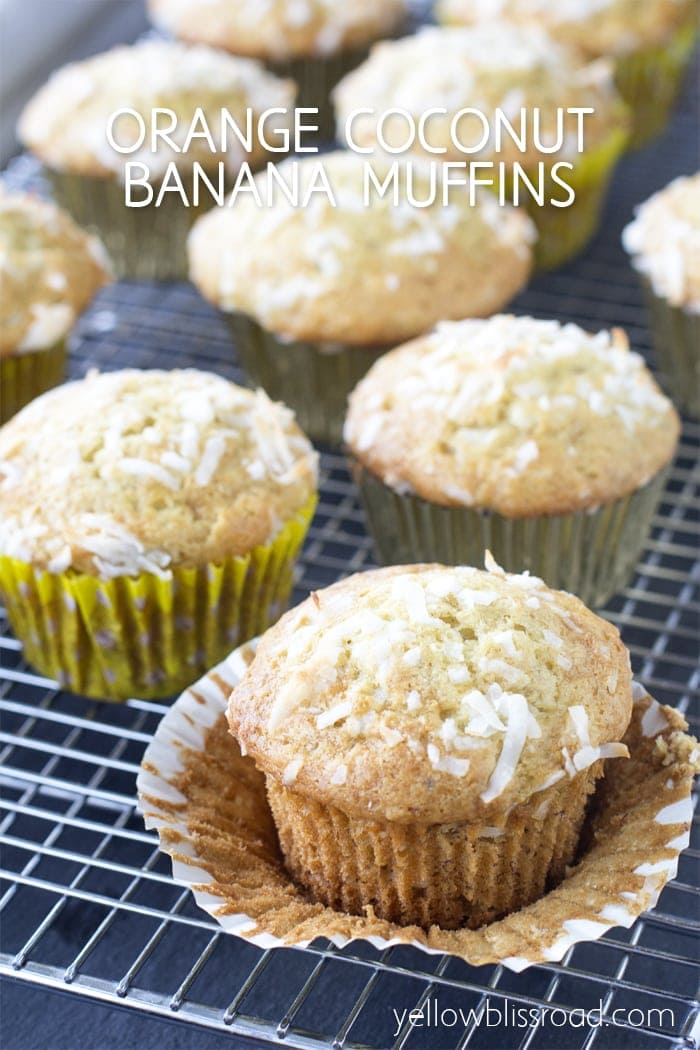 A couple of weeks ago we had a storm. If you follow me on Instagram, you saw this photo I posted of #StormWatch2014. It was the only "real" storm we've had in the past year. It was dark and rainy and just plain nasty out. People get stupid in these storms and do things like go walking in the drainage canals and have to be rescued. Me? I stayed indoors all day, happy to watch the storm from my front porch.
It was the perfect day to bake. I still had some coconut leftover from my Coconut Creme Rice Krispie Treats that I wanted to use up so I thought some coconut muffins were in order. I also had a few bananas that had to be used so I threw them in too. Bananas and coconut go perfectly with orange, so we through a little of that in too.
Thanks to the rainy weekend, it wasn't easy to photograph these bad boys, so imagine that cutting board balancing on the back of the couch, as close to the window as possible, and me with one foot on the cushion and one on the back of the couch trying to get a good shot. I'm sure my neighbors would have gotten quite a show if any of them were brave enough to be out in that downpour.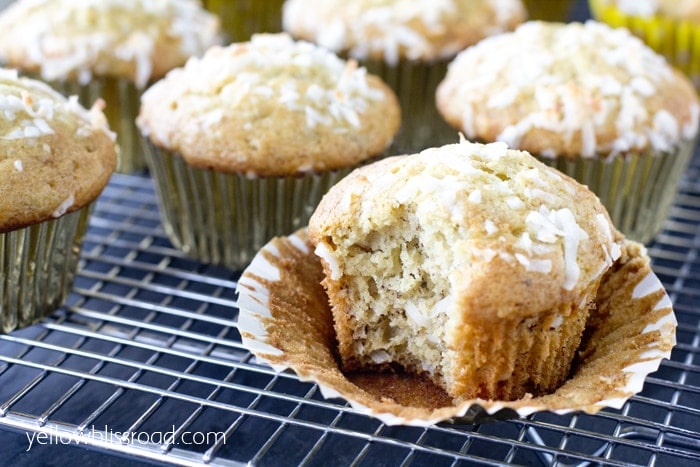 If you've made this recipe, please come back and leave us a star rating or a comment below. Or, tag us on social media @yellowblissroad or #yellowblissroad for a chance to be featured.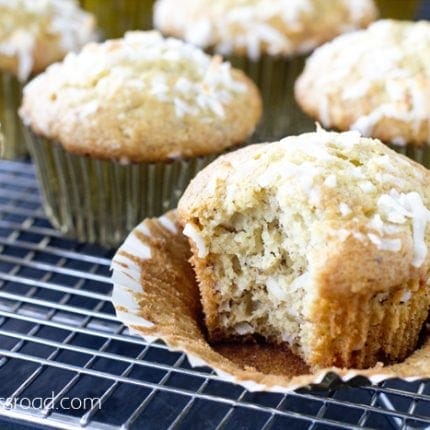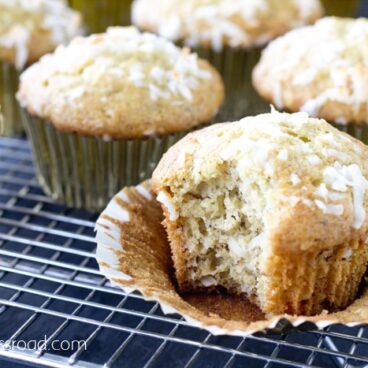 Orange Coconut Banana Muffins
Ingredients
2

cups

flour

3/4

cup

sugar

1

egg

1

tsp

baking soda

1/2

tsp

salt

2

small bananas

1/2

cup

orange juice

1/2

cup

coconut
Instructions
Preheat oven to 350 degrees.

In a large bowl, mix dry ingredients together. Create a well in the center and set aside.

Blend egg, bananas and orange juice for a few seconds in a blender (or mash with a fork and whisk together), then pour into a small bowl.

Pour the banana orange mixtures into dry ingredients and mix just until combined. Fold in coconut.

Place cupcake liners in muffin tins (alternatively, you could simply grease the muffin tins). Fill cupcake liners 2/3 of the way full with batter. An ice cream scoop works perfectly for this.

Bake for about 20 minutes, or until tops are lightly browned and a toothpick inserted into the center comes out clean.
For more great muffin recipes, try these: