How To Organize Your Digital Photos
Hi! I'm Meg from Snap Happy Mom and today I'm going to chat with you about how to organize your digital photos!
Take a minute and think about where all your digital photos are. If you're like most people, they are on random folders on your computer, hanging out on memory cards in drawers, and sitting in your phone. Chaos, right? Instead of spreading everything out, here's how to organize your digital photos! Organizing your photos will give you peace of mind, and help you find things quickly and easily.
Set Up A Basic File Structure
Locate your "Pictures" folder, wherever that may be. Don't just use the desktop; your computer came with a folder called Pictures, so use it!
No matter how crazy your photo organization situation is currently, you're going to want to start with yearly folders. Start with a brand new folder labeled for each year.
Within each year, you'll want to make twelve monthly folders. Add the number as well: 01-January, 02-February, 03-March, etc. This keeps them in order, which will make it easier to find everything.
If you don't take a lot of pictures, you might be able to get away with organizing by seasons instead of the months: 01 Late Winter, 02 Spring, 03 Summer, 04 Fall, 05 Early Winter. I prefer months because the seasons seem to run together, but if twelve separate folders feel like overkill, this might work better for you.
Sort and Organize Into Your System
Now you need to start putting photos in appropriate folders!
I find it most useful to separate pictures by activity, event, or trip within each month. Make folders within the month for each set of pictures you have, and label it with one more date and a description of what's inside. The more pictures you take in a month, the more useful it is to have these folders! No one wants to open up "July" and find 1641 photos to sift through.
Start moving your pictures from all those random places into your file structure. It's going to take some time at first, but you want to clean up the random folders on your desktop that just say "Beach" and "Bday Pics" and put them where they belong! It will be so much easier to identify people and places in the upcoming years.
Systematically work through all the photos you have on your computer, memory cards, and mobile devices. You can add specific folders for "phone pictures" within each month, or add them to an event if that makes more sense. Once you've moved pictures to the correct folder in your file system, delete the empty folders.
Hint: if you can't remember the details about a certain photo, check the date and timestamp on the picture. This should help you identify when it was taken, which usually provides clues as to where as well.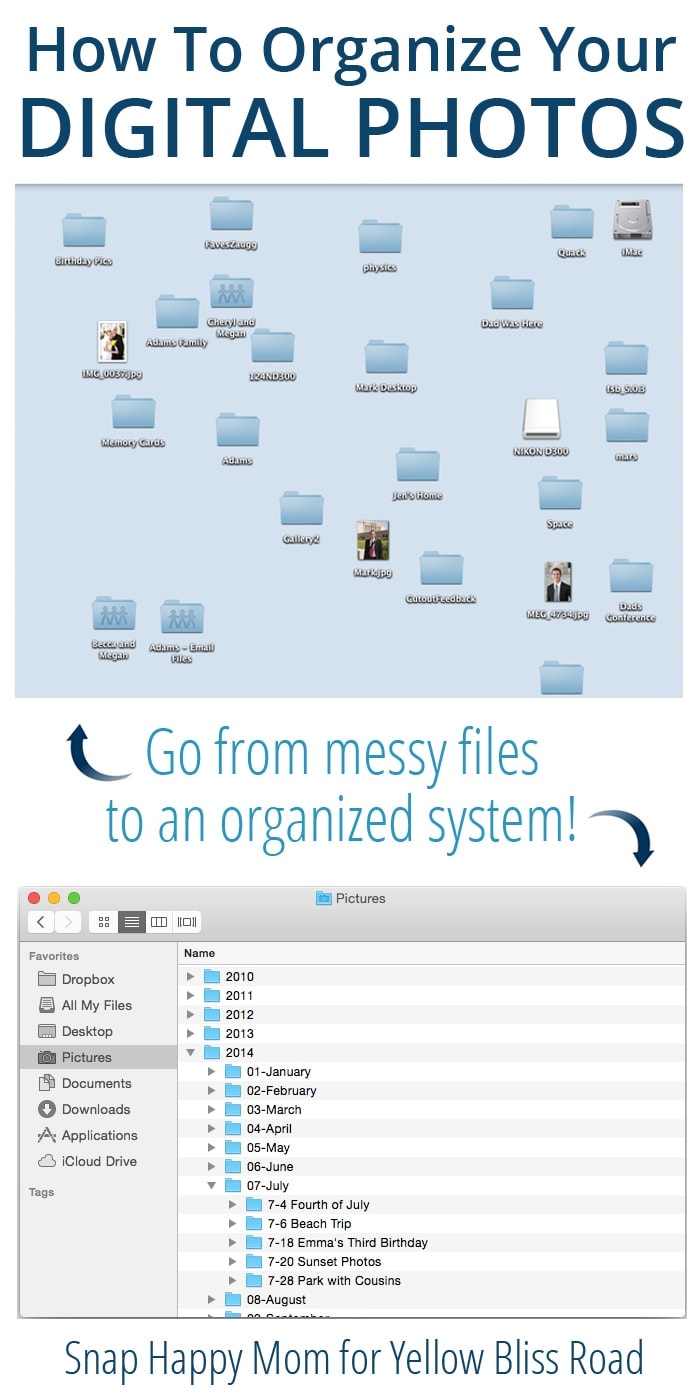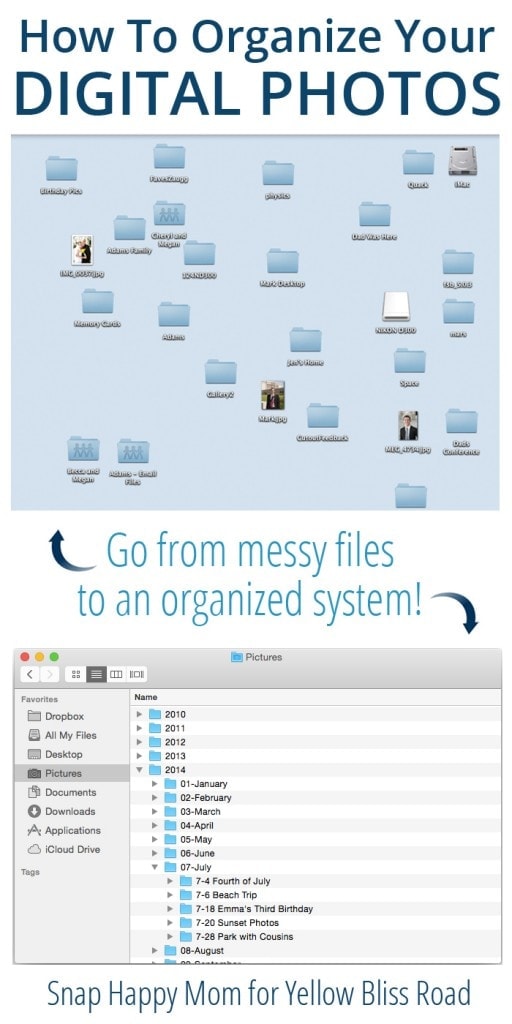 Back It Up Before You Delete
No photo organization system is finished without a plan for how to back it up. Sure, your pictures are now beautifully organized on your computer, but what if it crashed, or you accidentally deleted something? Get copies of those files somewhere else too!
There are lots of options for photo storage but I try to keep my pictures in three different places: currently my actual computer, an external hard drive, and the cloud. You can read about different photo storage options here, but the bottom line is your files need to exist in at least two different places, and preferably three.
Once you have confirmed that your files are properly backed up, you can delete your memory cards and format them, so they are ready to use again. Don't let your precious memories just sit on a card forever.
Keep Using It!
The system described above is a really good, instinctive system for organizing digital photos. It's simple and effective, but it only works if you USE it… you need to KEEP organizing those photos! You can't just do it once, because you're always taking new pictures.
So, every time you import a memory card, you need to sort your photos into your event folders in that month. This shouldn't take long at all – just create folders as you go, and import images straight into those folders. Don't just drop it onto your desktop because you're in a hurry… set a reminder and make clearing off your camera card a weekly habit!
Once the pictures are on my computer and my backup, I delete/format my memory card so it's ready to use again. No more worries about whether or not a card has been imported!
The beauty of a system like this is that your actual photos are organized, and you can direct your editing software to those organized folders! Programs like Picasa, iPhoto, Lightroom, and Aperture can all play nice with an organization structure like this: just set the program to leave the files in their original locations, instead of moving them into that program's specific library. This also allows for easy transitions to new software as your technology changes; your files are still exactly where you put them, and you don't have to fiddle with getting photos "out" of a dated program.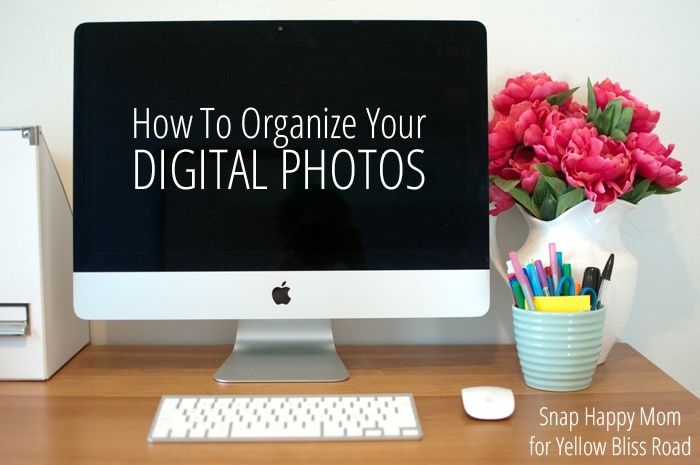 It's totally possibly to have organized digital photos, with minimal maintenance effort. It will take a little while at first, but remember you're setting up a good system that will serve you for years!