Packing Tips for Family Vacations
Packing for a family vacation can be a daunting, exhausting task. Whether you're embarking on a month-long journey or a quick weekend road-trip, being prepared and having a plan will help save your sanity and let you enjoy your vacation from start to finish. We've got all kinds of tips for you, from what to pack, to how to pack, to avoiding spills and messes in your luggage while you travel.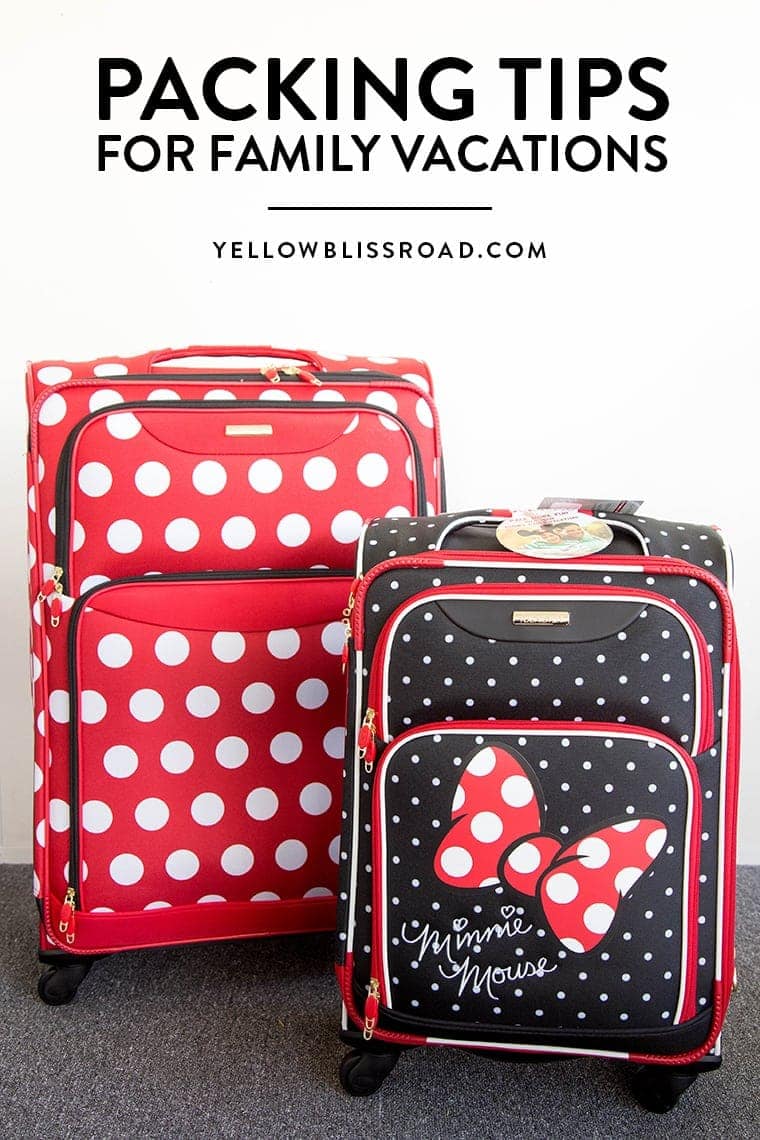 I remember my grandma used to take a month long trip to Germany to visit her sisters every other year. She would start packing no less than 3 weeks in advance! Three weeks!! I always thought she was crazy but as I now am responsible for packing for not only myself but my two children as well, I have realized the benefits of having an efficient packing plan in place. Here are several of my best tips for packing for your family vacation.
Make a packing list. I have an Excel spreadsheet template that I reuse so the basics are already filled in. Or you can simply write them down as you get ready to pack them. Keep a copy in your suitcase as you are packing (to make sure everything comes home with you) and keep another in your carry-on in case your luggage goes missing. You can print one list for each member of your family or have one master list. Create your list in Word or Excel or search out a free printable, like this Printable Packing List from Kristi at I Should Be Mopping the Floor: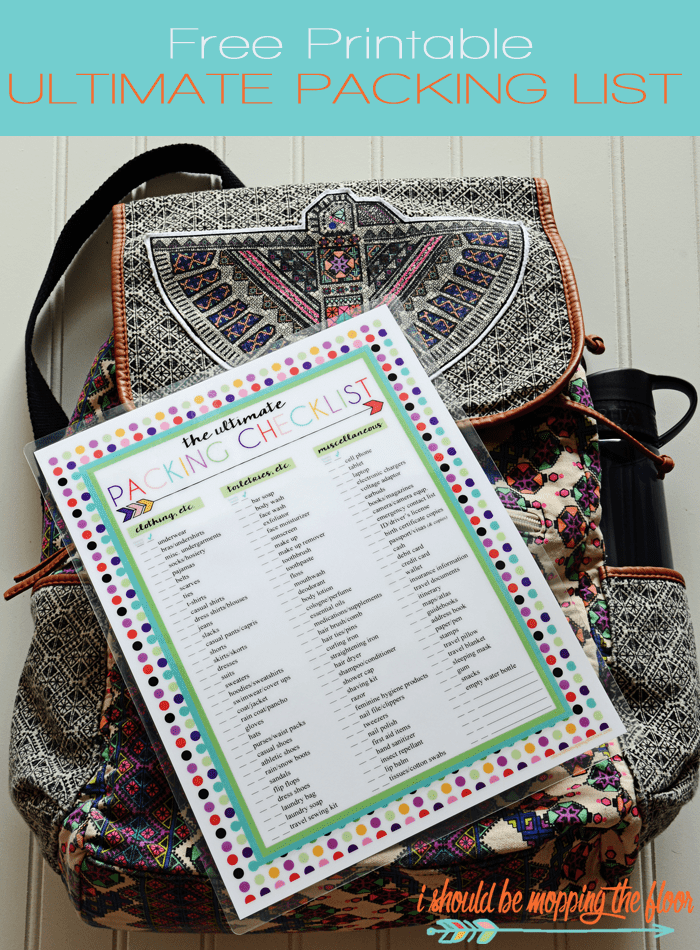 Coordinate your colors. Choose a few basic colors, for example, white and blue. Three to four shirts, both long and short-sleeved, a button-front shirt that can double as a lightweight layer, two pairs of pants, shorts and a skirt (mix these up depending on your preference). Add a third color, like red or pink, for contrast.
Pack light and layer. If you coordinate your three colors you should be able to easily mix and match. Bring a jacket or sweater of a weight that will be comfortable at your destination. A swimsuit if you're going somewhere warm. A Tankini can double as a tank top. You could even create a list for each day to keep track of what you've already worn, so as not to repeat outfits.
Roll your clothes. Packing is more compact and your clothes don't wrinkle. If you have a bulky item, don't invest in those expensive vacuum seal kits. Grab a ziploc bag (you may need the jumbo size) and sit on it as you slide it closed. Magically flat and it doesn't wrinkle! This is especially great for those princess dresses your little girls' may want to bring for a trip to Disney World. If you are going on a shorter trip leave your shirts on hangers and carefully fold onto the top layer of your suitcase. When you get to your destination, voilá, everything hangs up in a jiffy.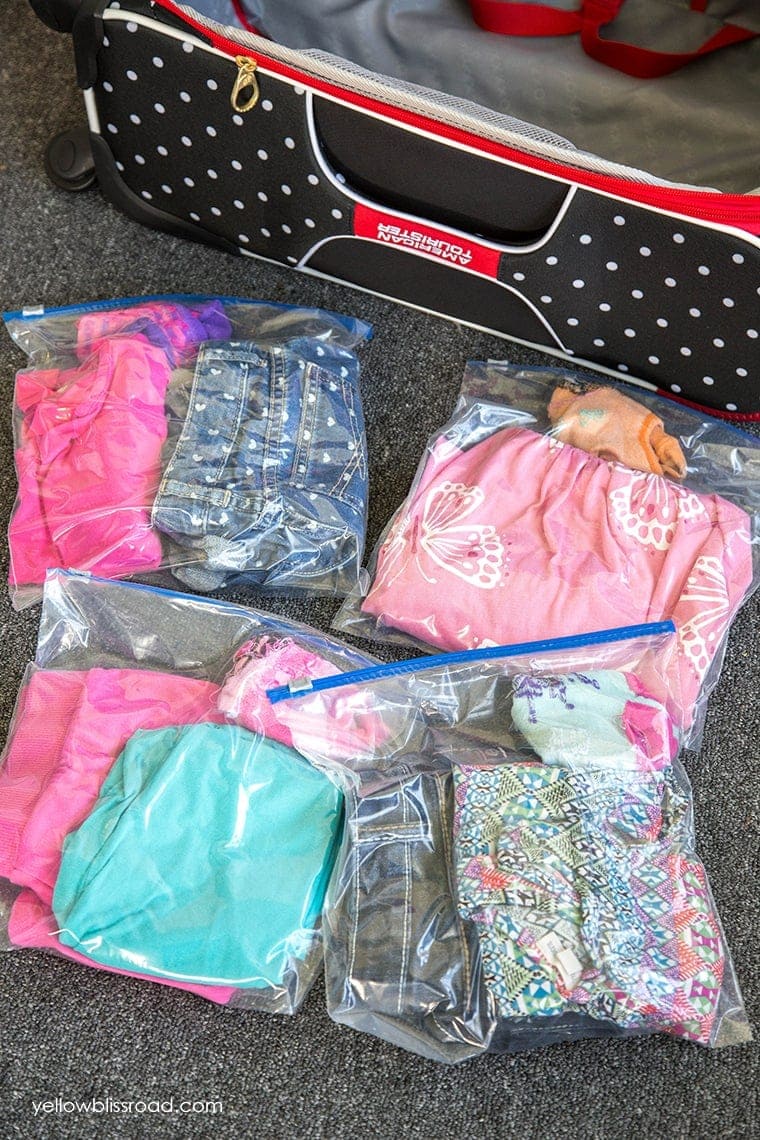 Pack kids outfits in individual plastic zipped bags. I set out my kids clothes by outfits, then placed each outfit in a gallon-sized Ziploc bag. Then I squeezed out as much air as possible before sealing it. Each child had 7 outfits ready to go, and when we arrived I could just toss the bags into a drawer for them. Then all they had to do was pull out a bag for the day. I put each kids' socks in one bag, and underwear in another (depending on the size of the clothing, socks and underwear can go in the same bag as the outfits). This is especially helpful if you are traveling to multiple destinations – you don't have to unpack your entire suitcase to find their clothes, and they don't have to rummage through, making a mess of your perfectly packed bag! (Bonus tip – save these bags and put the dirty clothes back at the end of the day. Dirty clothes are ready to go in the laundry when you return home, and you keep them from stinking up your luggage).
Pack a pop-up hamper. Purchase an inexpensive collapsible hamper like this one to bring to have in your hotel room. It folds flat so doesn't take up much space, and it's useful for keeping everyone's laundry in one place. If your destination is equipped with laundry facilities, these hampers usually have straps to make it easy to carry. (Bonus tip – do an online search for free samples of laundry detergent, or purchase the sample sizes before you go. They will be much cheaper than buying from the hotel laundromat).
Pack lots of Ziploc Bags. I use ziploc bags for everything from shampoo, to makeup to bath products. They are cheap, keep items organized, and prevent leaks into your luggage. I also pack several sizes of empty ziploc bags for storing wet clothing/bathing suits, collections of things like rocks and seashells, and for packing food for day trips. (Bonus tip – an empty trash bag can also be useful for collecting laundry or covering your luggage or backpack in case of rain).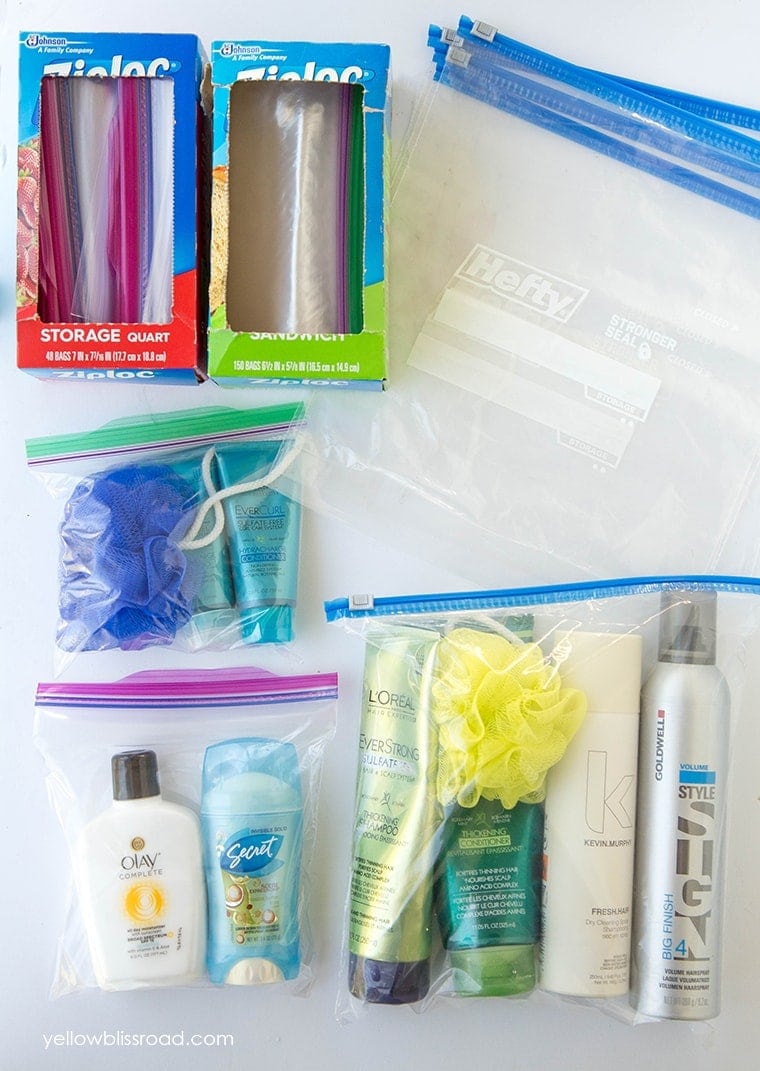 Seal bottles with plastic wrap. If you have bottles such as shampoo, hairspray, etc. that have screw on caps, place a layer of plastic wrap over the bottle before screwing on the cap. The bag is sealed and won't leak into your luggage.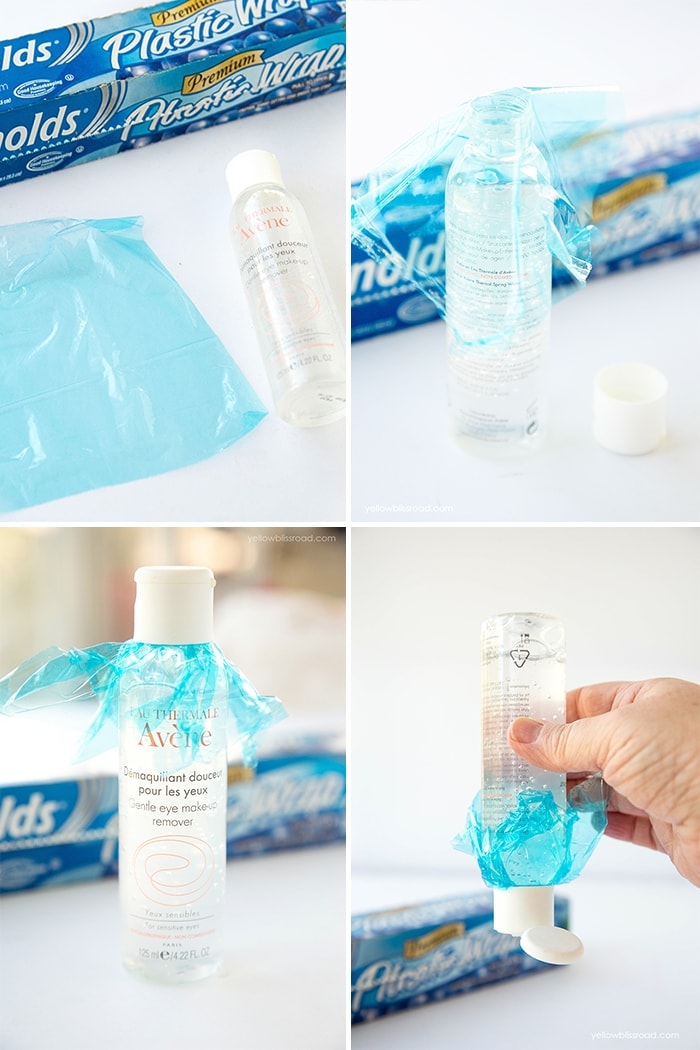 Save those near-empty bottles of shampoo, toothpaste, etc. I try to be aware of everyday items we are starting to run low on, especially when we are nearing a vacation. This includes toothpaste, shampoo/conditioner, body wash, deodorant, etc. Instead of spending money on refillable bottles or travel sized items, I save the near empty bottles and tubes and pack them for our trip. Then I can throw them away before we head home, leaving more room in my luggage for souvenirs!
For your flight…
Bring a wide-mouth water bottle. You can fill it up at a drinking fountain after you go through airport security. Dump it out before you board the plane and ask the flight attendant to fill it with ice and water. You only need it filled once and now it's in a spill-proof container. These Kate Spade Water Bottles are adorable, and would definitely make you want to drink your water.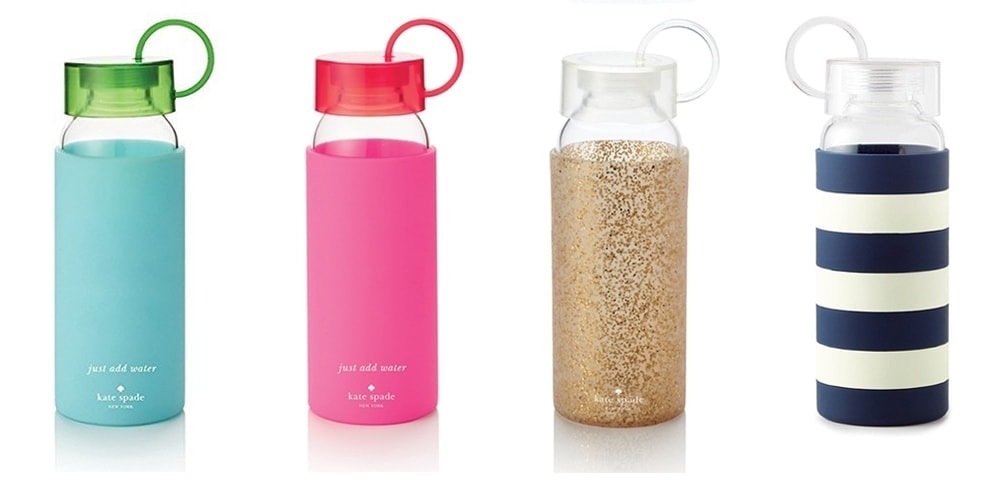 Pack extra clothes in each carry-on. The first time I flew with my then 2-year old son, he threw up all over himself AND me. Thankfully, I had packed an extra set of clothing and sandals in our carry-ons. Since this was right before we landed, I was able to exit the plane and head to the family restroom to get us cleaned up. (Bonus tip – always have a barf bag ready. You never know when you might need it!).
Perhaps the most important tip I can give you – don't over-stress about what you forgot. Chances are you can buy it when you get there! But if you are prepared, you probably won't have to.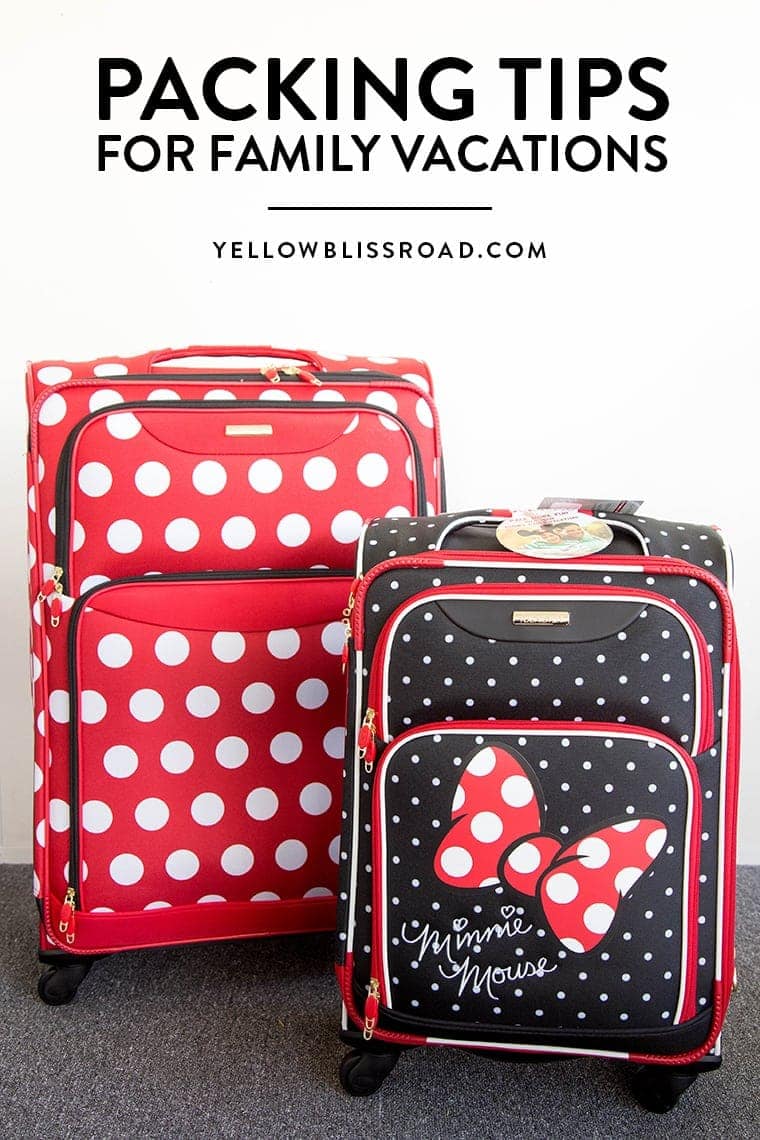 Of course, adorable luggage is a must, and brightly colored luggage makes it easier to spot your bags on the conveyor at the airport! Featured in this post: Disney themed luggage from American Tourister. I was provided with a set of luggage in exchange for sharing my experience. I'll be sharing more about this awesome luggage in another upcoming post.
Here are some more travel tips you might enjoy:
14 Tips to Make the Most of Your Disney Cruise

How to Survive a Road Trip with Kids

Top 7 Reasons to Stay at the Disneyland Hotel