Patriotic Vintage Book Page Wreath
Red, white and blue decor and crafts are popping up everywhere this time of year. If you're looking for something patriotic to add to your home, this easy vintage book page wreath adds some vintage charm to your Americana decor.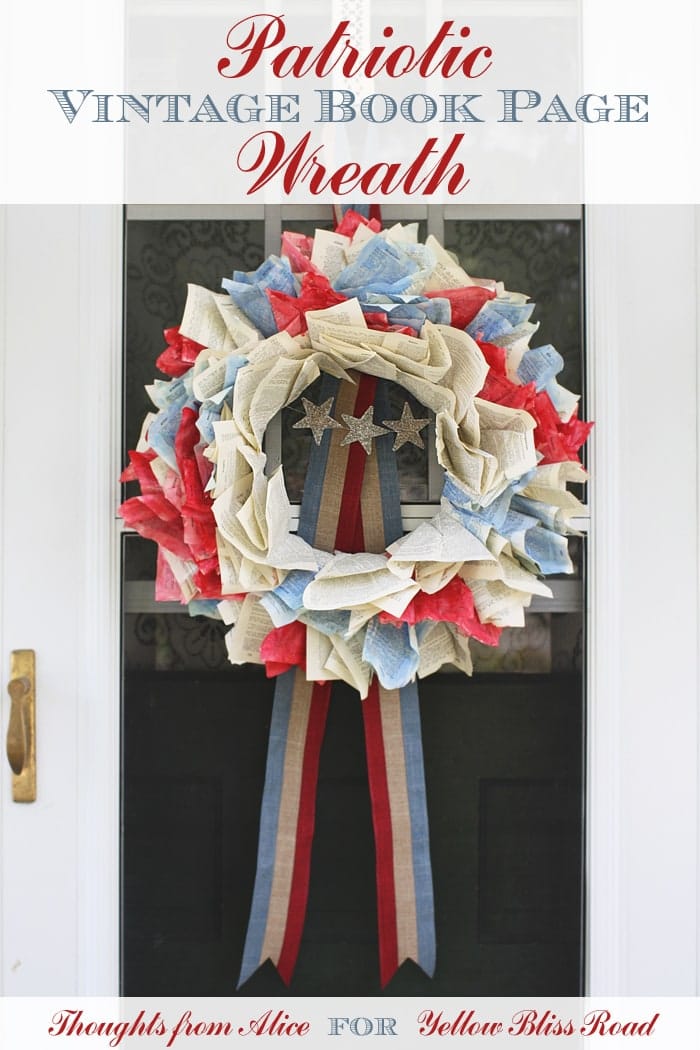 Hi there! I am Alice W. from Thoughts from Alice, and I am so thrilled to be here as part of Kristin's Creative Team! I have an easy and fun tutorial for you today just in time for Memorial Day and the Fourth of July. My style is eclectic, vintage-inspired, and I especially love working with paper and ephemera. I have made several crafts and wreaths, in a similar style, with coffee filters (such as my Coffee Filter Angel Wings) but decided to change things up for this project. This wreath is perfect for those who also love anything vintage and crafts that are a bit "out of the box."
This wreath is not your typical, but it certainly makes a creative and patriotic statement.
Supplies you will need:
-styrofoam wreath (or something similar)
-several vintage book pages (I used vintage dictionary pages)
-red & blue food coloring or dye (I also used acrylic paint to enhance the color once it was finished)
-patriotic ribbon (I used 2 1/2″ wide "Simply Patriotic Wired Ribbon" by Nicole™)
-glittered stars and wire (This step is optional if you want to embellish at the end. Do a search for glittered stars on Etsy, under "supplies," and you should find some!)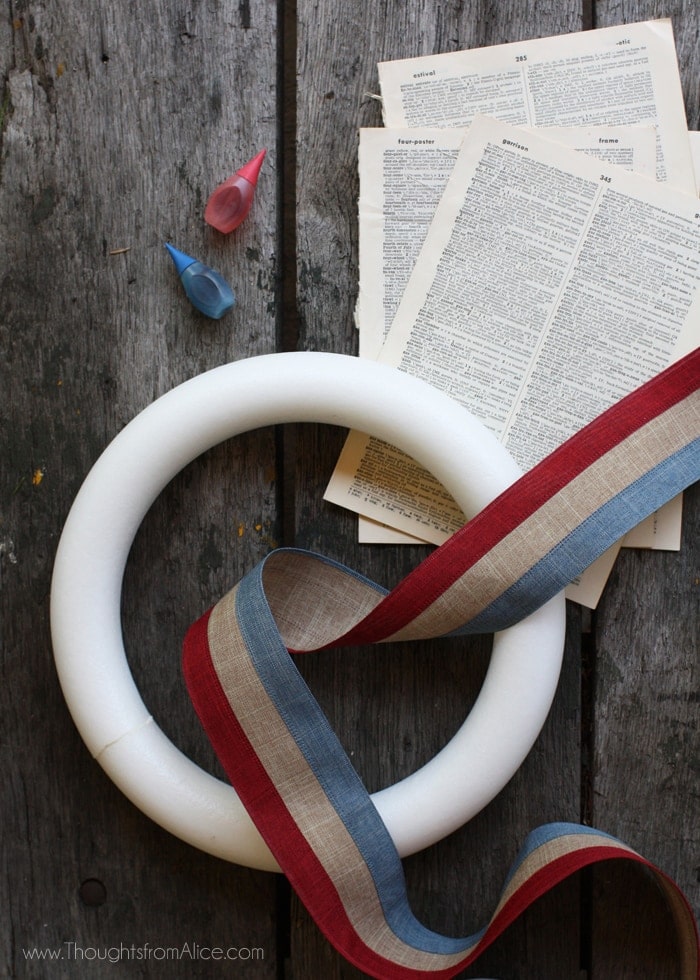 Begin by folding several pages by pinching near the middle.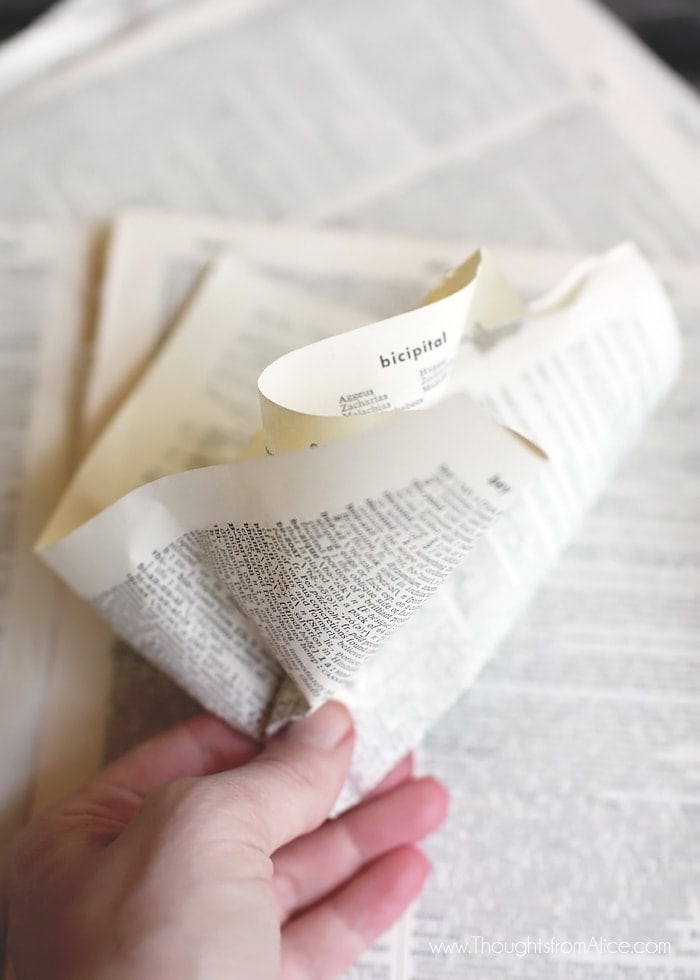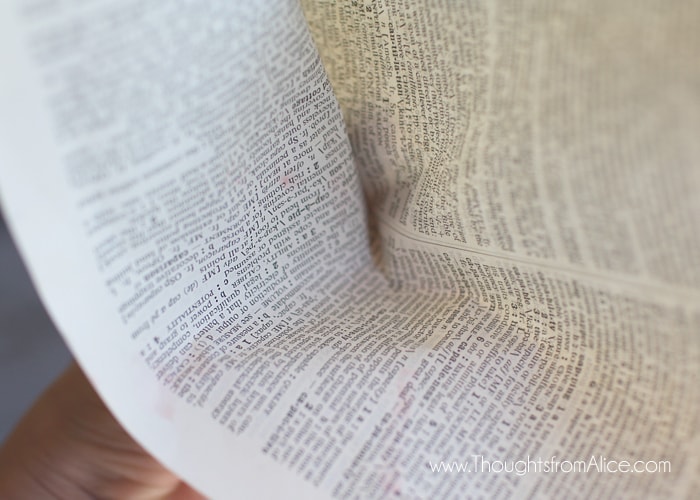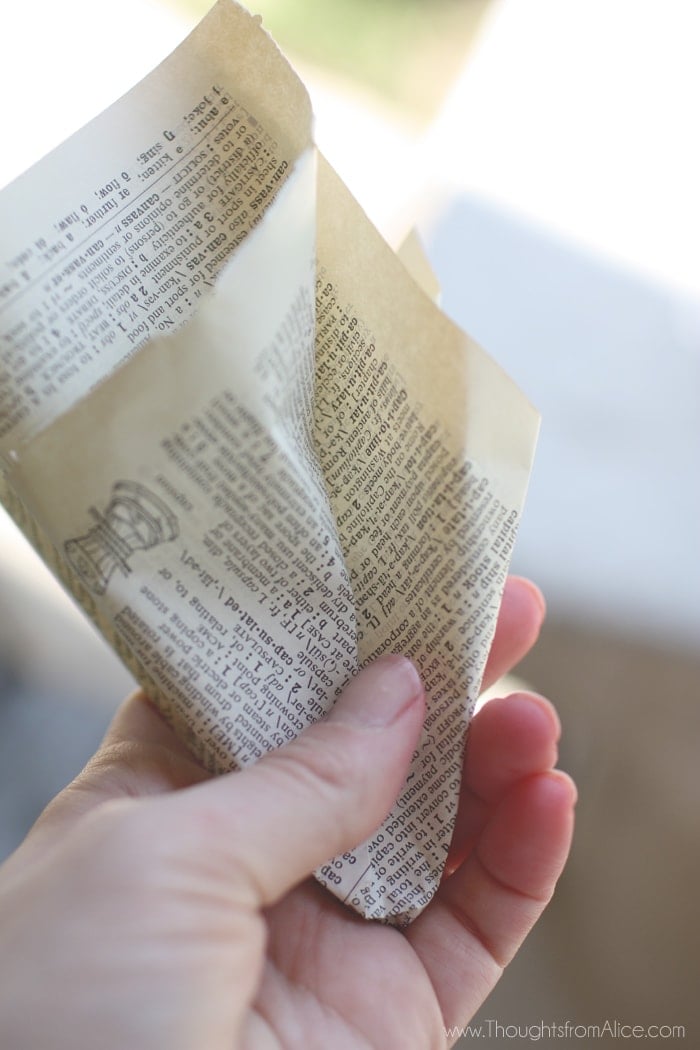 Next, dip several of the pages (approximately 12-15) into the red dye and set aside to dry.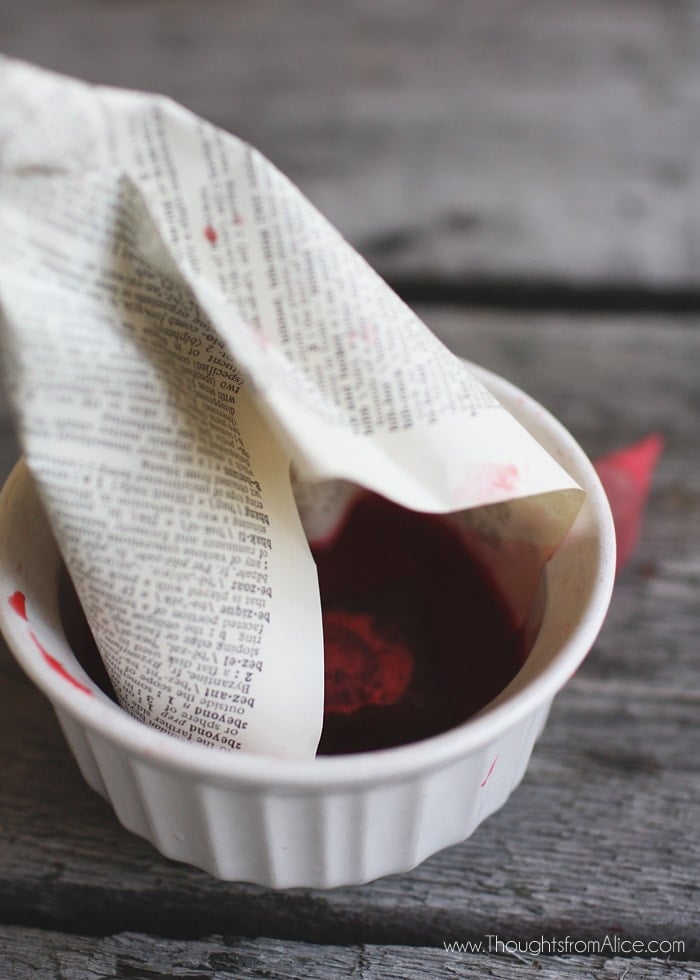 I was able to place mine in the sun, so they dried quickly. At this point, I wasn't too concerned about how the dye bled onto the pages. This is more of an artistic, free-form wreath, and I try not to get too perfect with crafts like this.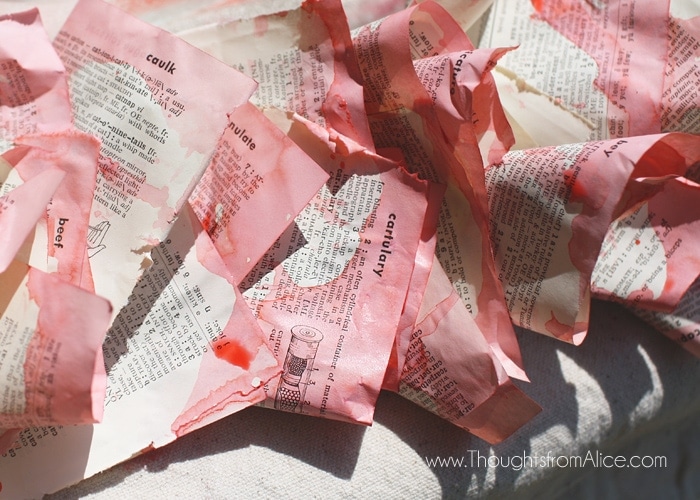 Do the same with the blue food coloring or dye (again to about 12-15 pages). Then allow all of the pages to dry.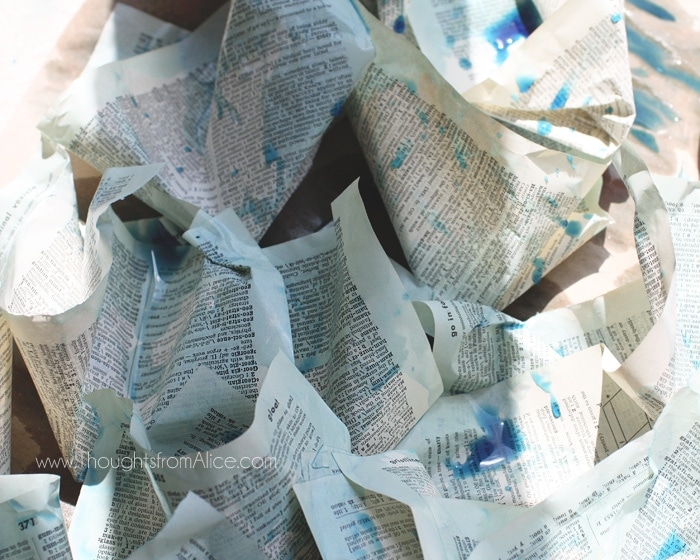 Next, pinch several more pages that will not be dyed. The amount depends on how full you want the wreath to be, but in my opinion, the more the better!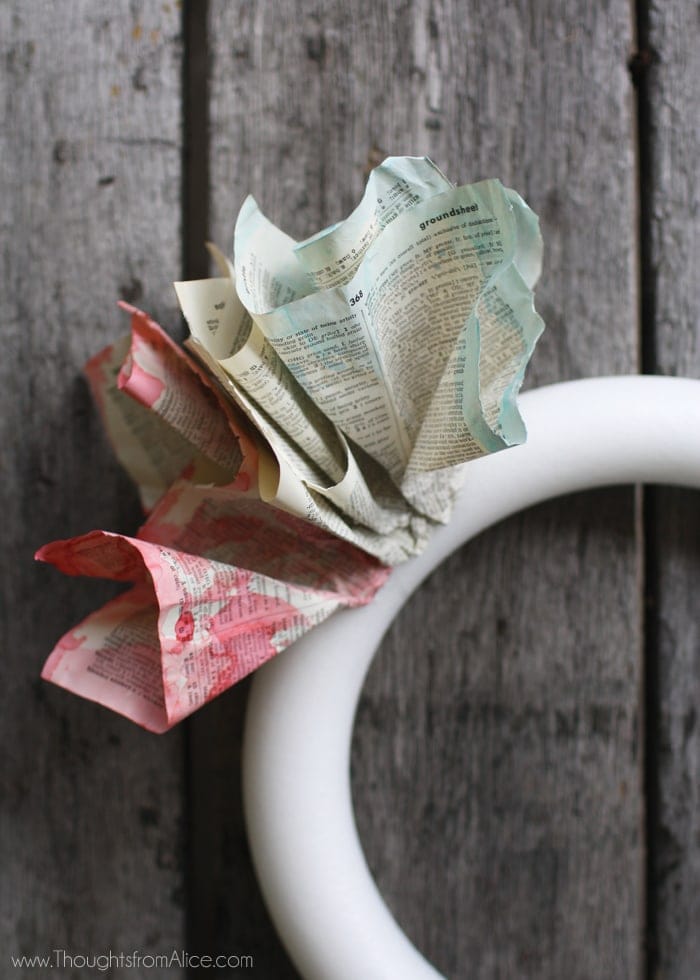 Now, you are ready to start adding them to the styrofoam wreath. I used a glue gun to attach each folded sheet and began with the outside edge. I tried to stick to the following pattern as I glued: white-red-white-blue-white-red-white-blue, and so on (so there is a white sheet in between each red and blue).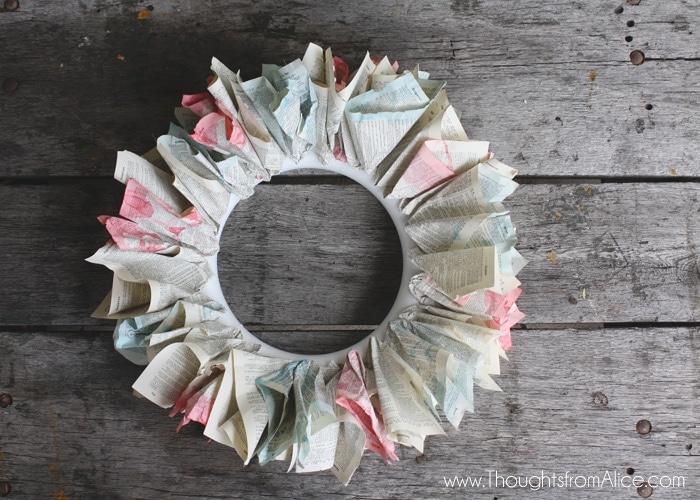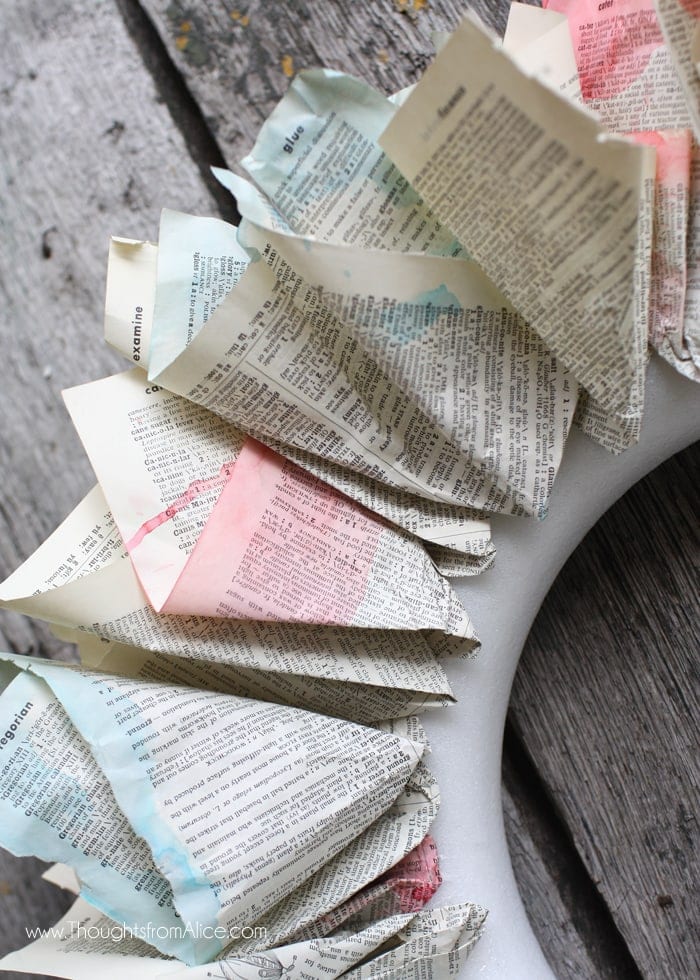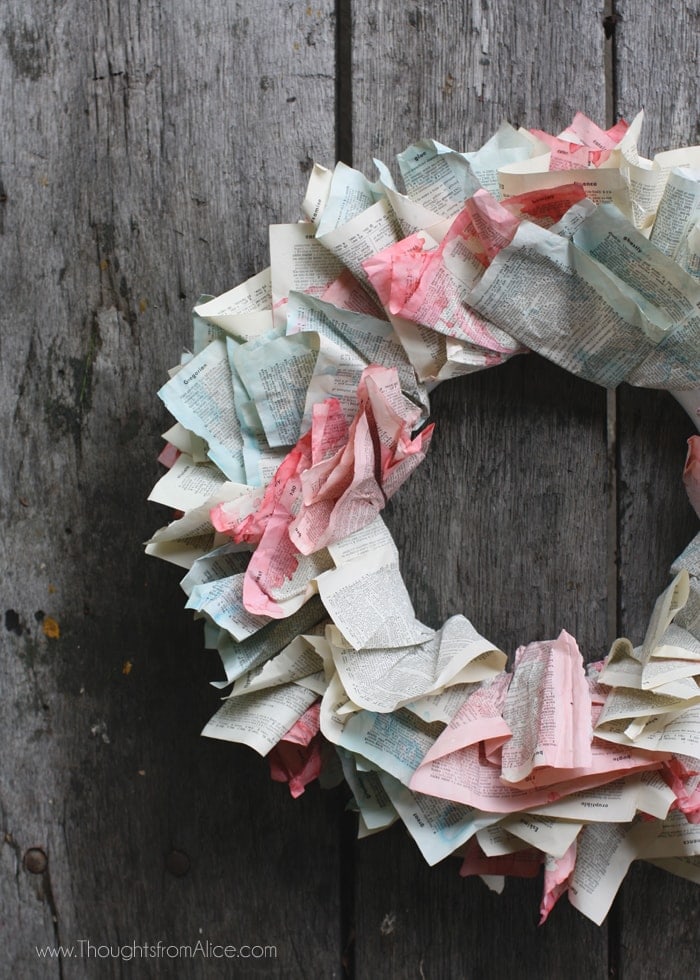 For the next row, I didn't have as many colored sheets left, so I started with those first, making sure to place them at equal distance apart and then filling in all the gaps with several white sheets. I did one final row of all white sheets around the very inside. You could do as many of each color as you like, depending on how many sheets you dye.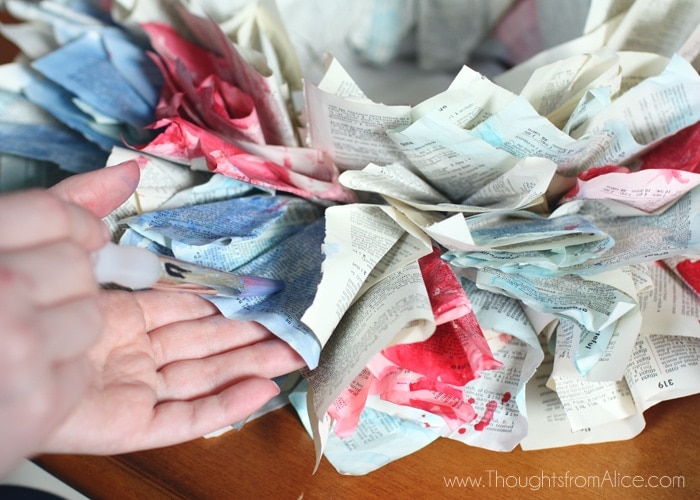 Many of the projects that I do, end up having a bit of trial and error and this one was no exception. Once all of the pages were attached, I was disappointed that the food coloring was not as vibrant as I had hoped, so I decided to improvise by getting out some acrylic paint. I mixed the paint with a decent amount of water and then carefully painted the colored sheets. Adding lots of water to the paint helps it to bleed into the paper smoothly and easily. Doing that definitely made the red and blue pop! In the end it has a watercolor effect.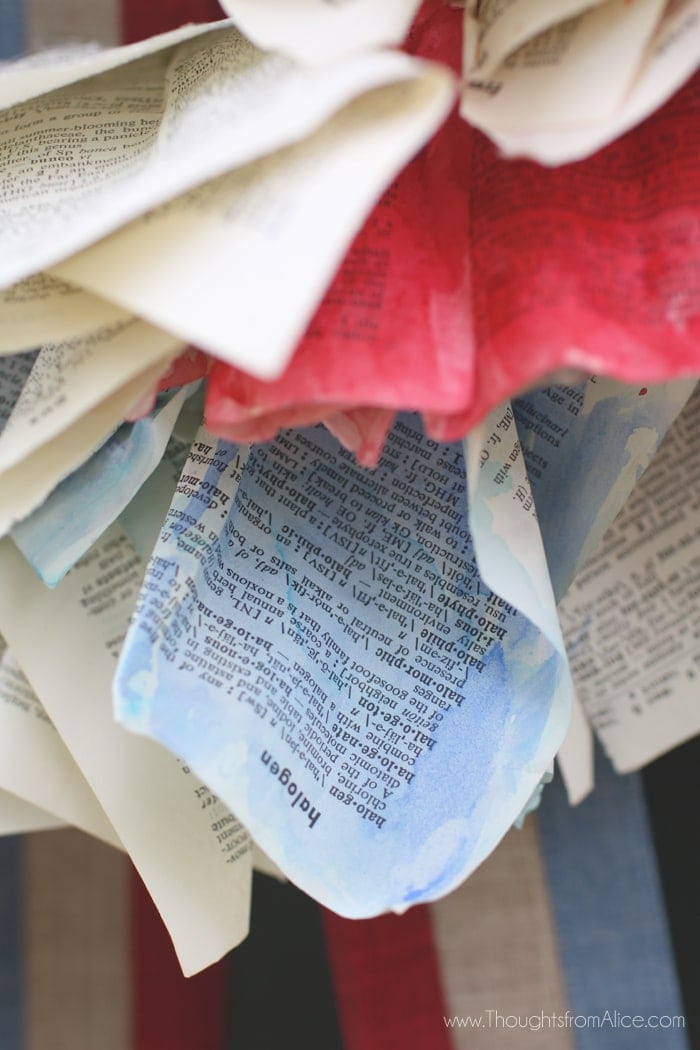 Another way that you could simplify this wreath would be to paint the sheets prior to folding and let them dry or replace the dyed/painted sheets with red and blue tissue paper mixed with the book pages.
To hang the wreath, I cut a very long strip of the patriotic ribbon, and glued it to the back. To do this simply overlap one side of the ribbon over the other (forming a loop at the top about 8-12″ long), glue the two pieces together and then glue that to the top of the wreath on the back.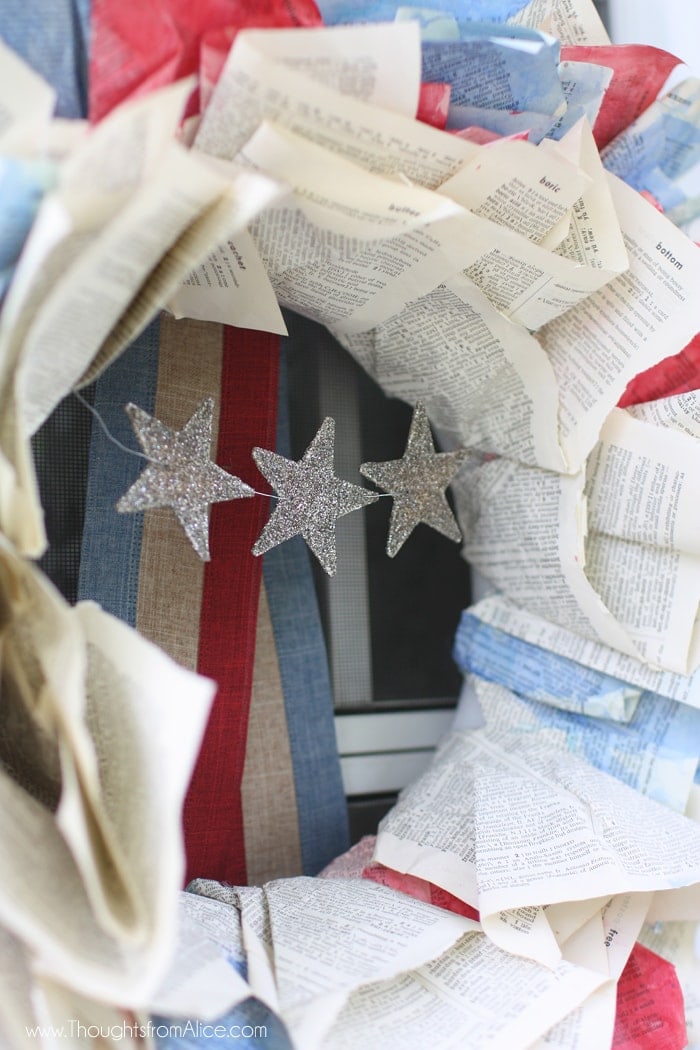 For a final embellishment, I added three silver glittered stars, wired together, and then attached the wire by carefully poking it through the book pages.
And voila! Hang up and enjoy. Of course, being a paper wreath, this is more of an indoor decoration unless you have a well covered spot to display it outdoors. Unless it is a very sunny day with no chance of inclement weather!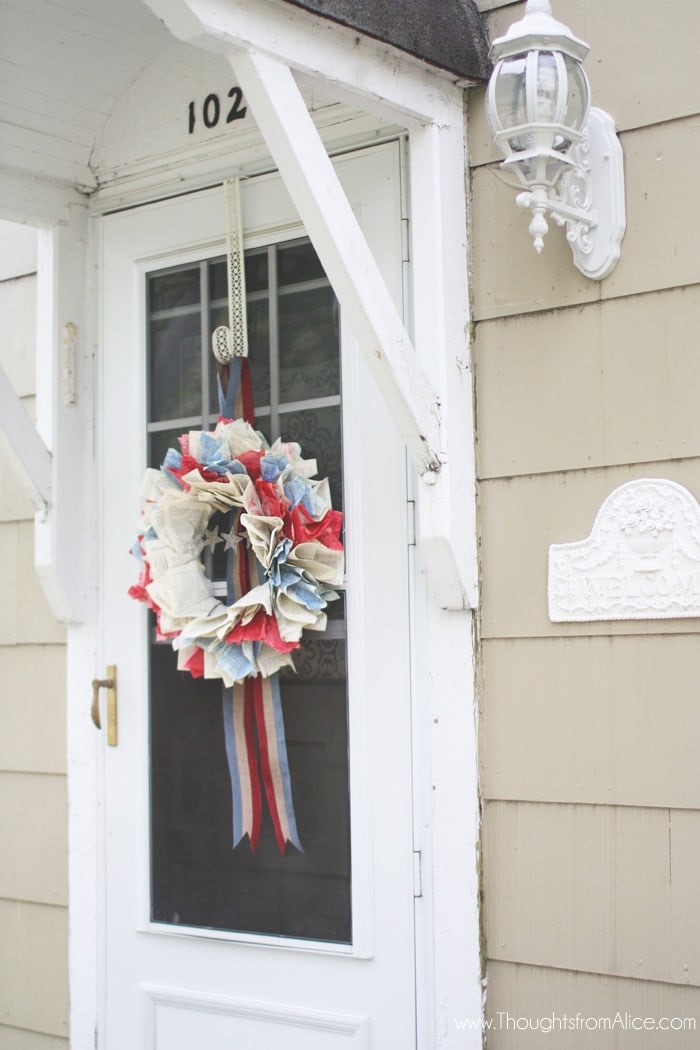 I hope you enjoyed this tutorial and will visit me over at my blog and follow along with me on Facebook or Twitter to stay up to date with my current posts.
Wishing you all a very Happy Memorial Day weekend, and I am looking forward to sharing with you again soon!
Till next time…
~Alice W.
 ___________
Alice, this is gorgeous! I love that you think outside of the box and create beautiful things. I'm definitely going to have to try this technique!
For more patriotic decor, be sure to check these out: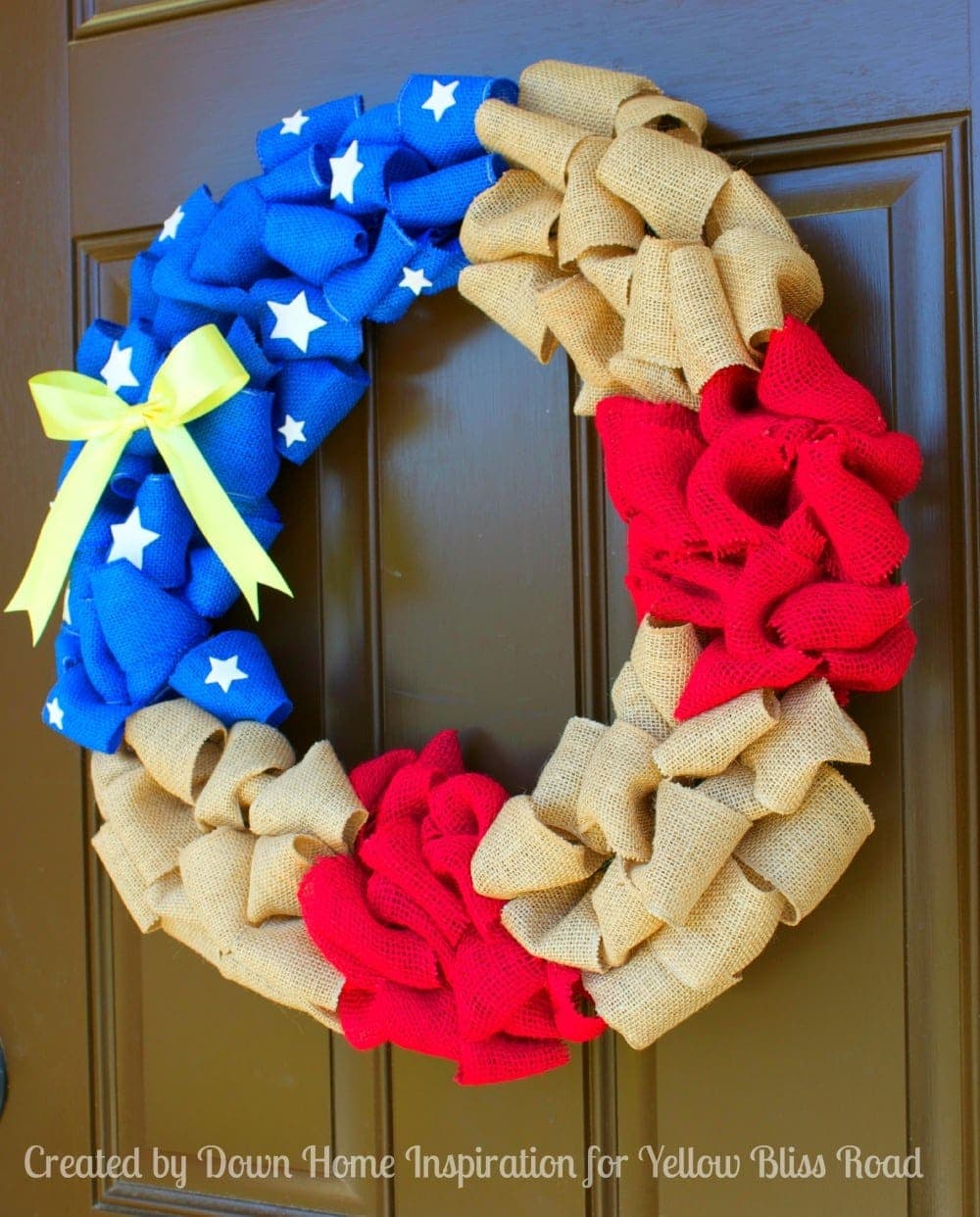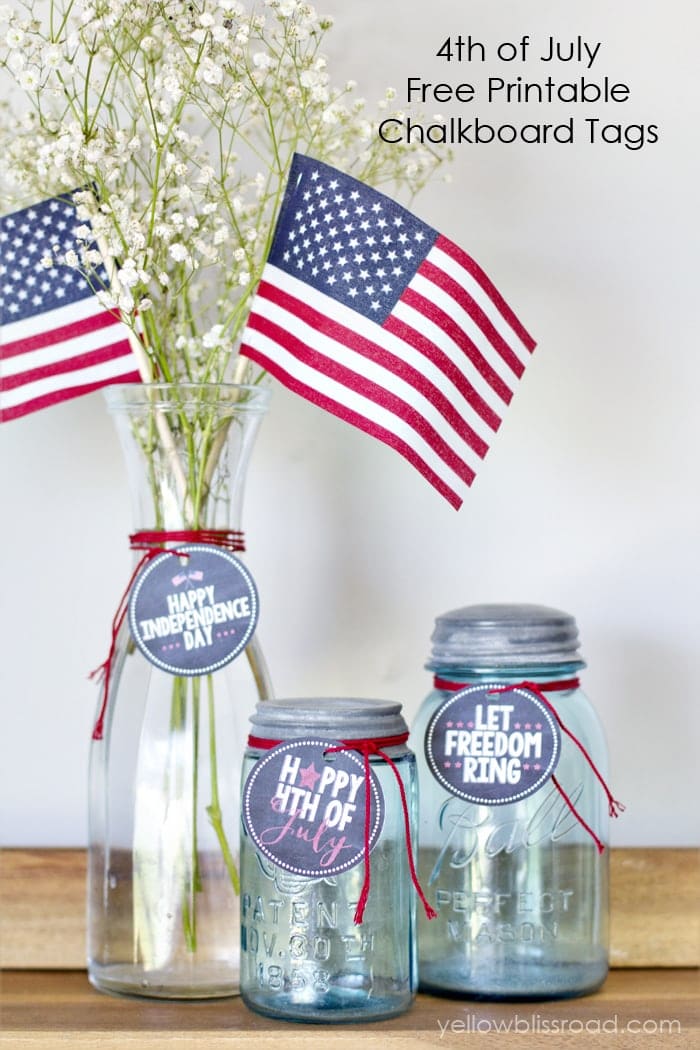 Free Printable Chalkboard Tags
For lots more ideas for summer, go here.
For all holidays and seasons, go here.