Perfect Autumn Pancakes with Apple Cider, Pumpkin and Pecans
I made pancakes today.
Not just any pancakes. The perfect autumn pancake. Filled with the flavors of fall – apple cider, cinnamon, pumpkin, pecans…and man were they good! I'd love to also say that they were completely from scratch, but this momma ain't got time for that!
But that sweet cinnamon whipped cream on top – totally from scratch and so stinkin' easy!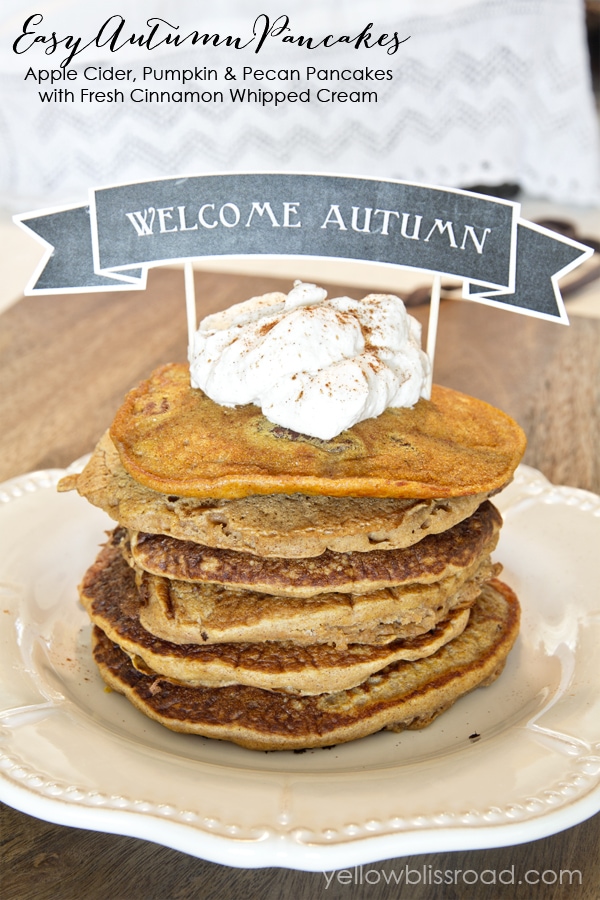 Easy Autumn Pancakes
2 cups pancake mix (the just add water kind)
6 tbsp pureed pumpkin (the canned stuff works perfectly)
2 tsp cinnamon
½ cup chopped pecans
1 ⅓ cups apple cider
1. Gently mix ingredients together. Don't over-mix unless you like flat pancakes.
2. If batter is too thick, add one tablespoon of water at a time until you are happy with the consistency.
3. Pour about ⅓ cup batter onto a greased skillet and flip when cute little bubbles start popping up.
This should make about eight good sized pancakes, but it all depends on how much batter you use.
Fresh Cinnamon Whipped Cream
1 cup Heavy Whipping Cream
¼ cup of powdered sugar
1 tsp cinnamon
1 tsp vanilla (optional)
Now you guys, this is the fun part. Well, the work out part anyway. Just pour everything into a bowl and start whisking. A lot. Ok, it didn't really take that long – maybe a minute or two. But it is so good!
The key is to use a metal whisk and a metal bowl, and to place everything, even the cream, in the freezer for a good ten to twenty minutes before whipping it. Trust me on this one – you'll thank me later!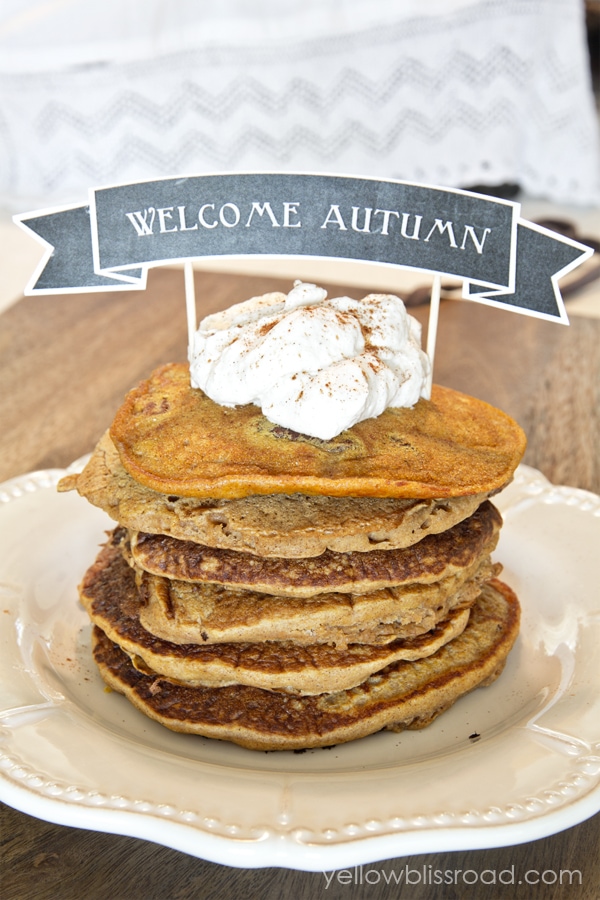 See that cute little sign on top of that lovely stack of delicious pancakes? They're part of a super fun autumn breakfast table that you can come back tomorrow to see – and you'll be able to download that printable banner, and a bunch more so you can plan your own fabulous fall meal!
If you liked this recipe, you might also enjoy: