Thanks to World Market for sponsoring this post.
For the past week or so, I have been working with the daycare at my children's school to help update their room. As with most schools, there isn't much money left over for decorating, so while the teachers are amazing and keep the kids very busy with tons of activities, the room's decor and design leaves much to be desired. So we have put together a game plan and with the help of World Market, we are going to make it happen!
Here's a little inspiration board I put together to help get the ball rolling. Since there are multiple ages that use this space, I thought it fitting to look at styling the room in such a way that it would be a cozy space for all ages. I thought I'd share a few tips for creating a play space that not only fits into your home, but will grow with your children. Who wants to have to change things up every year, right?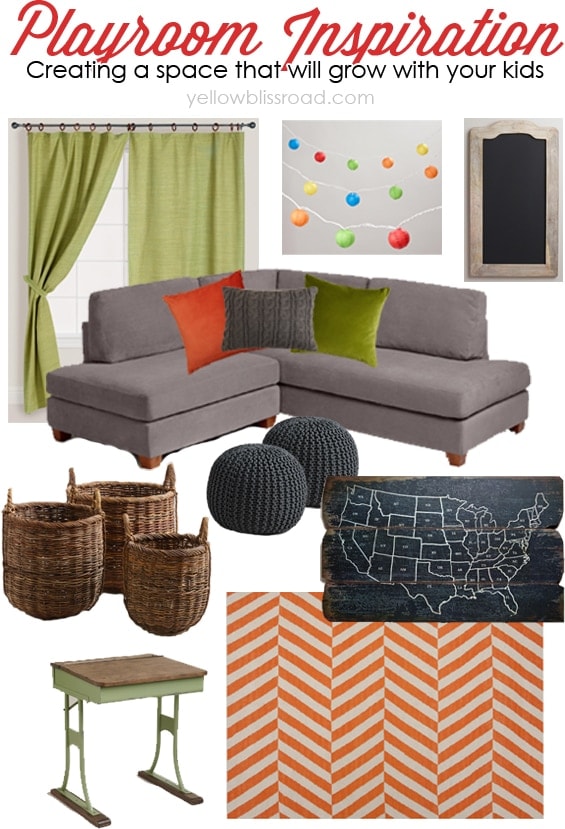 Curtains / String Lights / Chalkboard / Sofa / Pillows / Baskets / Poufs / Map / Desk / Rug 
Here are a few tips for designing a cozy space that will fit children of all ages.
1) Soft, cozy seating. A cozy sofa or sectional with lots of pillows will provide a great space for movie watching. Add floor pillows or large poufs for extra seating when friends come to visit.
2) Storage. Toys will need homes, and large baskets are the perfect place to conceal them.
3) Bright colors. Rugs, curtains and pillows are great ways to add color to any space.
4) Space to be creative. Make sure there is a table or desk where children can color, do puzzles or do homework.
5) Colorful and educational art on the walls. I love this wood planked map! Also use children's own framed artwork to show off their creativity.
I hope these few basic tips help to kickstart your creativity when planning a fabulous space for your kids.