Thank you to the wonderful folks at Pump it Up who were kind enough to sponsor a portion of this party.
A couple of weekends ago we celebrated my kids' birthday at Pump it Up in Huntington Beach, California. It was an amazing day and by far exceeded my expectations as to what a party at Pump it Up would be like.
In six years, I have never hosted a birthday party for my kids away from home. I was nervous to say the least and really unsure of whether or not I could count on the provided party planners to make sure everything was set for the party.
Here's how it works: You book a party, choosing from one of their packages from a basic party to the works. You are able to bring some of the food, but hot food is prohibited since it can pose a health risk. You can, however, order pizza through Pump it Up, and bring your own veggies and fruit, chips, cookies, cupcakes, etc. which is what we did. Then you just show up. Yeah, it's that easy!
Each Pump it Up store is housed inside a huge warehouse, which can sometimes make it harder to find since it's not necessarily what you would expect.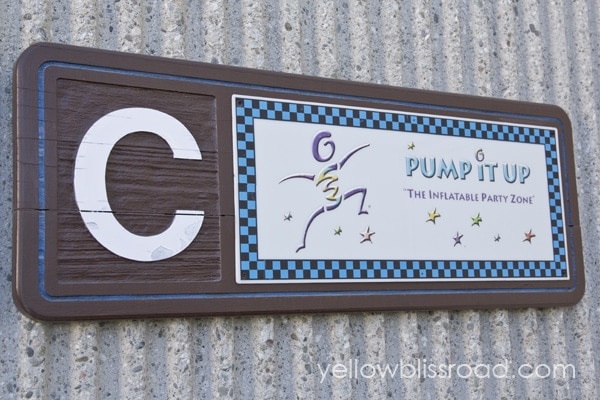 When you walk through the doors,  the excitement builds immediately as you enter the colorful waiting area.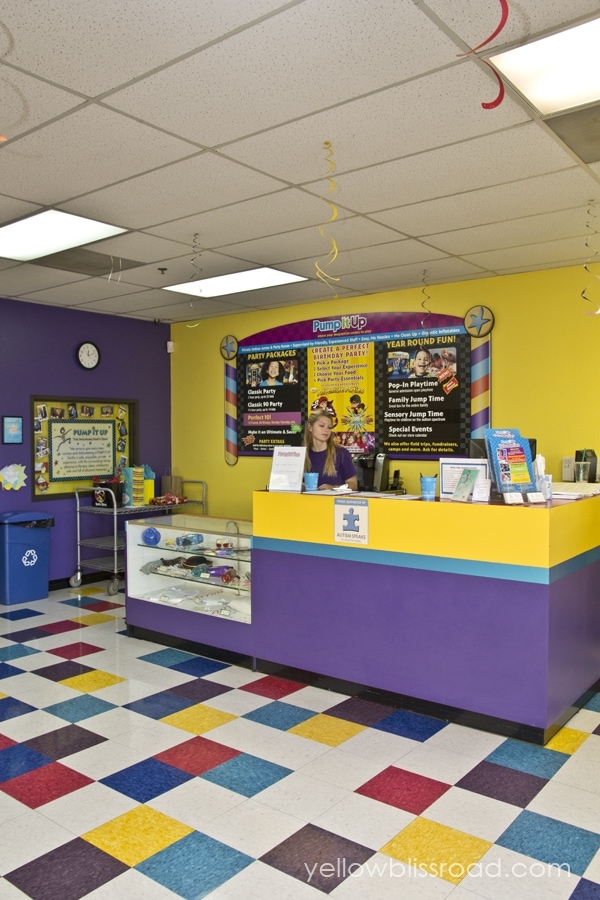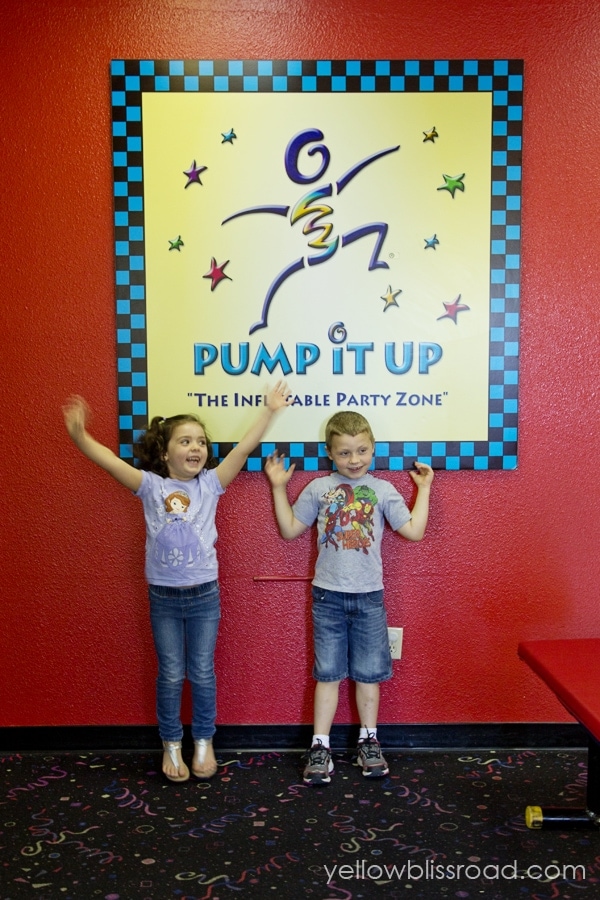 As you can see they were ready to party right away!
Safety is a concern and all of the children receive a handstamp as they come in. Each child in the party receives the same stamp and each party's stamp is different.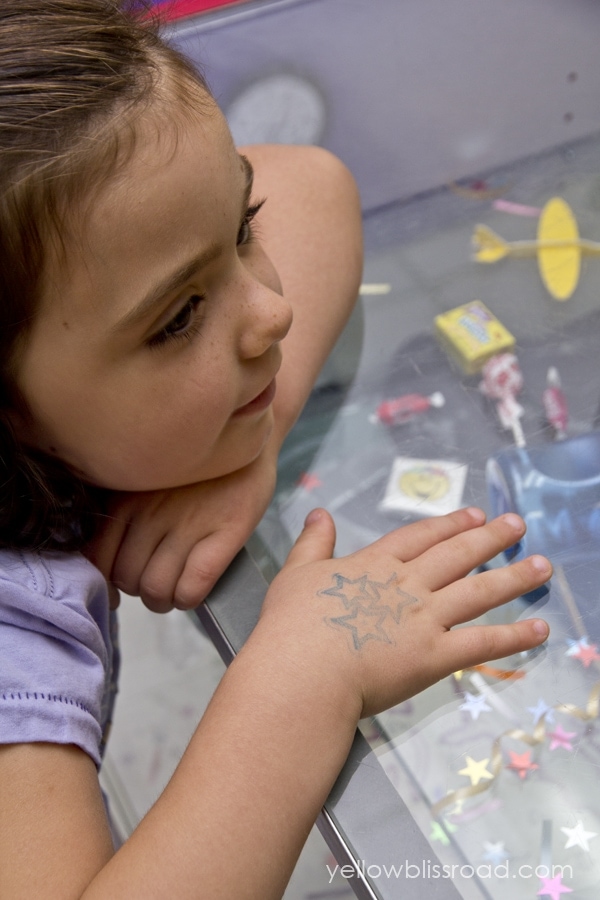 After a brief safety video,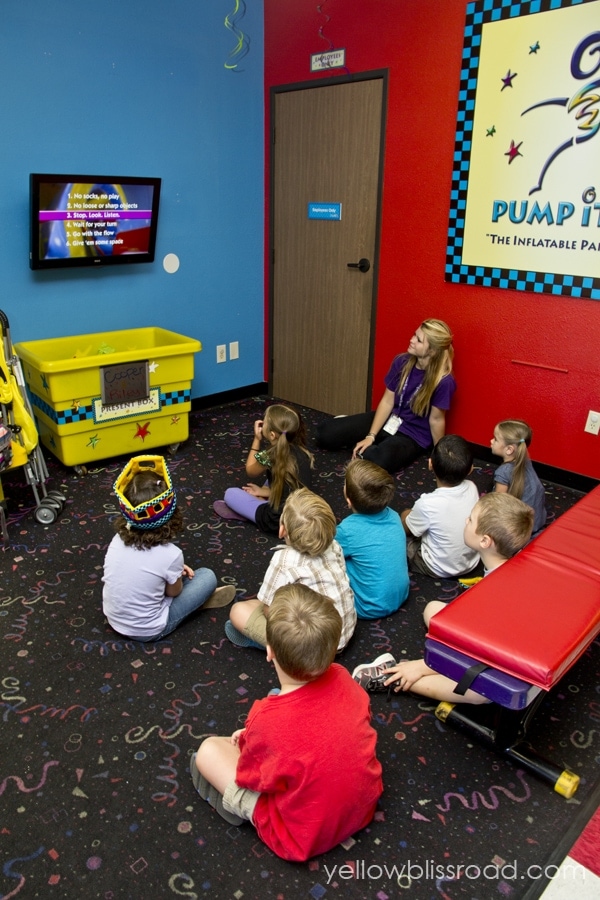 The children are led to the bounce room.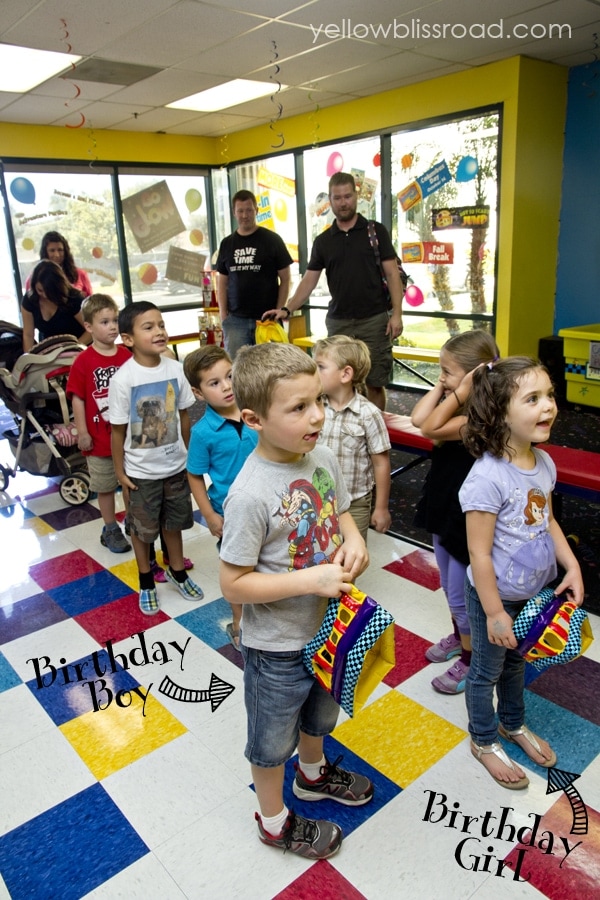 Then you're in the biggest playground you could ever want to be in!
There are four giant, and I mean GIANT, bouncers with all kinds of activities.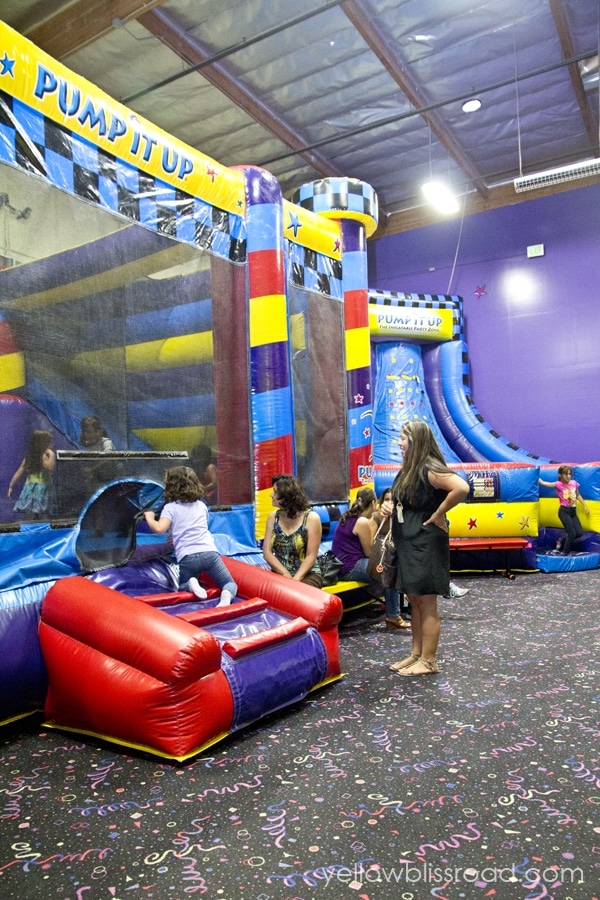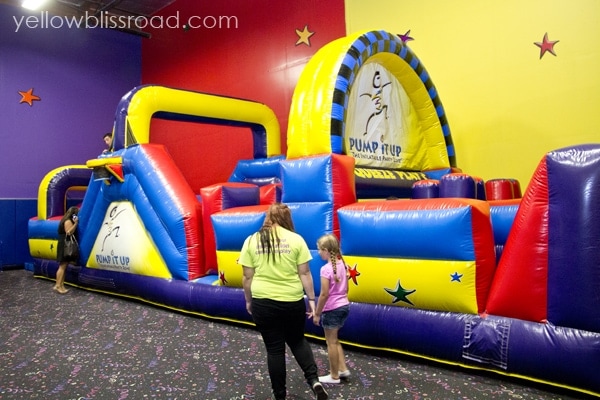 It was fun to watch children and adults alike try to reach the top of the slippery slope, and just run around wearing themselves our having a magnificent time.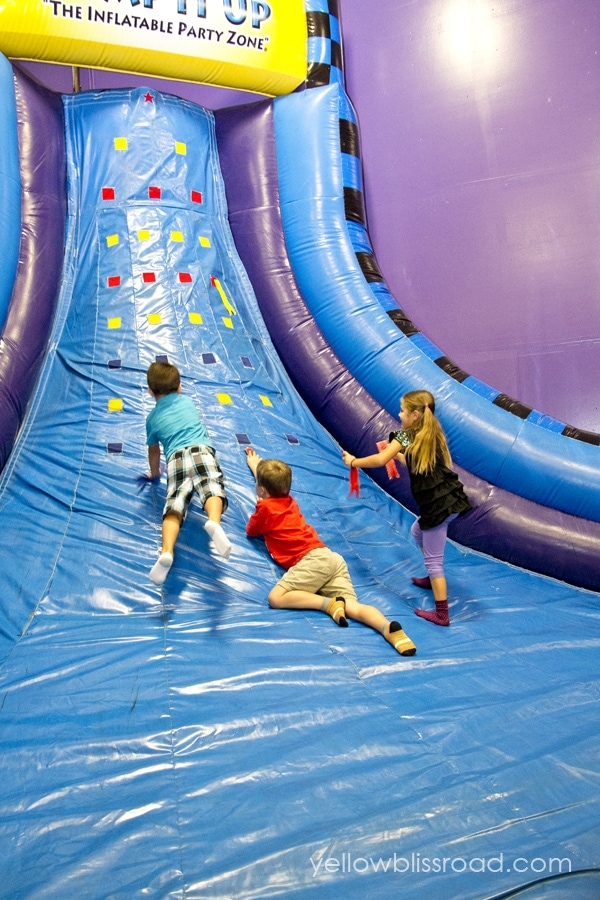 The slide was by far the favorite of all ages!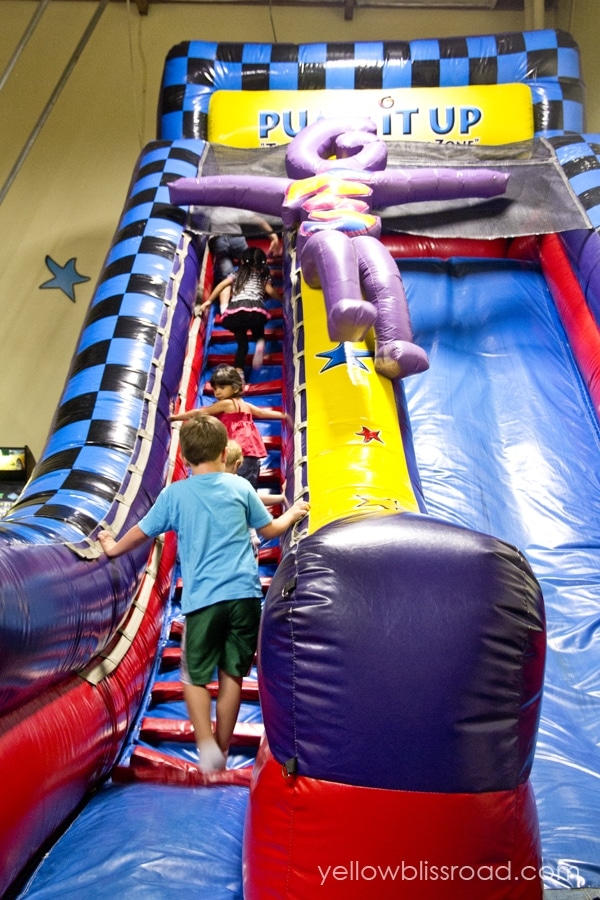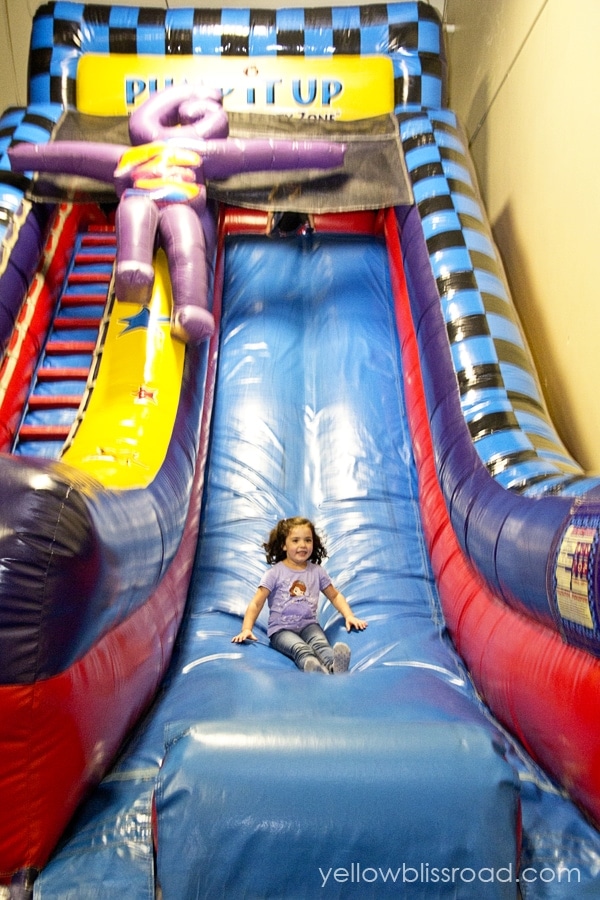 The kids are allotted an hour and a half to play, and they do. Hard! But they had some crazy fun. The party planners are there throughout the time to help keep things safe, take photos of your playtime, and lead games if you like.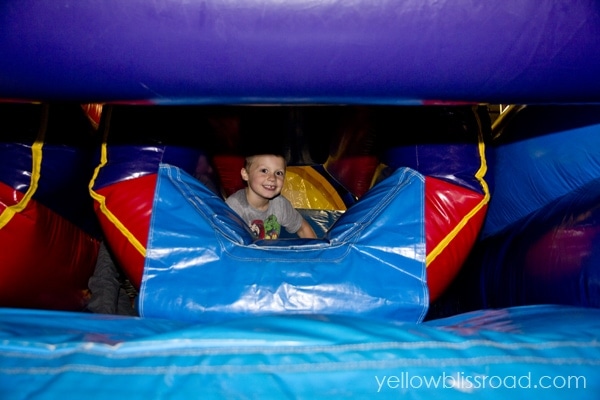 Once your play time is over, you are led to the party room, where it's already all set up. Yeah, I didn't have to do anything!
They set the tables for the kids with the plates, napkins and juice that we brought, and even set a slice of pizza on each plate.
They took our bags of veggies and arranged them beautifully, as well as setting up the cupcakes and party favors. How cute it this?? (A "C" and a "R" for Cooper and Riley).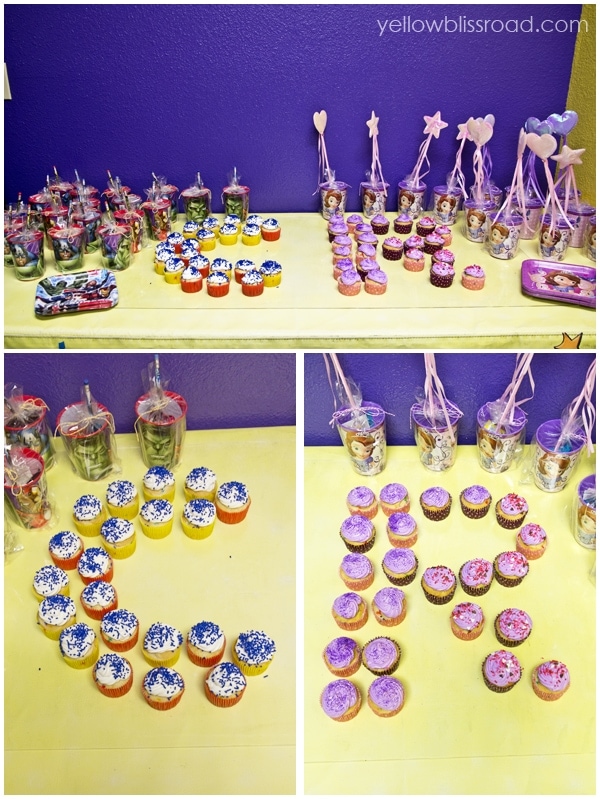 I made the cupcakes myself and put together easy party favors – Themed plastic cups with candy for all, Princess wands and tattoos for the girls and Avengers tattoos and pencils for the boys.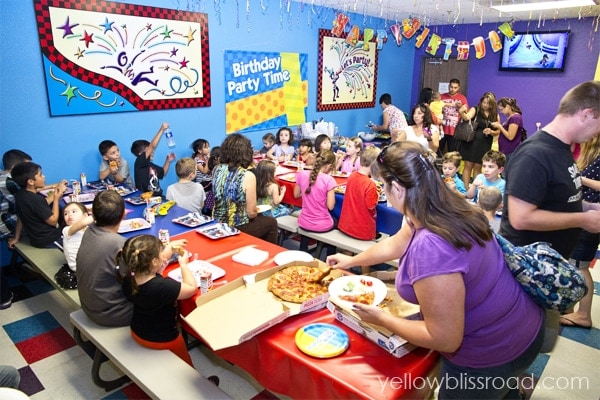 The room is a good size, and we fit nearly fifty people in without it feeling too tight. I don't think I would have been able to comfortably fit many more though, so I'm kind of glad there were a few who didn't show up!
After giving us some time to eat, the party planners returned and got the kids into their special spot in the party chair, and gave them a cupcake with a candle all lit and ready to go.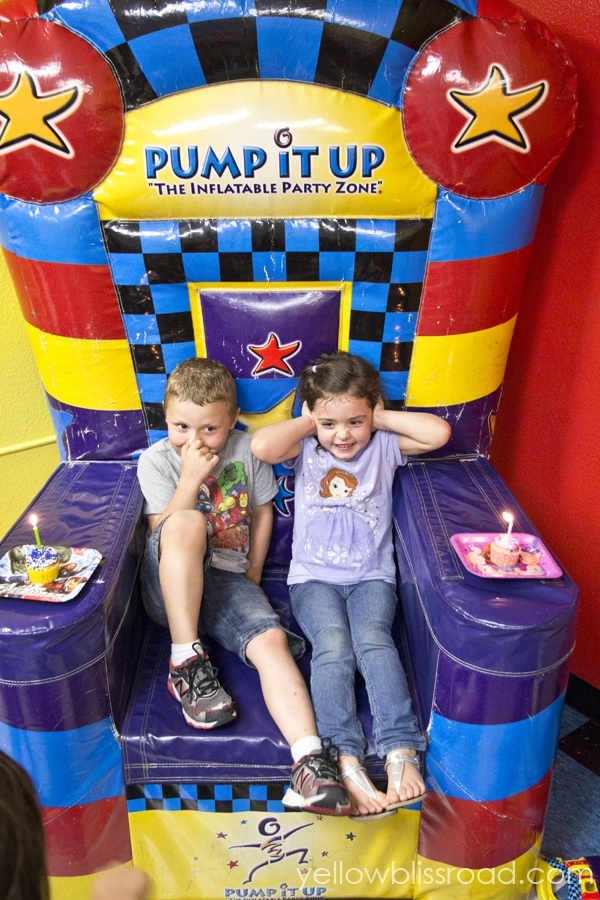 Apparently the singing (shouting really) was a little loud for Miss Riley!
Once the party was over, it was time to hand out the favors and our party planners even took care of that! They were really good about keeping up right on schedule the whole time, and checking in with us throughout the party.
They packaged up any leftovers for us, including foil pouching the cupcakes so they didn't get smooshed.
The gifts had been collected in a huge bin as guests came in and everything was placed on a cart that was wheeled out to our car and loaded for us.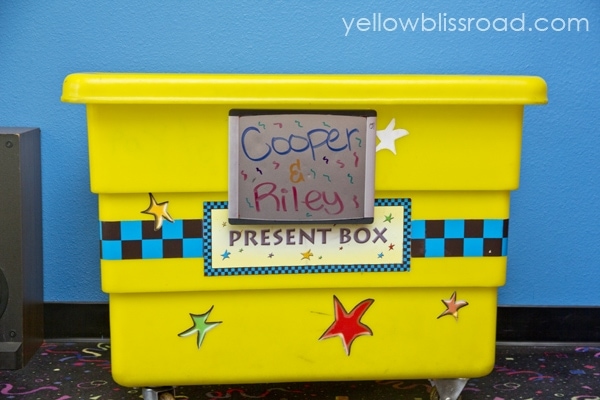 I think it's safe to say that every single child had a fabulous time!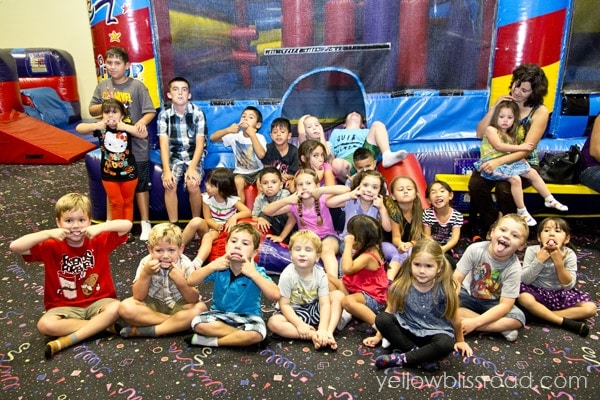 Between two children, I've hosted a lot of birthday parties, and this was definitely the most exciting. It was pretty thrilling for me as a parent knowing that everything was done for me. I mean, seriously, I didn't have to do a thing. It gave me the opportunity to really watch and enjoy my kids playing, chat with other parents, and simply be a part of the party, rather than the person running around making sure everything was "just so."
Would I do this again? Without a doubt. 
There are Pump it Up locations all over the country, but if you are in Orange County, CA, this particular location in Huntington Beach, was perfect. From start to finish, I was assured they would take care of every detail, and they most certainly did. All I had to do was provide the veggies and cupcakes, and they could have even done that.
The party planners were amazing; they were sweet and kind with each child, and you can tell that they really are well trained and know exactly what to do.
That's the best part of hosting a party at Pump it Up – you don't have to do a thing! From the invitations they provide, to the food you can order, to the optional cake, balloons and even the party favors, they will take care of everything.
Have a Pump it Up location near you but haven't tried it out yet? Well, I've got just the thing for you!
The fabulous folks at Pump it Up are providing TWO-FOUR PACKS OF PASSES for their Pop-In play time!!! Each Four Pack is values at $40. Generally pop-in play times are available during the week, during scheduled hours, but the actual days and times vary by location. Check your local store via the Pump it Up website for your local schedule.
Sorry, this giveaway is open to US residents only.
Two lucky people will win four passes each. The giveaway ends Sunday, October 20 at midnight. GOOD LUCK!