This Pumpkin Alfredo is creamy, rich and delicious, and without all the calories and fat of a regular Alfredo sauce. It's an easy weeknight dish that just screams fall – pumpkin recipes for the win!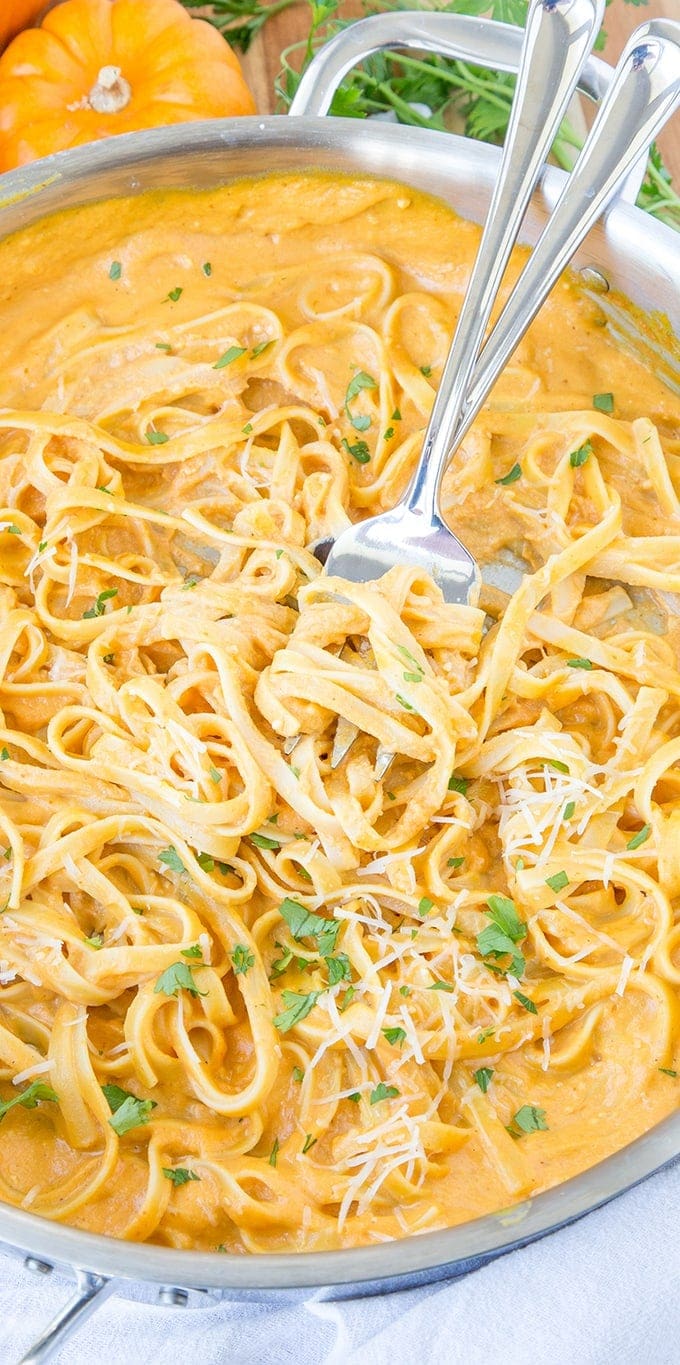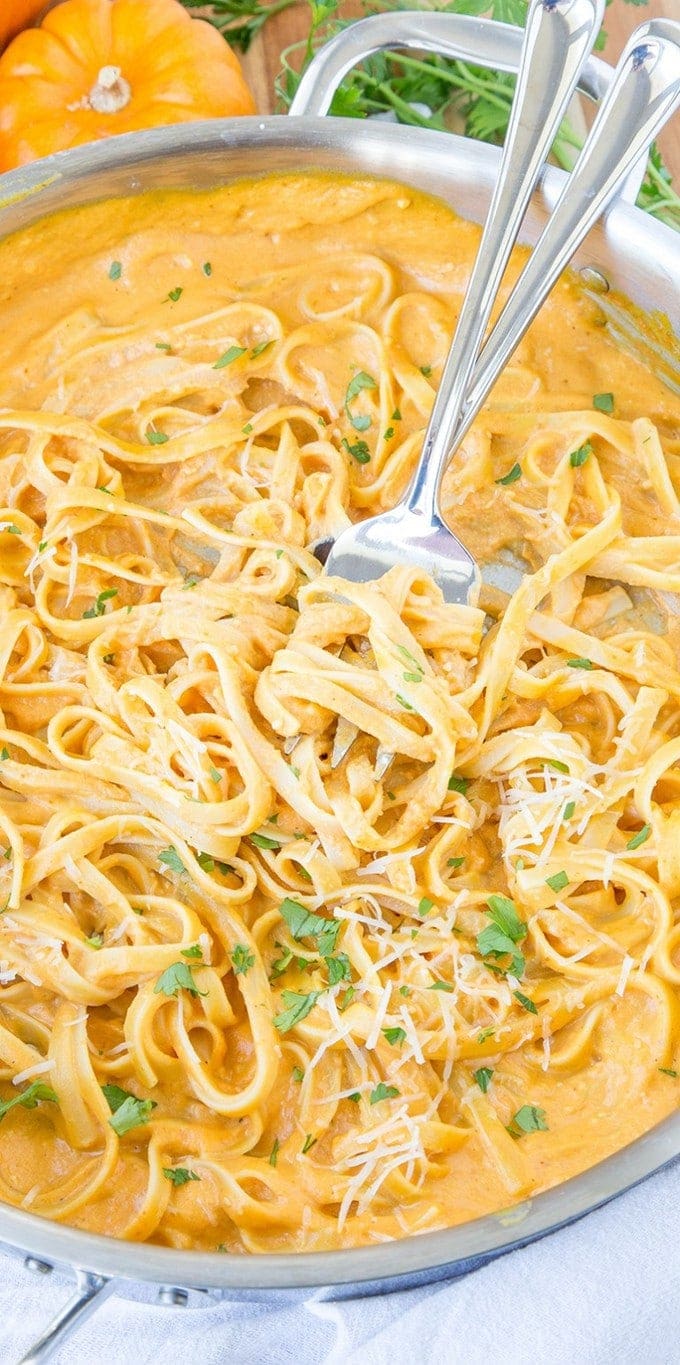 It's velvety and smooth and rich and with less than a quarter of the cream and less butter than classic Alfredo sauce. So not only does it taste amazing, but you won't even miss the cream or butter!
If you're a fan of savory pumpkin recipes, you are going to LOVE this Pumpkin Alfredo!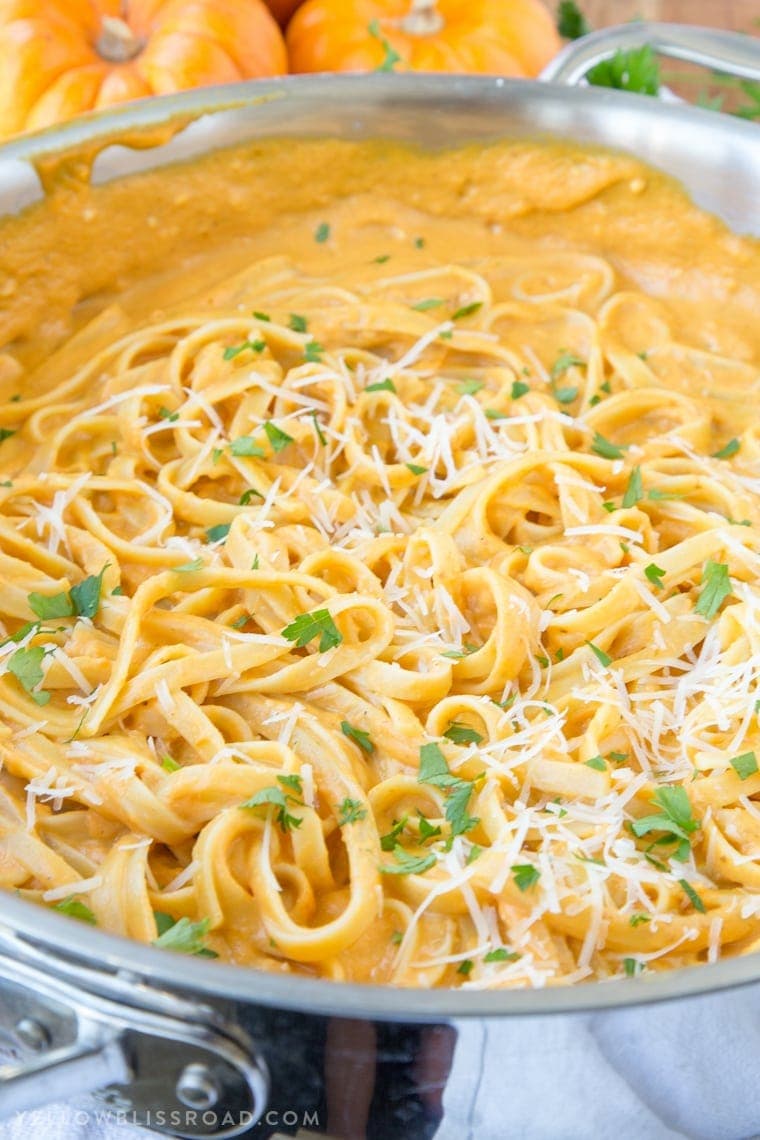 I am a huge fan of Alfredo, but I usually avoid it since it's definitely an indulgence. The classic sauce calls for 2 cups of cream and a whole stick of butter (yikes!). This Pumpkin Alfredo uses only two-thirds of a cup of half and half (half milk, half cream) and 6 tablespoons of butter. The addition of the pumpkin give a velvety smooth texture of the cream, without the fat and calories. Since pumpkin has such a neutral taste it's the perfect substitution, which is why I'm always on the hunt for new pumpkin recipes!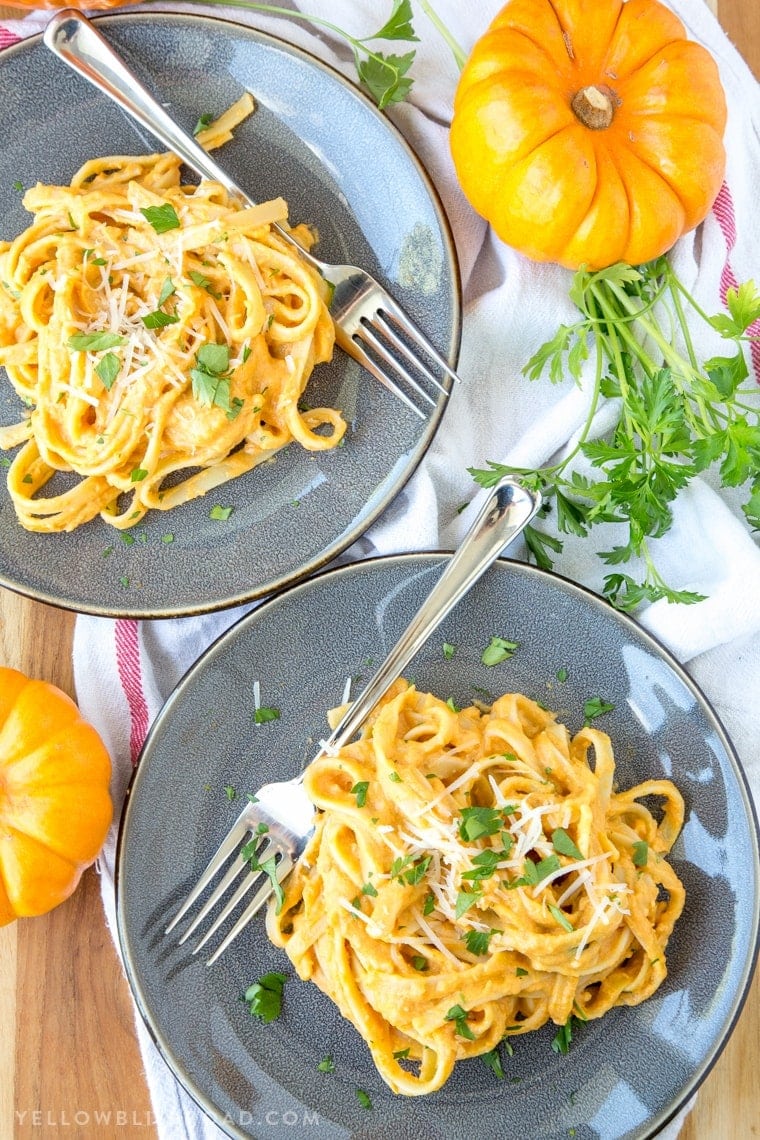 HOW TO MAKE PUMPKIN ALFREDO
Pumpkin Alfredo is super simple to make. The sauce is made quickly while the pasta is cooking and then the pasta is tossed with the sauce. The whole thing is done in less than 15 minutes!
Tools needed (affiliate links):
While the fettuccine is cooking, melt the butter and stir in some minced garlic (I use jarred for ease and simplicity). Then the half & half, pumpkin, Parmesan cheese and a pinch of nutmeg are added to the skillet and whisked together with the butter and garlic until the cheese is melted. I added about half of a cup of the pasta cooking water to thin out the sauce a bit since the pumpkin is a little on the thick side. You can add as much or as little of the pasta water as you like until the sauce is to your desire consistency. Finally, stir in the pasta until it's well coated.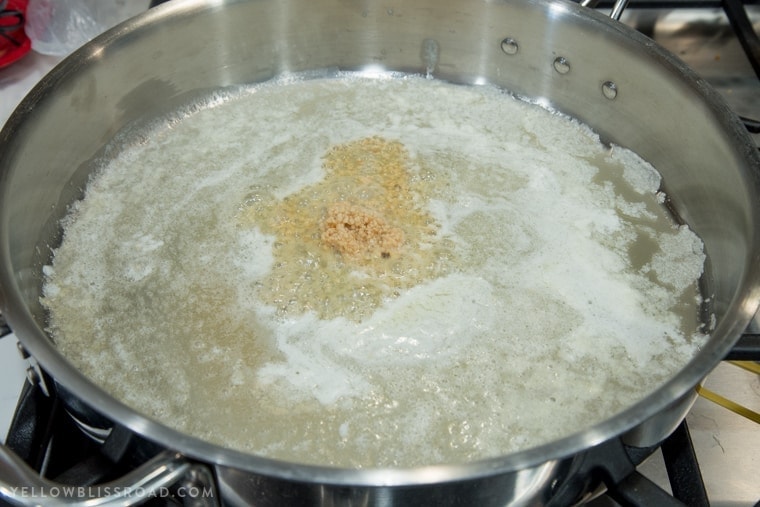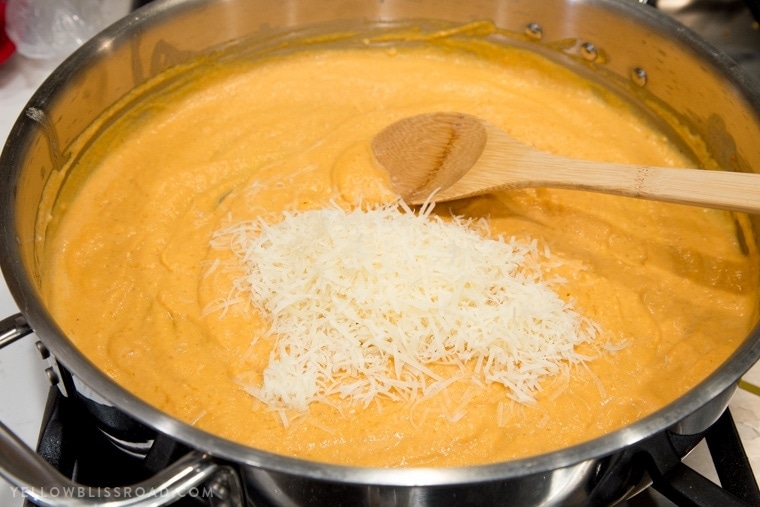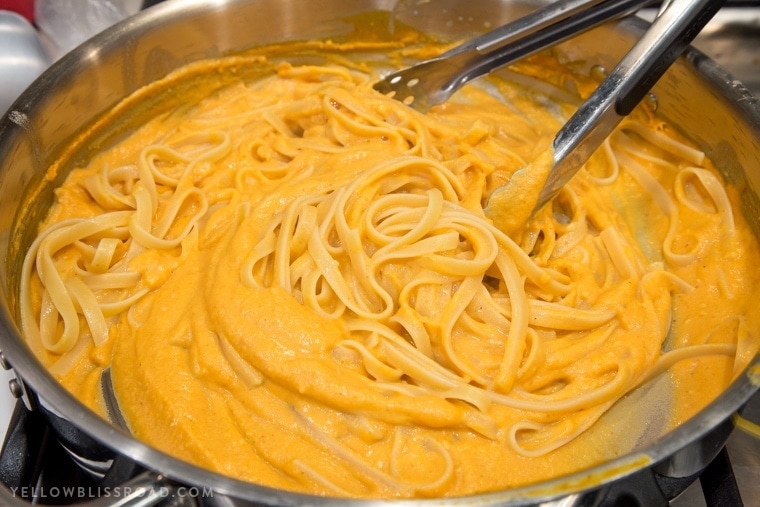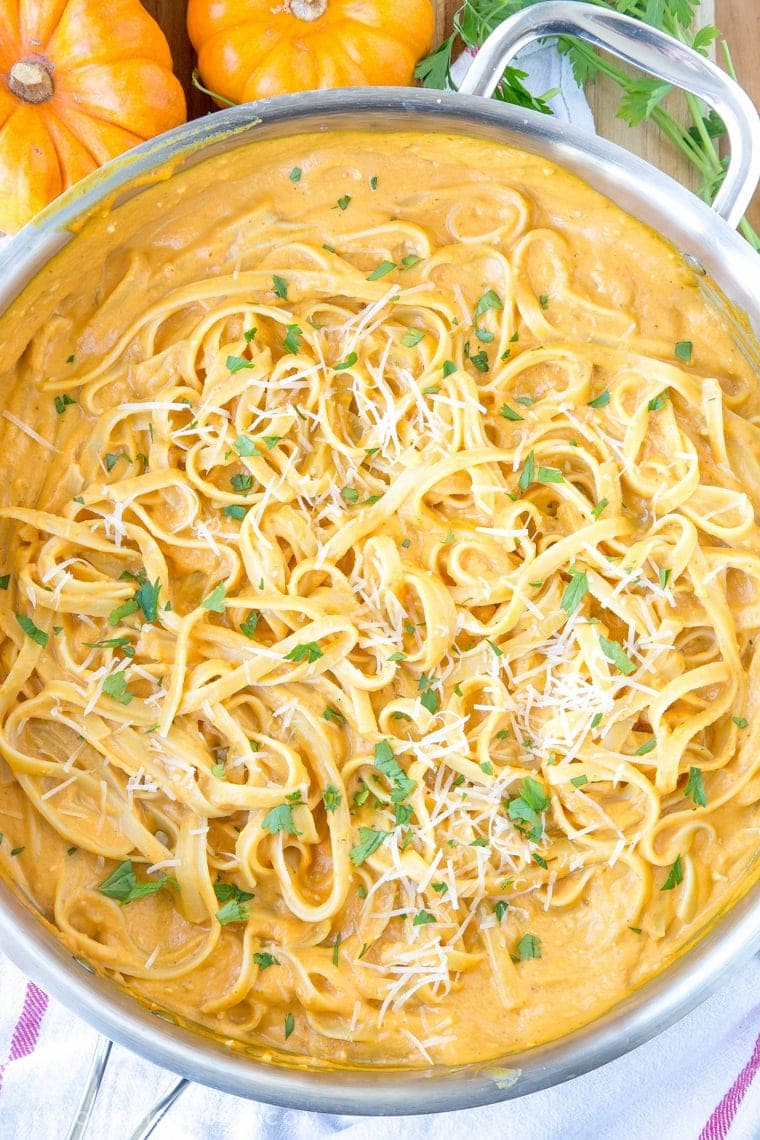 This dish makes about 4 servings and its perfect for company or just when you need an easy weeknight meal this fall.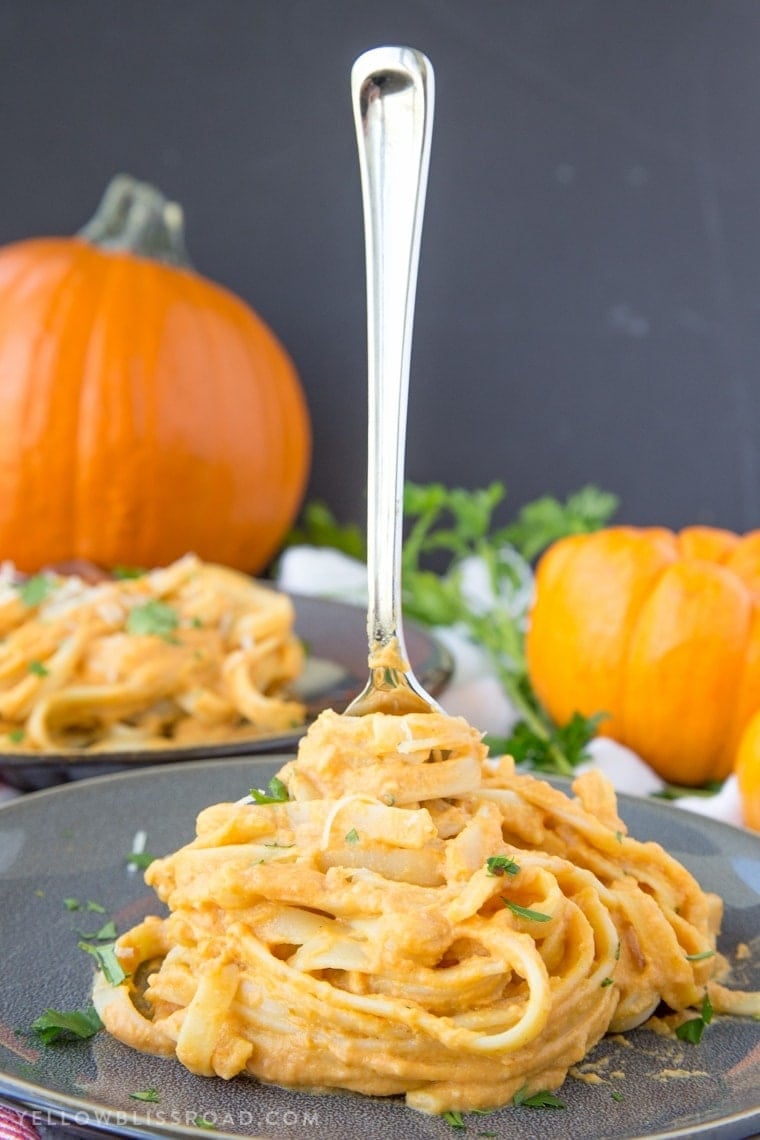 Here are some more delicious sweet and savory pumpkin recipes to try:
Or if pasta is more your thing, try these: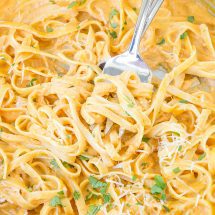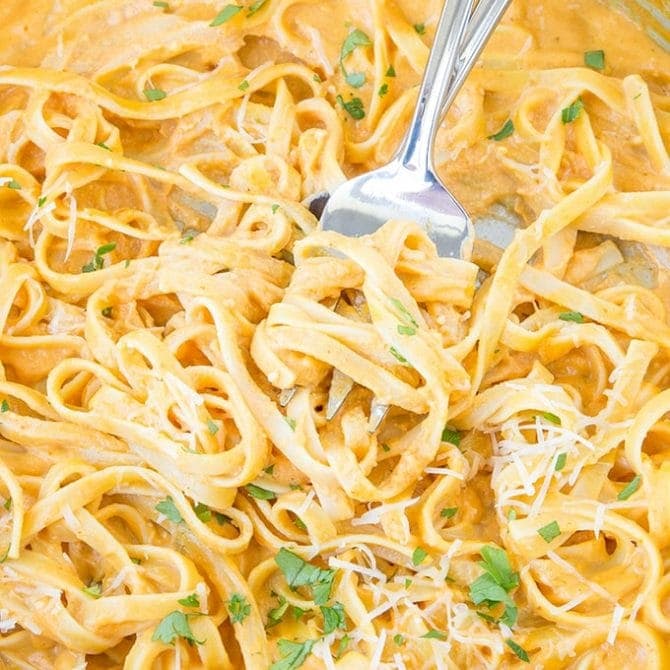 Pumpkin Alfredo
Print
Pin
Rate
Prep Time: 5 minutes
Cook Time: 15 minutes
Total Time: 20 minutes
Servings: 4 servings
Ingredients
1 pound fettuccine reserve 1 cup of pasta water
6 tablespoons butter
2 cloves garlic minced
1 cup pumpkin puree not pie filling
1/8 teaspoon nutmeg
2/3 cup half & half
1/2 cup freshly grated Parmesan cheese
1 tablespoon fresh chopped parsley
Instructions
Bring a stockpot of water to a boil over high heat. Add a teaspoon of salt to the boiling water, then add fettuccine. Cook until al dente (check package instructions)

Meanwhile, melt butter over medium-low heat. Stir in garlic and cook for about a minute, careful not to burn. Stir in half & half, Parmesan, pumpkin and nutmeg. Stir until sauce is heated through and cheese is melted. Stir in pasta water, about 1/4 cup at a time, until sauce is desired consistency (I used about 1/2 a cup, and it was thick and creamy. For a thinner sauce, use more water).

Add pasta and cook over medium-high heat until sauce is smooth and pasta is well coated; about 1-2 minutes.

Divide into bowls and garnish with fresh chopped parsley and fresh grated Parmesan, if desired.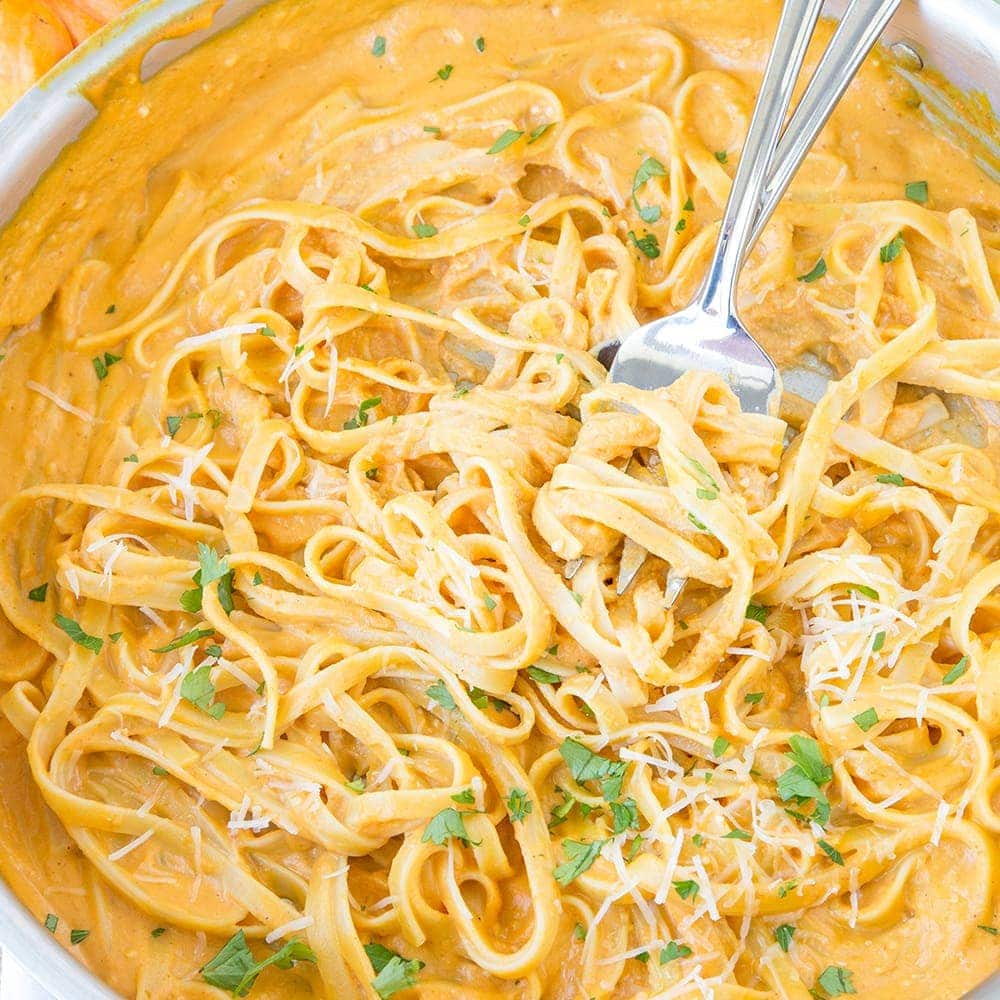 Love pumpkin? You'll love these other pumpkin recipes:
 For all pasta recipes, go HERE, for all dinner recipes go HERE and for the Recipe Index go HERE.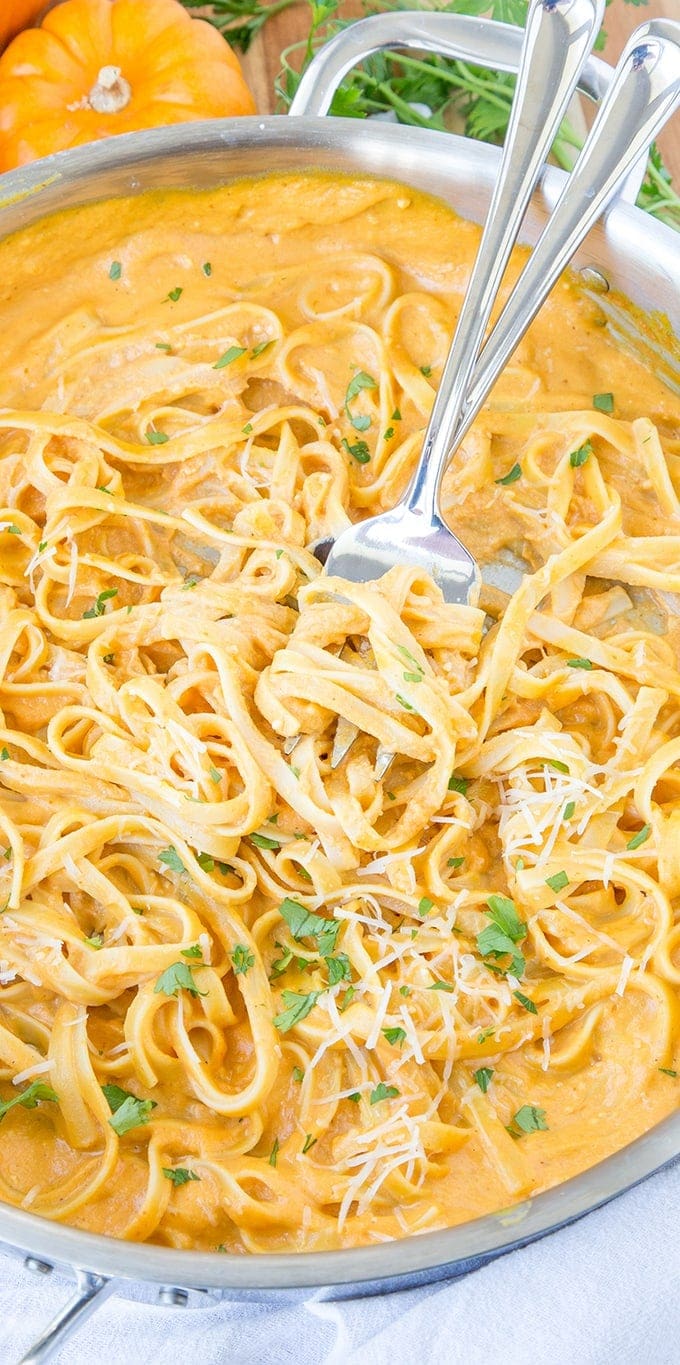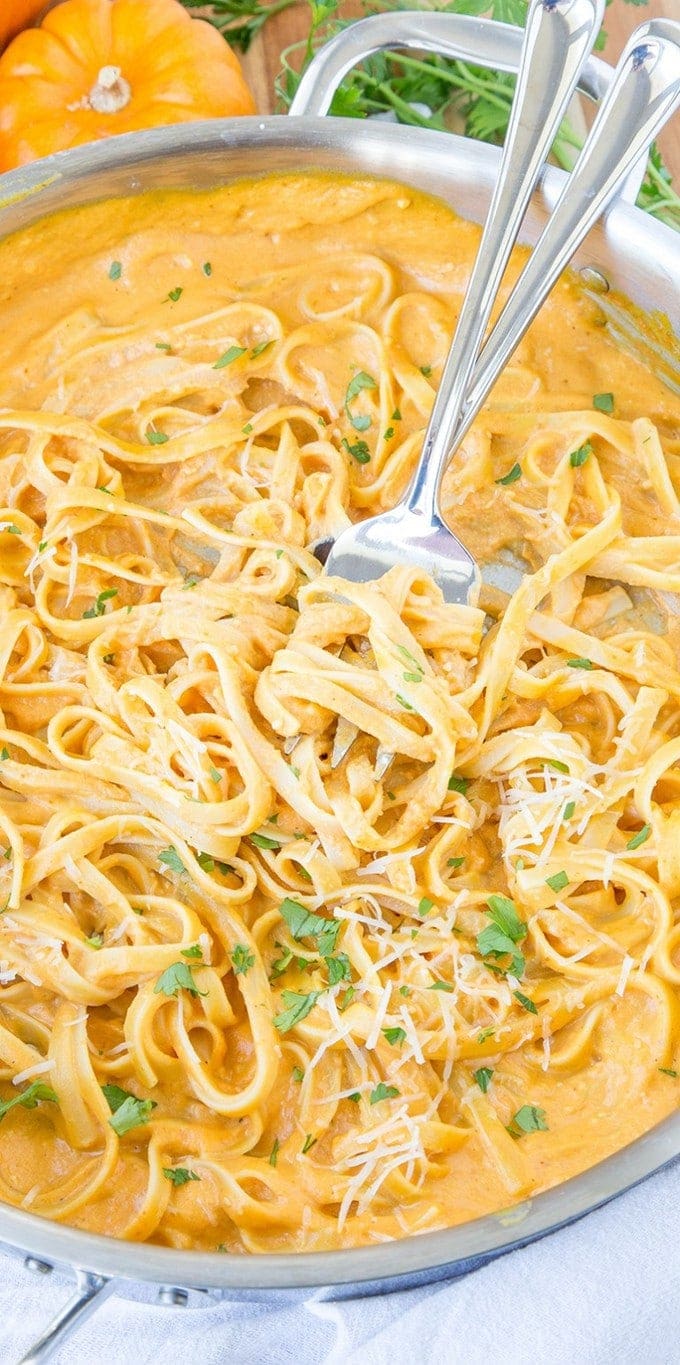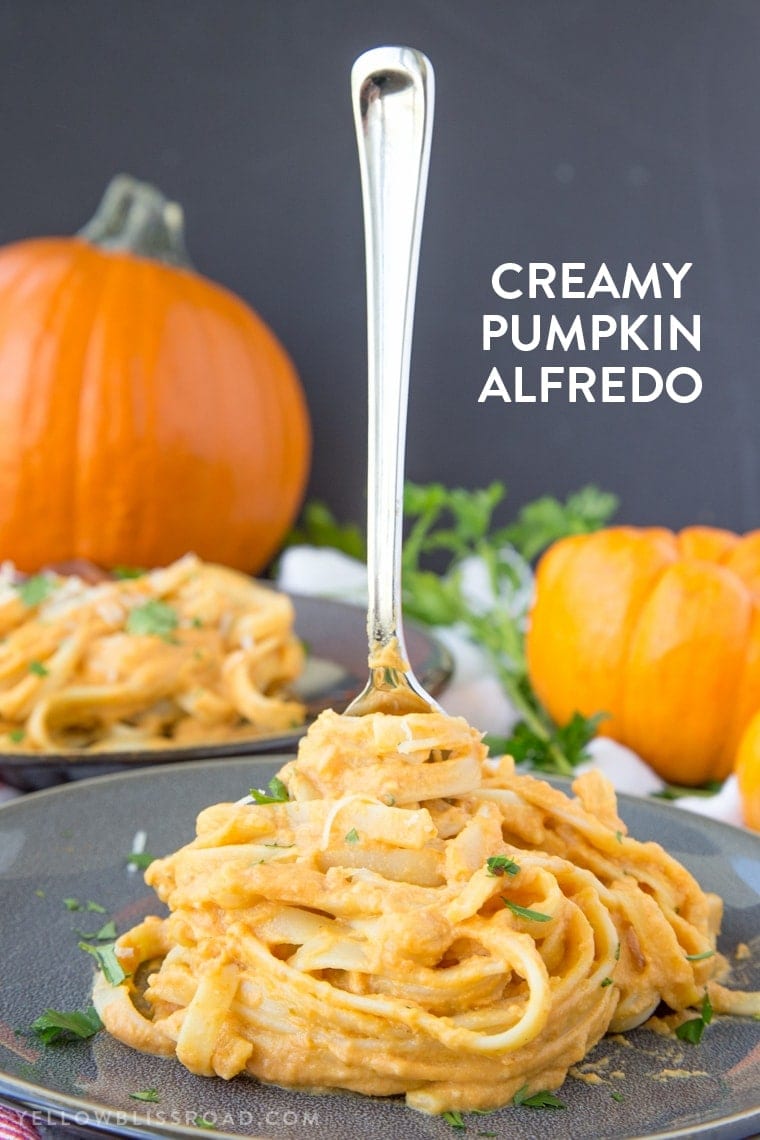 Hi! I'm Kristin, the creative mind behind Yellow Bliss Road where you will be inspired by tons of easy to follow recipes, lots of free printables, and a little sprinkling of life thrown in for good measure.