Hello, and welcome to my Simply Klassic Home! I hope you'll take some time to look
around, and be sure to check out the 12 Days of Printables Party and if you have a printable to add, link up to the Printables Linky Party!! Be sure to enter the Blog Design giveaway too!!
Every year, I decide that I want to decorate every room in my house. "Want" being the operative word. I always get the living room and dining room finished, and maybe toss a couple things in the bathroom and that's it, but this year I made it my mission to add some touches to the kitchen, so let's start there! Now, I certainly didn't go overboard, but I'm totally loving my little kitchen Christmas "tree". 
I had a large manzanita branch that I placed in a silver bucket. I added a few pinecones and some green apples for a pop of color. I really wanted to spray paint it white, but I haven't gotten around to it yet.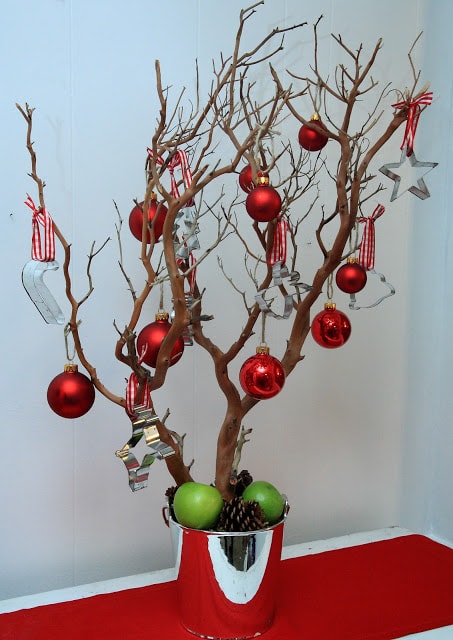 I had a bunch of metal cookie cutters that I thought would make really cool ornaments so I added some red and white ribbon. I also added some pretty red balls tied with twine.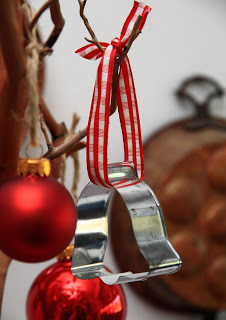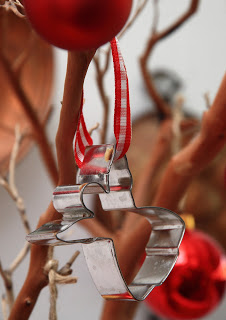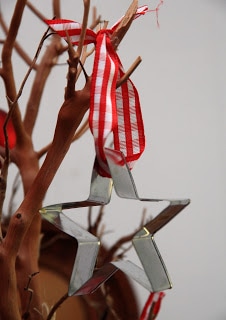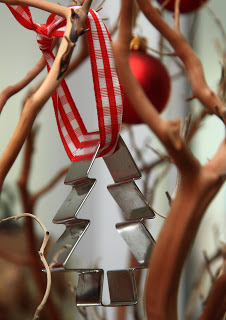 I just love how it turned out!! Pretty, subtle, rustic! LOVE.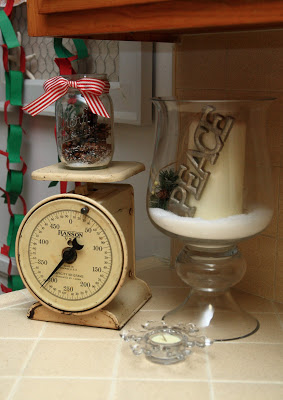 A sweet little kitchen vignette. Antique scale found at a flea market. A small mason jar with some leftover Epsom salt and pinecones, and a hurricane filled with Epsom salt and a candle. The "Peace" sign was on clearance at either Kohls or Target several years ago. Oh, and the cute snowflake candle was a gift from my sweet friend, Lesly this year! (Lesly really needs to start a blog of her own!!).
My kids made Advent chains at preschool and love tearing a link off each day and shout (yes, shouting) "It's almost Christmas!!!"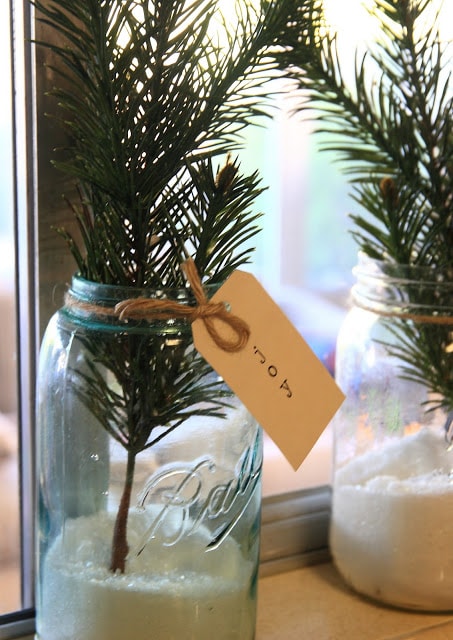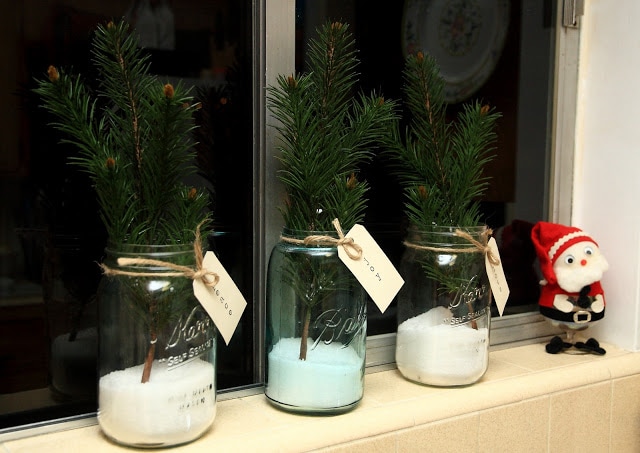 I prettied the window sill too.I got my inspiration from French Larkspur. The tags are actually printed on cardstock and then coffee-stained to give it an off color. That little Santa is made by my grandmother with felt, a Styrofoam ball and a little Brandy glass! I found it this year and decided it deserved a prominent place.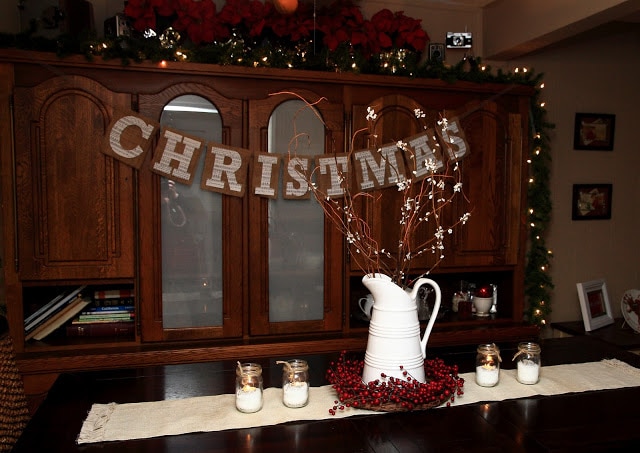 The kitchen opens up into the dining room, which I've redone since showing you this. 
My favorite thing of all that I've done this year is the Christmas banner you see hanging on the hutch. I found a printable vintage music sheet of Hark the Harold Angels Sing. I used Photoshop to create the letters, cut them out and hot glued them to pieces of burlap. Hot glued a long piece of ribbon to the back and hung 'er up!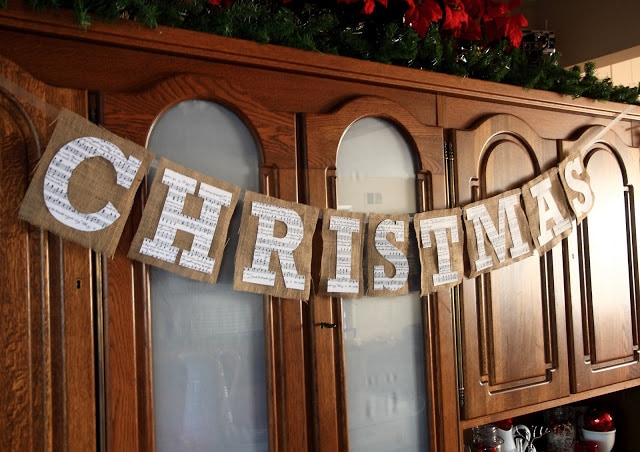 I found this beautiful white pitcher at Marshalls and it prompted an entire re-do of my dining room.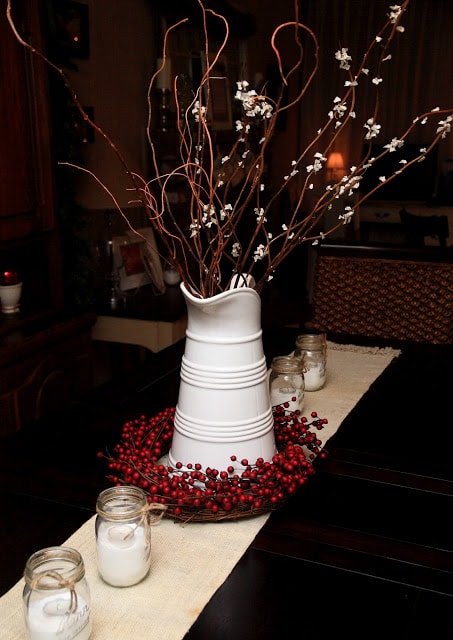 Mason jars with Epsom salt and tealights (inspiration courtesy of Melissa at
The Inspired Room
last year); berry wreath from Target a few years ago; burlap runner purchased at a flea market; dried curly willow and artificial cherry blossom branch in the vase. 
Isn't it beautiful all lit up?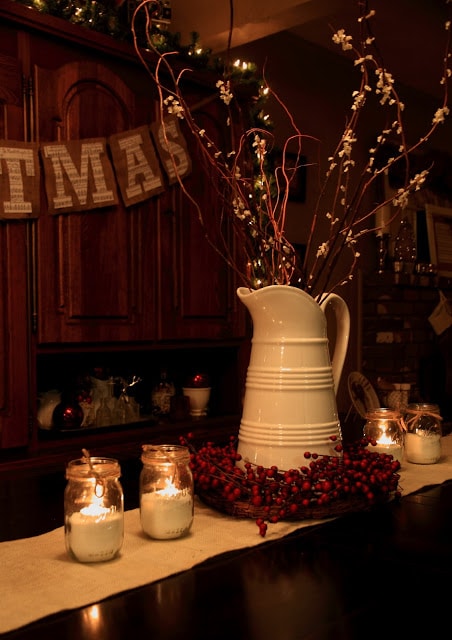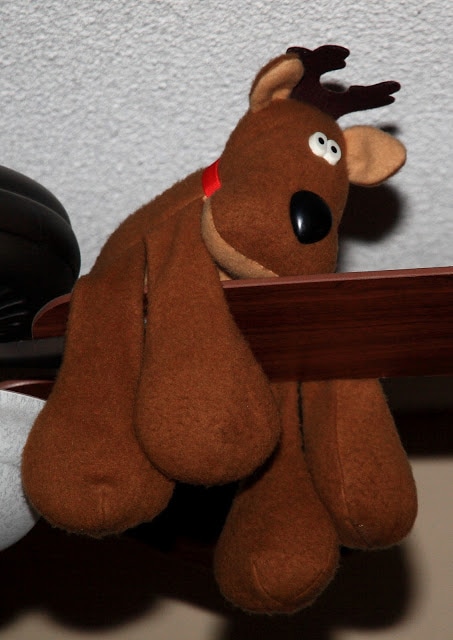 Rodney sits on the ceiling fan, out of the way of curious hands. He belonged to my dad, and is very special to me.
Remember I mentioned I redid my dining room thanks to a trip to Marshalls? Well, it prompted a re-do of my mantel as well when I found these beautiful bottle brush trees.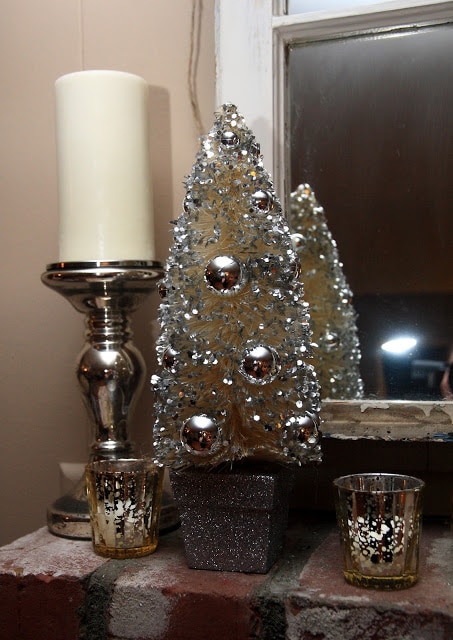 Cute, right?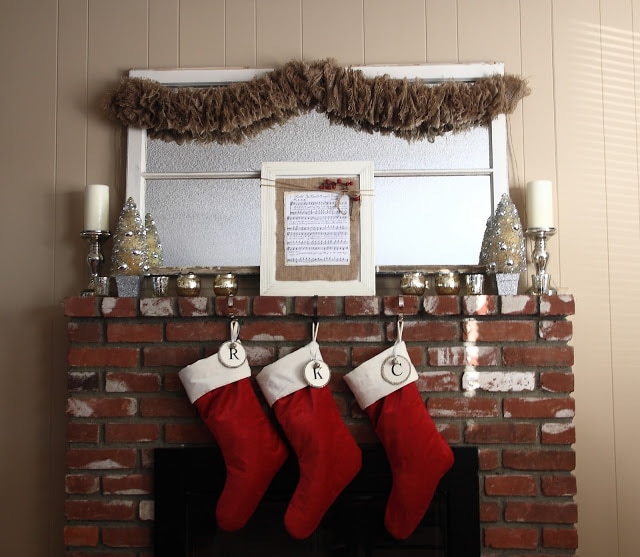 I love this even more than last year's.
I used the same vintage sheet music print to make a piece of art work for the mantel. I'll show it up close in a later post.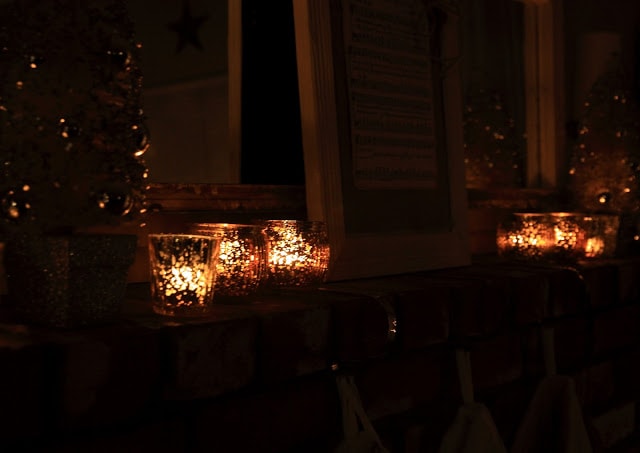 For the final leg of the tour, we'll stop in the living room.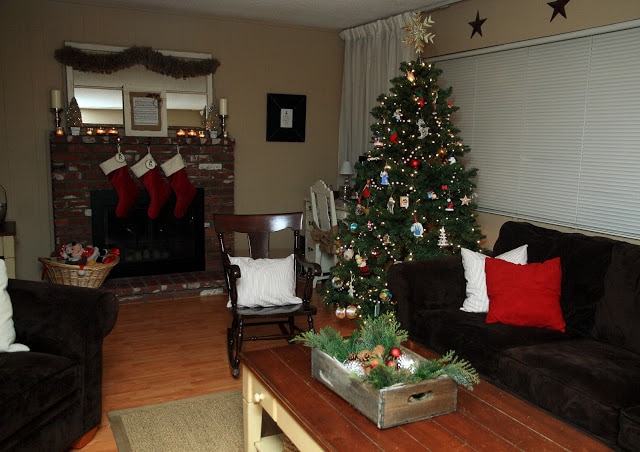 I moved the former dining room centerpiece to the living room, and changed out what was in it.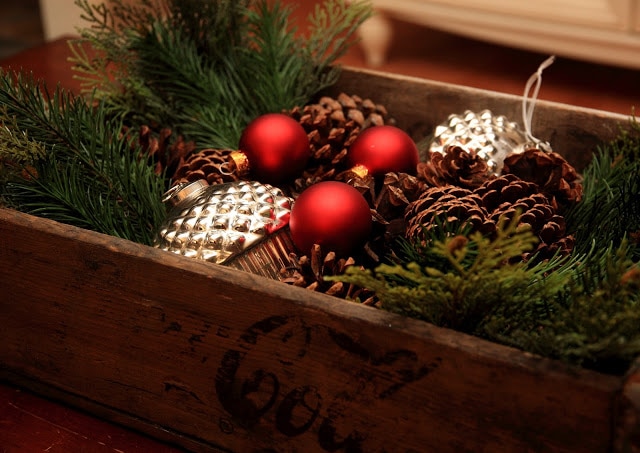 Pine branches from IKEA – $1.99 a piece!! Mercury glass pinecones from Marshall's at the beginning of this season. I think they still have them tough. Real pinecones from my backyard.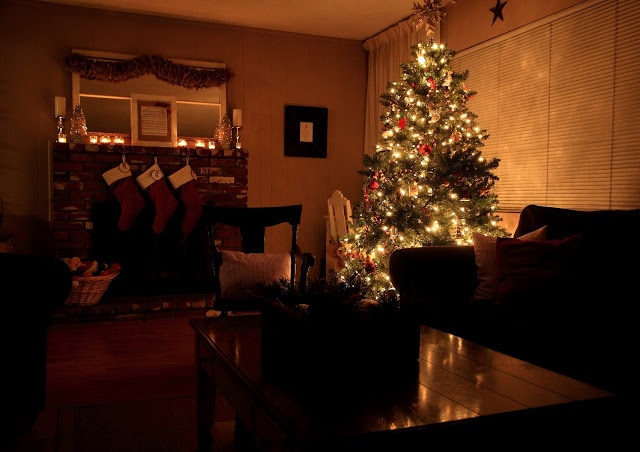 I'll be showing you the tree up close in another post. Updated: Oh look, here it is!
It's warm and cozy all lit up at night. I think this is the best year yet for decorations. What do you think?
Linking up:
Blackberry Vine 
My Uncommon Slice of Suburbia 
Checkout some other fabulous home tours:
The Inspired Room
Jennifer Rizzo
Hooked on Houses