The weather is warming up and I can hardly wait for summer! Hi everyone, Heather here from The Caterpillar Years, sharing a simple, sweet Jello Popsicle treat that your kids can make themselves! Well, ok, with supervision.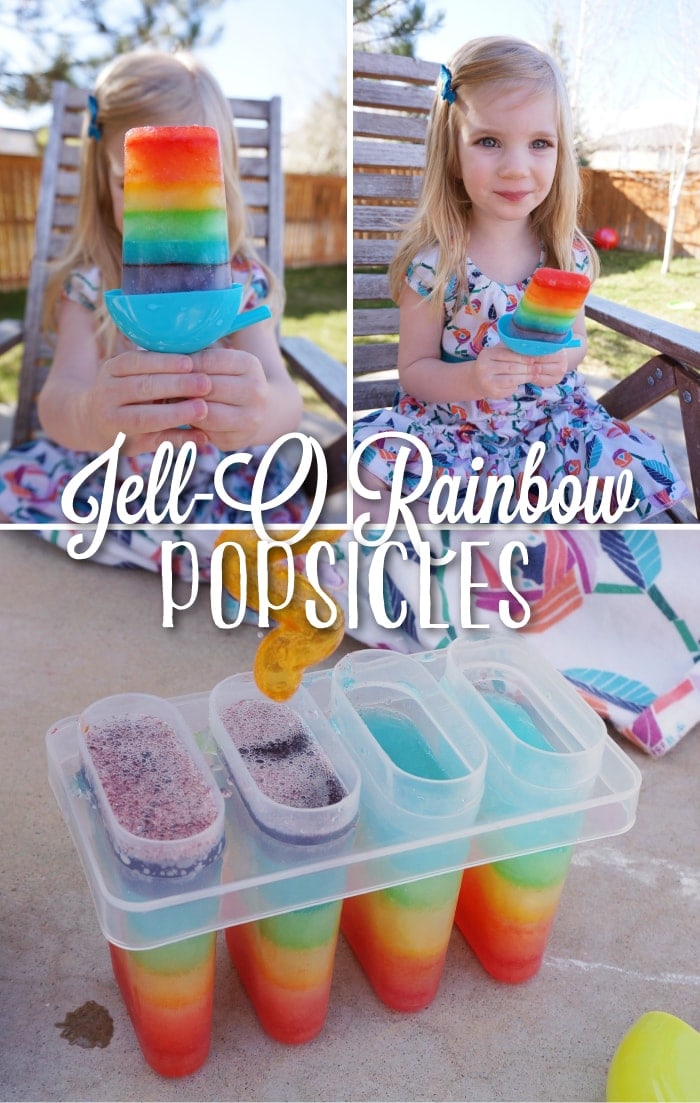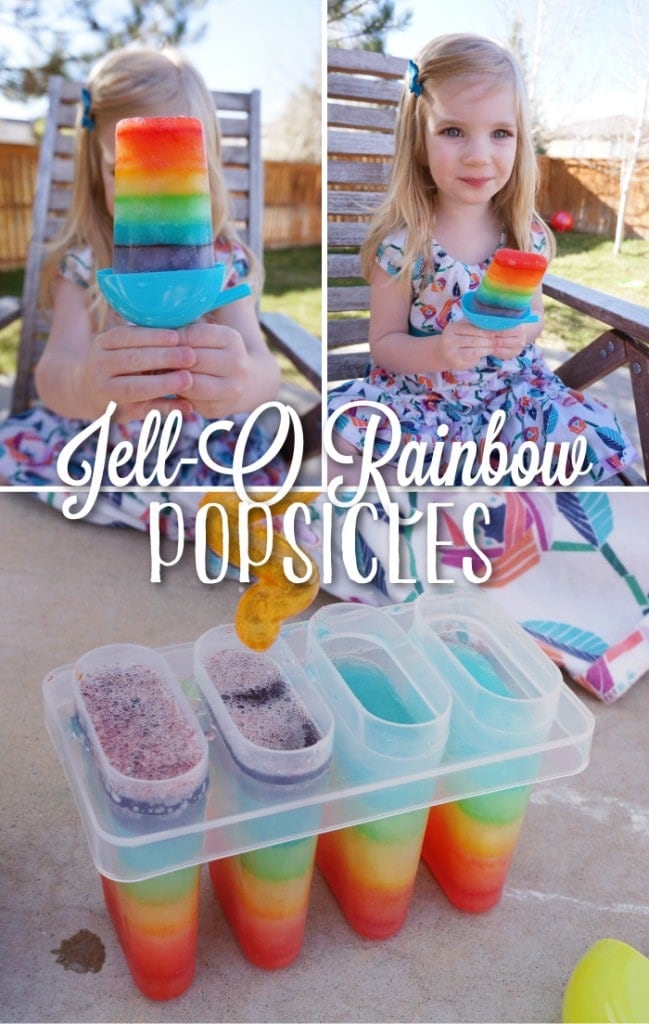 Besides the beautiful colors, this warm-weather treat is a do-it-yourself, day-long project that provides a tangible reward for patience and persistence. Here's what you need to get started:
3 oz Jell-O packets in the colors of your choice (we used six—one for every color in the rainbow)
2 cups of cool water for each Jell-O packet
popsicle mold
freezer
You'll also need something to mix the Jell-O in, preferably with a pour spout, but we found a turkey baster to be more kid-friendly, than a heavy mixing/pouring bowl.
Step 1
Mix your first packet of Jell-O into two cups of cool water.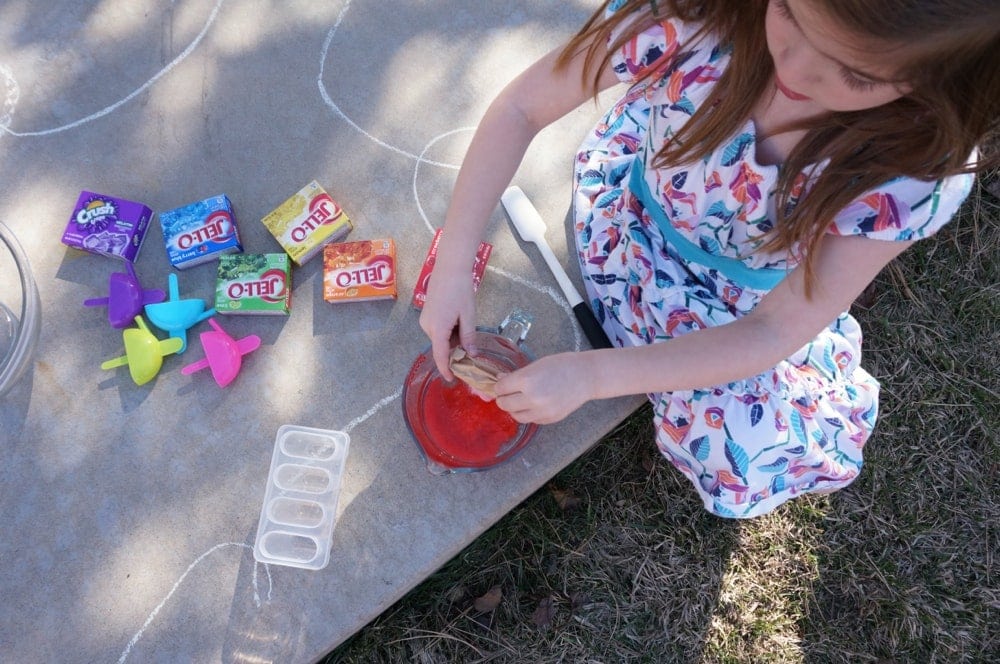 Step 2
Pour a measured amount of Jell-O water into your popsicle mold. The amount will depend on how many colors you decide to use.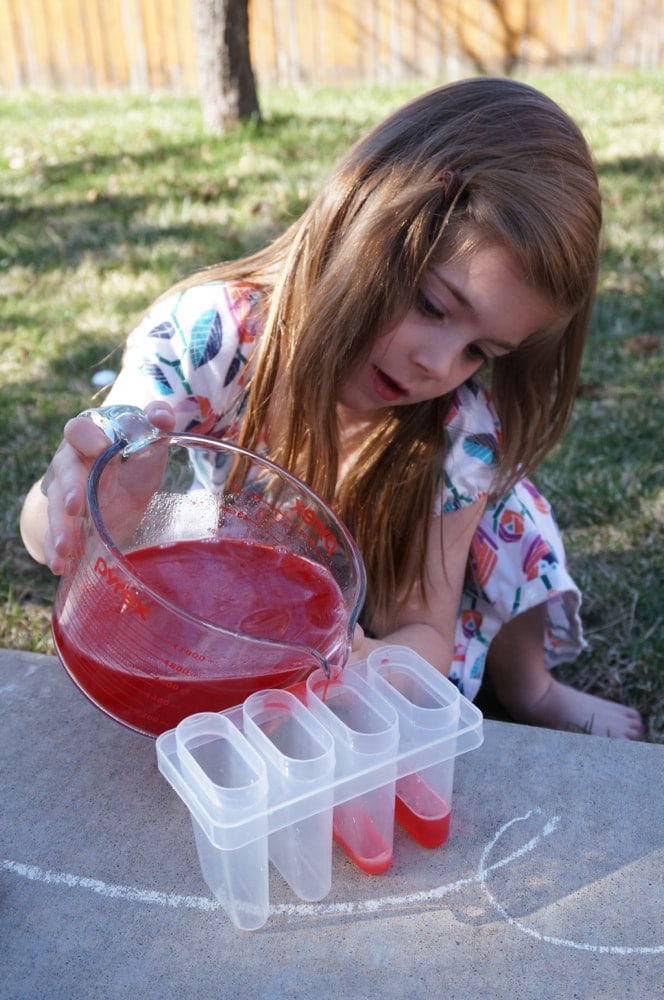 Step 3
Place the popsicle mold into the freezer until the Jell-O water is frozen. For us, this took about an hour for each layer.
Now repeat steps 1-3 until your popsicle molds are full!
It is very important that you wait for each layer to freeze before adding the new layer, otherwise your colors will mix together. Alternately, if you leave the layers to freeze for too long, the layers may not stick together, and separate when you remove the popsicles from their molds. Experience is your best friend here, so don't get discouraged and just make lots of popsicles!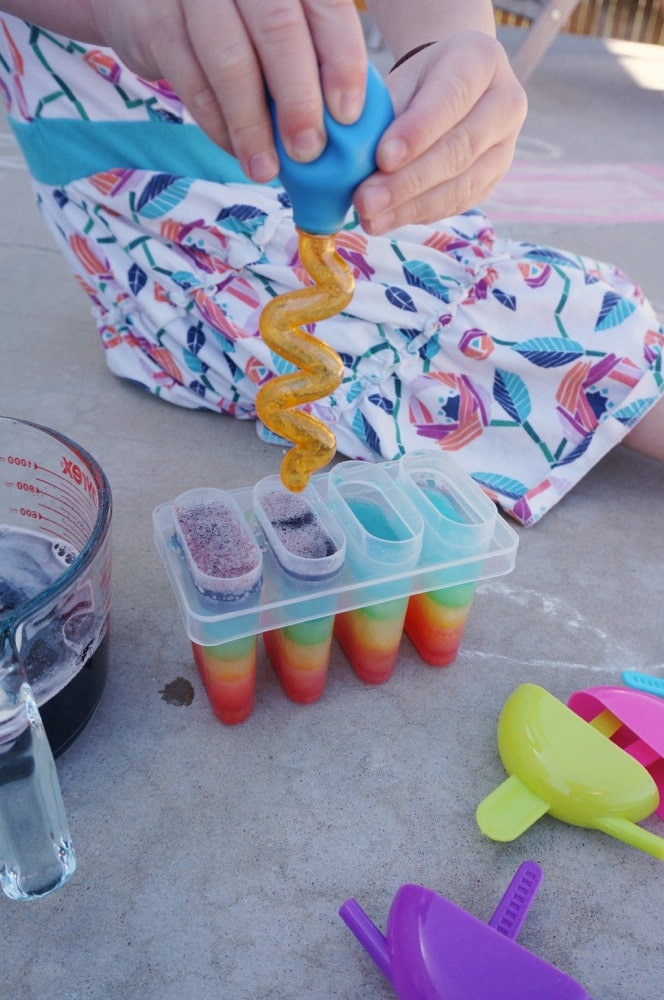 Step 4
Finally, when you get to the last layer, you're ready to insert the popsicle sticks into the popsicle molds. But, since we froze our Jell-O water in layers, the popsicle sticks don't easily insert into the already-frozen layers.
To fix this problem, we used the handle of a small spoon—but whatever metal thing you can find that is approximately the same shape and size as your popsicle sticks will work. Warm the utensil in hot water, then gently insert it into the already frozen popsicles. Pull out the utensil and insert the popsicle stick.
Then freeze that last layer!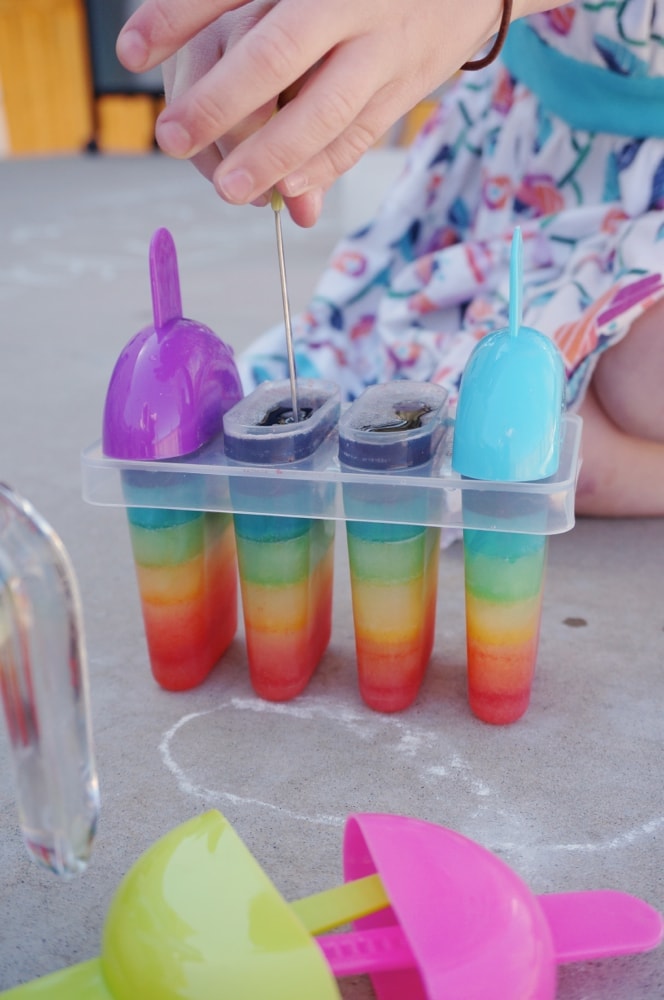 Step 5
They're ready to eat!! Run the popsicle mold under warm water, and wiggle out your rainbow masterpieces!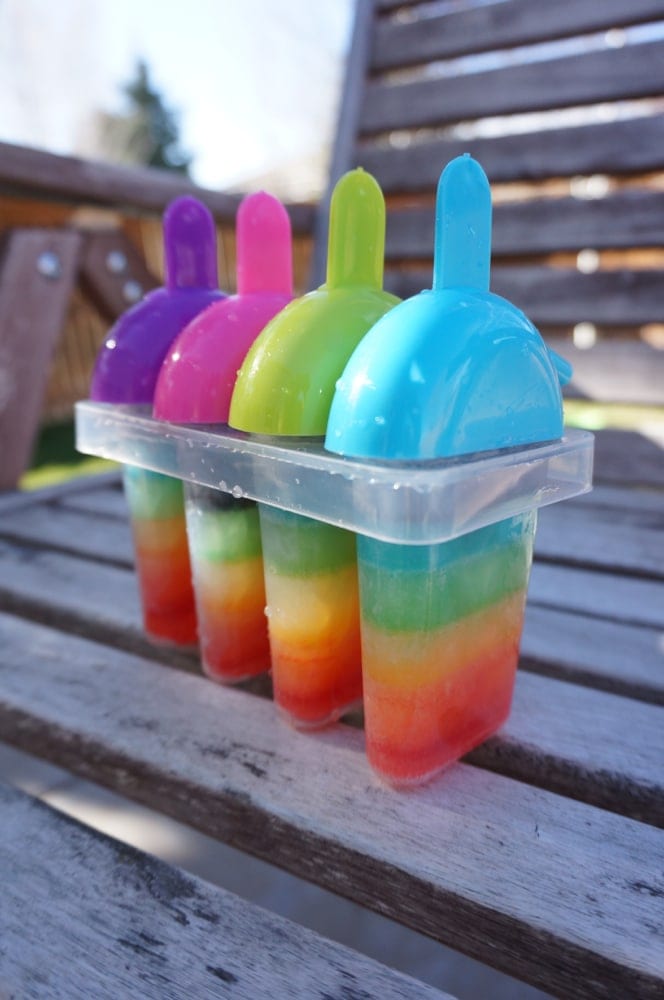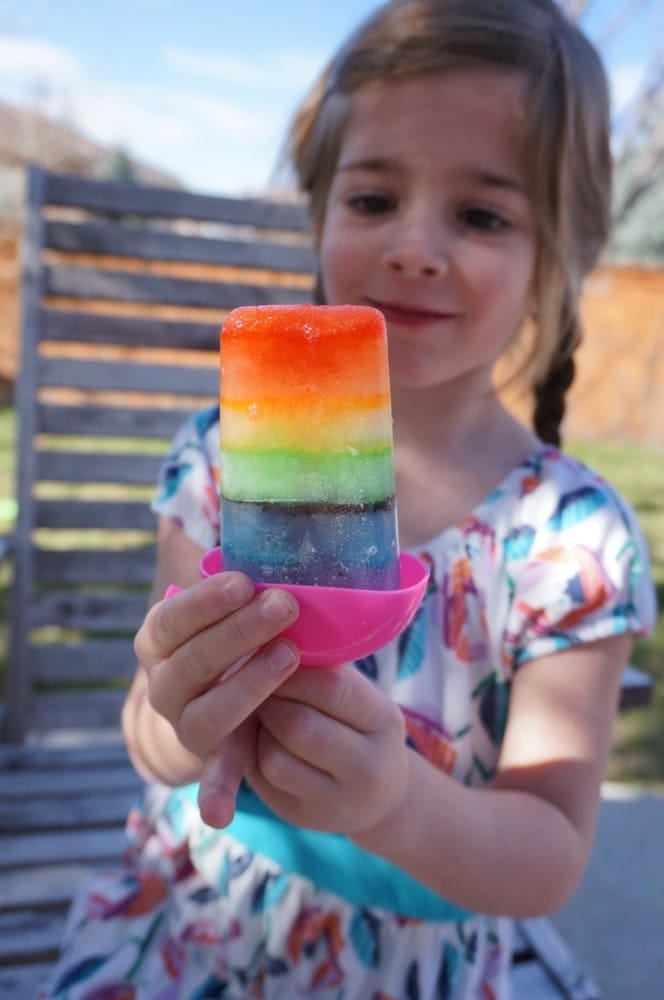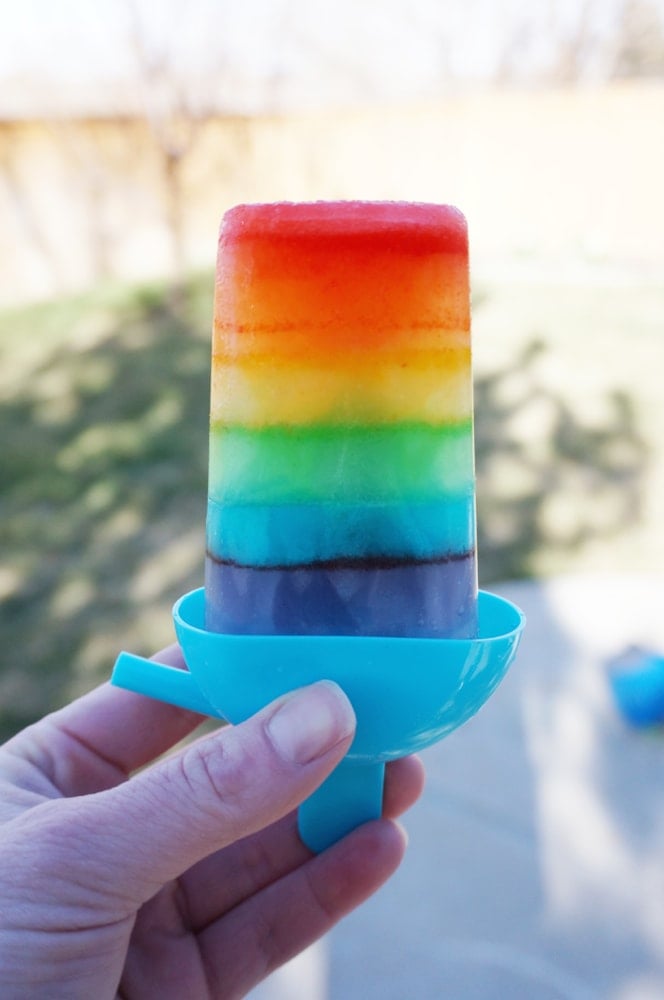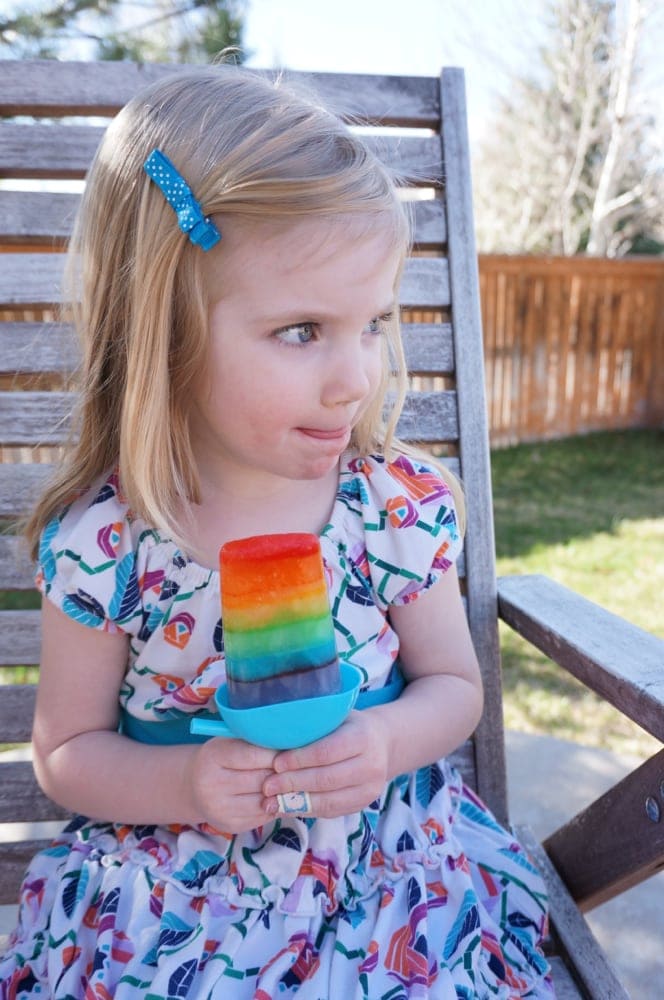 ---
Thanks for sharing Heather, these look like so much fun! I bet it would be fun to experiment with different flavors and color combinations, too. Of if you don't want to wait for each layer to freeze, freezing just one flavor per popsicle would work just as well!
For more kid friendly treats, be sure to check these out!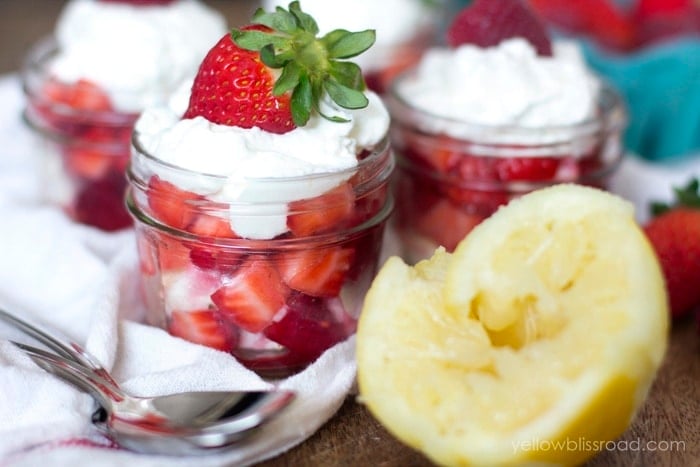 Lemon Whipped Cream and Berry Parfait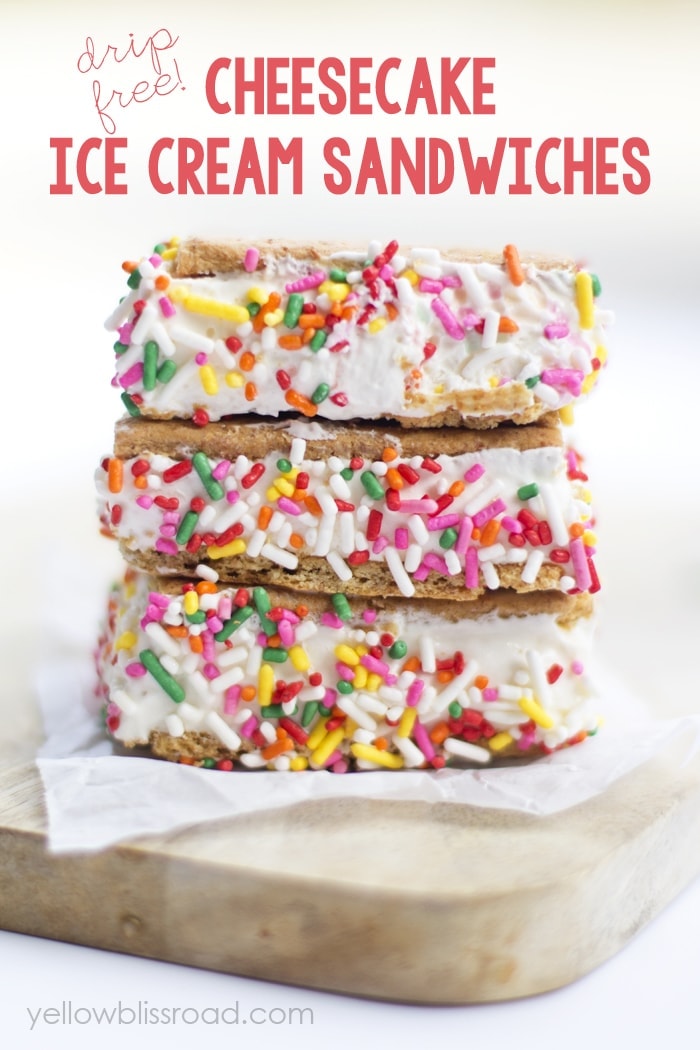 Cheesecake Ice Cream Sandwiches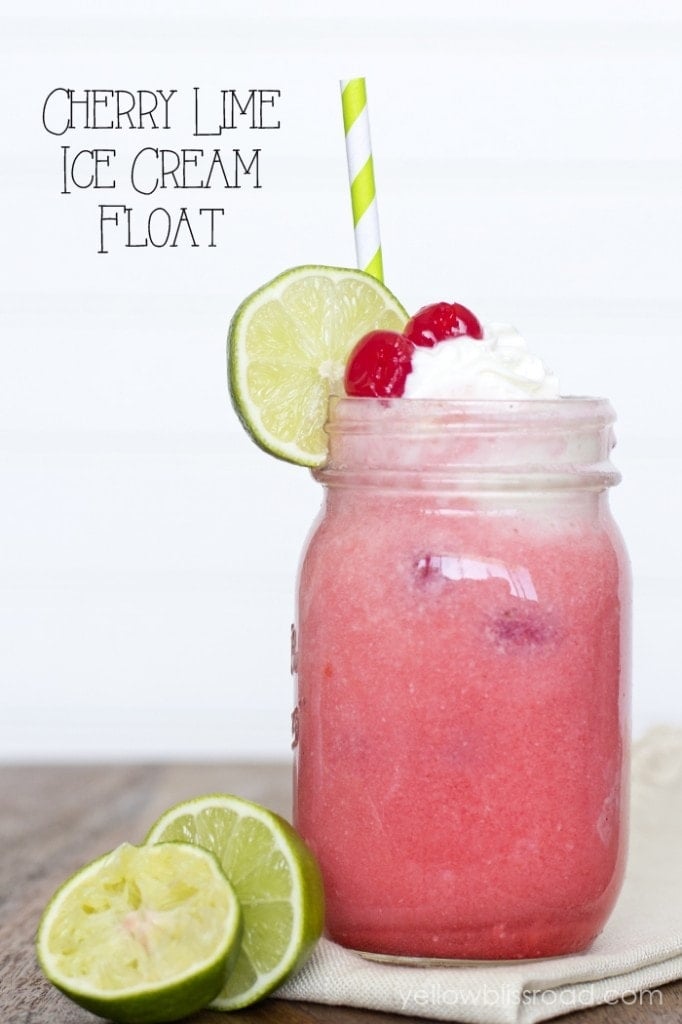 Cherry Limeade Ice Cream Float
For more Sweets & Treats, go HERE and for all Recipes, go HERE.