My son started a new preschool last month (if you want to know why, read this) and so far, we LOVE it. Especially because they celebrate his birthday at school and Cooper can bring whatever snack he wants!
Some of you may know that my son is allergic to many things, among them, eggs. So, suffice it to say, he really doesn't eat cake. But for some reason, he really wanted a "cake" for his birthday party at school.
I pinned a photo several months back of a rice krispie treat cake that I thought would be a great alternative for Cooper.
Enter my friend Diane, who, after I showed her this cake, came up with this: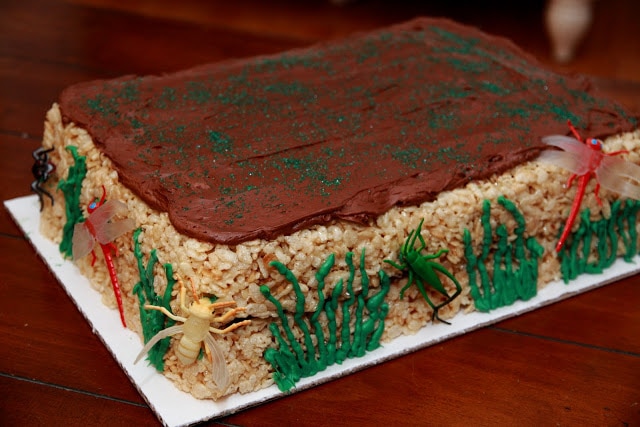 She did such an amazing job and came up with this awesome cake for Cooper to take to preschool for his birthday. He was so excited!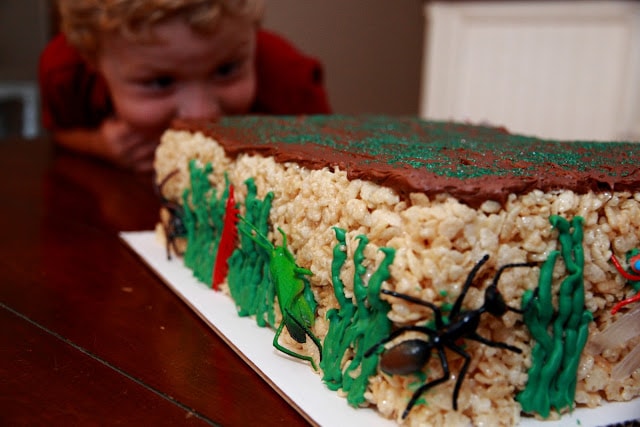 It's super easy too…just two batches of rice krispie treats, each batch pressed into separate cake pans, and icing in the middle to make layers. Since this is a "bug" themed birthday, we added icing on the top to be "dirt" and little plastic bugs and green candy melts for "grass."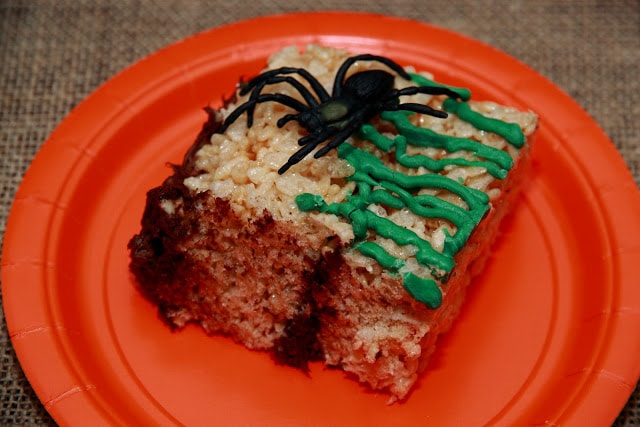 Cooper's buggy rice krispie treat birthday cake was a huge hit at preschool!!
His big bug birthday party was scheduled for tomorrow, but unfortunately we've all been sick and my daughter now has croup so we've had to reschedule. More time to do more cute stuff, right??? It will probably be next weekend and I can't wait to share the party with you!!