Roasted Pork Medallions with Apple Chutney
Thanks to Mazola Corn Oil for sponsoring this post. All opinions are 100% mine.
I have always been a fan of pork chops, but my kids just don't like them. It's super easy to over cook the chops, which is why I really like to cook the Pork Tenderloin Medallions instead. And the addition of the Apple Chutney on top gives a subtle sweetness and tartness to the savory pork.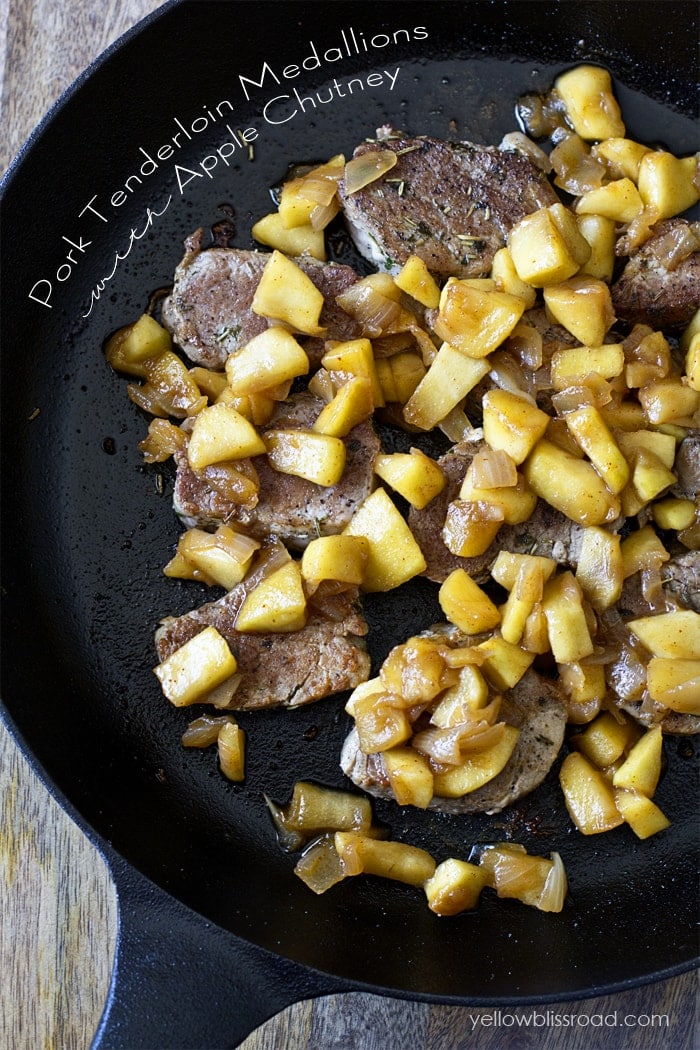 Pork Tenderloin is my absolute favorite cut of pork, but it's easy to dry it out by overcooking, since there is very little fat. I have a couple of tried and true methods of getting this meat deliciously tender and juicy. The most simple way is simply rub the tenderloin with corn oil and garlic, and sprinkle with salt and pepper, wrap it in foil and roast in the oven for about 15 minutes at about 425 degrees. But sometimes I like to get a little fancy, which is I why I started make this Pork Medallion with Apple Chutney recipe.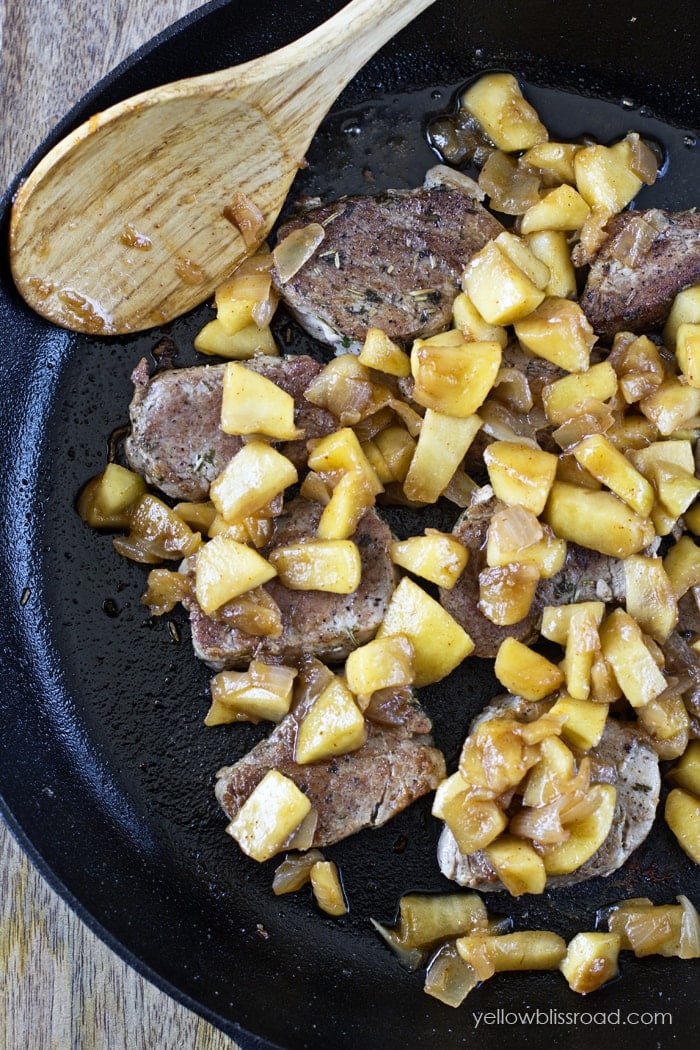 I've always been an olive oil girl, but new research has shown corn oil significantly reduces cholesterol with more favorable changes in total cholesterol (TC) and LDL-C than extra virgin olive oil. PLUS, corn oil has four times more plant sterols than olive oil and 40 percent more than canola oil, which research suggests help lower cholesterol. Who knew? I'm trying out making the switch to Mazola® Corn Oil and so far, I've been nothing but pleased! There are a ton of heart-healthy, tasty recipes using Mazola® Corn Oil over at Mazola.com, too! Get all the info you need in this handy info graphic below:Who knew? So I'm trying to switch to Mazola Corn Oil whenever I can.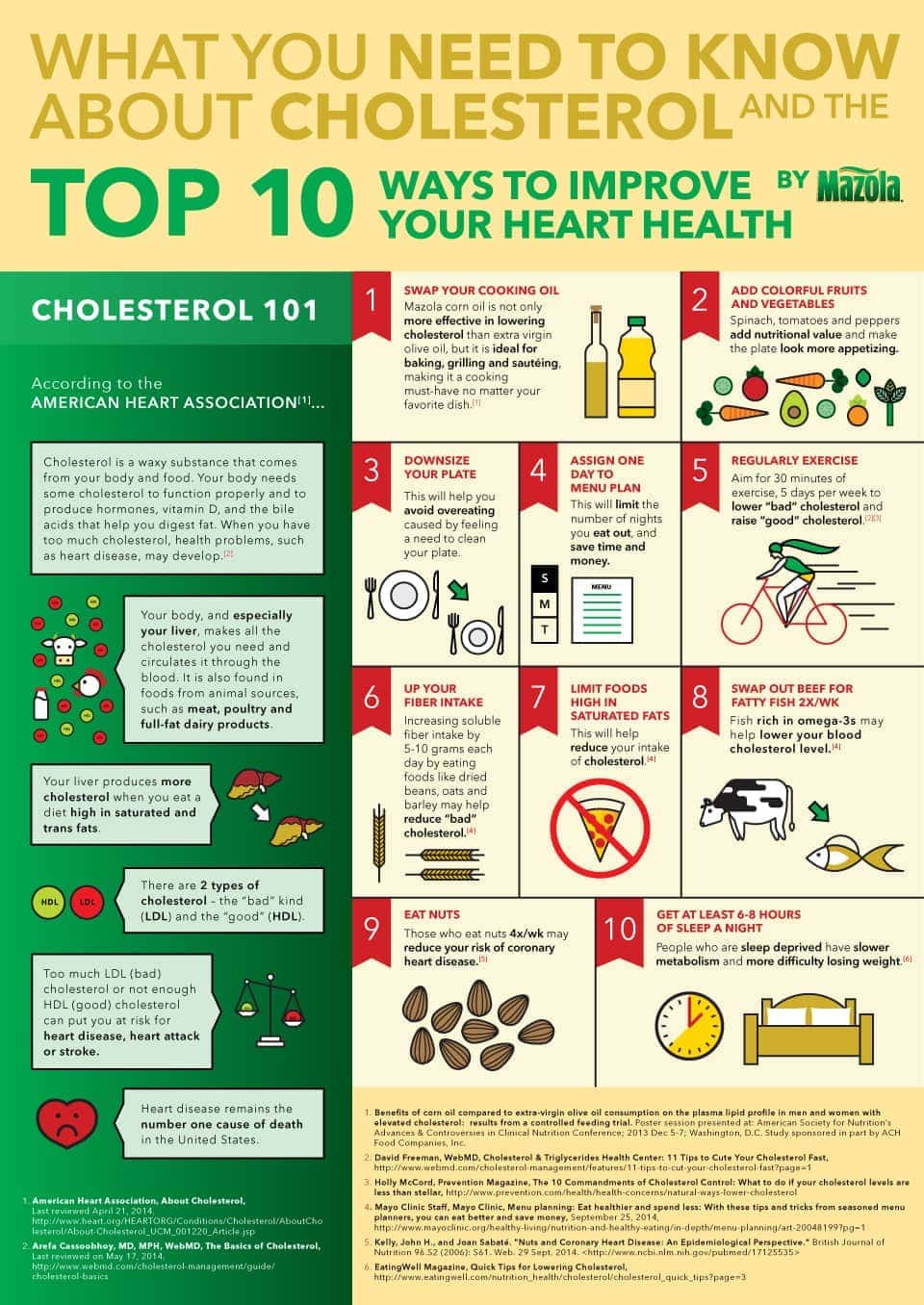 This meal not only looks beautiful, but it tastes amazing. I seriously ate it for dinner, and then again for lunch, and again for dinner. It's that good.
It seems like there are a lot of steps, but it's not difficult at all.
Start by combing Mazola® Corn Oil and all seasonings together. Slice pork into one inch thick medallions and place into a Ziploc bag and coat with the oil and seasonings.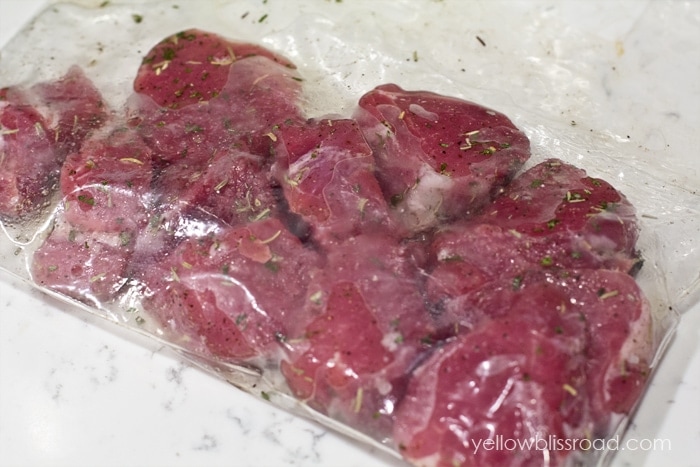 The meat is then cooked in a large, heavy bottomed skillet for a few minutes on each side.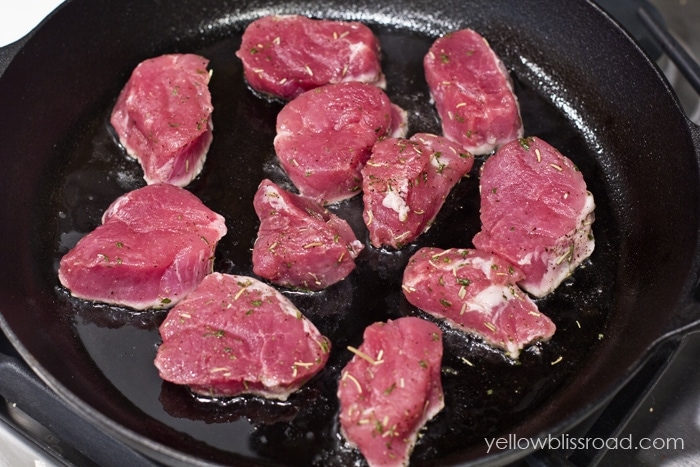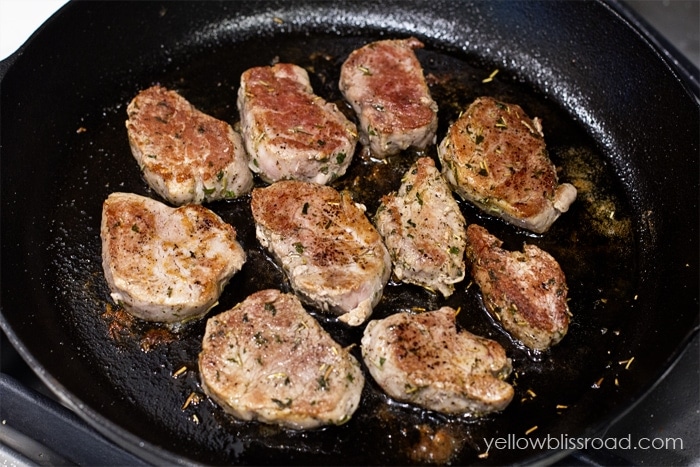 The goal is to have the nice brown color on the outside, without overcooking, and essentially drying out the meat, so you want to cook it on a medium-high heat setting.
The apple chutney couldn't be easier. Cook some onions.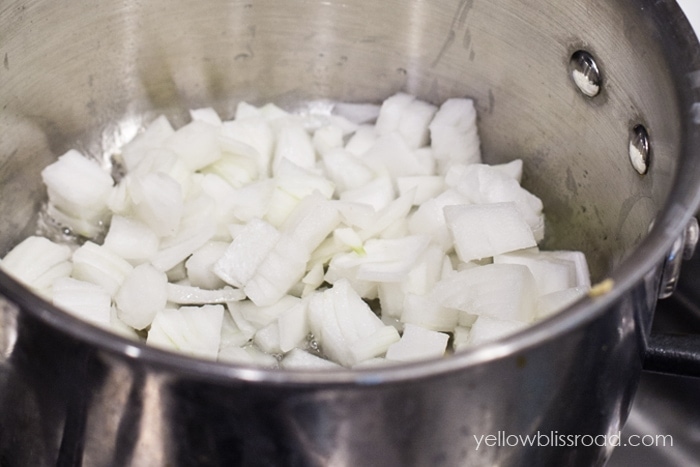 Add some apples.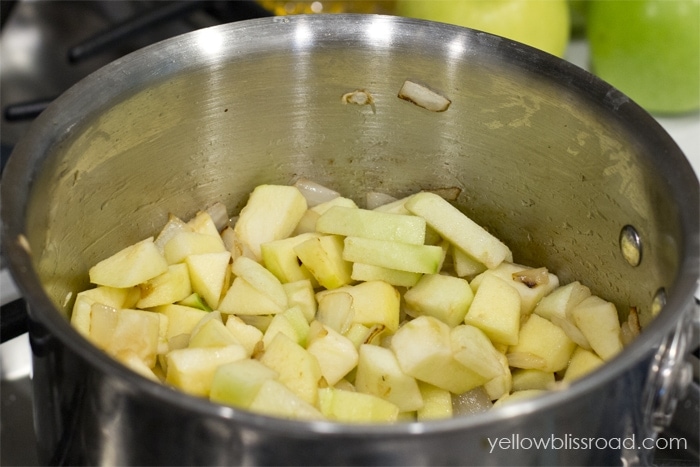 Add some brown sugar and seasonings and cook some more.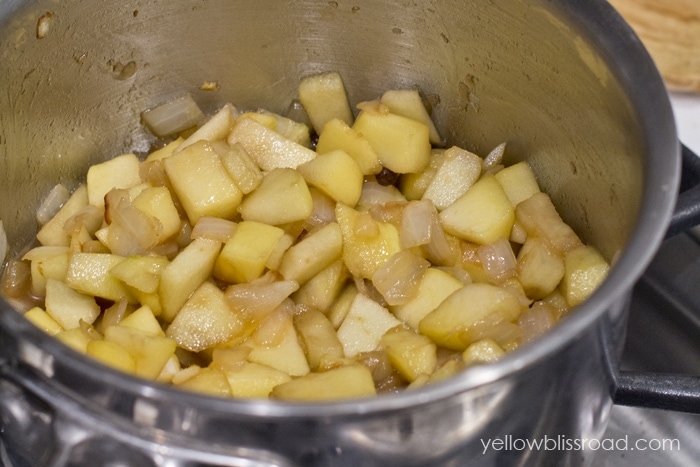 It will have the consistency of a chunky applesauce and the taste is divine. Just make that if you use the whole allspice to remove them before serving.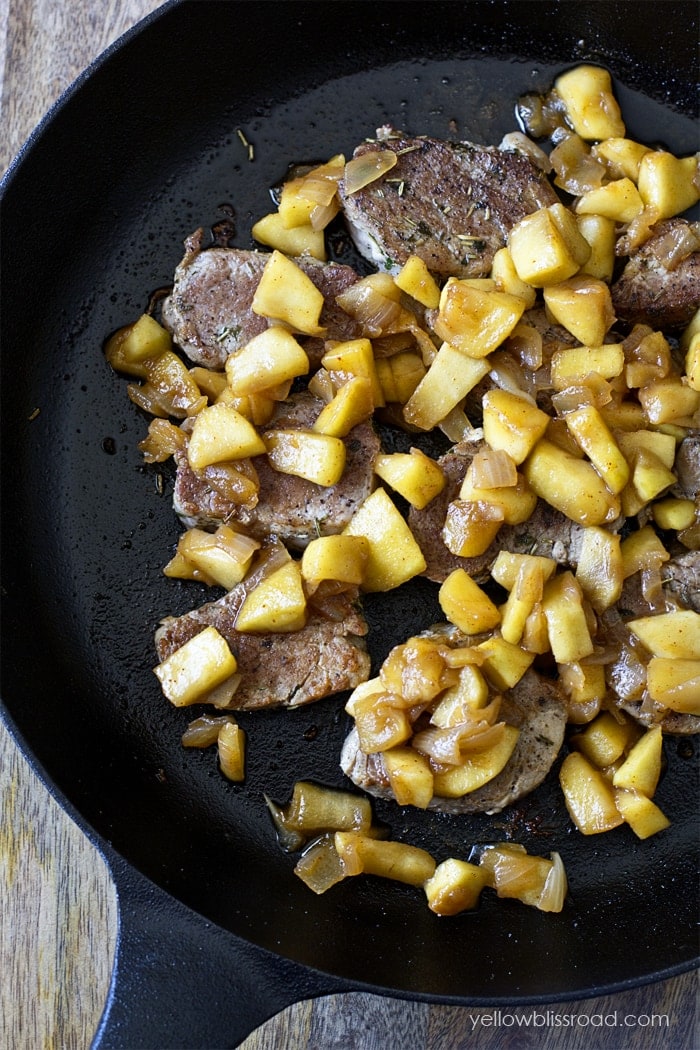 The pork is served with a scoop of the apple chutney on top. Add a salad and you've got one amazing (and incredibly light!) meal.
If you've made this recipe, please come back and leave us a star rating or a comment below. Or, tag us on social media @yellowblissroad or #yellowblissroad for a chance to be featured.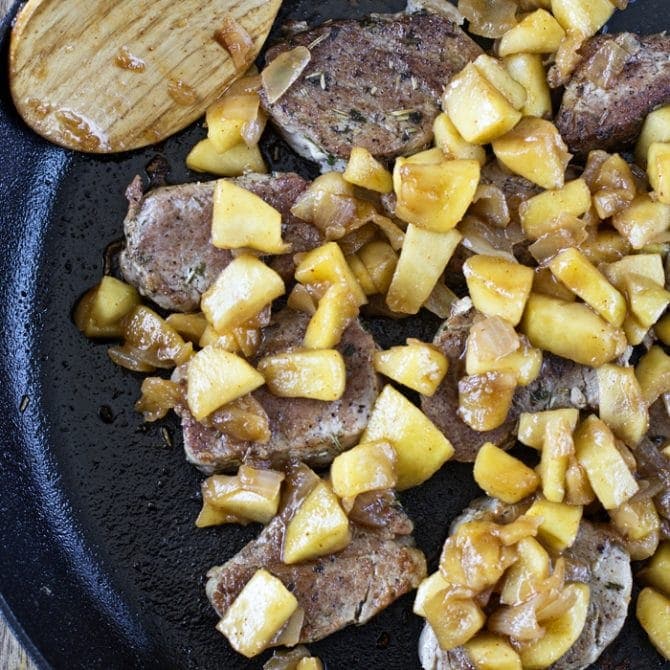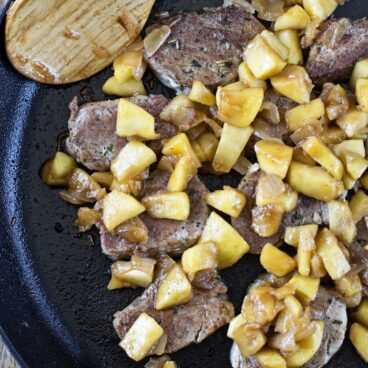 Roasted Pork Medallions with Apple Chutney
Ingredients
Pork Tenderloin Medallions:
1

pound

Pork Tenderloin

½

teaspoon

rosemary

½

teaspoon

sage

¼

teaspoon

pepper

1

teaspoon

parsley

1

teaspoon

salt

3

Tablespoons

Mazola® Corn Oil

1

Tablespoon

Mazola® Corn Oil

for cooking
Apple Chutney:
1

Tablespoon

Mazola® Corn Oil

½

sweet onion

diced

3

cooking apples

cored, peeled and cut into ½ inch cubes (I used Granny Smith and Golden Delicious)

2

Tablespoons

brown sugar

½

teaspoon

Spice Islands® Ground Mustard

½

teaspoon

Spice Islands® Ground Ginger

½

teaspoon

Spice Islands® Chili powder

½

teaspoon

Spice Islands® Ground Cinnamon

10

Spice Islands® Whole Allspice

2

Tablespoons

red wine vinegar
Instructions
Mix Mazola® Corn Oil and all seasonings together in a small bowl. Slice pork into one inch thick medallions and place into a Ziploc bag. Pour the oil and seasonings into the bag and massage into the meat. Seal the bag, pressing out as much air as possible.

Refrigerate for at least 30 minutes.

Allow the pork to come to room temperature for 10-15 minutes. Heat 1 tablespoon Mazola®Corn Oil in a heavy bottomed skillet (Cast iron works great here). Once the oil is hot, place the medallions in the skillet and cook for about 3-4 minutes per side. Remove from heat and cover the pan with foil. Allow the meat to "rest" for 10 minutes before serving.

During the "rest" period, prepare the chutney.

Heat one tablespoon corn oil in a medium saucepan over medium high heat. Add onions and cook until translucent and starting to brown, about four minutes. Add apples and cook for about three minutes, until starting to soften. Meanwhile, mix the sugar and spices in a small bowl. Add spices and vinegar to the saucepan and stir to coat. Continue to cook over medium heat for several minutes, until apples are fork tender.

Serve pork medallions with a spoonful of apple chutney on top.