These Salted Caramel Pretzel Brownies and soft and chewy with a sweet and salty finish. It's hard to stop at just one!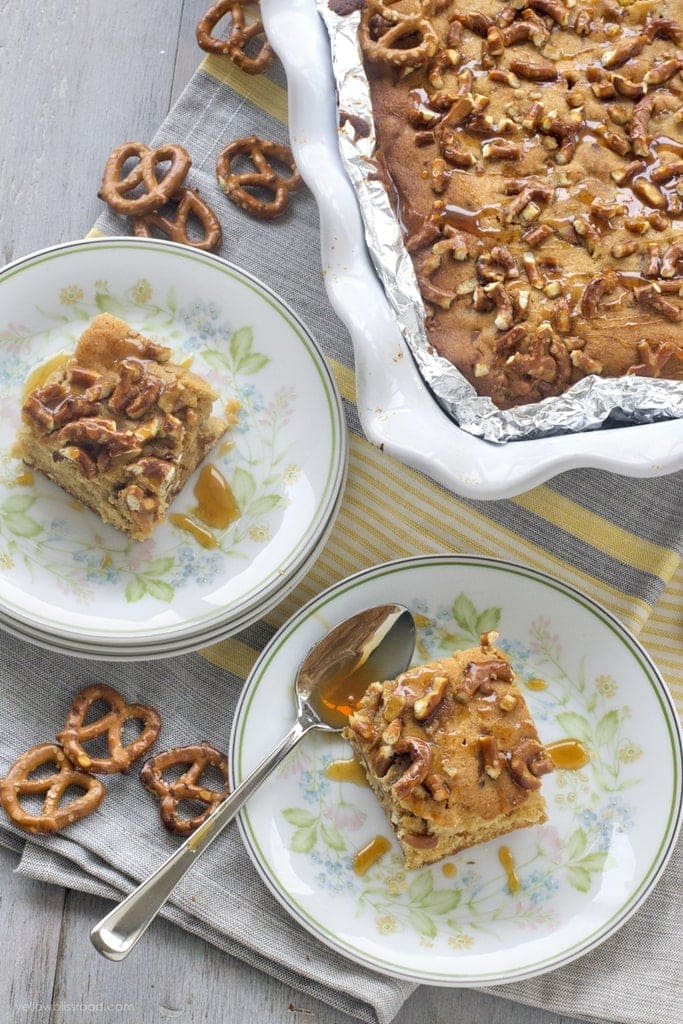 Salted caramel has seen increasing popularity in the past several years. It's both salty and sweet, satisfying your sweet tooth and salty cravings at the same time. Blondies are an all time favorite of mine, because they aren't overly sweet. In this particular dessert however, thanks to the gooey caramel, they are incredibly indulgent and rich.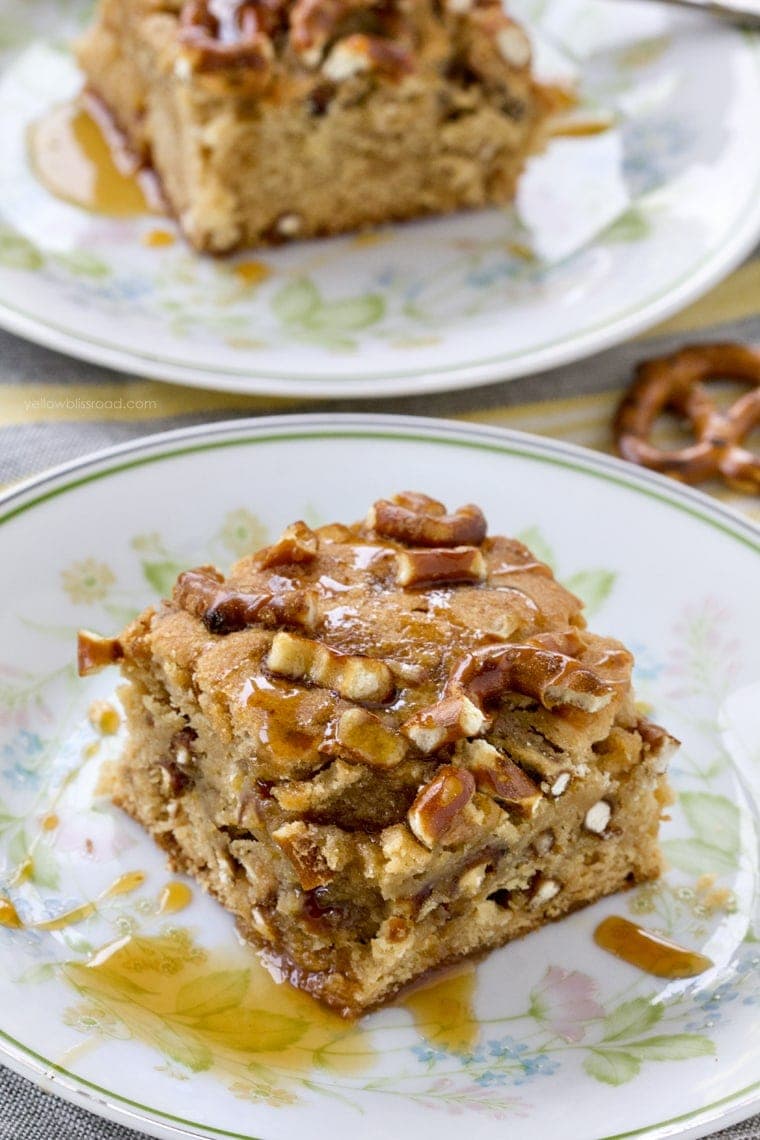 My mom came across this recipe in a recent issue of Family Circle Magazine and said, "Here. Make these." The recipe is super simple, and I followed it pretty much as it was written, although I did double the recipe and adjust the cooking time.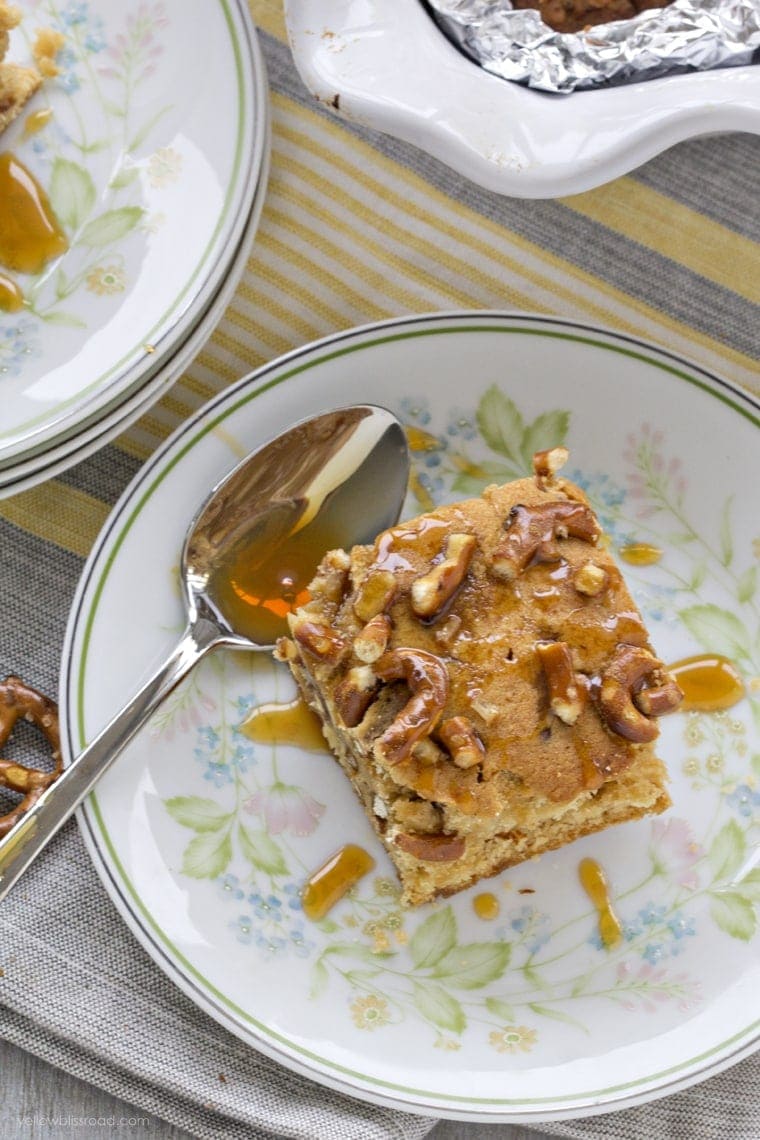 Since the recipe is doubled and the pan I used isn't quite double the original size, these Salted Caramel Pretzel Blondies turned out nice and thick, and almost cake like. The pretzels provide a much needed crunchy texture, which,for me, tricks my mind into thinking I'm eating nuts, which are a big no-no in our house due to my son's nut allergy. The final drizzle of caramel adds just the right finishing touch.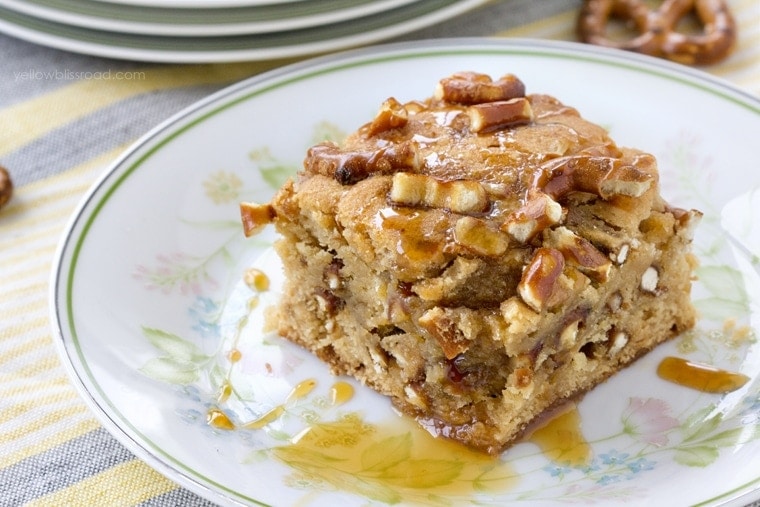 Recipe slightly adapted from Family Circle Magazine.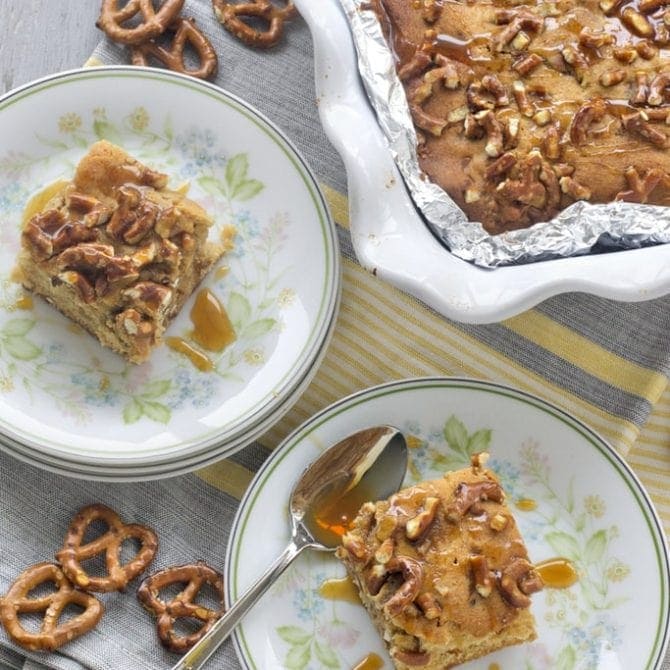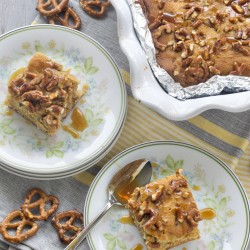 Salted Caramel Pretzel Blondies
Ingredients
3 cups all purpose flour
1 teaspoon Kosher Salt
1 1/2 cups butter softened (3 sticks)
1 cup light brown sugar
2 eggs
2 teaspoons vanilla
1 cup caramel sauce divided
3 cups pretzels roughly chopped
Instructions
Preheat oven to 350 degrees. Line a 9" x 13" baking dish with foil and spray lightly with cooking spray to prevent sticking.

In a medium sized bowl, whisk together flour and salt. Set aside.

Set aside about 2 tablespoons of the caramel sauce.

In a stand mixer with the paddle attachment, or in a large bowl with a hand mixer, beat butter, sugar and the remaining caramel sauce until light and fluffy; about 2 minutes. Scrape the sides of the bowl with a spatula. Beat in eggs and vanilla until well combined.

Stir in flour mixture just until combined. Fold in about 2 1/4 cups of the crushed pretzels.

Spread batter evenly in the prepared baking dish. Sprinkle remaining crushed pretzels on top.

Bake in the preheated 350 degree oven for about 35-40 minutes, or until top is golden brown and a toothpick inserted into the center comes out clean.

Cool for about 10 minutes in the dish, then use the foil to lift out to a wire rack to cool completely. Once blondies are completely cool, drizzle with the 2 tablespoons of caramel sauce.
Fore more delicious desserts, try these: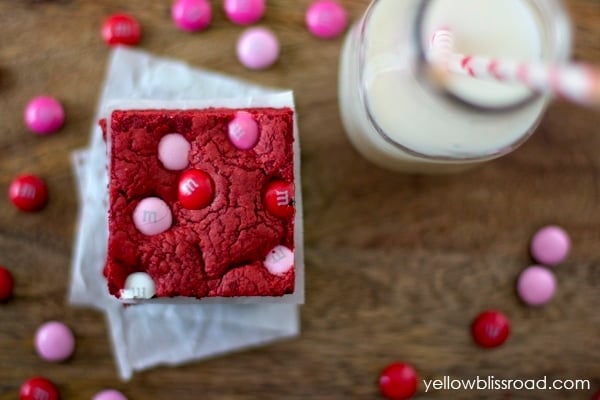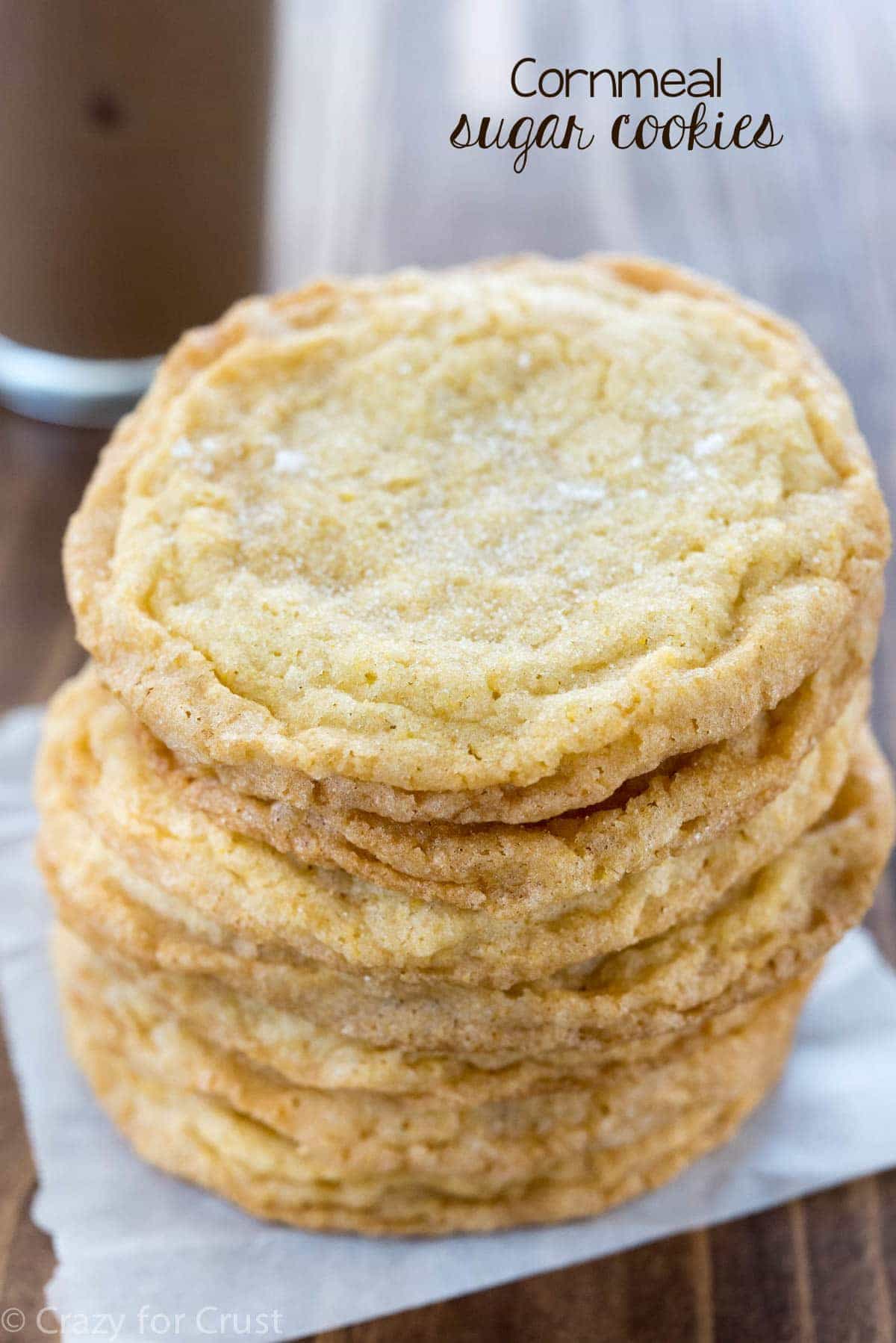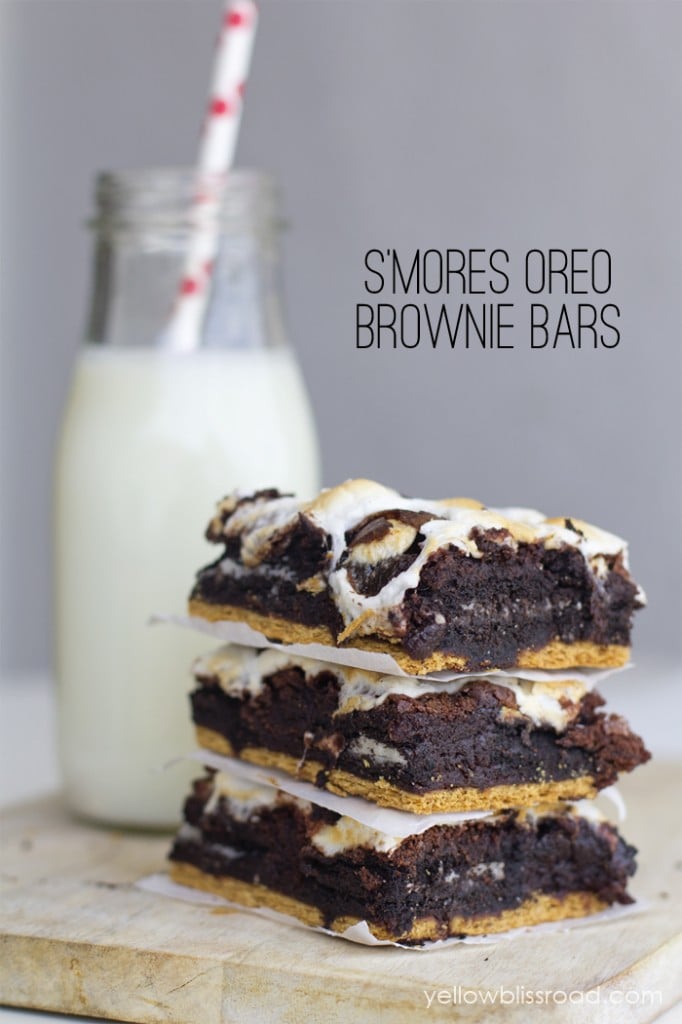 For more sweets & treats, go HERE, and for a complete list of recipes, go HERE.