These vintage music sheet paper fan ornaments are an easy project that looks beautiful on your Christmas Tree!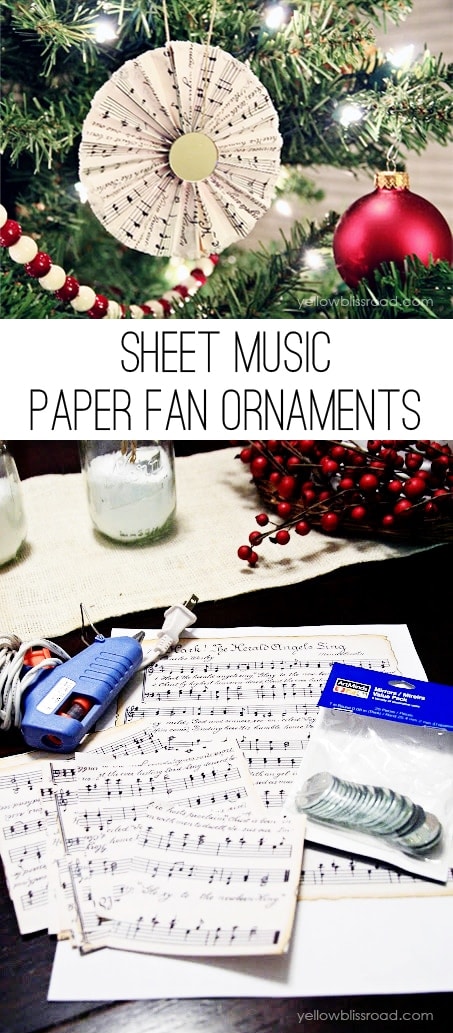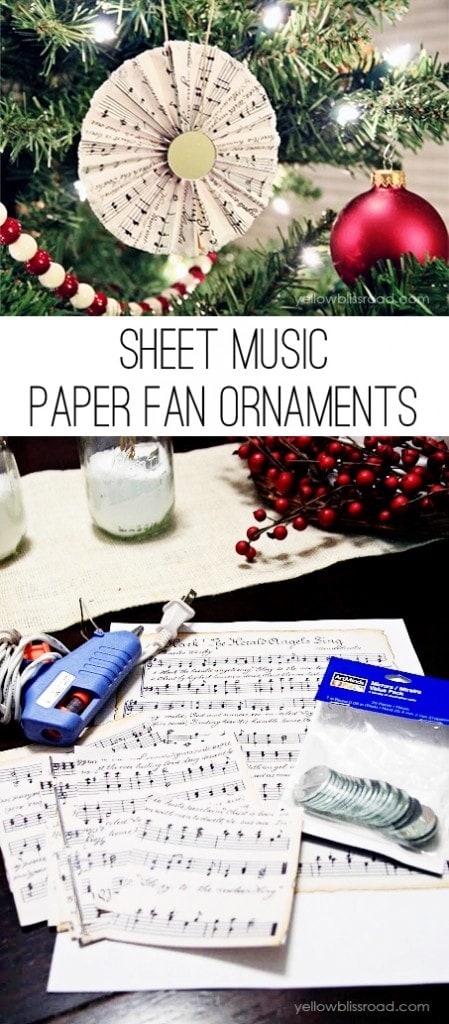 Every single craft that I did this year (all three) included this vintage sheet music I downloaded from Vintage Feedsacks.
**Update – that blog has been deleted and the music is no longer available. However, a quick search of Pinterest yielded several options!
I love this particular song, but there are several other songs available.
I have always wanted to use vintage sheet music for a project, so this Christmas seemed like the perfect time. I have a feeling my obsession with burlap may transition to an obsession with vintage sheet music…
Anyway, here's the project I just finished tonight.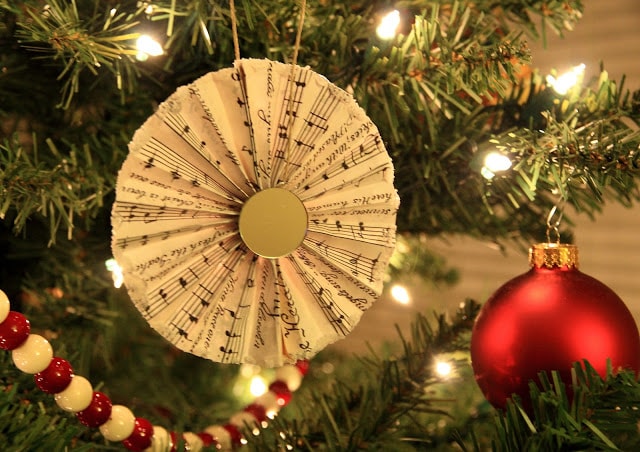 It was a simple enough project and I think they are just pretty enough. I added some epsom salt to the edges of a few of them, but I'm not a fan of mess, so I left it at just a couple with the salt.
To make the ornaments, I printed the sheet music double sided onto regular white printer paper. there's no need to be concerned with whether or not it's lined up as you won't see both sides at the same time.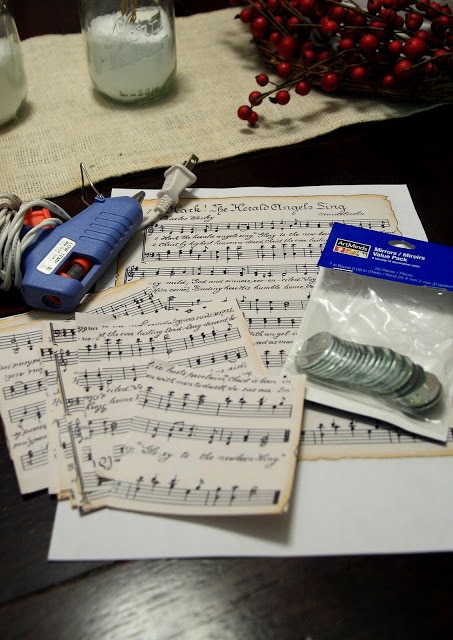 I cut the sheets into 4″ x 4″ squares. I made some a little bigger or small for some variation. Again ,no need for precision cutting, just so they are square, and you have two that are the same size.
They were super easy to put together. I think you can probably figure it out from the pictures…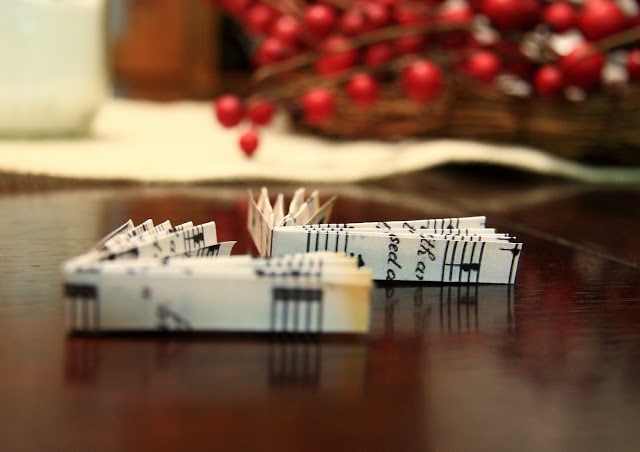 Fold the squares accordion style, with the same width/number of folds for each and fold in the center, and glue them together as shown in the photo below.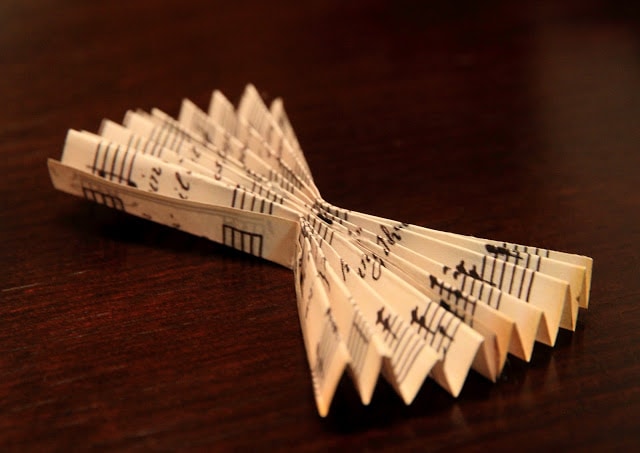 Fan out the accordion and glue the open sides together, forming a full circle.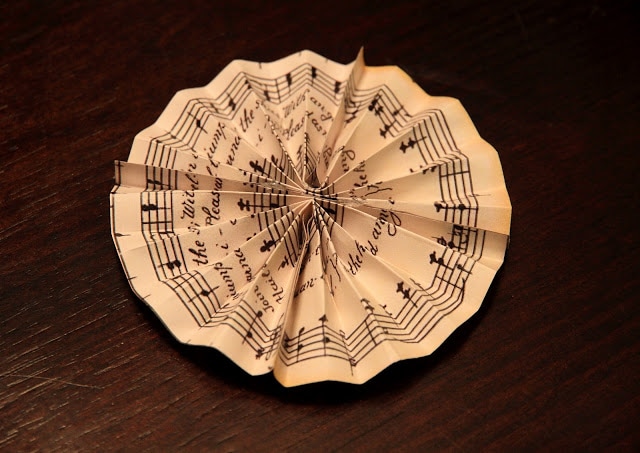 If you have space in the center of the folds like I did, you can loop twine through it, or you just punch a small hole towards the top.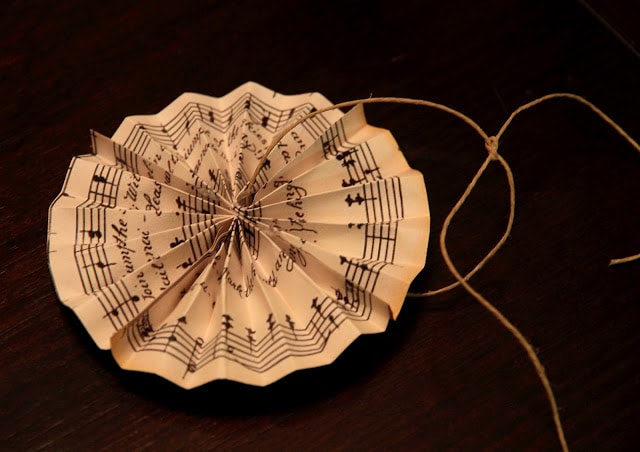 At this point I was just going to hang them up like they were, but I decided to add some little mirrors I got in a package of 12 at Michaels to help add a little more twinkle to the tere.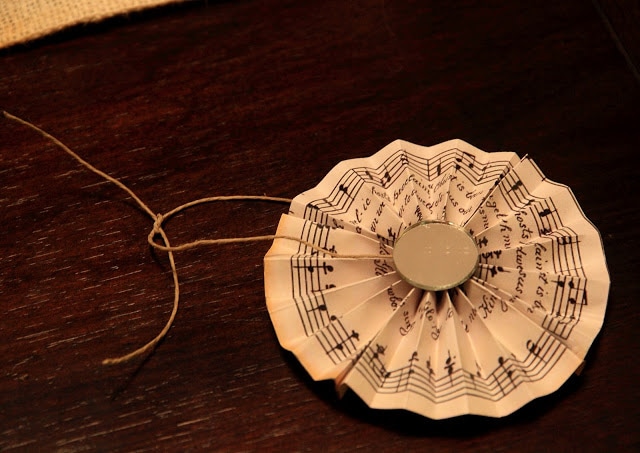 I really love how they turned out, I think the mirror adds a nice touch to bounce a little sparkle from the Christmas lights. I hung a few of them from my table centerpiece.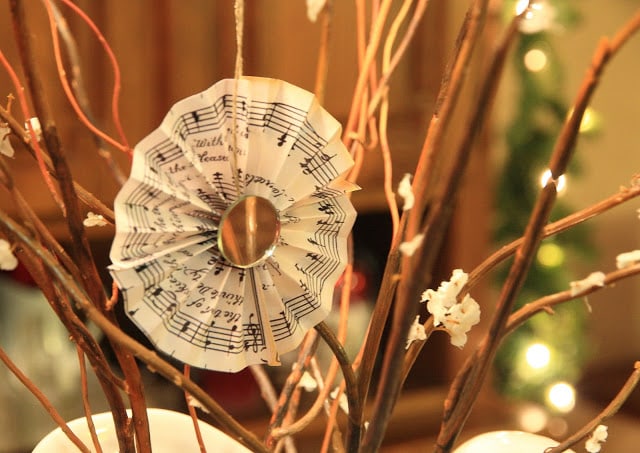 At this point you could add some epsom salt like I did, or even glitter. You won't see me adding glitter. I hate glitter.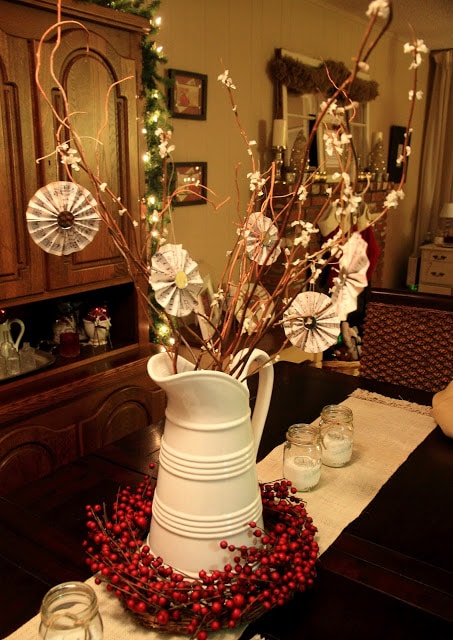 I'm also planning on giving some as gifts, tying them onto packages, or anything else I can think of to add these little pretties to! Banners, garlands…I could go on…I'm thinking they will be a nice way to transition from Christmas to winter decor.
This will be the last post until after Christmas, as I'll be taking a break to focus completely on my family. I have big plans of drinking hot chocolate and driving around looking at Christmas lights tomorrow night, watching Christmas movies and drinking hot chocolate the next night, and baking cookies for Santa (and drinking hot chocolate) on Friday night.
I'm also looking forward to Christmas Eve when my children will be participating in the Christmas Eve service as Mary & Joesph. Actually, I'm scared to death that they will start grabbing each others butts again like they did when they went up for the children's message last week. Wish us luck!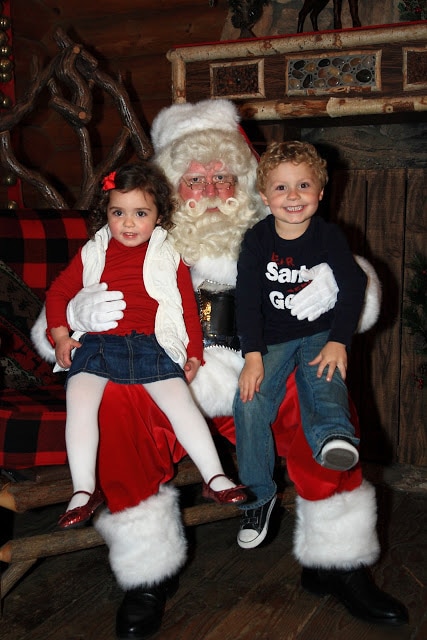 From our family to yours, may the blessings of PEACE, HOPE and LOVE be your gifts this Christmas and throughout the coming year.
MerRy ChriStmaS!