Simply Organized: Organizing the Cleaning Closet
What is it about the month of January that puts everyone into this almost panicked, "I must get organized" mode?
I think about it every year around this time, but don't often do a whole lot about it. This year, it's going to be different! I say that every year, but this time, I really mean it (and I've got the receipts from Home Depot, Target and Dollar Tree to prove it)!
My Plan: It seems that whenever I try to organize one room at a time, all of the junk that doesn't belong just gets tossed into a different room, cluttering up that space, and it becomes a vicious cycle. I'm going to attempt to get organized, item by item and space by space, rather than going room by room. For example, one week it will be cleaning supplies, the next week, tools, and so on and so forth.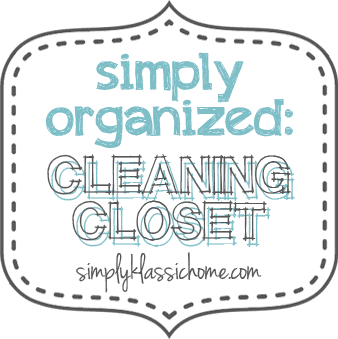 I decided that the first step to actually wanting a clean and organized home, is organizing the cleaning products themselves. Because if the cleaning products are nice and organized, I'm going to want to use them to clean something. And if I want to use them to clean something, I'm going to have to organize the space I want to clean. And then I'll have to organize some more and I just won't want to stop…sounds logical, yes?
First I corralled all of the cleaning products.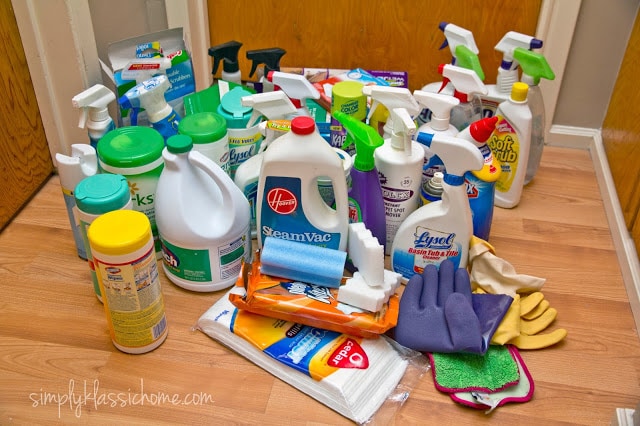 Most of these were in the hall closet (soon to be known as the Cleaning Closet!) and there were a few in the kitchen, laundry room, and bathrooms.
Don't judge me, but some of the supplies have been in here, untouched, for more than five years. Hey, I share this all in the name of keepin' it real, folks! Here's what I threw out…mostly because they were empty or practically empty, or were ripped or just plain nasty (gloves).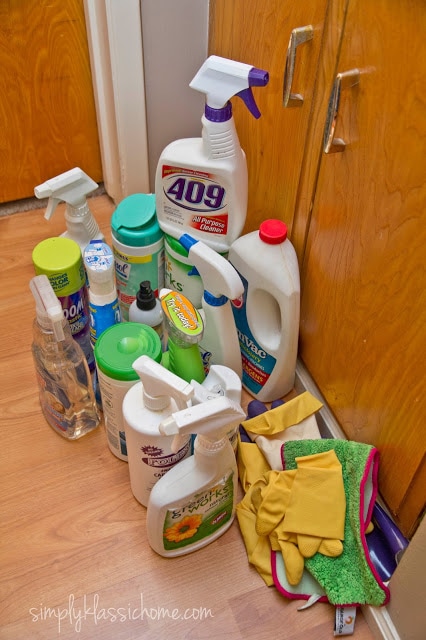 Mostly, everything had been kept in here: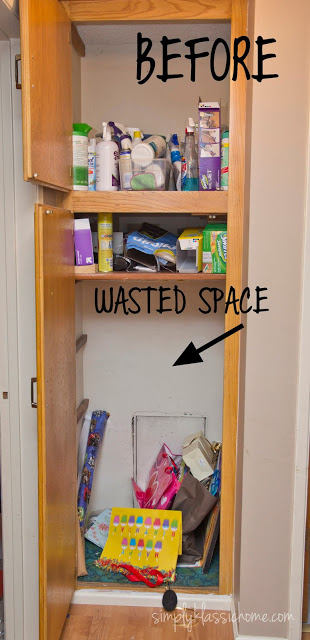 Shameful.
And here's what it looks like now: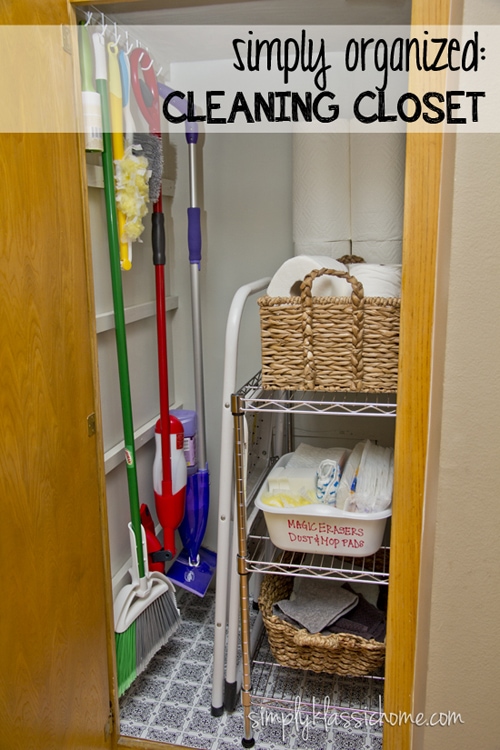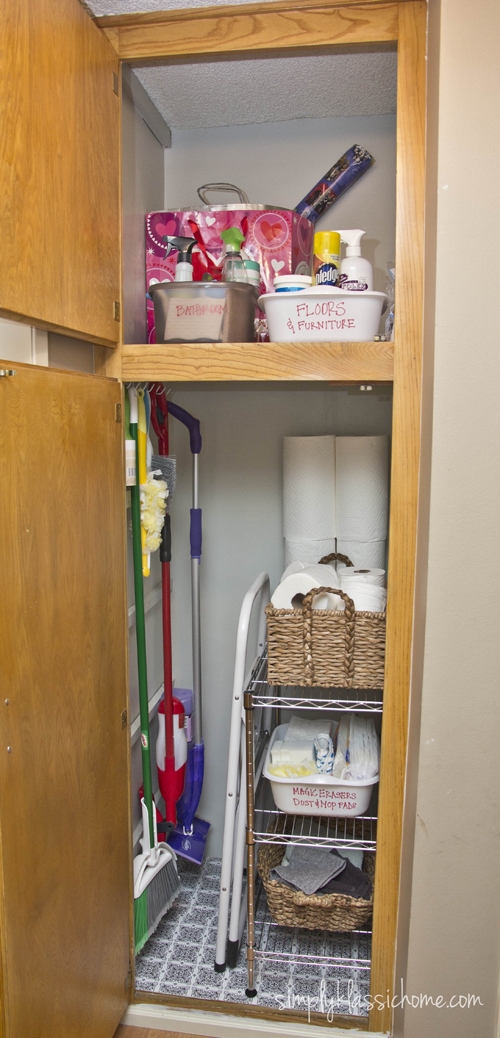 After tossing a bunch of the empty bottles, I divided the remainder of the supplies into sections – bathroom, kitchen, etc. and sorted everything into bins, and added cute, professional looking labels.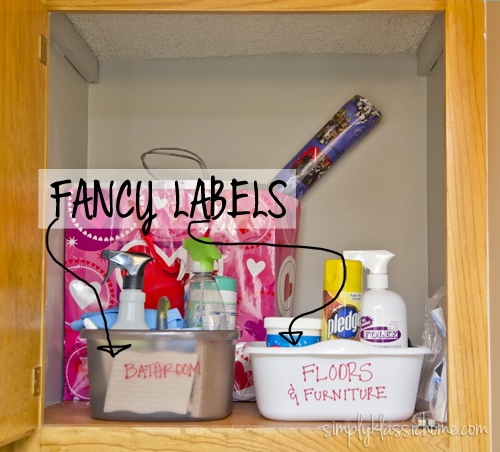 The top cabinet houses the chemical cleaners.
In the lower cabinet, I kept the mops, brooms, dusters and rags, and I even had space leftover to store the TP and paper towels. Rags and paper products were placed in seagrass baskets from Homegoods (on hand).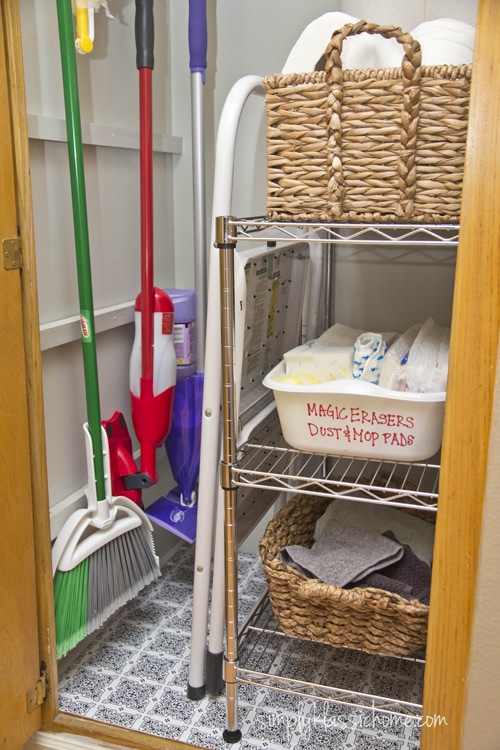 Before I could load everything into cabinet, I had to first completely removed everything, and scrub the bottom, walls, and shelves. I ended up painting the dirty, marked up walls with paint I had leftover from my
living room makeover
. Then I covered the shelves with non-slip drawer liner ($1 a roll from Dollar Tree). It was much easier to work with than contact paper, and if it rips I can just take it up and replace it. It was a dollar a roll, and I used two rolls.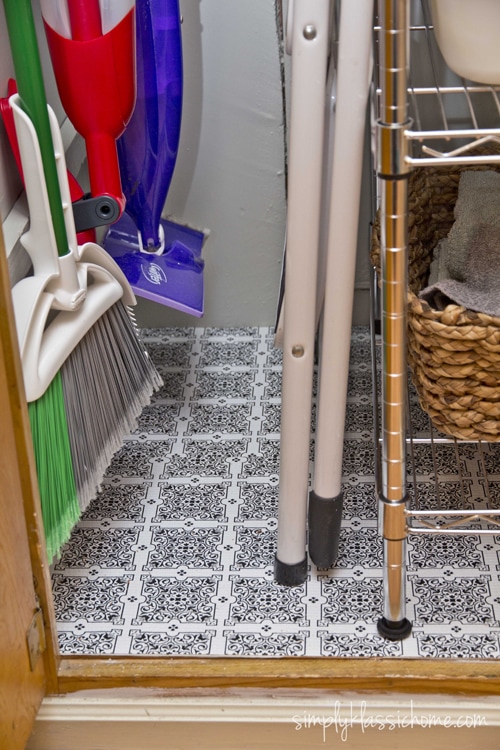 A hook rack on the inside of the cabinet hold my mops, broom and other tools.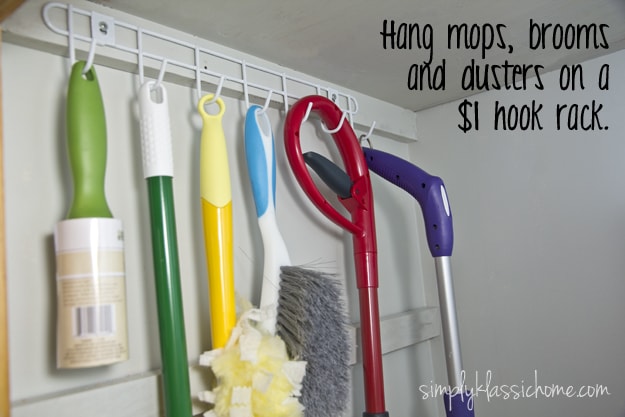 It was so easy to pull this little space together, I could slap myself for not doing it sooner. With the exception of the painting, it took about an hour.
Here's a list of the supplies I purchased:
Hook rack: Dollar Tree
White bins: Dollar Tree
Non-slip Drawer Liner: Dollar Tree
Metal Shelves: Target ($17)
Bathroom Caddy: Target ($4?)
Seagrass baskets (Homegoods) and actual cleaning supplies all were on hand.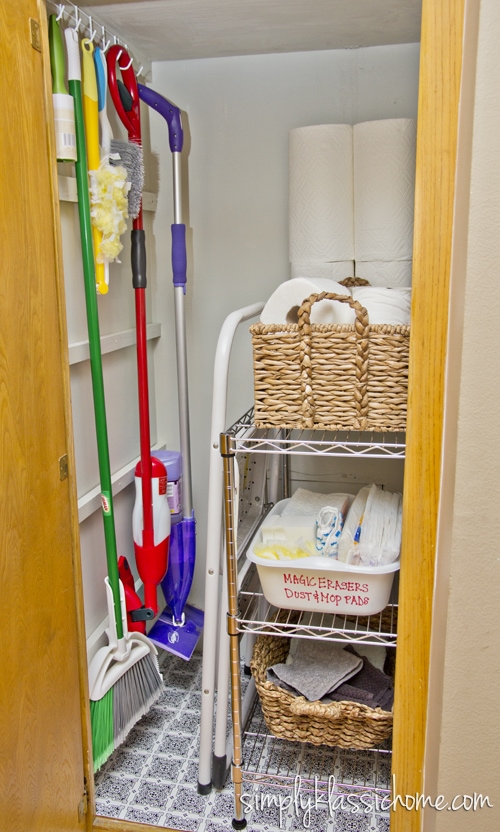 Sharing this little space has really inspired me to keep going (hopefully it inspired you too!), so I hope you'll check back often to see what I'll be working on next!