Slow Cooker Cauliflower Soup
I adore my slow cooker and this time of year, one of my favorite choices for filling the ol' crock pot is a big batch of soup. This Slow Cooker Cauliflower Soup with Pepper Jack and Bacon is not only creamy and comforting, but it's also a nice balance of healthy (cue the boatload of cauliflower) and decadent (helloooo, cheese and bacon!). And you won't believe how simple it is to make!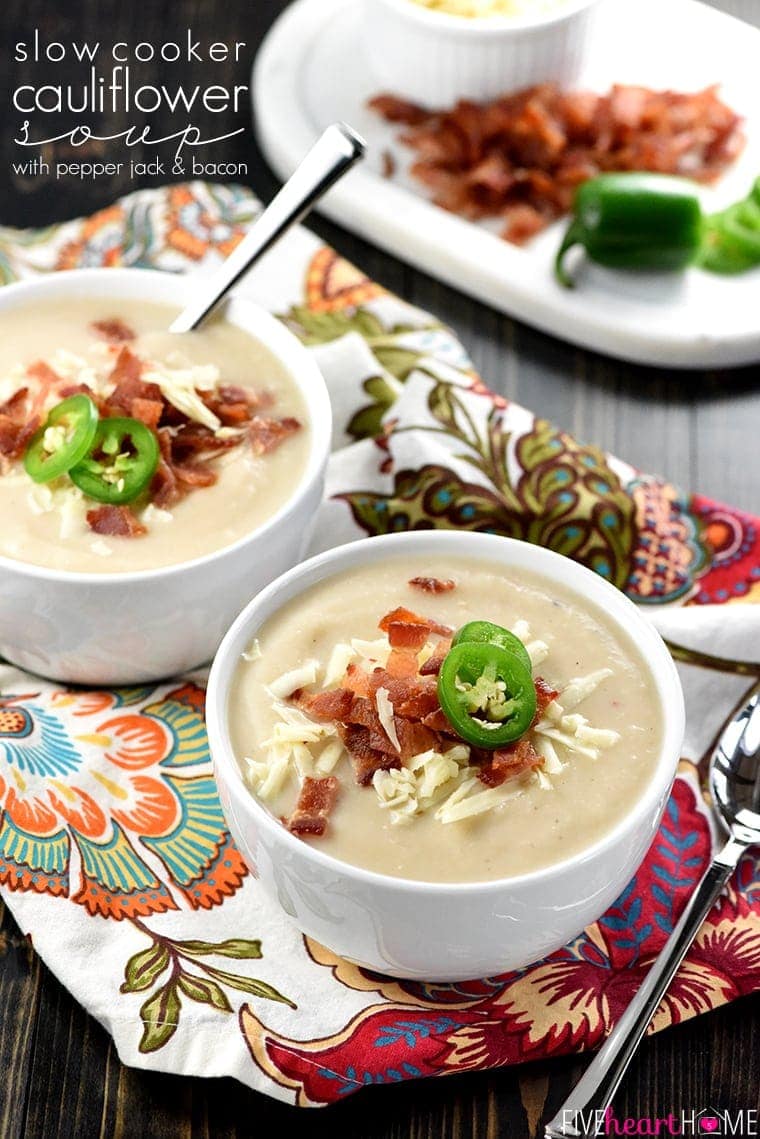 Hi there, Yellow Bliss Road friends! It's Samantha from Five Heart Home, and I'm so excited to be back for another round of Slow Cooker Sundays!
This recipe starts with frozen cauliflower florets, because it doesn't get much easier than cutting open a bag, am I right? After tossing said cauliflower into the slow cooker, season with some garlic salt and pepper and pour in a few cups of broth. And then…walk away!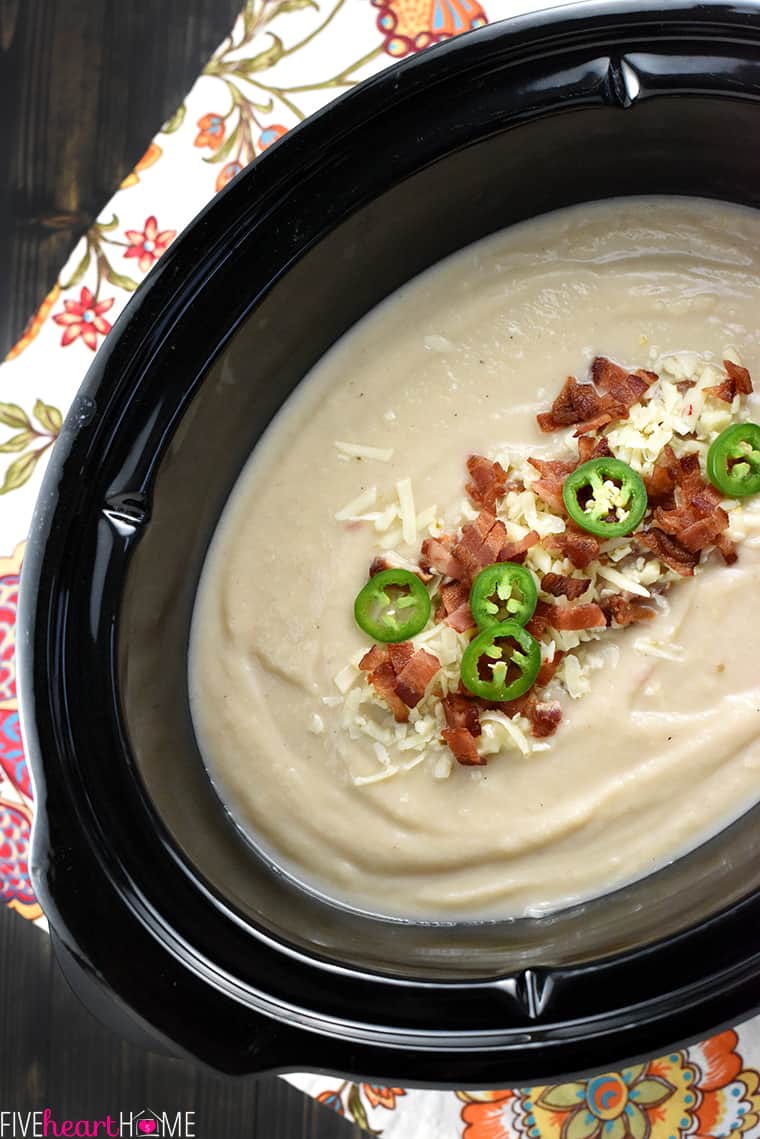 The fun really begins after the cauliflower has cooked until tender, because here's where your immersion blender (AKA, one of my favorite kitchen appliances EVER) comes in. If you don't have an immersion blender, GET ONE! Just kidding. 😉 As much as I love my immersion blender, you can totally achieve a smooth soup by transferring it in batches to a food processor or blender and pureeing until smooth.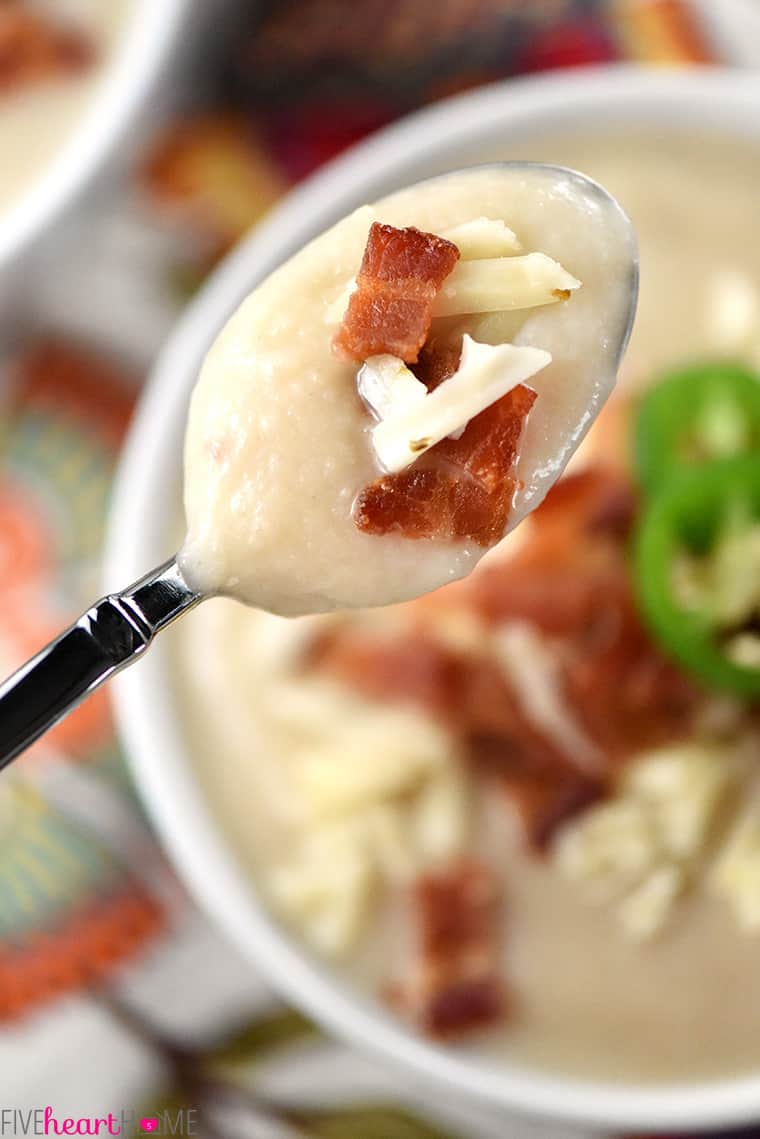 Once your soup is creamy and free of chunks, stir in a cup of half-and-half. And then, to add zest to the mild-flavored cauliflower, blend in a few handfuls of shredded pepper jack cheese. If you don't care for pepper jack, you may certainly substitute mild Monterrey jack or even sharp cheddar, but I enjoy the kick that pepper jack lends to this soup. Last but not-on-your-life least, garnish your bowl with crispy, salty diced bacon. And by garnish, I mean LOAD. IT. UP! The more bacon the better has always been my mantra.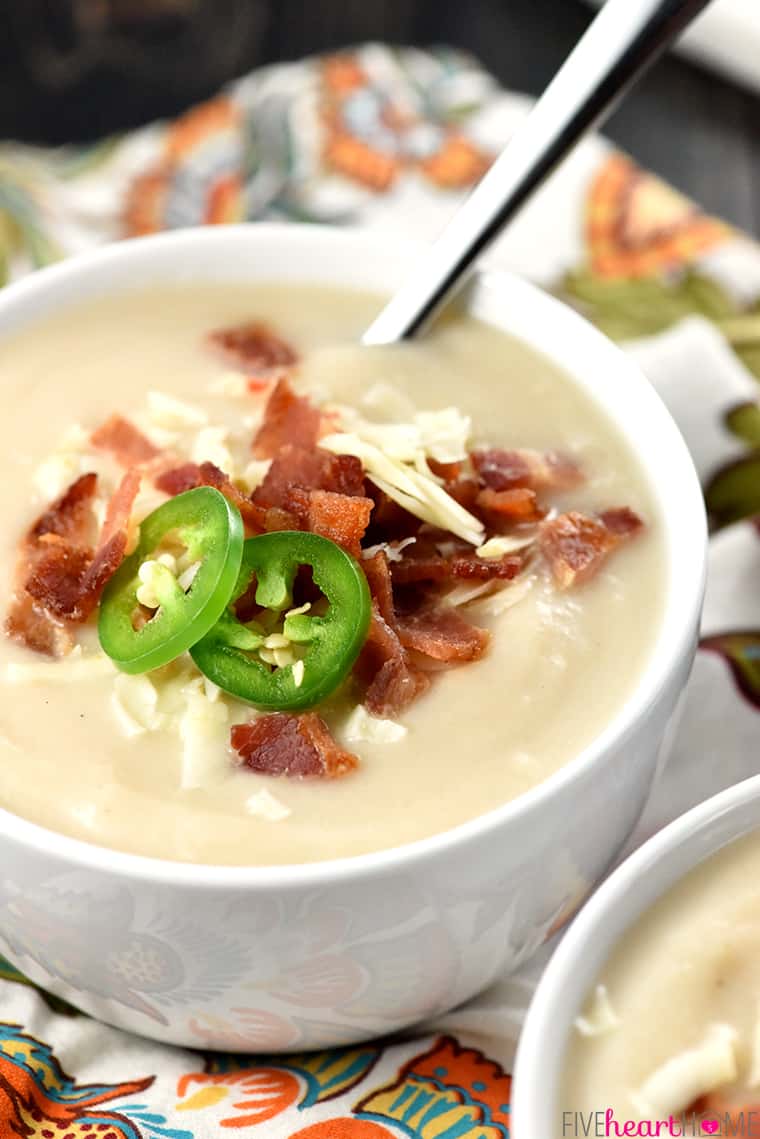 Before I share the recipe, I'm going to let you in on one last little secret. If you think your family might balk at an all-cauliflower soup, you can swap out half of the cauliflower for peeled, cubed potatoes. Once pureed together, the cauliflower flavor will be less noticeable and, with a little cheese and bacon, unsuspecting picky eaters might not even detect that it's there! Just be sure to hide the frozen cauliflower bags at the bottom of the trash can so you don't get busted…not that I've ever been so careless. 😉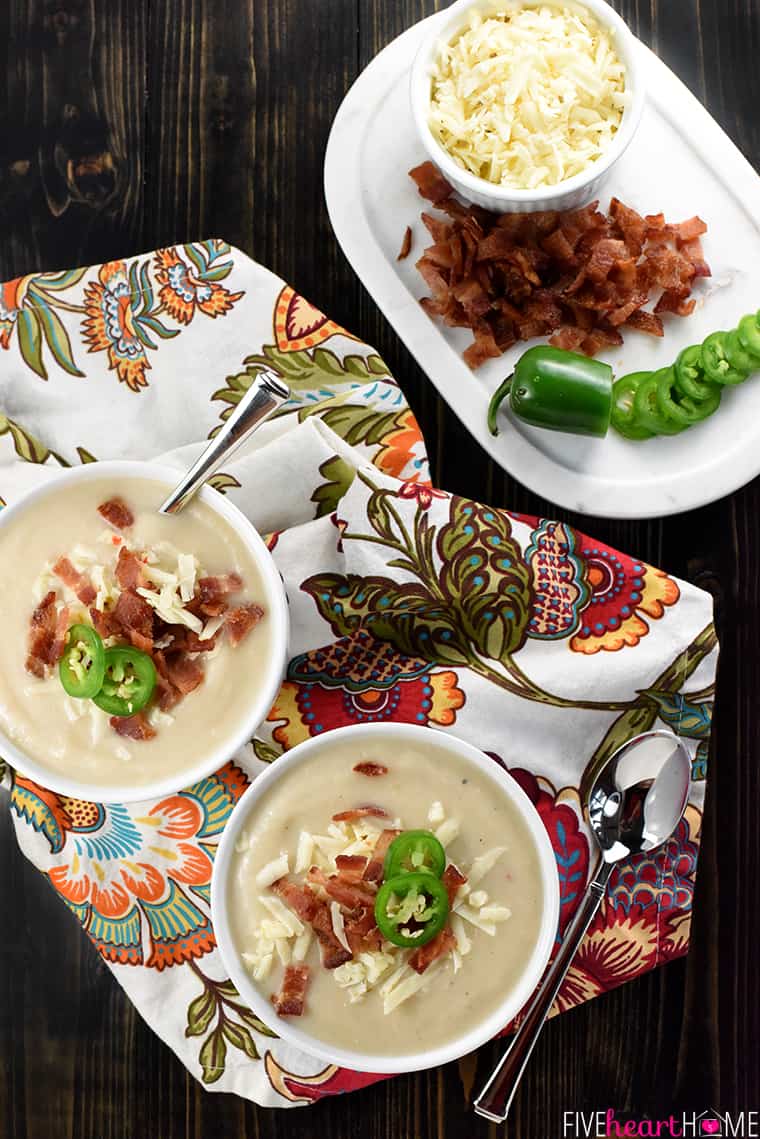 So who's ready for a cozy, silky soup that's loaded with vitamins but also loads o' fun to eat (because have I mentioned BACON)? Slow Cooker Cauliflower Soup with Pepper Jack and Bacon makes a warm, delicious lunch or dinner any time of year, but particularly when there's a chill in the air. It's so easy to make that it hardly counts as cooking, and therein lies the beauty of the slow cooker. Hope y'all enjoy adding this recipe to your crock pot arsenal!
SLOW COOKER CAULIFLOWER SOUP WITH PEPPER JACK AND BACON
3 pounds frozen (or fresh) cauliflower florets
1 teaspoon garlic salt
3 cups chicken broth
1 cup half-and-half
6 ounces (1 ½ cups) shredded pepper jack cheese
Salt and freshly ground black pepper, to taste
12 ounces bacon, cooked until crispy and diced
Place cauliflower florets in a large, oval slow cooker. Sprinkle with garlic salt. Pour chicken broth over the top. Cover and cook for 6 to 8 hours on LOW (or 3 to 4 hours on HIGH), until cauliflower is very tender when pierced with a fork.
Using an immersion blender, purée cauliflower pieces until smooth and creamy. Stir in half-and-half and shredded cheese (if soup is too thick for your preference at this point, you may add a bit more half-and-half or broth). Add salt and freshly ground black pepper, to taste. Cover and cook on HIGH for 15 more minutes or until heated through. Serve warm, topped with bacon and, if desired, extra cheese and sliced fresh jalapeños.
NOTES
You may use vegetable stock if you like. You may also replace the half-and-half with additional stock, if you prefer. The type of stock or broth you use is going to dictate if you need to add additional salt at the end or not.
For the dairy, you can use 2%, whole milk, half-and-half, heavy cream…it's up to you! But obviously, the fattier the milk product you use, the richer and creamier the final soup is going to be.
You may swap out the pepper jack cheese for Monterrey jack, sharp cheddar, or whatever your favorite may be.
If you don't have an immersion blender, you may purée this soup in batches using a food processor or blender. Just allow it to cool down a bit before doing so, work with small batches at a time (don't fill your blender more than half way!), and leave the top of the blender cracked so that steam can escape and soup doesn't explode everywhere!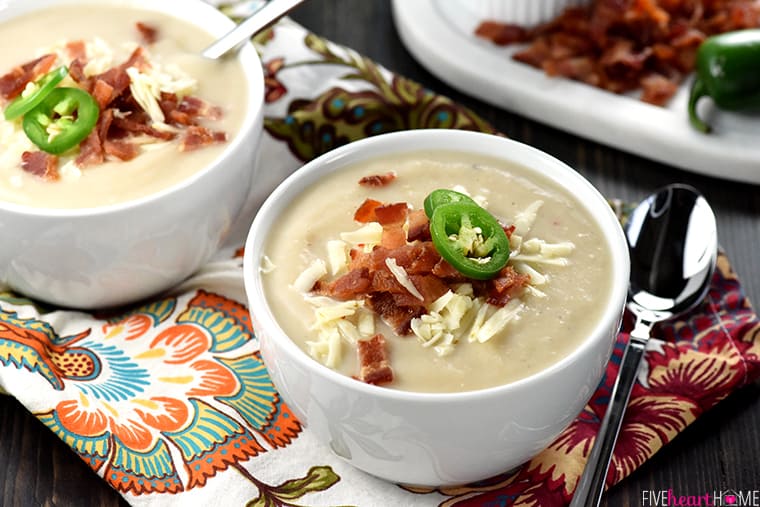 I'd love for you to visit me sometime at Five Heart Home, where I share quick and easy, family-friendly, real food recipes like these:
Holiday Honeycrisp Salad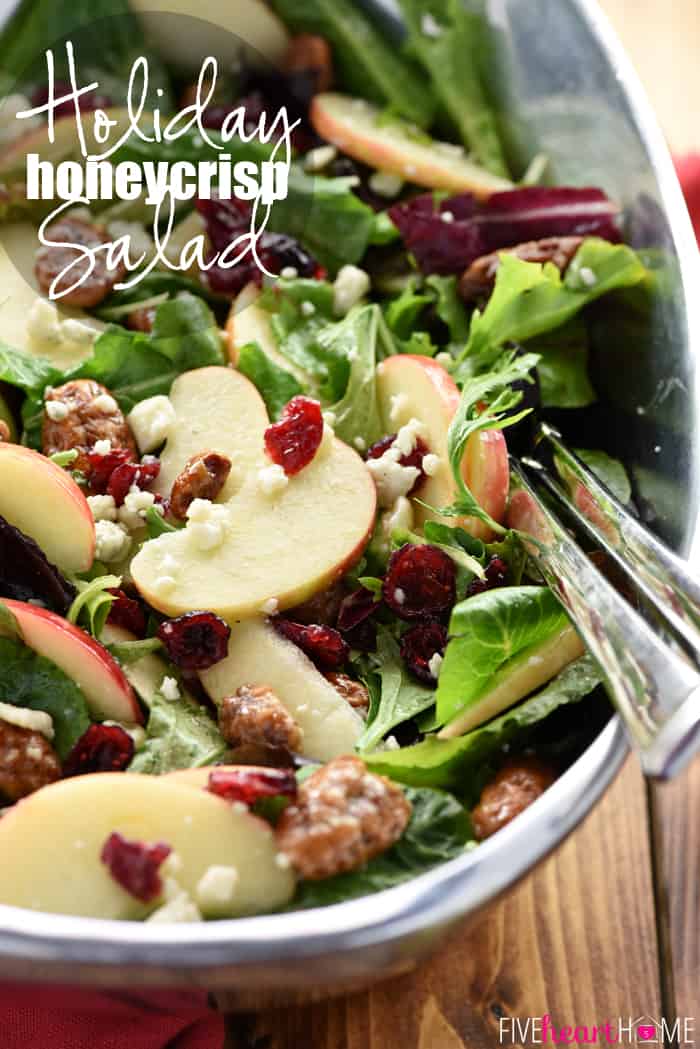 Perfect Chicken & Dumplings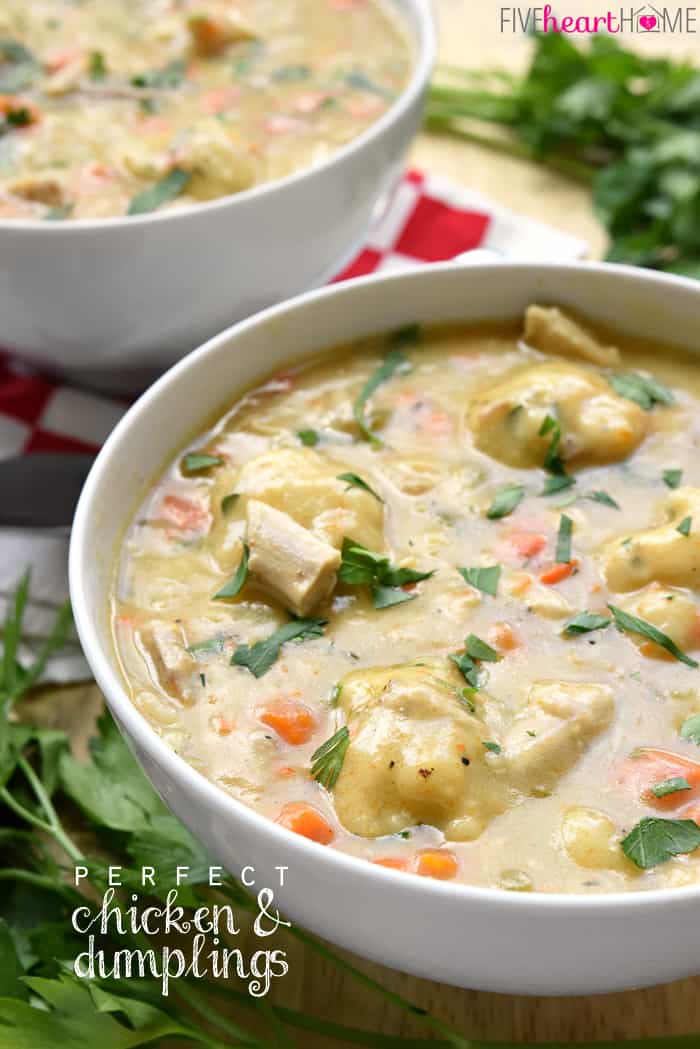 And if you love slow cooker recipes as much as I do, I recently wrote a cookbook with 80 slow cooker dinner recipes made with real, unprocessed ingredients! You can check it out below…
Real Food Slow Cooker Suppers Cookbook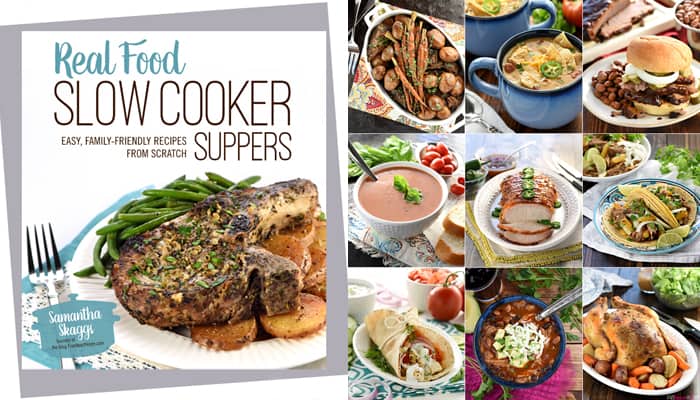 Thanks again for having me, Kristin, and fabulous YBR readers! 🙂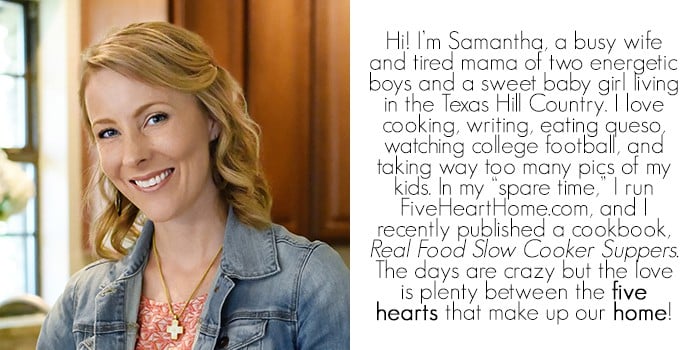 Check out all of our delicious Slow Cooker recipes HERE.