Salty potato chips loaded with buffalo chicken and two kinds of cheese and seasonings – These Smothered Buffalo Chicken Chips are perfect for a game day snack!
I'm so excited to welcome my dear friend Katie to share an awesome recipe with you today – it's got me drooling just looking at it!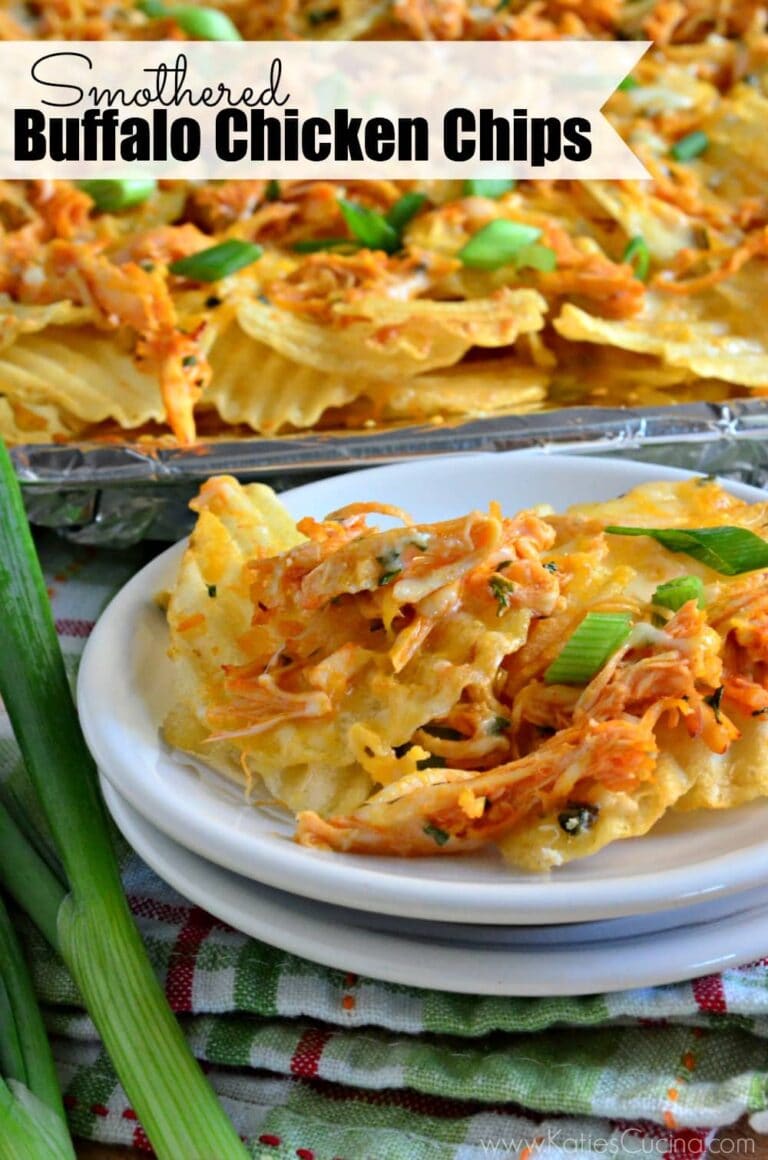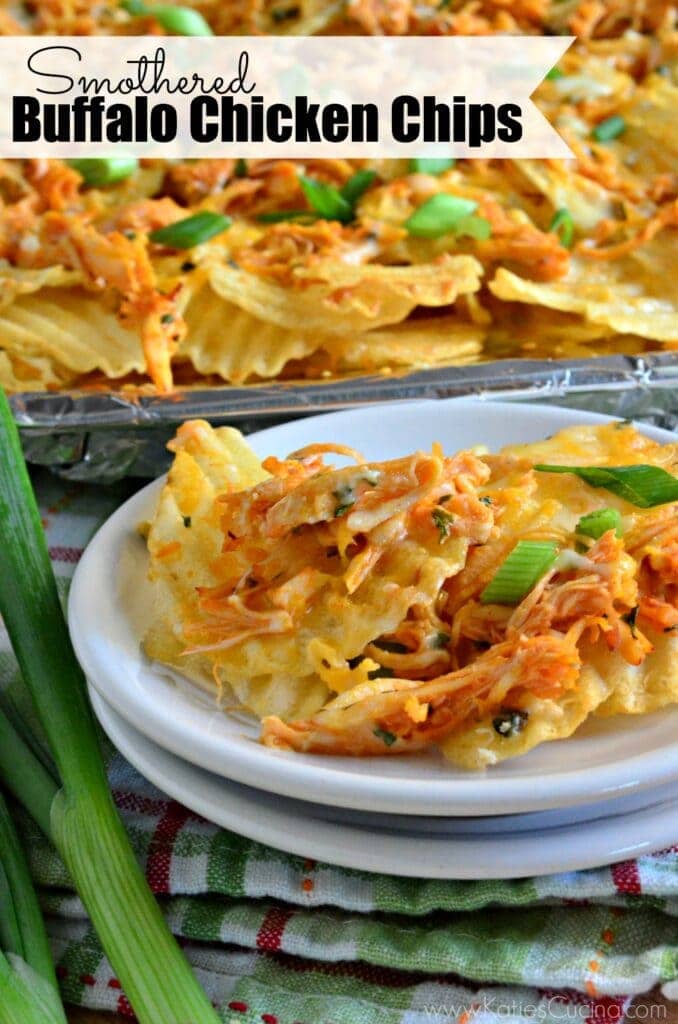 Hi Yellow Bliss Road readers! I'm Katie and I have two blogs! I love to blog about Home/DIY and sewing projects at Sew Woodsy and I'm an avid cook and blog at Katie's Cucina. At Sew Woodsy, I document DIY projects that my husband, Jon, aka Mr. Woodsy and I create. At Katie's Cucina I am a food blogger and recipe developer. Katie's Cucina is a place where I share my love for food – developing and cooking mouthwatering recipes weekly, baking indulgent desserts, and sharing foodie travels from coast to coast. I hope you'll join me on a culinary adventure where life always tastes good.
I met and roomed with Kristin last year at SNAP! I can say we've been "friends in real life" for over a year now and when she asked me to share a recipe while she was on vacation, I didn't hesitate to help out! And even better… I get to visit with her while she's on vacation! Today I'm sharing a super easy recipe for the "big game." May I introduce to you Smothered Buffalo Chicken Chips. Yes…I went there.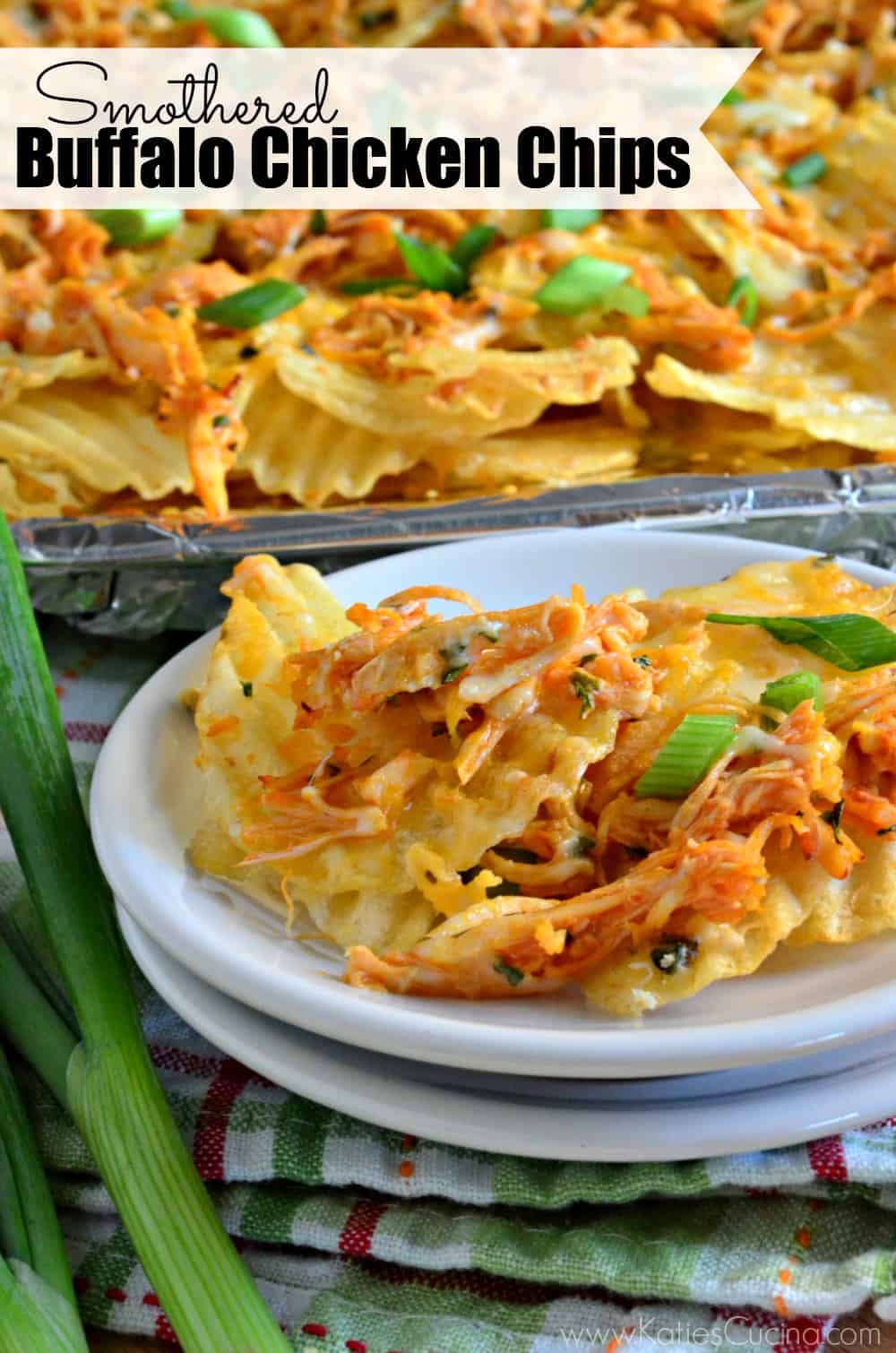 HOW TO MAKE BUFFALO CHICKEN CHIPS
Combine the same great flavors of buffalo chicken dip and smother it over chips, bake them, and enjoy while cheering on your favorite football team (or while watching commercials which is what I'll be doing since my team did not make it to the big game). Since announcing I'm expecting a baby in the spring, I've craved all things sinful like loaded nachos, loaded chips (like these ones) and loaded french fries. My husband can't complain (that's a fact). Although we tend to fight over who gets the last few bites, but lately he's been nice and lets me win. After all, I'm carrying his child and the last thing he wants is for me to have a hormonal breakdown over who got the last bite!
I got the idea to make smothered chips after our recent trip up to New York City. We were eating at an Irish pub, and they had an Irish version of smothered chips with homemade potato chips. It was to die for. Lately, I've been able to do a little more spice and buffalo chicken sounded fantastic to me. So I combined the idea from the Irish pub with buffalo chicken, and out came Smothered Buffalo Chicken Chips. Best of all they are done from start to finish in 10 minutes. This recipe is for two, but you can easily double or triple it if you are serving this to a crowd! Then again, this was our lunch the other day–so maybe it would feed more?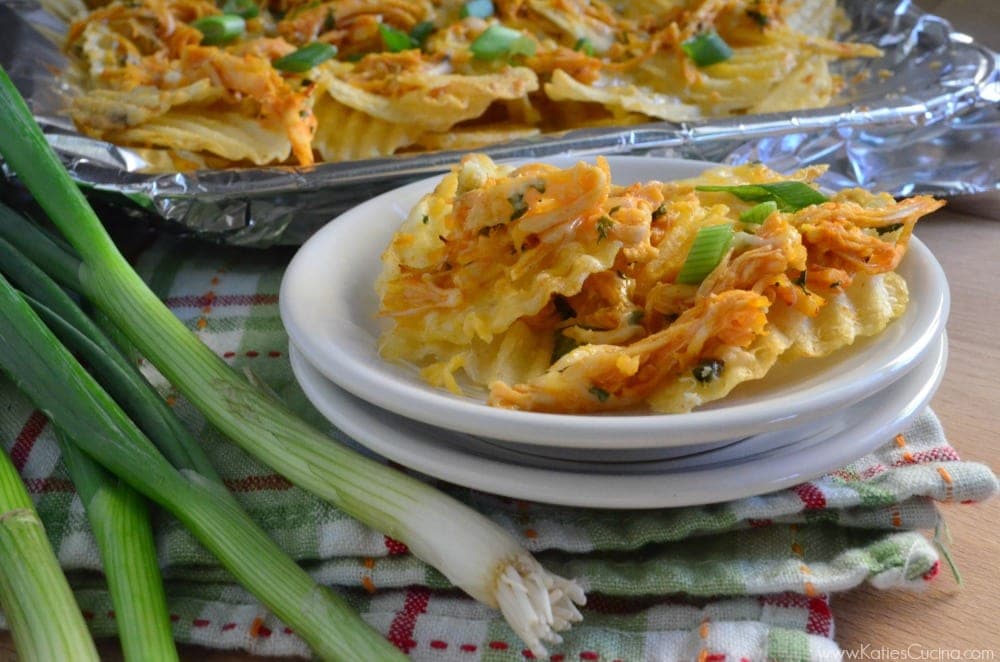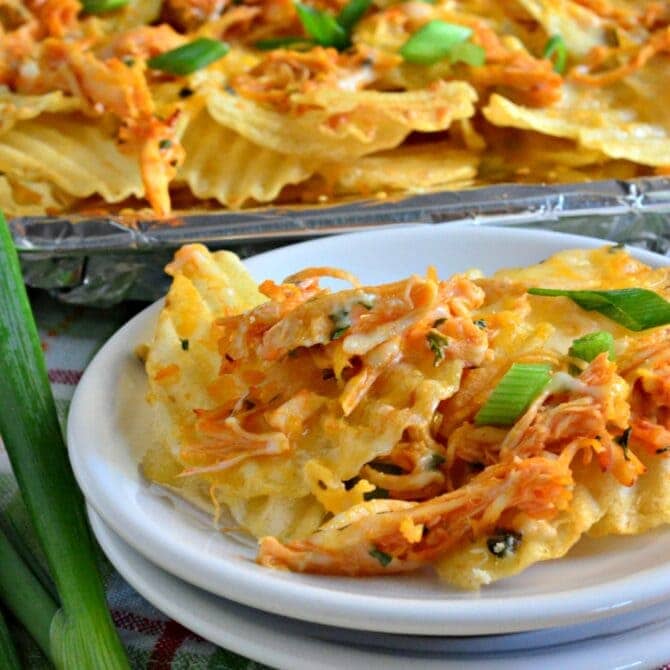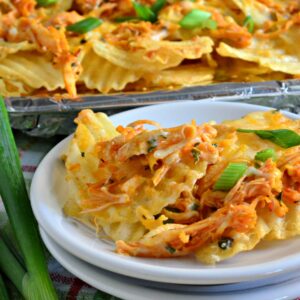 Smothered Buffalo Chicken Chips
Potato chips smothered with buffalo chicken and two kinds of cheese, then baked until hot and melty!
Ingredients
1 cup shredded pre-cooked chicken
2 tbsp buffalo sauce
¼ cup bleu cheese
½ tsp onion flakes
1 tsp dried parsley
1 cup shredded cheddar divided
5 ounces bag plain potato chips half of a regular sized bag
green onions for garnish
Instructions
Preheat oven to 450 degrees Fahrenheit.

In a bowl combine chicken, buffalo sauce, bleu cheese, onion flakes, dried parsley, and a ¼ cup of the shredded cheddar. Mix well.

On a baking sheet spread out the half bag of potato chips. Sprinkle ¼ cup of the shredded cheddar over the chips, followed by the chicken mixture and then the rest of the remaining shredded cheddar cheese. Bake for 5 minutes at 450 degrees.

Remove from oven and garnish with green onions. Serve and enjoy immediately.
Nutrition
Calories: 675.85kcalCarbohydrates: 38.18gProtein: 22.45gFat: 49.39gSaturated Fat: 17.91gCholesterol: 71.98mgSodium: 1386.85mgPotassium: 1282.31mgFiber: 3.12gSugar: 1.1gVitamin A: 694.88IUVitamin C: 14.11mgCalcium: 513.48mgIron: 1.52mg
Thanks so much for helping me out today Katie! I love this snack idea and can't wait to try it out!!