I love weekends. Time to relax, decompress, and spend time with my family.
One of my favorite things to do is cook a fun, homemade (and usually very messy!) breakfast. My kids love it too. I typically forgo the pancakes and waffles on school days for something a tad bit healthier, but weekends are free game. Anything with syrup on top is a huge bonus.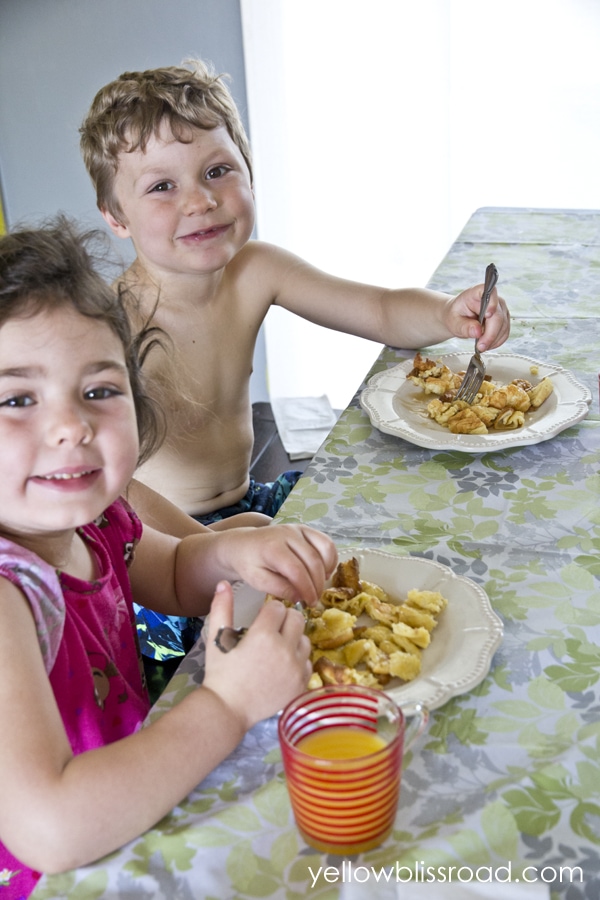 I recently started making Oven Pancakes. Oh my gosh, you would think I invented bubble gum or something. My kids LOVE them and ask for them every weekend now.
I love to play around with the ingredients and this weekend made one with lots of butter, brown sugar and cinnamon – yum! I will be sharing the recipe later this week, so be sure to follow so you won't miss it.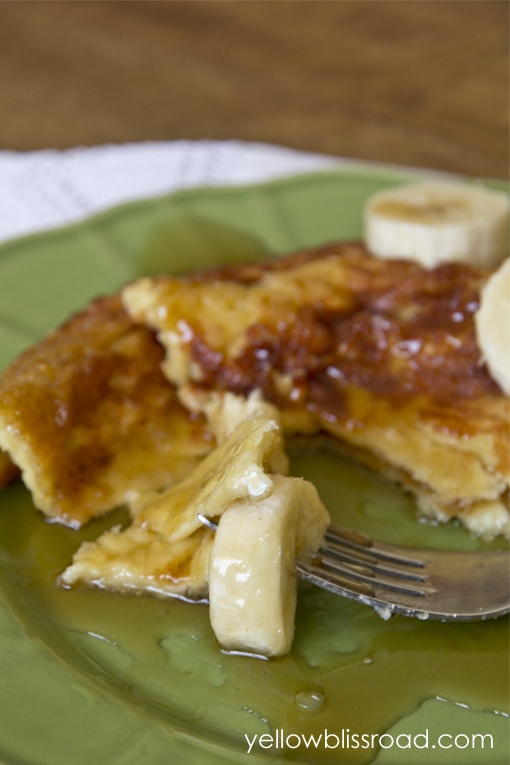 I will also often add fruit; this weekend we had a bunch of bananas. But, can't forget the syrup! (that's what makes the weekend go round at this house!)
So after breakfast, it's time to do the dishes. I hate doing the dishes. (Can I get an "Amen!"??). Sticky, messy dishes that have to be rinsed really well before going into the dishwasher – I will admit that I will often just wash them myself because once I've rinsed off all of the sticky syrup, well, I may as well just finish the job!
That was until I discovered Finish® Quantum® with New Power Gel dishwasher detergent. This stuff is awesome. (Yes, this post is sponsored by Finish®, but the review and opinions are truly my own – I really do love this stuff and have used it for years).
Seriously, I have used 
Finish®
 brand dishwashing detergent for quite some time. A couple of years ago, I started noticing a nasty film on almost all of my dishes, especially on the plastic (Tupperware, Rubbermaid) products. I tried a couple of different brands of detergent, and Finish® was the only brand that removed all of that junk. So about a month ago, I bought another brand (it was on sale and I had a coupon) and the dishes that came out all nasty again! This was around the time that I received an email from 
Finish®
 asking if I could review their 
Finish® Quantum® with New Power Gel
. Um, heck yeah I will!
I know that I sound like a total commercial, but truly, my dishes are back to looking great again after a week.
So here was the challenge:
1) Create a sticky morning meal. Check!
2) Put the dishes in the dishwasher WITHOUT pre-rinsing. Um, ok. Check!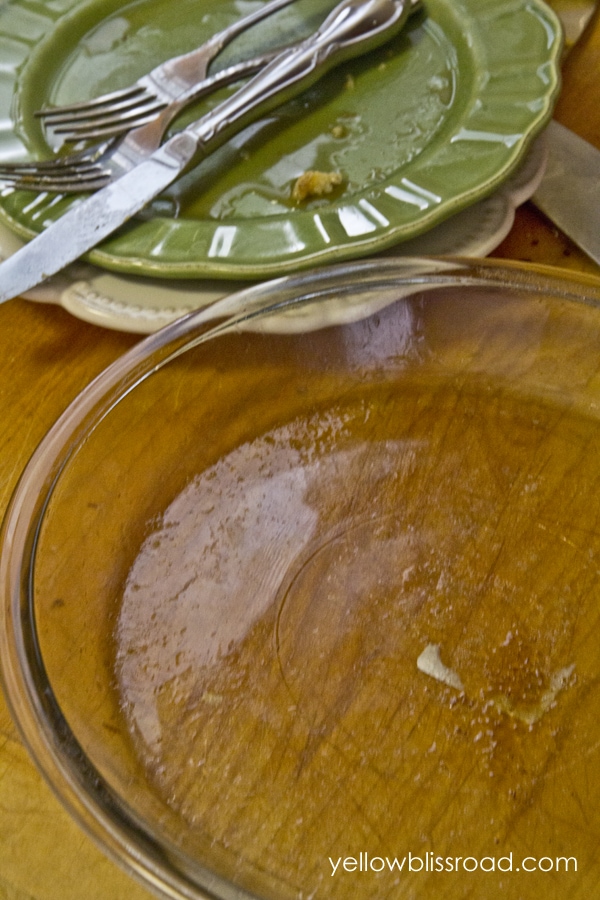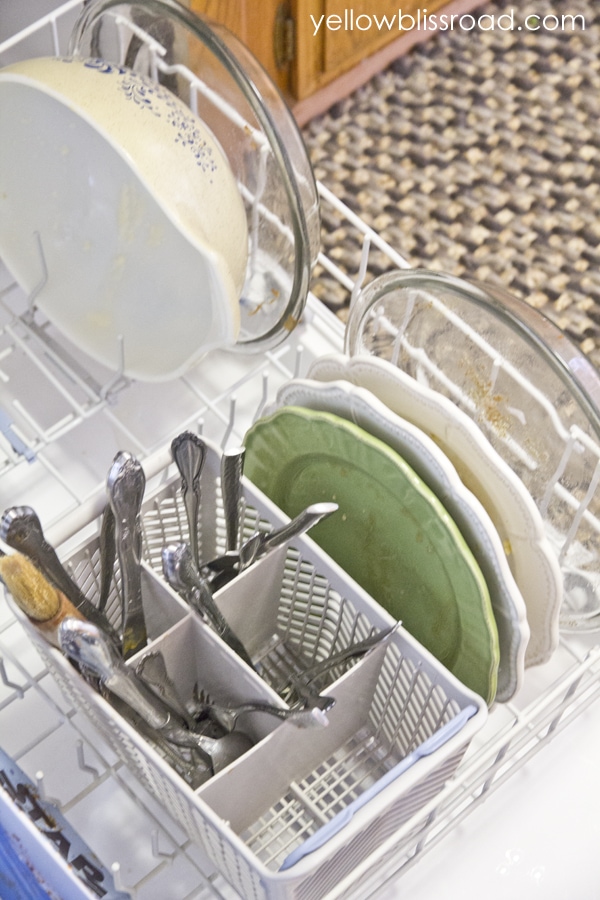 3) Do not run the dishwasher until bedtime. Um, check?
Sidenote – I had a hard time with this one and really didn't want to wait until bedtime, but I did.
4) Check the dishwasher in the morning and see how shiny and clean they are. CHECK!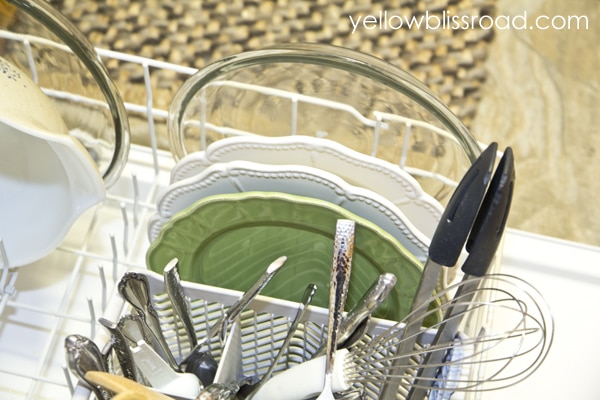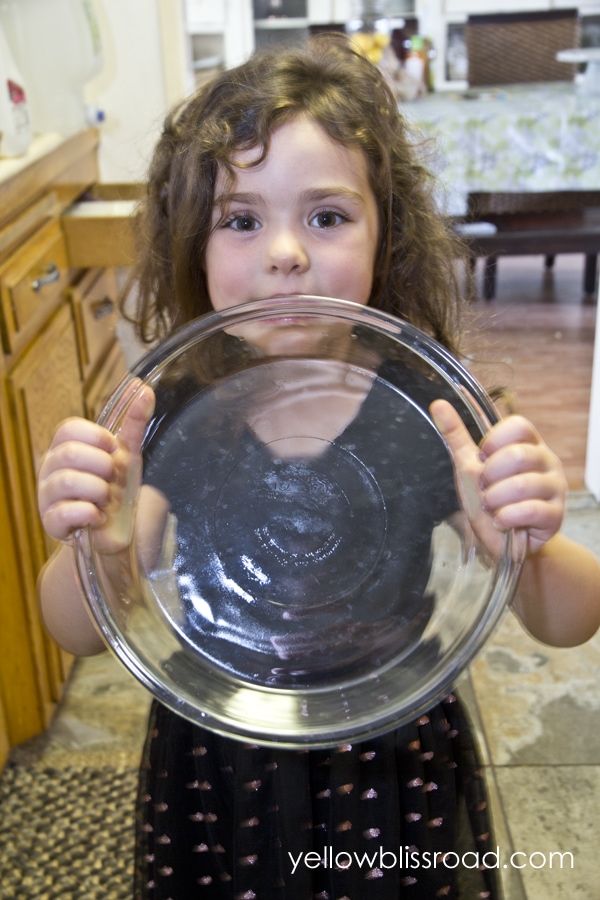 I was skeptical, I'll admit, but it really did work. I couldn't be more pleased with the results…and excited at gaining a few minutes in my morning routine by eliminating a whole step when doing the dishes!
Here's how it works:
Finish® Quantum® with new Power Gel delivers ultimate clean and amazing shine – without having to pre-rinse! Its breakthrough multi-chamber technology activates each cleaning ingredient when it's needed during the cycle, so all you have to do is sit back and relax. Who knew so much cleaning power could fit into a tiny capsule?
Now it's your turn!
And if you want that Easy Oven Pancake recipe, stay tuned – it's coming later this week!