Are you a risk taker?
I'm definitely NOT a risk taker in my life. But in my decorating…yeah, not much of a risk taker there either.
I was flipping through the Ballad Designs catalog the other day and fell in love with a photo. So in love that I was determined go to great lengths to try and bring some of it into my home.
The main thing in the photo I was interested in?
COLOR!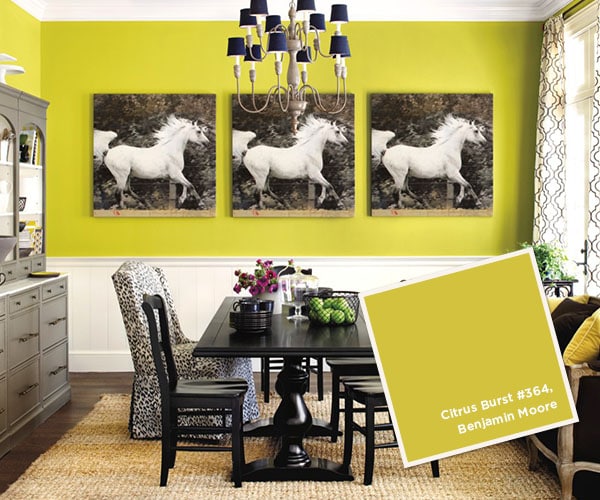 Yes, I decided I wanted to include some color in a big bold way.
My plan: Paint one dining room wall in an BOLD accent color and add BOLD new curtains.
So I went to check out Benjamin Moore paint colors. They didn't have the one from the catalog so I picked one I though was similar, in a sample size, and painted the wall. I started out with just a small space but really couldn't decide if I liked it from that, so I decided to paint the whole. wall.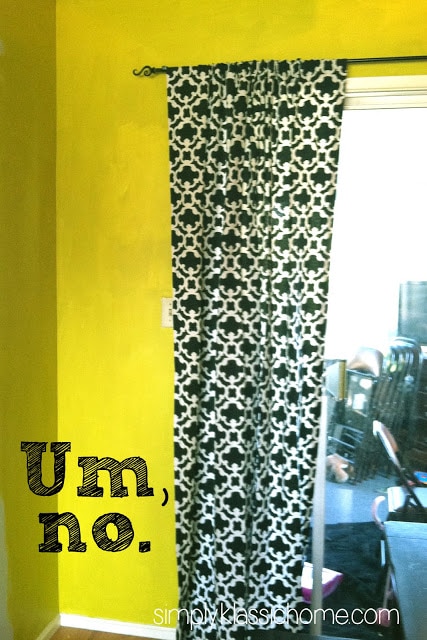 Complete FAIL. I thought I would love the greenish wall with the new modern curtains, and in reality, the curtains look kind of cool with the color.
The problem? I'm not a BOLD person. I like my neutrals, my grays and browns and whites. I love looking at photos of colorful rooms, pretty patterned curtains, and stenciled walls. It's just not for me. And I'm ok with that.
The fabulous thing about paint – you can paint over it!
So I tweaked things a bit. Remembering that I had 3/4 of a quart of gray paint from Cooper's dresser makeover, I grabbed my brush and covered that icky yellowy-green with my beloved gray.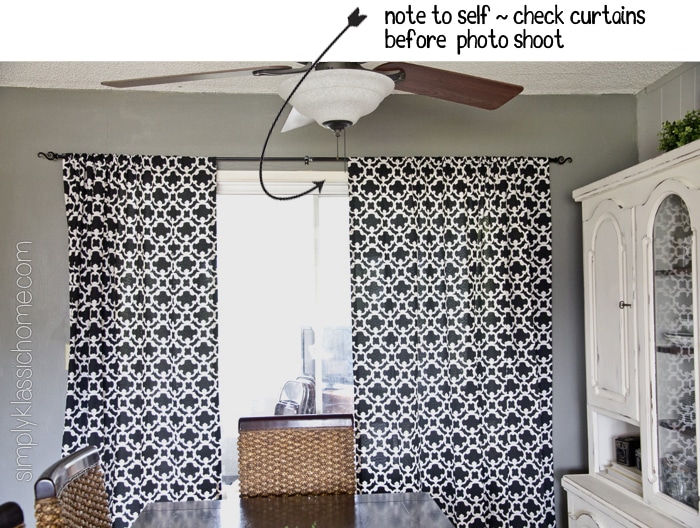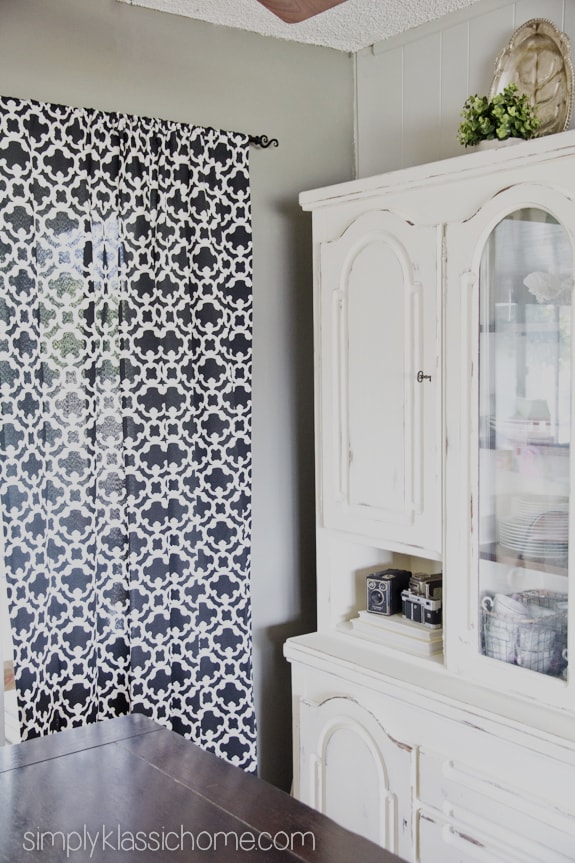 It's tough to step outside of your comfort zone and try something new and unknown. I'm still learning the balance of seeing past the fear, and going all out crazy with it. Chartreuse on the wall kind of crazy.
I still wasn't crazy about the modern curtains, so I ended up going back to my creamy sheers.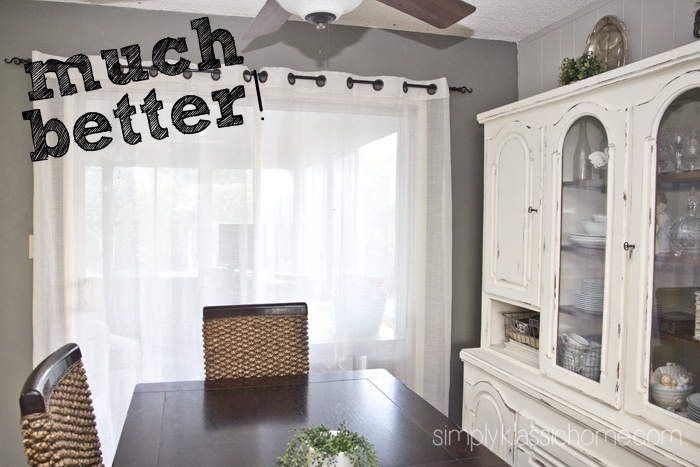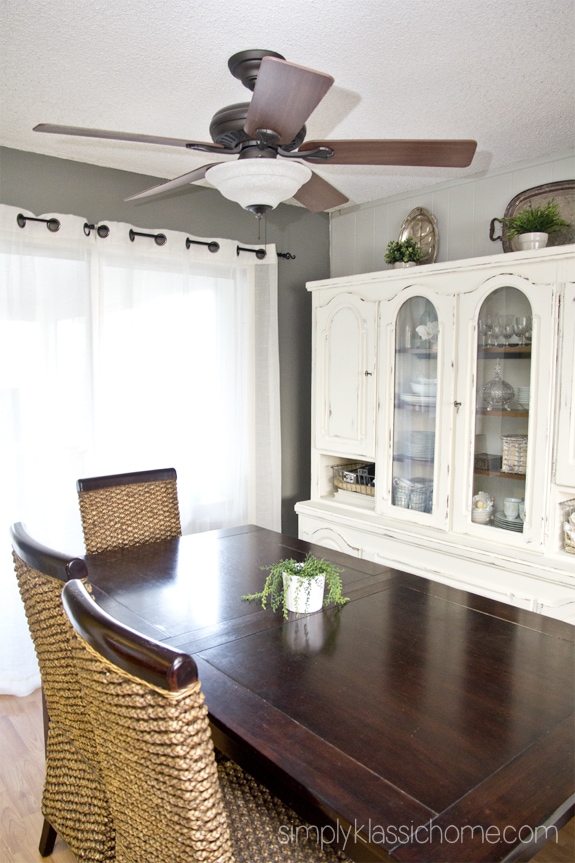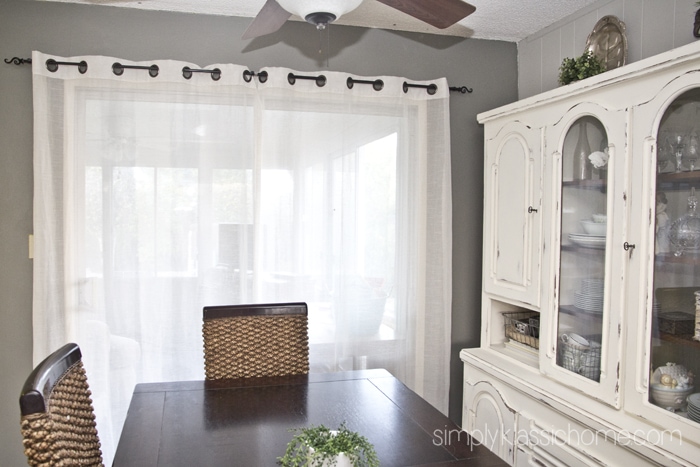 But you know what? Now I LOVE it. I really, really love it. The addition of the deep gray accent wall was just enough "bold" to make me feel like I'd taken a step forward, so for me, that's a victory.
The coolest part of this whole experience is that I took a risk. In my world, it was a HUGE risk (ask Kate ~ I cannot tell you how many times she has received an enthusiastic text that says, "Hey guess what, I think I want to do this!" only to be followed up hours later with a more sullen, "yeah, I'm just not sure").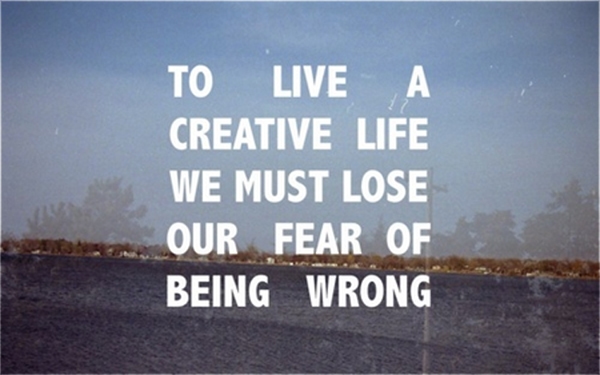 I have always been afraid to stray away from what I know and what I'm used to (my beloved neutrals) and try something new and different. I don't want to waste my time and have to redo something because I'm disappointed with the outcome. But I overcame that fear last weekend and went all out. Granted, it was an epic fail, but you know what? Failure is just a stepping stone in the creative process. I learned something about what I love, and the end result was perfect.
Thanks for stopping by today!
Linking Up:
savvy southern style