I have a little story for you today…
A three year little old boy is attending preschool. One day, the teacher brought some salamanders that she found in her backyard for the children to see. She talked about what they were, what they do and where they live. She also told the children they are not to touch them, they can only look.
The little boy, who is obsessed with any and all bugs and reptiles, is amazed by these little creatures. When he gets home from school, his babysitter, who happens to be a good friend of the family, realizes that he has brought the salamanders home in his pocket. She calls his mom, who stops by the school to let the teacher know what happened.
The teacher proceeded to lay into the mom about how the child snuck off and took them, and how sad she (the teacher) was and to tell the little boy that she was very disappointed that he would do that. She said she was so sad that she could cry because they were God's creatures and now they are going to die. The mom didn't think at the time to ask why the salamanders were within reach, unsupervised, if the children were not to touch them.
Both the babysitter and the mom talked with the boy, at a level that he could understand, and he seemed to see that what he did was wrong and knew that he needed to apologize. He had simply thought they were really cool and wanted to play with them. No harm intended.
The next morning, the mom took the little boy into the classroom early, so he could talk to his teacher alone. The boy is very timid and shy, especially when he's in trouble, so the mom stayed close to support him. The teacher sat in a chair in front of him, and took the child's hands, and asked him what happened. She told him that she was sad because she had been looking for the salamanders and didn't know what had happened to them. She told him that she was very disappointed. She told him that what he did was wrong, that it was called "stealing," and that sometimes when people steal things, the police come and take them to jail.
Yes, she really did.
The mom was horrified, and made sure to tell her son that the police were not coming. The teacher gave the mom a look and said, "I didn't say that they were." then proceeded to tell the little boy that she hoped she wasn't going to have to check his pockets each day when he left class. That was when the mom stood up, told her son to say he was sorry and that it was time to go.
He will be enrolled in a new preschool as soon as possible.
Would you like to see a picture of the little boy?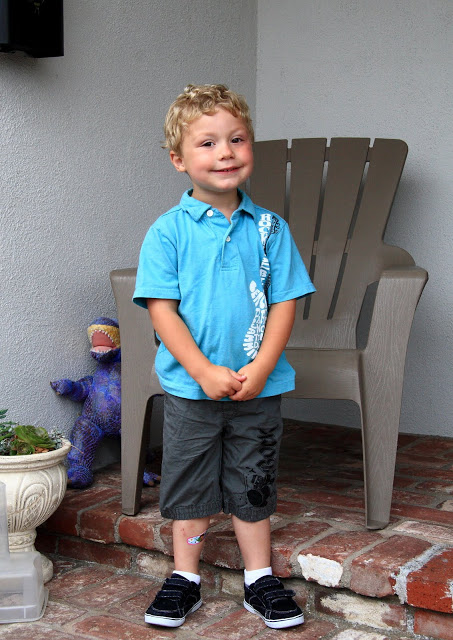 Yup, in case you hadn't already guessed it, this happened to my son this week. He spent the rest of the day very upset, and asking questions about the police. We were at the mall later and I told him that if he opened the emergency exit that the police would come, and he said "and take me away?" I am still so angry that I don't even know what to do. We have three more weeks of summer school, and then a month off, and then my kids will be starting a new school. I can't wait.