Tiki Room / Luau Birthday Party
It's finally over!
I decided I needed this party to be stress free, so I let go of a lot of the complicated ideas I'd wanted to use (and that I usually do!)
And you know what? no one noticed!
The theme was a simple, subtle nod to Disneyland's Enchanted Tiki Room, which is my kids' favorite attraction.
Although that could just be be about the Dole Whip.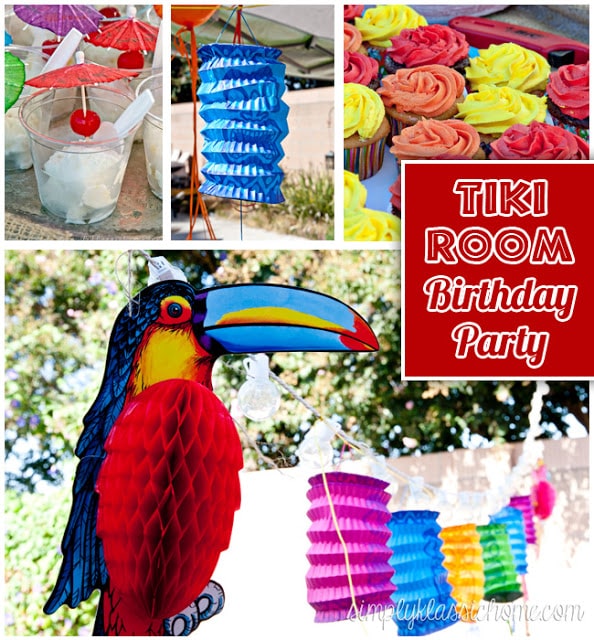 I've got lots of pictures, so I'll mostly let them speak for themselves but will try to elaborate as I can.
Please feel free to ask any questions in the comments.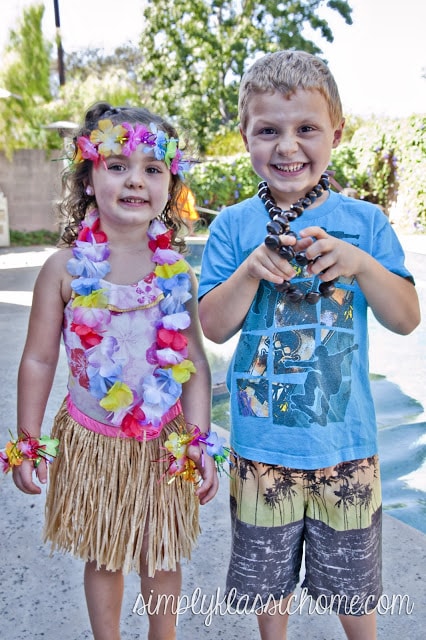 Since they each had their own separate parties last year, I decided make it easy on myself and plan a combo party this time around. I would prefer to give them each their own personalized party, but with birthdays three weeks apart, it just made sense to do it this way.
They didn't seem to mind!
Guests were greeted by an adorable ALOHA banner found at a local party supply. Can I just tell you how hard it is to find Luau party supplies in September???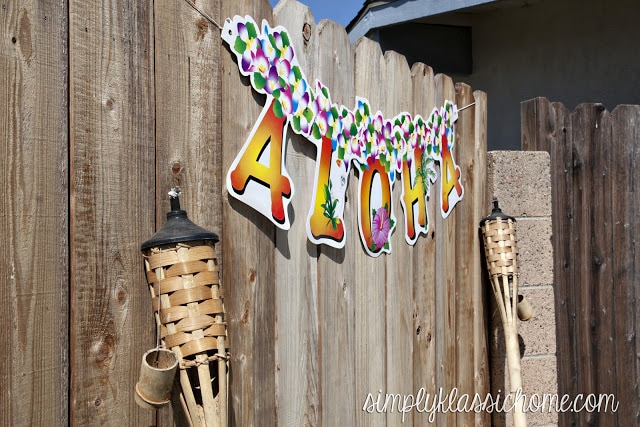 Of course you can't have a Tiki Room party with out the birds!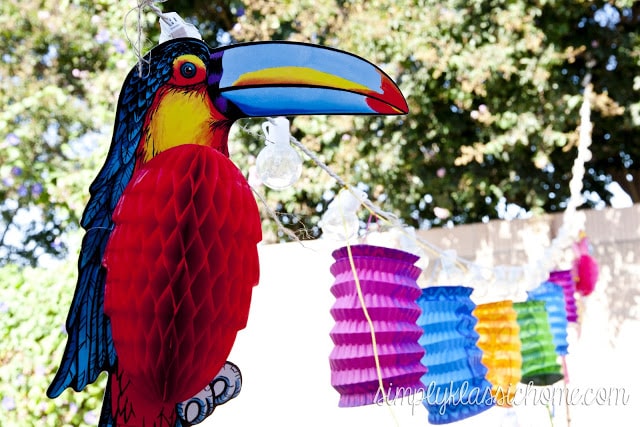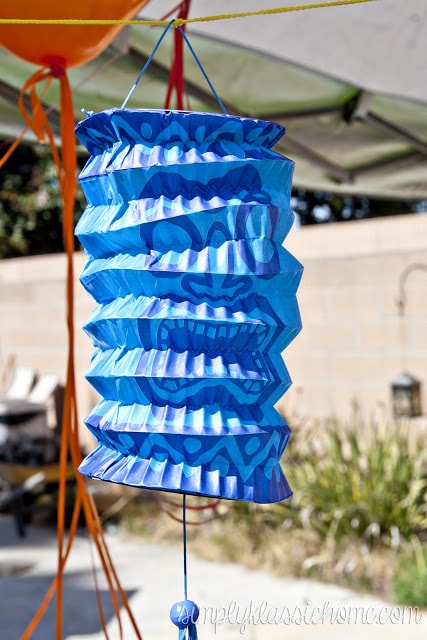 The tables were decorated simply with a white tablecloth, burlap runner, and beautiful orchids from  Trader Joe's.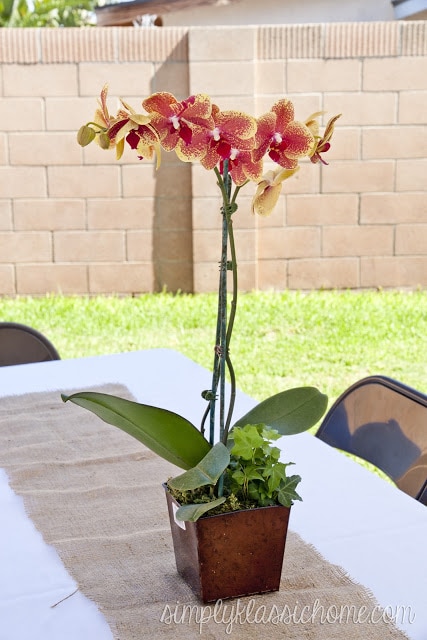 For the food table, I just picked up a bunch of tropical looking plants at my local Home Depot and wrapped the pots in burlap.
We'll be planting them in our yard next week. I love double duty decorating.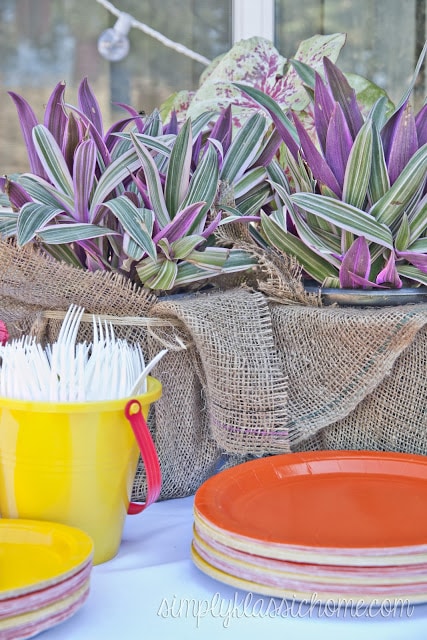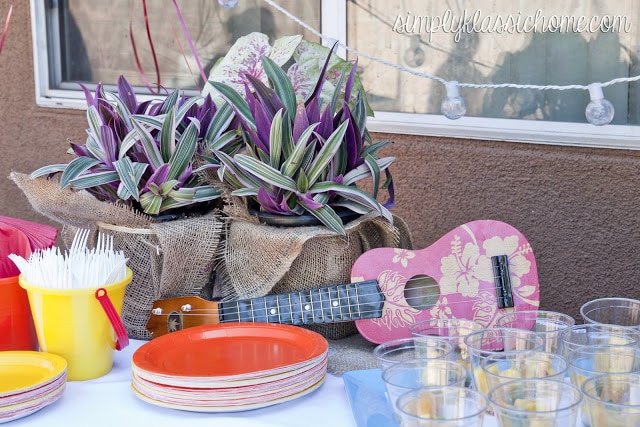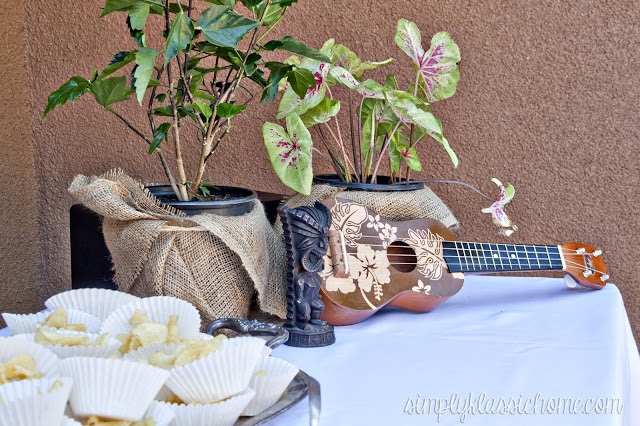 Found this little guy on a whim at the Goodwill.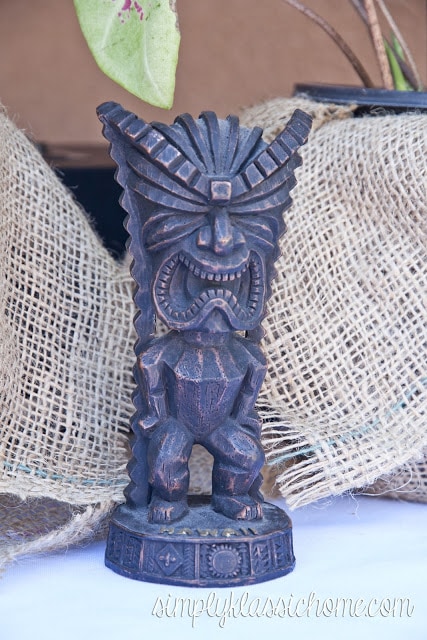 Kept the food simple – fruit cups (individual servings of pineapple, oranges and kiwi), Kettle style potato chips, and veggies.
We also had Hawaiian pizza to round out the lunch.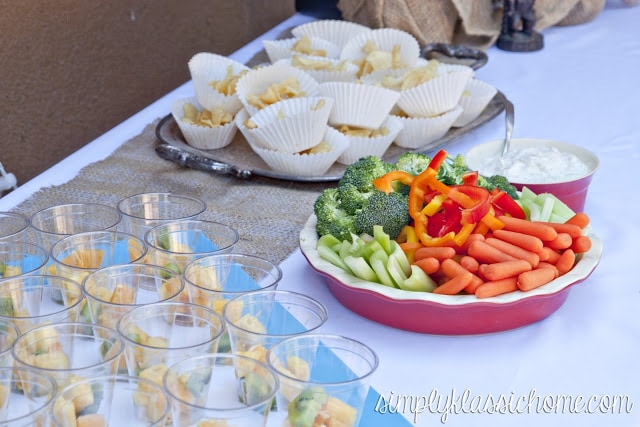 I served the potato chips in large cupcake papers. I can't stand a bunch of little hands in the chips bowl, so this was a great way to avoid that.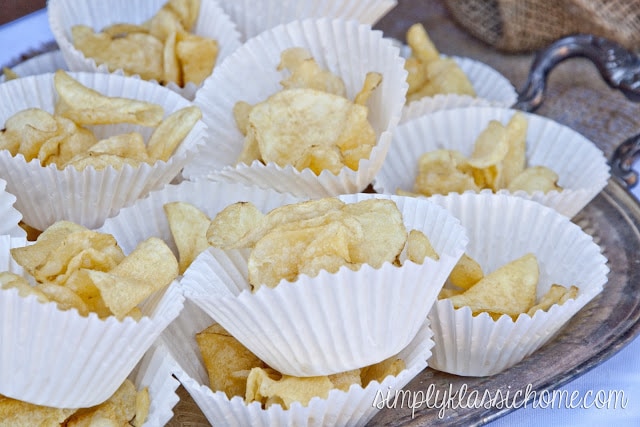 You can't have a Hawaiian party without Hawaiian punch!
Cute parrot straws came from US Toy Company.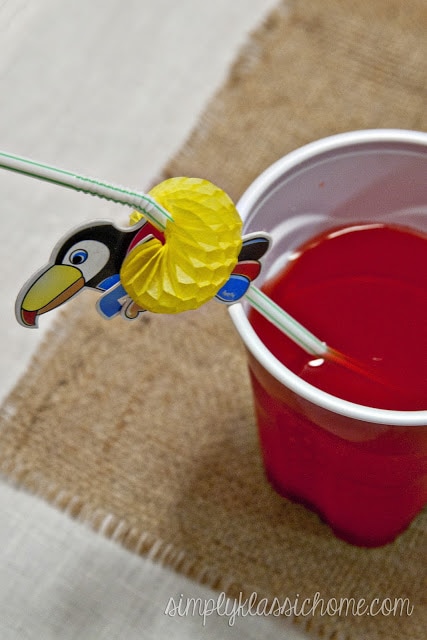 My mom made cupcakes, and they looked just like they came from a bakery.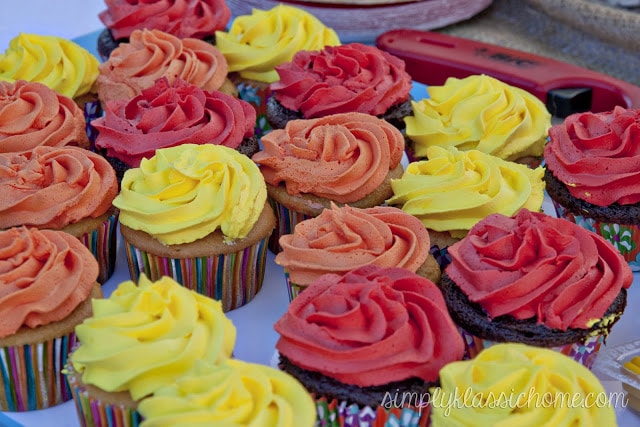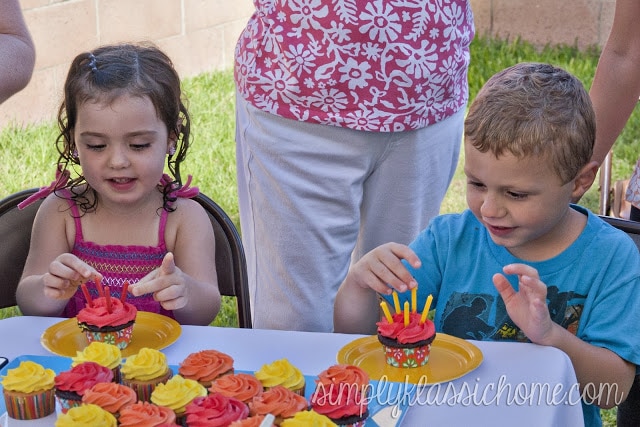 I had good intentions of making faux Dole Whips, but in the end it was just easier to serve Pineapple Sherbet.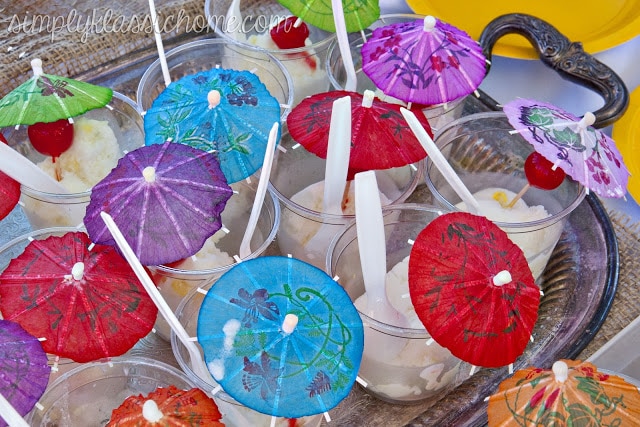 Topped off with a paper umbrella and a cherry, my son exclaimed, "These are just like the Tiki Room!"
Each of the guests went home with a small bucket, filled with bubbles, sunglasses, a Tiki necklace, and a pineapple lollipop and tropical fruit snacks.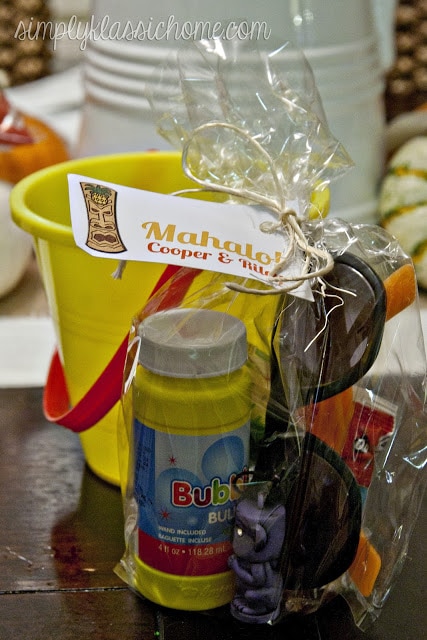 We do not have a pool, but my good friend does and she graciously offered to host the party at her home (Thanks Diane!!). The kids were thrilled, and it gave us a chance to actually enjoy the heat. (which we are just about finished with, thank goodness!)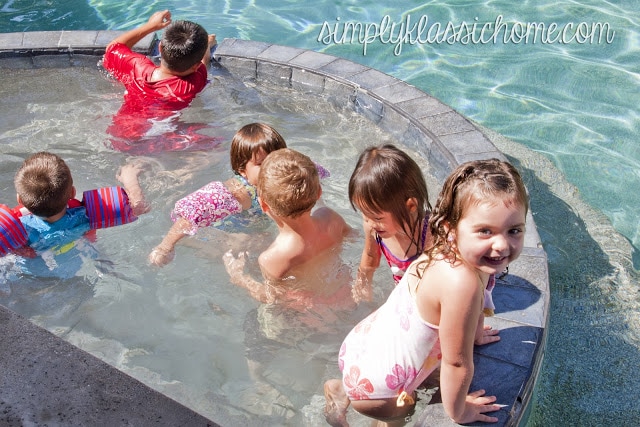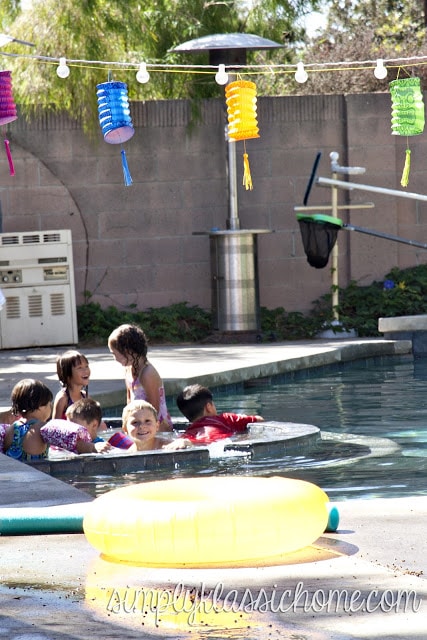 One of our favorite babysitters is also a Polynesian dancer.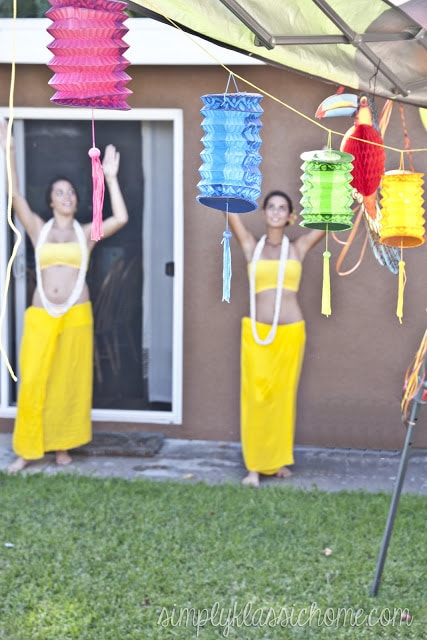 She and her friend came and put on a show for the guests.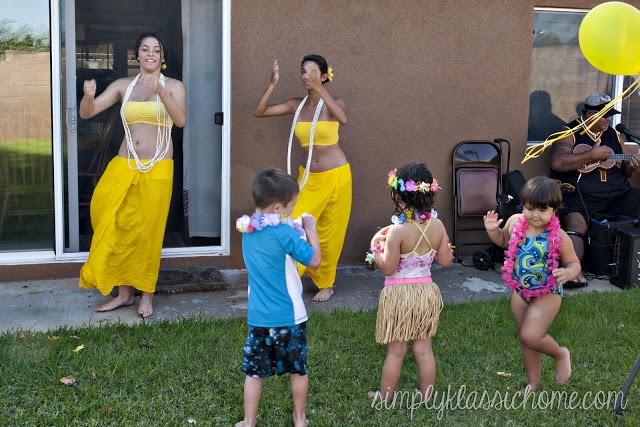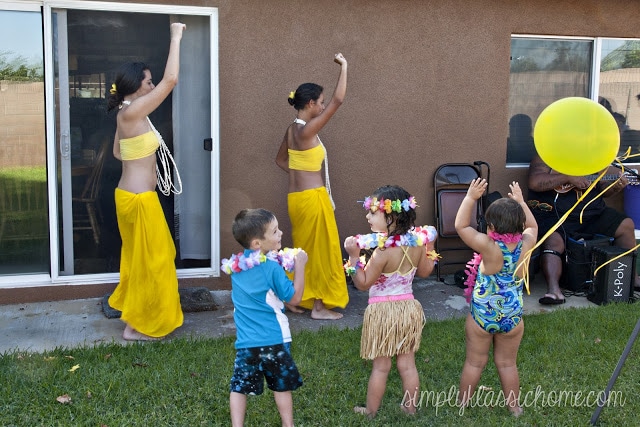 All of the kids danced along – except mine.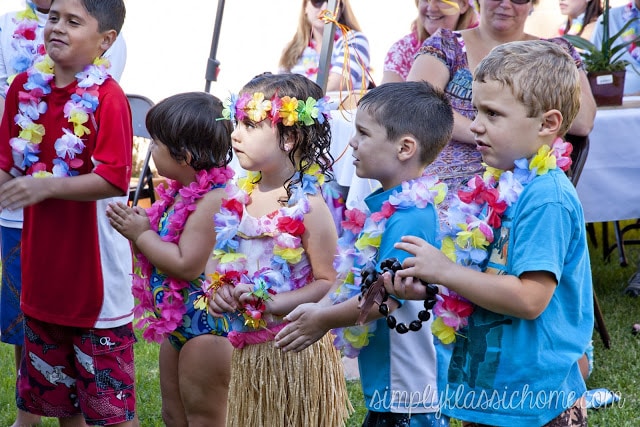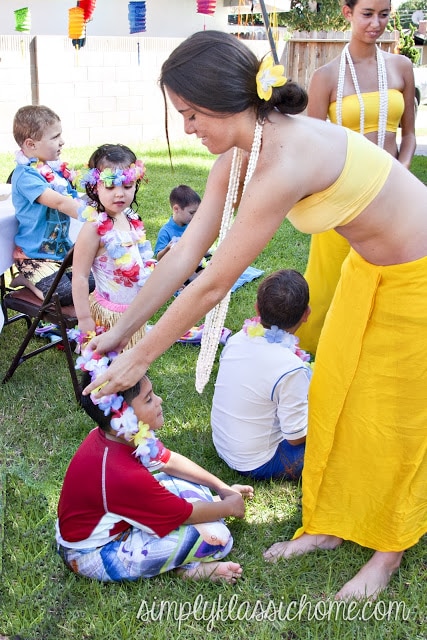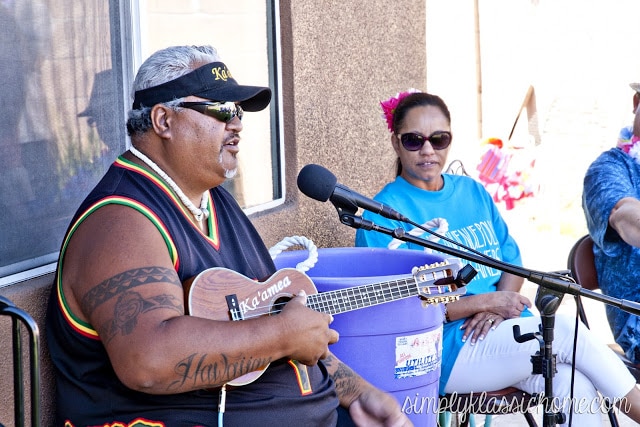 "Uncle and Auntie" came to play the music for the dancers.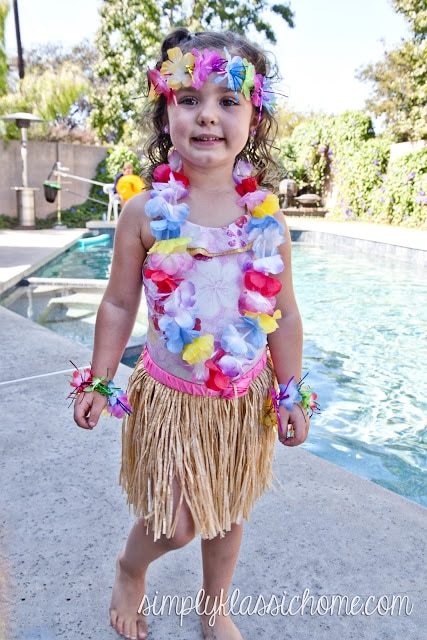 It was really a beautiful day.
Did I do everything I wanted to do? Nope.
Did I finish all of those cute decorations I'd wanted to make? Nope.
But did it matter in the end?
Look at those faces, and you tell me ~