Crispy Rice Cereal combines with toasted coconut marshmallows and semi sweet chocolate chips for a deliciously sweet indulgence!
If you stopped by yesterday, you may have seen these adorable free printable Valentine Cards. I designed them with Rice Krispie Treats in mind, however, when I went to make them so I could photograph them with the printables, there were no Rice Krispies to be found. Seems my daughter has recently taken a liking to them now we're out.
But I did have Rice Chex, and I figured, that's basically the same thing, right? Oh. My. Word. These were ten times better than the original!! Because the cereal pieces are bigger, there seems to be more of it and it dials down the sweetness of the treats a little bit. I may be alone here, but I've always though Rice Krispie Treats were just a little bit too sweet.
I recently picked up a bag of Kraft Coconut Marshmallows. Have you seen these before?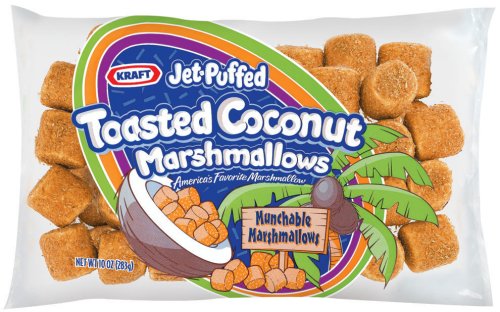 I've never tried them but oh my word they are fabulous! And they were so delicious in these Crispy Treats! They gave a subtle coconut flavor that, combined with the mini chocolate chips, tasted reminiscent of a Mounds bar (one of my favorite candy bars!).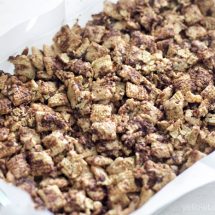 Ingredients
5 cups square Rice Cereal
1-10 oz. package Toasted Coconut Marshmallows
1/2 cup mini chocolate chips
3 tablespoons butter
Instructions
Line a rectangle baking dish (8x11 - 9x13) with parchment paper or foil. *If you use foil, lightly spray with cooking spray.

Pour marshmallows and butter into a large microwavable bowl. Heat in 1 minute intervals for about 2 1/2 minutes, or until marshmallows have puffed up to about triple their size.

Spray a silicone spatula with cooking spray to help prevent sticking and stir marshmallows with the butter until completely melted.

Stir in rice cereal and mini chocolate chips until cereal marshmallow is evenly distributed.

Press firmly into the prepared dish. Make sure to press together really well (cereal will break).

Allow to cool for one hour before cutting, or refrigerate until firm.
Fore more yummy Treats recipes, check these out: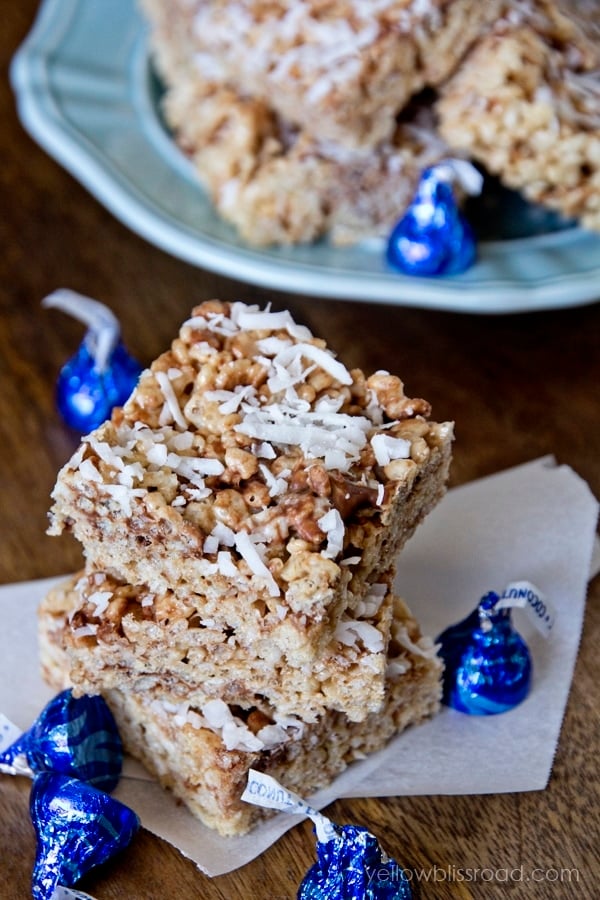 Chocolate Coconut Creme Rice Krispie Treats
Salted Caramel Rice Krispie Treats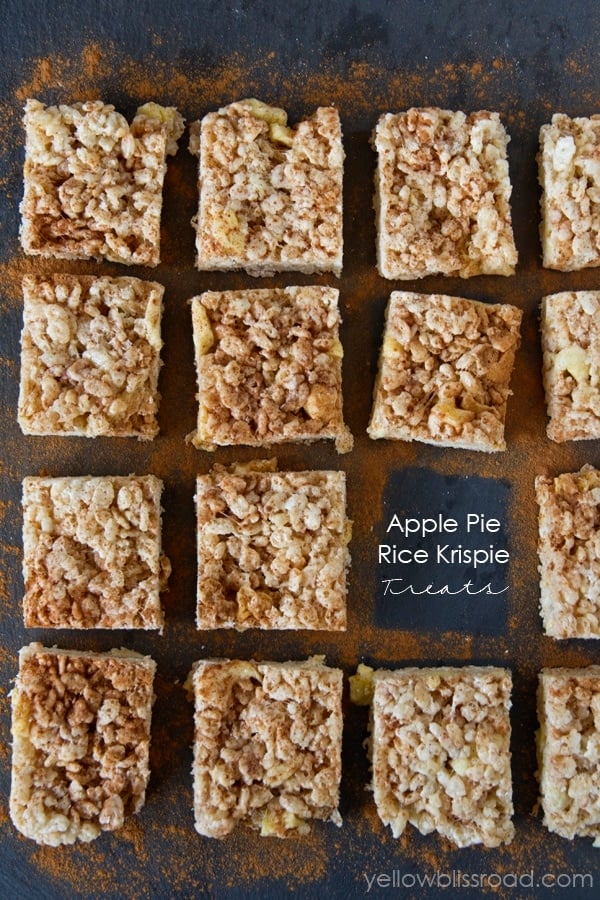 For all sweets & treats recipes, go HERE; for all recipes on the site, go HERE.
Hi! I'm Kristin, the creative mind behind Yellow Bliss Road where you will be inspired by tons of easy to follow recipes, lots of free printables, and a little sprinkling of life thrown in for good measure.