There are so many different kinds of free fonts to choose from, but how do you match them up? Have you ever tried putting two pretty fonts together and wondered why it just didn't work? I mean, you love each font individually, but together, it's just not right. First rule (in my opinion) of font selection and matching, is that opposites attract. In other words, you don't want fonts that are similar to be together. You want to take fonts that have opposite qualities, like serif and sans-serif (ex. Times New Roman and Arial), decorative and simple, or thick and thin.
I'm going to show you five of my favorite combos.You'll also notice that a lot of times I'll have one font in all caps and the other in all lowercase to add to the contrast between styles.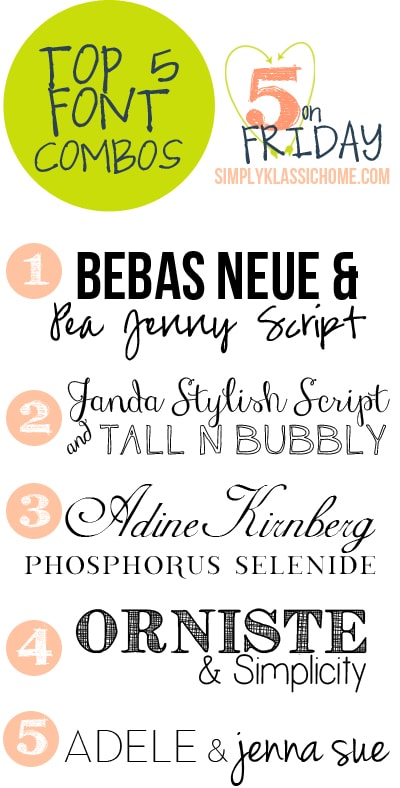 These are some of my favorite fonts, and if you'd like to download them, you'll find the links below. Hopefully this gives you an idea of how to combine fonts for beautiful graphics!
Bebas Neue
Pea Jenny Script
Janda Stylish Script
Tall N Bubbly
Adine Kirnberg
Phosphorus Selenide
Orniste
Simplicity
Adele
Jenna Sue
Love the fonts but not sure how to download them to your computer? Learn how to download and install the fonts in this post.