How to Start a Blog: This is part one of a four part series on how to turn your blog into a full time job. This post contains affiliate links.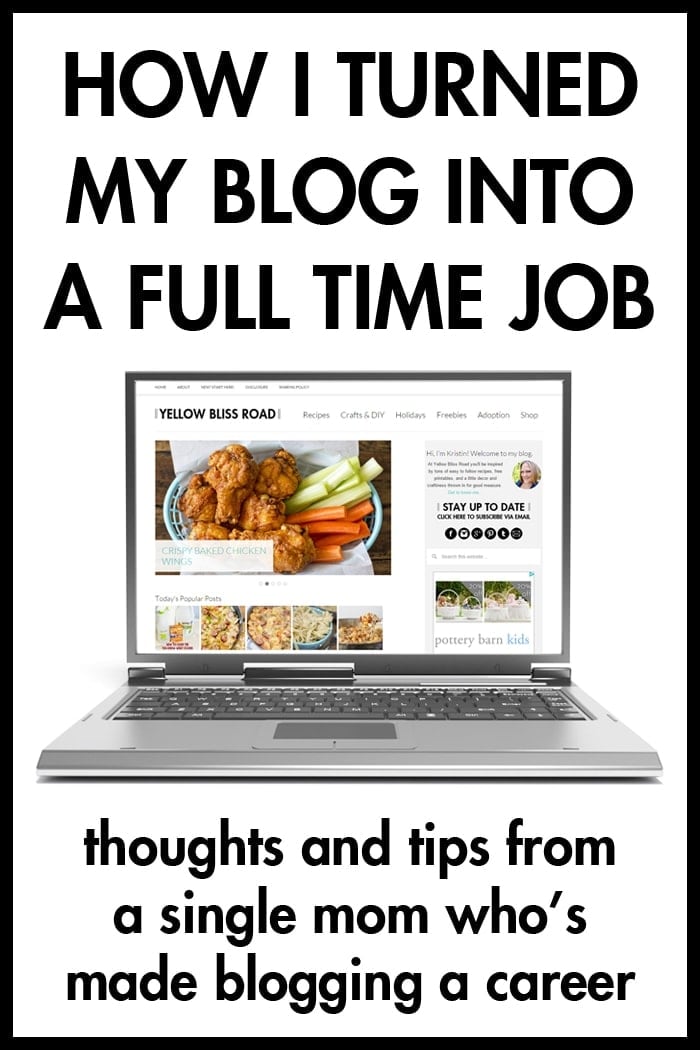 One year ago this week, I quit my full time job as an office administrator to become a full time blogger. There was a huge range of emotions the day I gave my notice. I had worked at my job for 12 years, but had been pretty miserable for a good year. Ultimately, it was truly one of the best decisions I've made in my life.
I field a lot of questions, almost daily, from bloggers and non-bloggers alike asking how I am able to do this, to support my family on a single income just from blogging. I am incredibly blessed to be able to have a job that doesn't always feel like a job, where I get to chat with friends and be here for my kids, and I know it every single day. So I thought I'd take some time and write out MY thoughts as to why this has worked for me. I've decided to do it as a three part series, because there'e a lot of information I would like to share, and it would be a little overwheming to read all at once.
I began blogging about five years ago. I've gone through name changes, niche changes and a number of design and color changes. But one thing has remained constant. I have a passion for this blog, for the content I create, and for the people I create it for. After a couple of years of just blogging for the comments, I realized that my blog could make money. I started placing a few ads on my site and at first they really didn't make anything. Then in January a few years ago, I received a check from Google AdSense. I was shocked. My blog had actually MADE ME MONEY!! (don't get me wrong – I loved blogging for comments and connecting with readers. I still do and I believe that it's still a vital part of blogging today).
After that first check, It took me two years of blogging regularly and learning about what worked (and what didn't) before I was at a point in my blog where I was turning a decent profit. In total, it took me four years of really, really hard work to get me to the point where I was making a full time income.
I guess my point is, being a successful blogger doesn't happen overnight. It's doesn't generally happen over even a year. There are so many factors that go into having a successful blog, and writing the posts is really only a small portion of it.
(At the risk of this post getting really long, I'm going to break it up into a three part series.)
Today I'm going to start with the basics of How to Start a Blog.
When I started my first blog back in 2010, I knew virtually NOTHING about blogging. Blogging was a new arena, and still is pretty new compared to other careers. So I started on Blogger. There's nothing wrong with Blogger and if you're not sure if you are going to enjoy blogging, I think it's better to start with a free site to see if it's something you love and want to continue. However, after four or five months, you should know, and you should definitely make the switch to WordPress. Which leads me to number 1 of the Basics of Starting a Blog.
1. DOMAIN HOSTING AND SET UP
This can actually be the hardest part of starting a blog! I've blogged under three names before finally settling on Yellow Bliss Road. Sometimes the best names really have nothing to do with what you're blogging about, and in that way, they make perfect sense. I blog about all kinds of things, from food, to printables and graphic design, to crafts and decor and it was near impossible to come up with a name that encompassed all of those topics, so Yellow Bliss Road was born.
Once you've chosen your name, GO BUY IT! Check out Bluehost – you can purchase a domain and get set up with your WordPress hosting all on one site. They make it very easy for you and have 24/7 technical support. You can also choose to set up your blog on your own or have them set it up for you.
*NOTE –  If you have been blogging for a while, you may want to consider a Virtual Private Server (VPS) to host your blog. In this case, I recommend Orange Geek hands down. They are amazing and have awesome support and virtually no down time. I'll talk more about them in the next post, but if you are looking for an awesome VPS check out orangegeek.com and use code ylwblissrd to grab yourself a discount.
*TIP – Even before buying your domain, go make sure you can grab that same name on social media – check Facebook, Twitter, Instagram and Pinterest. You want your readers to easily be able to find you and if you have different names on your different social media accounts it can make it more difficult for them to find you. If you follow me on social media you can see that I have "yellowblissroad" everywhere, and all you have to do is search "Yellow Bliss Road" and each of those social media accounts comes up.
2. INSTALL WORDPRESS AND DESIGN YOUR BLOG
This can be a really difficult part of setting up your blog, especially if you know nothing about graphic design. If you are unsure about this process, hire someone. They are lots of designers out there, some very affordable, and some not so very affordable. Think about what you want your blog to convey. Remember that the overall look and design of your blog is the first thing that people will see. You want it to be clean and streamlined and easy to navigate. The great thing about starting with WordPress from the beginning is there are "themes" (think templates) that you can use to get your blog set up the way you want.
If you do hire a designer to set up and design your blog, you can help make the process go faster by figuring out what you want ahead of time. Look at your favorite blogs and take notes. Seek out fonts on sites like dafont.com and keep note of your favorites. Sharing these things with your designer can help them better understand what you want your blog to look like and help to speed the process.
It can be tempting to add a whole of of things to your sidebar, and add lots of colors and pretty fonts. But follow this rule of thumb – no more then 2-3 fonts or colors, and keep sidebar items to a minimum.
3. CREATE AMAZING CONTENT
(BEFORE YOUR BLOG GOES LIVE)
If your passion is cooking, start photographing and writing out your recipes. If you're a crafter, start taking pictures of your favorite crafts. Add several posts to your blog before it even goes live. Once your blog is live, this gives readers a chance to look around and see what you're all about and they are more likely to keep coming back.
Make sure to create an "About Me" page, too. Let people know who you are and what you're all about. I'll admit mine needs some work and to be updated, but you can read it HERE. If you are comfortable, share some photos of you and your family (just remember that what you put out on the internet, stays on the internet).
4. NETWORK, NETWORK, NETWORK
Obviously, content is key to having and growing a successful blog, but getting that content out there? It's not easy. That's why networking and connecting with other bloggers is so crucial to your blog's success. Having that network can lead to more inbound links to your blog, social media sharing, partnership opportunities, tips and advice, but most of all it can lead to invaluable friendships.
Many bloggers are part of online communities, usually Facebook groups, where they can communicate with their blogging peers. I attribute so much of my success today to those friends I've made along the way. Friends who have supported me, stood beside me and encouraged me no matter what. Without these "tribes," I wouldn't have been able to make it this far, and probably would have quit a long time ago.
Get to know some of your blogging peers by commenting on their blog posts or on social media. Email and ask questions or just share that you loved their recent post. Just like in your every day life, there will be people who you instantly hit it off with and some not so much. But pretty soon, you'll have your own tribe that you can bounce ideas off of, ask questions and share struggles with. A lot of blogging groups act as sharing groups too, where they share each other's posts on social media. Networking is crucial to your blog's success.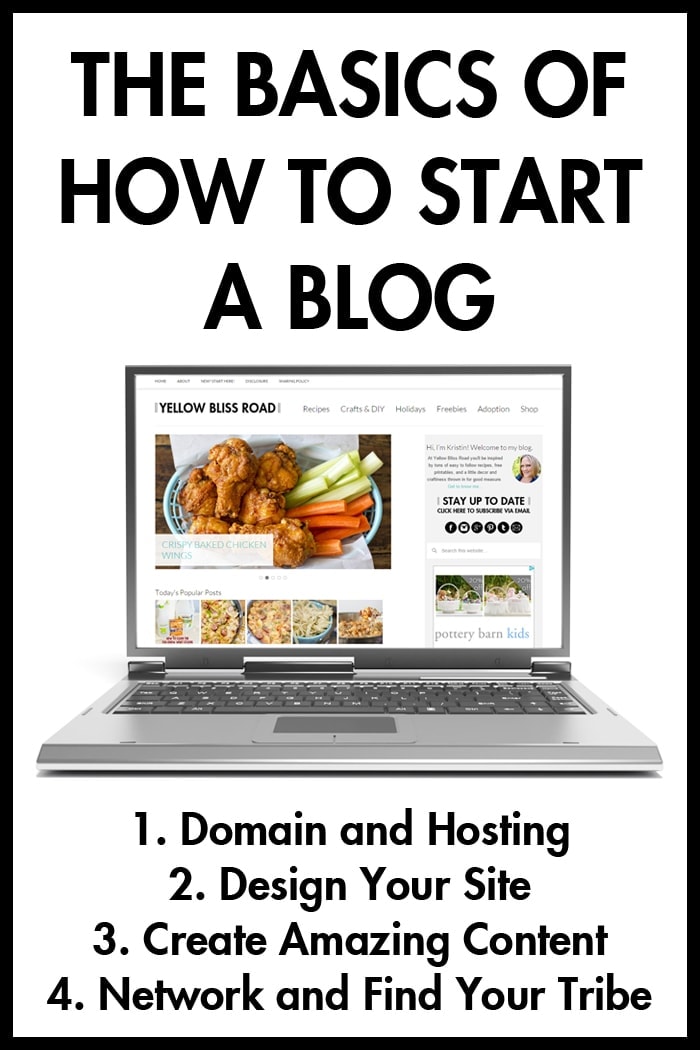 To recap:
1. Buy your domain name and get set up with a web host.
2. Install WordPress and design your blog (or hire a designer).
3. Create amazing content BEFORE your blog goes live.
4. Reach out to and get to know your blogging peers.
Next time I'll share more about how I got to the point where I make a full time income from my blog, and how I make working from home, work. Feel free to leave any questions in the comments or email me at kristin@yellowblissroad.com.
Be sure to check out Part 2 of the series. I'll update when each part goes live.