How I Turned My Blog Into a Full Time  Job: This is part two of a three part series on how to turn your blog into a full time job. You can find the first post in this series, "How to Start a Blog" HERE. This post contains affiliate links.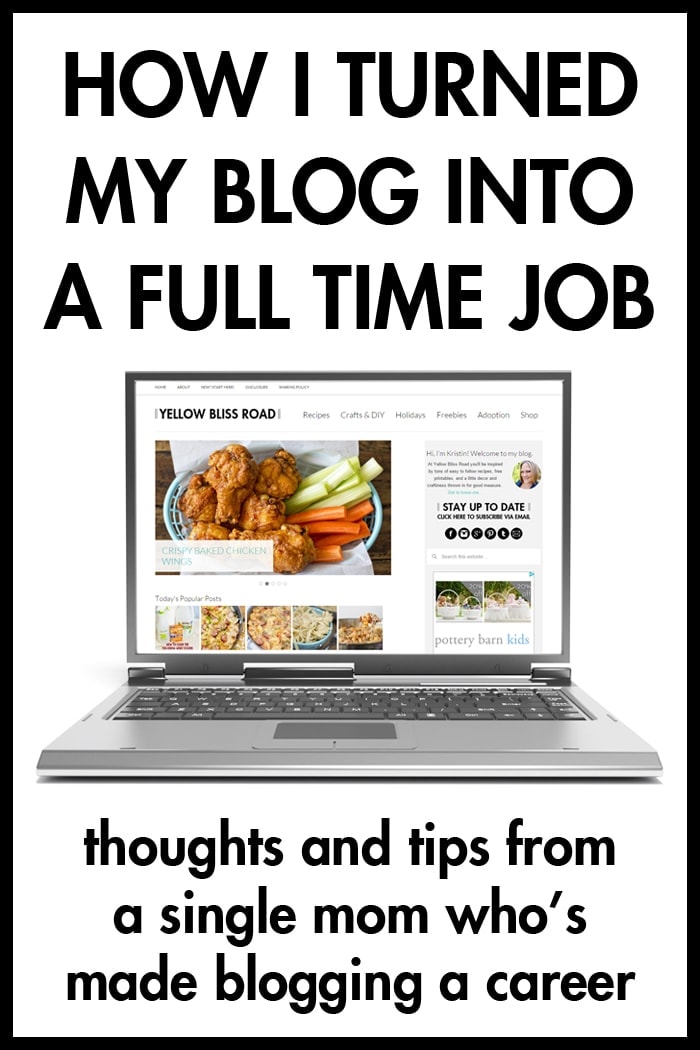 I shared in the first post in this series how a few years into my blog I received my first payout. It was incredible. I mean, it was tiny, and I probably could have barely bought a week's worth of groceries with it, but still, it was something.
Several months later (and nearly two years ago) I attended my first blog conference. It was a three day conference for bloggers to come together, talk about social media, photography, monetizing your blog and so much more. It was around this same time that I had rebranded my blog to be the one you now know as Yellow Bliss Road and made the commitment to focus my energies on growing my blog. At the conference, I had the opportunity to meet a lot of my blog friends face to face and hug them and hang out with them and it was awesome. I came home with a renewed sense of focus and aspiration for my blog. I was going to take my blog to the next level. In that next year, I grew my blog traffic by nearly than 1400%. (For perspective, I had about 35,000 pageviews in the month of January 2013. In January 2014, I had 488,000 pageviews).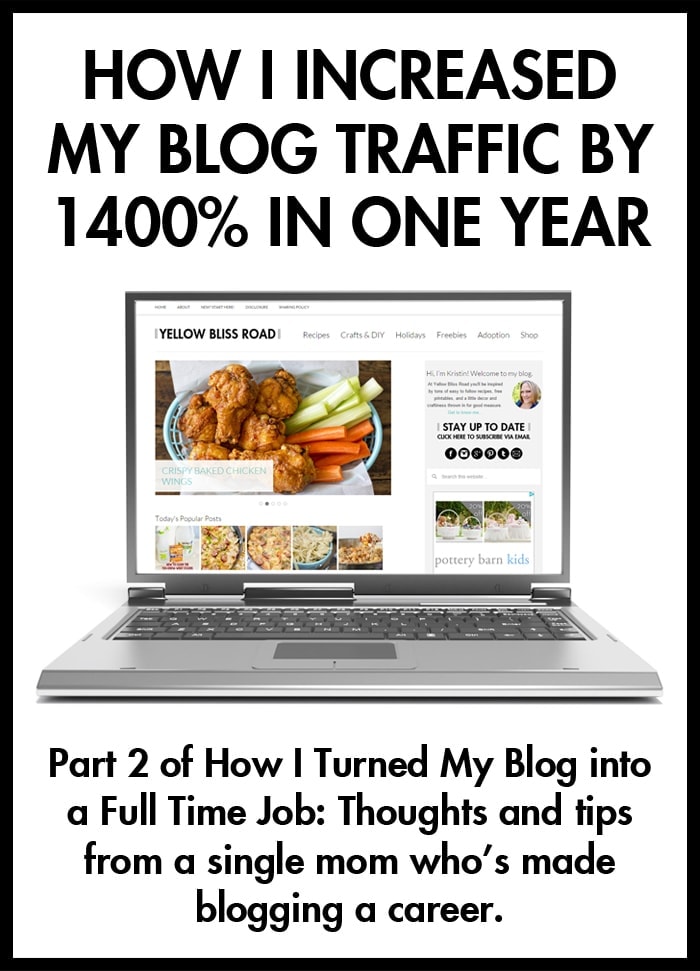 I buckled down and really began to be deliberate about the content I put out there. I worked with brands and PR companies, applied to more ad networks, and my blog began to bring in a steady income. I wasn't as organized as I probably should have been, but I kept turning out the best content I could, posted regularly on the blog and on social media and joined even more Facebook groups. I bought a new camera and a good lens and really began paying attention to my photography, learning what worked and what didn't. I focused on creating more "evergreen" content, not just seasonal. I reached out and got to know other bloggers, applied to be a contributor for some of my blogging idols, and partnered with other bloggers on several projects. I moved my blog to WordPress and developed a fresh and streamlined design. Together these things helped me to grow in ways I never imagined.
HOW I TURNED MY BLOGGING HOBBY INTO A FULL TIME JOB
Here are some of my best tips, based on my own personal experience, to grow your blog and your income, not just your traffic. I feel that these are all important tips, so they are not in any particular order. Please bare in mind that these are just suggestions based on what has worked for me and results are not in any way guaranteed.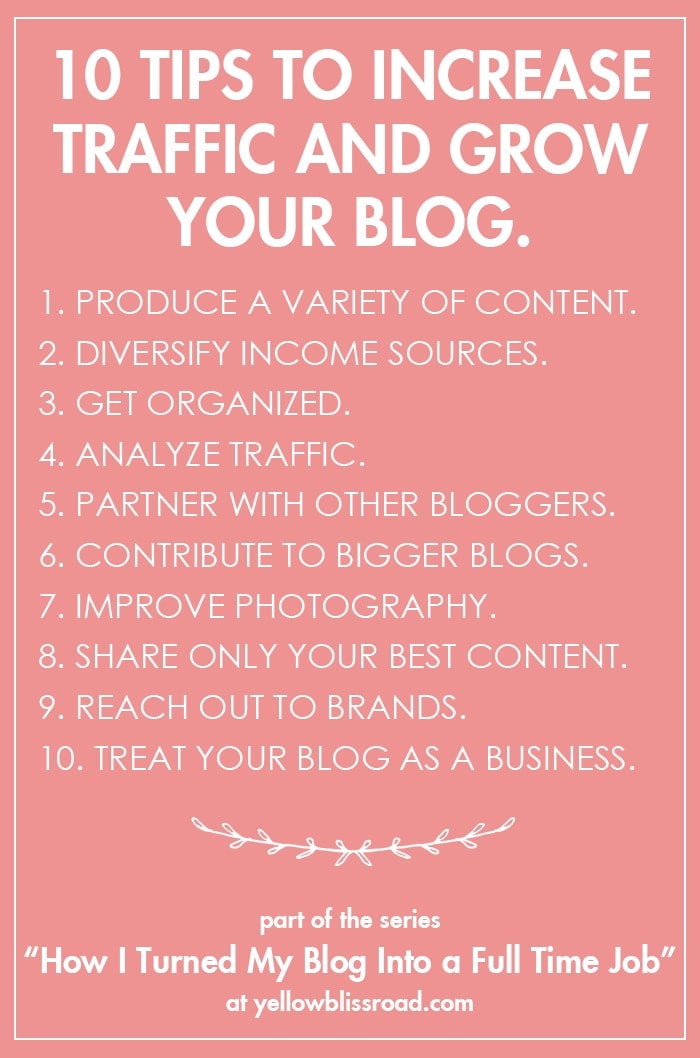 1. Produce a bigger variety of content.
Traffic ebbs and flows. Most seasoned bloggers know that there are certain times of the year when traffic is higher than others. So it's important to have "evergreen" content. Evergreen content is content that is relevant throughout the year. Samples of evergreen content from my blog include easy meals like Garlic Parmesan Pasta or Pan Roasted Chicken, printables for birthdays, or diy projects like this Space Saver Bookshelf.
Seasonal posts, likeChristmas' Potpourri or Layered Peeps Treats are just as important because they help to give your traffic a nice boost around the holidays. Especially Christmas when advertisers in general are paying more for the ads on your site.
It's important to have a good balance of seasonal and evergreen content on your blog, to keep readers interested and looking around when they visit.
2. Diversify your income.
Sign up with Brand Influencer & Marketing Communities like Linqia, Social Spark/IZEA, Collective Bias, Pollinate or Tapfluence. Not sure which sites are best for you? Ask around!
Sign up with more ad networks. If you aren't signed up with any networks, start with Google AdSense. There are lot of options based on the size of your blog (typically number of pageviews). Depending on your pageviews you can sign up with Ads Management Networks like The Blogger Network or Adthrive. Infolinks is another network that's easy to work and accepts bloggers of all sizes. The number of ads and placement is up to you, but I recommend at least 6-7 ads. The SITS Girls also have a great article on working with ad networks: Make Money from Blogging by Working with Ad Networks.
3. Get organized.
Follow a posting schedule. Set a regular schedule for yourself and plan to post several times per week. Find a rhythm that works for you. If that means you post every day, then post every day, or maybe it means three times a week. Just try and post on the same days each week if you can, and at least 3-4 times a week. One post a week isn't going to grow your blog.
Schedule posts at least a week in advance. This is probably one of the hardest for creative people like us, but if you can get at least a week ahead of your posting schedule, your blog won't suffer if you need to take a day off and you'll always have content ready to go.
Find a planner you love and can follow. Try out my Ultimate Blogger Planner, use Google Calendar or pick up a regular day planner. Start jotting down post ideas, keeping track of stats and income and plan out your posts at least a week or even a month in advance.
4. Analyze your traffic.
First and foremost, make sure you have Google Analytics installed on your blog. Then survey your traffic daily. Look at what worked and what maybe flopped. Is there a post that's done exceptionally well? Do more of those! For example, I did a one pan meal a couple of years ago and it was really well received, so I did another, and another. Now I have 30+ one pan meals and they have become one of the major traffic drivers to my site. Are you seeing incoming traffic from a particular site? Go thank them, and maybe share a couple of similar posts that they might be interested in. If you're seeing that one post is particularly popular make sure to add additional links within those posts, similar to what I have done at the end of each of my posts. This keeps readers hopping around your site rather than grabbing your recipe or tutorial then hitting the road.
Above all, watch your traffic closely and you'll start to see patterns. Make sure you've got new content on the days with the heaviest traffic and make sure to add more relative content within your popular posts.
5. Partner with other bloggers.
Remember at the beginning of this post I talked about how I made friends with other bloggers? Eventually we started working together and creating fresh new content. This is great for your blog because you get to not only share the awesome work of others, but they're sharing your awesome work, which means more inbound links (Google gold) and new readers visiting your site! You can do this in the form of blog hops like this one, or just by blog sharing (trading blogs for a day with another blogger – you post on their site and they post on yours).
6. Apply to be a contributor.
Tons of blogs (including mine) put out a call for contributors annually. Fill out the application and submit your very best work. Often times this can be a paid position, but the non-cash benefits can be invaluable, like pins, facebook groups, and the opportunity to ask questions and gain advice from seasoned, professional bloggers.
Typically these calls are put out around October and November for the following year. But say it's April and you're just now reading this and you don't want to wait six months. Reach out to your favorite blogger and ask if you can guest post! Make sure you are ready to share a recent post and an idea you have for your guest post. *Tip – don't reach out to a blogger that you have never had contact with. Get to know them a little, comment on their posts and social media first.
7. Improve your photography.
Quality is the key to successful posts, and with Pinterest driving an average of 70% of traffic to creative blogs, your photos are a top priority. My biggest tip is SAY NO TO FLASH!! Please, for the love of all that is good do not use a flash when you take pretty pictures for your blog. That project or dish that is crazy amazing won't be able to stand out and can make your post fall flat. Take a photography course – there are tons of online classes. I recommend Shoot Fly Shoot as one of the best.
If you must photograph indoors with no natural light, I recommend an external flash like this one. Pointed towards the ceiling it will help to rid your photo of shadows and then you can play with the white balance in post editing.
8. Share your BEST content.
I think this goes without saying, but I'm going to say it anyway. Don't post just for the sake of posting. It's better to skip a day in your schedule than to post mediocre or forced content. If you made a great recipe and the pictures didn't come out, don't post them. Make it again.
9. Reach out to brands you'd like to work with.
I've had some amazing opportunities with this blog, working with awesome sponsors like Legoland, Wayfair, Moen, Lamps Plus and Sherwin Williams, all because I reached out to them. Don't be afraid to send an email or a message on Facebook asking to talk with their head of PR or social media. Generally these opportunities are paid in product, but if it's product that I would have purchased anyway, I call that a win.
There are times that brands will reach out to you – for these times, know your worth and be ready to tell them! Often times these types of opps are paid, sponsored posts and you'll need to give them a dollar amount that you'd like to be paid. Don't low-ball. Think of a number that you are comfortable with based on the amount of work you'll need to do, and add at least 10-20%. Just enough to make you slightly uncomfortable. If they say no then you can negotiate.
Shannon from AKA Design has a great book on working with brands that will help you gain the confidence to take that risk and reach out to a brand you love. Check out more at Bloggers and Brands.
10. Treat your blog as a business (because it is!).
This is probably one of the most important pieces of advice anyone ever gave me, and it was actually from my accountant. When doing my taxes last year (before I'd made the decision to quit my job), we chatted about what the possibilities of my doing this blogging thing full time. He said to me "If you are going to call yourself a business, then act like a business owner, not an employee." I still have to remind myself of those words, but they have been very important on this journey. There are things you should do right away if you haven't already, like opening a business checking account and filing a DBA. I'm not an accountant so I won't be giving advice, other than to talk with your own accountant about the steps you need to take to be able to declare your blog a business.
As a business, you need to promote yourself!! You are awesome, you have a unique voice and even if you're sharing a similar recipe or project as someone else, your readers will love hearing your take on it. Don't be afraid to share your projects with others and talk yourself up because you are amazing. I mean, Coca-Cola didn't get to be where they are by saying, "yeah we're an okay soft drink." Just sayin'.
Hopefully with these tips you'll be well on your way to making a full time income doing what you love!
I've got tons of tips for surviving being a work at home mom, how I manage my business and how I manage my day (probably my most often asked question), but I think this post is long enough, don't you? Keep an eye out for that one in the next few days, as well as some tips and advice from some other full time professional bloggers coming soon!
Read more posts in this series:
To read the complete series, go HERE.