How I Manage my Blog Business as a Work at Home Mom | This is part three of a four part series on how to turn your blog into a full time job. You can find the first posts in this series, "How to Start a Blog" HERE, and "How I Turned My Blog Into a Full Time Job" HERE. This post contains affiliate links.
If you've stuck it out with me this far in the series, thank you! When I had the idea for this I imagined a single post, but as I wrote there just seemed to be more and more I wanted to share, and more questions that I wanted to answer! In this post I'll be answering some of the questions I've been asked, especially in regard to how I structure my day and keep from going crazy.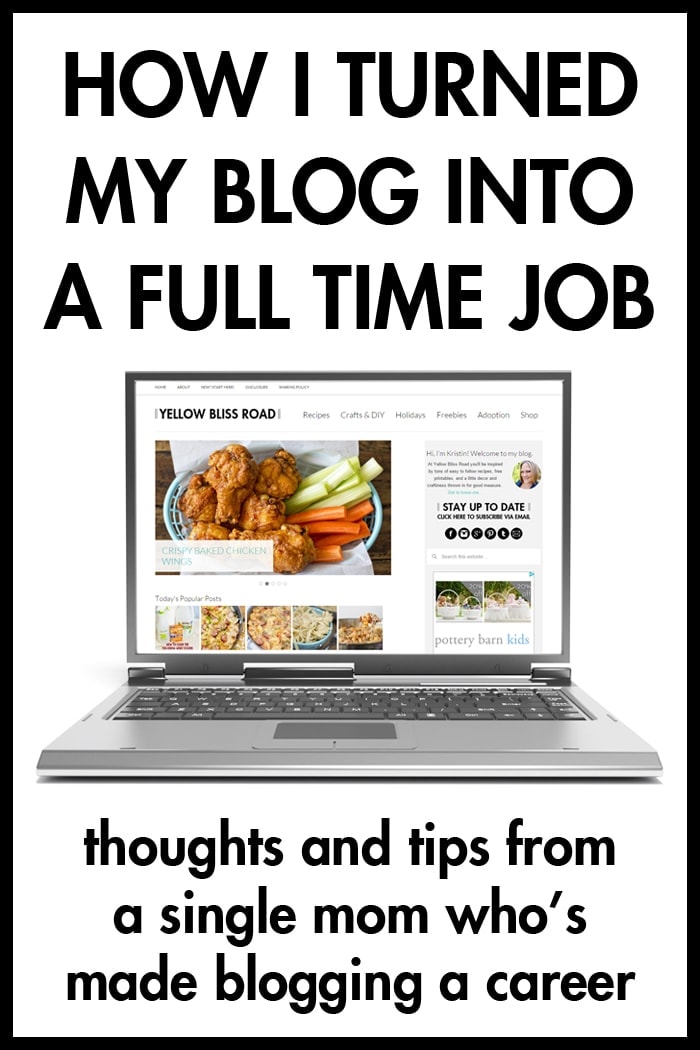 When I first made the decision to be a full time professional blogger, I thought it would be easy to transition from working in a small, quiet office. I mean, it couldn't be that much different, right? My son was in school all day and my daughter would continue in preschool, although would cut back to twice a week instead of five days. My son would no longer attend day care after school. I'd be able to actually chat with teachers and other parents at school instead of always rushing off to work. I was excited to be able to be home with them more and to be more in control of my work days and schedule. My plan was that I would blog all morning and take a break to eat lunch and play games with my daughter. I'd be able to pick my son up from school and we'd come home and just enjoy being together.
Boy was I wrong.
Those first several months were hard. I had a very difficult time gaining my footing and I know my blog and my family suffered a little for it. It was not as easy as I anticipated to transition. I enjoyed doing what I wanted, having lunch out with friends or shopping whenever the mood struck, but the serious lack of a daily routine was getting to me. Not having a place to be in the morning meant I could sleep a little longer and I really didn't have to take a shower in order to leave the house since I was just dropping the kids at school. I could stay in my pajamas or sweats all day if I wanted to and shower when I felt like it. But I felt tired and unsatisfied most of the time, even going so far as to take a nap some days.
I finally realized that if I was going to truly be a business, I needed to start acting like it. I needed to get up in the morning and get ready as though I was going off to work. Get up, shower, get dressed and do my hair. These acts quickly became part of my daily routine again and made me feel like I couldn't go back to bed even if I wanted to. I actually "felt" like I was going to work even though I was just coming back home to do it. I started following a schedule. It took months to really perfect it so that I had something that made sense and was easy for me to follow day to day. But now I have my schedule (albeit a flexible one) and I know what I need to get done each day. That is the single most important thing that has helped me continue to make my business thrive.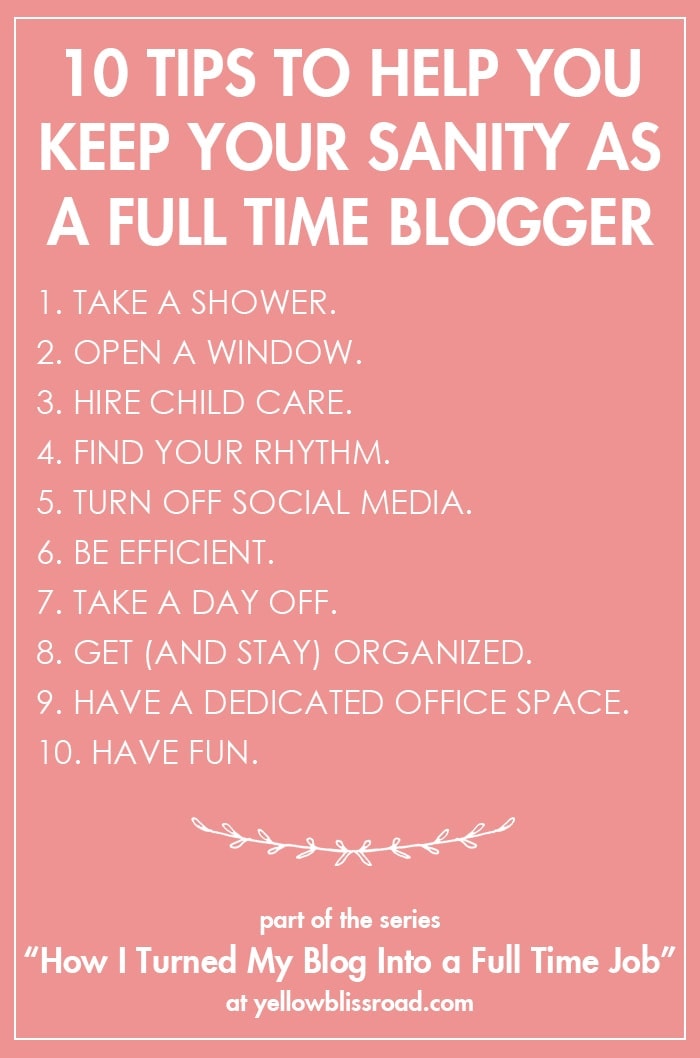 My best tips for being able to manage a successful blog business: working from home without going crazy.
1. Take a shower and get dressed.
I know this might sound silly, but taking a shower first thing in the morning and just the act of getting ready, made me feel like I could hit the ground running. Don't get me wrong, I still wear yoga pants nearly every day. It's one of the benefits of working from home – the dress code is comfort! Oh, and put on shoes too. Something about being fully dressed right down to your shoes makes you feel like you can't just sit down and chill on the couch. It's like a signal to your brain that there's work to be done, so let's get to it!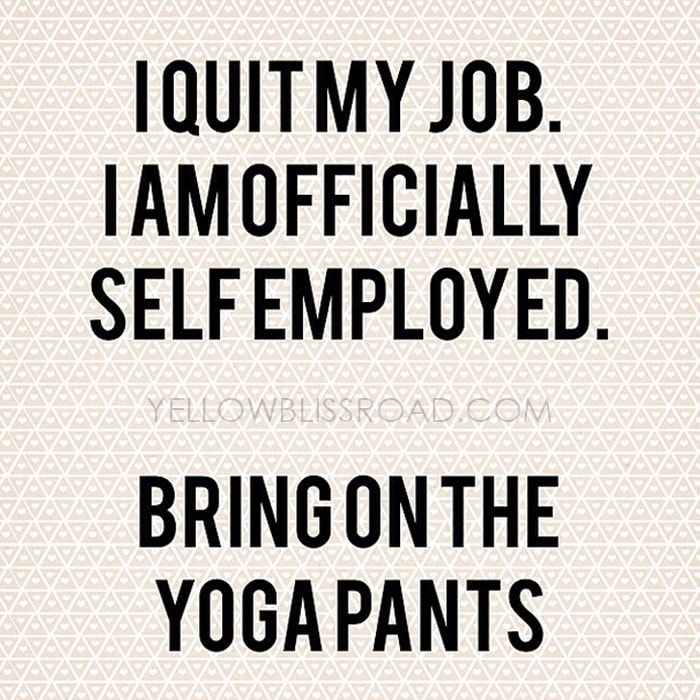 2. Open a window.
I know, we're only two tips in and you're already thinking I'm nuts, but stay with me. Being cooped up all day isn't good for anyone and it certainly isn't good for productivity. Get some fresh air when you can. I spend hours at the computer, some days that's all I do, so I actually crave the outdoors! Take a break, take a walk around the block, or just to your driveway. Open a window or your front door and let the fresh air in. Mind you, I live in California so this isn't a difficult thing to do, but even when we have really rainy days I open a window and throw on a heavy sweater. If you live in a colder climate, figure out a way to take a break and get some fresh air each day, even when it's freezing outside.
3. Hire some child care.
I know that one of the reasons you want to work from home is so you can be with your kids more. But is it really productive? Not usually. If your goal is to have a full time business from home that pays you like a full time job, you can't do it while when you're constantly being interrupted. Trust me, I've tried. You need to have time to focus on your work, and your kids need someone to play with. Sign up for preschool a couple of days a week. Hire a neighbor to come and play with them for a few hours. Give yourself several hours a week (and not just after they go to bed at night) to work. If paying for child care isn't in the budget, try swapping with a friend.
4. Find your rhythm.
Once both of my kids were in school, I was finally able to find a good rhythm with my blog. It's hard to focus on work when the kids are at home wrecking havoc. Here is my basic routine for each work day (this is a very loose schedule as far as time, but I do follow the general routine daily):
7:00 Get up, shower, get dressed
7:30 Get kids ready, make lunches
8:10 Out the door to school
8:35 Make breakfast for myself, clean up kitchen
9:00 Work – social media scheduling, answering emails/facebook, checking calendar
10:00 Get up, walk around, just basically take a break
10:10 Work – writing posts, editing photos, whatever needs to be done
Projects – Cooking, baking, photographing
12:30 Lunch break (sit/walk outside, watch tv, read – no computer, no phone)
1:30 Proofread posts from the morning and schedule, edit photos, social media, email
3:00 Pick up kids from school
Anything left that must be done before the next day is done after the kids are in bed, although I do have my phone nearby and can answer emails or check social media as needed.
Obviously there will be exceptions to this rule, and I need to keep it flexible. But I won't schedule a lunch date unless I can look at my calendar and see that I will have free time, otherwise it will just set me back. Also it's important to note that I completely realize how difficult it would be to keep this schedule with kids at home, which is why I think it's so important to hire some help. Work it into your budget, and be sure to keep track of it – paying for child care so you can work can be a tax write-off!
If working by the hour just isn't something you can do, try to work by the day instead. Hire a sitter and enroll in preschool for a couple of full days and spend that time working. For example, spend a day in the kitchen creating new recipes, or spend a day in your craft room coming up with new projects. Whatever your niche, maybe it's easier to spend a whole day working on that than just a couple of hours. Find what works for you and stick with it. Just have a plan.
5. Turn off social media.
For bloggers, social media is just part of everyday life – it's what we do. But when I'm in work mode, I only have open the windows on my computer that I need. No Facebook, no Pinterest, no email. I keep my phone nearby for emergencies but I don't have notifications turned on for any social media and I turn it over so I can't see the screen. I cannot tell you what a difference this has made in my productivity! Quickly commenting on that Facebook post or responding to that email doesn't just take a few seconds. It distracts from what you're doing and you have to come back and re-focus, which wastes time.
6. Be efficient.
Run errands all at once, or cook your recipes in the same time frame. Be efficient in your planning so you have less time wasted going from project to job or job to project. For example, save up the recipes you've written and bake multiple things in one day. More time in the kitchen at once, but less clean up time since you're only having to clean up once.
Hire an assistant to help ease some of your work load. Heaven knows being a full time blogger isn't your typical 9-5 job and can at time be much more than just a 40 hour week. Ask around for a VA your friends use and recommend. They can help with social media scheduling, newsletter, posting or even managing contributors. If you don't know of any, our own contributor Kirsten from Sweet Tea & Saving Grace does a great job!
7. Take a day off.
Don't push yourself to the point where you feel overwhelmed. Part of why you wanted to become a full time blogger in the first place was because you loved it. If you need to take a break and step back, take a day off. Your blog won't suffer for you taking a little time for yourself when you need it. Work it into your schedule so you have time to go on that field trip or grab lunch with a friend. Those times for getting out of the house are crucial to your sanity.
8. Get (and stay) organized.
I touched on this quite a bit in the second post on how I grew my blog, but it's crucial to develop really good time management when you work from home. Use some kind of planner to keep you organized and keep all of your receipts. Go over your calendar at the beginning of each day so you know exactly what needs to be done. You can use my blog planner or find another that suits you better. I also use Google Calendar.
9. Have a dedicated space where you can work.
In my home I don't have a dedicated "office." I have a makeshift desk that houses my computer and doesn't have much storage. This is one of the biggest areas I struggle with. I do however have a space that contains my desk and it's where I go to do my work. For you it might mean your desk in your office, your kitchen table, or a local Starbucks. Wherever it is, go there every time you need to get work done. Just the act of sitting in the same spot will help to put your brain in "work" mode.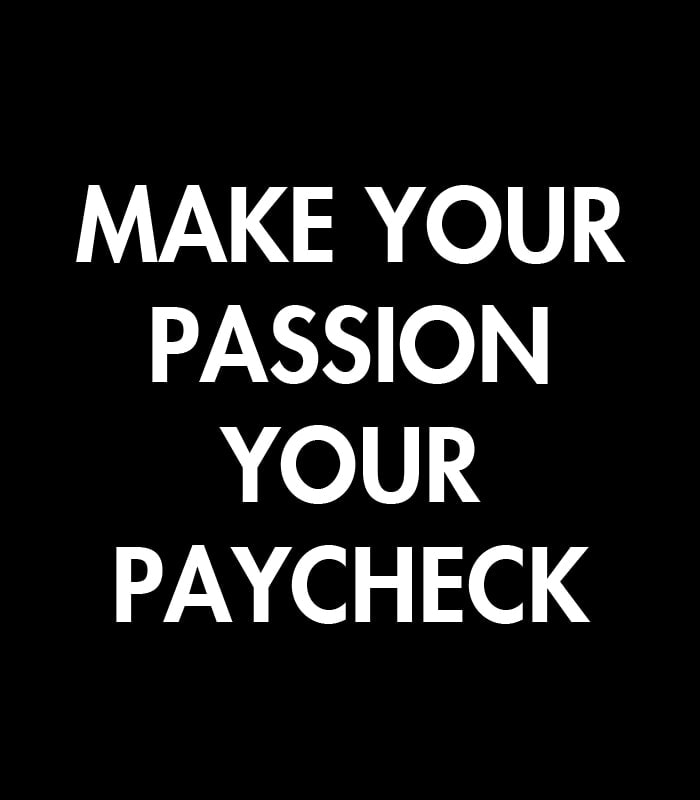 10. Have fun.
No matter what your profession, I am a firm believer that you should love what you do. If you are going to spend 20-40+ hours a week doing something, it should be enjoyable. If you aren't happy, do something else. Like the old saying goes, "do what you love and you'll never have to work a day in your life."
I hope you've been enjoying this series as much as I've enjoyed writing it. I'll be back soon with the fourth and final post. I've asked some amazing full time bloggers to answer your questions. It will be a great way for you to see how each blogger's experiences are the same, and different, and gain some valuable insight into the world of blogging as a profession.
Read more posts in this series:
To read the complete series, go HERE.