Hello there Yellow Bliss Road Readers! This is Ashley here again from Cherished Bliss. Today I'm here to share a few unique gift wrap ideas with you. I'll let you in on a little secret about myself….. I am one of those crazy ladies who LOVES – absolutely LOVES – wrapping presents. I know women everywhere that dread Christmas at the very thought of wrapping all those gifts, but seriously… if I had the time, I would totally hire myself out to wrap other people's presents. I know. I'm a total weirdo ; )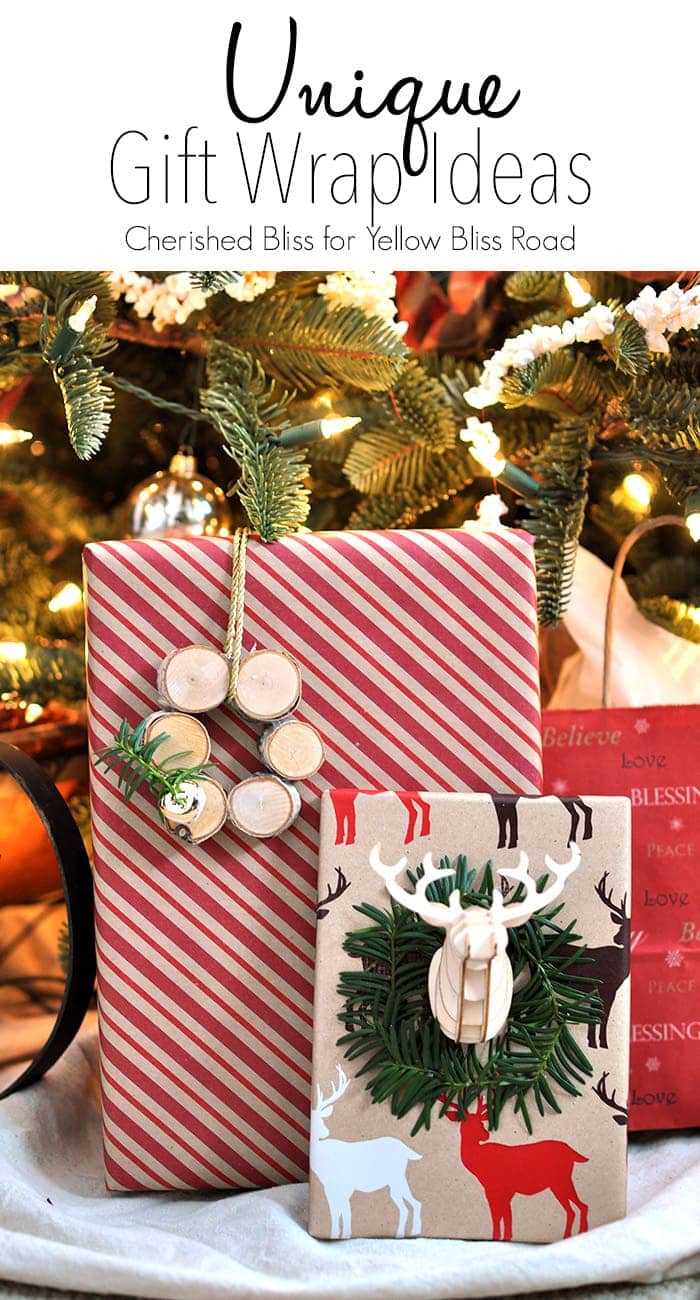 Now I promise, I don't take the time to wrap each and every gift with this kind of detail. I pick a few and stick those out front and mix in some fun ideas like this with some other boxes that just have a simple ribbon on them.
When I think about wrapping a present, I think of it kind of like a mini wall. What can you put on there? Well… it took a while for me to jump on the deer head bandwagon, but now I'm pulling it because I am loving all things deer this season!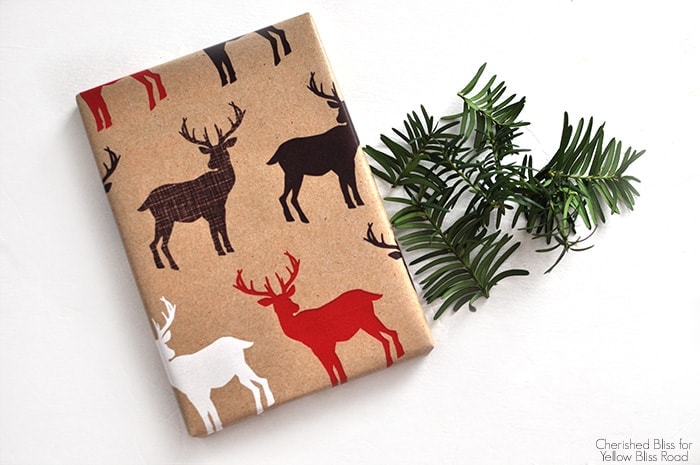 For this box, I wrapped it in this adorable wrapping paper I found at Target. Then I went outside and snipped some ends off of my bushes. Not sure what they are… just your basic evergreen. Then I hot glued them in a circle to look like a wreath. I honesty was just going to leave it like that, but when I took it over to the Christmas Tree and saw my deer head ornaments I just new I had do put that little guy in the center of the wreath. So what did I do? I hot glued him right in the middle! Cutest present ever right?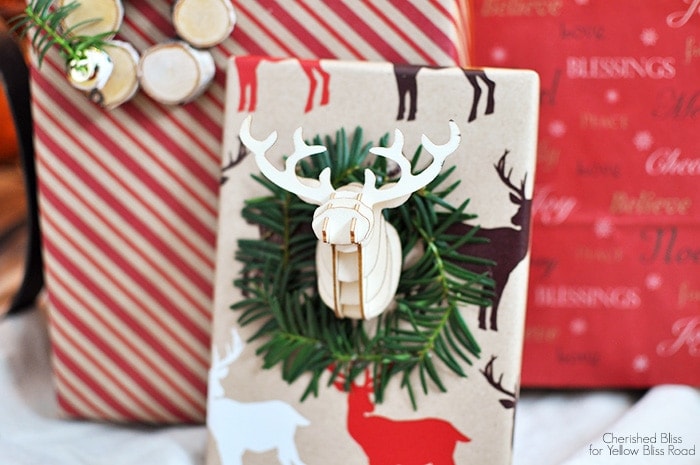 Something else I did this year was use up all those wood slices I have lying around. I made a little mini wreath and used it as a bow.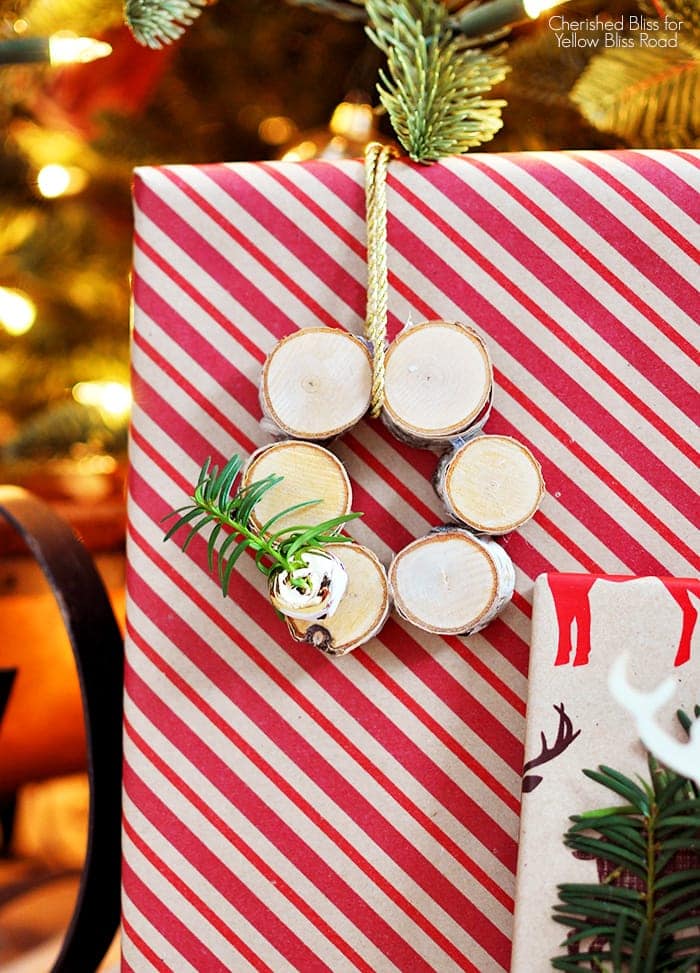 To make this I literally hot glued some wood slices I purchased at Hobby Lobby into a circle. I stuck piece of my clippings into a jingle bell and glued that right on the wood slices. Then I used a piece of gold ribbon to hang it on the package making it look like a wreath.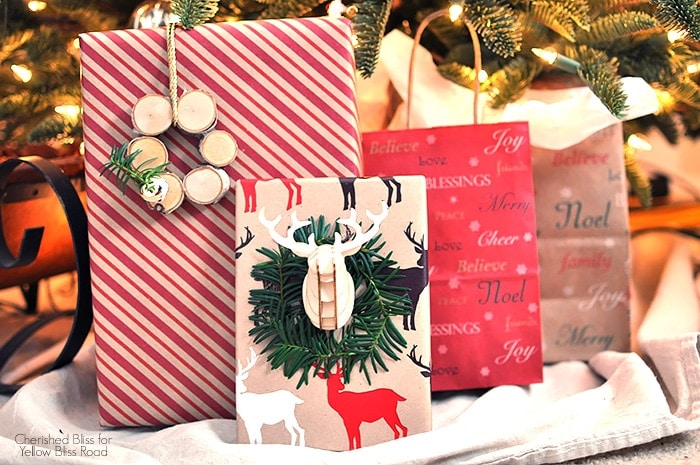 I have had SO much fun wrapping this year, but I've got a lot more to go! Confession… those bags are empty. I should probably stop photographing empty bags and get busy I suppose 😉
I would love to stay connected with you! Find me here:
Blog | Subscribe | Pinterest | Instagram | Facebook | Twitter
Have a beautiful day! 
Here are a few more of my Christmas Projects I've been working on this year.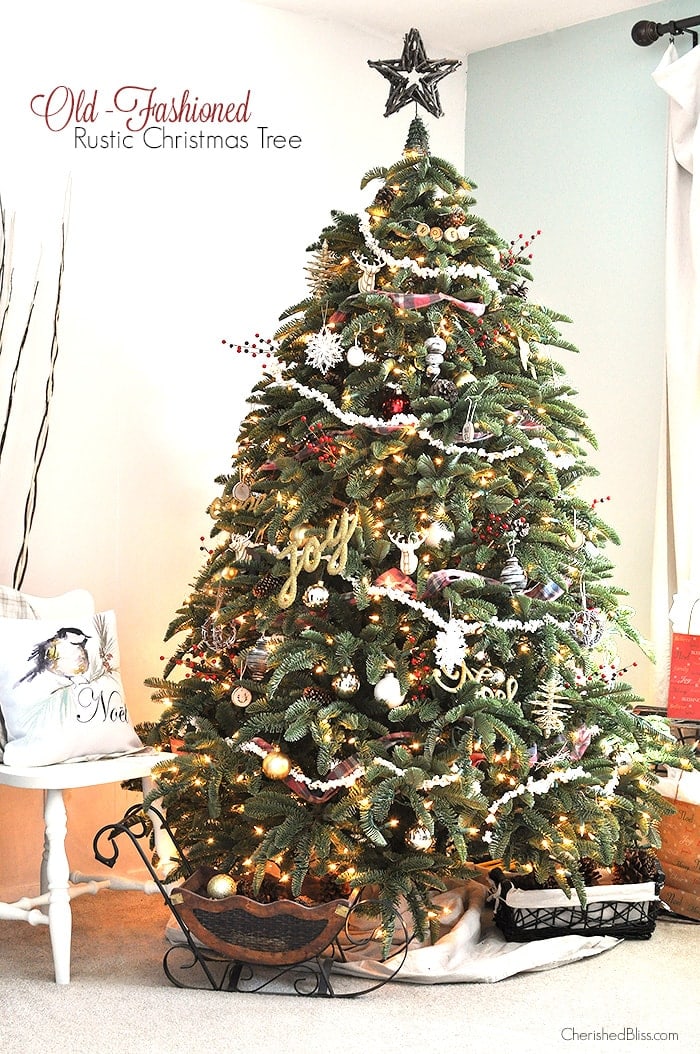 Old Fashioned Rustic Christmas Tree