How to Update Your Decor for Fall on a Budget
Hello again Yellow Bliss Road Readers! I'm Ashley from Cherished Bliss, and I'm so excited to back again at the start of one of my favorite seasons – Autumn – to share some great tips of decorating for fall on a budget!
The temperatures are dropping, the leaves are just starting to fall, light jackets come out to play and the baking begins! School has just started, and let's face it… it feels like you are funding an entire business just to get the kids back in school doesn't it? Your grocery bill goes up because baking is now necessary – I mean who can argue with that cool breeze?? So sometimes the budget just doesn't stand for grabbing some new fall decor items this year, or maybe you just like reusing things… or if you are like me, both of those things take a big part in my decor! So today I'm going to chat with you about how you can update your decor for fall with things you already have on hand!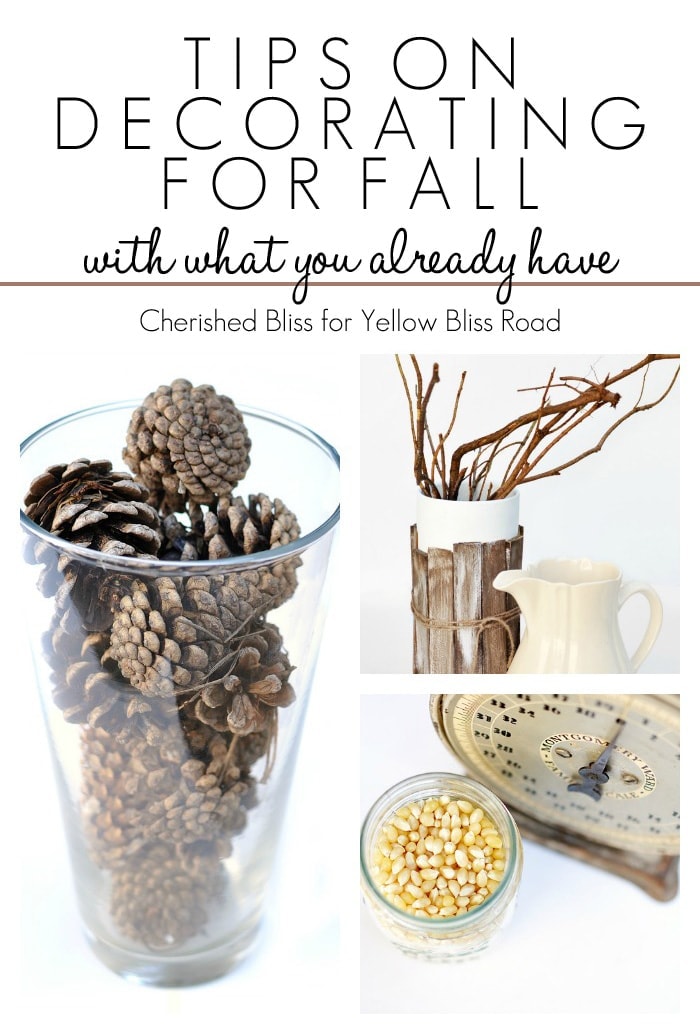 The first thing I always always do….

What better place to shop for fall than outside IN THE FALL SEASON! Makes sense right? Best part… mother nature doesn't charge. As long as you aren't breaking any state laws that is ; ) I took my kids to the park just the other day to gather up some pine cones. I always display some of these little beauties in clear vase, and I think I might make a wreath with them this year too!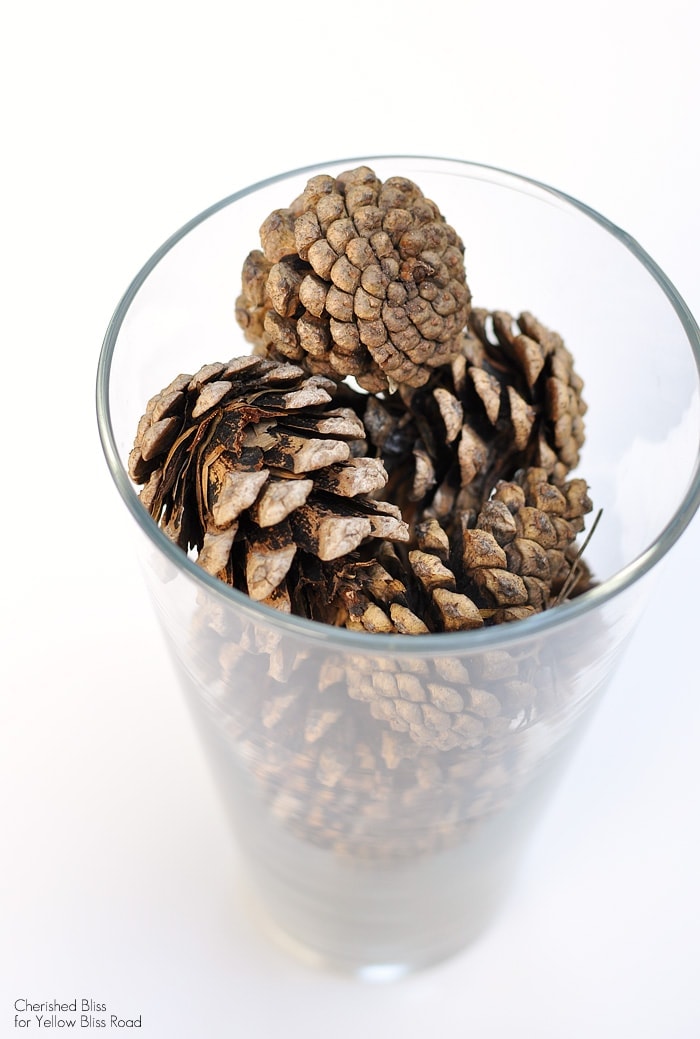 Don't limit yourself to just pine cones. Grab some sticks, leaves, and branches while you are out there. There are so many great ideas you can do with these items! Let your imagination flow and use up what your neighbor might set out at the curb as yard waste!
When you are done with the outdoors it is time to….

Yes, it's true… you can shop in your very own kitchen. One of my favorite things to use is popcorn kernels. They just have a Fall look about them. They are the right color, cost barely anything, and I pretty much always have a bag in my pantry for when I make our Pumpkin Pie Popcorn. You can simply put some kernels in a mason jar, candle holder, or other container.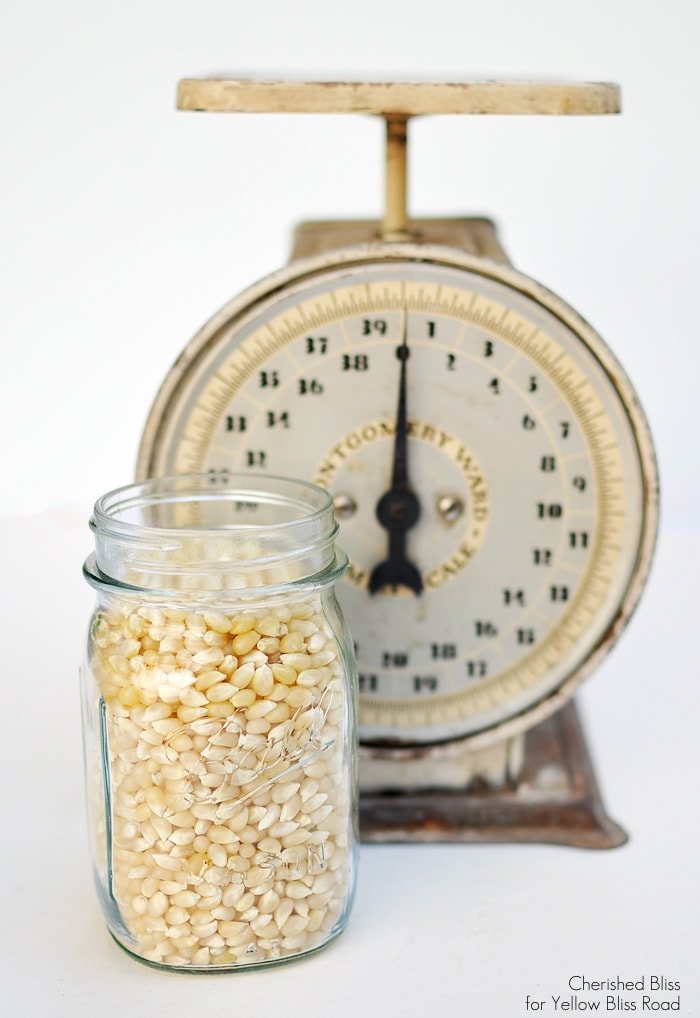 You could even use them for a little crafting project if you want. A couple years ago I made a popcorn kernel wreath and I still use it to this day! It took a while, but it has been a great piece to have!
and last, but certainly not least….

Walk through your house and see what you have on hand! You'd be surprised what you have that when paired with some fall decor brings in a a whole new look! This wood shim vase was originally created for my spring mantel, but it's pretty universal. I just took out the yellow buds and added some sticks from my yard (look at me shopping outside again!). I also have this old pitcher which was in my dining room… it's getting moved to the piano, and I think I might add some wheat in there.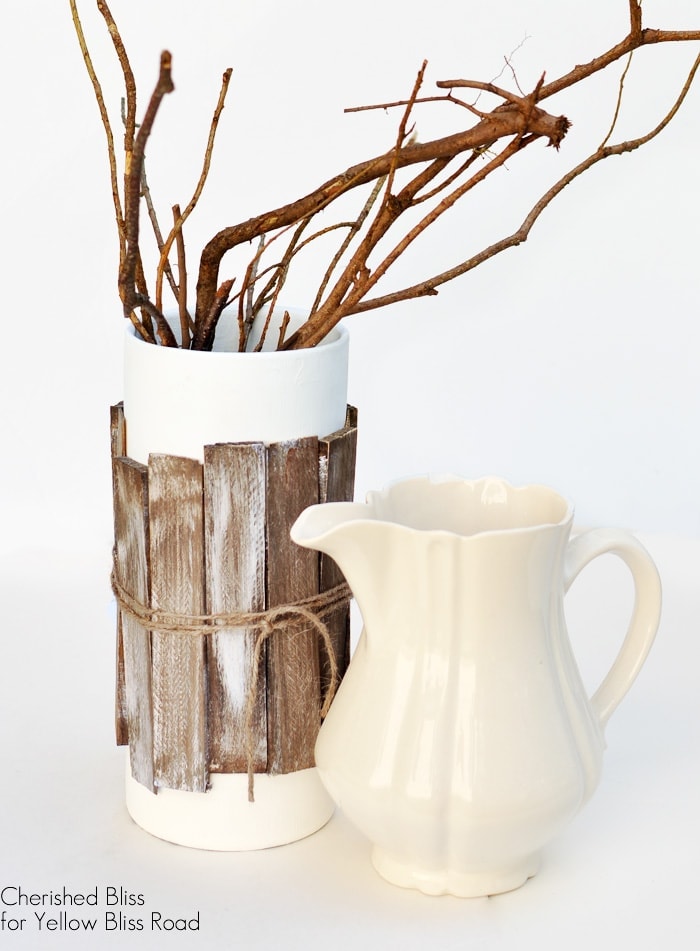 I'm still working on getting my fall decor together and thinking through this has helped me! It's so easy to forget that just cause we use something for one thing, doesn't mean it can't be transformed and used for something totally different! Well, I'm off to my basement to see what else I can find! Do you have any good tips on decorating for fall?? I'd love to hear about them in the comments below! Have a beautiful day!!
Let's stay in touch!
Facebook | Instagram | Pinterest | Twitter
See more great projects HERE.