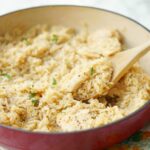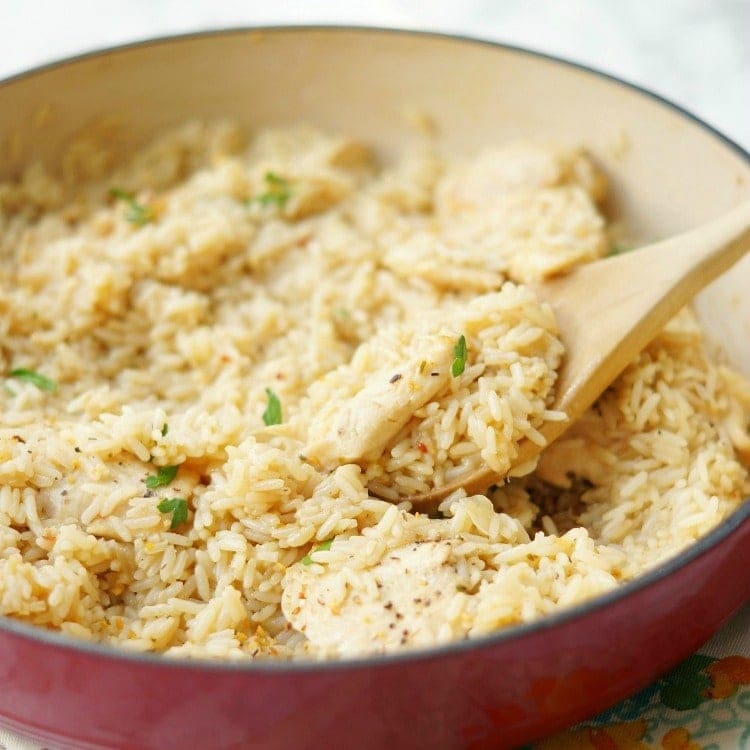 Print Recipe
Skillet Garlic Chicken and Rice Casserole
Skillet Garlic Chicken and Rice Casserole is a simple go-to chicken dinner that is flavorful, & only uses one pan! My family loves this chicken dinner recipe and I love how easy it is to prepare!
Heat olive oil in a pan over medium heat. Make sure to use a lidded pan. Add the onion and 1/2 teaspoon salt to the onions and cook until translucent, about 5-6 minutes. While onions cooks, season the chicken with the 1 teaspoon garlic powder, 1 teaspoon salt, paprika, onion powder, and pepper.

Once onion is tender, add the garlic cloves and cook until fragrant, about 1-2 minutes. Add the rice and cook for 2 minutes, or until lightly browned and toasted. Stir to remove any rice or onions from sticking to the pan. Nestle the chicken into the rice and add 3 cups of the chicken broth. Bring to a boil.

Once boiling, reduce heat to medium-low and cover the pot. Let cook undisturbed for 20 minutes. Remove lid, stir well and add remaining cup of chicken broth and remaining salt and garlic powder and red pepper flakes if using. Cover and cook another 10-15 minutes or until all the liquid is absorbed and rice is tender. If rice is not done, continue to add small amounts of chicken broth until tender.

Add additional salt and pepper to taste and serve hot.