Skillet Garlic Chicken and Rice Casserole is a simple go-to chicken dinner that is flavorful, & only uses one pan! My family loves this chicken dinner recipe and I love how easy it is to prepare!
This Skillet Chicken and Rice recipe is a great combination of flavors. If you love chicken and rice dinners, be sure to try our Creamy Chicken and Wild Rice Soup One Pot Mexican Chicken and Rice.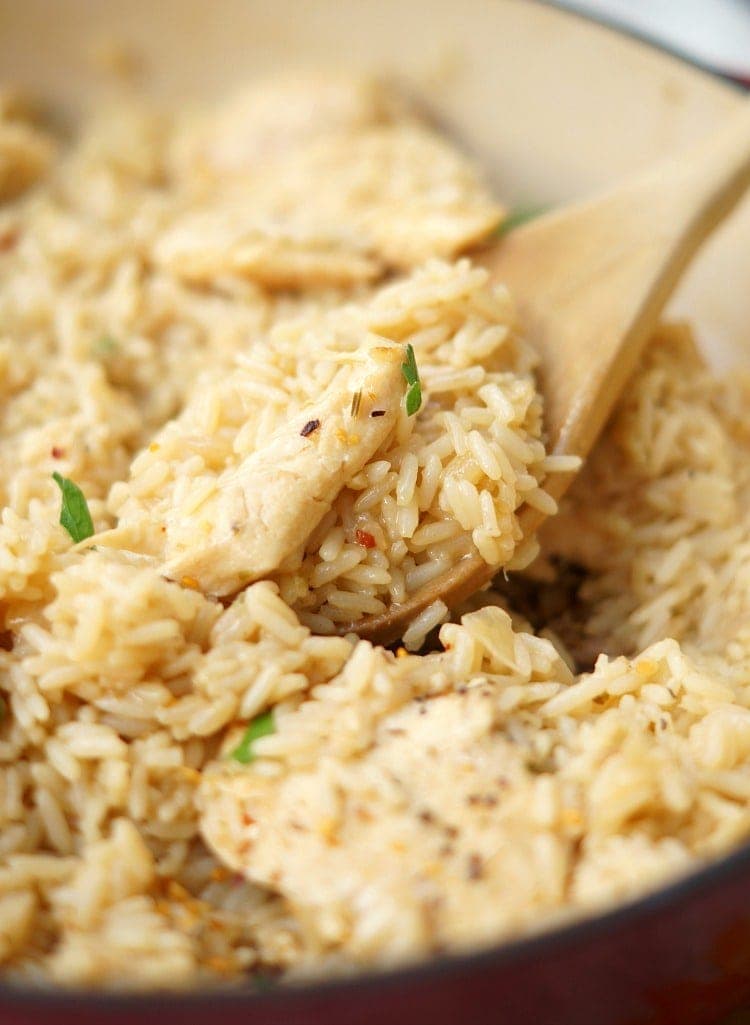 Skillet Chicken and Rice Recipe
Chicken and Rice is just one of those easy, comforting meals that I love to make all year long. It is the perfect comforting casserole in the fall, warms your soul in the winter, and is easy enough that it is perfect in the summer too. While I think everyone has their version of chicken and rice, I love my version because it has tons of fresh garlic flavor and is all cooked in only one pan!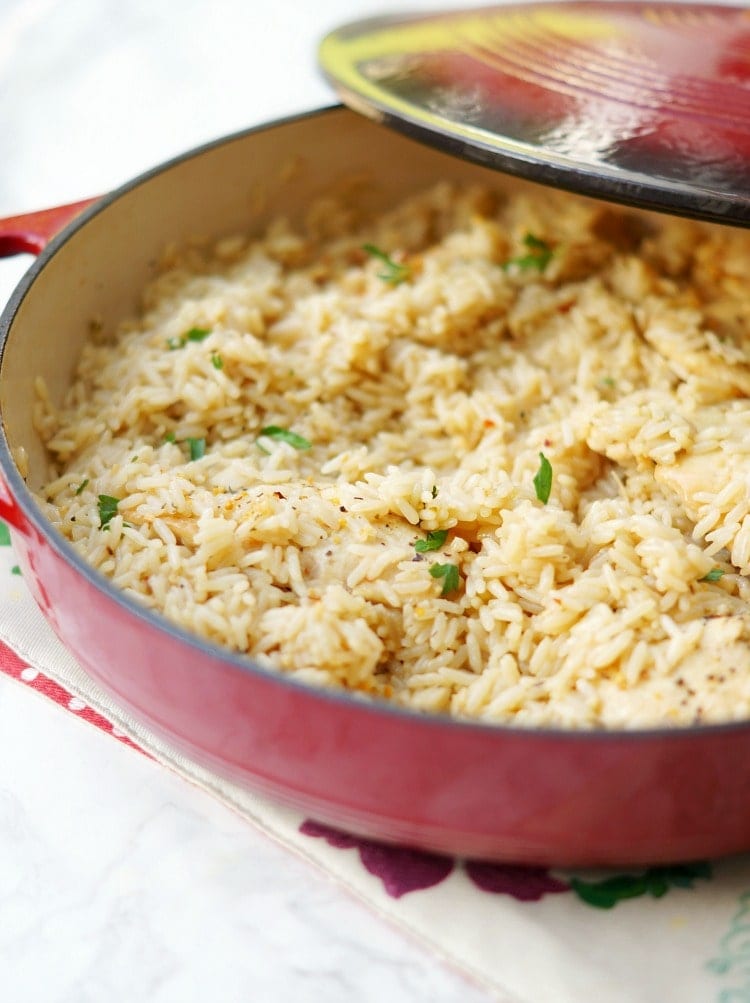 HOW TO MAKE THE BEST CHICKEN AND RICE CASSEROLE
You can make this Skillet Garlic Chicken and Rice Casserole on the stove top or in the oven, but I prefer the stove top method because I like to peek and stir every so often. This cooks up perfectly in my cast iron enameled pan and if you don't have one of these in your kitchen, you need one. I cook almost everything in my cast iron pans and have really gotten away from using non-stick. Bonus – You can put the cast iron skillet rice on the table for serving! No additional serving platter required.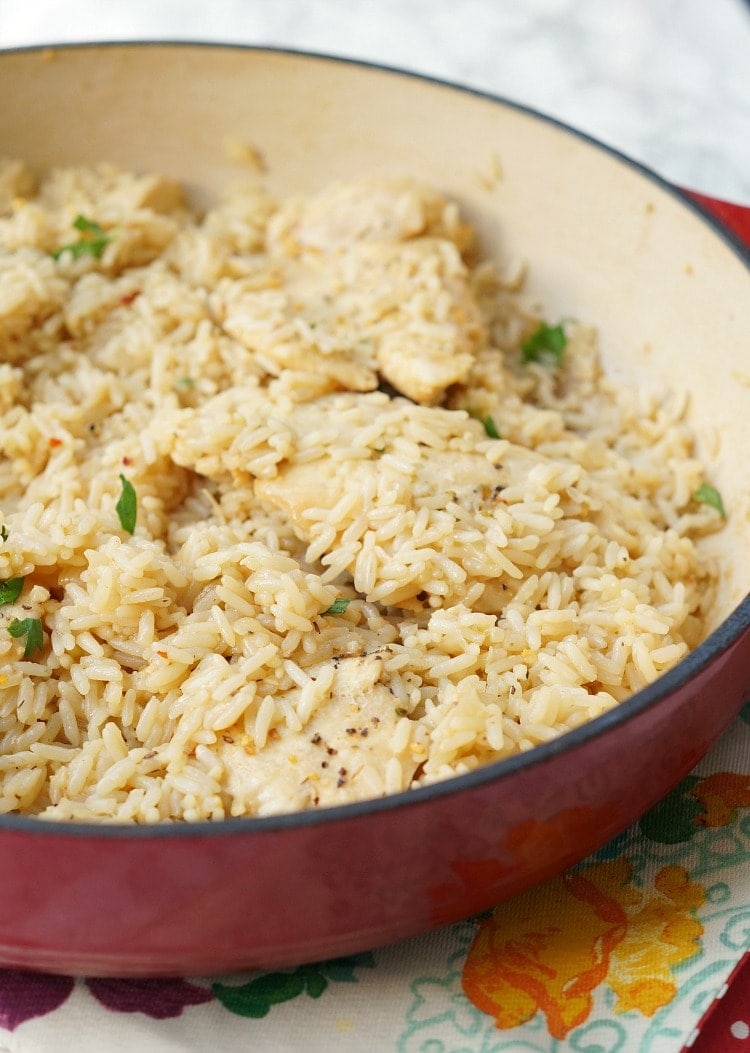 Some tips and tricks for making this easy Skillet Chicken and Rice Recipe:
I love to serve some freshly roasted broccoli with my skillet chicken and rice casserole and it rounds out the meal nicely. You can also throw in a big cupful of parmesan cheese right at the end of cooking, and it adds such a nice salty, nutty bite, but my kids are weirdos and prefer their rice non-cheesy, so I didn't include it in my recipe.
I use thin cut chicken breasts in this chicken and rice recipe or you could use chicken tenderloins. I prefer not to use large chicken breasts because I worry that they will not cook through. If that is all you have in the freezer, just cut them into 2-3 strips or you could cut them in half to make them thinner.
While I love cooking with all types of rice, I really only recommend long grain white rice for this recipe. Any substitutions will affect cook time and you may end up with dry chicken or mushy rice, so stick to long grain for this recipe!
My best tip for cooking flavorful rice is to lightly toast the rice before adding any liquid. I do this in all my rice recipes and you add a layer of flavor to the rice. My family is from the Middle East, so rice is a mainstay of our diet and I cook it multiple times a week, so trust me on the toasted rice method! It makes a difference!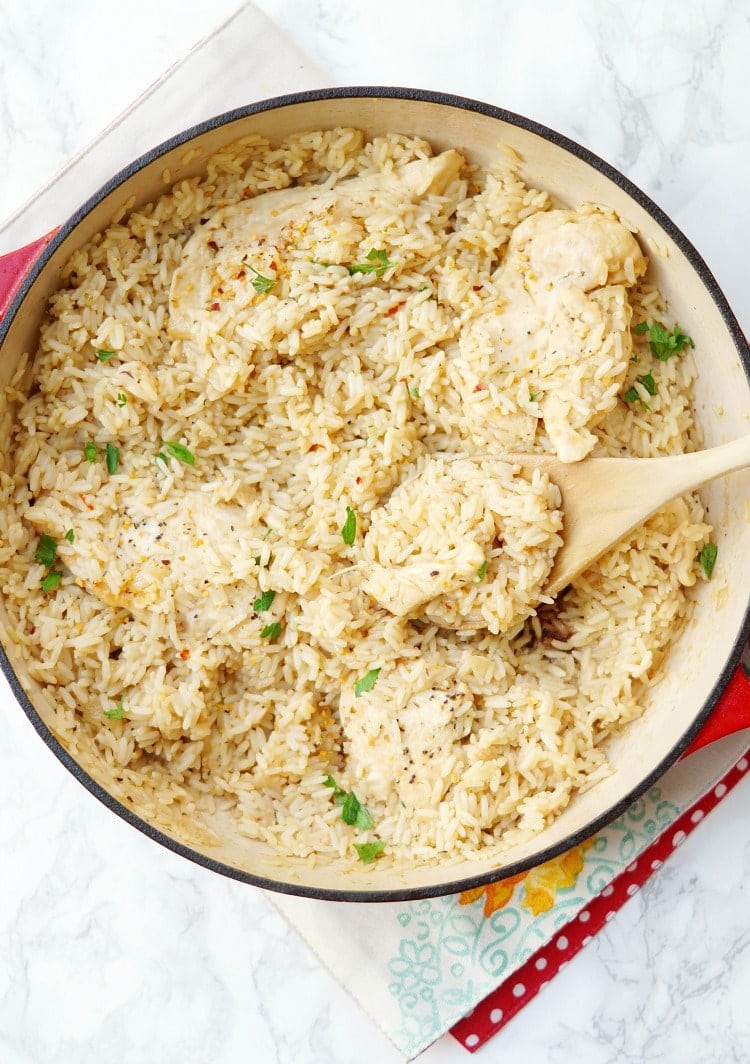 Can you cook raw chicken with rice?
As long as you heat the chicken to a safe temperature (it should be 165 degrees), it's totally fine to cook them together. In this chicken and rice recipe, we're bring everything to a boil, which will kill any potential harmful bacteria.
What to do with leftovers
Keep leftover chicken and rice in an airtight container in the fridge. It will last 3-4 days if properly stored. Freezing is not particularly recommended, but it can be done. You can reheat in the microwave; just add a little water to help rehydrate the rice.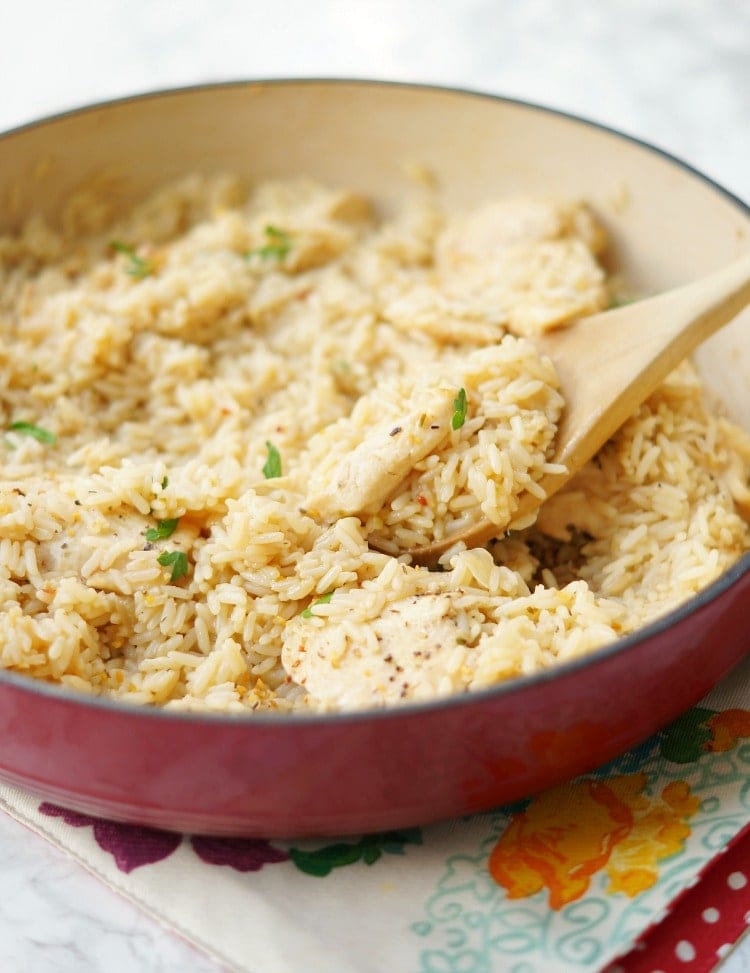 Looking for more one pan recipes?
My favorite chicken dinners!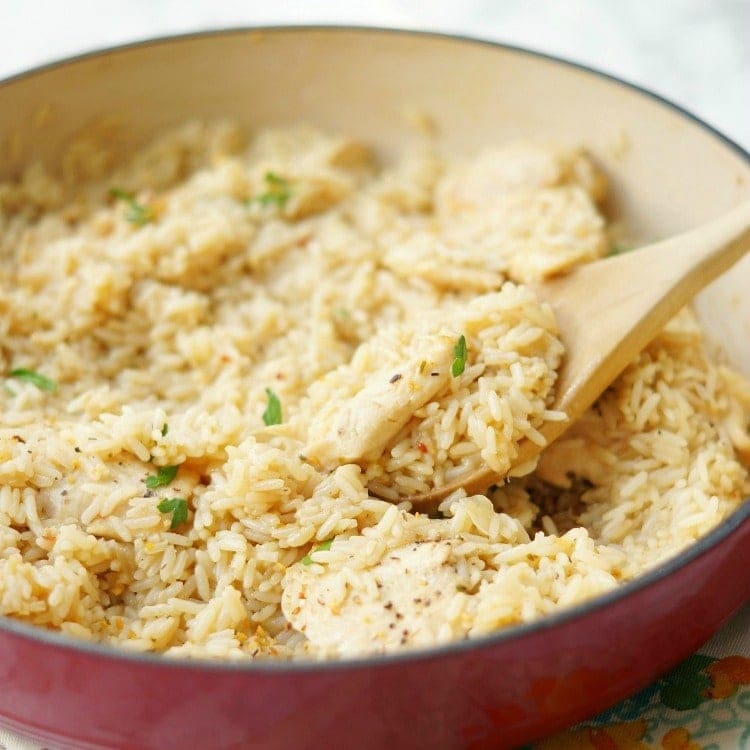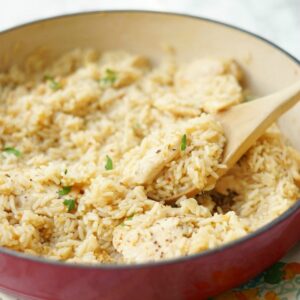 Skillet Garlic Chicken and Rice Casserole
Skillet Garlic Chicken and Rice Casserole is a simple go-to chicken dinner that is flavorful, & only uses one pan! My family loves this chicken dinner recipe and I love how easy it is to prepare!
Ingredients
1 pound chicken tenderloins or thin chicken breasts
1 1/2 cups long grain white rice
4 cups chicken stock
1 onion diced fine
4-5 garlic cloves minced
2 teaspoons garlic powder
2 teaspoons salt plus more to taste
1/2 teaspoon black pepper plus more to taste
1/2 teaspoon paprika
1/4 teaspoon onion powder
1/2 teaspoon red pepper flakes optional
1 tablespoon olive oil
Instructions
Heat olive oil in a pan over medium heat. Make sure to use a lidded pan. Add the onion and 1/2 teaspoon salt to the onions and cook until translucent, about 5-6 minutes. While onions cooks, season the chicken with the 1 teaspoon garlic powder, 1 teaspoon salt, paprika, onion powder, and pepper.

Once onion is tender, add the garlic cloves and cook until fragrant, about 1-2 minutes. Add the rice and cook for 2 minutes, or until lightly browned and toasted. Stir to remove any rice or onions from sticking to the pan. Nestle the chicken into the rice and add 3 cups of the chicken broth. Bring to a boil.

Once boiling, reduce heat to medium-low and cover the pot. Let cook undisturbed for 20 minutes. Remove lid, stir well and add remaining cup of chicken broth and remaining salt and garlic powder and red pepper flakes if using. Cover and cook another 10-15 minutes or until all the liquid is absorbed and rice is tender. If rice is not done, continue to add small amounts of chicken broth until tender.

Add additional salt and pepper to taste and serve hot.
Nutrition
Calories: 523kcalCarbohydrates: 69gProtein: 36gFat: 10gSaturated Fat: 2gCholesterol: 80mgSodium: 1648mgPotassium: 821mgFiber: 2gSugar: 5gVitamin A: 231IUVitamin C: 5mgCalcium: 44mgIron: 2mg