This One Pan Taco Macaroni and Cheese is the perfect blend of spices and cheesy pasta goodness. It's one dish that your whole family is sure to love!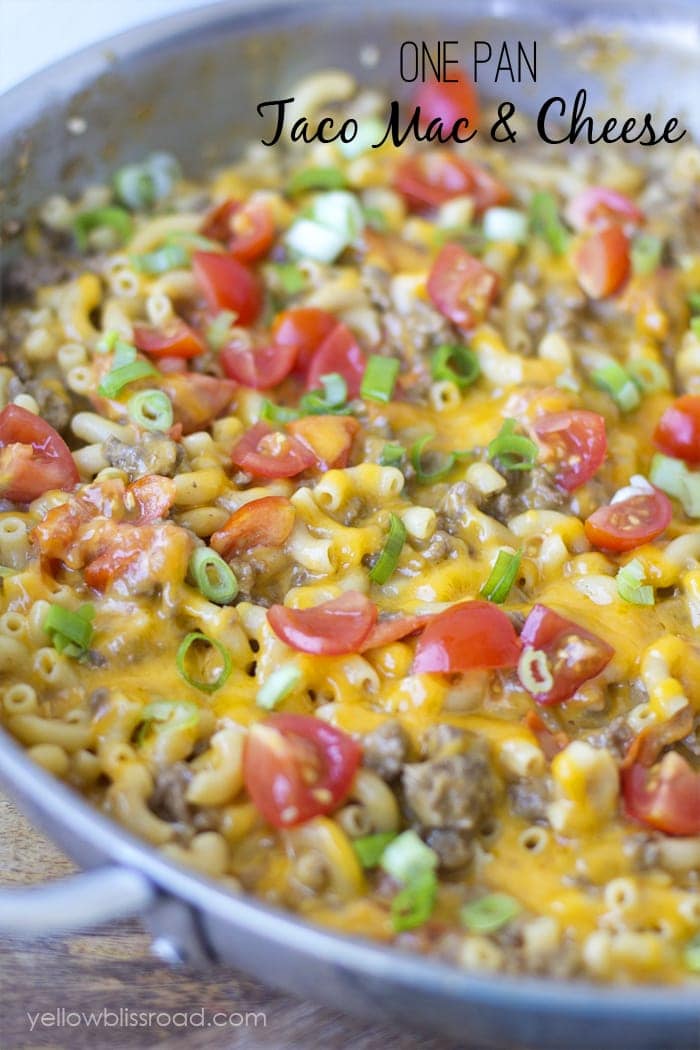 One pan meals are perfect for busy families. They cook up usually in under 30 minutes and use just one pan for easy clean-up. Be sure to check out all of my one pan meals.
When this meal was coming together, I wasn't sure what my family was going to think. But let me tell you, my daughter LOVED it! She had two helpings and even asked to take the leftovers to preschool for lunch the next day. Lots of cheese and taco seasoning make this a warm and comforting meal that your whole family is sure to enjoy.
This dish calls for ground beef, onion and garlic, seasoned generously with taco seasoning, as well as 2 cups of dry macaroni, beef broth, water, and diced cherry tomatoes. I considered using salsa, but really wanted the taco flavors to come through, rather than the tomato and spice. I opted for fresh cherry tomatoes because I really like the way they hold up in the one pan meals, and the sweetness they add to a spicier dish, like my One Pan Spicy Lemon Chicken Pasta. They are also not as overpowering of a tomato flavor as the canned tomatoes.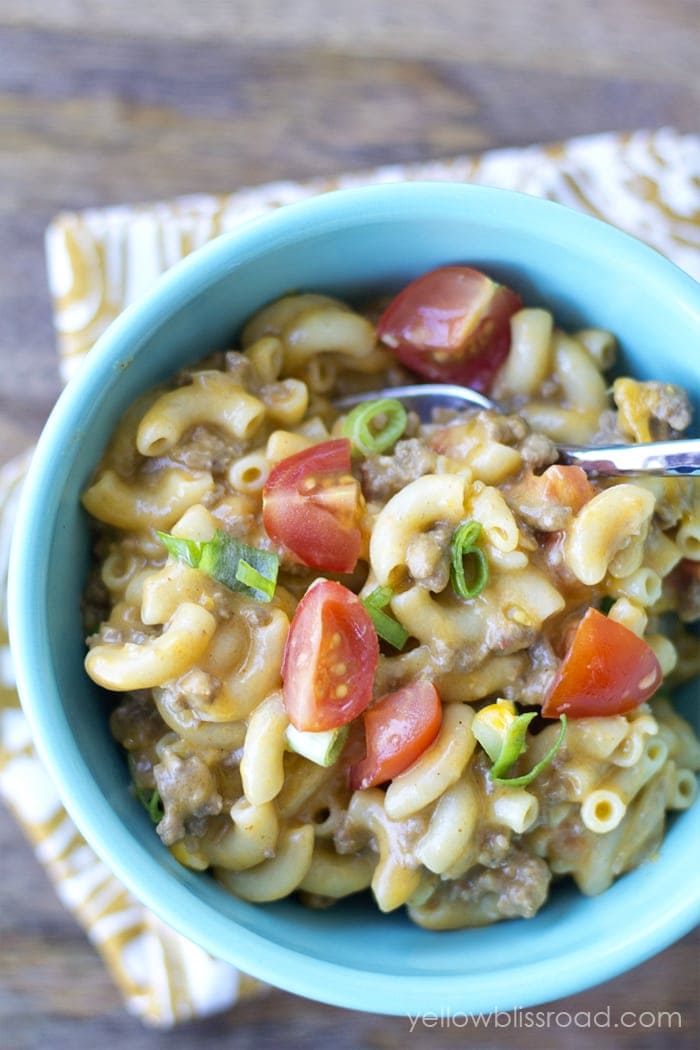 Here are the tools you will need:
The first steps are to cook the ground beef with the onion and garlic. I scooped the meat onto a paper towel covered plate to drain it, but you could also just mop up the grease with some paper towels. Leaving a little bit is ok and just adds to the flavor.
Next you'll add the beef broth and water, pasta, tomatoes and more taco seasoning. I use taco seasoning a lot and sometimes will make my own but I often just use a packet seasoning or the Ortega Taco Seasoning which comes in a larger container so you can use as much or as little as you need.
Once the pasta and meat mixture is finished cooking, about 15-20 minutes. If there is still too much liquid in the pan, just turn up the heat a bit and stir the pasta as the liquid evaporates. A little bit is ok though, as it will help to form the sauce once you add the cheese. You're going to add a whole bunch of that shredded goodness to the pan and stir it until its nice and melted. Place the cover on the pan for a few minutes to let it melt completely.
Once the cheese is completely melted, garnish with diced tomatoes and green onion.
Doesn't that look amazing?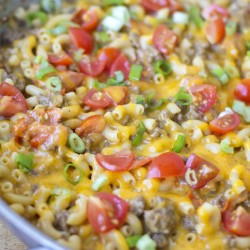 One Pan Taco Macaroni and Cheese
Print
Pin
Rate
Prep Time: 10 minutes
Cook Time: 20 minutes
Total Time: 30 minutes
Servings: 4 -6 servings
Ingredients
1 Tbsp olive oil
1 pound ground beef
1 small white onion diced
1 Tbsp minced garlic
2 Tbsp Taco Seasoning divided in half
1/2 pound small dry pasta (about 2 1/2 cups)
1 cup water
2 cups beef broth
2 cups shredded cheddar cheese
1 pint cherry tomatoes diced plus some for garnish if desired
Diced green onions for garnish if desired
Instructions
In a 12" skillet, heat oil over medium-high heat and cook the onions until slightly soft. Add garlic and stir for about 30 seconds before adding the ground beef and 1 tablespoon of taco seasoning. Break up the beef with your spatula. Cook until beef is no longer pink. Drain.

In the same pan, add cooked ground beef mixture, water, broth, pasta, cherry tomatoes, and another tablespoon of taco seasoning.

Cover the pan and cook over low heat for 15 minutes, stirring twice to keep the pasta from sticking to the bottom of the pan. Remove cover, increase heat to medium and stir pasta until most of the liquid is gone.

Turn off heat and add the shredded cheese. Stir until cheese is completely melted. If needed, cover the pan to allow cheese to melt completely; about five minutes.

Divide into bowls, and garnish with diced tomatoes and green onions.
 If you enjoyed this recipe, be sure to check out: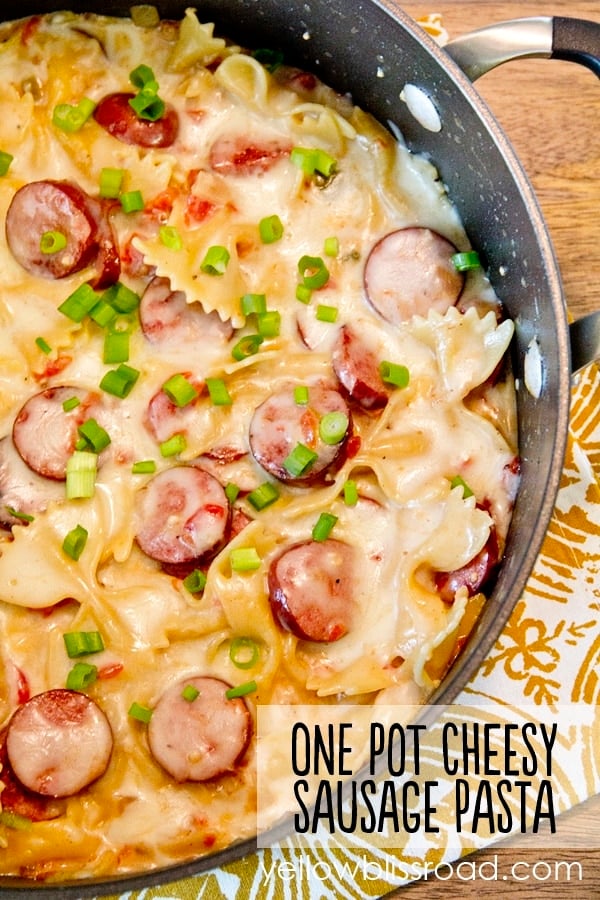 Cheesy Smoked Sausage and Pasta Skillet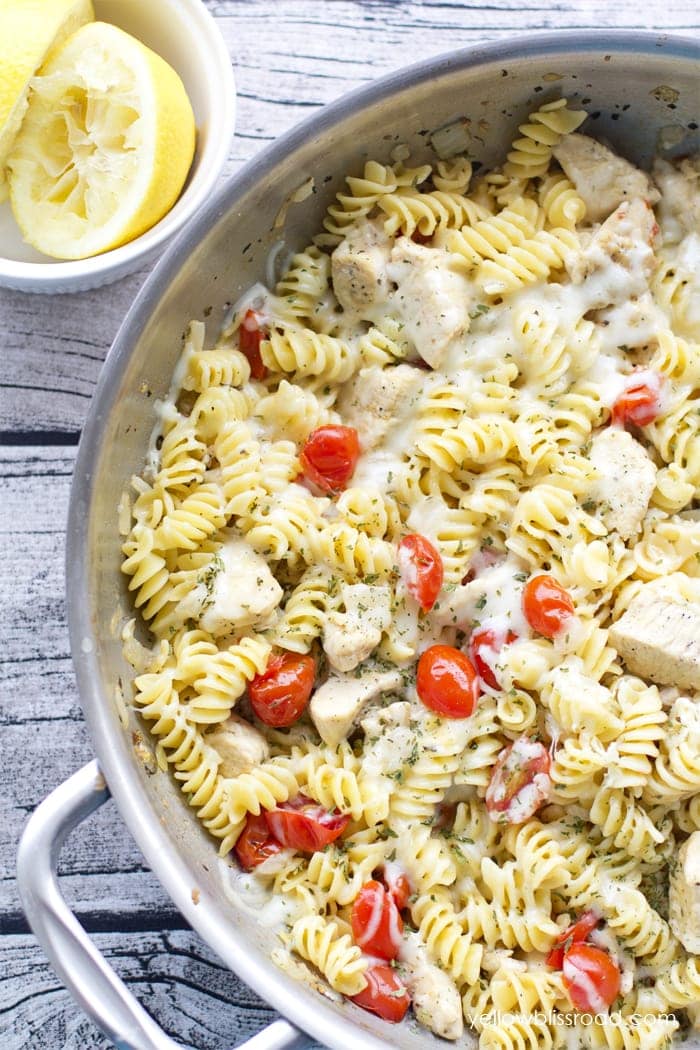 Spicy Lemon Chicken Pasta with Tomatoes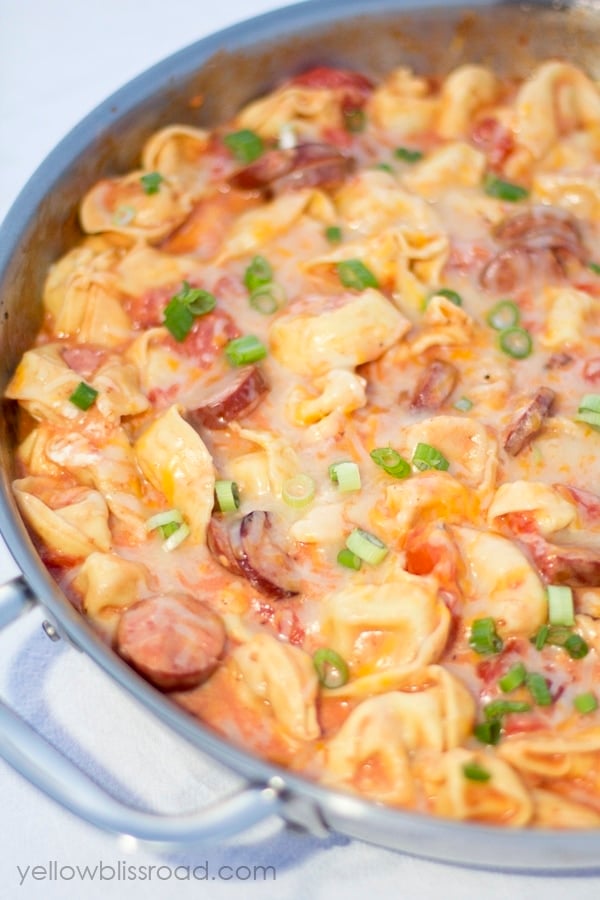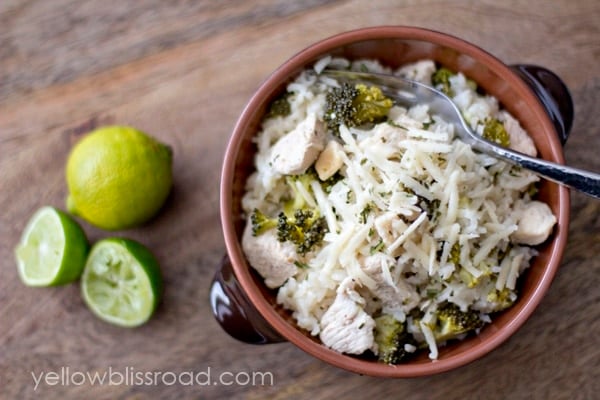 Chicken, Broccoli and Rice Skillet 
For a complete list of my dinner recipes, go here.
For a complete list of recipes on the site, be sure to go here.
Hi! I'm Kristin, the creative mind behind Yellow Bliss Road where you will be inspired by tons of easy to follow recipes, lots of free printables, and a little sprinkling of life thrown in for good measure.