My Easy Baked Ham is delicious, feeds a crowd and is perfect or Sunday dinner or as part of your holiday spread. The sweet pineapple glaze caramelizes and creates a to-die-for golden, sugary crust that will be the star of your meal!
This baked ham is succulent and juicy with a sweet crust that everyone loves. It will make your house smell amazing as it cooks and it tastes even better! Make it a hearty meal with Cheesy Scalloped Potatoes, Garlic Green Beans and Sour Cream Salad!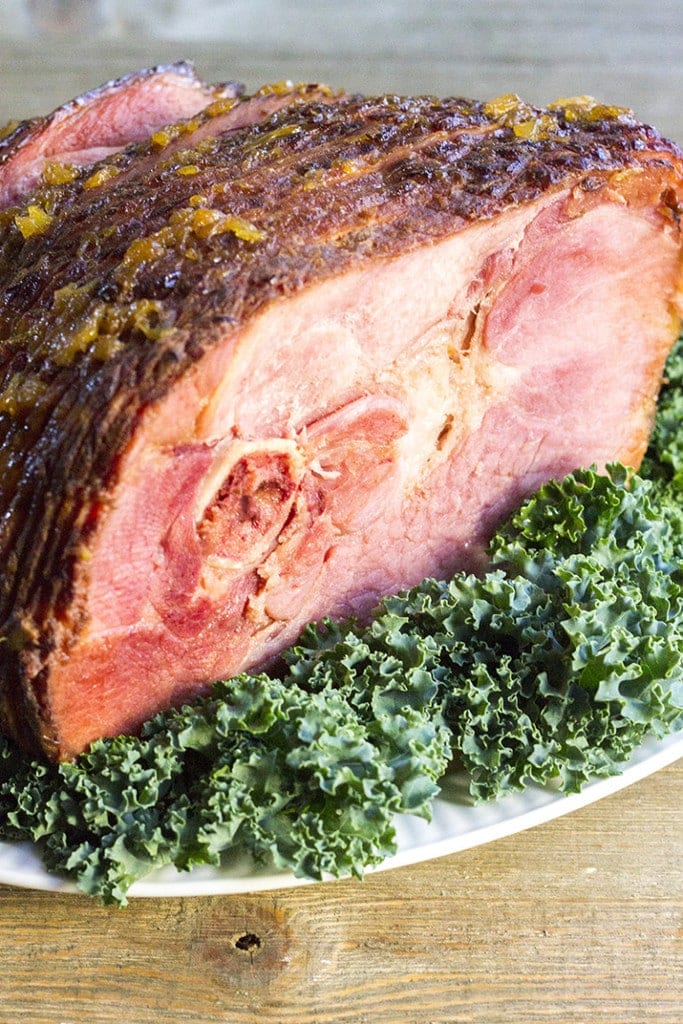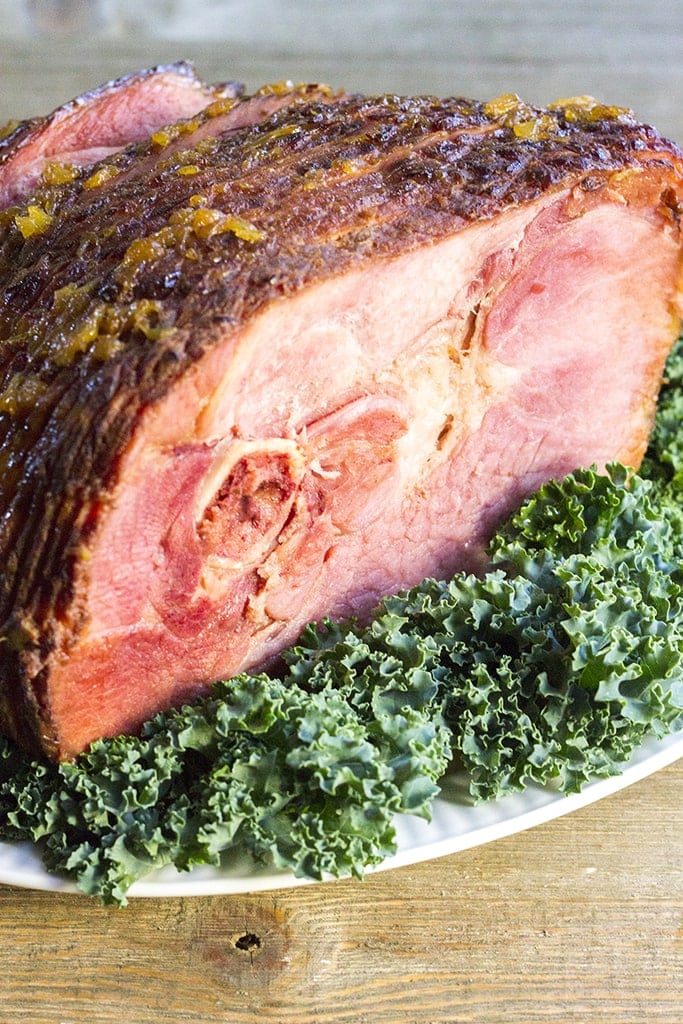 THE BEST BAKED HAM
This time of year I'm always looking forward to big holiday meals with the family. I love the selection of all my favorite dishes in one place. When else do you get a culmination of recipes from your whole family in one place? Ham is always the star of our holiday table. Last year I made this killer Brown Sugar Bourbon Ham and my husband raved about it. This year, I'm whipping up this super Easy Baked Ham with Pineapple Glaze for Christmas dinner. Classic flavors come together for a recipe you'll treasure for years to come.
I love serving this baked ham up with 40-Minute Milk and Honey Dinner Rolls, Creamy Cornbread Casserole, and Mashed Potatoes. They're the perfect sides. Now, if you really want to take this recipe over the top, yake all those yummy pan juices, strain them, and make ham gravy. Are you drooling yet? You should be! This ham is a guaranteed winner at the dinner table.
HOW TO COOK A HAM
Since you're starting with a fully cooked ham, the steps are super simple and just about heating it up and getting that sticky sweet crust.
PREP. Start by preheating your oven to 325 degrees. Make sure to preheat it all the way so your ham heats evenly. Line a large baking dish with heavy duty nonstick foil.
COOK. Remove the ham from the packaging and place it flat side down into the foil lined dish. Bake it for an hour, then remove from the oven and drizzle half of the glaze all over the surface of the baked ham. Use a pastry brush or the back of the spoon to get the glaze into all the crevasses. Bake for another 30 minutes, then drizzle or brush on the rest of the glaze. Bake for a final 30 minutes.
SERVE. Remove the baked ham from the oven and transfer to a cutting board for slicing or straight to a serving platter. Don't let those yummy pan juices go to waste! Strain carefully through a sieve into a large glass measuring cup for serving with the ham. Serve warm or at room temperature.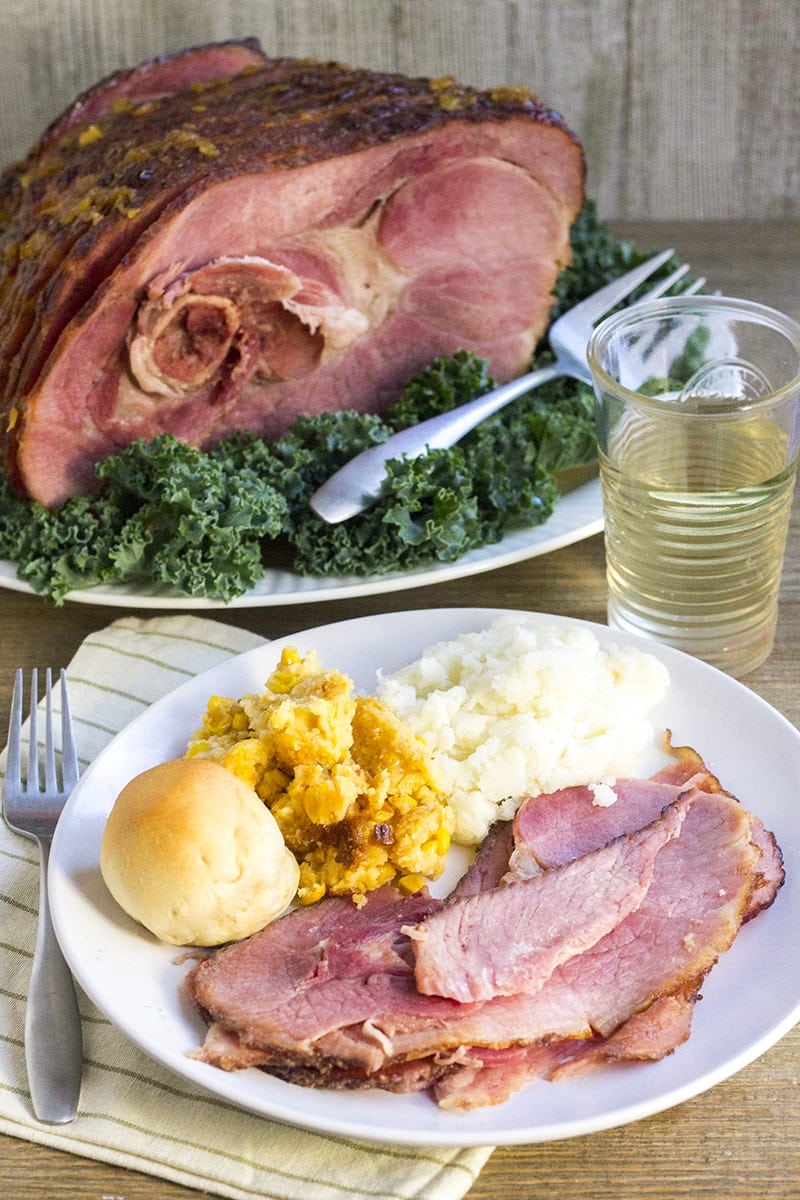 HOW LONG TO COOK A HAM
This recipe calls for a fully cooked, 10-pound spiral cut ham which produces that most tender and juicy result. Be sure to save the ham bone for making Lentil Soup for New Years!
Since it's already fully cooked, you're pretty much just baking it to warm it and bring it to a safe. It will take about 12 minutes per pound to fully heat your baked ham. It should register 145 degrees on a meat thermometer. This is one of those times when having an oven safe cooking thermometer comes in handy so you don't have to keep piercing the ham and losing the juices.
HAM GLAZE RECIPE
Making the ham glaze is super simple and just requires a few pantry ingredients.
Crushed pineapple
Brown sugar
Lemon juice
Dijon mustard
Cinnamon
Cloves
Whisk the ingredients together and set them aside until you're ready to start glazing your baked ham. We do this part in stages so it helps to build that beautiful crust.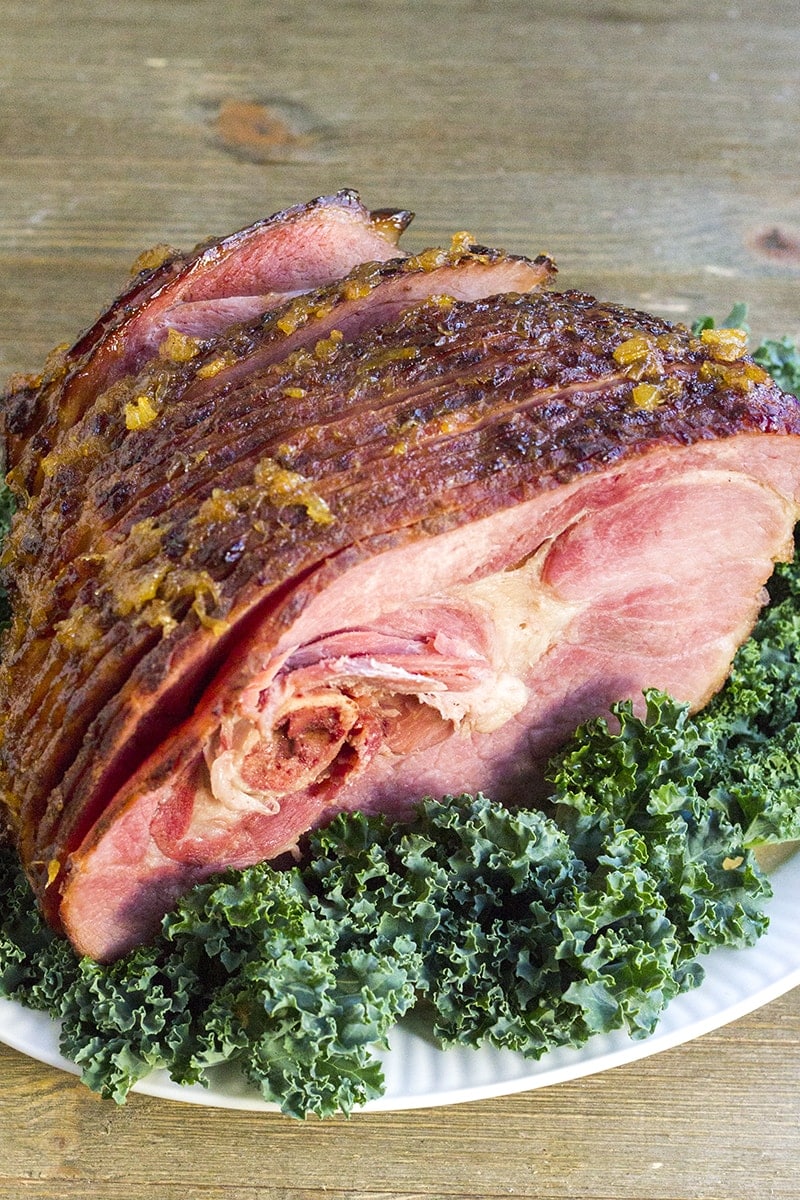 Recipes for Leftover Ham: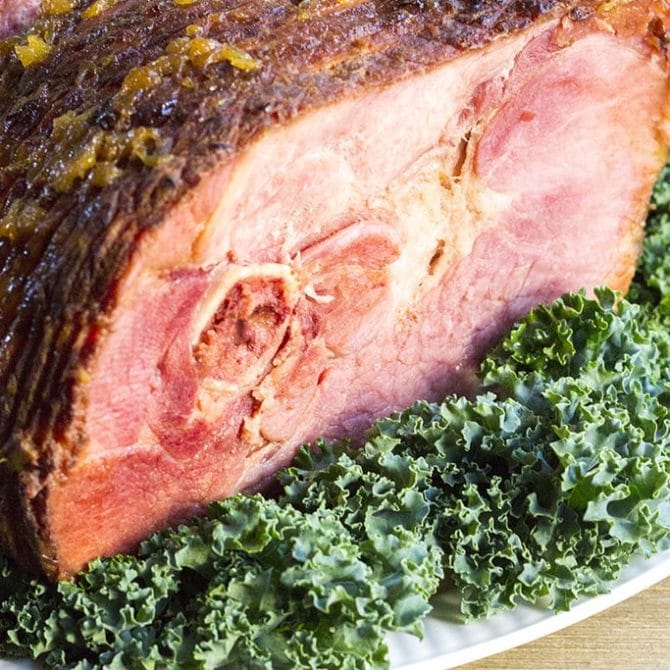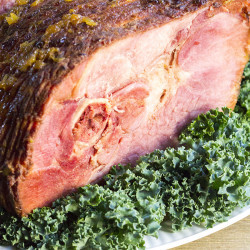 Easy Baked Glazed Ham
Baked Ham with pineapple glaze is simple to make, totally delicious and feeds a crowd. It's perfect for Sunday dinner or as the star of your holiday menu.
Ingredients
10 pound bone-in fully cooked spiral cut ham
1 cup brown sugar
8 ounces crushed pineapple with juice
1 1/2 tablespoons lemon juice
2 tablespoons  dijon mustard
1/2 teaspoon ground cinnamon
1/4 teaspoon ground cloves
Kale for garnish
Instructions
Preheat your oven to 325 degrees F. Line a deep baking dish with heavy duty foil.

Remove ham from packaging. (Discard glaze packet if your ham comes with one.) Place ham flat side down in the pan. Cook for 1 hour.

Carefully remove ham from the oven. Using a spoon, drizzle half the glaze all over the surface of the ham. Use the back of the spoon to help smoosh some of the glaze between the layers. Bake for 30 minutes.

Remove ham from the oven. Drizzle the remaining glaze over the ham. Bake for another 30 minutes until heated through.

Remove from the oven. If you're making ham gravy, reserve the juices in the pan (there will be a good amount of liquid), otherwise discard the juices. Transfer the ham to a rimmed serving platter placing the flat side out so you can take slices of ham. I like to add some kale leaves around the edge of the dish for presentation points.  Serve warm or at room temperature.
Notes
Nutritional information is based on 1/2 pound of ham per person. Keep in mind that the bone is included in the weight, so that's not actually 1/ pound of meat. A 10 pound ham should serve around 17-20 people. On a buffet spread with other proteins and lots of sides, a 10 pound ham will feed about 30. 
Nutrition
Calories: 388kcalCarbohydrates: 13gProtein: 43gFat: 17gSaturated Fat: 4gCholesterol: 166mgSodium: 2640mgPotassium: 668mgFiber: 1gSugar: 12gVitamin A: 6IUVitamin C: 54mgCalcium: 25mgIron: 2mg