Learn how to roast pork loin that's tender, flavorful and juicy! The pork loin roast is marinated and seared in a cast iron skillet to lock in all those yummy juices, then roasted in the oven for about 30 minutes.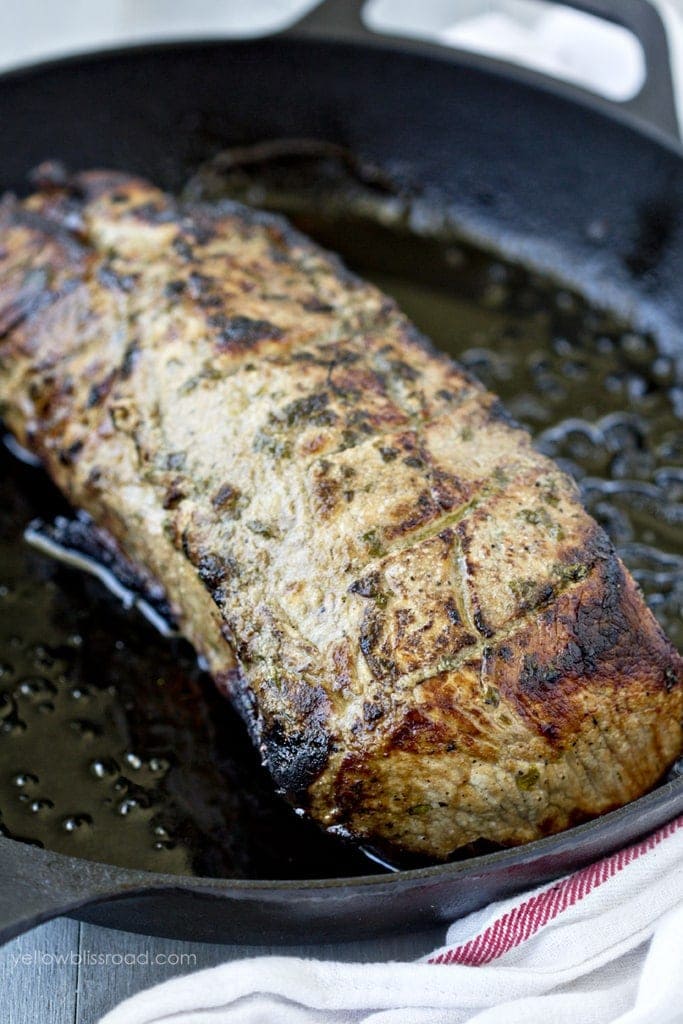 Roasted Pork Loin Recipe
I love a good pork roast, especially with fall coming. This roasted pork loin gets it delicious flavor from the marinade, which is just soy sauce, Worcestershire sauce, apple cider vinegar, dry ground mustard and garlic powder. It's rubbed all over with olive oil to help keep it juicy and moist.
Searing the meat in a large cast iron or other heavy bottomed skillet caramelizes the exterior and forms a crust, and keeps the juices trapped inside. Roasting at a high temperature locks in the moisture and flavor.
If you're looking for a new Sunday dinner option, look no further! A pork roast is a classy, yet super simple main course that pairs great with sweet or savory sides, like Cheesy Scalloped Potatoes, Make Ahead Mashed Potatoes and Corn Casserole. Add a simple green salad or some Easy Oven Roasted Asparagus and you've got an elegant meal for Sunday dinner or just about any night of the week.
What is a Pork Loin?
Often confused with pork tenderloin, a pork loin is cut from the back loin muscle of the pig. A tenderloin is long and narrow while a pork loin is wide and thick. If you were to slice a pork loin roast into thick pieces, you'd get pork chops!
Because they are completely different cuts of meat, you cannot swap one out for the other. Each require a different cooking time so it's best to use what your recipe calls for. If you accidentally bought a tenderloin instead though, I've got you covered! Try my Herb Roasted Pork Tenderloin or Cajun Pork Tenderloin.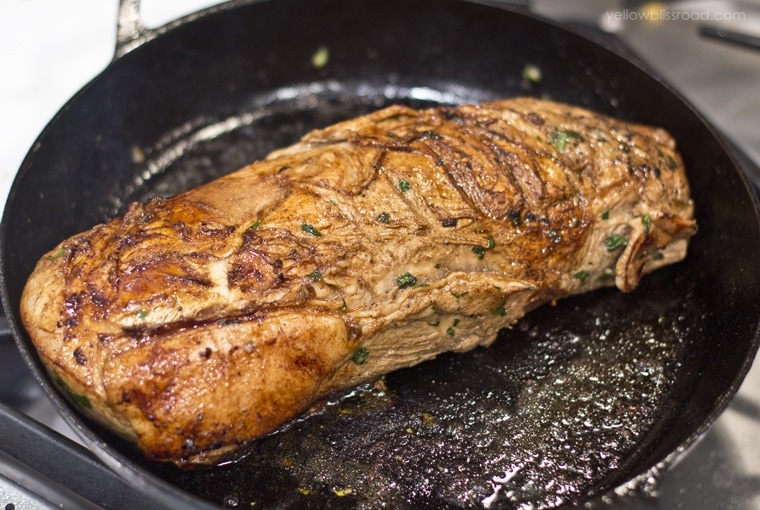 How to Roast a Boneless Pork Loin
There are a few things to keep in mind when cooking meat in general, but especially a boneless roast like this that has very little fat and can dry out pretty easily.
SEAR IT. I love to sear my meat, giving it a nice golden color and a crispier exterior. For this roast you'll want to use two sets of tongs if you can because it's quite heavy, and turn it as it sears on all sides, even the ends. You want to avoid using a fork and piercing the meat, that's when you lose valuable juice.
ROAST IT. Slide the pan into the oven and cook at 425 degrees for about 30 minutes. Check the temperature after about 25 minutes because oven temps can vary. This is where having a digital instant read thermometer is quite handy.
REST IT. Trust me the smell coming from your oven as you are waiting for that glorious meat to finish cooking is enough to make you want to slice into it as soon as it comes out of the oven. But if you want to keep that juiciness, you'll need to let the meat rest.
Why does meat need to Rest?
The quick science behind this is that the juices all come to the center while the meat cooks. As it rests, the juices redistribute themselves all throughout the meat. Slicing into the meat too soon will result in a big puddle of flavor spilled all over your cutting board.
Transfer the meat to a cutting board and tent with foil for at least 10-15 minutes. This allows the roast pork loin to rest without being overcooked by the hot pan. A good rule of thumb is about 4 ½ minutes per pound of meat.
Follow these tips and you're sure to have a nice juicy and tender roast. Served with mashed potatoes and roasted vegetables, it's the perfect fall meal!
What to Do With Leftovers
If you happen to have leftover roasted pork loin, there are lots of ways to use it up! Stored properly in an airtight container, pork loin will remain fresh 4-5 days in the fridge.
Slice thin and make yourself a Cuban Sandwich.
Cut into chunks for Pork Fried Rice.
Dice into small chunks and use in place of chicken for soup.
Add sliced pork to Chow Mein.
Serve in a Pork Caprese Salad.
Freeze the leftover portion in an airtight container for another meal. It will remain fresh for up to 6-7 months.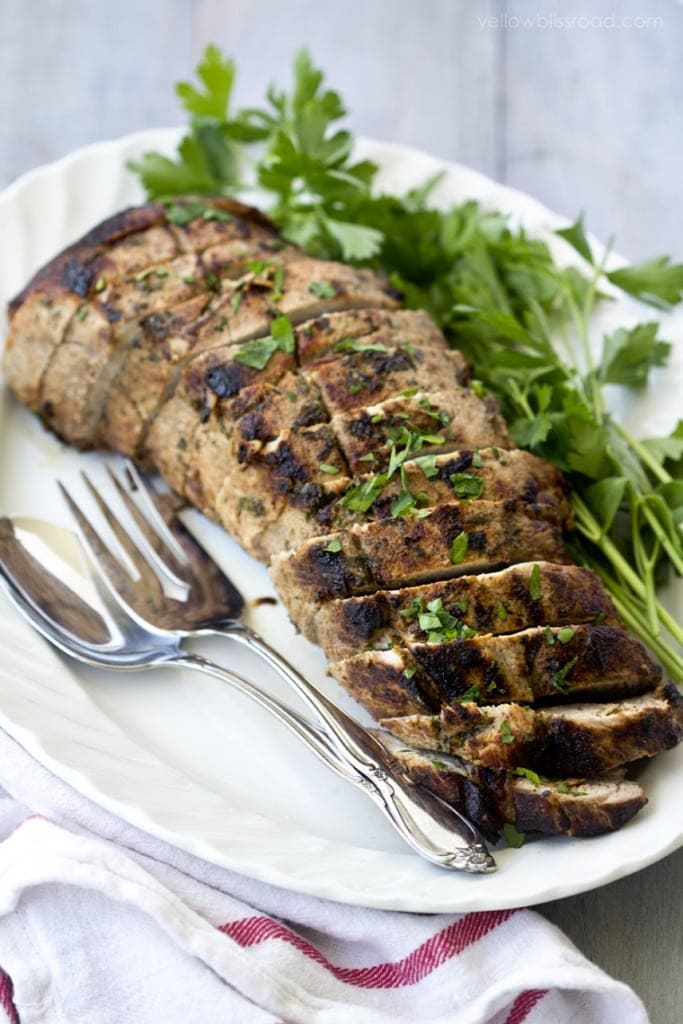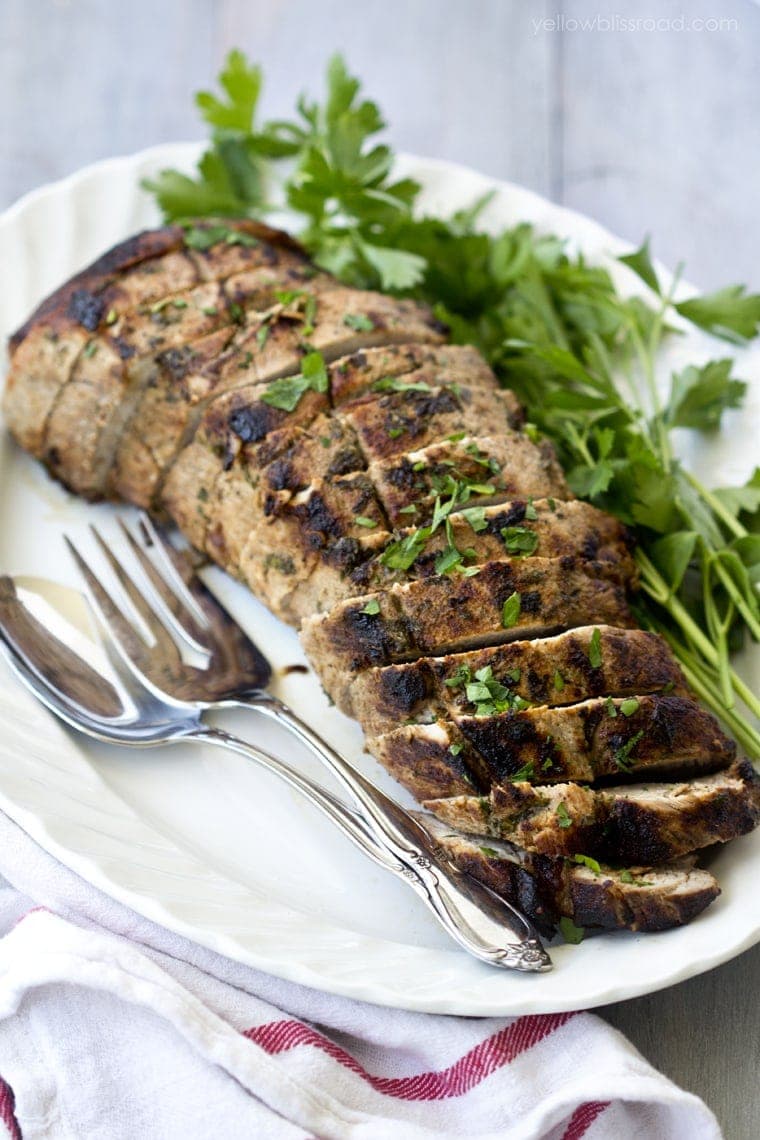 More pork recipes to try:
More easy oven roasted dinners:
Recipe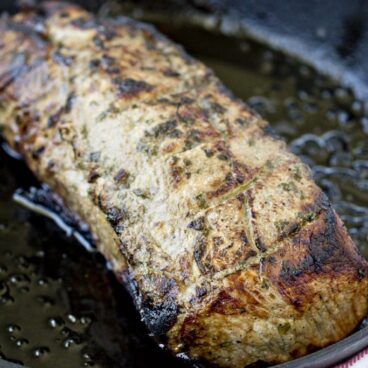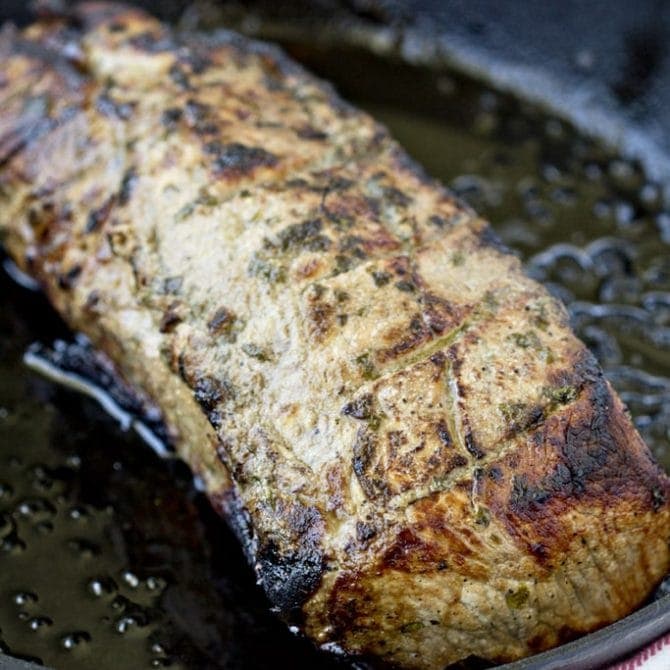 Pan Roasted Pork Loin
Learn how to roast a pork loin that's tender and juicy! Boneless pork loin roast is marinated, seared, and roasted in the oven for a simple, flavorful meal.
Ingredients
3

pounds

pork loin roast

(NOT tenderloin)

1/4

cup

olive oil

1/4

cup

low sodium soy sauce

1/4

cup

Worcestershire sauce

1/4

cup

apple cider vinegar

2

teaspoons

dry ground mustard

1

tablespoon

garlic powder

2

tablespoons

fresh chopped parsley
Instructions
Preheat oven to 425 degrees.

In a large mixing bowl whisk together all ingredients, except pork, to combine.

Rinse and pat roast dry. Place in the marinade mixture, turning to coat all sides and rubbing the mixture into the meat.

Heat a cast iron (or other heavy bottomed, oven safe skillet over medium-high heat. Place the meat in the hot skillet. Using two sets of tongs, turn the meat every two minutes until all sides have a nice sear, and leave it fat side up. Slide into the preheated oven. Do not pierce with a fork to flip.

Roast pork for about 30 minutes, or until a thermometer inserted into the center of the pork reads 145 degrees.

Remove from the oven and transfer pork to a cutting board. Tent with foil and let rest for 10-15 minutes before slicing and serving.
Notes
Leftovers are great for fried rice or soup!
Nutrition
Calories:
404
kcal
Carbohydrates:
4
g
Protein:
52
g
Fat:
18
g
Saturated Fat:
4
g
Cholesterol:
143
mg
Sodium:
580
mg
Potassium:
990
mg
Fiber:
1
g
Sugar:
1
g
Vitamin A:
121
IU
Vitamin C:
3
mg
Calcium:
29
mg
Iron:
2
mg