This oven roasted pork tenderloin is seared in a hot skillet then transferred to the oven to finish cooking. The result is a flavorful pan seared pork tenderloin that's tender and juicy and impossible to resist.
This pan seared pork tenderloin recipe goes with just about anything. I usually serve it with some roasted potatoes and one of our veggies on the side.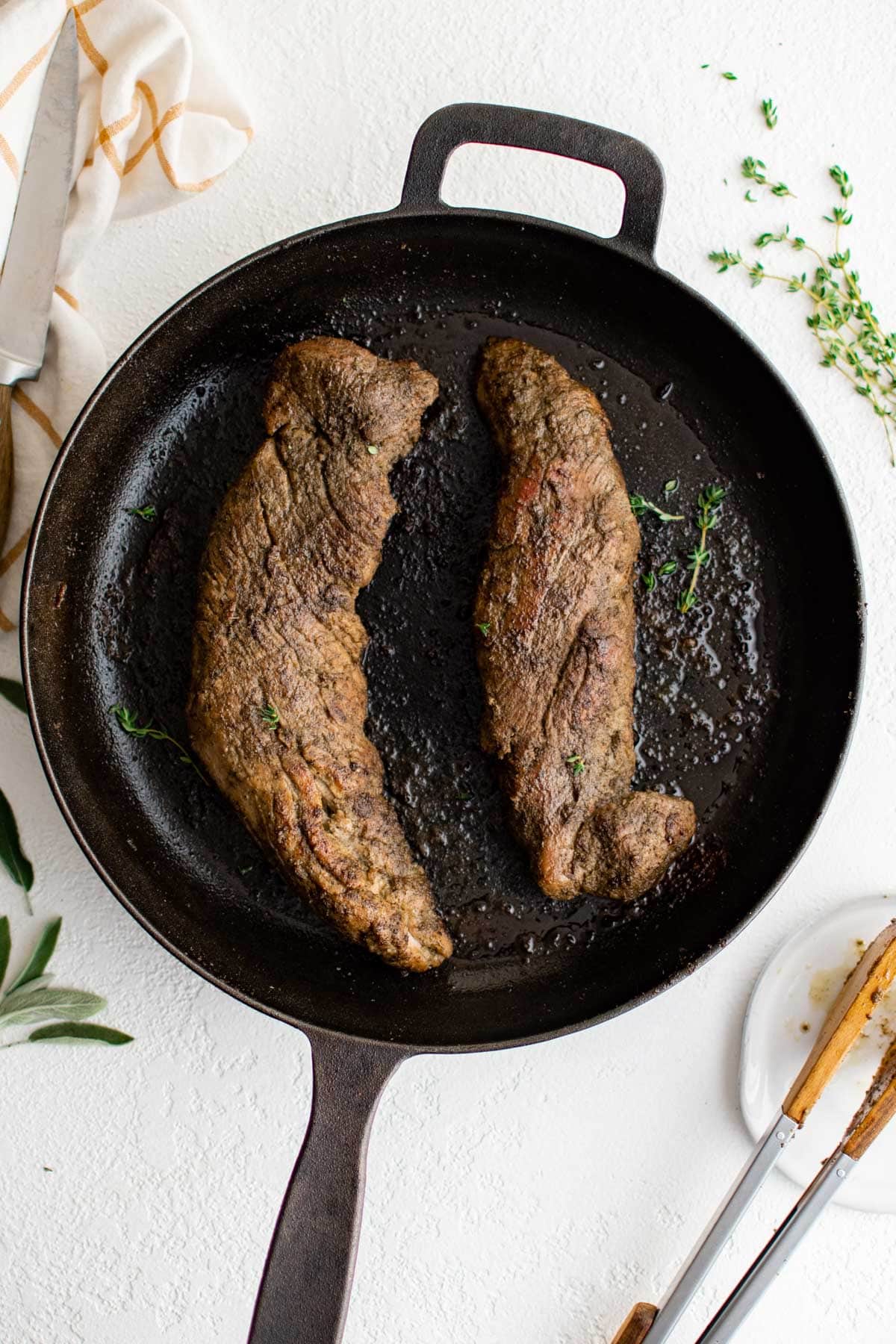 Pan Seared Pork Tenderloin
Pan seared on the stove then roasted in the oven which creates a delicious crust on the outside and holds all the flavorful juices on the inside.
I'm a sucker for anything that's cooked in a cast iron skillet, but you could cook this in pretty much any oven safe skillet. Just remember that with nonstick you won't get the same sear on the outside as you do with cast iron or stainless steel.
How To Pan Sear Pork Tenderloin
This dish looks beautiful yet it's quite easy to make. It's truly one of my absolute favorite meals to make. It's easy enough for a weeknight family dinner, and fancy enough for company.
See recipe card below for ingredient quantities and full instructions.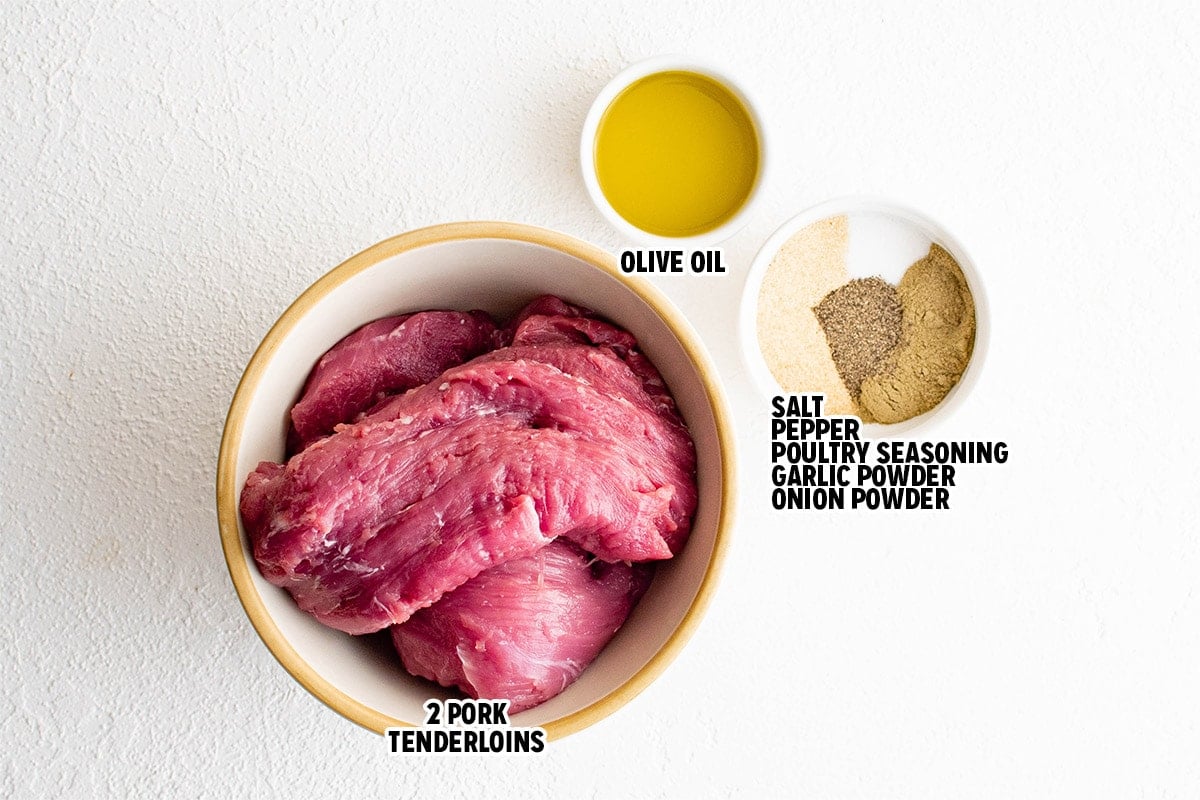 Start by trimming the meat. Pork Tenderloin is naturally a very low-fat meat, so there isn't much to trim. But there is a thin, silvery looking skin that you want to find and trim off, because it tends to get a bit tough when it cooks.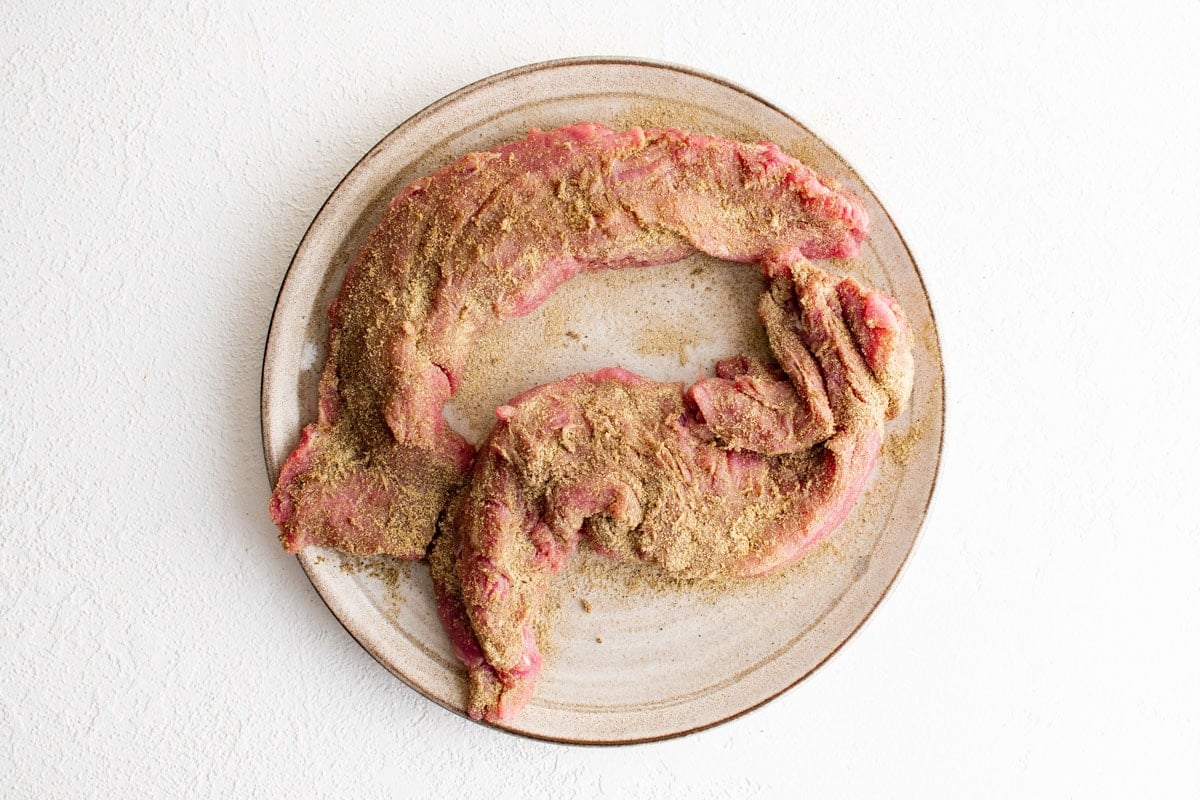 Add Seasoning. Sprinkle on and rub in some garlic powder, onion powder, and poultry seasoning. Poultry seasoning is my favorite for pork tenderloin and it adds a great flavor. However you could switch up the seasonings and use something else that you love.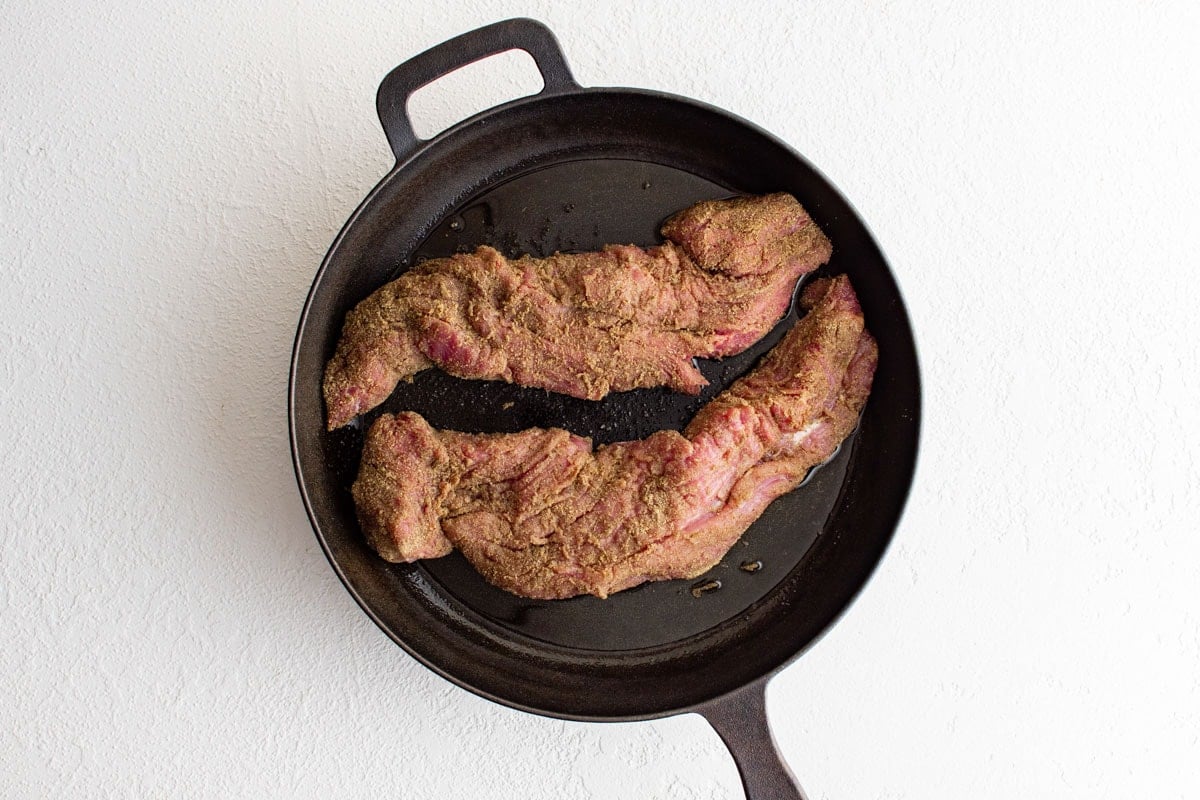 Sear. Heat a cast iron skillet over medium heat and add a couple pats of butter or tablespoons of olive oil. Cast iron isn't a must, but it definitely gives the best sear. If you don't have cast iron, stainless steel would be my next choice. Just be sure to use an oven-safe skillet.
Sear the meat for about 2 minutes per side – so six minutes total. The oven should be preheating at this time to 425 degrees.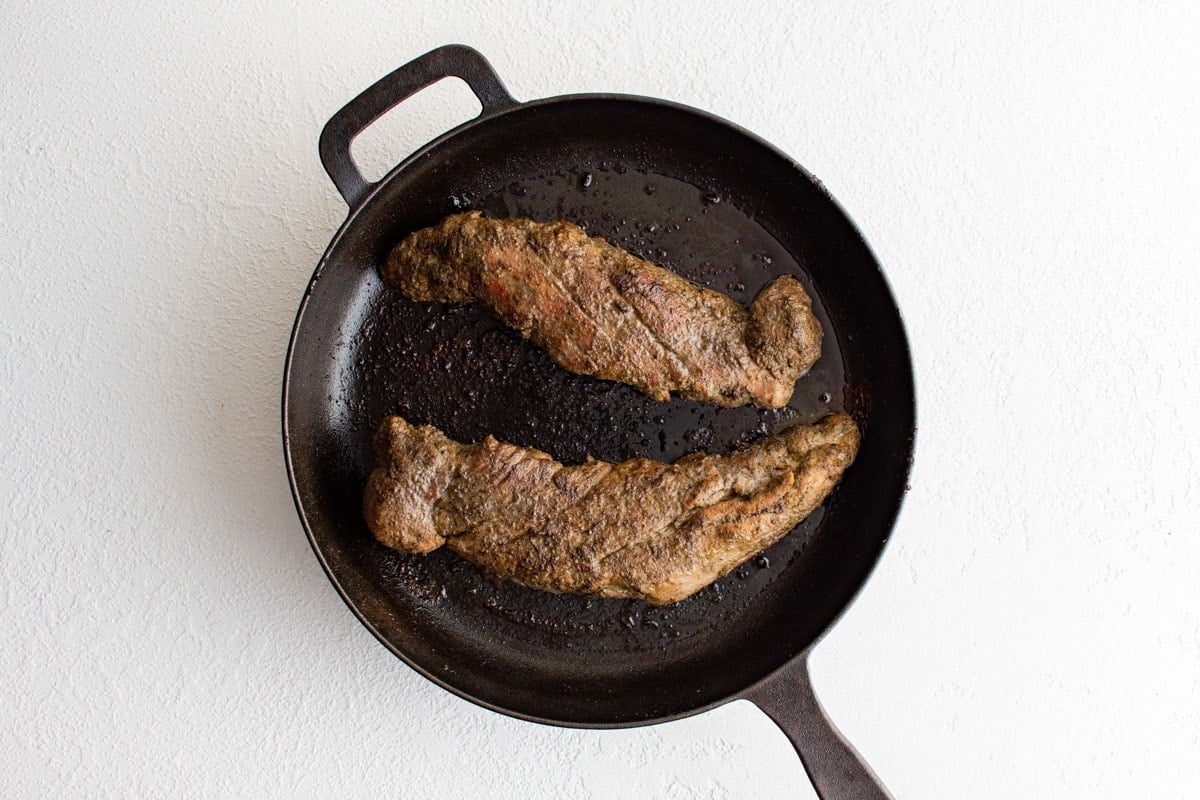 Roast. Once you have a nice sear on all three sides, it's time to stick that baby in the oven. Add about a half cup of chicken broth (helps to keep it from drying out) and place in the oven for 15-20 minutes. I've got this down to a science in my own oven and it takes 15-16 minutes, but you might have to play around with the times in yours. The key is to get the meat to around 140-145℉.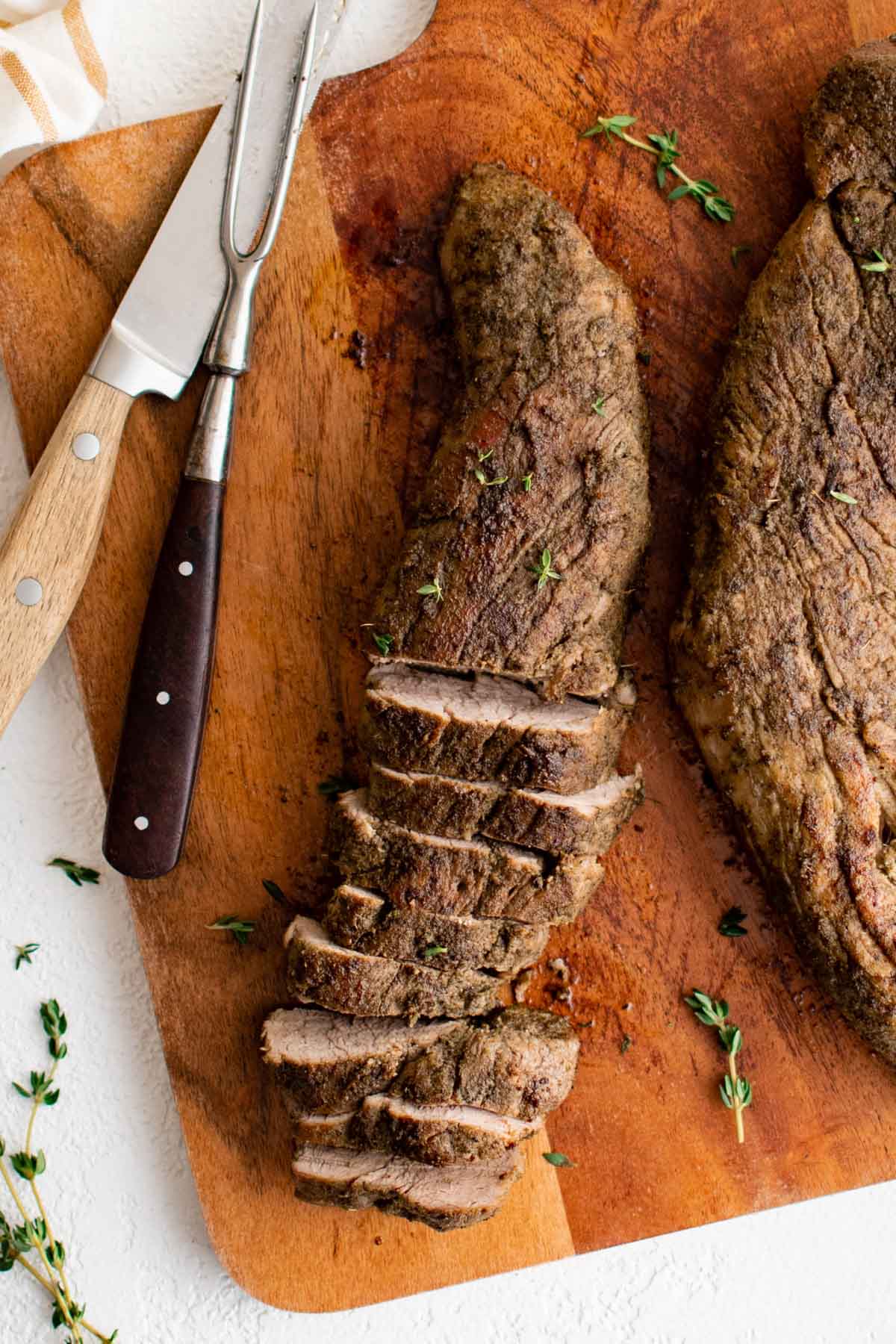 Rest. Remove the pan from the oven and tent with foil to give the meat time to rest; about 5-10 minutes. (Tenting is just lightly covering with foil, making a "tent" shape with the foil so the steam can escape). Cut the meat into ½ inch medallions, and serve on a pretty platter. It looks gorgeous, and it tastes as good as it looks.
How Long Should You Sear Pork Tenderloin?
While I have a general rule of thumb which I'll share below, the length of time needed to cook pork tenderloin varies greatly by the size and thickness of the meat. Also by the temperature of the skillet when you sear.
Let's say you have a 2-pound package of pork tenderloin. In theory, it would be great if they were the same size, but they rarely are. So if you have one piece larger than the other, you want to either sear it for less time, or roast it for less time.
Here is a quick guide for cook times, by oven temperature. You will first sear for a few minutes per side, then roast in the oven.
375℉ – Sear for 6-8 minutes; Oven roast for 20-23 minutes.
400℉ – Sear for 6-8 minutes; Oven roast for 18-20 minutes.
475℉ – Sear for 6-8 minutes; Oven roast for 15-18 minutes.
FAQs
What should the internal temperature be for pork?
The National Pork Board recommends cooking most cuts of pork (chops, roasts, loins, and tenderloin) to an internal temperature of 145 degrees F, followed by a rest. Gone are the days of cooking pork until it's well done, and chewy as shoe leather. This 145℉ temperature will give you a lovely medium rare pork that is tender and delicious.
How do you sear pork?
Searing is a method of browning the outside of the meat to give it a nice crust and lock in the juices, before continuing to cook in the oven, slow cooker or instant pot. Heat some oil in a very hot skillet, then sear the meat on all sides. It will typically take 1-2 minutes per side.
What is the difference between a pork tenderloin and a pork loin?
A pork tenderloin is a long, narrow piece of pork that is cut from along the backbone. It is the most tender cut since it's from a muscle that isn't really used. A pork loin is cut from the back but is wider and flatter than the tenderloin and can be boneless or bone-in.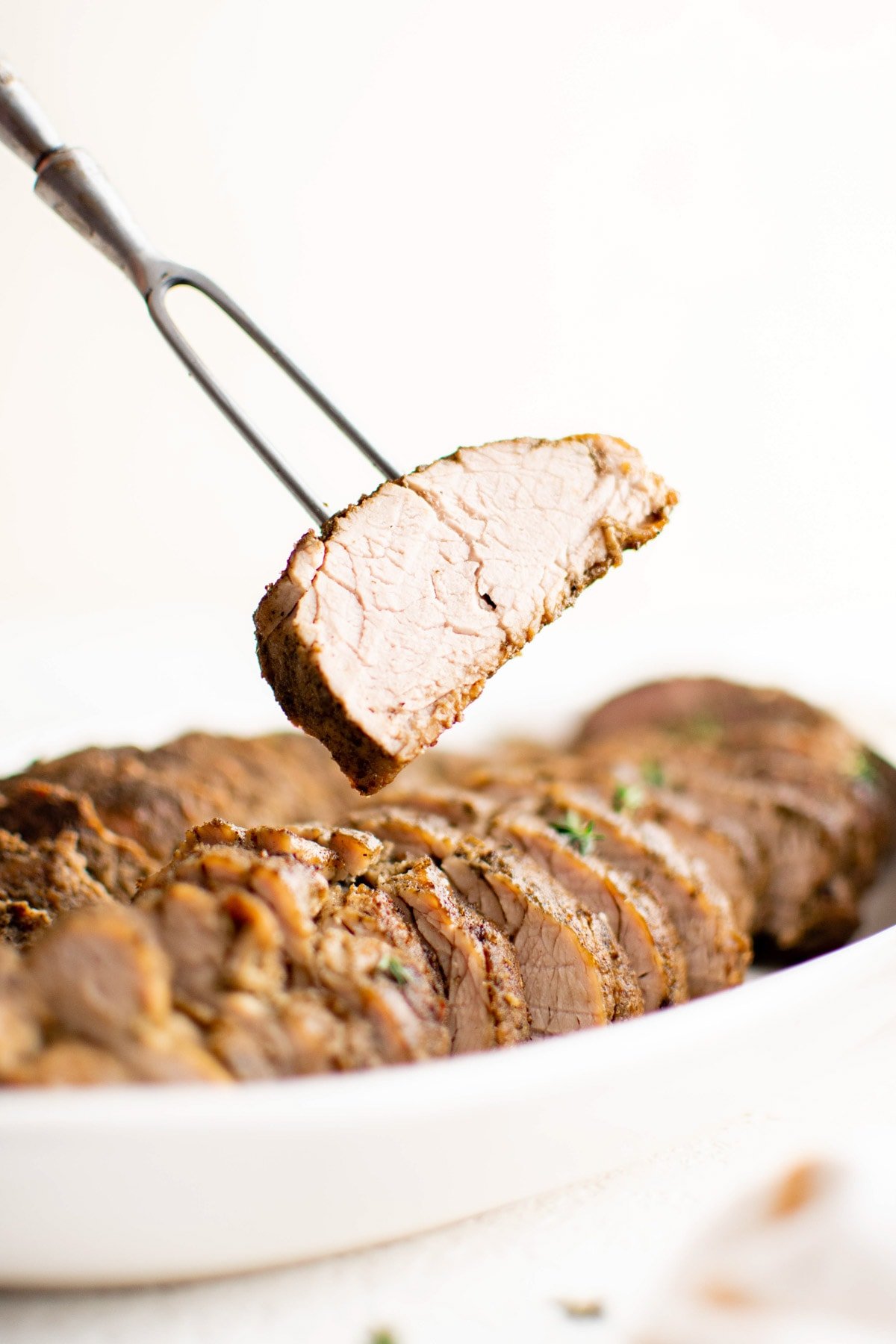 Serving Suggestions
There are tons of great side dishes that go with pork because of it's mild and versatile flavor. It's great for summer, served with a creamy Classic Macaroni Salad and Grilled Zucchini, or in the winter with some Make Ahead Mashed Potatoes and Oven Roasted Asparagus.
Pork Tenderloin should be allowed to rest for about 5 minutes while the juice are redistributed and absorbed through the meat. Slice against the grain and into 1-2 inch thick medallions.
What To Do With Leftovers
Refrigerate: Store leftovers in an airtight container in the fridge and eat within 3-4 days.
Freeze: Place the tenderloin either whole or sliced in a freezer bag and freeze for up to 6 months.
Reheat: Thaw in the fridge overnight and heat in the oven or microwave. I recommend heating in the oven, in a skillet with just a few tablespoons of water or broth to rehydrate the meat.
🔥 When I have leftovers of this pork recipe, I love to chop it up and use it my Pork Fried Rice. Sear it in a little bit of butter, then add to the rice.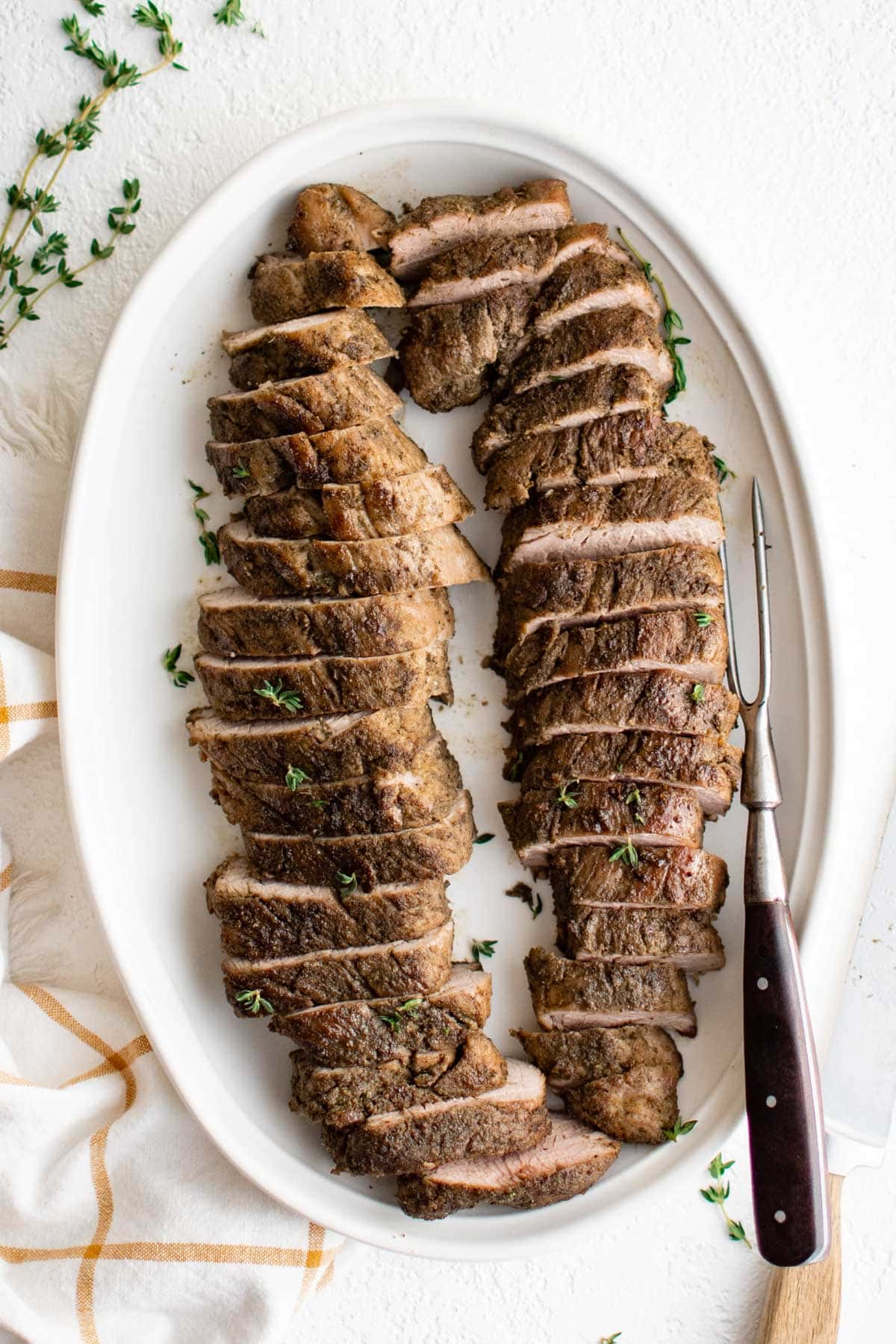 More Pork Recipes
Recipe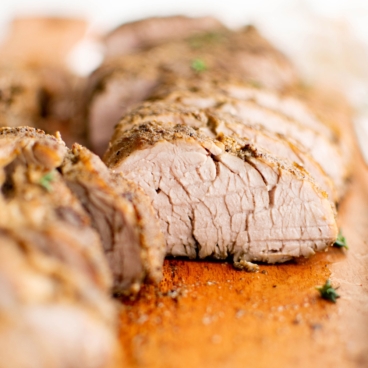 Pan Roasted Herbed Pork Tenderloin
Pan Seared pork tenderloin is tender, juicy and irresistible! Seared in a skillet then roasted in the oven, it's ready in under 30 minutes!
Ingredients
2

pounds

pork tenderloin

Usually 2 pieces

1

teaspoon

garlic powder

1/2

teaspoon

kosher salt

1/2

teaspoon

ground black pepper

1

teaspoon

onion powder

2

teaspoons

poultry seasoning

1

tablespoon

olive oil or butter
Instructions
Trim silvery skin from pork. Mix seasonings together in a small dish, then rub into the meat.

Preheat oven to 425 degrees.

Heat olive oil in a large, oven safe skillet. Sear tenderloin for two minutes per side, then slide the skillet into the oven.

Roast for 15-18 minutes, then remove from the oven and tent with foil. Allow to rest for 5-10 minutes before slicing into ½ inch thick medallions.

Serve immediately.
Notes
Make sure and use an oven safe skillet such as cast iron for easy transfer to the oven.
Pork can be safely eaten at 145 degrees. You can remove it from the oven at 140 degrees, tent and rest, and the temp will rise to 145.
Depending on your oven and the size and thickness of the pork, it could take as little as 12 minutes or as long as 18-20 minutes. Be sure to check the temperature at the 12 minutes mark. 
Nutrition
Calories:
203
kcal
Carbohydrates:
1
g
Protein:
31
g
Fat:
7
g
Saturated Fat:
3
g
Polyunsaturated Fat:
1
g
Monounsaturated Fat:
3
g
Trans Fat:
0.1
g
Cholesterol:
103
mg
Sodium:
288
mg
Potassium:
611
mg
Fiber:
0.2
g
Sugar:
0.1
g
Vitamin A:
80
IU
Vitamin C:
0.2
mg
Calcium:
19
mg
Iron:
2
mg