Fluffy, creamy and so flavorful this Make Ahead Mashed Potatoes recipe is a simple and easy side dish that will be the star of your weeknight dinner or holiday feast.
These are by far the best Mashed Potatoes EVER! Serve them with your Thanksgiving Turkey or dinnertime classic favorites like Chicken Fried Steak Recipe and a Cheesy Broccoli Casserole for the ultimate comfort food meal.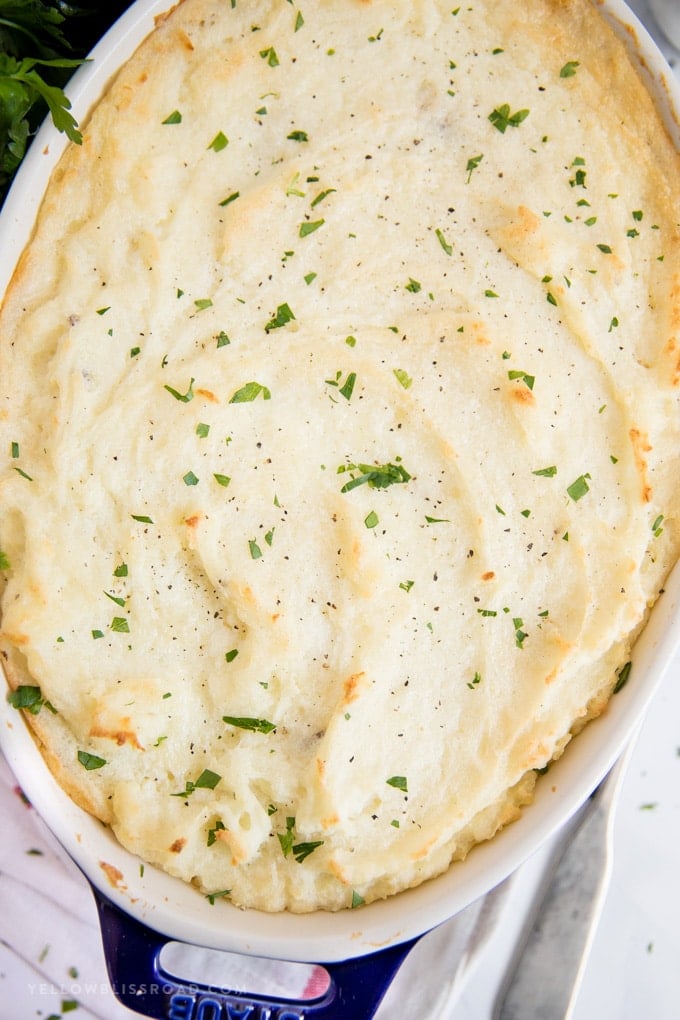 BEST EVER MAKE AHEAD MASHED POTATOES RECIPE
When I was a young adult, I took over the mashed potato making for family gatherings. I had come across an easy, make ahead mashed potatoes recipe from Betty Crocker and I have since become the self-proclaimed mashed potato queen of our family.
Unfortunately for me my children do not like mashed potatoes. Yes it's true. They are the only children on the planet who do not eat mashed potatoes, and it makes me incredibly sad because I love them! I mean seriously, mashed potatoes are in the realm of the ultimate comfort food, right up there with creamy one pot Chicken and Noodles!
Seriously. They are Amazing.
I like my spuds pretty simple – no fancy whipped potatoes or crazy ingredients. Just 4 ingredients in fact.
Lots of salt. That's the key to the best mashed potatoes! Cook them in salted water and add salt when you mash them and mix them. Potatoes are incredibly bland in flavor so salt is a necessary ingredient to make these potatoes the absolute best you've ever tasted.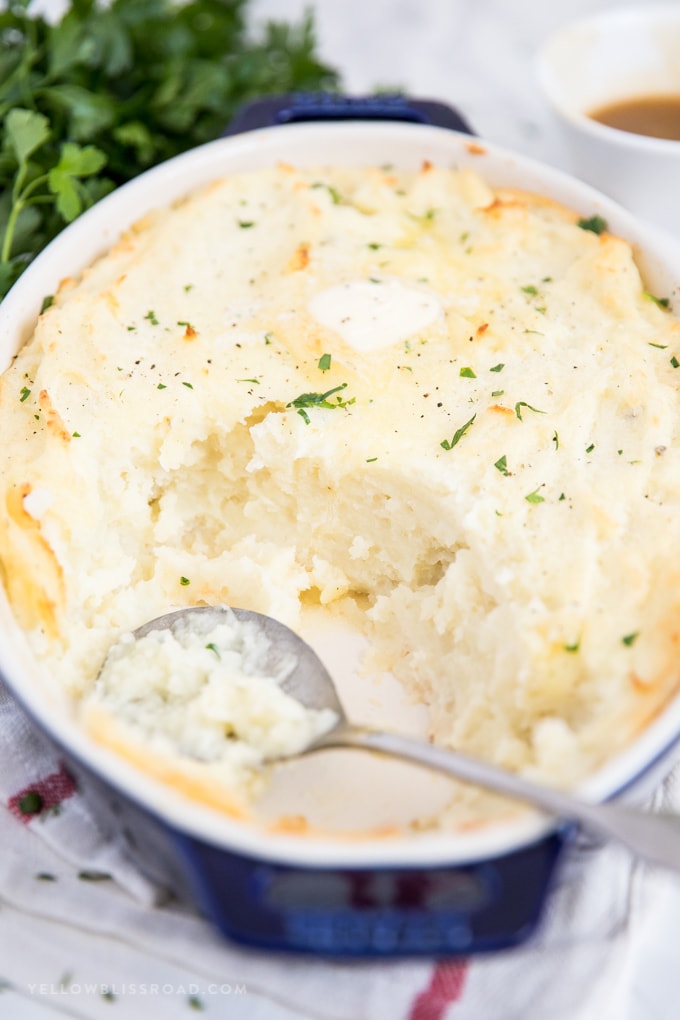 HOW TO MAKE THE BEST MASHED POTATOES
For this recipe, you just need some basic ingredients: 3 pounds of potatoes, butter, milk and cream. The method we use to make them ultra creamy and delicious is really simple and just requires you to use your microwave. They get such a yummy, slightly crispy top on them – I could eat them straight out of the pan. Stir them up and serve. Or grab a fork and just dig in. Your call.
Boil the Potatoes – Boil a few inches of water in a large pot. Once it starts boiling, add a tablespoon of salt to help flavor the potatoes, and add your peeled and chopped potatoes. Once they are fork tender, drain the water and put the potatoes back into the pot.
Prepare the add-ins – Melt the butter, milk and cream together in the microwave (or in a small saucepan on the stove) and stir into the potatoes, reserving about a 1/4 cup for later. Melting everything together brings the additions to the same temperature as the potatoes. Adding cold milk or butter just cools down the potatoes and they won't mash as well. You can serve the potatoes at this point, or follow the make ahead instructions.
Bake or Refrigerate – Pour the potatoes into a large baking dish. At this point you can either cover them with foil and pop them in the fridge overnight or cook them right away. When you're ready to heat them up, just pour that extra reserved butter mixture (set it out on the counter for about 30 minutes first or microwave to melt) over the cold mashed potatoes and pop them in the oven until they are warmed through and golden on top.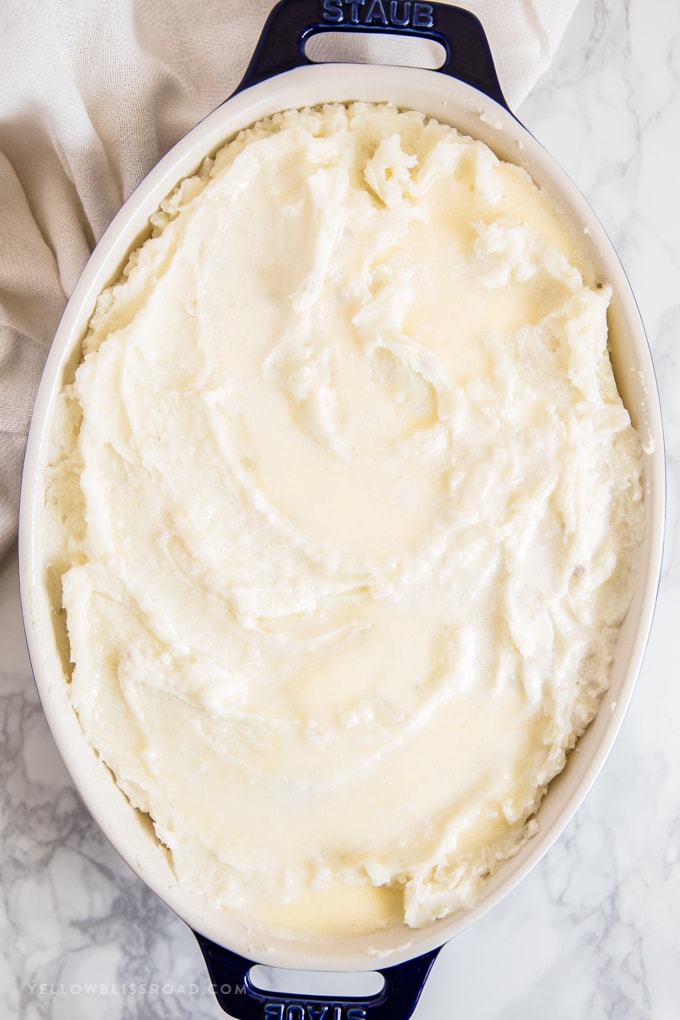 TIPS FOR MAKE AHEAD MASHED POTATOES
Dice the potatoes in even sized chunks. This helps them to cook evenly.
Salt the water. A lot. The potatoes absorb the water and the salt helps bring out the yummy flavor.
The masher doesn't matter. There are super fancy mashers out there and there are basic ones. I used a basic plastic masher from Tupperware ten years, and it worked perfectly! I now have this OXO Potato Masher and it's great too. You can whip them with a hand mixer too, but I like the thicker consistency you get with a regular masher.
Melt the butter and heat the milk. Rather than trying to melt the butter into the potatoes, heat the milk and butter up so they are the same temperature as the potatoes. No risk of cooling the potatoes or curdling the milk.
For added flavor, add a teaspoon of garlic powder or a few minced cloves of garlic and some fresh shredded cheddar cheese.
Garnish with fresh minced parsley or chives and freshly cracked black pepper for a beautiful presentation.
Do you have any tips you'd add to my list?
WHY ARE MY MASHED POTATOES GUMMY?
Unfortunately once your mashed spuds have become sticky and gluey, there is no going back. This result can happen when the potatoes aren't drained well enough or have been overcooked, but most often this is caused by over-mixing. The more they are mixed, the more starch is released which is what caused that gummy texture.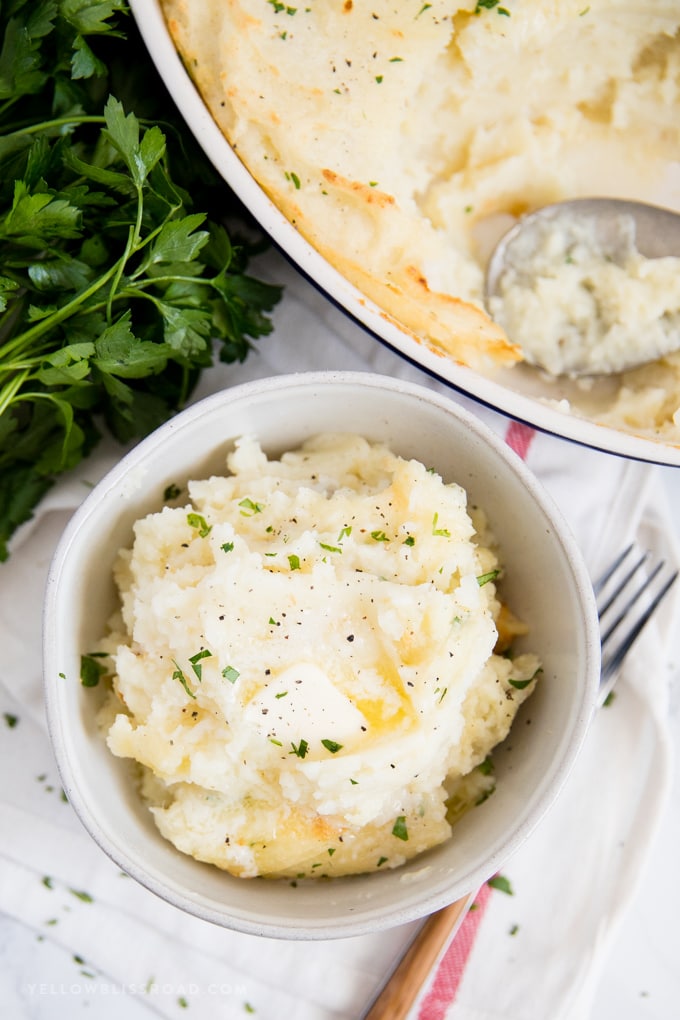 For more delicious potato recipes, check out these favorites: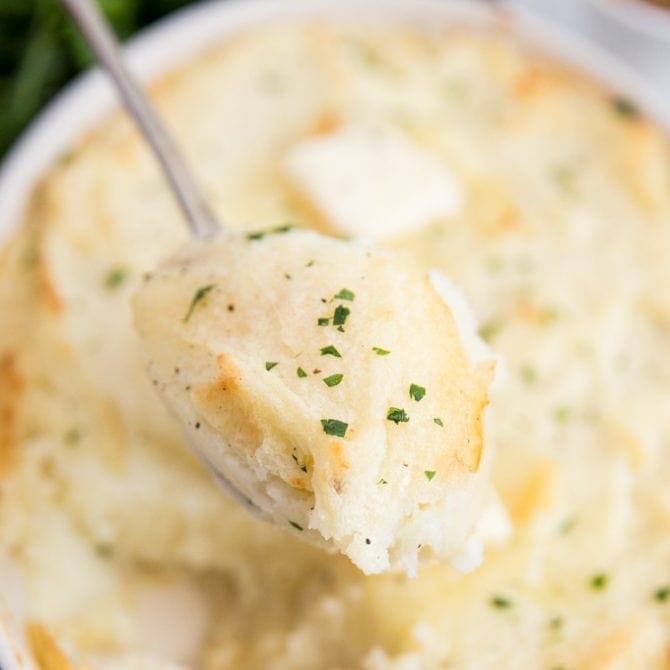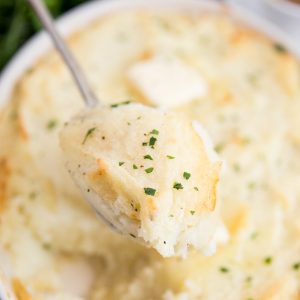 Make Ahead Mashed Potatoes
Fluffy, creamy and so flavorful this Make Ahead Mashed Potatoes recipe is a simple and easy side dish that will be the star of any meal.
Ingredients
4 pounds Russet Potatoes about 8 medium
Salt
1/2 cup butter 1 stick
3/4 cup milk
1/2 cup heavy cream
Kosher salt
1/4 teaspoon pepper
fresh minced parsley for garnish, if desired
Instructions
In a 5 quart pot, boil about 2 inches of water. Once boiling, add 1 tablespoon of salt. (Water should be enough to cover the potatoes)

Rinse, peel and dice potatoes into one inch chunks.

Place potatoes into boiling water and cover. Cooking over medium heat for 20-25 minutes, or until potatoes are fork tender.

Remove from heat and drain. 

Place potatoes back into the pan and sprinkle with 1 teaspoon salt. Mash well.

In a small saucepan, add butter with milk, cream, and 1/4 teaspoon pepper, and place over medium-low heat until butter is melted. Reserve 1/4 cup and set aside. (Or melt in the microwave).

Pour the half of the butter mixture over the mashed potatoes and mix well. Add more of the butter mixture until potatoes are light and fluffy.

Pour potatoes into a greased 9"x13" pan. Cover and refrigerate for up to 24 hours.
When you are ready to bake:
Pour remaining butter mixture over the top of the potatoes (you may need to melt in the microwave). Bake uncovered in a preheated 350 degree oven for 40-45 minutes. Stir before serving, if desired.

*If baking immediately (while potatoes are still hot), reduce baking time.
Notes
This recipe will make anywhere from 8 to 12 people, depending on portion size. If serving a lot of sides such as for Thanksgiving dinner, they will go a little further.
Nutrition
Calories: 340kcalCarbohydrates: 43gProtein: 6gFat: 17gSaturated Fat: 11gCholesterol: 51mgSodium: 128mgPotassium: 993mgFiber: 3gSugar: 3gVitamin A: 620IUVitamin C: 13mgCalcium: 71mgIron: 2mg