Want to know the secret to the best mashed potatoes? Keep it simple with no fancy ingredients – just the right ratio of butter, cream and salt. My Make Ahead Mashed Potatoes are so easy to make and can made up to 2 days in advance!
Deliciously rich and buttery and exceptionally fluffy mashed potatoes will be the star of your meal. Pair with your holiday Glazed Ham or weeknight Shake and Bake Pork Chops.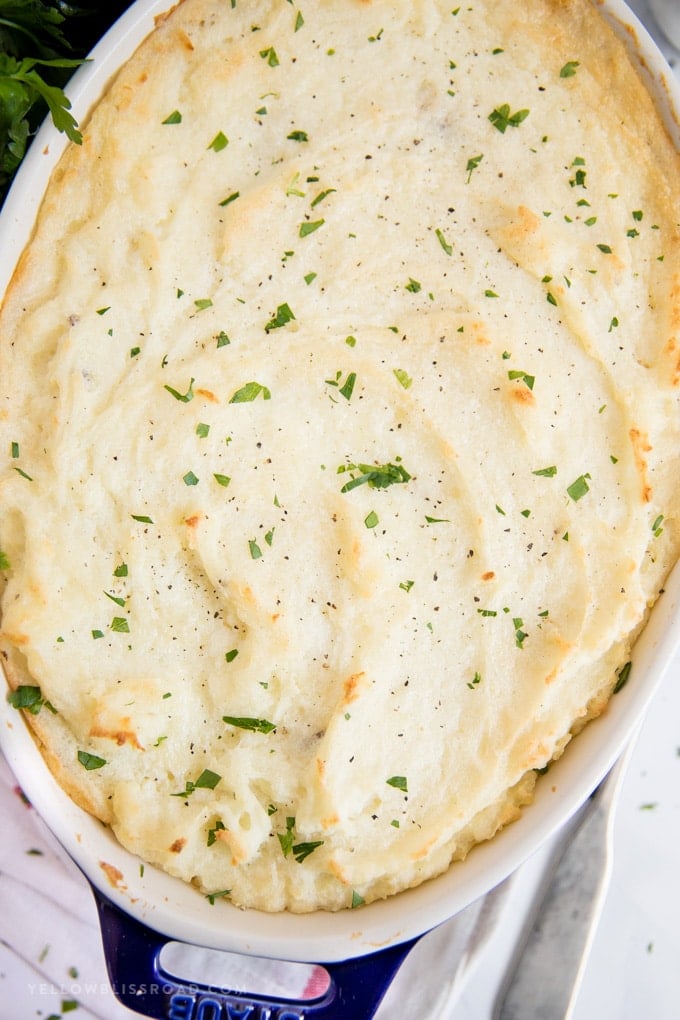 Why Make Ahead Mashed Potatoes Are The Best
They have the perfect ratio of butter, milk, and cream making them the richest and most flavorful potatoes ever.
The make-ahead option gives you extra time in the kitchen.
The double mash makes them extra fluffy.
Pouring a little mixture of butter and cream on top before baking gives them a beautiful golden top with crispy bits that are so tasty!
Make Ahead Mashed Potatoes are an easy side dish that is perfect for any occasion, from a casual Sunday meal to an extravagant Thanksgiving dinner menu. I love that I can prepare them a day or 2 in advance and refrigerate until I'm ready to bake them. Saves a ton of time and energy!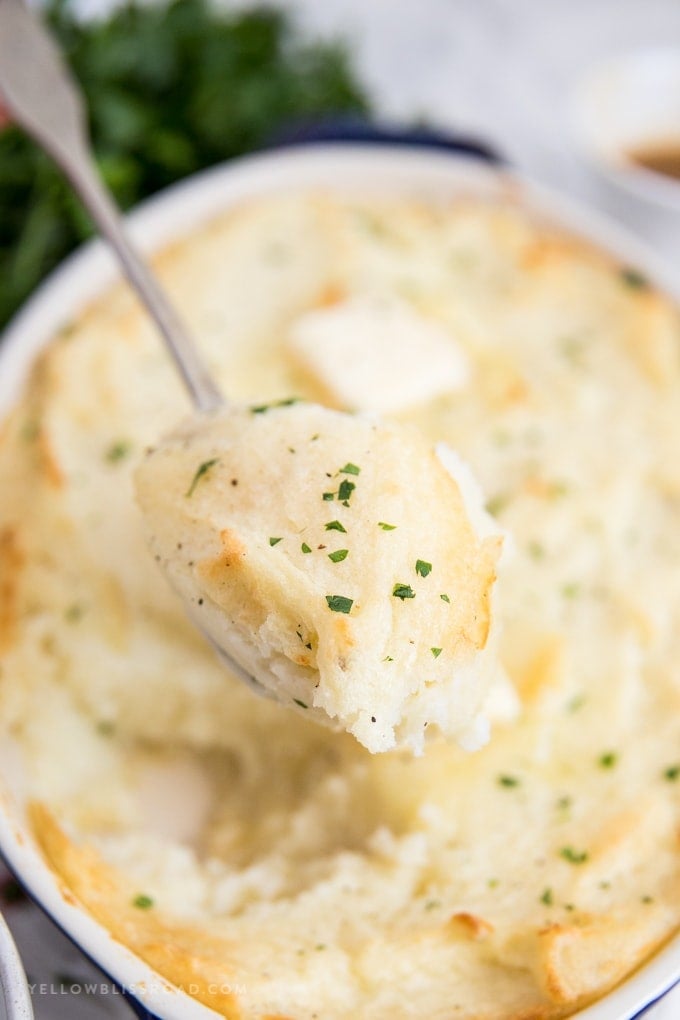 Make Ahead Mashed Potatoes Recipe Ingredients
I like my spuds pretty simple – no fancy whipped potatoes or crazy ingredients. Just 5 ingredients in fact:
Potatoes – I prefer russets for mashing, the insides are nice and fluffy and they don't get too mushy. You could also go with Yukon golds or red potatoes which are both nice and creamy.
Milk – warmed in the microwave or on the stovetop. You can use any kind of milk, but stay away from sweetened versions, like nut-based milks. The higher fat content the milk has, the richer your potatoes will be. That said, I personally use nonfat milk and my potatoes are always so good.
Cream – also warmed. This will give you richness so you could go with a lower fat milk if you want. The cream will make your mashed potatoes creamy, so I highly recommend using it.
Butter – I always use salted butter, and just taste test before adding additional salt. Potatoes are notoriously bland so they need that extra salt. Go for the real butter, rather than margarine for the best flavor.
Salt – Lots of salt. That's the key to the best potatoes! Cook them in salted water and add salt when you mash them and mix them. Potatoes are bland so salt is a necessary ingredient to elevate the flavor.
How To Make The Best Mashed Potatoes
My recipe includes a make-ahead option. You can make your taters a day ahead and store them in a covered casserole dish overnight or for up to 2 days. Pour a little melted butter/cream mixture on top and bake them.
Boil the Potatoes. Cook the chopped, peeled potatoes in salted boiling water until they are fork-tender. Drain and put the potatoes back in the large pot. Let them sit for a few minutes untouched, to let the last bits of water evaporate, then mash them up a few times with some salt.
Prepare the Add-Ins. Melt the butter, milk, and cream together in the microwave (or in a small saucepan on the stove) and stir into the potatoes, reserving about a ¼ cup for when you bake them later. Melting everything together brings the additions to the same temperature as the potatoes. Adding cold milk or butter just cools down the potatoes and they won't mash as well. You can serve the potatoes straight out of the pot, or transfer them to a baking dish and bake right away or store for tomorrow's dinner.
Make Ahead or Bake Now. Scoop the potatoes into a 2-quart baking dish. At this point, you can either cover them with foil and pop them in the fridge for a day or two or bake them right away. When you're ready to heat them up, just pour that extra reserved butter mixture (set it out on the counter for about 30 minutes first or microwave to melt) over the cold potatoes and pop them in the oven until they are warmed through and golden on top. The butter mixture will give the potatoes a golden and crispy top and keep them from drying out.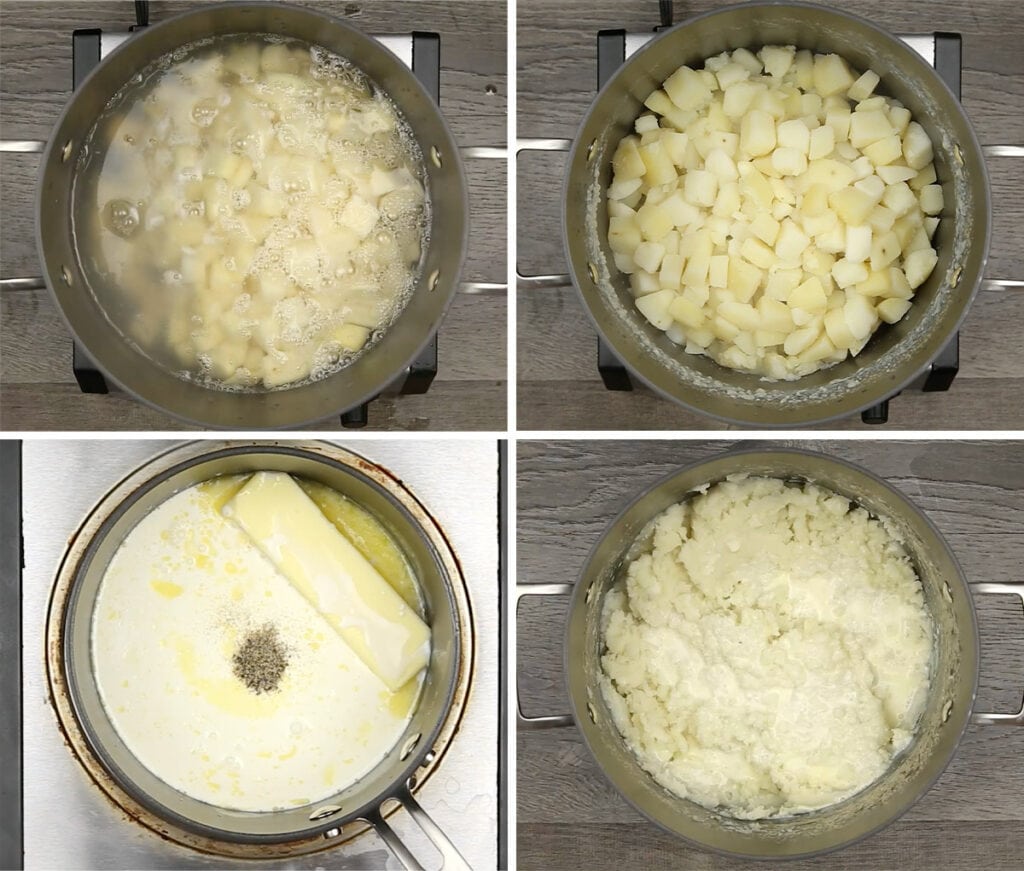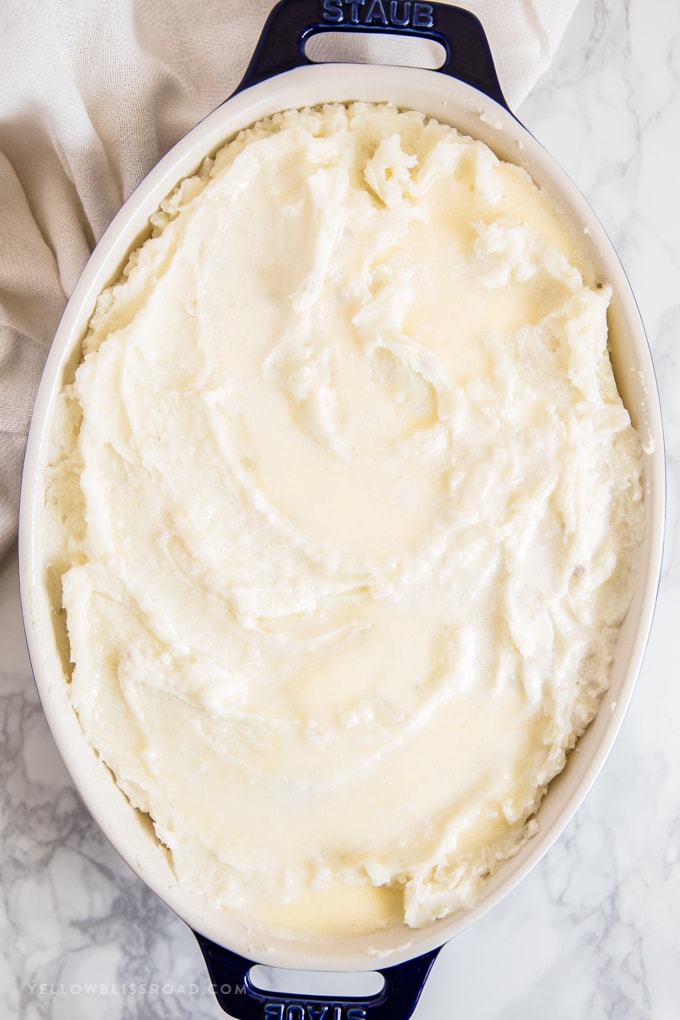 Recipe FAQs
Why are my mashed potatoes gummy?
Unfortunately, once your mashed spuds have become sticky and gluey, there is no going back. This result can happen when the potatoes aren't drained well enough or have been overcooked, but most often this is caused by over-mixing. The more they are mixed, the more starch is released which is what caused that gummy texture.
Can I make mashed potatoes in a crock pot?
Absolutely! Try my recipe for Easy Crock Pot Mashed Potatoes. They are a great option when you need your stove or oven free for other dishes.
Can you make mashed potatoes ahead of time and keep warm?
The best way to keep your mashed potatoes warm while you finish making dinner is place them in an oven safe dish and cover with foil. Keep them warm in a 250-300℉ oven for up to an hour. It's important to keep them covered or they could dry out.
Can you prep potatoes ahead of time for mashed potatoes?
You can peel and chop your potatoes in advance. Place them in a large bowl, filled with enough water to cover the potatoes, and store them in the refrigerator overnight.
Recipe Variations
Pour on some Homemade Turkey Gravy or keep them au natural, the choice is yours. Or, try some of these delicious flavor options!
Looking to lighten up your mashed potatoes? Omit the cream and use all nonfat milk instead. This will definitely eliminate some calories, but they won't be as rich and creamy.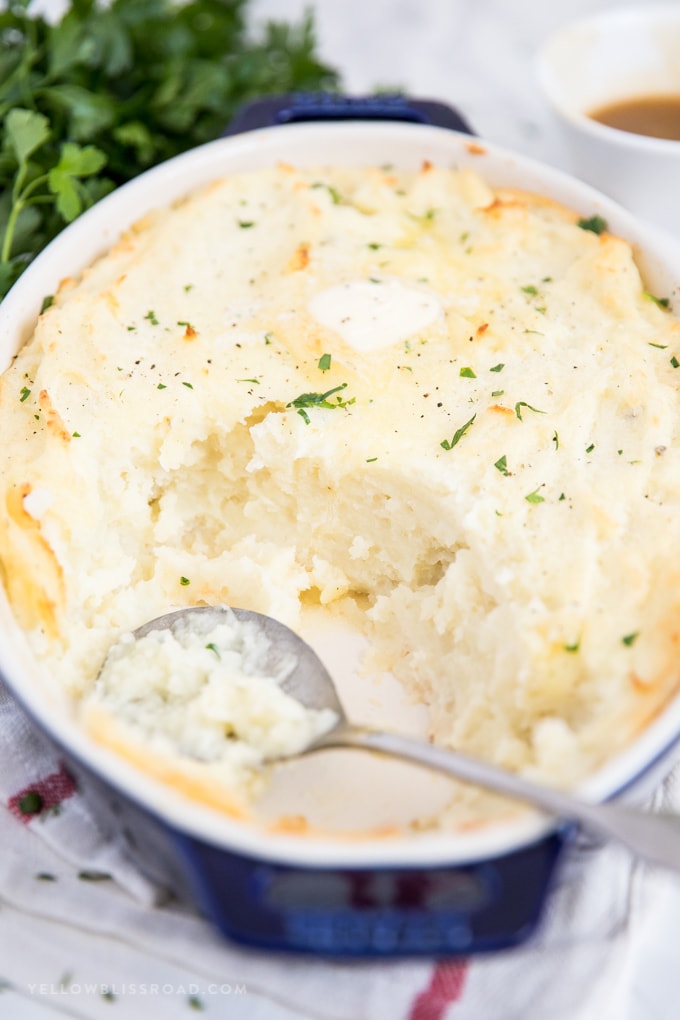 Serving Suggestions
Serve them with your Thanksgiving Turkey or dinnertime classics like Chicken Fried Steak or Garlic Butter Steak Bites for the ultimate comfort food meal.
Storage and Reheating
Storage: Once potatoes are completely cooled, store them in an airtight container in the refrigerator for 3-4 days.
Freezing: Stored completely cooled in a freezer-safe container for up to 4 months.
Reheating: If frozen, thaw completely in the fridge overnight. Reheat in the microwave, or cover with foil and heat in the oven at 375 degrees. You may need to stir in a splash of milk or cream to loosen them up again.
Expert Tips
Dice the potatoes in even-sized chunks. This helps them to cook evenly.
Salt the water. A lot. The potatoes absorb the water and the salt helps bring out the yummy flavor.
The masher doesn't matter. There are super fancy mashers out there and there are basic ones. I used a basic plastic masher from Tupperware ten years, and it worked perfectly! I now have this OXO Potato Masher and it's great too. You can whip them with a hand mixer too, but I like the thicker consistency you get with a regular masher.
Melt the butter and heat the milk. Rather than trying to melt the butter into the potatoes, heat the milk and butter up so they are the same temperature as the potatoes. No risk of cooling the potatoes or curdling the milk.
Want extra creamy potatoes? Add a scoop of sour cream or cream cheese.
Garnish with fresh minced parsley or chives and freshly cracked black pepper for a beautiful presentation.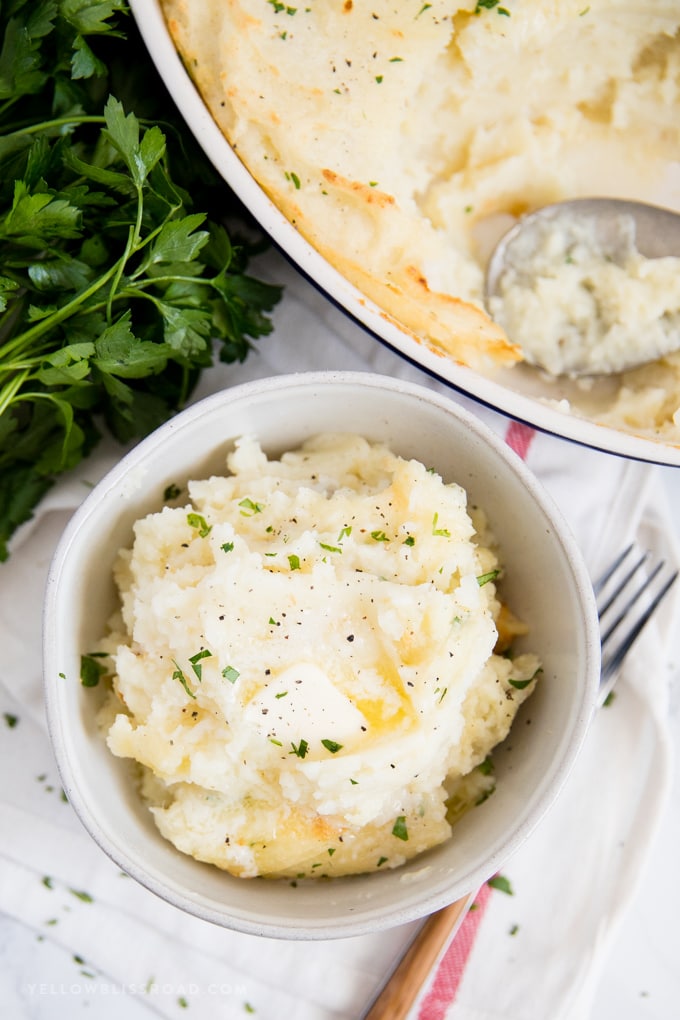 Don't forget the turkey!
Get the best roast turkey recipe, plus TONS of tips!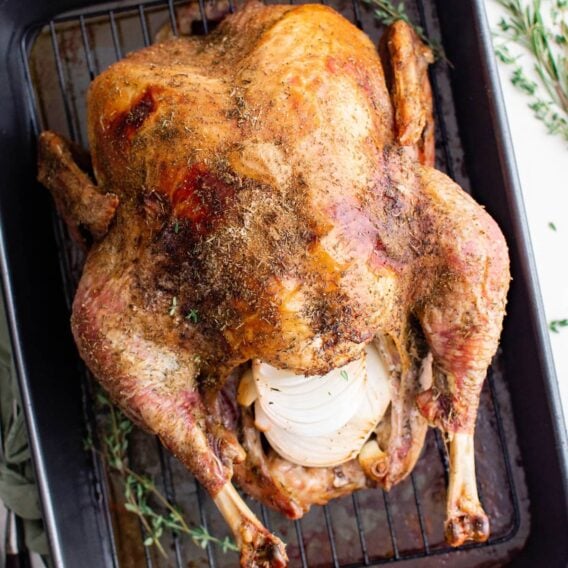 More Potato Recipes
If you've made this recipe, please come back and leave us a star rating or a comment below. Or, tag us on social media @yellowblissroad or #yellowblissroad for a chance to be featured.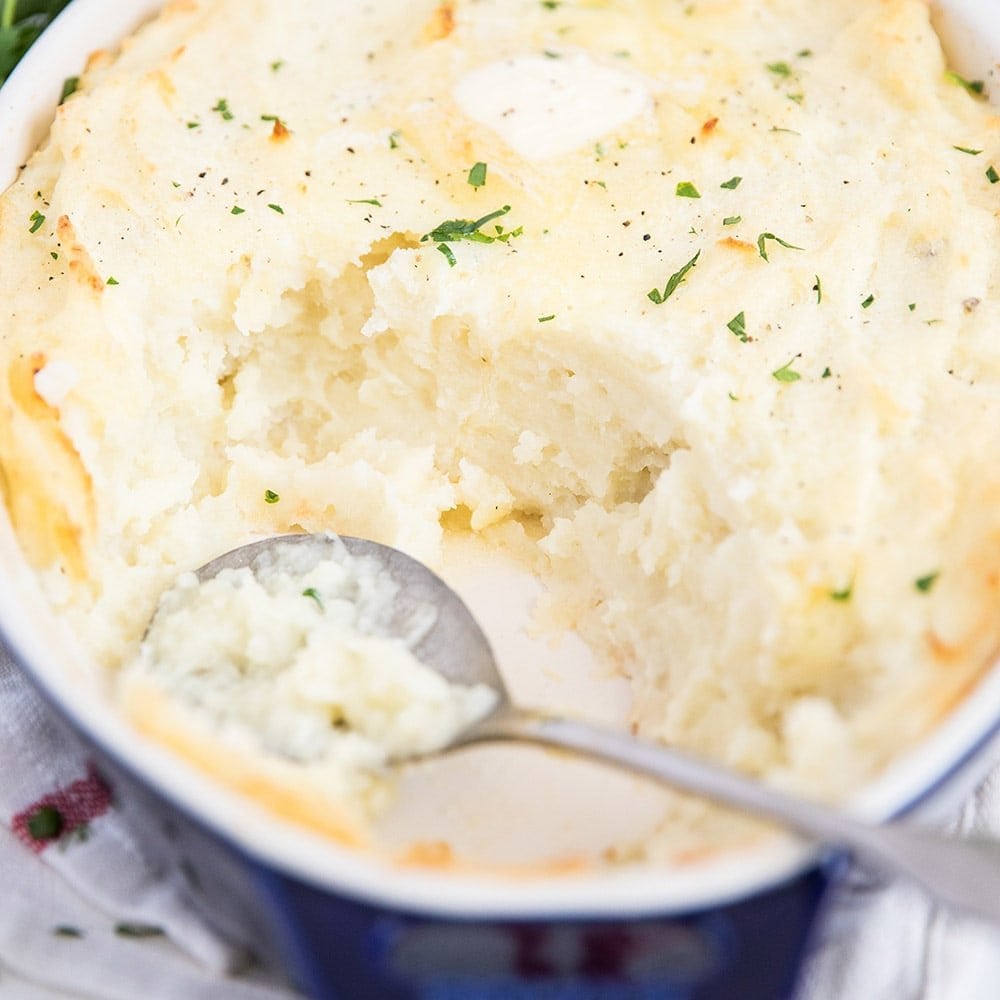 Make Ahead Mashed Potatoes
Want to know the secret to the best mashed potatoes? Keep it simple, no fancy ingredients – just the right ratio of butter, cream and salt.
Cook Time
1

hour
5

minutes
Total Time
1

hour
20

minutes
Ingredients
4

pounds

Russet Potatoes

about 8 medium

Salt

1/2

cup

butter

1 stick

3/4

cup

milk

1/2

cup

heavy cream

Kosher salt

1/4

teaspoon

pepper

fresh minced parsley

for garnish, if desired
Instructions
In a 5 quart pot, boil about 2 inches of water. Once boiling, add 1 tablespoon of salt.

While the water is coming to a boil, rinse, peel and dice potatoes into one inch chunks. Place potatoes into boiling water and cover with the lid. (Water should be enough to cover the potatoes). Cook over medium-low heat for 20-25 minutes, or until potatoes are fork tender.

Remove from heat and drain. Place potatoes back into the pan and sprinkle with 1 teaspoon salt. Mash several times with a potato masher.

In a small saucepan, add butter with milk, cream, and ¼ teaspoon pepper, and place over medium-low heat until butter is melted. Reserve ¼ cup and set aside. (Or melt in the microwave).

Pour the half of the butter mixture over the mashed potatoes and mix well. Add more of the butter mixture until potatoes are light and fluffy.

Pour potatoes into a greased 9″x13″ pan. Cover and refrigerate for up to 24 hours.
When you are ready to bake:
Pour remaining butter mixture over the top of the potatoes (you may need to melt in the microwave). Bake uncovered in a preheated 350 degree oven for 40-45 minutes. Stir before serving, if desired.

*If baking immediately (while potatoes are still hot), reduce baking time.
Notes
This recipe makes 8 generous servings, but will serve anywhere from 8 to 10 people, depending on portion size. If serving a lot of sides such as for Thanksgiving dinner, they could go a little further.
Make sure to chop into evenly-sized chunks for even cooking.
Salt the water generously – this is important as the potatoes will absorb the salt to bring out their flavor.
Don't skip melting the butter and milk together. Cold ingredients will bring down the temperature of the potatoes and you risk them not mashing properly.
Store leftovers in an airtight container in the fridge for 3-4 days or freeze for up to 4 months.
If frozen, thaw completely in the fridge overnight. Reheat in the microwave, or cover with foil and heat in the oven at 375 degrees.
Nutrition
Calories:
340
kcal
Carbohydrates:
43
g
Protein:
6
g
Fat:
17
g
Saturated Fat:
11
g
Cholesterol:
51
mg
Sodium:
128
mg
Potassium:
993
mg
Fiber:
3
g
Sugar:
3
g
Vitamin A:
620
IU
Vitamin C:
13
mg
Calcium:
71
mg
Iron:
2
mg
Nutrition information provided is an estimate and will vary based on cooking methods and brands of ingredients used.