Hi friends! It's Amy from A Cup Full of Sass sharing another one of my favorite recipes with you. Holidays are quickly approaching. I don't know about you, but I can hardly wait to start cooking Thanksgiving dinner for my family. This Green Bean Casserole is one I will be making for sure. Are you hosting Thanksgiving dinner this year for your family? Or are you going somewhere?
In my Green Bean Casserole recipe I use bacon, mushrooms and garlic. Can you say YUM?! Each bite is creamy with an added crunch.
During Thanksgiving I love coming up with new recipes to make for my family! This Green Bean Casserole is just a tad different then the traditional kind.  But trust me, You and your family will love it!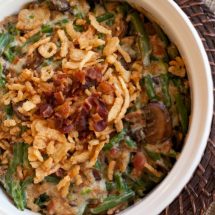 Ingredients
2 cans of cream of mushroom condensed soup
2 - 12 oz. bags of whole green beans or use canned green beans
8 slices of bacon cooked
2 cups of fresh mushrooms
2 garlic cloves - minced
1 cup of whipping cream
Salt and Peper to taste
2 1/2 cups of French's Fried Onions
Instructions
Boil green beans in a pan for 5 minutes on med - high heat. Or follow instructions on green beans package.

Drain and rinse under cold water and set aside.

In a cast iron skillet or use any skillet, fry bacon until crispy. Once it's done, crumble bacon into little pieces.

In a medium skillet sauté mushrooms.

Add cloves of garlic minced.

Cook mushrooms and garlic together for 2-3 minutes.

In a 2.5 quart casserole dish, mix green beans, cream of mushroom condensed soup, bacon, mushroom, garlic, half and half, salt, pepper and 2 cups of fried onions.

Cook at 350 degrees for 30 minutes or until mixture is hot and bubbling.

Add remaining fried onions (1/2 cup) on top of casserole and cook for an additional 5 minutes.

Enjoy!
I hope you make this for your family on Thanksgiving dinner. I hope you enjoy this recipe as much as we do!
You may also love this  Easy Pumpkin Dip.
For more delicious Thanksgiving recipes try these:
You may also  like my Snowball Cookie recipe.
Hi I am Amy. I blog over at A Cup Full of Sass where I share Recipes, Crafts, Pritnables, Faith and Fashion.