How to Cook Bacon in the Oven
Learn how to cook bacon in the oven! It is the absolute best way to cook bacon! Forget the mess and grease splatters, oven-cooked bacon cooks evenly, produces the crispiest results and is totally hands off. 
This method is our go-to for cooking crispy bacon for some of our favorite recipes. Like Bacon and Bean Soup, Bacon Wrapped Chicken Bites and Chicken Crack Dip. But if you want to just eat it by the fistful, that's totally ok with me!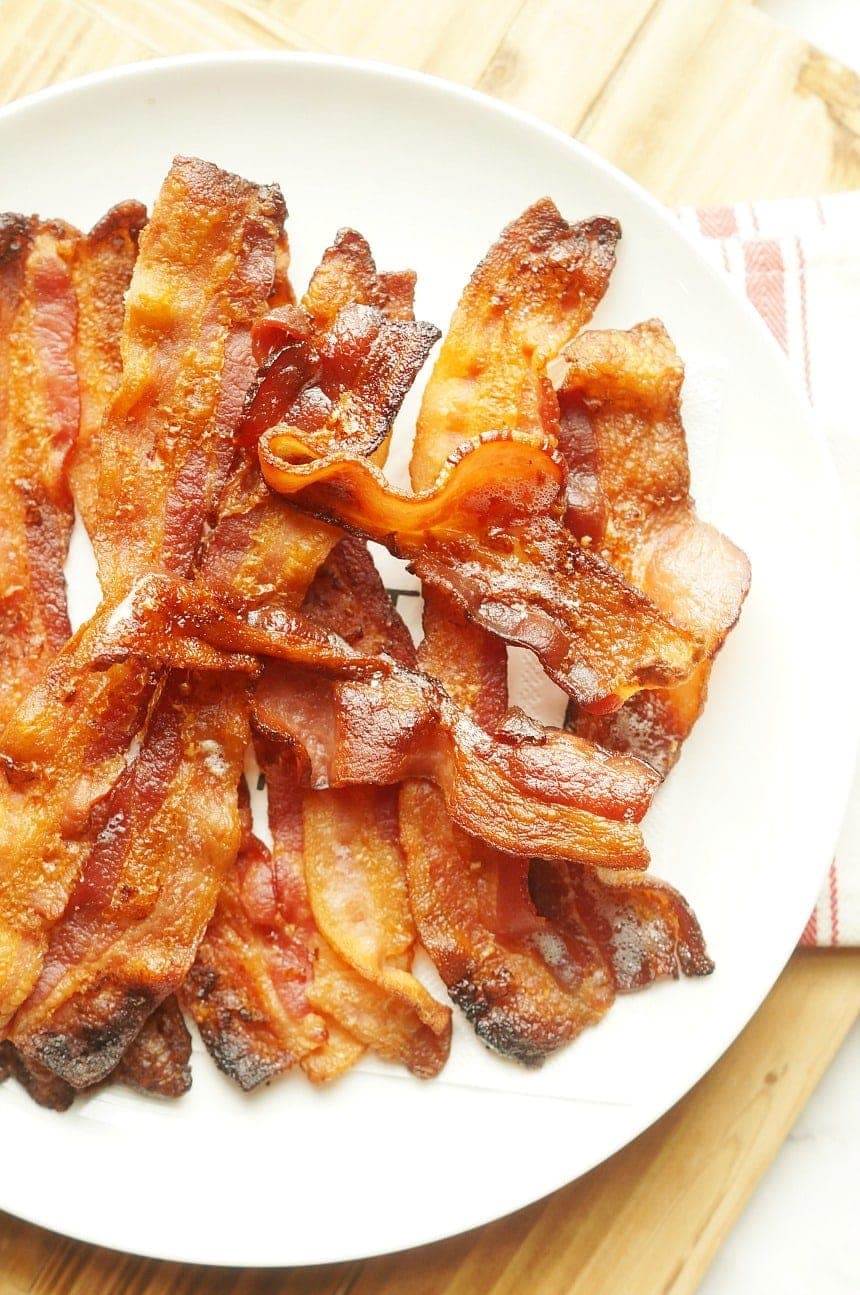 OVEN COOKED BACON
Cooking bacon in the oven is seriously a life-changing hack if you are a frequent bacon maker, which we are in my house! My little one loves bacon so much that we actually had a Bacon Bash party for her 2nd Birthday.
I like to make a pound or two of bacon early in the week for her to munch on between meals. It is her favorite snack, and who can blame her? Bacon just seems to go with everything! She can eat a pound herself, so we are always finding ourselves making a batch! 
After a little trial and error, I have truly found the best way to cook bacon in the oven and I hope that these tips help you get the perfect, crispy bacon pieces!
WHY COOK BACON IN THE OVEN?
What's so great about cooking bacon in the oven? There are quite a few advantages as opposed to frying in a skillet.
Less mess. When you cook bacon in the oven all the grease is contained to the foil covered pan below. Just wrap up the foil and toss it.
It's crispy and evenly cooked! When you fry bacon in a skillet it cooks in the grease. As it cools, it drains off some of the grease but most of it absorbs back into the bacon. Some pieces end up a little fatty while some end up too crispy. Bacon cooked in the oven is all cooked the same, with each piece nice and crispy and not soggy or super greasy.
It's quick and easy, and totally hands off. Just set up your tray, lay out the bacon, and slide it into the oven. No constant babysitting while being splattered with grease, but be sure to check it periodically to make sure it doesn't get too crispy.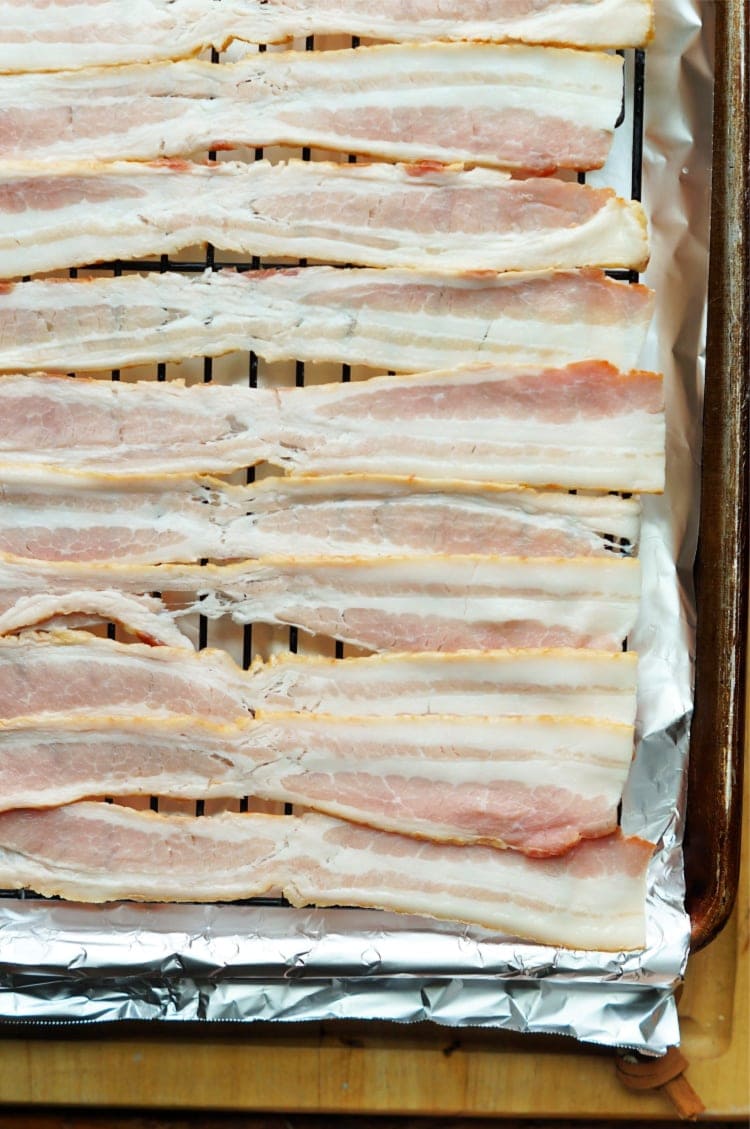 HOW TO COOK BACON IN THE OVEN
You will need a baking sheet with an oven safe cooling rack that fits on top, like this one. Cover the bottom baking sheet completely with foil all the way up the sides and set the rack on top.
Lay bacon pieces on the rack side by side in a single layer. Be careful not to overlap because the meat can end up sticking together.
Place the tray into the cold oven and set the temperature to 375 degrees. Cook bacon for about 15 minutes, or until it's as crispy as you like it. Remember that it will continue to crisp up a little as it cools. Drain cooked bacon on paper towels.
TIPS AND TRICKS
Put the bacon in a cold oven. This helps keep the bacon from shrinking. Once your bacon is in the oven, turn it on – do not preheat! 

Be sure to use an oven safe cooling rack with the baking sheet. As the bacon cooks, the grease drips down instead of absorbing into the bacon itself, and it gets crispier, faster.

I prefer a thick cut bacon. All bacon shrinks when cooked, and the thick cut ends up more substantial and meaty after being cooked in the oven. I love the center cut thick cut bacon best because it has the best quality and the least amount of fat. 

For storage, refrigerate cooked bacon within an hour of cooking in a shallow, airtight container or wrapped in foil or plastic wrap. Extend the life of cooked bacon by freezing it in those containers for up to 2-3 months. Thawed in the fridge, it will keep for an additional 3-4 days.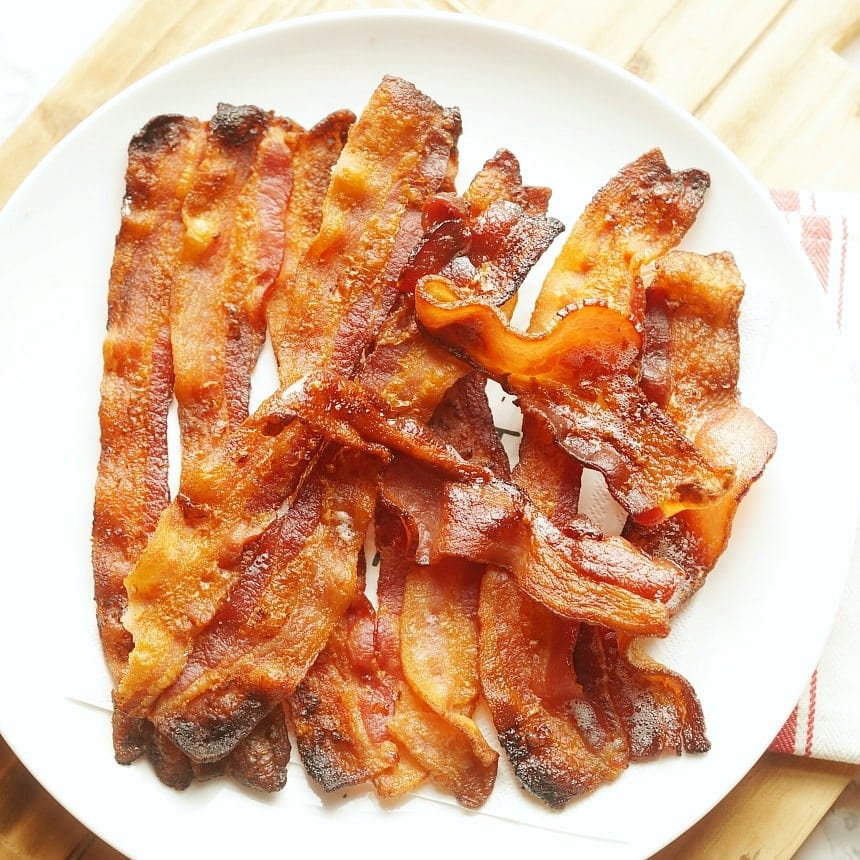 SERVING SUGGESTIONS
Once cooked, I love to crumble this bacon into salads, on top of chicken, or for bacon cheeseburgers. There are so many delicious recipes out there just calling for the addition of bacon. With this foolproof method to cook bacon in the oven, you will always have some on hand!
If you've made this recipe, please come back and leave us a star rating or a comment below. Or, tag us on social media @yellowblissroad or #yellowblissroad for a chance to be featured.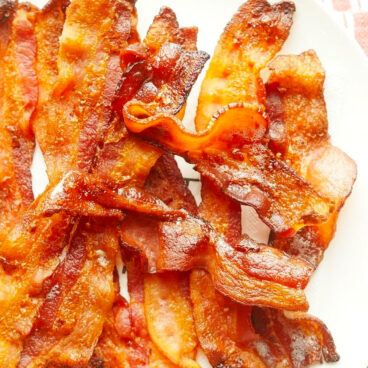 How to Cook Bacon in the Oven
Learn how to cook bacon in the oven! Forget the mess and grease splatters, oven bacon cooks evenly, produces the crispiest result and is totally hands off. 
Instructions
Line a baking sheet with foil. Top foil with a cooling rack.

Spread bacon in a single layer across the cooling rack.

Place bacon in the oven and heat to 375 degrees. Let bake about 15 minutes, checking periodically. Remove from the oven when bacon has reached your desired crispiness.

Remove from cooling rack and set on paper towels to help reduce greasiness.
Notes
Thick cut bacon is recommended for the best results.
Nutrition
Serving:
1
slices
Calories:
158
kcal
Carbohydrates:
1
g
Protein:
5
g
Fat:
15
g
Saturated Fat:
5
g
Cholesterol:
25
mg
Sodium:
250
mg
Potassium:
75
mg
Vitamin A:
14
IU
Calcium:
2
mg
Iron:
1
mg