Learn how to cook perfect oven bacon in a few easy steps. Whether you prefer chewy bacon or extra crispy bacon, you'll learn how to get it just right.
This method is my go-to for perfectly cooked bacon for breakfast or brunch or for some of my favorite bacon recipes, like Bacon and Bean Soup, Bacon Wrapped Chicken Bites, and Bacon Wrapped Filet Mignon.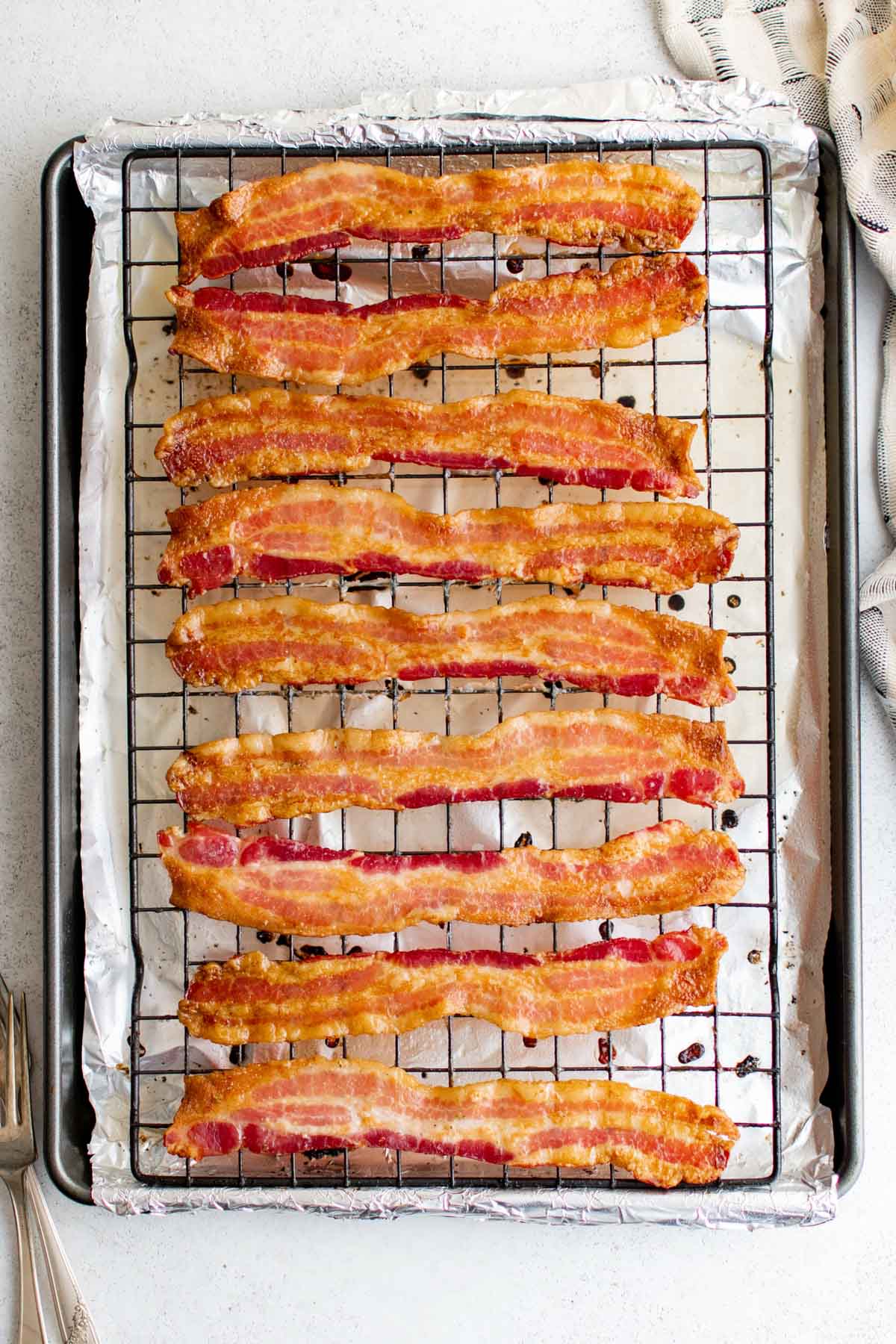 Pin this recipe for later!
Why We Love Cooking Bacon in the Oven
What's so great about cooking bacon in the oven?
Less mess – When you cook bacon in the oven all the grease is contained in the foil-covered pan below. Just wrap up the foil and toss it.
Evenly cooked crispy bacon – Bacon cooked in the oven is all cooked the same, with each piece nice and crispy and not soggy or super greasy.
It's practically hands off – Just set up your tray, lay out the bacon, and slide it into the oven. No constant babysitting while being splattered with grease.
Cook for a crowd – There's only so much that will fit in a skillet, so cooking bacon in the oven gives twice the room for extra pieces.
How To Cook Bacon in the Oven
Cover the bottom baking sheet completely with foil all the way up the sides and set the rack on top.
Lay bacon pieces on the rack side by side in a single layer. Be careful not to overlap because the meat can end up sticking together.
Place the tray into the cold oven and set the temperature to 400 degrees. Cook bacon for about 15 minutes, or until it's as crispy as you like it. Remember that it will continue to crisp up a little as it cools. Drain cooked bacon on paper towels.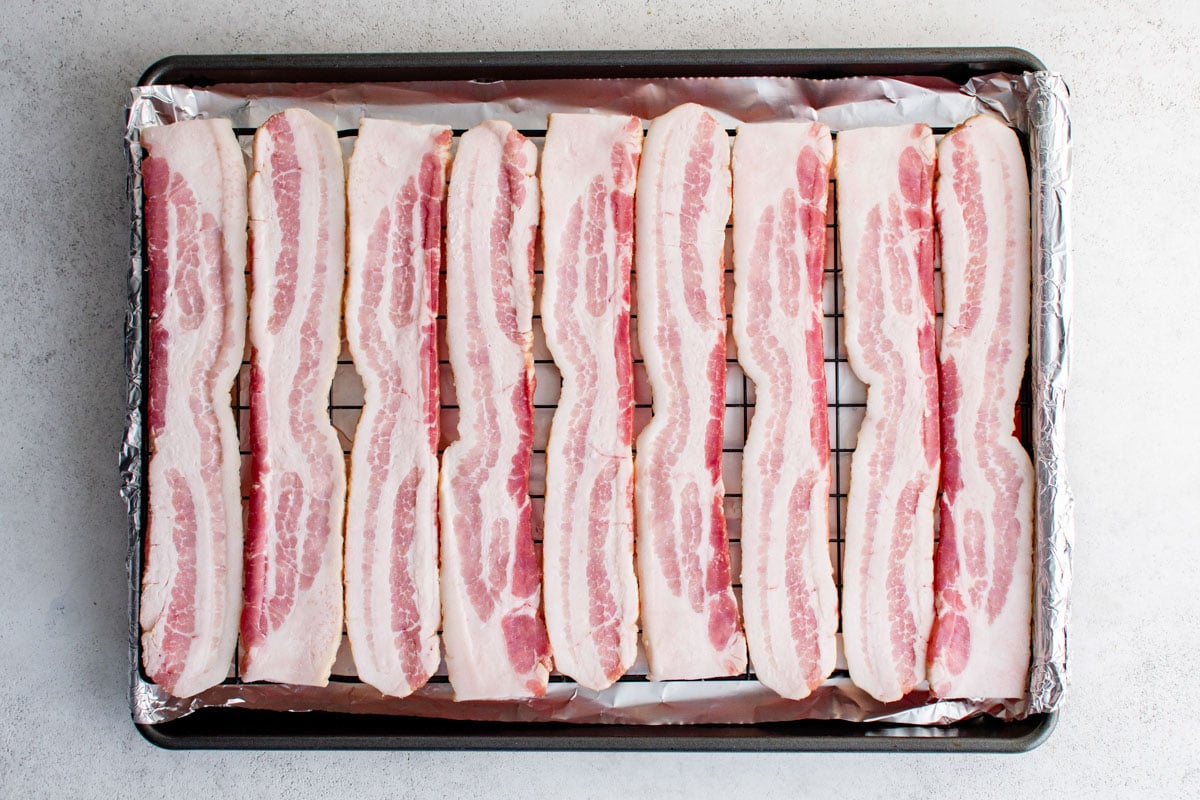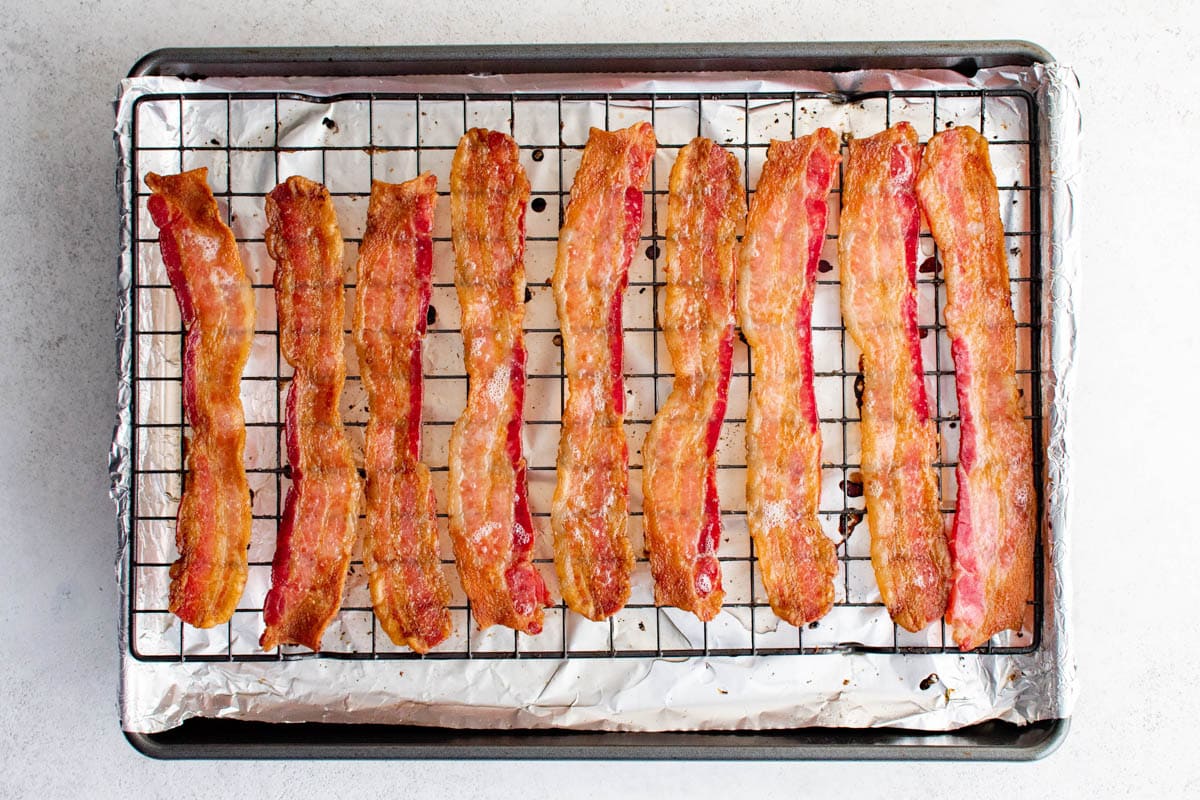 FAQs
How do you know when bacon is done?
You can tell bacon is done when it turns from a light pink color to a golden brown. It should be crispy, but it's ok to serve it a little chewy if that's your preference.
How can I use leftover bacon?
There are so many ways to use bacon! It's delicious as a garnish on salads or stirred into Cheesy Mashed Potatoes. You could make yourself a nice Club Sandwich or just chop it up and stir into an omelet.
Do you need to flip bacon in the oven?
Because we are using a baking rack, there is no need to flip the bacon over. Even if you were to cook it directly on the sheet pan, you wouldn't need to turn it.
Can you freeze cooked bacon?
Freezing bacon is actually a great way to preserve it so you always have some on hand. To reheat thaw your bacon first, then heat in the oven for in a skillet over medium-high heat. It will only take a few minutes to crisp up.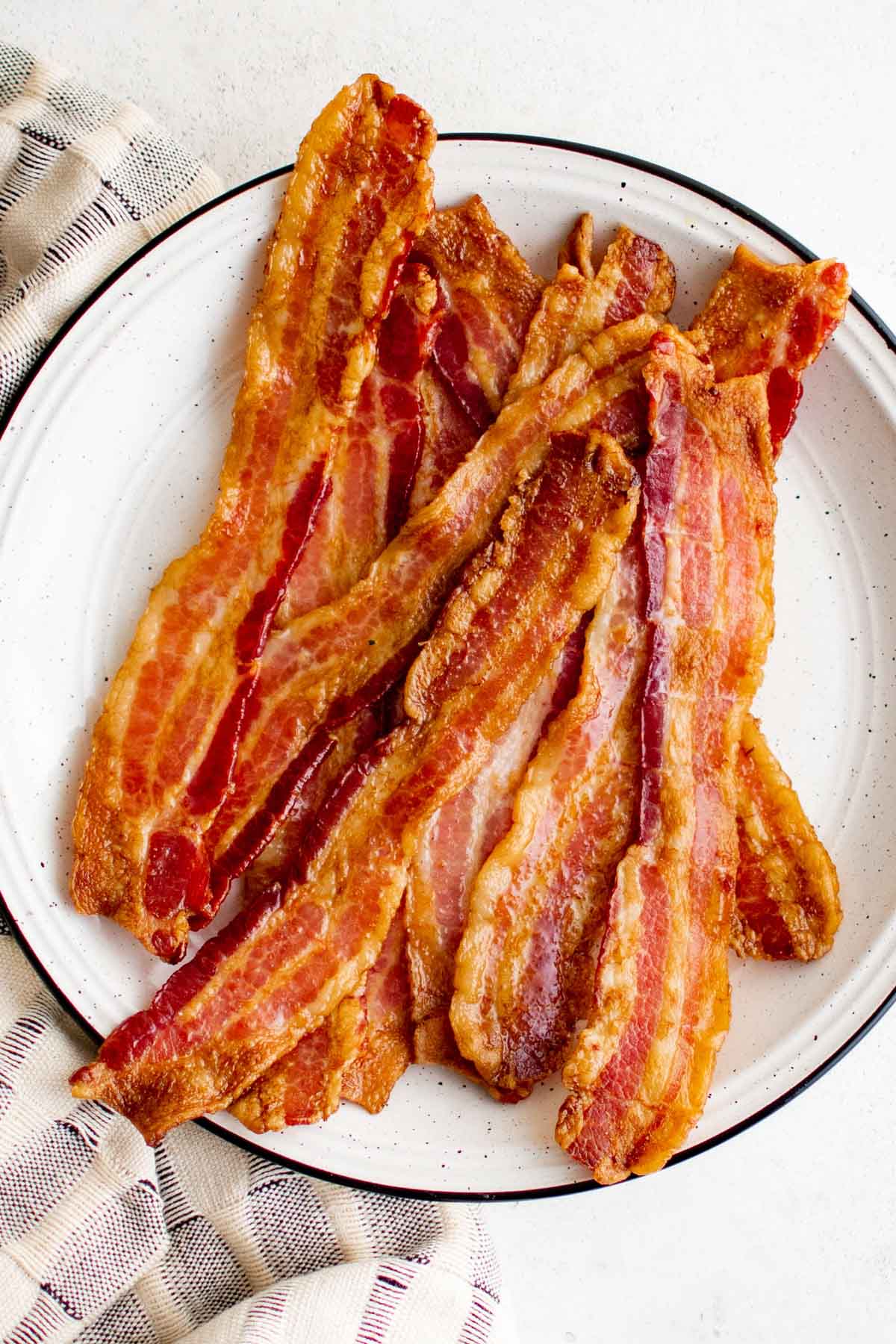 How Long Does it Take to Bake Bacon?
The answer to this question will vary by a few factors.
How chewy or crispy do you want your bacon?
How thick is the bacon?
The temperature of the oven.
For example, cooking bacon in the oven at 350 F for 35-40 minutes will more produce a tender, melt-in-your-mouth result. Using a high temperature, say, cooking bacon in the oven at 425 F, will give you an excellent chewy-crispy bite.
Because I tend to walk right down the middle of the road, I went with 400℉. But here are the cooking temperatures for bacon:
Tender, melt in your mouth bacon – 35 minutes at 375℉.
Perfectly crispy, but not too chewy bacon – 20 minutes at 400℉.
Meaty, chewy-crisp bacon – 15-20 minutes at 425℉.
For thick-cut bacon, add 5-10 minutes to the baking time. Watch closely because baking bacon at higher temperatures tends to burn toward the end.
Serving Suggestions
Maybe I'm stating the obvious here, but bacon is the best breakfast food and goes with all things breakfast. From Homemade Hash Browns to Chocolate Chip Pancakes, a little bacon on the side is never a bad thing.
I love to crumble this bacon onto salads, layer in Hasselback Chicken, or top Grilled Hamburgers. There are so many delicious recipes out there just calling for the addition of bacon. With this foolproof method you will always have some on hand!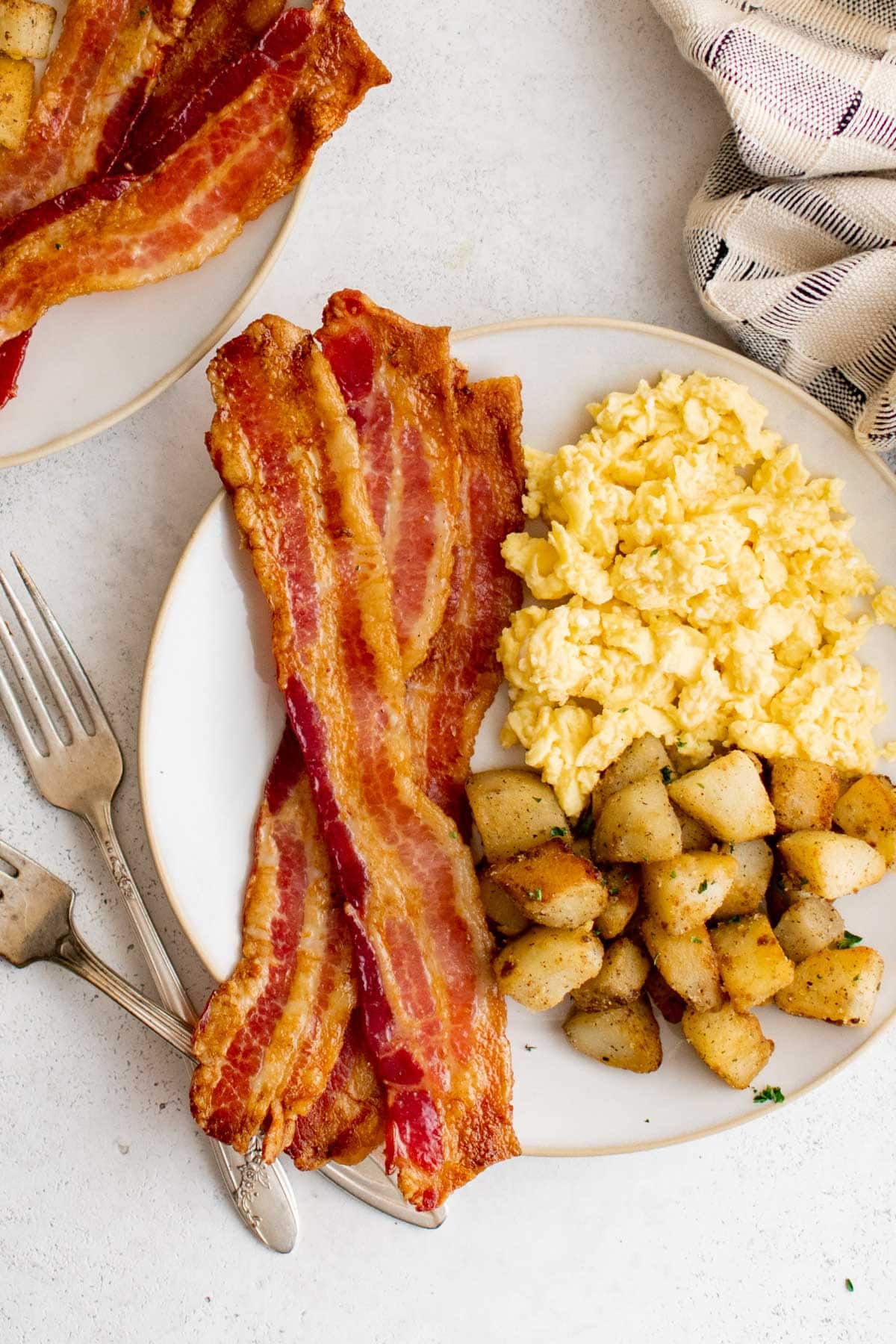 More Recipes with Bacon
Recipe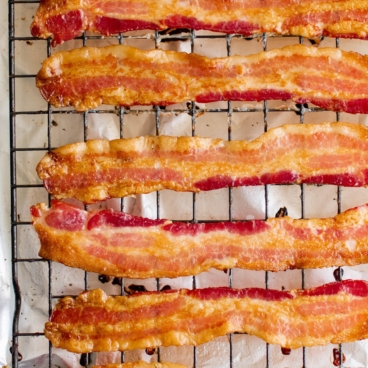 How to Cook Bacon in the Oven
Learn how to cook bacon in the oven! Forget the mess and grease splatters, oven bacon cooks evenly, produces the crispiest result and is totally hands off.
Ingredients
1

pound

thick sliced bacon
Instructions
Line a baking sheet with foil. Top foil with a cooling rack.

Spread bacon in a single layer across the cooling rack.

Place bacon in the oven and heat to 375 degrees. Let bake about 15 minutes, checking periodically. Remove from the oven when bacon has reached your desired crispiness.

Remove from cooling rack and set on paper towels to help reduce greasiness.
Notes
Put the bacon in a cold oven. This helps keep the bacon from shrinking. Once your bacon is in the oven, turn it on – do not preheat!
Nutrition
Calories:
315
kcal
Carbohydrates:
1
g
Protein:
10
g
Fat:
30
g
Saturated Fat:
10
g
Polyunsaturated Fat:
5
g
Monounsaturated Fat:
13
g
Trans Fat:
0.1
g
Cholesterol:
50
mg
Sodium:
500
mg
Potassium:
150
mg
Vitamin A:
28
IU
Calcium:
4
mg
Iron:
0.3
mg