Bacon Ranch Red Potato Salad is creamy and full of flavor and takes your everyday potato salad to the next level. It's the perfect side dish for your next party or get-together.
While we love a good grilled steak or tri-tip, everyone secretly knows that the side dishes are the real stars of the party. Especially this Bacon Ranch Red Potato Salad. It makes a great lunch side as well as dinner.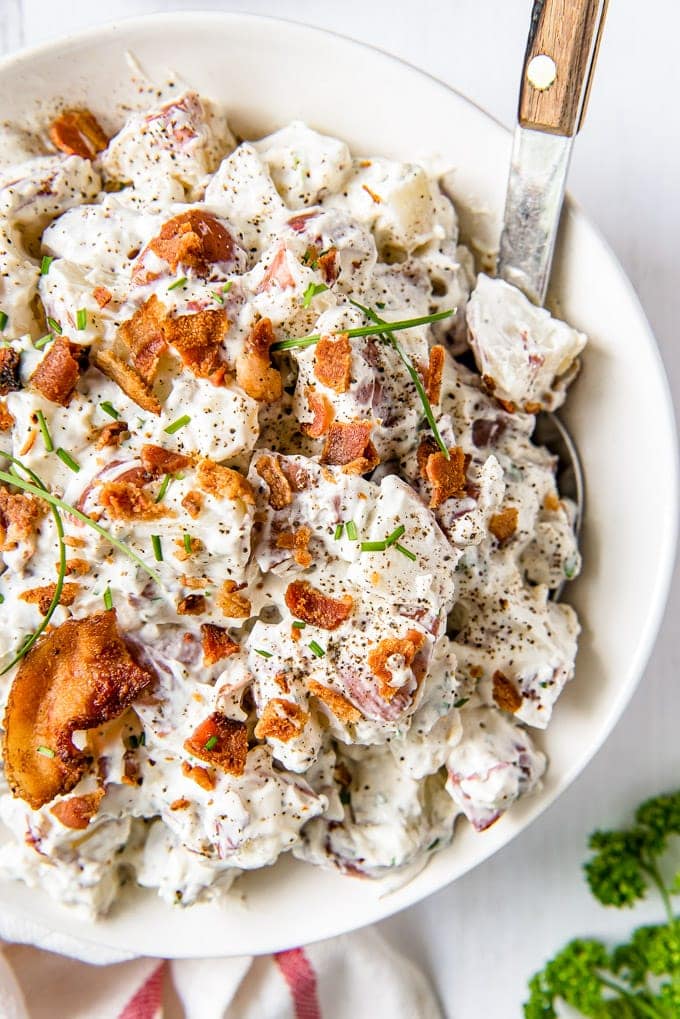 Bacon Ranch Red Potato Salad Recipe
Who doesn't love a good potato salad? My kid. That's who. Except for this bacon ranch version. This stuff, she completely devours. It's creamy, full of flavor, and totally addicting.
Plus, my red potato salad recipe super easy to make. Boil chopped red potatoes, toss potatoes in a creamy homemade ranch flavored dressing with bacon and fresh herbs and a little bit of garlic. Boom. Done.
Best Tips For Making Red Potato Salad
The key to perfectly cooked potatoes is starting them in cold water first. They should be fully submerged in a pot of water. Bring the water to a boil, then reduce the heat and simmer the potatoes until they are fully cooked.
Season the water when cooking the potatoes. Add plenty of salt to the water, the potatoes will absorb the salt which seasons them from the inside out making them full of flavor. You can season the red potato salad when you're mixing it, but you'll never get the same amount of flavor as you will from seasoning the water.
Watch them carefully and don't over or under cook. Depending on the size of the potato chunks, it will take between 8 to 12 minutes. Mashed potatoes can boil a little longer since they will be mashed, but for this bacon ranch red potato salad you want to make sure the potatoes will hold their shape.
With a mayo-based salad like this bacon ranch version, allow the potatoes to cool completely before dressing. For oil and vinegar based salads, dressing the potatoes when the potatoes are still a little warm so they absorb the dressing.
Like it spicy? Add a little hot sauce.
What Kind of Potatoes Are Best for Potato Salad?
Potatoes are divided into three main categories, based on texture – all-purpose, waxy and starchy. Waxy potatoes, like reds, golds or fingerlings are best for any potato salad recipe. They will hold their shape as they cook instead of falling apart like a starchy russet would do.
Is It Better To Boil Red Potatoes Whole or Cut Up For Potato Salad?
Since all varieties of potatoes can vary greatly in size, it's best to cut them up before boiling. If you want to boil them whole, make sure they are all the same size to ensure even cooking. Baby red potatoes or yellow potatoes can be boiled whole because they are so small.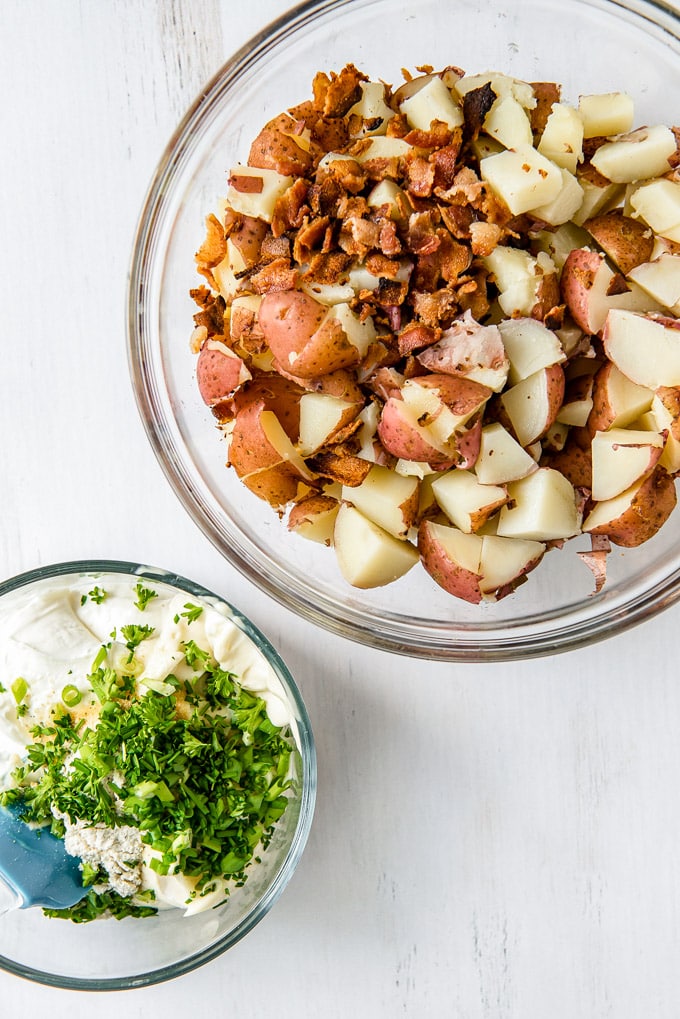 How To Make Bacon Ranch Red Potato Salad
Wash and scrub red potatoes clean to remove any dirt. Cut potatoes into chunks that are roughly the same size. This will help them to cook evenly.
Place the potatoes in a large pot and fill the pot with water until the potatoes are fully submerged. Add a handful of salt to the water and bring it to a boil. Cook the potatoes for about 10-15 minutes or until tender.
While the potatoes are boiling, cook up some crispy bacon. This is a Bacon Ranch Potato Salad after all. Pro Tip: cut the raw bacon using kitchen shears, directly into the skillet so you don't have to worry about chopping it later.
While the potatoes are cooling, mix up the potato salad dressing using mayo, sour cream, and ranch dressing mix.
Once the potatoes are cooled, toss them with the dressing until they are well coated. Stir in green onions, parsley, chives, and crumbled bacon.
Chill red potato salad until ready to serve. Salad can be made up to 24 hours in advance.
What To Do With Leftovers
If you have leftover bacon ranch red potato salad, store it in a bowl with an airtight seal in the fridge. It should last 4-5 days. If it seems a little dry, add a tablespoon or so of mayo to moisten. Freezing is not recommended.
Serving Suggestions
Raise your hand if you are the kind of potato salad fan that could make a meal out of just potato salads. I mean, if it's got bacon that's protein right? If you're still not sure and want some delicious options to complement this creamy red potato salad, take a look at these great picnic and party options. Of course your traditional summer fair like hot dogs, hamburgers, and fried chicken are always a good option, too.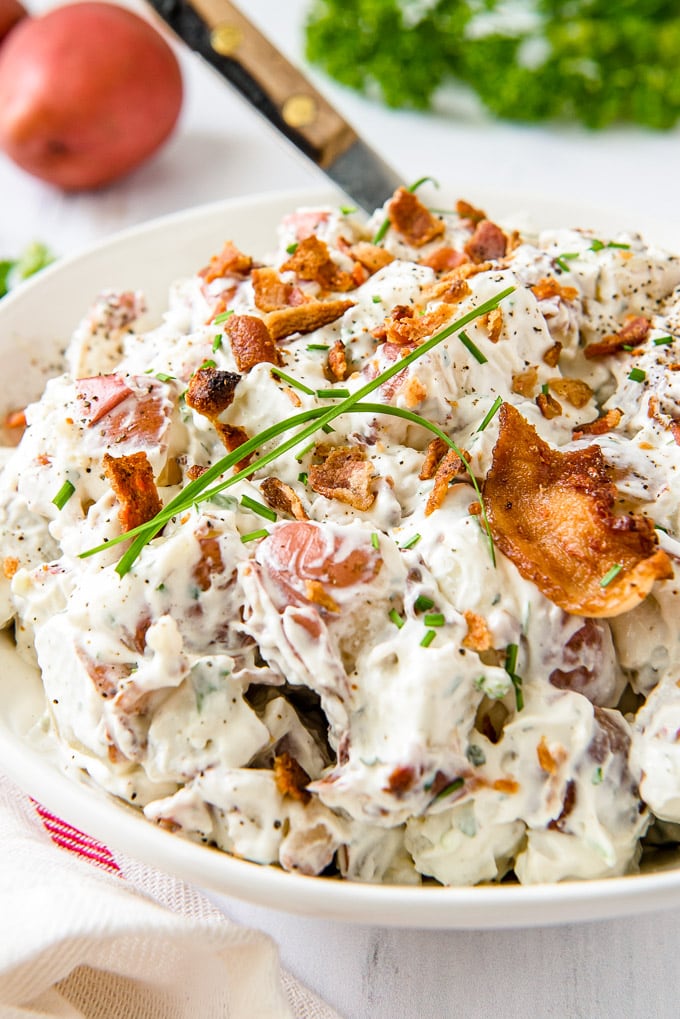 More Potato Recipes To Try
Recipe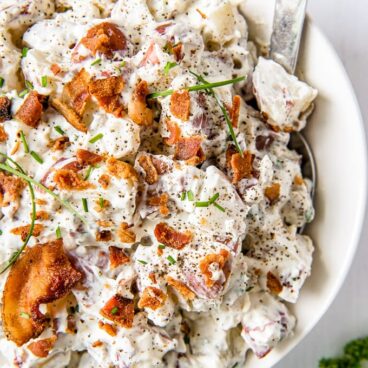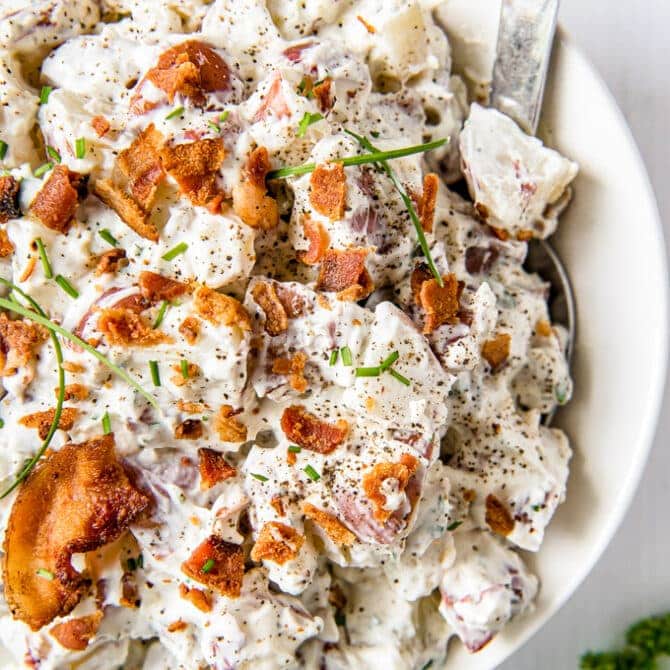 Bacon Ranch Potato Salad
Bacon Ranch Potato Salad is creamy and full of flavor and takes your everyday potato salad to the next level. It's the perfect side dish for summer.
Ingredients
3

pounds

red potatoes

4

slices

bacon

3/4

cup

mayonnaise

1 1/4

cup

sour cream

2

tablespoons

ranch seasoning mix

1/2

teaspoon

garlic powder

4

green onions thinly sliced

1

tablespoon

fresh chopped parsley

1

tablespoon

fresh chopped chives

Salt & pepper
Instructions
Bring a large pot of generously salted water to a boil. Add the potatoes and cook until fork tender, but still firm, approximately 10-12 minutes. Lay paper towels on a large baking sheet. Drain the potatoes, then lay them in a single layer on the paper towels to dry (about 10 minutes). Sprinkle with salt to season.

Meanwhile, cook bacon in a large skillet until crisp. Drain on paper towels and discard grease. Chop or crumble bacon into small pieces.

In a large bowl, stir together mayonnaise, sour cream, ranch mix, garlic powder, green onions, most of the bacon (save some for garnish), parsley and chives until combined. Set aside.

Once potatoes are cooled, cut into bite-sized pieces. Add to the ranch mixture and stir gently to coat.

Garnish with fresh chives and bacon crumbles if desired.
Nutrition
Calories:
390
kcal
Carbohydrates:
31
g
Protein:
6
g
Fat:
27
g
Saturated Fat:
8
g
Cholesterol:
35
mg
Sodium:
548
mg
Potassium:
863
mg
Fiber:
3
g
Sugar:
4
g
Vitamin A:
370
IU
Vitamin C:
17
mg
Calcium:
63
mg
Iron:
1.5
mg