My Spice Rubbed Grilled Tri Tip is the best ever recipe for Tri Tip on the grill. With 10 spices and seasonings in an overnight spice rub marinade, this tri-tip roast is tender, juicy and incredibly flavorful.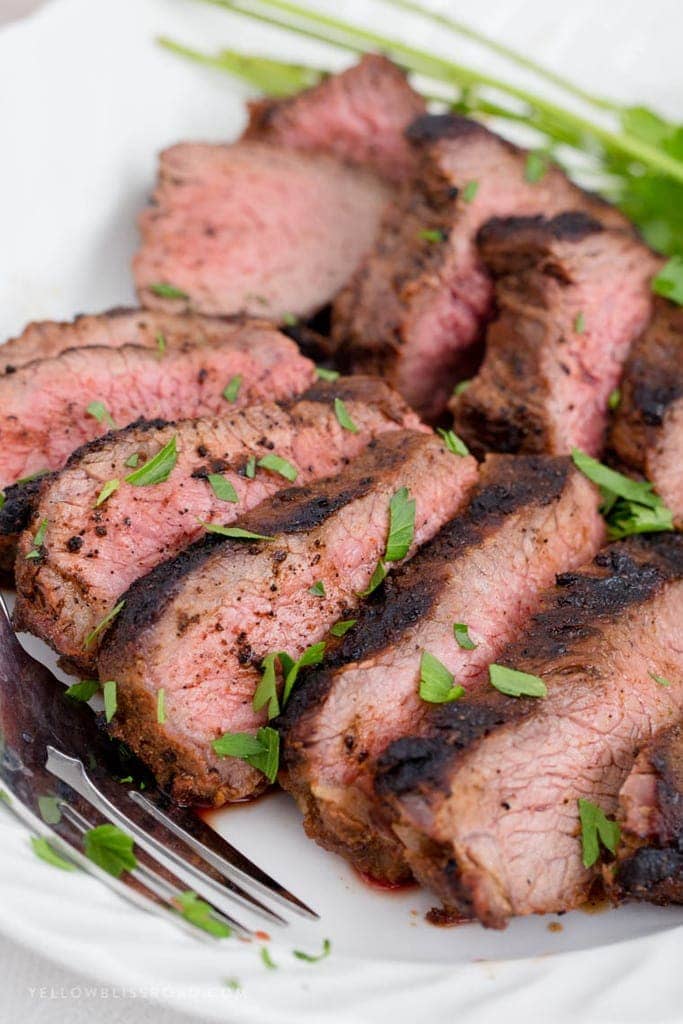 Grilled Tri-Tip Recipe
Tri-Tip has been my favorite meat to grill for so long it's pretty much what you can expect from me if you attend a barbecue we're hosting. I've been making it this way for years and have perfected the method over time. Today I'm not only sharing the recipe but I'll be sharing some of the tips I've learned for how to cook this particular cut of meat.
Tri-tip is not the most tender cut of meat you can buy. However, when treated right, it can yield juicy, flavorful, and yes, tender slices of meat right from your grill. The first key to getting tender, juicy tri-tip is the marinade. I am enamored by this spice rub and have been using it for as long as I can remember. There are 9 (yes NINE!) different spices and a little brown sugar for a touch of sweetness. You can see there's quite a bit of fat marbled through the meat which helps keep it juicy.
OK, here we go…
TIPS & TRICKS FOR THE BEST GRILLED TRI-TIP
1) Marinate. Tri-tip needs a good amount of time for the seasonings to penetrate the meat and help to break down that muscle. I've used a variety of different rubs and marinades but this spice rub is by far my favorite. The first step is to rub the meat all over with a generous amount of kosher salt. Salt is a natural tenderizer. Next rub the meat with the spice rub. Don't be scared – it looks like a lot! But it's going to coat the meat and give it a nice, flavorful crust when it's grilled. Now toss it in a ziploc bag with some olive oil and let the baby rest in the fridge overnight. The longer you can let it marinate, the better – I've let it go as long as 36 hours and man was that a good roast!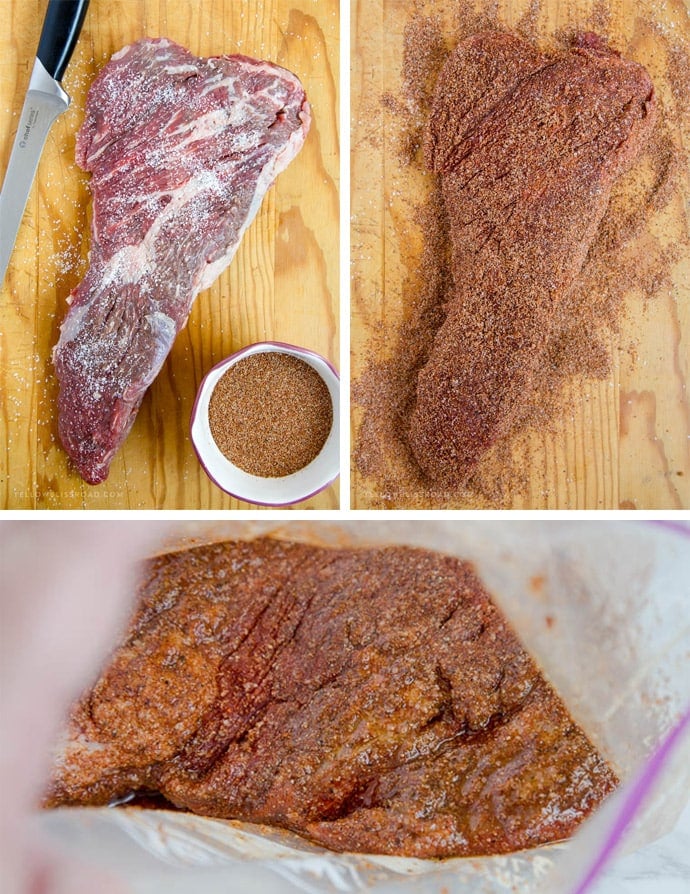 2) Throw it on the grill and LEAVE IT ALONE. Preheat your grill to a nice medium heat (I try to keep mine between 350 and 400). Let the meat sit out for about 30 minutes to bring it to room temperature, then set it on the hot grates of your grill. Close the lid, watch for flare-ups and leave it alone until it's time to flip it over. Just like any piece of meat that you cook on the stovetop or grill, for the love, please let that meat be. It can take anywhere from 6-10 minutes per side depending on how rare you like it. Every time you lift it up or flip it over before it's ready, you risk losing that nice sear and also overcooking your meat. Flip it once, let it sit and then flip it one last time.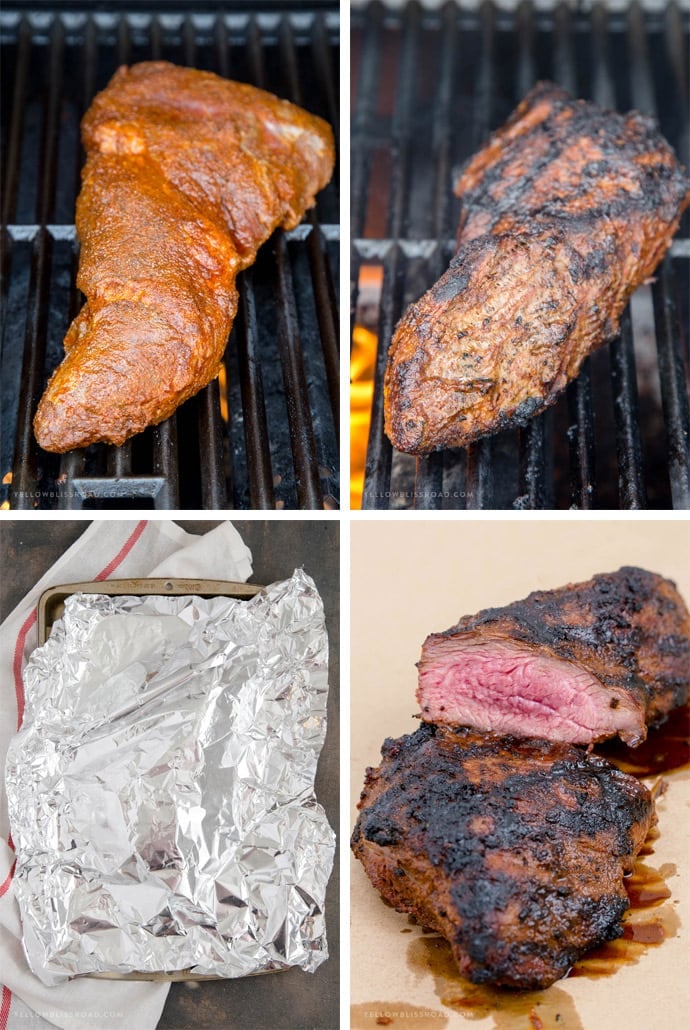 HOW TO CUT A TRI-TIP
3) Let it rest. This tip is true for any piece of meat. If you've ever cut into a piece of steak right after it's come off the grill you've seen those lovely juices (aka flavor) run all over the cutting board and onto the counter and there's no way to get them back. While meat is cooking, the juices all run to the center. Those juices need time to redistribute throughout the meat which is what happens as the meat rests. Give it a good 10 minutes under a tented piece of foil before slicing it up.
4) Cut against the grain. This is one you've probably heard, but when it comes to tri-tip did you know that the grain runs two different ways? One half of the roast runs one way, and the other half runs a different way. When you go to cut your roast, cut it in half first (pay attention to where the grain changes) then cut each half against the grain. You can see below when they kind of go their separate ways in the middle. Cutting it this way makes it easy to cut and chew the meat, and makes it even more tender.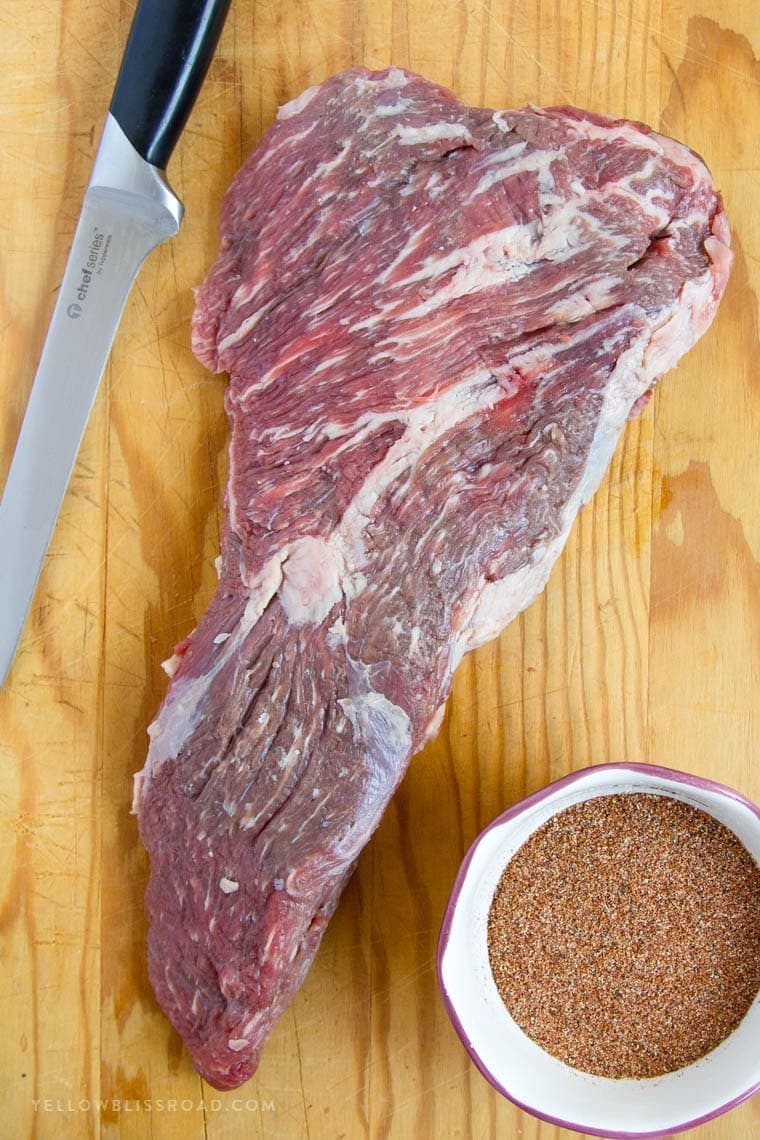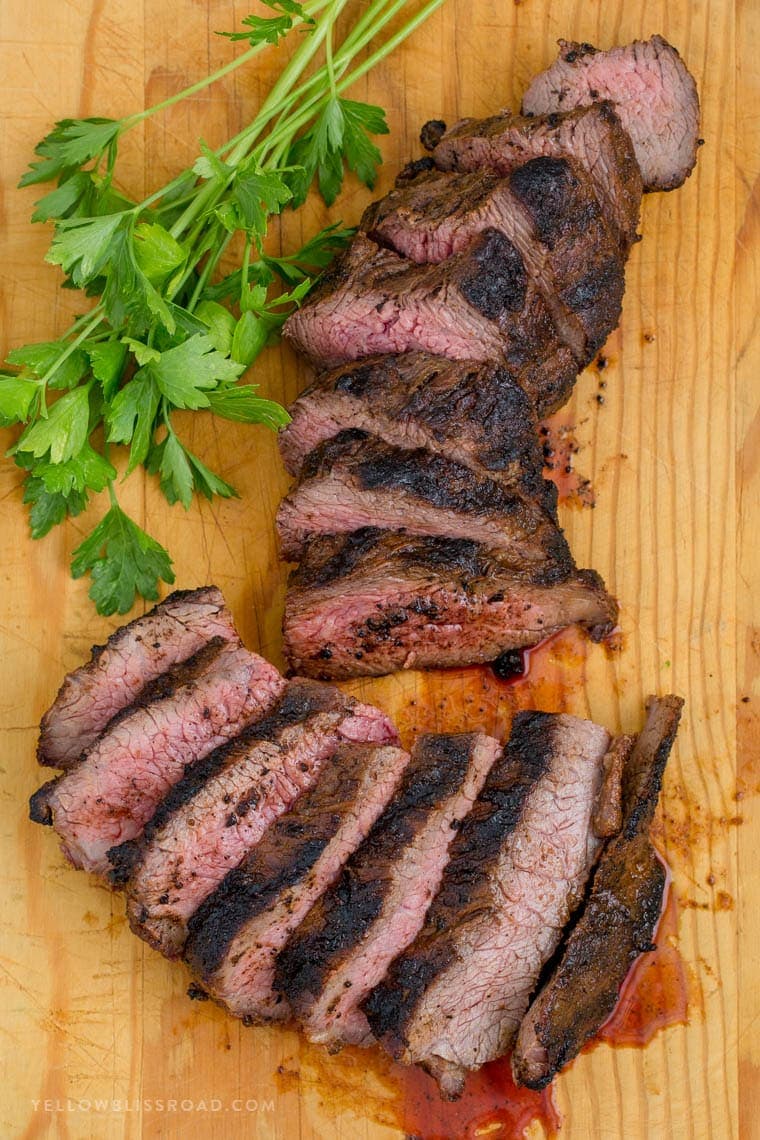 So that's it! Those are my tips for getting the Best Ever Grilled Tri-Tip. This particular cut is somewhat regional and more readily available on the west coast. If that's not where you are, ask your local butcher (or grocery store) to order some for you. It's also know as a Bottom Sirloin Roast or Triangle Roast. I bet you'll love it as much as we do!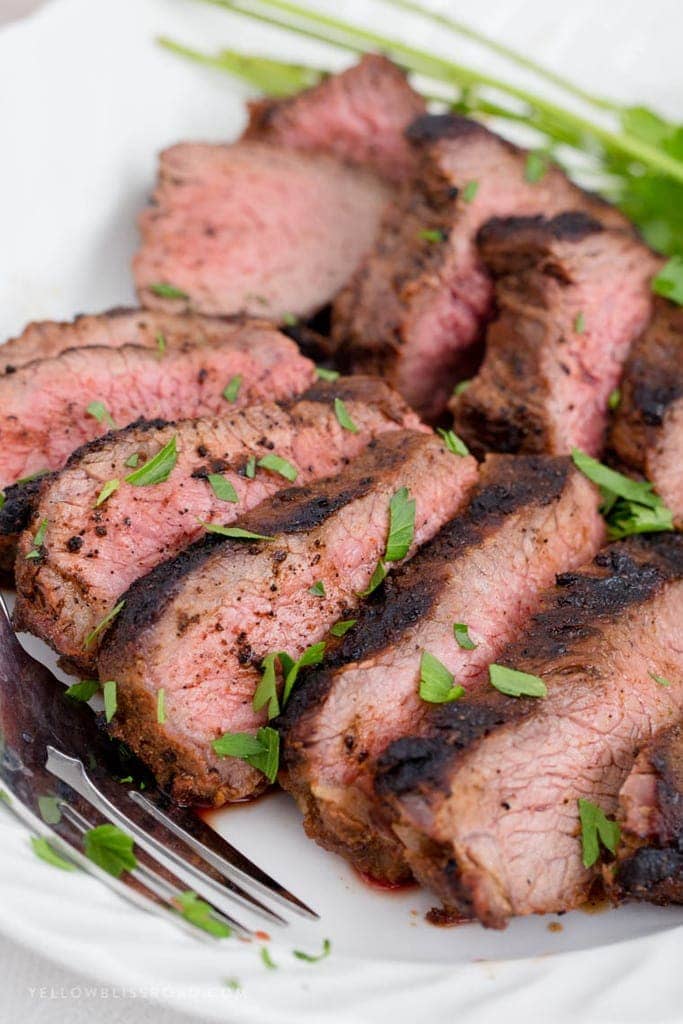 LOVE GRILLING? TRY THESE GRILLED RECIPES FOR YOUR NEST BARBECUE!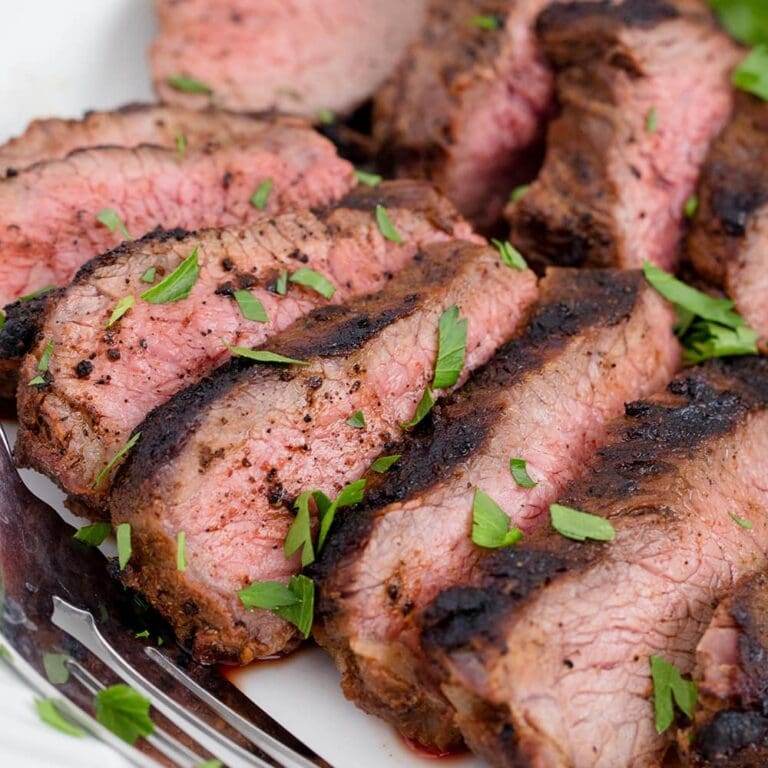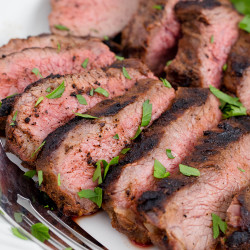 Spice Rubbed Grilled Tri-Tip
My Spice Rubbed Grilled Tri Tip is the best ever recipe for Tri Tip on the grill. With an 10 spices and seasonings in an overnight spice rub marinade, this tri-tip roast is tender, juicy and incredibly flavorful.
Ingredients
2-3 pound Tri-Tip Roast
2 teaspoons Kosher salt
2 teaspoons brown sugar
2 teaspoons garlic powder
2 teaspoons onion powder
2 teaspoons black pepper
2 teaspoons paprika
1 teaspoons chili powder
1 teaspoon cayenne pepper
1/2 teaspoon dry mustard
1/2 teaspoon cumin
Olive oil
Instructions
Trim the large chunks of fat (or have your butcher do this) from the tri-tip, and cut the thin silvery skin off if you can. 

Rub the salt all over the tri-tip.

Combine the remaining seasonings (except the olive oil) in a small bowl and rub into the tri-tip. (*It will seem like a lot, but that's a good thing!).

Pour 1/4 cup of olive oil in a large zip-top bag. Place the spice rubbed tri-tip in the bag with the olive oil and rub it in to coat completely. Squeeze out as much air as possible and seal. Place in the refrigerator for 5-6 hours, or up to 36 hours.

When ready to grill, preheat the grill to about 350-400 degrees. 

Place the tri-tip directly over the flames on the hot grill. Close the lid and watch for flare-ups. 

Cook approximately 8-10 minutes per side for medium rare. It can take up to 20-25 minutes to cook a 2 pound tri-tip, so check the temperature (120 degrees for rare, 130 for medium rare and 140 for medium), or in a pinch use the flesh test (see notes). 

Place the cooked roast on a cutting board to rest, covered loosely with foil for about 10 minutes.

Uncover and cut in half, where the grain changes direction, then cut each piece against the grain into 1/2 inch slices.

Serve immediately.
Notes
If you don't have a meat thermometer, try the flesh test. It's not quite as reliable as a thermometer, but it will do in a pinch. 
Different parts of your face will match the feel of the center of the meat at certain levels of doneness.
Touch your cheek with your index finger. This is what "rare" feels like. Touch your chin; this is what a medium-rare to medium piece of meat will feel like. Touch your forehead - this is about the way a well-done steak will feel.
I've been using this method for years and it's almost foolproof!
Nutrition
Calories: 314kcalCarbohydrates: 4gProtein: 40gFat: 15gSaturated Fat: 5gCholesterol: 123mgSodium: 883mgPotassium: 662mgFiber: 1gSugar: 2gVitamin A: 566IUVitamin C: 1mgCalcium: 51mgIron: 3mg
and for when you don't want to grill…
Slow Cooker BBQ Baby Back Ribs
For all dinner recipes go HERE and for the recipe index go HERE.