My Dry Rubbed Grilled Tri Tip is the best ever recipe for Tri Tip steak on the grill. With 10 spices and seasonings in an overnight tri tip rub and marinade, this tri-tip roast is tender, juicy and incredibly flavorful.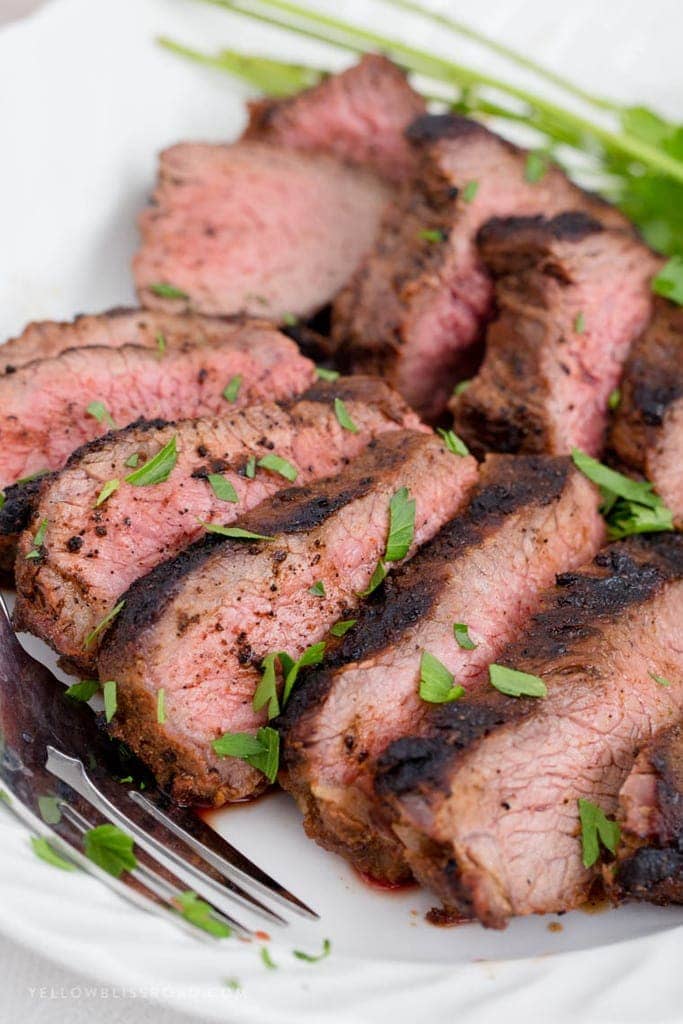 Pin this recipe for later!
Why You'll Love This Grilled Tri Tip Recipe
Tri-Tip has been my favorite meat to grill for so long it's pretty much what you can expect from me if you attend a barbecue we're hosting. I've been making it this way for years and have perfected the grilling method and the perfect tri tip rub over time.
Today I'm not only sharing the recipe for my Best Ever Grilled Tri Tip, but I'll be sharing some of the best tips and tricks I've learned for how to cook this particular cut of meat.
The key to getting tender, juicy grilled tri tip is the marinade. I am enamored by this dry rub and have been using it for as long as I can remember. There are 9 different spices and a little brown sugar for a touch of sweetness.
My dry rub is great for breaking down the muscle fibers on this lean cut. Along with some olive oil, it's going to help make it super tender and juicy.
How to Marinate a Tri Tip
The first step is to rub the meat all over with a generous amount of kosher salt. Salt is a natural tenderizer.
Next rub the meat with the rub. Don't be scared – it looks like a lot! But it's going to coat the meat and give it a nice, flavorful crust when it's grilled.
Now toss it in a ziploc bag with some olive oil and let that baby rest in the fridge overnight. The longer you can let it marinate, the better – I've let it go as long as 36 hours and man was that a good roast!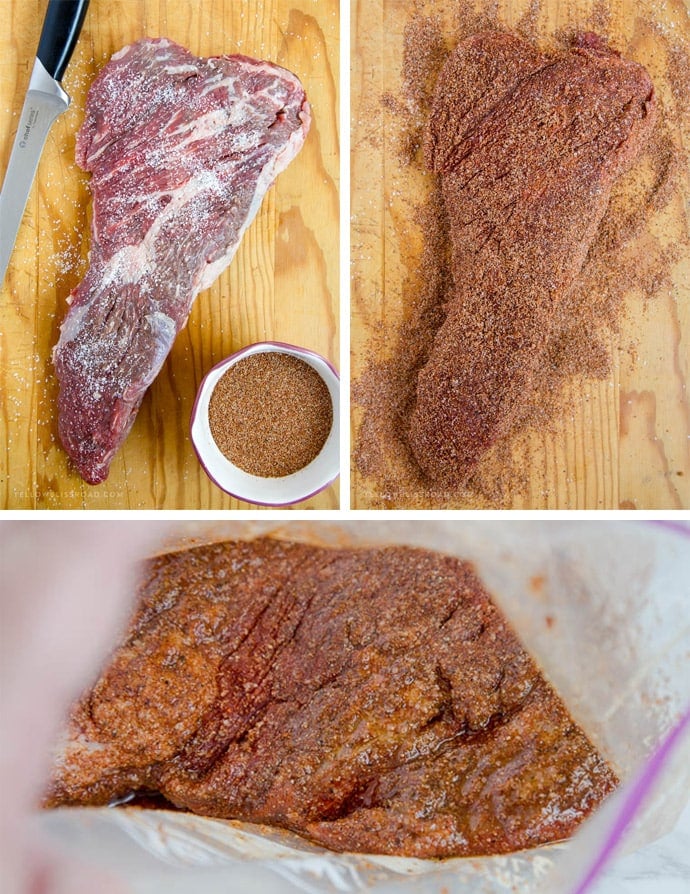 How to Grill a Tri Tip
Preheat your gas grill to a nice medium heat (I try to keep mine between 350 and 400). Let the meat sit out for about 30 minutes to bring it to room temperature while your grill preheats.
Set the meat on the hot grates of your grill. I like to start with the fat side up so as it starts to melt, the juices drip down and flavor the meat. Close the lid, watch for flare-ups and leave it alone until it's time to flip it over.
Depending on how rare you want your roast to be (we go medium rare with tri-tip) it will take anywhere from 8-12 minutes per side.
Remove it and immediately tent with foil to trap the heat and allow the meat to rest for about 10 minutes.
To slice, make one cut through the middle where the grain changes and slice against the grain on each side.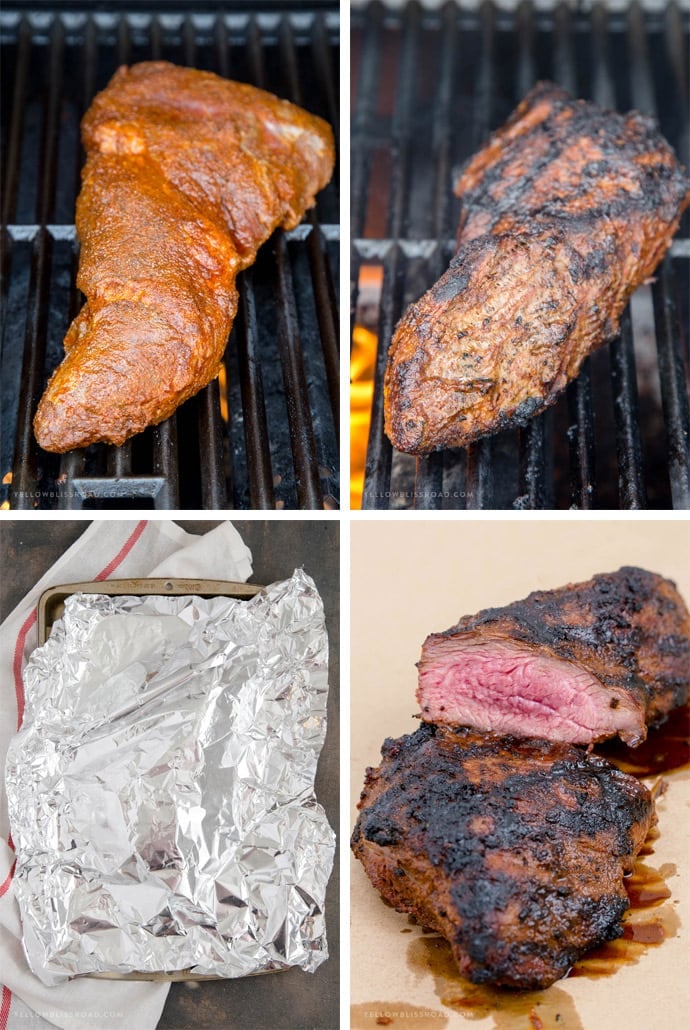 FAQs
What is Tri Tip?
Tri-tip is a flavorful cut of beef that comes from the bottom sirloin area of the cow. It's known for its triangular shape and tenderness. To cook tri-tip, it's best to grill it over direct heat to medium-rare or medium doneness. This typically takes about 20-30 minutes, depending on the thickness of the meat.

This particular cut is somewhat regional and more readily available on the west coast, and more specifically in California. If that's not where you are, ask your local butcher (or grocery store) to order some for you. It's also known as a Bottom Sirloin Roast or Triangle Roast.

There is quite a bit of fat marbled through the meat which adds flavor and helps to keep it juicy.
Should You Flip a Trip Tip?
A tri tip has 3 sides – it's sort of like a 3D triangle shape. You'll want to get grill marks on all sides, so you may have to flip it more than once. But, generally speaking, throw it on the grill and LEAVE IT ALONE.

Just like any piece of meat that you cook on the stovetop or grill, please let that meat be. It can take anywhere from 8-12 minutes per side depending on how rare you like it. Every time you lift it up or flip it over before it's ready, you risk losing that nice sear and also overcooking your meat. Flip it once, let it sit and then flip it one last time.
What is the ideal grilling temperature for tri-tip?
Heat your grill to about 350-400 degrees F. It's important to keep the grill closed when cooking to maintain the cooking temperature. Using too high of a heat can cause the meat to cook too fast on the outside, and not enough on the inside, and can also lead to flare-ups.

If your BBQ has a temperature gauge on the front, you'll notice that the temp goes down dramatically when the lid is open. It can drop as much as 100-200 degrees. Keeping the grill lid closed as much as possible keeps the heat in and allows the roast to cook more evenly.
How should I season tri-tip before grilling?
Tri-tip can be seasoned in a variety of ways. A popular approach is to create a dry rub using a combination of salt, pepper, garlic powder, onion powder, paprika, and any other desired herbs or spices, like the recipe you'll find below. Alternatively, marinating the tri-tip in a flavorful mixture overnight can also infuse it with delicious flavors.

My dry rub marinade is great for breaking down the muscle fibers on this lean cut of meat. It's going to help make it super tender and juicy.

Should I sear the tri-tip before grilling?
Searing the tri-tip before grilling is a personal preference. While some people prefer to sear it on high heat for a few minutes on each side to develop a flavorful crust, others skip this step and directly grill the meat.

Both methods can yield delicious results, so it ultimately depends on your preference. Personally, I don't take the time to sear first because the high heat of the grill alone creates a beautiful exterior.
How long should I let the tri-tip rest after grilling?
It's important to let the tri-tip rest for about 10-15 minutes after grilling. This allows the juices to redistribute and the meat to become more tender. Tent it loosely with aluminum foil during the resting period to keep it warm.
Can I grill tri-tip to well-done?
While tri-tip is best enjoyed medium-rare or medium, you can certainly cook it to a higher doneness if desired. However, be aware that tri-tip is a lean cut, and cooking it well-done may result in a drier texture.
Can you cook tri-tip in the oven?
Yes, you can! It can be roasted or braised, similar to a pot roast.
What is Santa Maria-Style Tri Tip?
Santa Maria-style tri-tip typically involves a simple yet flavorful seasoning and a unique grilling technique. You start with a dry rub, allowing it to infuse with the flavors before grilling.

It is typically cooked over a red oak wood fire, which imparts a smoky and robust flavor to the meat. The tri-tip is grilled over direct heat, often on a grate or grill grate set at a higher level, allowing the meat to sear and develop a flavorful crust.
How to Check for Doneness
It can take up to 20-25 minutes to cook a 2-pound tri-tip, so it's best to check the internal temperature with an instant-read digital meat thermometer. Remove the tri-tip from the grill when it reaches this internal temperature:
120℉ for rare
130

℉

for medium rare
140

℉

for medium
150

℉

for

medium

well
160

℉

for well done
As it rests the temperature will rise about 5-10 degrees to an optimal finished temperature. The recommended temp for tri-tip is 130-140℉ for the perfect medium rare.
The Flesh Test for Meat Doneness:
If you don't have a meat thermometer, try the flesh test. It's not quite reliable, but it will do in a pinch.
Different parts of your face will match the feel of the center of the meat at certain levels of doneness.
Touch your cheek with your index finger. This is what "rare" feels like.
Touch your chin; this is what a medium-rare to medium piece of meat will feel like.
Touch your forehead – this is about the way a well-done steak will feel.
How to Slice a Tri Tip
First, Let it rest. This tip is true for any piece of meat. Cut into the meat too soon and you'll lose the juices all over your cutting board. While meat is cooking, the juices all run to the center. Those juices need time to redistribute throughout the meat, which happens as the meat rests. Give it 10 minutes under a tented piece of foil before slicing it up.
Slice against the grain. This is one you've probably heard, but when it comes to tri-tip did you know that the grain runs two different ways? Half of the roast runs one way, and the other half runs differently. When you go to cut your roast, cut it in half first (pay attention to where the grain changes) then cut each half against the grain. You can see below when they kind of go their separate ways in the middle. Cutting it this way makes it easy to cut and chew the meat and even more tender.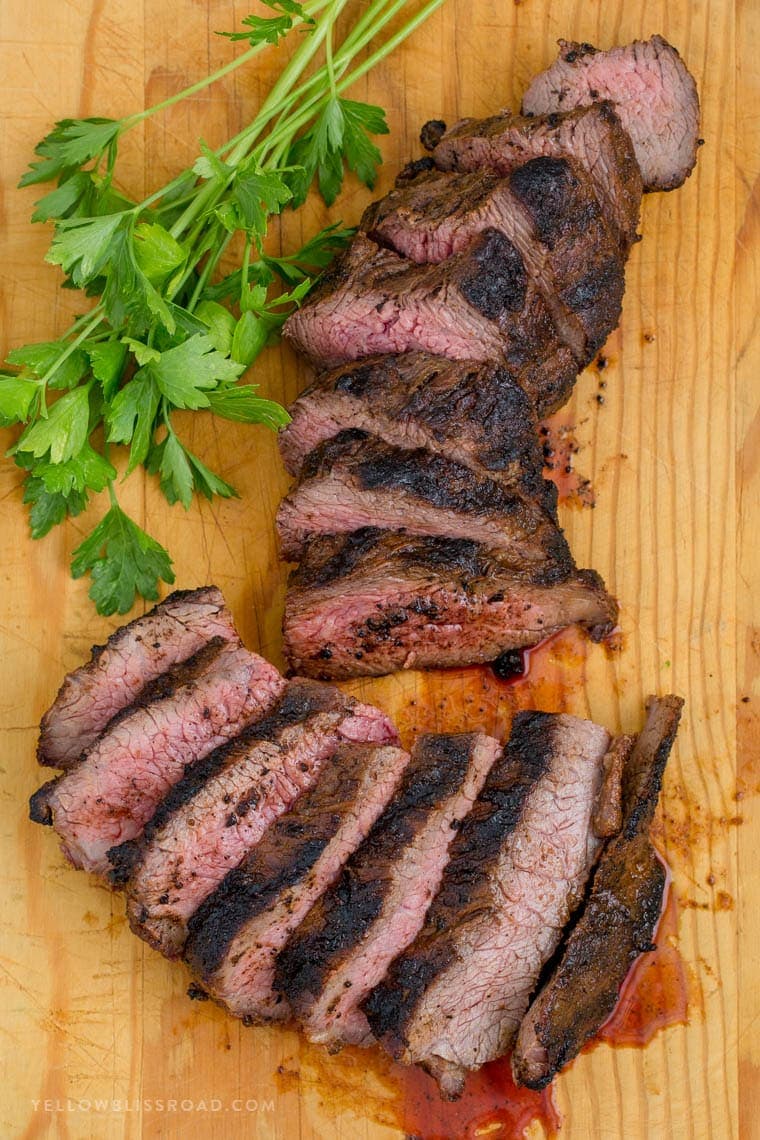 Serving Suggestions
The rub and marinade will impart a ton of flavor to your roast, so you don't need a ton of toppings to finish it off. However, it's nice to have options! Try one of these delicious finishes the next time you make this recipe.
Blue Cheese compound butter
Garlic butter (try adding some fresh herbs!
Storing Leftovers
If you have leftover meat, store it in an airtight container in the refrigerator for up to 3-4 days.
Reheating can be tricky because it's easy to overcook. I usually melt some butter in a skillet and heat the slices that way. They are delicious with scrambled eggs and toast!
You can also thinly slice leftovers for sandwiches.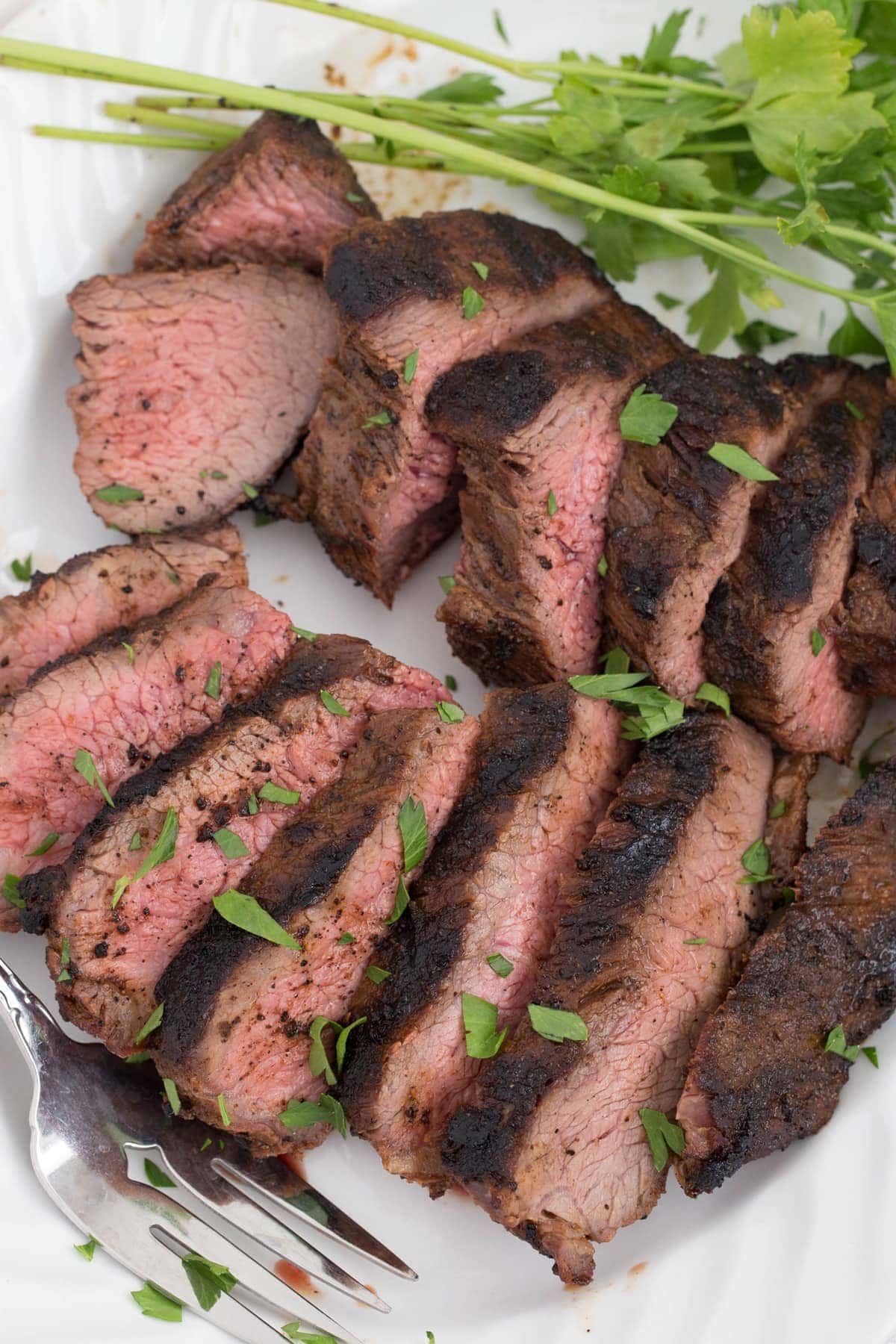 Helpful Tips
A few things to remember when grilling your tri tip roast.
Season it well: Tri-tip benefits from robust flavors, so be generous with the seasoning.
Preheat the grill: Ensure your grill is properly preheated to medium-high heat, around 400-450°F (205-230°C). This allows for a good sear and even cooking.
Monitor the internal temperature: To achieve the desired level of doneness, use a meat thermometer to monitor the internal temperature of the tri-tip. For medium-rare, aim for an internal temperature of around 130-135°F (55-57°C).
Let it rest: After grilling, let the tri-tip rest for 10-15 minutes. This allows the juices to redistribute, resulting in a more tender and flavorful end result. Tent it loosely with foil to keep it warm during resting.
Slice against the grain: To ensure maximum tenderness, slice the tri-tip against the grain. Look for the direction of the muscle fibers and cut across them. This helps break up the fibers and results in tender, easy-to-chew slices.
Experiment with wood smoke: If using a charcoal grill, consider adding wood chunks or chips to the fire to infuse the tri-tip with smoky flavors. Oak, hickory, or mesquite are popular choices that complement the beefy flavors.
More Grilled BBQ Favorites
Recipe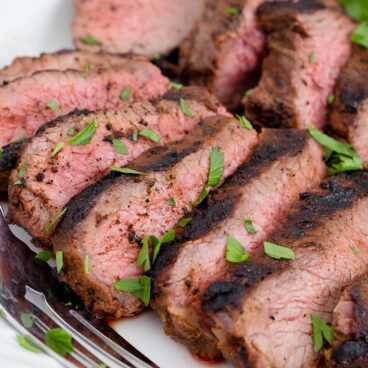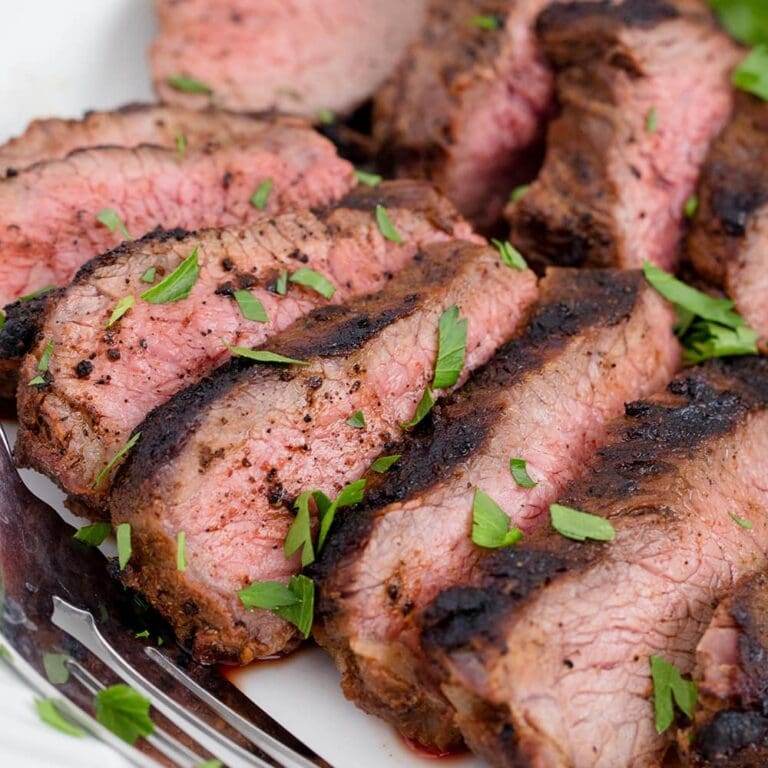 Grilled Tri Tip Recipe
Grilled Tri Tip is so tender, juicy, and EASY! Learn all about the perfect tri tip rub, and how to marinate, grill, and slice a tri-tip.
Total Time
6

hours
45

minutes
Ingredients
2

pound

Tri-Tip Roast

2

teaspoons

Kosher salt

2

teaspoons

brown sugar

2

teaspoons

garlic powder

2

teaspoons

onion powder

2

teaspoons

black pepper

2

teaspoons

paprika

1

teaspoons

chili powder

1

teaspoon

cayenne pepper

1/2

teaspoon

dry mustard

1/2

teaspoon

cumin

1/4

cup

Olive oil
Instructions
Trim the large chunks of fat (or have your butcher do this) from the tri-tip, and cut the thin silvery skin off if you can. Rub the salt all over the tri-tip.

Combine the remaining seasonings (except the olive oil) in a small bowl and rub into the tri-tip. (*It will seem like a lot, but that's a good thing!).

Pour ¼ cup of olive oil in a large resealable plastic bag. Place the spice rubbed tri-tip in the bag with the olive oil and rub it in to coat completely. Squeeze out as much air as possible and seal. Place in the refrigerator for 5-6 hours, or up to 24 hours.

When ready to grill, preheat an outdoor gas grill to 350-400 degrees F. Remove the tri tip from the refrigerator and let it come to room temperature while the grill is heating. Wipw off any excess marinade with paper towels.

Place the tri-tip directly over the flames on the hot grill. Close the lid and watch for flare-ups.

Cook approximately 8-10 minutes per side for medium rare. It can take up to 20-25 minutes to cook a 2 pound tri-tip, so check the internal temperature (120 degrees for rare, 130 for medium rare and 140 for medium), or in a pinch use the flesh test (see post).

Place the cooked roast on a cutting board to rest, covered loosely with foil, for about 10 minutes.

Uncover and cut in half, where the grain changes direction, then cut each piece against the grain into ½ inch slices.

Serve immediately.
Notes
Check for doneness using a digital meat thermometer.
120℉ for rare
130℉ for medium rare
140℉ for medium

150℉ for

medium

well
160℉ for well done
Very important to let the tri tip rest before slicing and make sure to slice against the grain. This means you need to change direction around the middle of the roast.
Nutrition
Calories:
314
kcal
Carbohydrates:
4
g
Protein:
40
g
Fat:
15
g
Saturated Fat:
5
g
Cholesterol:
123
mg
Sodium:
883
mg
Potassium:
662
mg
Fiber:
1
g
Sugar:
2
g
Vitamin A:
566
IU
Vitamin C:
1
mg
Calcium:
51
mg
Iron:
3
mg