Penne Pasta Primavera is a delicious and healthy meal that is full of crunchy veggies and tender pasta. Finished off with a simple sauce with lots of fresh lemon juice and topped with Parmesan cheese, this easy meal will quickly become a family favorite.
It's hearty and healthy, but Pasta Primavera can be served as a hearty light or a light dinner and can even be enjoyed cold, making meal prep a breeze! Just serve some bread or dinner rolls on the side and everything will love it.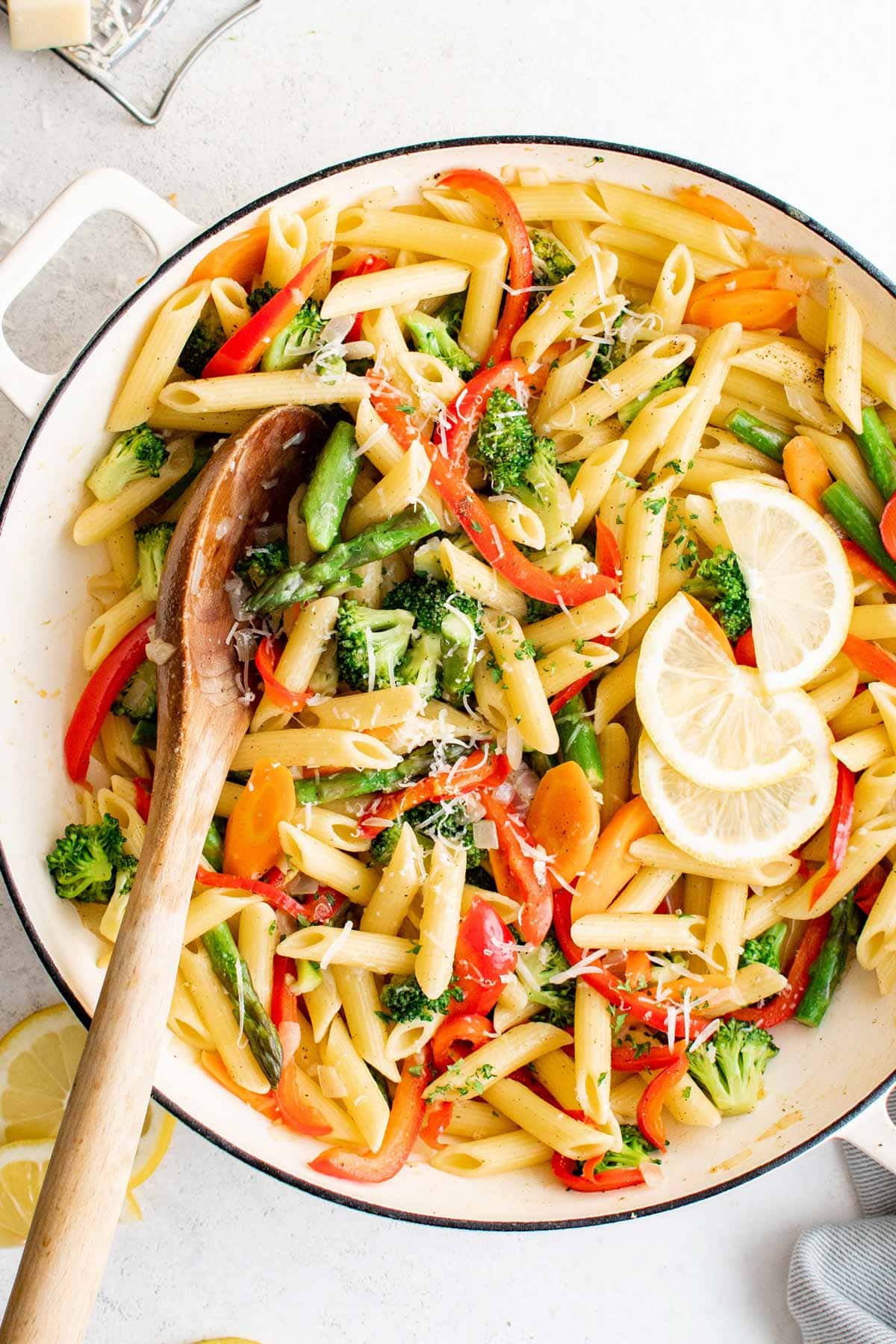 Pin this recipe for later!
Why We Love This Penne Primavera Recipe
I will be the first to admit that eating vegetables isn't exactly my favorite thing. My preference is to eat them raw, but sometimes you have to mix it up a little. That's where this Penne Pasta Primavera comes in.
The veggies are cooked just enough to make them easy to eat, but they still have a bite to them. I cannot stand mushy vegetables! A simple sauce of chicken broth and lemon juice coats the al dente penne pasta and the veggies to give them a nice boost of flavor.
This is a perfect lunch to make that will last you the whole week, making it perfect for meal prepping. It's also great with chicken or shrimp for a complete meal.
Ingredients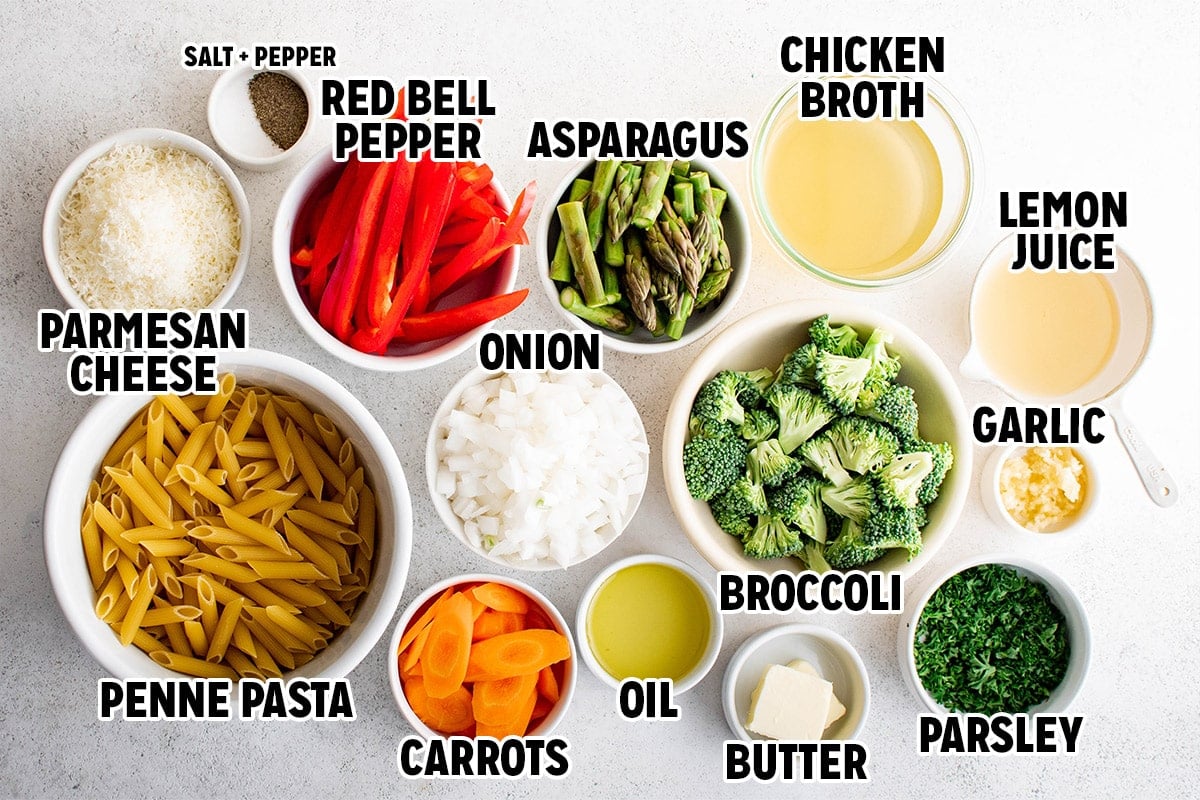 Penne Pasta – Stating the obvious, I use penne pasta for this recipe. However, it will work with all different kinds of pasta.
Butter and Olive Oil – for sauteeing the veggies.
Vegetables – Onion, carrots, broccoli, red bell pepper, asparagus, and garlic.
Chicken Broth – Opt for a low-sodium variety.
Lemon Juice – To add freshness and brightness to the dish.
Parmesan Cheese and Fresh Minced Parsley – Optional but highly recommended as the final touch.
How To Make Penne Pasta Primavera
See recipe card below for ingredient quantities and full instructions.
This easy Pasta Primavera is quick and simple with just a few fresh ingredients. It takes about 20 minutes from start to finish, making it perfect for busy weeknights or simple meal prep. The key is to cook the pasta and the veggies just right, and it can take some practice since every kitchen and stove is different.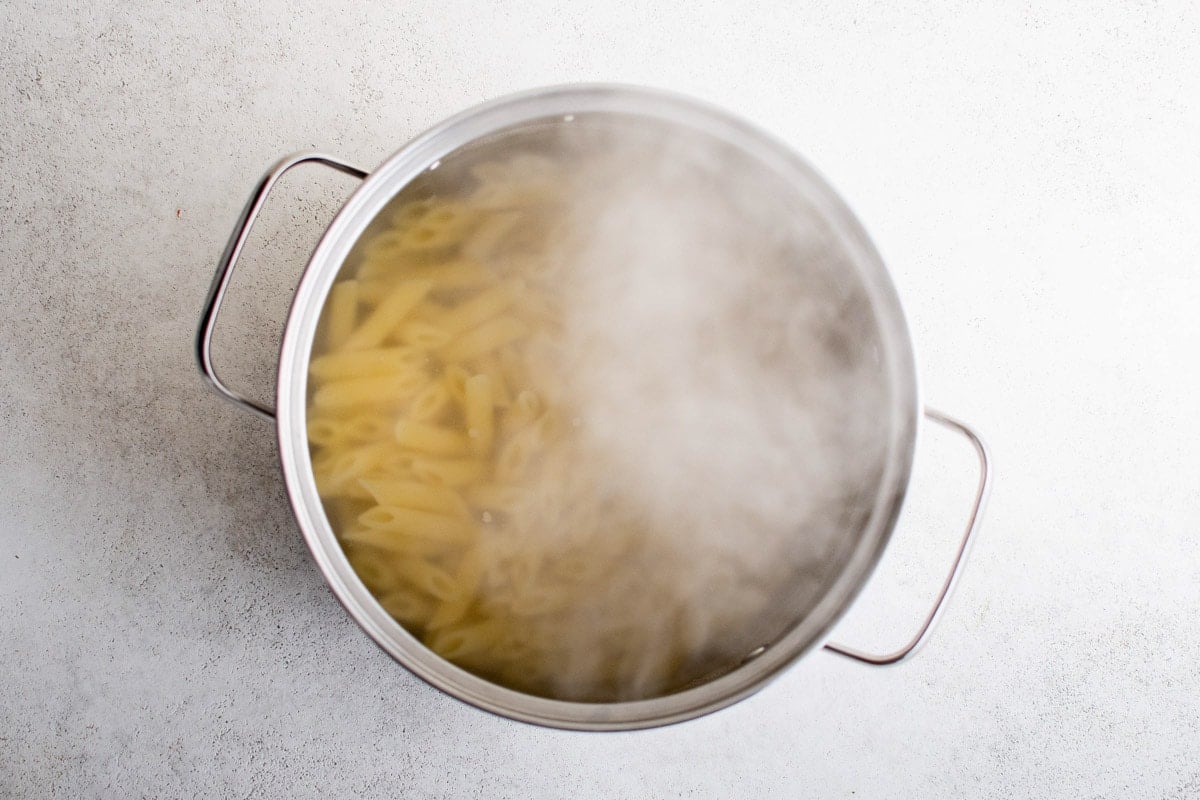 Cook the pasta. Boil some water, season well, and cook the pasta. Reserve some of the pasta water to use later.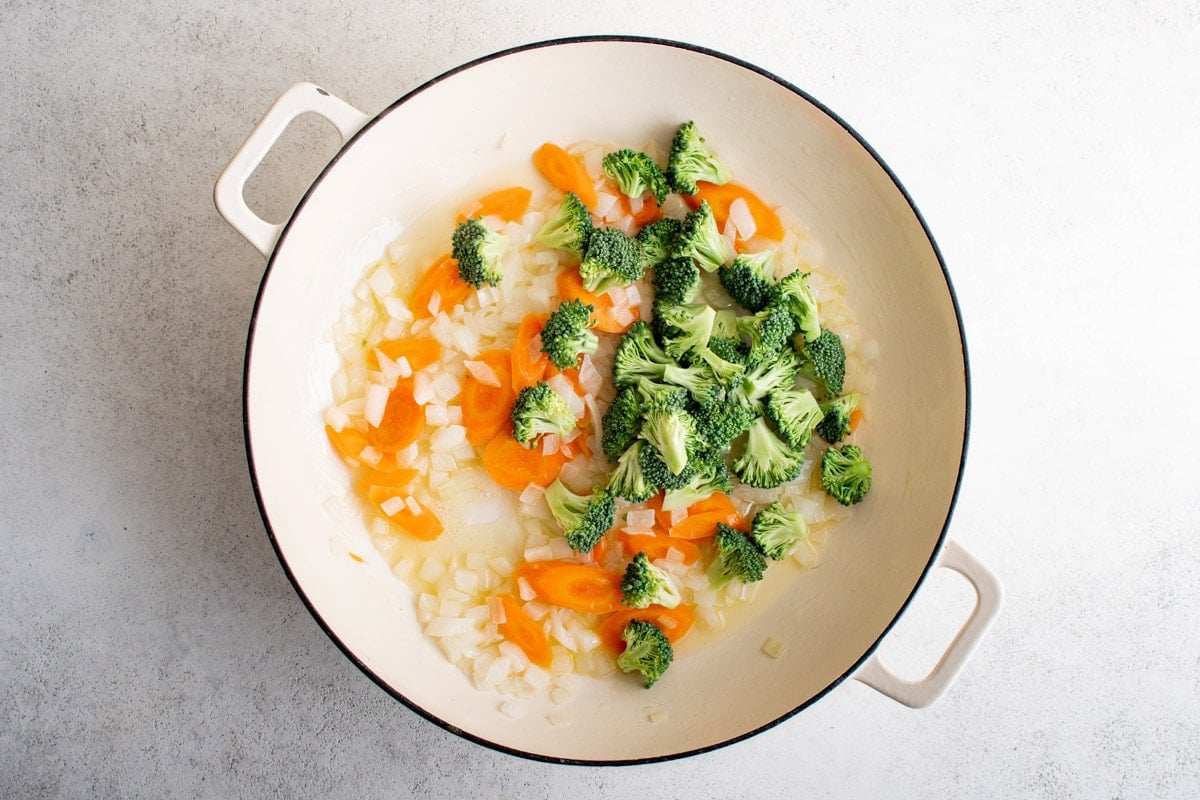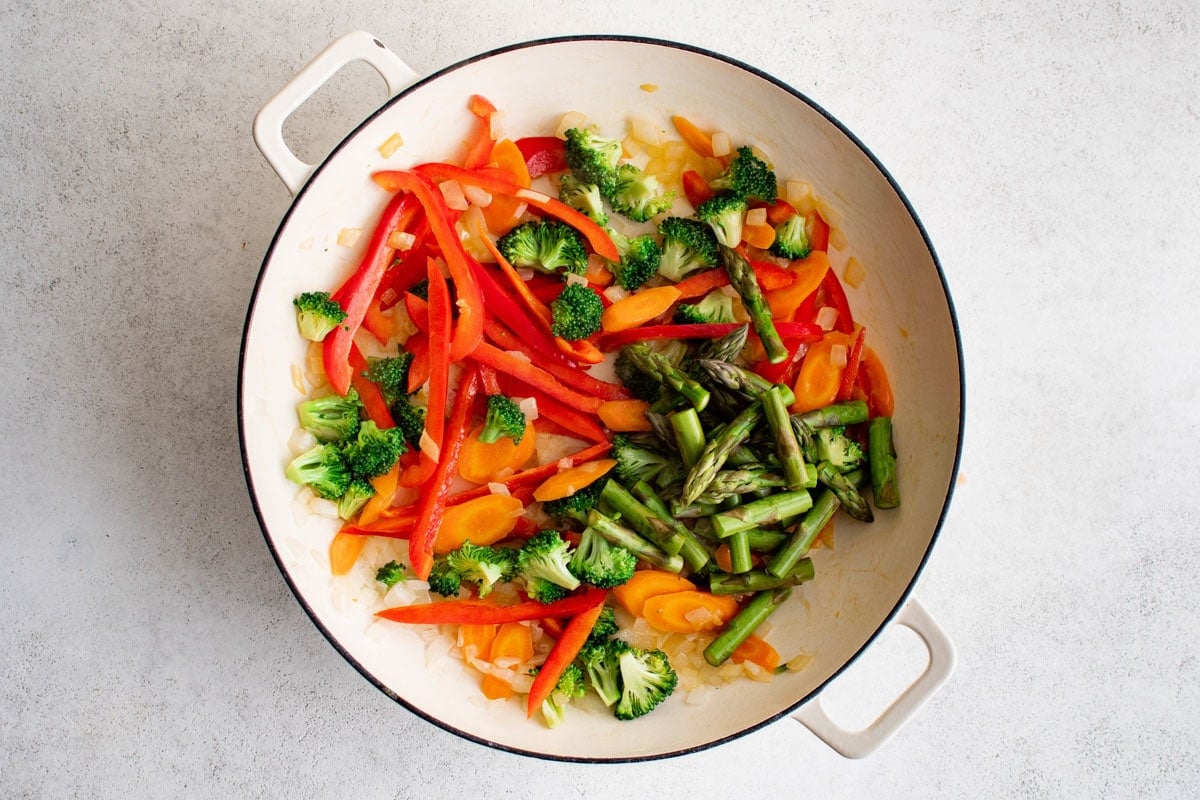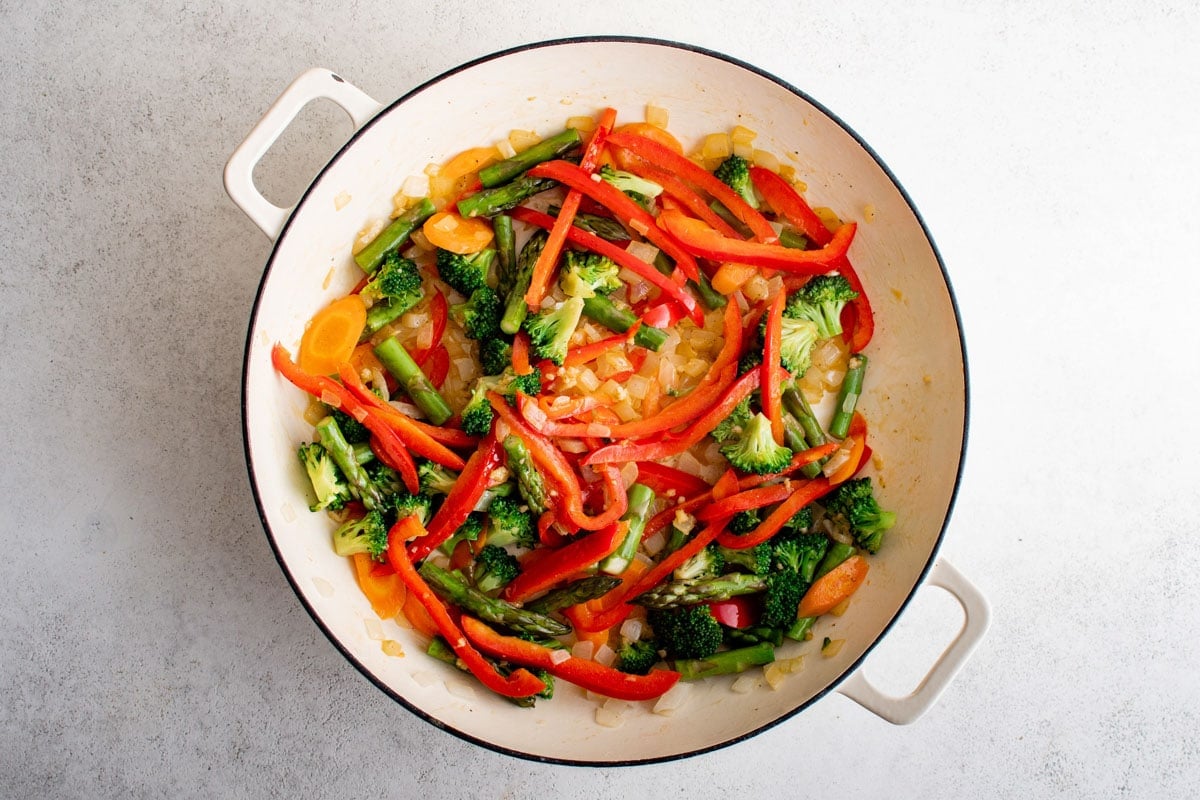 Cook veggies in batches. Melt some butter and olive oil in a skillet and start by cooking the onions. Stir in and cook the carrots, broccoli, red bell pepper, asparagus, and minced garlic. Season with salt and pepper, then transfer to a plate.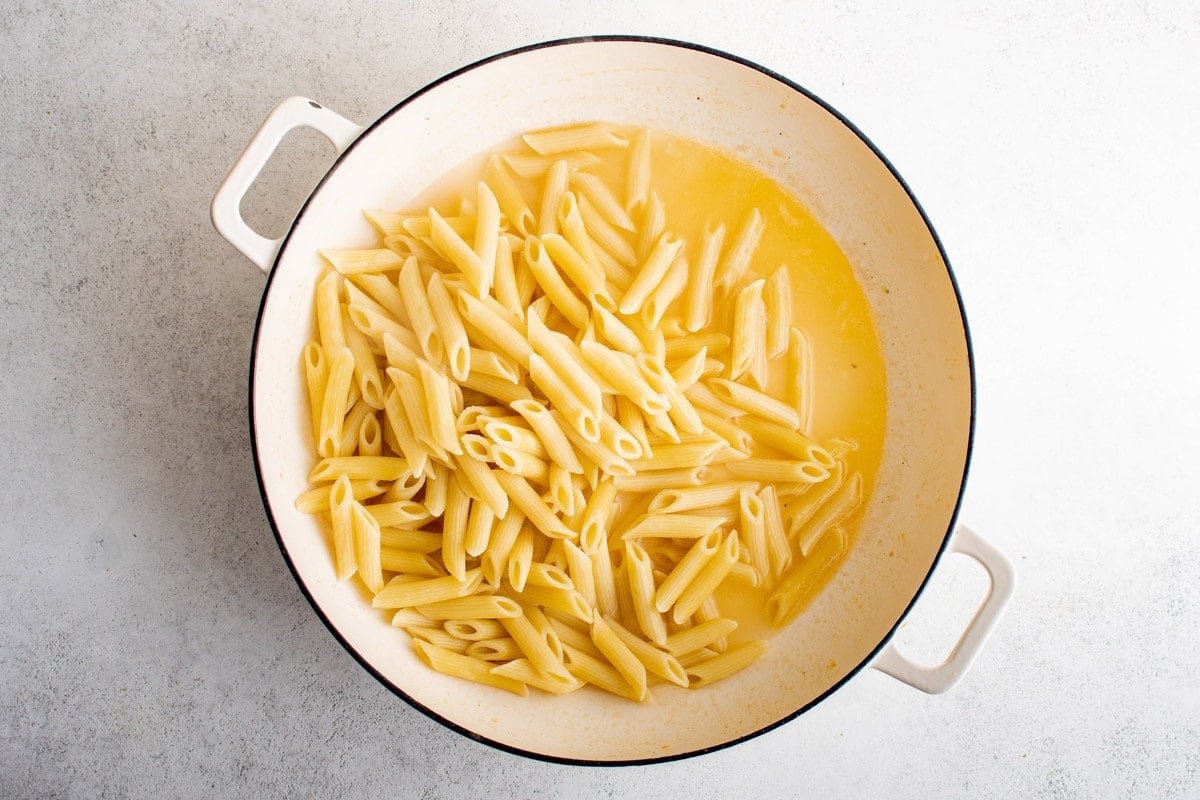 Make the sauce. Once your veggies are cooked, transfer them to a plate and set it aside. Pour some chicken broth and lemon juice in the skillet and bring it to a boil, scraping the brown bits from the bottom of the skillet as you go. That's where the flavor is!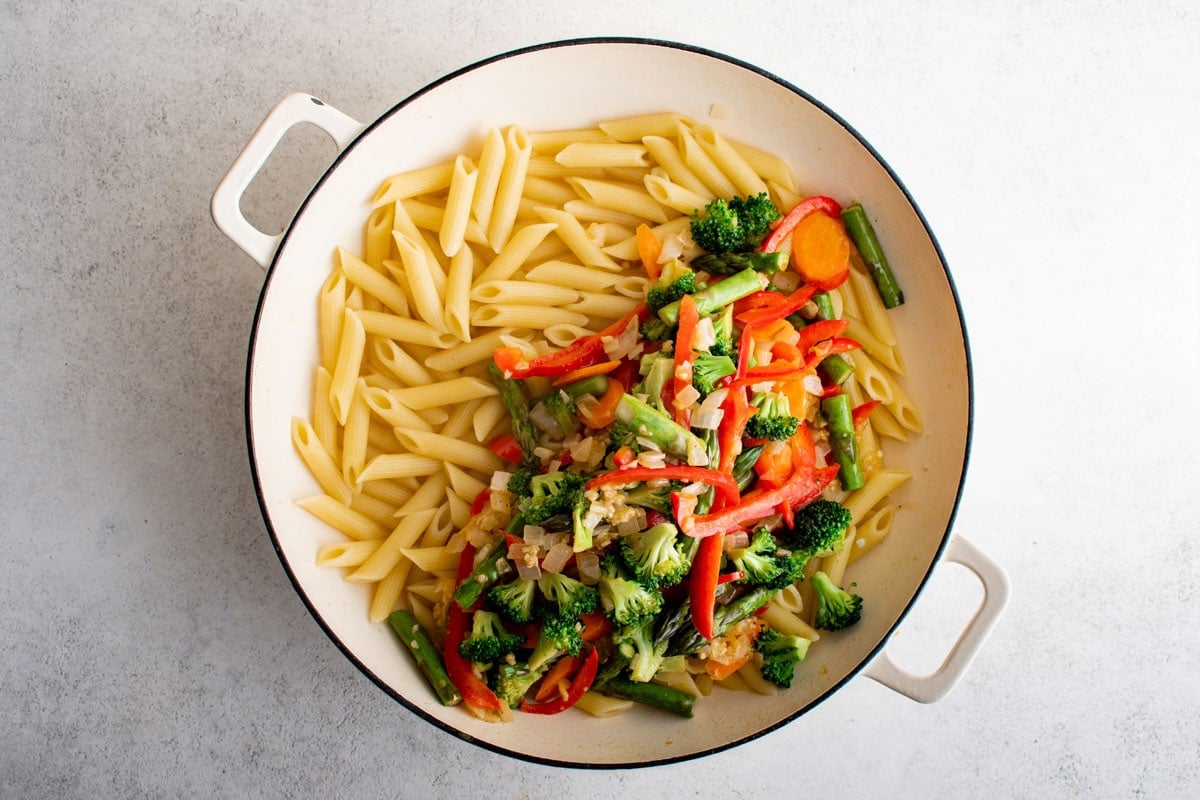 Reduce and thicken the sauce. Once the sauce has started to reduce, add the pasta and let it simmer for several minutes. The starch from the pasta will help thicken the sauce and the boiling sauce will finish cooking the pasta – it's a win-win! Once the sauce has reduced some more, add the veggies back in and toss it all around to coat everything in that simple, yummy sauce.
Serve. Grate some fresh parmesan cheese on top and you're ready to serve.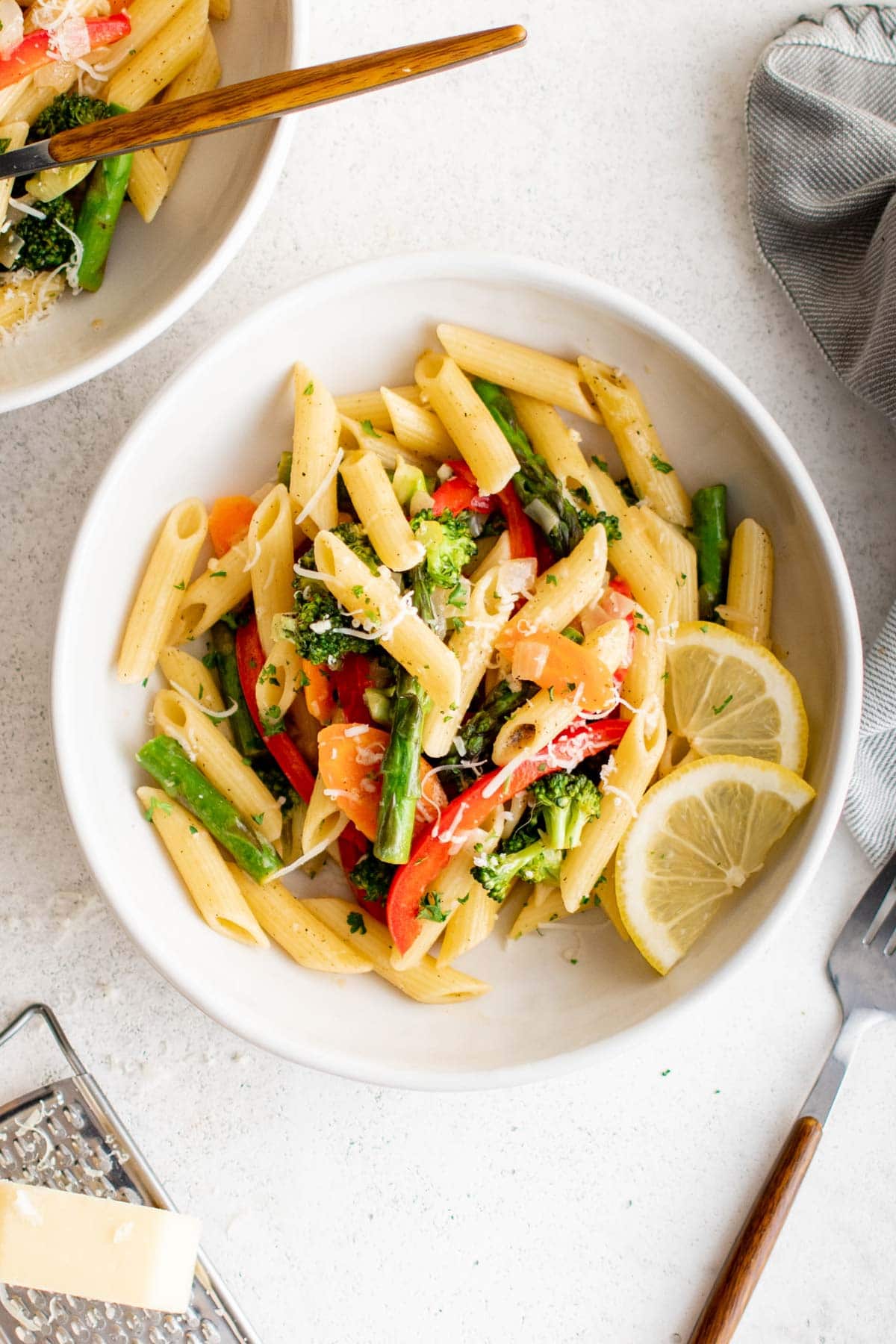 Recipe FAQs
What does Primavera mean?
Primavera means "spring" in Italian; add the penne and you have "Spring Pasta." This dish is the epitome of light and fresh, making it perfect for warmer weather.
Is this a vegetarian recipe?
Yes, other than the chicken broth, which could easily be swapped for vegetable broth.
How can I make my Penne Pasta creamier?
Adding a little bit of cream or more Parmesan cheese will make the sauce creamier.
Can the vegetable pasta be stored and reheated?
Yes, it can be stored in the fridge for up to 3 days and reheated on the stove or microwave.
Serving Suggestions
This dish makes a great meatless option when you're trying to eat a little healthier. It will serve 4 people, but if you need more, it's easy to double.
Want to know what we serve with our Penne Pasta Primavera? Try my easy, super tender, and juicy Baked Chicken Breasts, Lemon Pepper Shrimp, or Blackened Shrimp.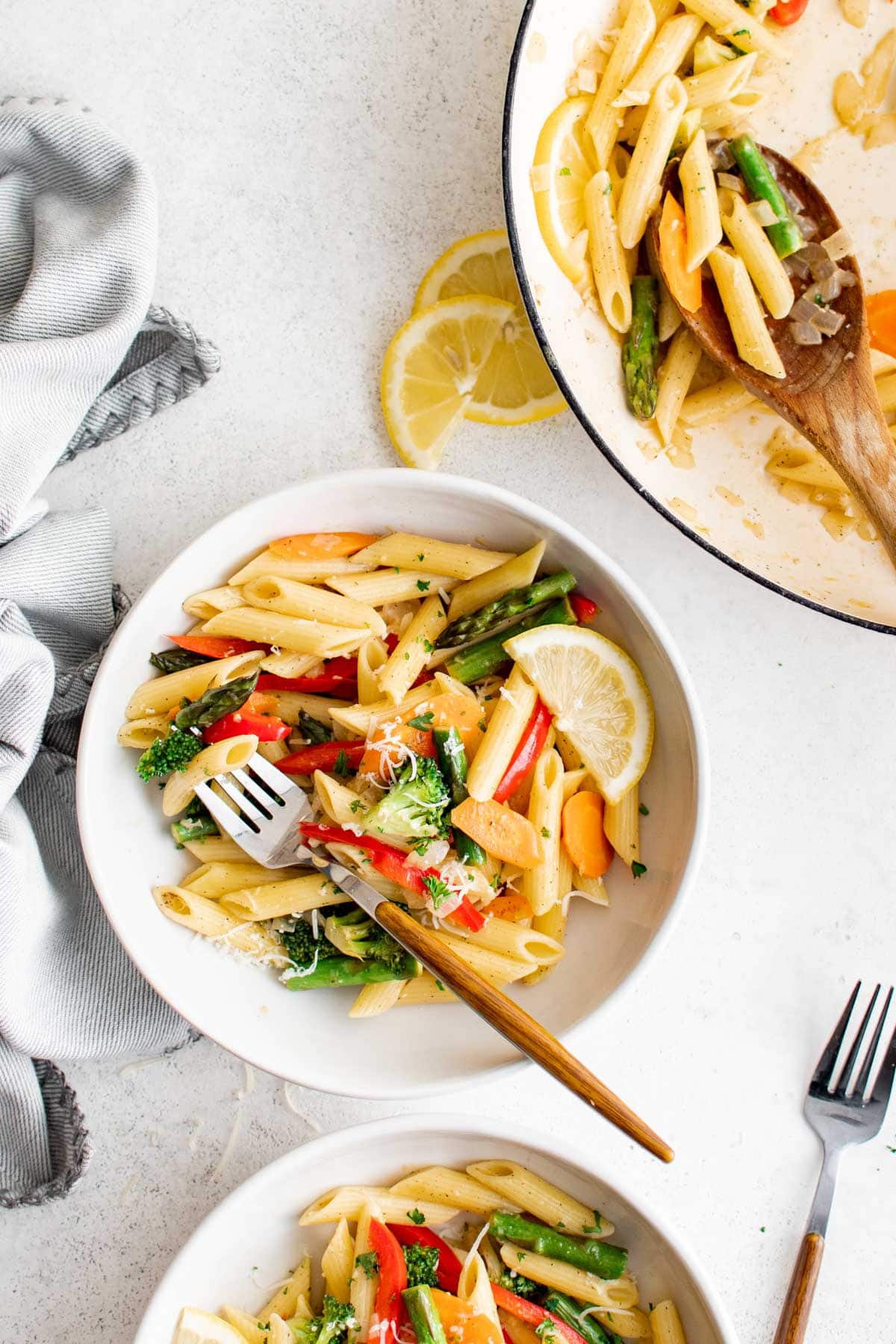 Helpful Tips
Use Fresh, Seasonal Vegetables: The essence of this dish is the fresh, crisp vegetables. Try to use vegetables that are in season for the best flavor.
Don't Overcook Your Vegetables: To retain a nice crunch and bright colors, slightly undercook your veggies during the sautéing process. They'll continue to cook a bit with the hot pasta.
Add The Veggies In Layers: not all vegetable cook at the same rate, so it's important to add them at different points in the cooking process, based on how long they take to cook.
Salt Your Pasta Water: Always salt your pasta water. It's your main opportunity to season the pasta itself.
Reserve Some Pasta Water: Before draining your pasta, reserve some pasta water. The starchy water can be used to loosen the sauce if needed.
Cook Pasta Al Dente: For the best texture, cook your pasta al dente (firm to the bite). It should have a slight chew which pairs nicely with the tender-crisp vegetables.
Use Quality Olive Oil: A good quality olive oil will add a wonderful, rich flavor to the dish.
Grate Your Own Cheese: If you're adding Parmesan cheese, grate it yourself. Pre-grated cheese often contains additives and doesn't melt as smoothly.
Try Other Veggies: Add other vegetables like mushrooms, olives, zucchini, squash, or eggplant.
Adjust To Your Liking: Feel free to modify the recipe based on your preferences. You can add in cooked chicken or shrimp for protein, or spice it up with some crushed red pepper flakes. This is a very versatile dish!
More Easy Pasta Recipes
Recipe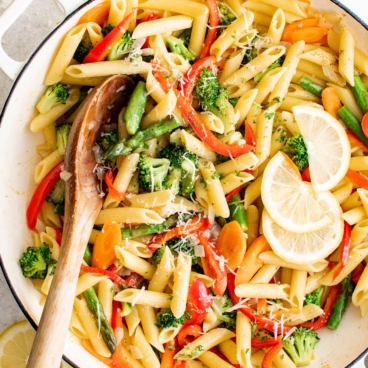 Penne Pasta Primavera Recipe
Penne Pasta Primavera is a delicious and healthy meal that's full of fresh veggies, pasta, and a simple lemon parmesan sauce.
Ingredients
2

cups

uncooked Penne Pasta

Butter

Olive oil

1

medium onion

diced

1

large carrot

thinly sliced on the bias

1 ½

cups

broccoli florets

1

red bell pepper

cut into thin strips

1

cup

asparagus or zucchini

cut into bite-sized pieces

3

cloves

of garlic

minced

3/4

cup

chicken broth

Juice from 1 lemon

about ¼ cup

Salt and pepper

Parmesan Cheese

optional

Fresh minced parsley

optional
Instructions
Bring a pot of salted water to a boil and cook the penne pasta to just before al dente (1 minute less than package instructions). Reserve ¼ cup of pasta water, drain and set aside.

Meanwhile, heat 2 tablespoons of butter and 2 tablespoons of olive oil in a large skillet over medium heat.

Add the onion and cook until translucent; 1-2 minutes. Stir in vegetables in the following order, cooking and stirring for 1-2 minutes after each addition: Carrots, broccoli, red bell pepper, asparagus or zucchini, minced garlic. Add another tablespoon of butter to the skillet if it starts looking a little dry, usually just before the asparagus. Season vegetables with a pinch of salt and pepper, then transfer to a plate and set aside.

To the skillet, add a tablespoon of butter, ¾ cup chicken broth, ¼ cup lemon juice and ¼ of cup pasta water. Bring to a boil and simmer until slightly reduced; 2-3 minutes. Stir in the pasta and continue to simmer until sauce is reduced by half; 3-4 minutes. Stir in vegetables and season with salt and pepper as desired.

Top with fresh grated Parmesan cheese and serve immediately. Garnish with fresh minced parsley and serve with lemon wedges if desired.
Notes
Nutritional information is approximate and does not include optional ingredients.
Nutrition
Calories:
185
kcal
Carbohydrates:
37
g
Protein:
8
g
Fat:
1
g
Saturated Fat:
1
g
Sodium:
187
mg
Potassium:
409
mg
Fiber:
5
g
Sugar:
5
g
Vitamin A:
3945
IU
Vitamin C:
77
mg
Calcium:
48
mg
Iron:
2
mg