My Caprese Pasta Salad is simple and delicious, full of tender pasta, juicy tomatoes, chunks of fresh Mozzarella and a tangy Balsamic Vinaigrette. The perfect spring pasta salad!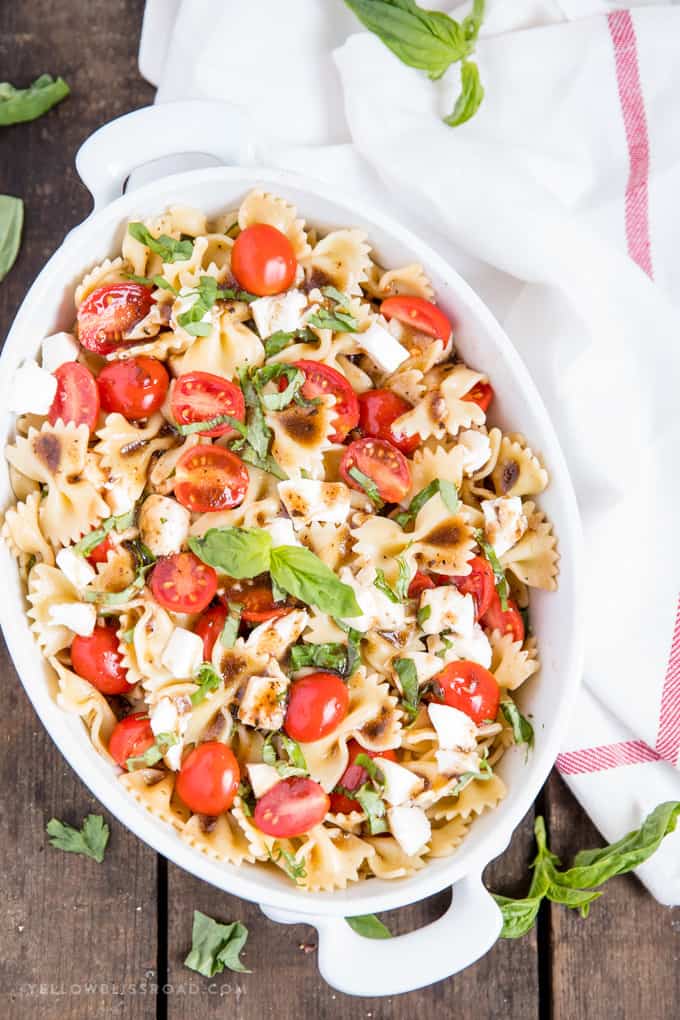 Pasta salads are totally my jam during the spring and summer months. Pasta is so versatile; just add some protein and veggies, a little cheese, a little dressing and you've got a delicious meal or side dish that can accommodate just about any palate.
If you're looking for a vegetarian pasta salad, this Caprese Pasta Salad is perfect! You can leave the cheese out if it's not your things, and still have a delicious meal with the pasta, tomatoes and basil. And if you're a meat lover like me, add some diced grilled chicken for a heartier pasta salad that will serve as a complete meal.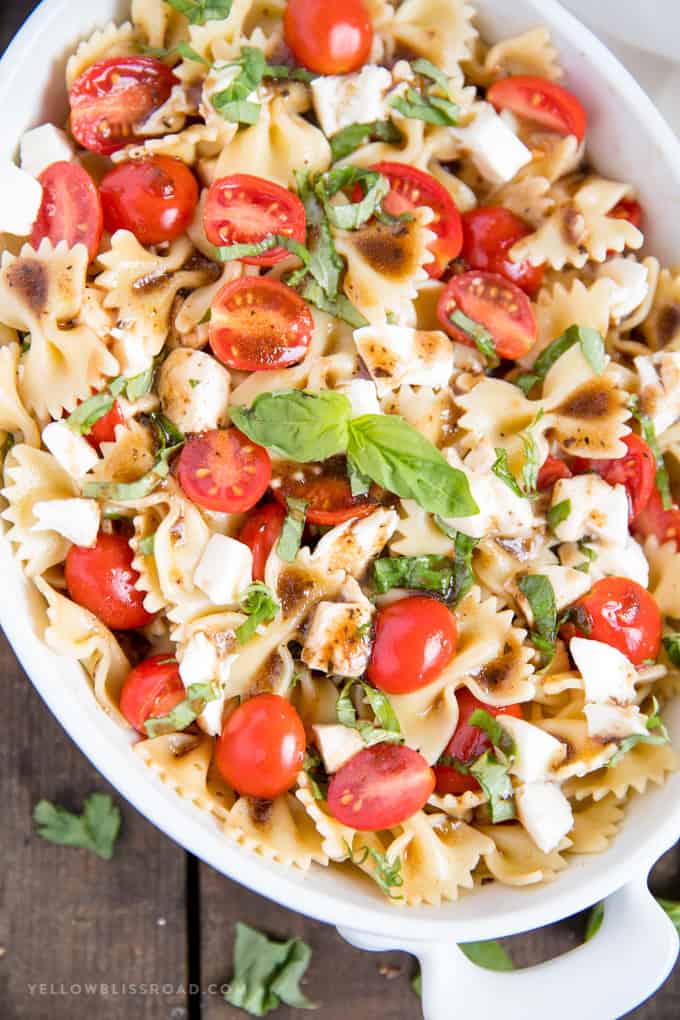 How to Make Caprese Pasta Salad
Here are a few tips and suggestions for making this the best Caprese Pasta Salad you've ever tasted!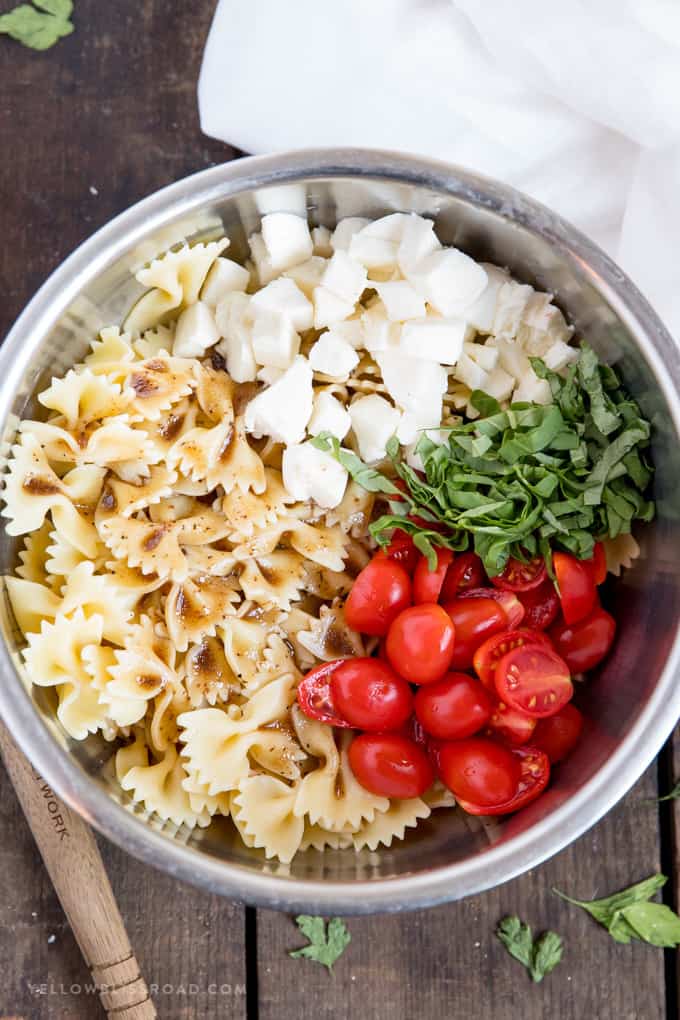 Use fresh Mozzarella. If you've never tried fresh Mozzarella (packed in water, not the kind you shred), you must. It's not as salty as the packaged kinds and it's super soft and rich in flavor. Perfect for Caprese Pasta Salad! The chunks just easily pull apart so you can toss them right into your pasta salad.
Rinse your pasta. Now, I know this is a big no-no in the pasta world, but when it comes to cold pasta salads, rinsing is a must. After removing pasta from boiling water, it continues to cook while it's still hot. Rinsing it with cold water stops the cooking process, and also chills the pasta so it can be used right away.
Serve at room temperature. With mayo or sour cream based dressings like my Tuna Pasta Salad, chilling your pasta salad is necessary. But since this Caprese Pasta Salad is coated in a tangy vinegar and oil based dressing, it doesn't require chilling (unless that's your thing, then you you).
Use fresh basil, and lots of it. Buy the pack of fresh basil leaves in the produce department. To get nice even cuts (chiffonade), stack the leaves on top of each other and roll them together in a small log. Slice with a sharp knife. The result will be nice even strips of basil. Tip – wait until the last minute to slice your basil, to prevent browning.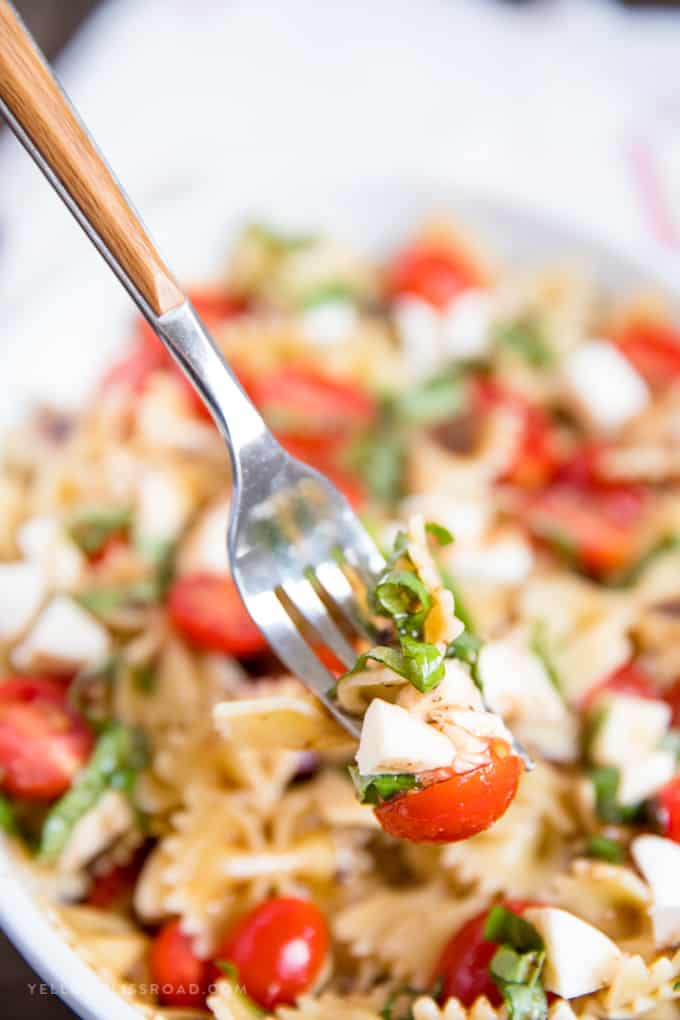 Want more pasta salad recipes? Try these:
Caprese Pasta Salad Recipe: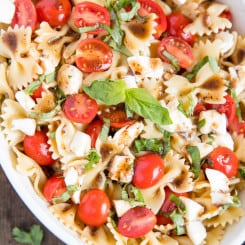 Ingredients
Pasta Salad:
1 pound small dry pasta such as rotini or farfalle
2 pints cherry or grape tomatoes
8 ounces fresh Mozzarella cheese cut into small cubes
¼ cup fresh basil leaves thinly sliced (plus some for garnish)
Balsamic Vinaigrette:
3 tablespoons balsamic vinegar
¼ cup olive oil
1 clove garlic minced
Salt and pepper
Instructions
Bring a large pot of salted water to boil over medium-high heat. Add pasta and cook to al dente, according to package directions. Drain and rinse with cold water.

Meanwhile, slice tomatoes in half and cut Mozzarella into small, bite-sized pieces.

In a large bowl, combine pasta, tomatoes and Mozzarella and the basil. Drizzle on the balsamic vinaigrette and gently fold ingredients together until well coated with the dressing.

Garnish with additional basil and fresh cracked black pepper. Serve immediately or chill until ready to serve.

For the Balsamic Vinaigrette:

In a small bowl, whisk the dressing ingredients together until well combined (or shake in a tightly sealed container). Add salt and fresh cracked black pepper to taste. Store in a tightly sealed container at room temperature until ready to serve.