Chicken Pesto Pasta Salad is made with fresh ingredients bursting with the flavor of pesto for a full meal or a hearty side dish for any BBQ!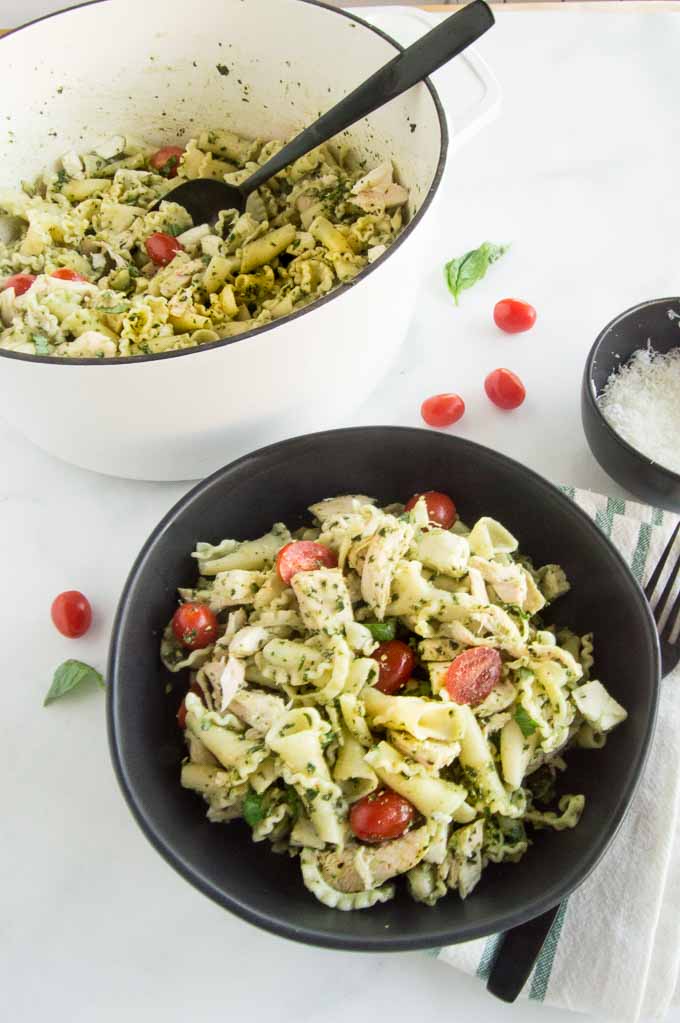 Chicken Pesto Pasta Salad is a mainstay at our house! Made fresh with a homemade pesto sauce tossed with tomatoes, mozzarella and chicken that comes together in no time! The pesto sauce packs a flavor punch with the fresh herbs, tangy parmesan cheese, and the fresh chopped garlic. Olive oil acts as a binder and also helps coat the pasta evenly.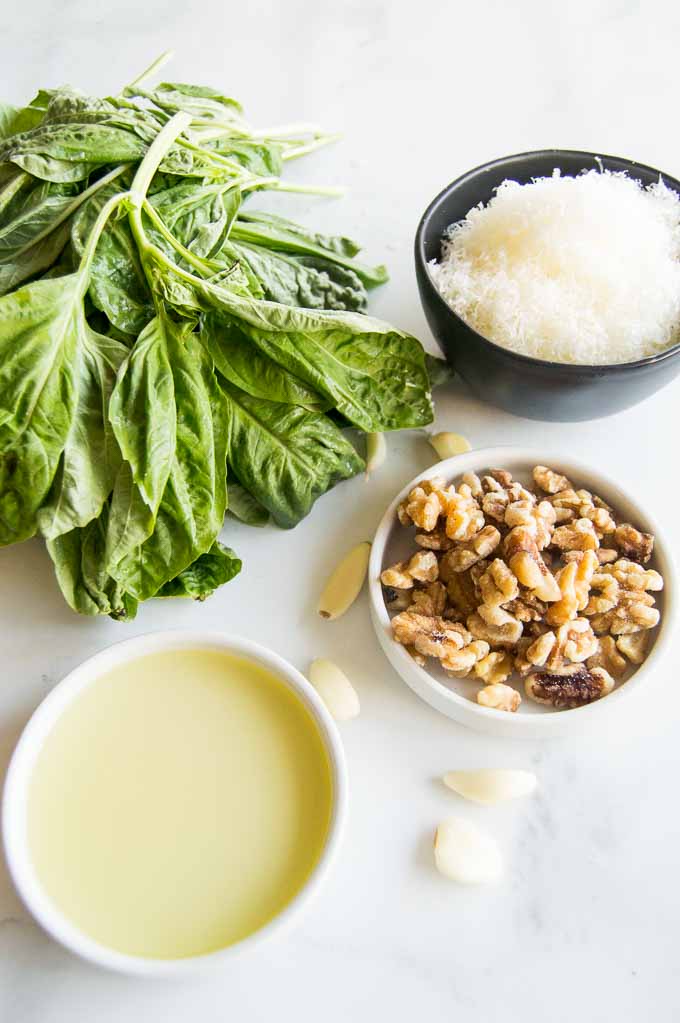 What is Pesto?
Pesto is a Genovese sauce traditionally made with basil, nuts, parmesan, olive oil, and garlic. All of these ingredients are placed in a food processor and blended to make the sauce.
You can either blend finely or pulse the processor to get more of a coarse ground pesto.
Traditional pesto is made with basil but you can make it with other herbs such as cilantro or parsley.
Often pine nuts are used, but in this recipe, I used walnuts, although you can sub here too. Pecans and almonds also work great as an option.
Pesto is served uncooked, although it can be added as a flavor additive to tomato sauces and cooked.
Pesto can be made in big batches when basil is plentiful and frozen for quick use at a later date.
In the recipe for Chicken Pesto Pasta Salad, I'm sharing today has freshly made pesto sauce tossed with cooked pasta and made into a full meal with the addition of tomatoes, chunks of mozzarella and pieces of chicken.
When you are making the pasta salad the easiest way to make sure that the pesto is evenly spread is to make sure and add the pesto to the pasta and mix well before adding all of the other ingredients. At this point, you can add a little extra olive oil or a save a little of the water the pasta was boiled in and add it in to help spread the pesto sauce if it looks clumpy.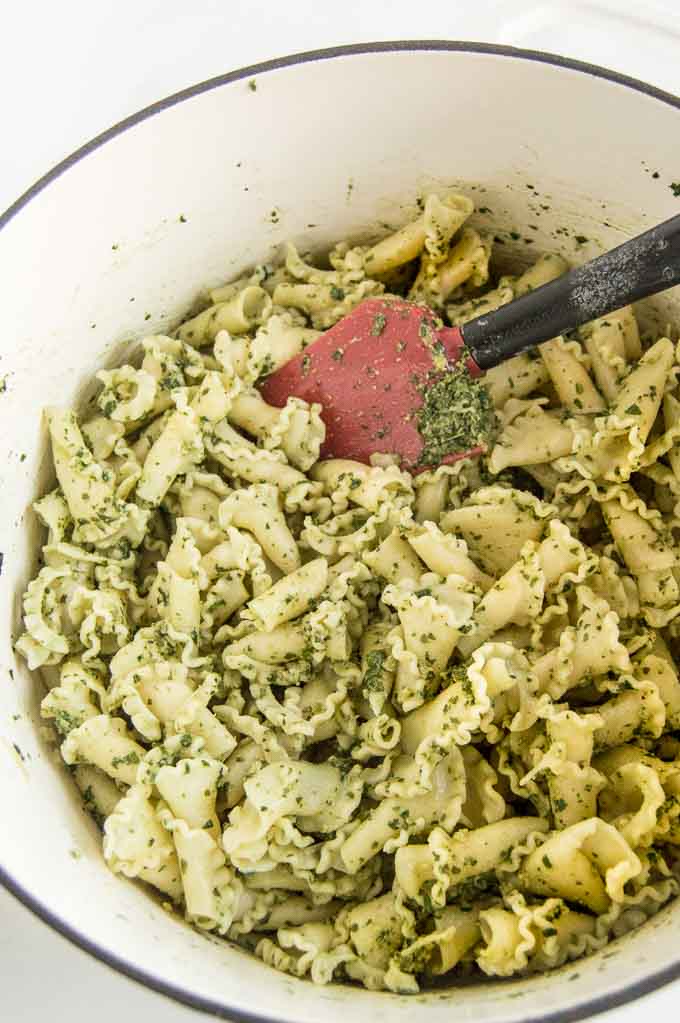 Anything you are adding to the pasta salad will need to be cut into uniform bite-sized pieces. I removed all of the bones from the chicken and shredded it, the tomatoes were cut in half,  then the mozzarella cheese was also cubed for easy eating! For added flavor, I also sliced thinly some extra basil to sprinkle on the top.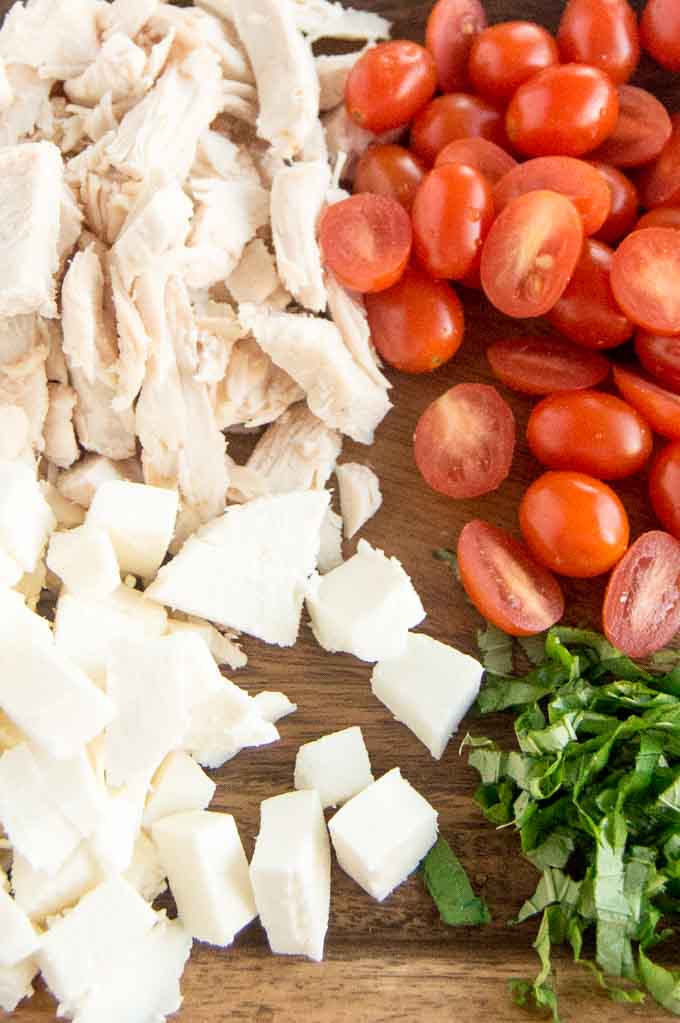 Then toss all of these ingredients in and serve. The beauty of this chicken pesto pasta salad is that it can be made ahead and served either chilled or at room temperature.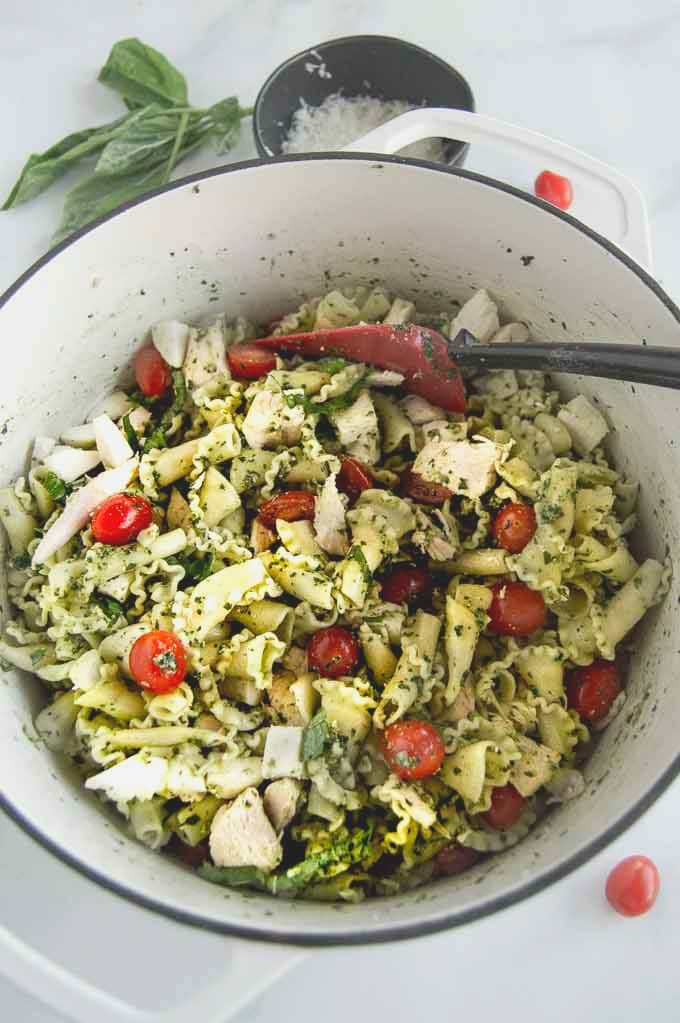 Complete you grill out a menu with the other family favorites!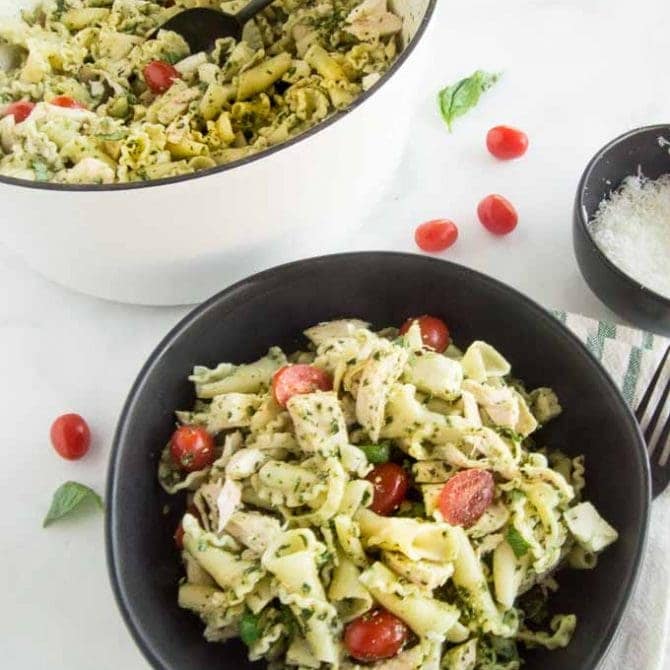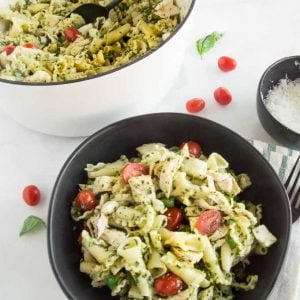 Chicken Pesto Pasta Salad
Chicken Pesto Pasta Salad is made with fresh ingredients bursting with the flavor of pesto for a full meal or a hearty side dish for any BBQ!
Ingredients
1/2  cup  walnuts
5-10 cloves garlic peeled
1 cup  basil leaves packed, stems removed
1/2 cup freshly grated parmesan Cheese
1/4- 1/2 cup Olive Oil
1 pound  pasta any bite sized pasta will work
8 ounces chicken breasts shredded (ok to sub thighs)
1 cup grape tomatoes
8 ounces mozzarella cheese, cubed to bite sized pieces
4 basil leaves sliced thinly to strips (garnish)
2 tablespoons parmesan cheese garnish
Instructions
In a large pot bring water to boil to cook the pasta. Cook to al dente, then drain pasta saving 1/4 cup of the water for later.

While pasta is cooking prepare pesto.

In a Food Processor, pulse walnuts and garlic to small bits.

Then add Basil leaves and pulse until well blended,

Start with 1/4 cup of olive oil and slowly add to nut/basil/garlic mixture.

Now add the grated parmesan cheese and pulse until combined evenly.

If mixture seems to dry, add additional olive oil until it looks easily spreadable.

Once Pasta is done cooking, drain and reserve 1/4 cup pasta water.

Place pasta back in pot, then add pesto mix and stir to coat evenly. If the pesto isn't covering evenly, add in reserved pasta water a spoon at a time until it looks even.

Toss in shredded chicken, halved tomatoes, cubed mozzarella and stir until well combined.

Sprinkle strips of basil and fresh parmesan over the top.

Store in the fridge until ready to serve.
Looking for other hearty dishes to bring to a potluck or BBQ? Check out these offerings!
Gouda Ham and Potato Casserole