Because it's made with sunflower seeds, this Nut Free Pesto is an excellent alternative to traditional nut based pesto sauces. Use it on pasta, as a bread dip or even on pizza!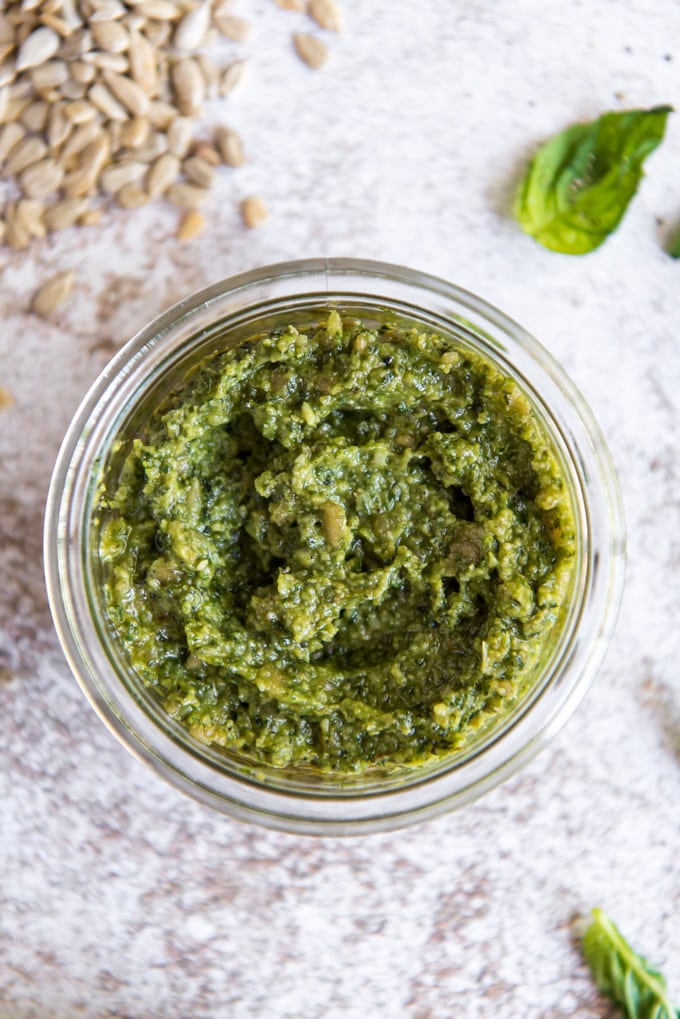 An Allergy Friendly Alternative
My son was diagnosed with peanut and tree nut allergies when he was 3 years old, so I have constantly been on the lookout for nut-free alternatives to some of our favorite foods. My husband loves pesto, so figuring out a way to make it safely was a high priority.
We absolutely love Walnut Basil Pesto so I aimed to recreate that recipe and make it nut free.
I made this pesto nut free by replacing the nuts with sunflower seeds, which are a safe food for my son. I do recommend always checking with your doctor first if you have any concerns as to whether or not sunflower seeds are a safe alternative to your allergy prone kiddos.
What's in Pesto?
Pesto is traditionally made with lots of fresh basil, pine nuts, garlic, salt, olive oil and parmesan cheese. Other ingredients can include parsley, red pepper flakes. Pine nuts are not a common allergen, but since they can be considered a tree nut, we don't take any chances.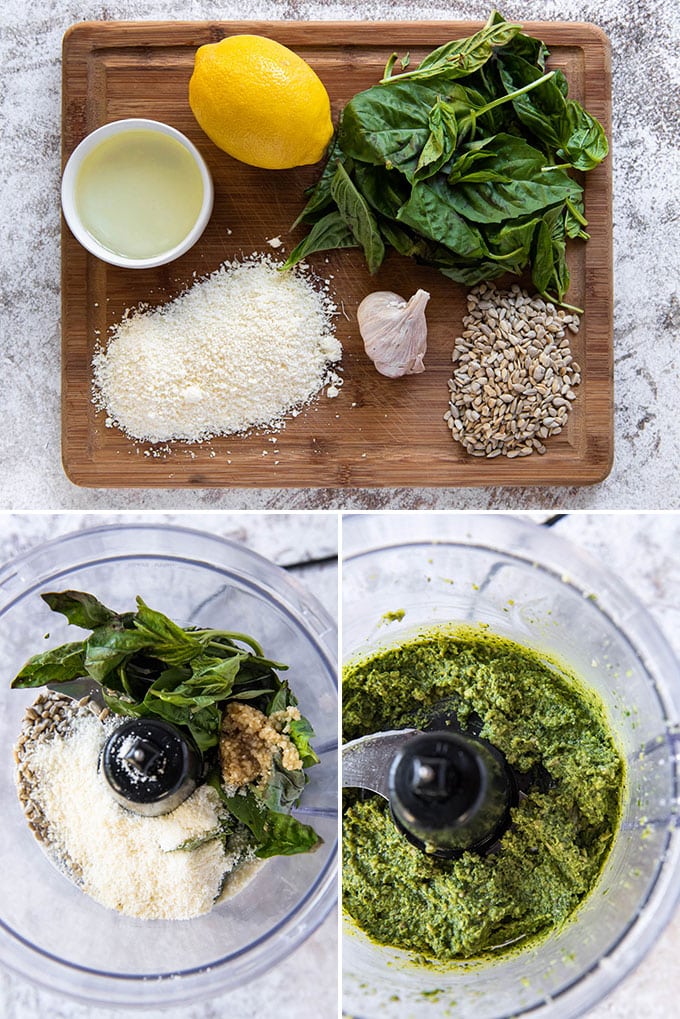 How to Make Nut Free Pesto
To make pesto nut free, I replaced the pine nuts with sunflower seeds! The flavor profile and texture is so similar that it made perfect sense. Pesto is super simple to make in minutes and in just couple of steps.
Put all the ingredients in the bowl of a food processor or blender and press the pulse button continually until all of the ingredients are broken down and smooth. If the mixture seems dry, you can add more olive oil a little at a time.
Taste and add more salt and pepper if you like. You can play around with the ingredients until you are happy with the flavor.
9 Uses for Pesto
Pesto is incredibly versatile, and has a variety of uses!
Pasta – This seems like the easy choice. Nut free pesto is the perfect topper for any type of pasta, from spaghetti to rotini and everything in between.
Bread dip – Add a bowl of pesto to your charcuterie board and serve as a dip for crusty breads and crackers.
Pizza – Replace tomato sauce with nut free pesto! Spread it out on your pizza dough, top with cheese and bake.
Salad dressing – Mix some nut free pesto with your favorite ranch for a fresh new dressing.
Veggies – toss a little pesto in to coat your favorite veggies. It's also great on baked potatoes, or roasted like these Pesto Potatoes!
Breakfast – pesto is fantastic on top of scrambled eggs!
Sandwiches – mix a little nut free pesto with mayo or simply spread it on bread alone. My favorite is with turkey and swiss!
Meat – Use as a sauce for your favorite grilled meats, like Grilled Steak, chicken or fish.
Pasta salads – Add some pesto to your favorite pasta and toss with proteins, fruits and veggies for a beautiful pasta salad! Some of our favorites include this Chicken Pesto Pasta Salad and this Chicken and Berry Pesto Pasta Salad.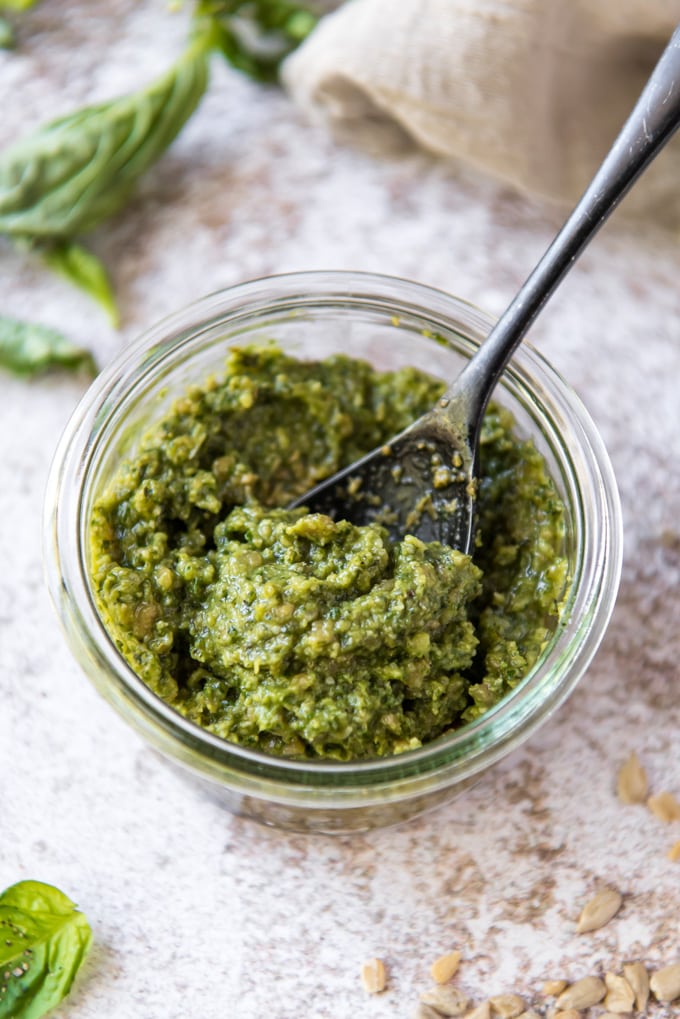 Recipe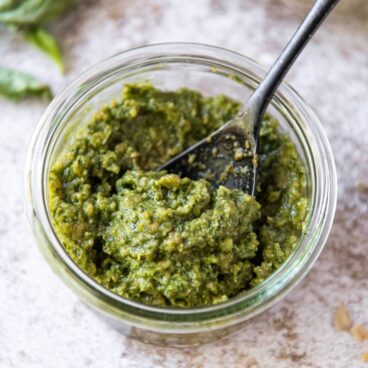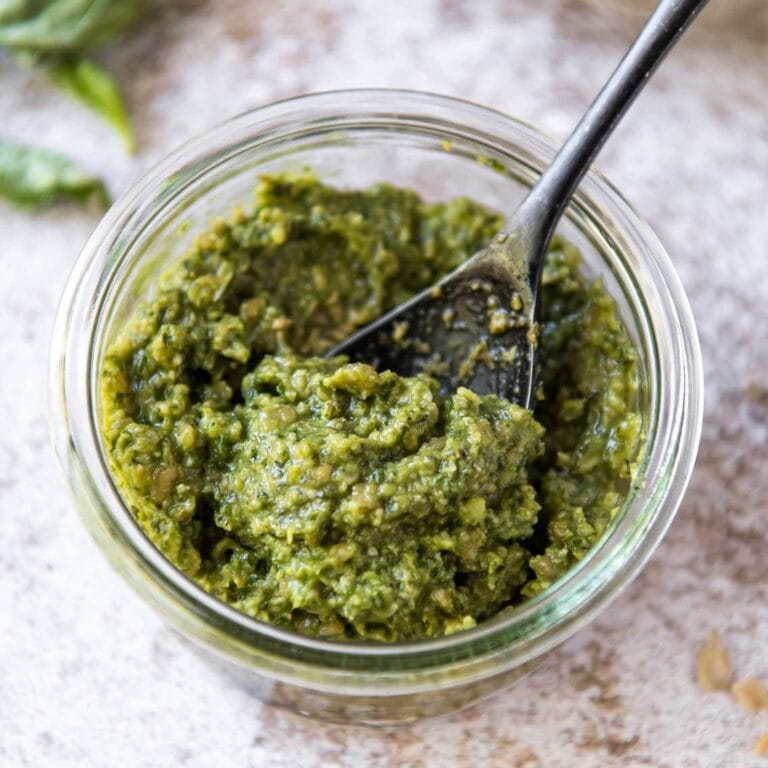 Nut Free Pesto
A delicious basil pesto made with of sunflower seeds instead pine nuts!
Ingredients
1

cup

Fresh Basil

packed

3

garlic cloves

chopped

½

cup

freshly grated Parmesan cheese

1

teaspoon

lemon juice

or more to taste

¼

cup

roasted sunflower seeds

½

cup

extra virgin olive oil

Salt and pepper

to taste
Instructions
Combine all ingredients in a food processor or blender.

Pulse continuously until all ingredients are broken down and pesto is smooth, 1-2 minutes. Scrape the sides of the bowl at least once to ensure all ingredients are evenly mixed in. Taste and adjust salt and pepper as desired.

Store in a tightly sealed container in the fridge for up to 7 days or in the freezer for up to 6 months.
Nutrition
Calories:
232
kcal
Carbohydrates:
2
g
Protein:
5
g
Fat:
23
g
Saturated Fat:
4
g
Cholesterol:
7
mg
Sodium:
169
mg
Potassium:
55
mg
Fiber:
1
g
Sugar:
1
g
Vitamin A:
283
IU
Vitamin C:
2
mg
Calcium:
107
mg
Iron:
1
mg