Tortellini Soup with Italian Sausage & Spinach is Tomato Soup taken up a whole bunch of notches with spicy Italian Sausage, Spinach and Tortellini. Finished off with a crispy, cheesy crostini, This is definitely not your run of the mill canned variety soup, and it's a great one pot meal that's perfect for a cold winter night!
This Tortellini Soup with Italian Sausage & Spinach is one of our most popular recipes and was originally posted in 2015. 
I have always been a fan of tomato soup. I love the creaminess, the rich tomato flavor and brightness of the tomatoes. So imagine my delight when I combined those flavors I love with spicy Italian Sausage, Spinach and Cheesy Tortellini!
Tortellini Soup with Italian Sausage & Spinach
A lot of people like to serve soup as part of a meal, typically the first course. But here we savor soup as our main course. I mean, it's got everything you need – meat, veggies and this one even has yummy, cheesy pasta. It cooks quickly and in just a few steps. Of course, the longer you let it simmer, the better the flavor. Just be sure to plan to add the tortellini and spinach just before you're ready to eat, so they don't get overcooked.
I love to sprinkle a little fresh grated Parmesan cheese on top for even more flavor. I love this soup as is, but if you love a creamier soup, add a tablespoon sour cream to your bowl, or a half cup to the whole pot. (I tried Greek yogurt, but it separated and didn't look very pretty).
Sometimes, when I'm feeling especially indulgent, I'll make some stovetop Parmesan crostini. Just butter slices of bread and place them butter side down in a hot skillet. When the butter side is nice and golden, flip them over and top with a bit of grated Parmesan. While the bread crisps on the bottom, the heat from the pan will help melt the cheese. This is a little bit like a grown-up version of tomato soup with grilled cheese – super yummy and ultra comforting!
When they're done just transfer the crostini to a plate. If the cheese isn't quite melted enough for you, cover loosely with foil. Top your Tortellini Soup with Italian Sausage & Spinach with a crostini and let it soak up all that tomato goodness, similar to how the bread and cheese top a delicious french onion soup.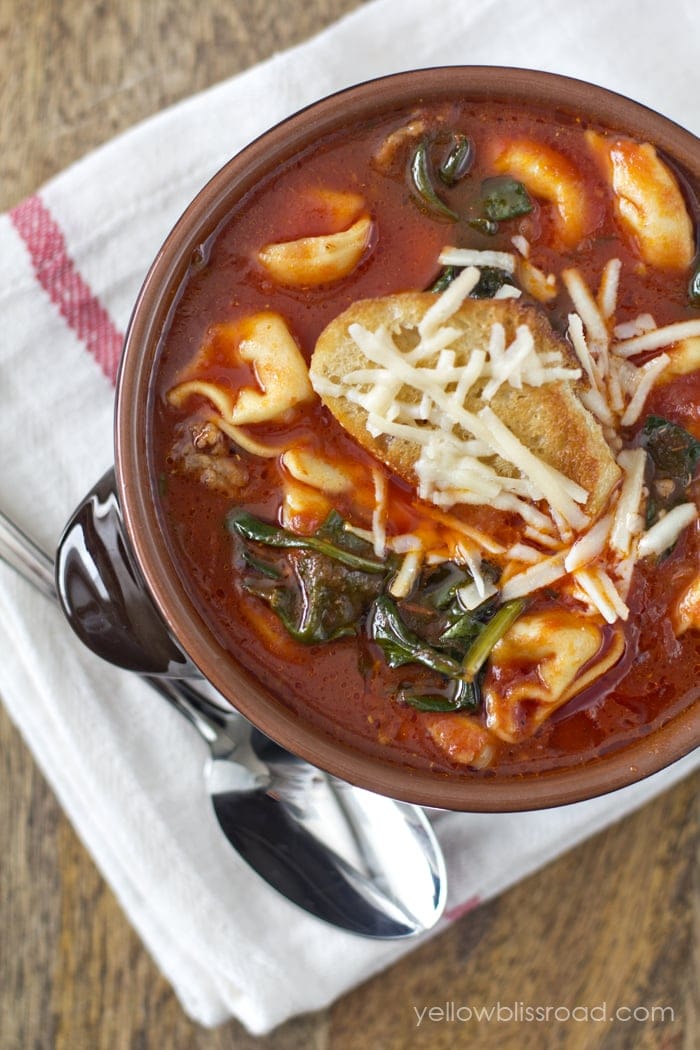 How to make Tortellini Soup with Italian Sausage & Spinach: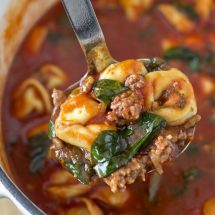 Tortellini Soup with Italian Sausage & Spinach
Print
Pin
Rate
Prep Time: 10 minutes
Cook Time: 40 minutes
Total Time: 50 minutes
Ingredients
Soup
1 tablespoon vegetable oil
1 pound ground Italian Sausage
1/2 cup diced onion about 1/2 medium sized onion
1 tablespoon minced garlic
1-28 oz can crushed tomatoes
1-32. oz. box of vegetable broth chicken works too
2 tablespoons fresh chopped basil
1 teaspoon salt
1/2 teaspoon pepper
1 9- ounce package refrigerated tortellini
2 cups packed fresh spinach
Crostini
1 Baguette
Butter
Fresh Grated Parmesan Cheese
Instructions
Soup
Heat a large, heavy bottomed pan over medium-high heat. Heat vegetable oil and add diced onion. Saute until onions are soft.

Crumble Italian Sausage and garlic with the onion. Cook until sausage is no longer pink.

Stir in crushed tomatoes, vegetable (or chicken) broth, basil, salt and pepper. Bring to a boil, reduce heat to low, and cover. Let soup simmer for 20-30 minutes.

Add tortellini and spinach and simmer for about ten minutes, until pasta is tender.

Serve with shredded Parmesan.
Crostini
Slice baguette into 1/2 inch thick slices. Butter one side and place butter side down in a hot skillet until golden brown. Flip bread slices over and sprinkle with Parmesan while the other side gets golden brown. Transfer to a plate and immediately cover loosely with foil if cheese has not completely melted.
Notes
For a creamier soup, add a half cup of Greek yogurt or sour cream.
Here's another super popular tortellini recipe video:
If you loved this Tortellini Soup with Italian Sausage & Spinach, here's another favorite tortellini soup recipe:
Creamy Chicken Tortellini Soup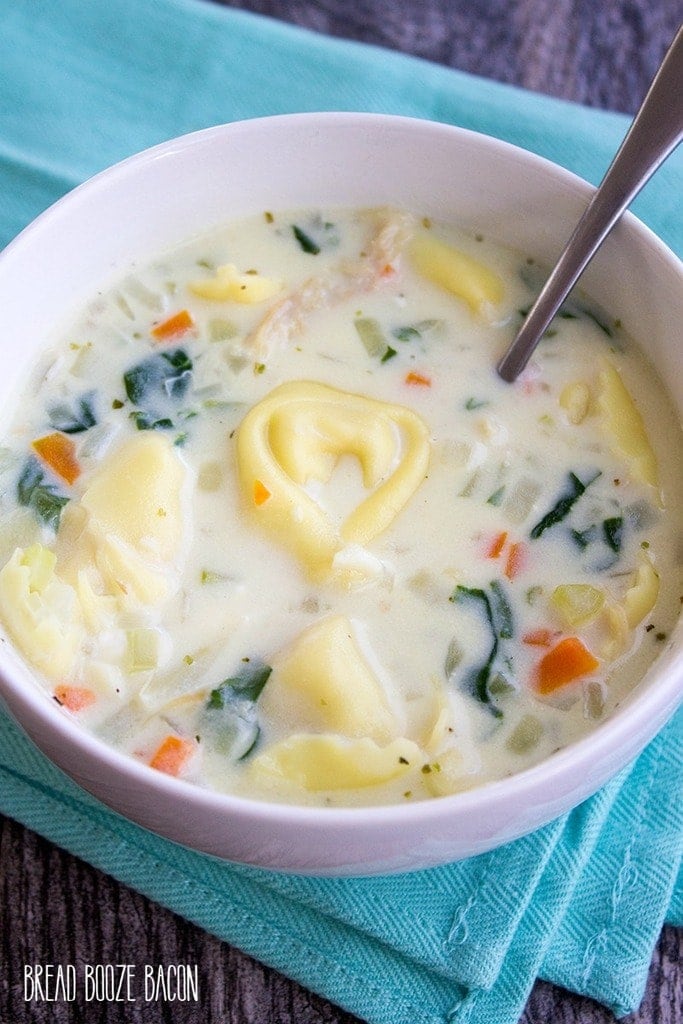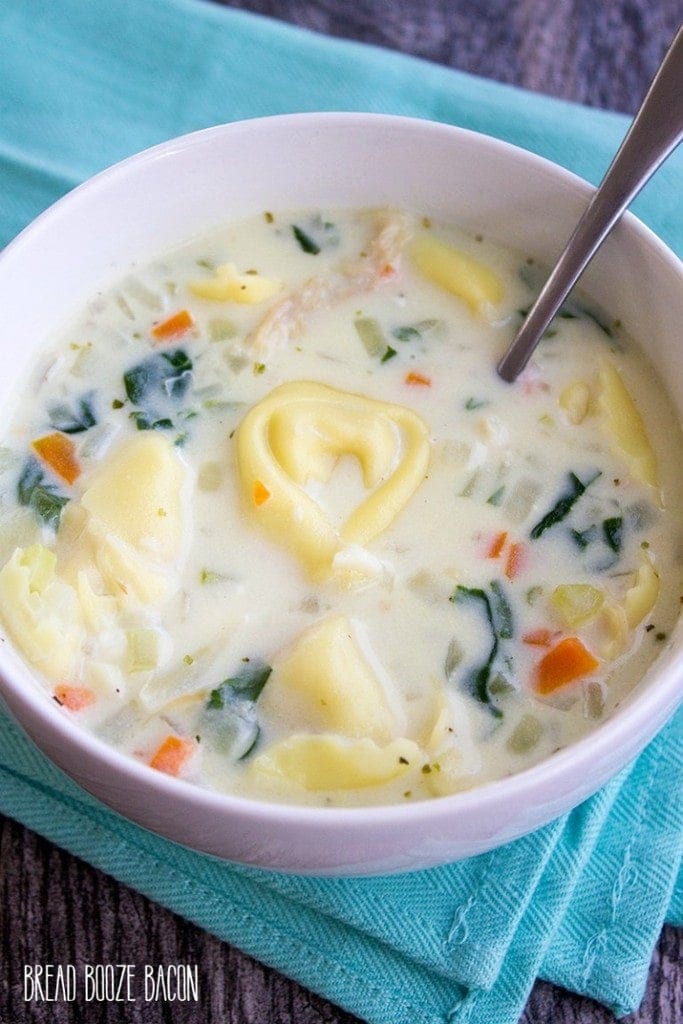 And for more delicious soup recipes, try these:
Hi! I'm Kristin, the creative mind behind Yellow Bliss Road where you will be inspired by tons of easy to follow recipes, lots of free printables, and a little sprinkling of life thrown in for good measure.