If you're a fan of Olive Garden salad like me, you'll love this easy to make at home version. The dressing, which is essentially a creamy Parmesan Vinaigrette, is a close copycat to the famous Olive Garden dressing.
We serve this salad all the time, alongside our other favorite go-tos like Crispy Baked Chicken Thighs, Baked Pork Chops and Million Dollar Spaghetti.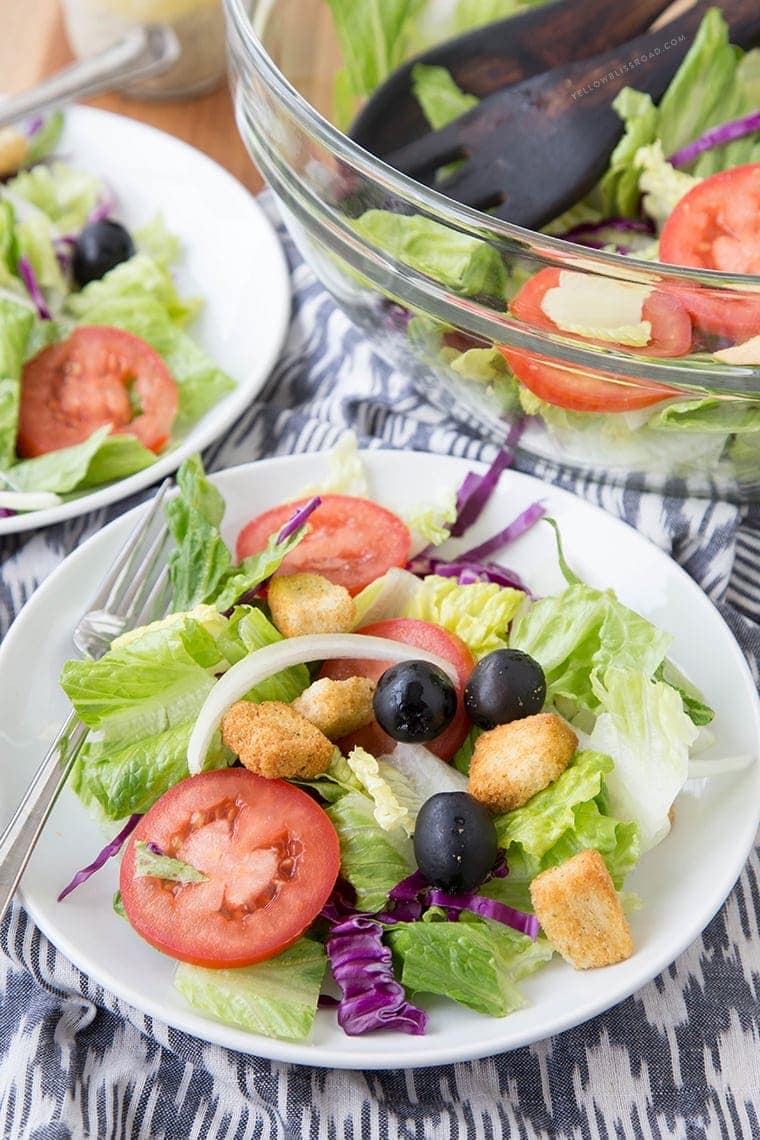 Our Favorite Salad
Olive Garden is one of our favorite restaurants, and one my kids beg to visit at least once a week. Their favorite thing on the menu? Not the alfredo, or the spaghetti, it's Olive Garden's Salad! There's just something about that crisp lettuce and veggies served family style with their famous house dressing and croutons. Each salad is made fresh and you can taste it.
Since their favorite thing is easy to replicate at home, I set out to make that incredible dressing from scratch.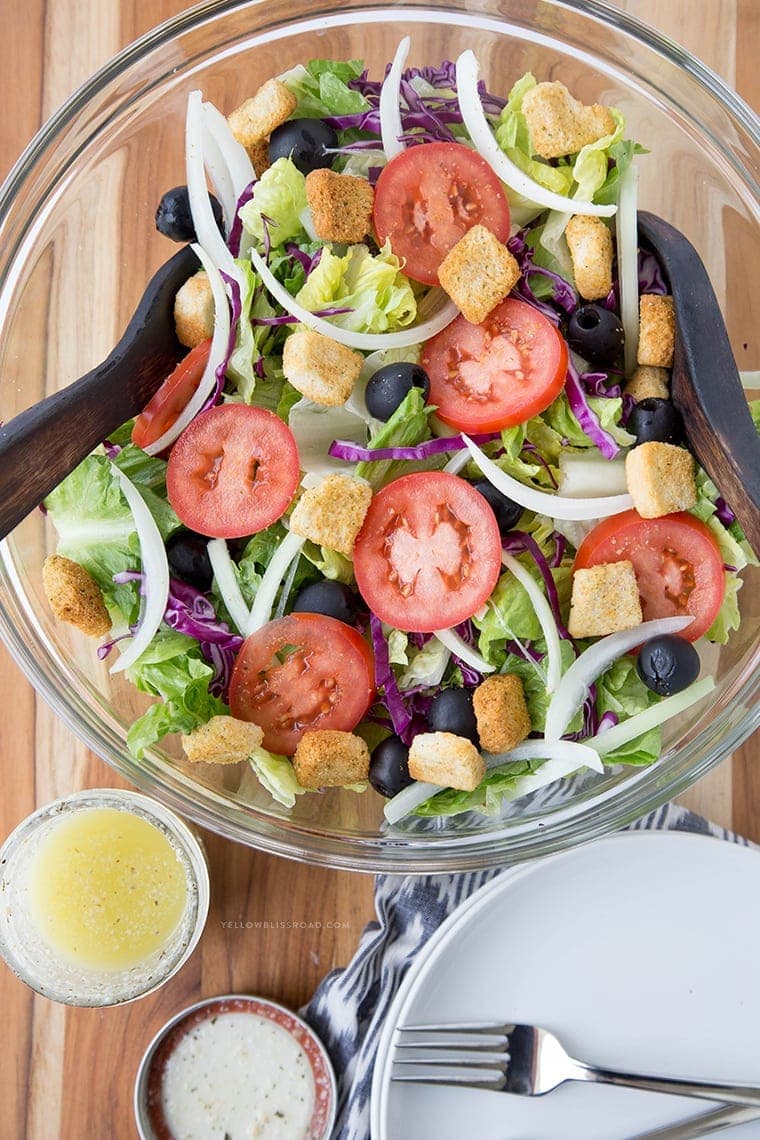 What is in Olive Garden's house salad?
Everyone's favorite salad is actually not that hard to make at home. The salad itself is simple –
Lettuce – I prefer romaine over iceberg, but you can use your favorite. A mix of the two (mostly iceberg) is traditionally what's served at the restaurant.
Tomatoes – Roma tomatoes are traditional, but cherry or grape tomatoes will also work. Slice larger tomatoes into big slices to recreate the restaurant version.
Olives – Olive Garden salad olives always seem so big and juicy. Grab a can of the jumbo size olives to replicate.
Onions – The salad usually had red onions but we prefer white. Again, totally your call; use what you love.
Croutons – Did you know you can get Olive Garden croutons in the grocery store? I found them at my local Ralphs so I'm not sure they have them at other stores.
Pepperoncinis – Notice I left out the peppers – don't like them, never have.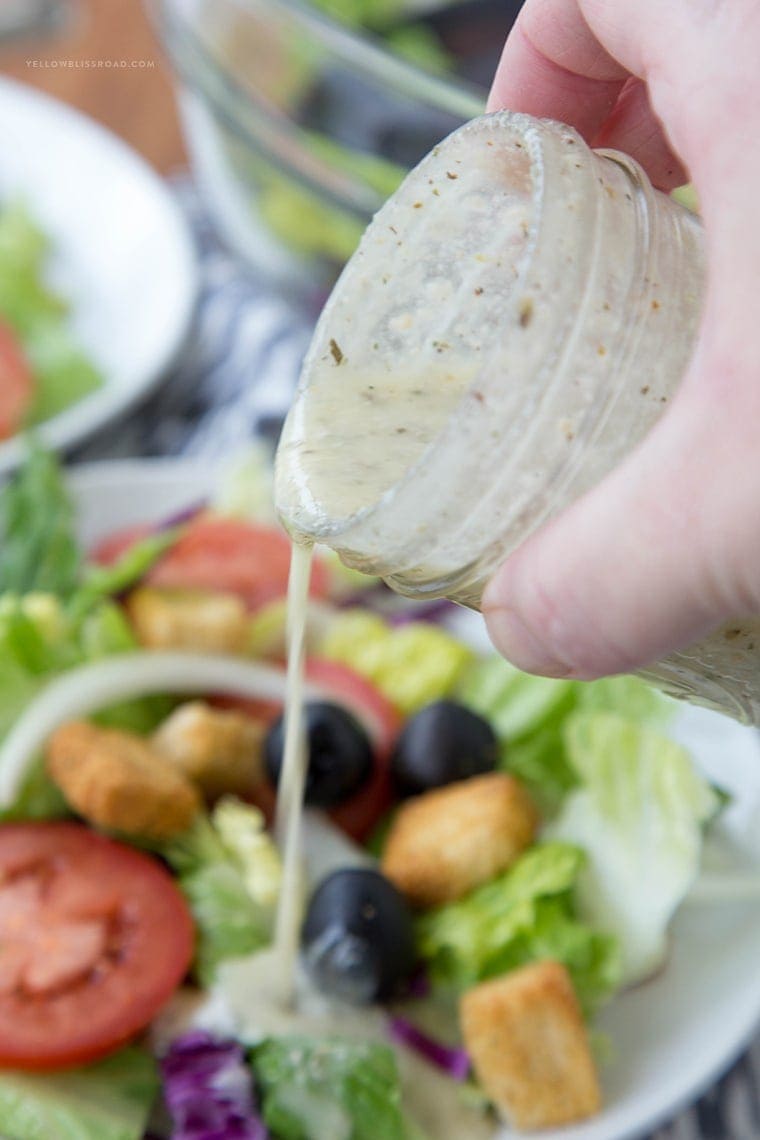 Olive Garden Salad Dressing
When I was old enough to drive, my parents would send me on a quest to purchase a bottle of Olive Garden Salad Dressing to keep in our fridge for our daily dinner salads. While you can still purchase a bottle at the restaurant, and even at the grocery store, it's so easy and tasty to make it fresh at home.
The dressing is pretty simple, too – mayonnaise, lemon juice, Parmesan cheese, olive oil and some Italian seasoning. I tried out a few different recipes that I found before coming up with my own, which is more of a combo of a few that I tried. This one came the closest to that tangy, savory Olive Garden salad dressing that everyone loves.
The Parmesan cheese is what really makes the dressing, and the salad is just so pretty. I love the bright colors!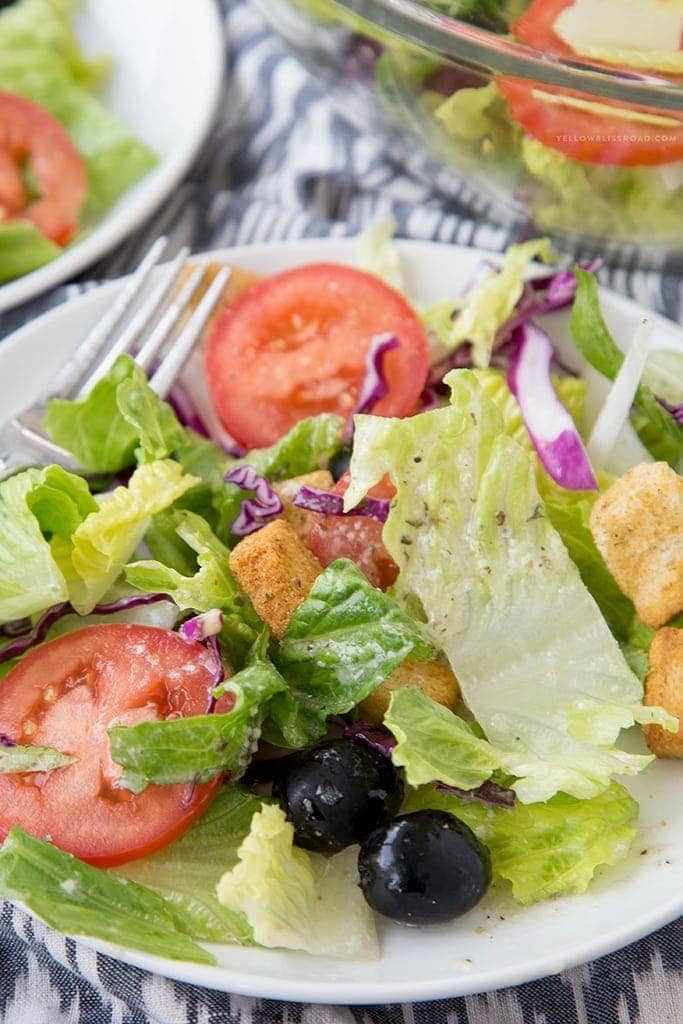 Olive Garden Salad goes great with these classic Italian dinners:
For more salads and salad dressings, try these: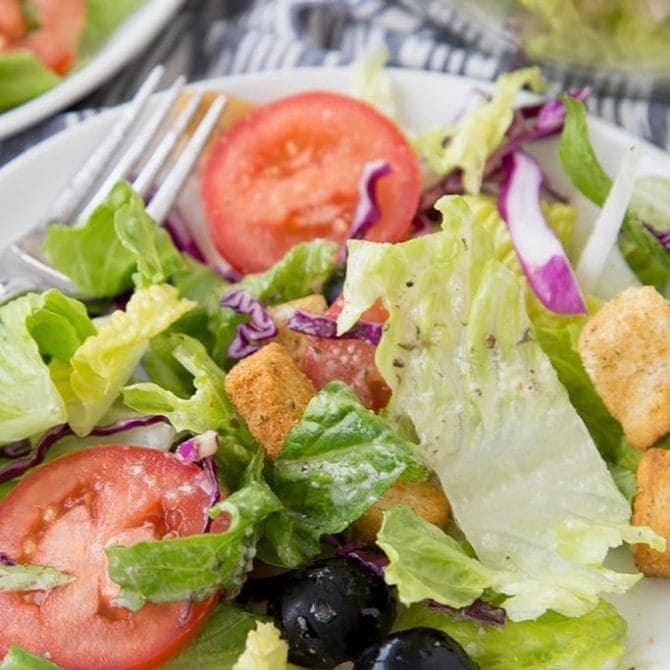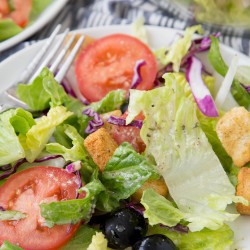 Olive Garden Salad Dressing Copycat
Learn how to make a classic Olive Garden Salad at home! Crisp lettuce, fresh tomatoes, onions, olives and croutons in a creamy Parmesan vinaigrette.
Ingredients
Salad dressing
1/2 cup olive oil
3 tablespoons white vinegar
2 tablespoons mayonnaise
3 tablespoons grated Parmesan
2 teaspoons lemon juice
1 teaspoon sugar
1 teaspoon garlic powder
1 teaspoon garlic salt
1 teaspoon Italian seasoning
Salt and pepper to taste
Salad
8 cups romaine lettuce roughly chopped
1/2 cup shredded red cabbage
1/2 cup shredded carrot
3 Roma tomatoes
3 ounces jumbo olives
1/2 cup sliced onion
1 cup croutons
6 whole pepperoncinis drained
optional - fresh grated parmesan for topping
Instructions
Salad dressing
Combine all dressing ingredients in a seal-able jar and shake until completely combined. Pour over salad.
Salad
Toss salad ingredients together in a large bowl. Serve with salad dressing on the side and fresh grated parmesan for topping, if desired.
Notes
Feel free to change salad ingredients to your liking.
Nutrition
Calories: 280kcalCarbohydrates: 12gProtein: 3gFat: 25gSaturated Fat: 4gCholesterol: 4mgSodium: 730mgPotassium: 344mgFiber: 4gSugar: 4gVitamin A: 7693IUVitamin C: 22mgCalcium: 78mgIron: 1mg