Copycat Olive Garden Salad is loaded with fresh veggies, crunchy croutons, pepperoncinis, and a tangy, creamy parmesan vinaigrette dressing. Learn how to make a copycat of the famous dressing at home – it's ready in just 10 minutes and made with only 5 ingredients!
This Olive Garden Copycat Salad is my go-to salad when I need a simple side dish to serve with dinner. It goes with everything, like Crispy Baked Chicken Thighs, Baked Pork Chops, Spinach Lasagna Stuffed Shells and Million Dollar Spaghetti. And the copycat dressing is not only great on salads – use it to marinate chicken and pork, too!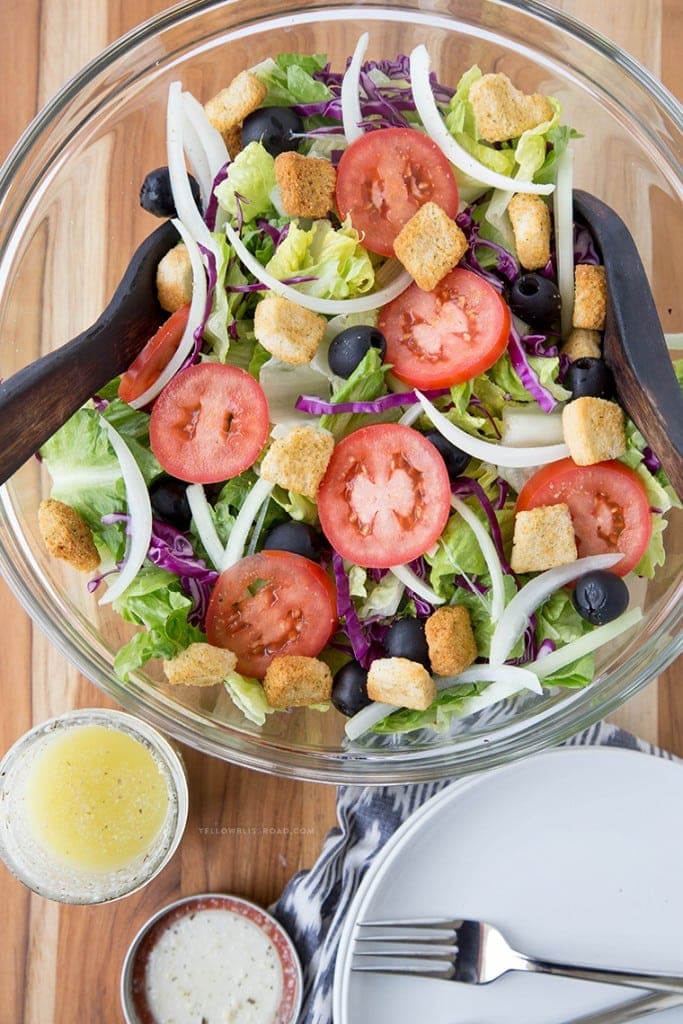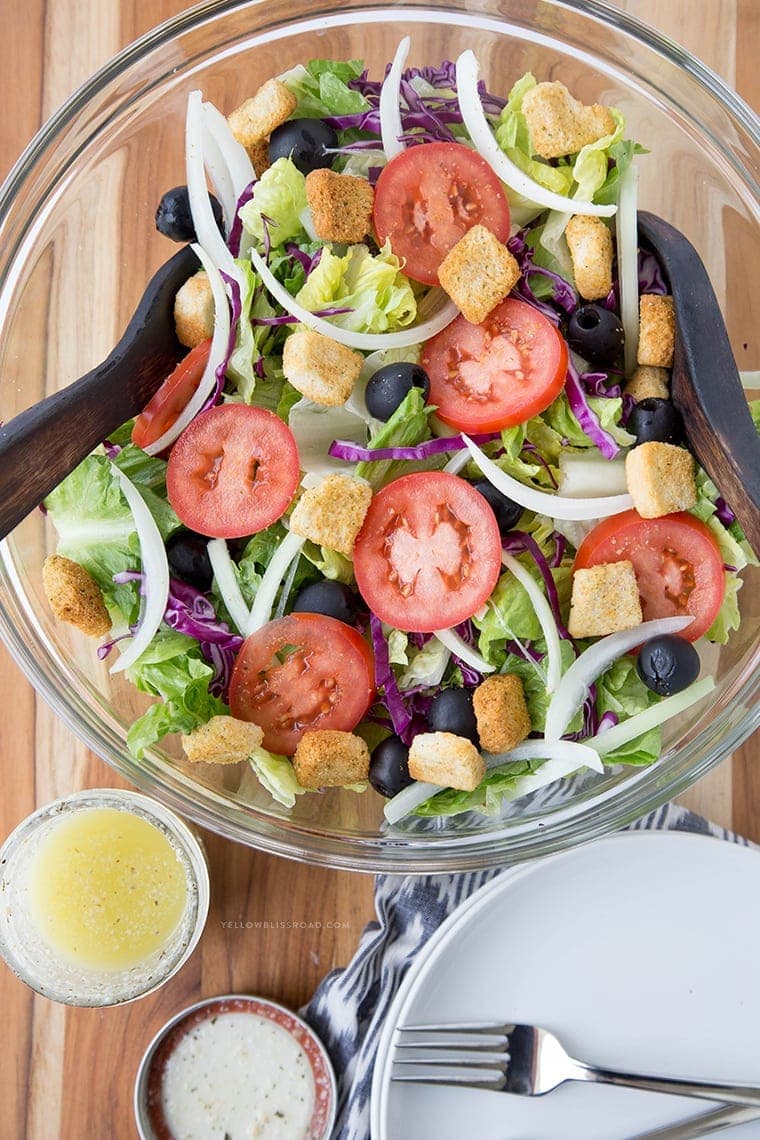 What's In Olive Garden Salad?
This Olive Garden Copycat Salad is simple and easy to make at home.
Lettuce – I prefer romaine over iceberg, but you can use your favorite. A mix of the two (mostly iceberg) is traditionally what's served at the restaurant. You can also just buy a bag of iceberg salad mix from the grocery store and it will already have the red cabbage and carrots in it.
Tomatoes – Roma tomatoes are traditional, but cherry or grape tomatoes will also work. Slice larger tomatoes into thick slices to recreate the restaurant version.
Olives – the olives always seem so big and juicy. Grab a can of the jumbo size olives to replicate.
Onions – The classic salad has red onions but we prefer white. Again, totally your call – use what you love.
Croutons – Did you know you can get Olive Garden croutons in the grocery store? I found them at my local Ralphs (Kroger) and on Amazon. You could also make your own Homemade Croutons.
Pepperoncini peppers – Notice I left out the peppers – don't like them, never have. But for a true copycat, you'll want to add them to your salad.
How To Assemble Copycat Olive Garden Salad
To make the copycat salad, wash and chop the iceberg lettuce mix, slice the white or red onion into strips and the tomatoes into medium-thin rounds.
Thinly slice or shred the red cabbage (it will come out in shreds) and shred the carrots.
Toss with the homemade Italian dressing and top with black olives and crunchy croutons.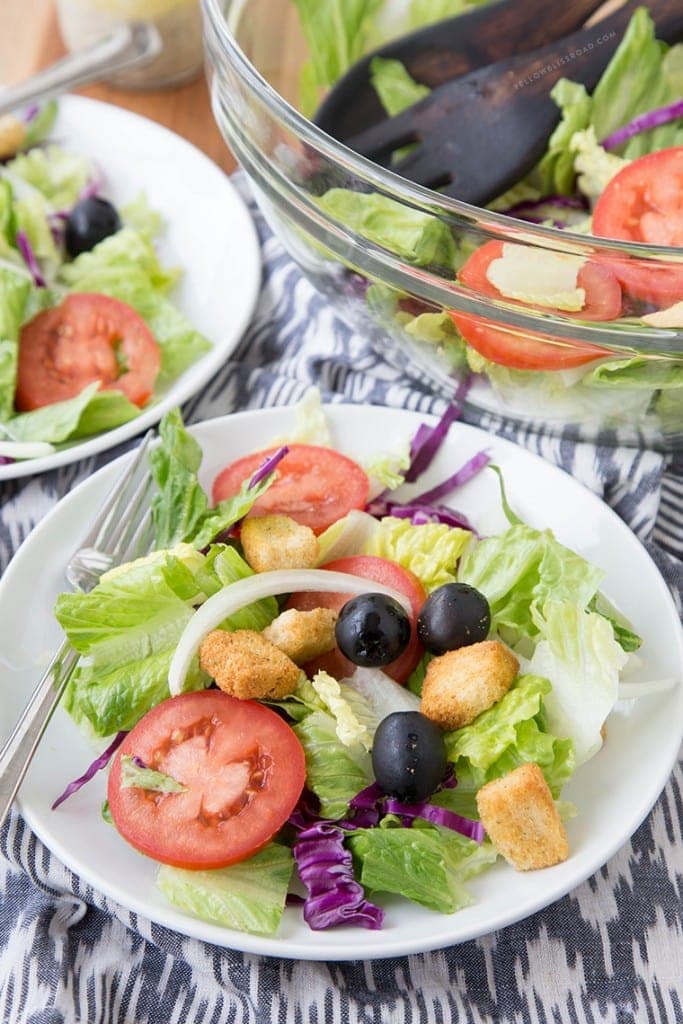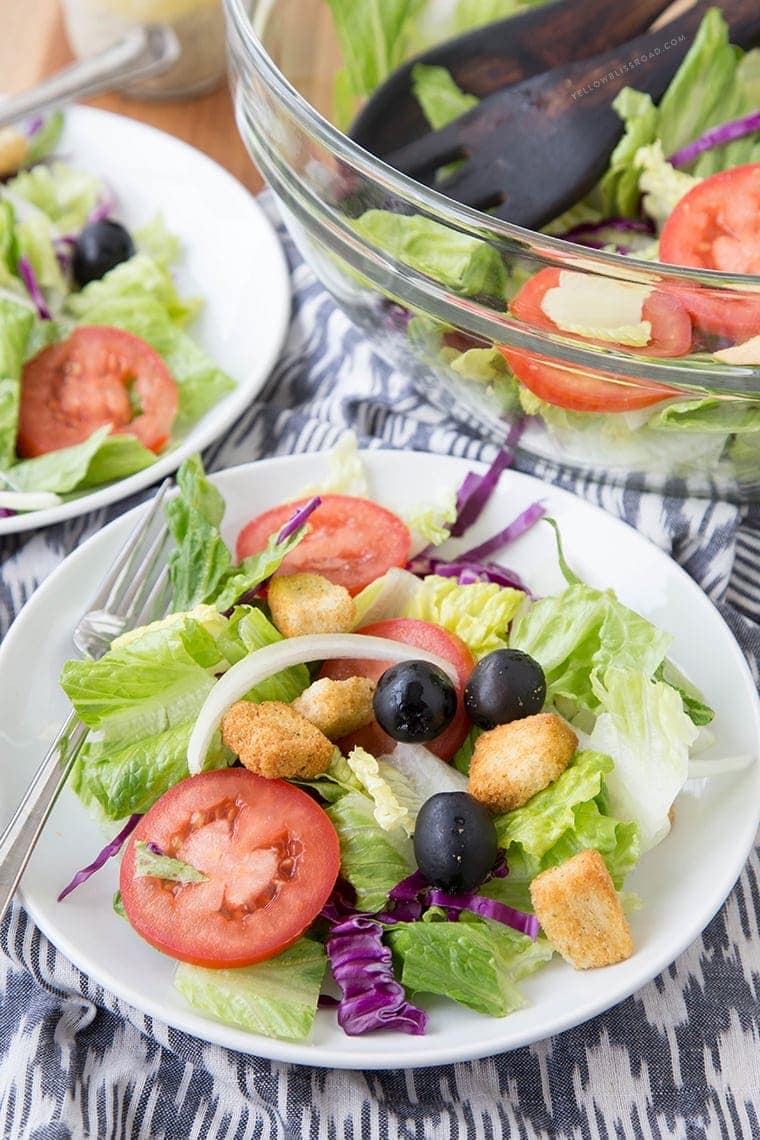 Olive Garden Salad Dressing
When I was a kid we always had a bottle of the famous Olive Garden Salad Dressing in our fridge for our daily dinner salads. While you can still purchase a bottle at the restaurant and even at the grocery store, it's so easy and in my opinion much more delicious to make it fresh at home.
The dressing is pretty simple. There are just 5 ingredients you'll need:
Mayonnaise
Lemon juice
Parmesan cheese
Olive oil
Italian seasoning
I tested a few different recipes before being satisfied with the result. This one came the closest to that tangy, savory flavor that everyone loves for the perfect copycat salad.
Pulse the ingredients in a blender or simply shake them up in a jar with a tight fitting lid.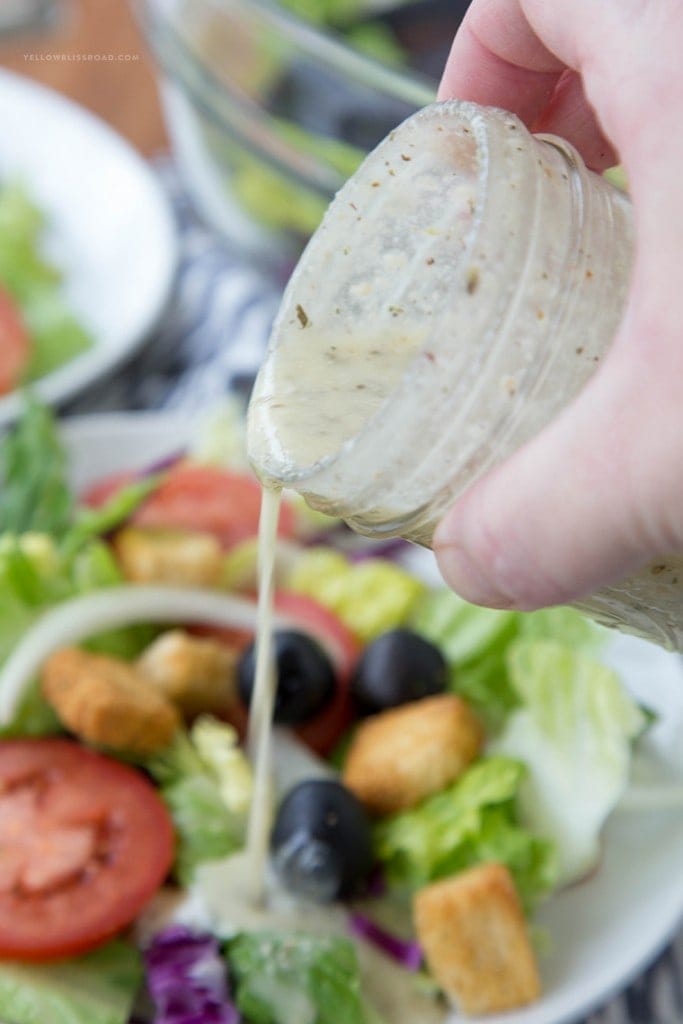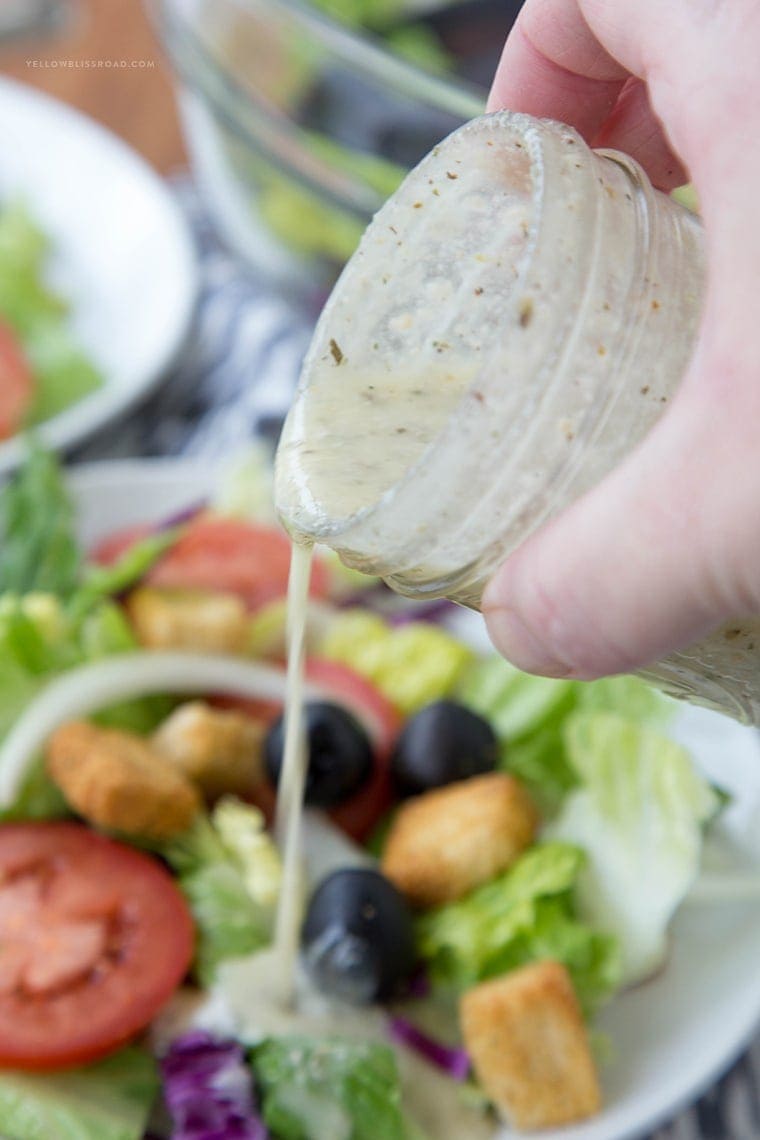 How To Serve
This classic Italian Olive Garden Salad recipe is great as a starter or side paired with some of our favorite classic Italian dishes. Of course, it's perfect when you pair it with other Olive Garden copycat recipes, like Zuppa Toscana or Chicken Gnocchi Soup.
But it's also a great no-fuss salad recipe to make with any main entree you're serving, especially casseroles and one pot meals.
Salad Variations
Add protein: This salad is a great meal starter, but you can also make it a complete meal by adding some Grilled Chicken Breast, Grilled Steak or Easy Baked Salmon.
More cheese, please! Add grated, shredded, or even chunks of fresh Parmesan, balls of mozzarella, or chunks of Feta.
Veggies: Add any of your favorite veggies or beans to the salad, like artichokes, avocado or chickpeas, or feel free to omit or swap things you don't like. For example, we often prefer cherry tomatoes to the Roma.
Make Ahead and Storage
How to store salad: Chop the lettuce and store in a container or plastic bag with a few paper towels to absorb moisture. Cut/slice other vegetables and store in containers. Make the dressing and store it separately. Salad ingredients store separately will remain fresh for 2-3 days. Stored together, serve within 12 hours. For more tips, check out How to Store Fresh Produce and How to Wash and Store Lettuce.
How to store dressing: Dressing should also be kept in the refrigerator. Store in a jar or container with a tight-fitting lid and it should remain fresh for up to 2 weeks.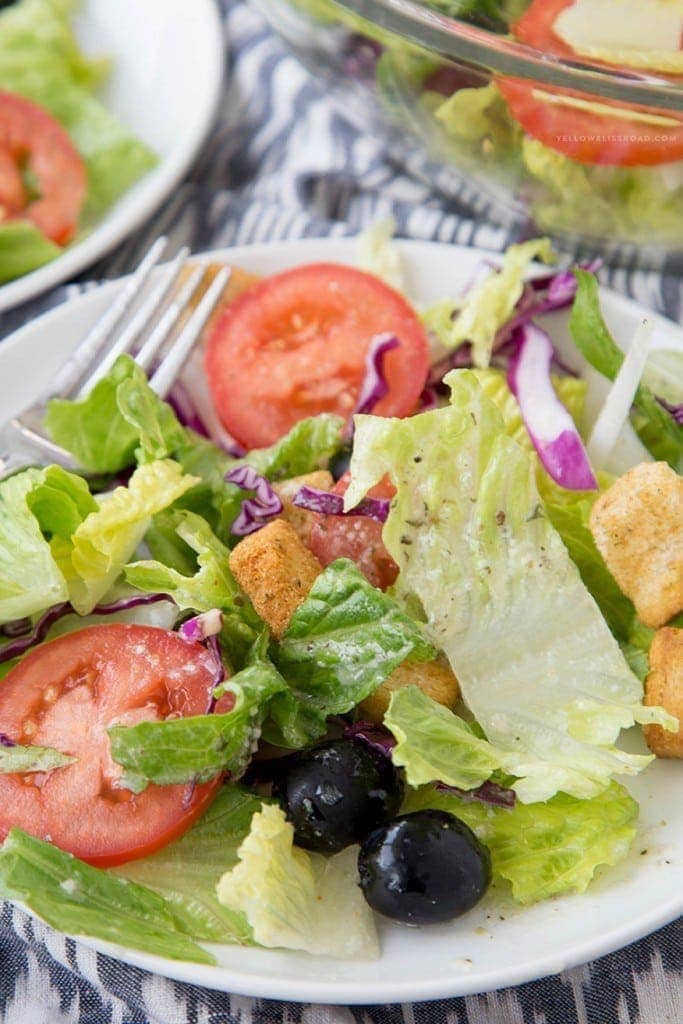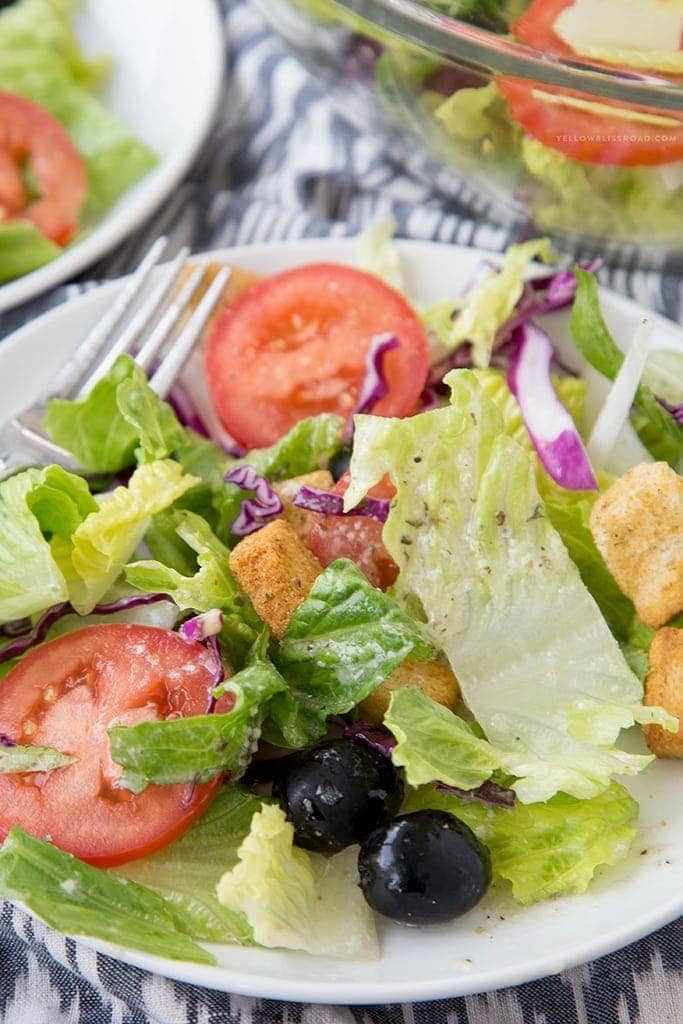 Expert Tips and FAQs
Store the salad dressing in an airtight bottle or container in the fridge and it will last up to 2 weeks.
Use fresh ingredients – the fresher the better.
Add protein to make this salad a full meal.
More Salads You'll Love
Recipe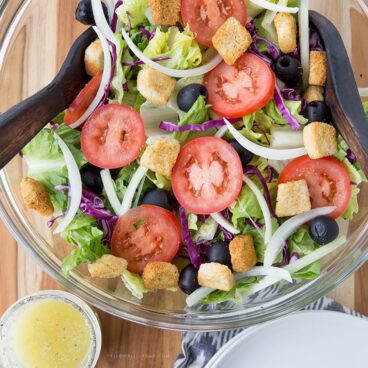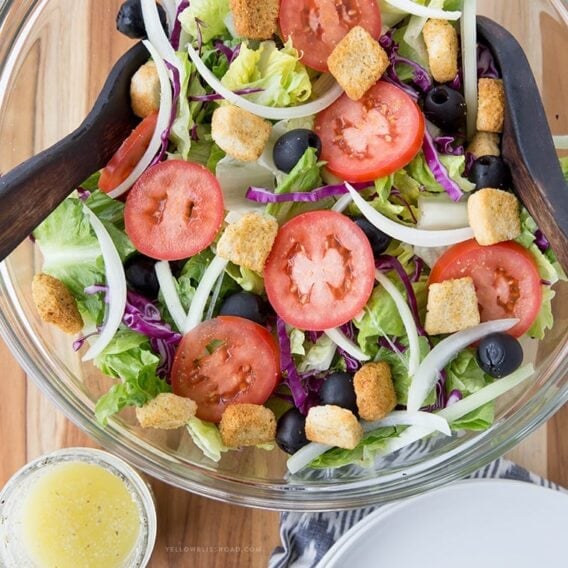 Olive Garden Salad Dressing Copycat
Olive Garden Salad Dressing is a simple 5-ingredient recipe that's ready in 10 minutes so you can make the famous Olive Garden Salad at home!
Ingredients
Salad dressing
1/2

cup

olive oil

3

tablespoons

white vinegar

or red wine vinegar

2

tablespoons

mayonnaise

3

tablespoons

grated Parmesan

2

teaspoons

lemon juice

1

teaspoon

sugar

1

teaspoon

garlic powder

1

teaspoon

garlic salt

1

teaspoon

Italian seasoning

Salt and pepper to taste
Salad
8

cups

romaine lettuce

roughly chopped

1/2

cup

shredded red cabbage

1/2

cup

shredded carrot

3

Roma tomatoes

3

ounces

jumbo olives

1/2

cup

sliced onion

1

cup

croutons

6

whole pepperoncinis

drained

optional – fresh grated parmesan for topping
Instructions
Salad dressing
Combine all dressing ingredients in a seal-able jar and shake until completely combined. Pour over salad.
Salad
Toss salad ingredients together in a large bowl. Serve with salad dressing on the side and fresh grated parmesan for topping, if desired.
Notes
The salad dressing recipe makes a little over 1 cup of dressing, which will dress the salad as written. . You can easily double or triple the recipe to make more. 
Nutrition
Calories:
280
kcal
Carbohydrates:
12
g
Protein:
3
g
Fat:
25
g
Saturated Fat:
4
g
Cholesterol:
4
mg
Sodium:
730
mg
Potassium:
344
mg
Fiber:
4
g
Sugar:
4
g
Vitamin A:
7693
IU
Vitamin C:
22
mg
Calcium:
78
mg
Iron:
1
mg