Homemade Alfredo Sauce is so creamy and flavorful, and so simple to make from scratch with just a few ingredients! You'll never want to resort to the jarred stuff again.
I have been making homemade Alfredo Sauce for so long, I know this recipe like the back of my hand. It's super simple, tastes like you slaved over it, and is delicious with all kinds of pastas. We especially love it with Tortellini or Chicken Alfredo Stuffed Shells.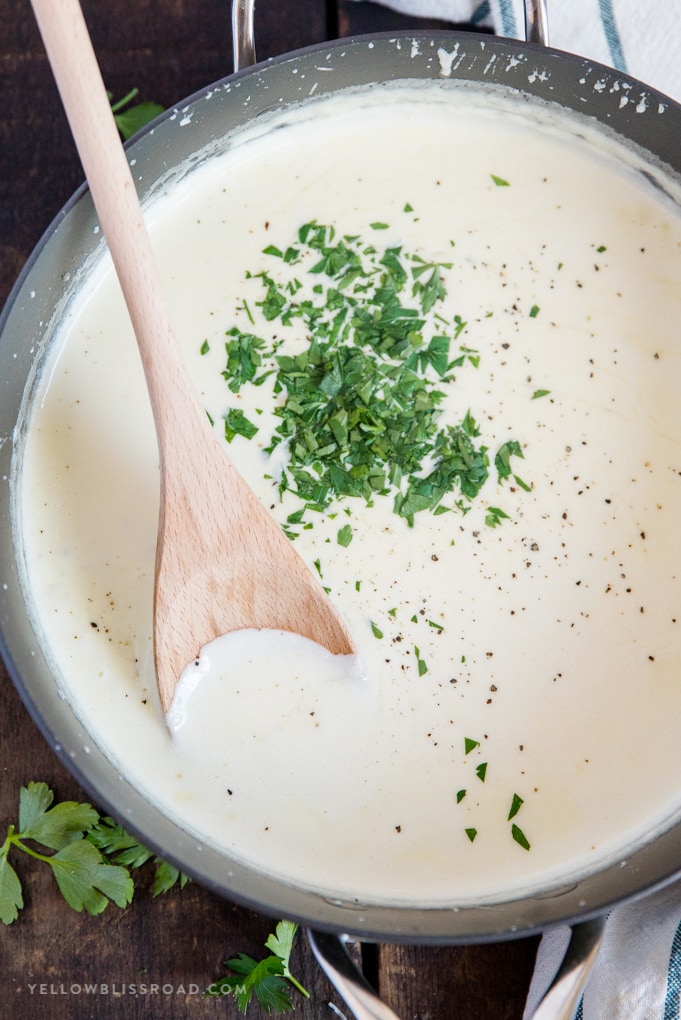 The Best Homemade Alfredo Sauce Recipe
About 11 years ago when my husband and I first met, he casually mentioned that Fettuccine Alfredo was his favorite guilty pleasure. Well, guilty pleasure suggests that you rarely get to splurge, but he would splurge on the stuff any time we went out to eat. If they had Alfredo on the menu, you can bet it was going to end up at our table!
I tried to make it for him once when we were first dating. I completely ruined it on the first try, but wouldn't you know this sweet man ate it anyway and called it the best he'd ever had.
My kids have become quite the Alfredo lovers, too. In fact on a recent trip to our favorite Italian restaurant the 4 of us all ordered it! You should have seen our servers face as he went around the table and we all answered, "Chicken Alfredo."
It's such a simple meal, but is so homey and comforting. It's no wonder it's such a popular dish!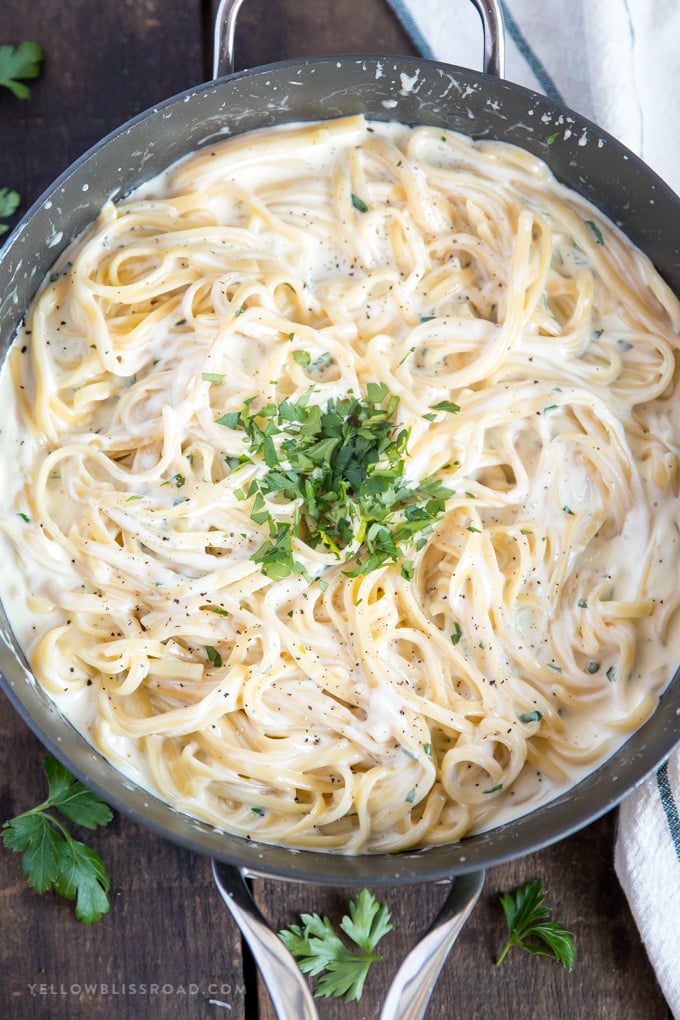 What is Alfredo Sauce?
There are basically two ways to make a homemade Alfredo Sauce. The traditional way involves a few simple ingredients and basically heating them on the stove and melting the cheese, and the non-traditional method involves creating a roux.
I think both methods are delicious, and the roux method is definitely a "skinnier" recipe since it uses a lot less butter and a cream. However if I had to choose, it's going to be traditional Alfredo every time.
How to Make Alfredo Sauce from scratch
You only need 5 ingredients to make the best Alfredo Sauce. It's creamy, delicious and is the best over fresh, hot pasta. It doesn't even compare to the bottled stuff you can buy at the grocery store. Once you learn how to make Alfredo, you'll never go back to jarred again!
Here's what you need:
butter
cream
garlic
parmesan cheese
pepper
Let's make it!
Melt the butter over medium-low heat with some minced garlic, then add the heavy cream. Do not use milk or half and half for this recipe; go all out with the cream. You are basically warming everything up. Bring it to a simmer, just barely bubbling, but do not boil.
Whisk in fresh grated Parmesan cheese. Again, do not boil but let the sauce simmer as you stir in the cheese constantly until it's melted. Simmer away for a few minutes or until the sauce has thickened up.
Salt usually isn't needed because the butter and cheese have enough salt to flavor the sauce quite nicely, but you can judge for yourself. Toss with your favorite pasta and add some fresh minced parsley and cracked black pepper for color.
What does Alfredo Sauce taste like?
This Alfredo sauce is thick and creamy and so delicious. It's got a nuttiness from the parmesan cheese and if the garlic adds a whole other level of flavor.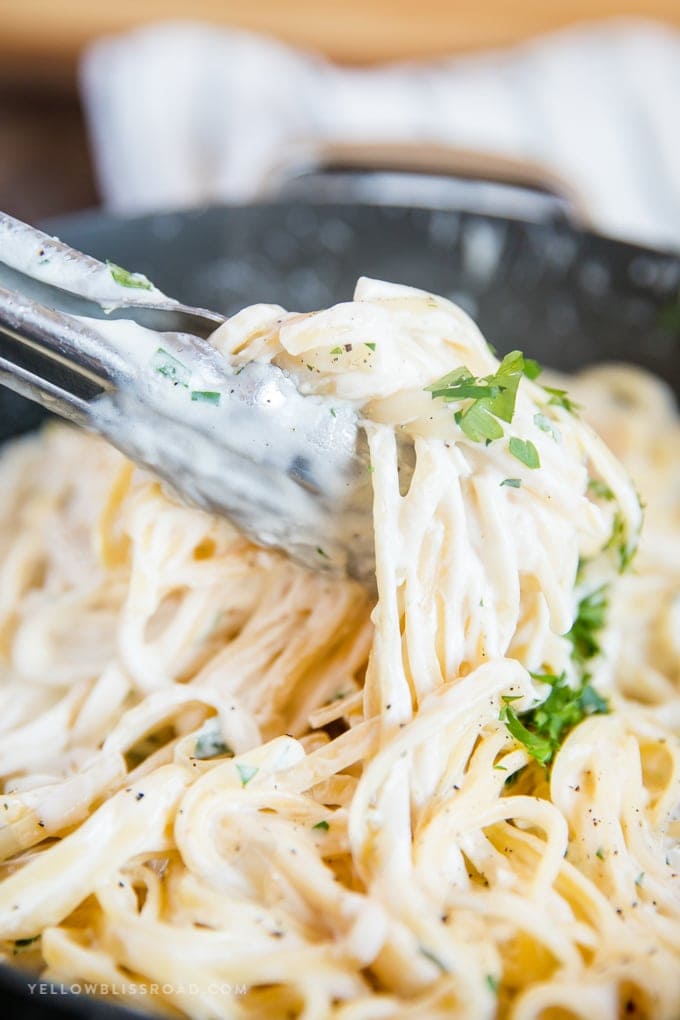 Top Tips and Tricks
The cheese is important! You will want to buy only fresh Parmesan cheese when you make your homemade sauce. The grated stuff in the can doesn't melt and can end up tasting grainy, and the pre-packaged shredded Parmesan won't melt as well either because of the coating they add to it to keep it from sticking together in the bag. Buy the block of good quality Parmesan from the deli for the very best results.
How to thicken a thin Alfredo sauce: Sauce not thick enough for you? Add a couple ounces of softened cream cheese (from the block, not the spread) to your sauce and it will give it a creamier texture and will help it thicken up a bit. You could also add a rou to the mixture. To do this, melt a couple of teaspoons of butter in a small saucepan, and add a couple teaspoons of flour. Cook until golden, then add to your simmering sauce and stir until it's completely incorporated.
Let it simmer. Be sure to turn the heat down when you add the Parmesan cheese. You don't want to boil this sauce at all, just a simmer (a few small bubbles coming to the top) will do fine. Boiling can result in a broken sauce, and nobody likes that.
If you're looking for a Skinny Alfredo Sauce without heavy cream, be sure to check out our Chicken Alfredo Baked Ziti.
This Homemade Alfredo Sauce is luscious, creamy, and oh so tasty. Pour it over chicken, pasta, or even pizza! Makes a great bread dip too!
Freezing and Reheating
Refrigerator: If you happen to have leftover sauce, you can reheat it but proceed with caution. Add a teaspoon of two of milk to the pasta and sauce, then simmer it over low heat or heat in the microwave at 50% power, stirring often, until warmed through. Reheat slowly and stir frequently or the sauce can break and create a greasy mess.
Freezer: Alfredo sauce can be frozen for up to 6 months if properly stored in an airtight container or freezer bag. To reheat, thaw in the fridge overnight, then place the sauce in a saucepan on the stove over medium-low heat. Stir constantly until heated through to avoid breaking the sauce (when the cream and butter separate and your lovely sauce becomes a greasy mess).
Serving Suggestions
Alfredo Sauce is usually served with Fettuccine Pasta. The long, thick Fettuccine noodles mop up the luscious sauce so you don't miss a drop. Try that with macaroni! You could also try your hand at making some homemade pasta. Sprinkle on some fresh minced parsley or chopped basil for a little color in the presentation. Because it's so rich, we usually serve alfredo topped pastas with just a simple green salad and some homemade Garlic Bread.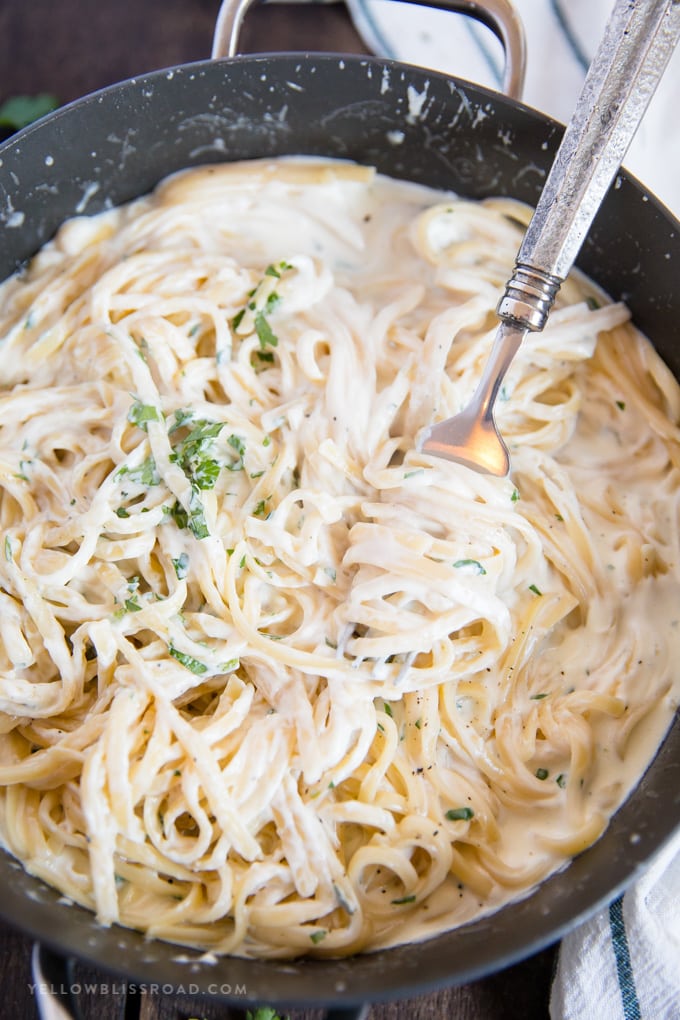 Here are some more delicious Alfredo recipes to try:
More pasta recipes you'll love: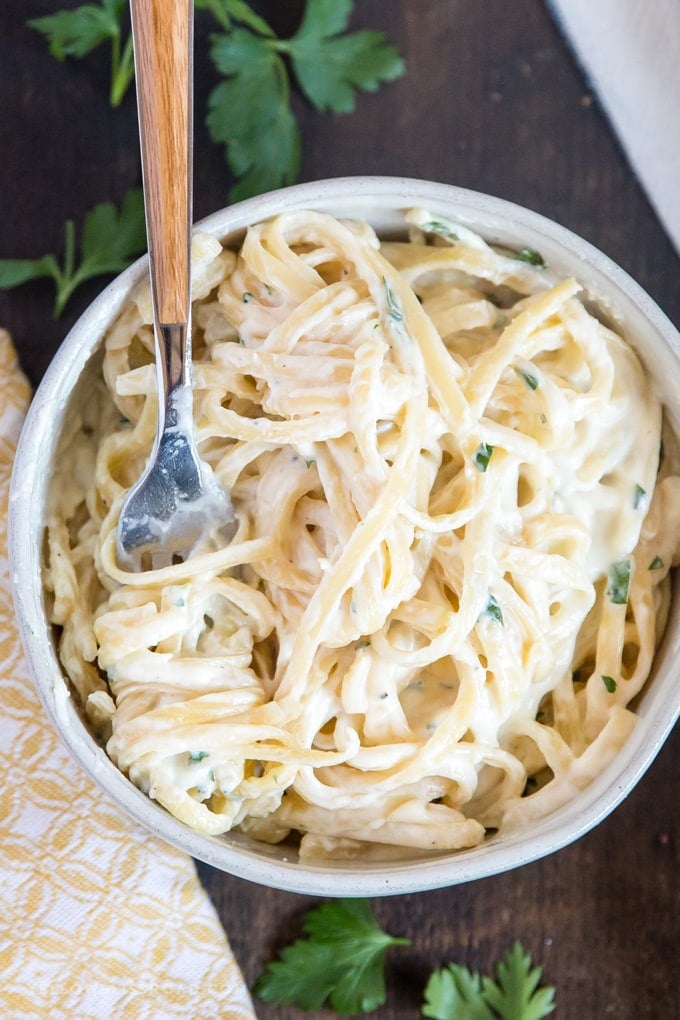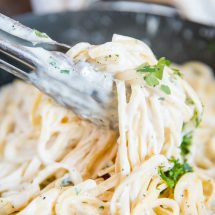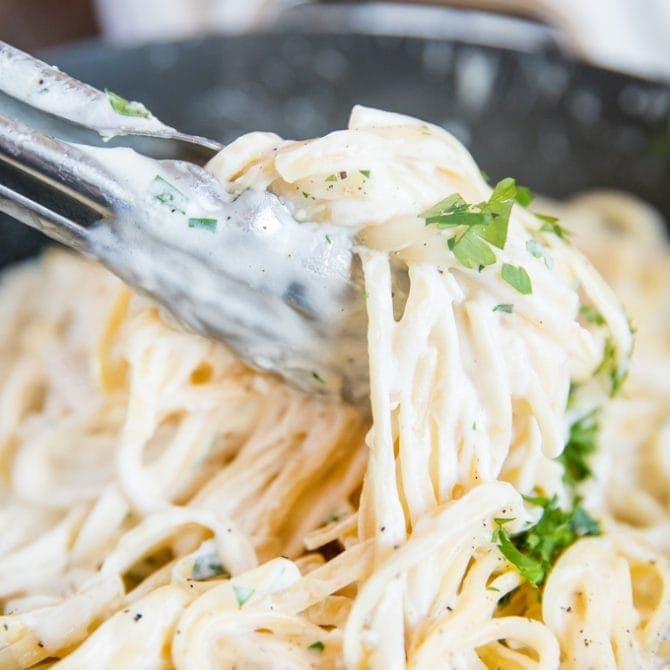 Homemade Alfredo Sauce
Homemade Alfredo Sauce is so creamy and flavorful, and so simple to make from scratch with just a few ingredients! You'll never need the jarred stuff again.
Print
Pin
Rate
Prep Time: 5 minutes
Cook Time: 10 minutes
Total Time: 15 minutes
Servings: 6 servings
Calories: 487kcal
Ingredients
1/2 cup butter
2 garlic cloves minced
2 1/2 cups heavy cream (not milk)
2 cups freshly grated Parmesan cheese off the block
Fresh cracked black pepper to taste
Instructions
In a large skillet, melt the butter over medium-low heat. Add garlic and cook, stirring often, for 1-2 minutes or until fragrant. Be careful not to burn.

Whisk in heavy cream and allow to bubble up to a simmer, then simmer for 2-3 minutes.

Whisk in the parmesan and bring to a simmer - do not boil - for about 3-4 minutes or until sauce has thickened slightly.

Add salt and pepper to taste and toss with fresh, hot pasta. Garnish with fresh minced parsley.
Notes
Recipe makes about 3 cups of sauce, which is enough for a pound of fettuccine pasta.
Nutritional information does not include pasta.
Nutrition
Calories: 487kcal | Carbohydrates: 4g | Protein: 14g | Fat: 46g | Saturated Fat: 28g | Cholesterol: 165mg | Sodium: 547mg | Potassium: 116mg | Vitamin A: 1745IU | Vitamin C: 0.9mg | Calcium: 436mg | Iron: 0.3mg