The Best Alfredo Sauce doesn't come from a jar – it comes from your own kitchen! Homemade Alfredo Sauce is rich and creamy and takes about 15 minutes to make from scratch with just a few ingredients.
It's easy to make, tastes like you slaved over it, and perfect over your favorite pasta. You'll never want to resort to store-bought again!
Try this homemade Alfredo sauce with Broccoli Tortellini Alfredo or Chicken Alfredo Stuffed Shells. Or for a unique spin on a classic, try my creamy Pumpkin Alfredo.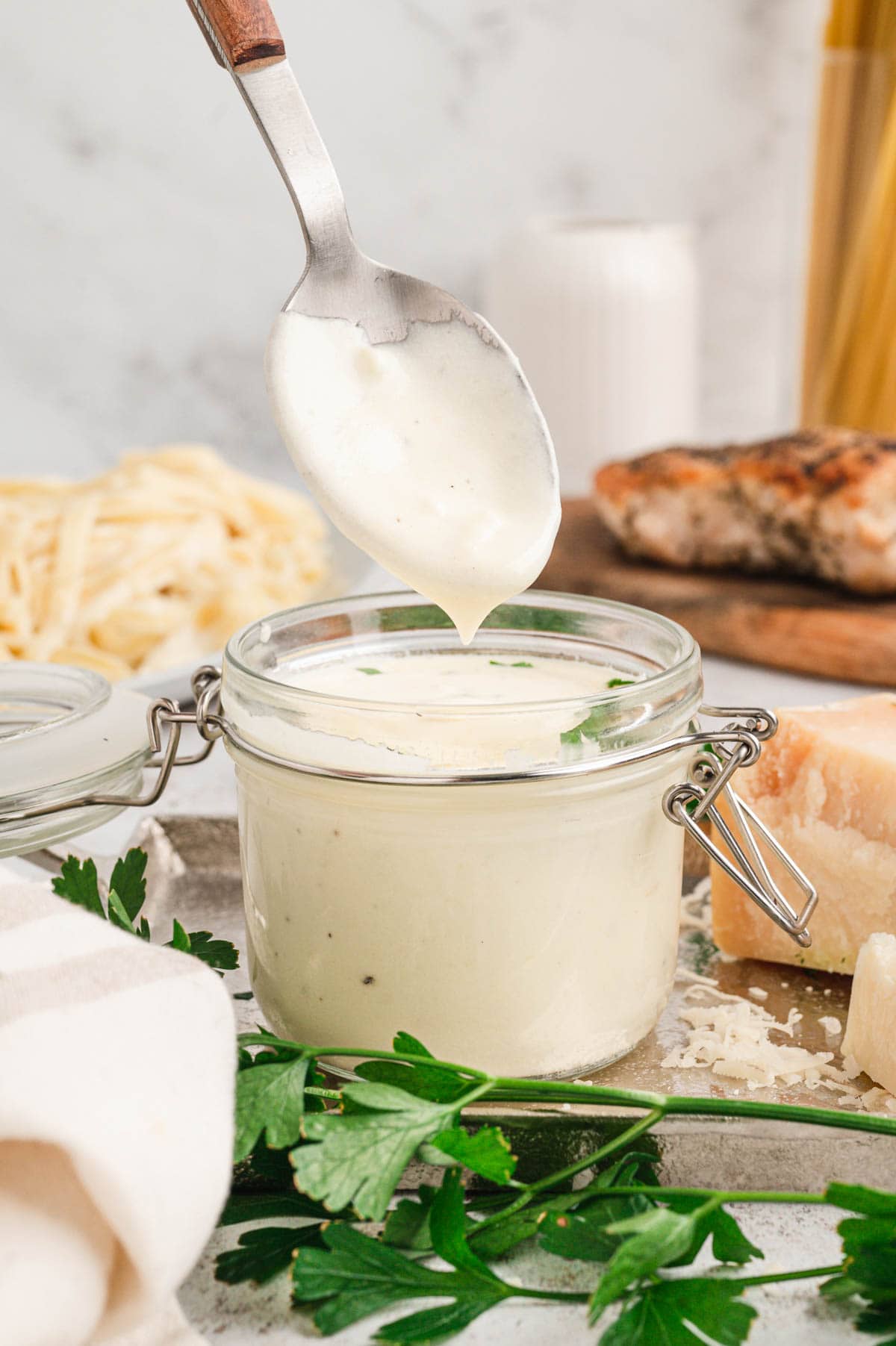 Pin this recipe for later!
How To Make the Best Alfredo Sauce From Scratch
This Homemade Alfredo Sauce recipe is a creamy sauce that's super delicious and is the best over fresh, hot pasta. Once you learn how to make Fettuccine Alfredo from scratch, you'll never go back!
Simmer the butter and cream. Melt the butter over medium-low heat with some minced garlic, then add the heavy cream. Bring it to a simmer, just barely bubbling, but do not boil.
Work quickly with the cheese. Whisk in fresh grated or shredded Parmesan cheese. Add the cheese in small handfuls, whisking vigorously with each addition in order to incorporate it into the sauce so it can melt. This will keep your cheese from clumping. Simmer away for a few minutes or until the sauce has thickened up.
Season, garnish, and serve. Salt usually isn't needed because the butter and cheese have enough salt to flavor the sauce quite nicely, but you can judge for yourself. Toss with your favorite pasta and add some fresh minced parsley and cracked black pepper.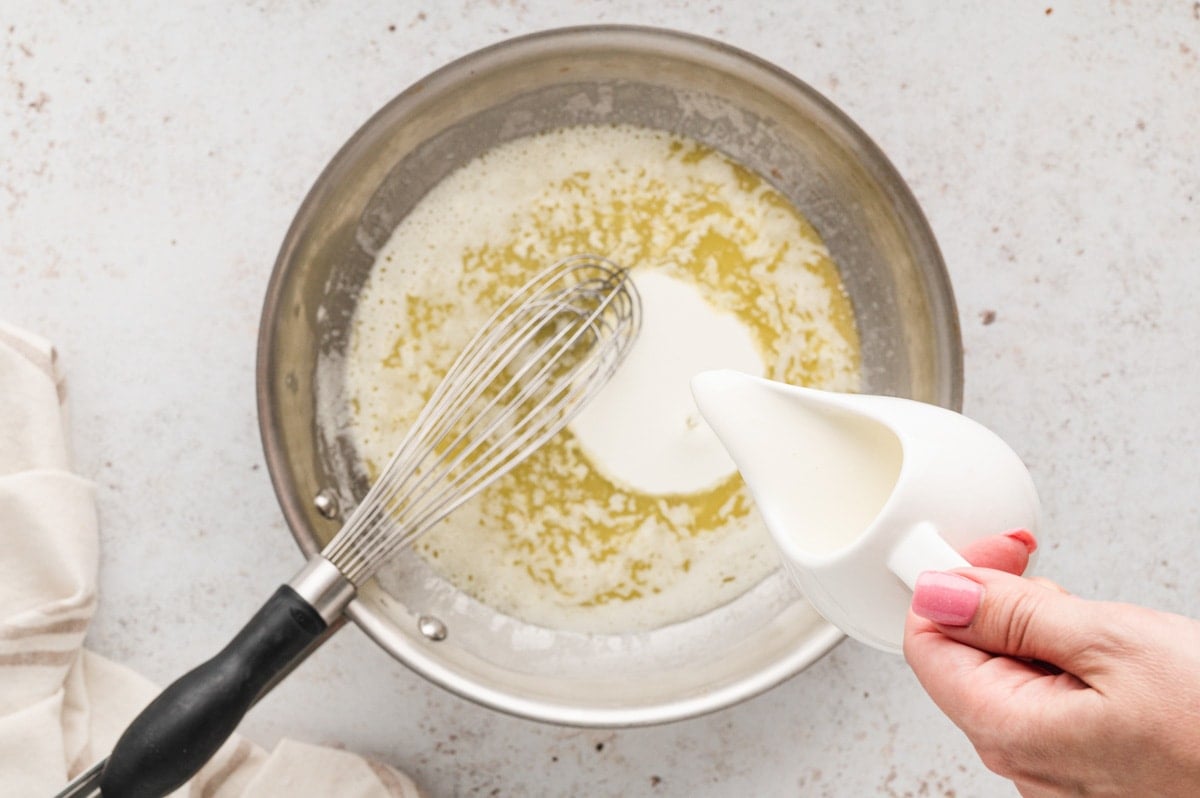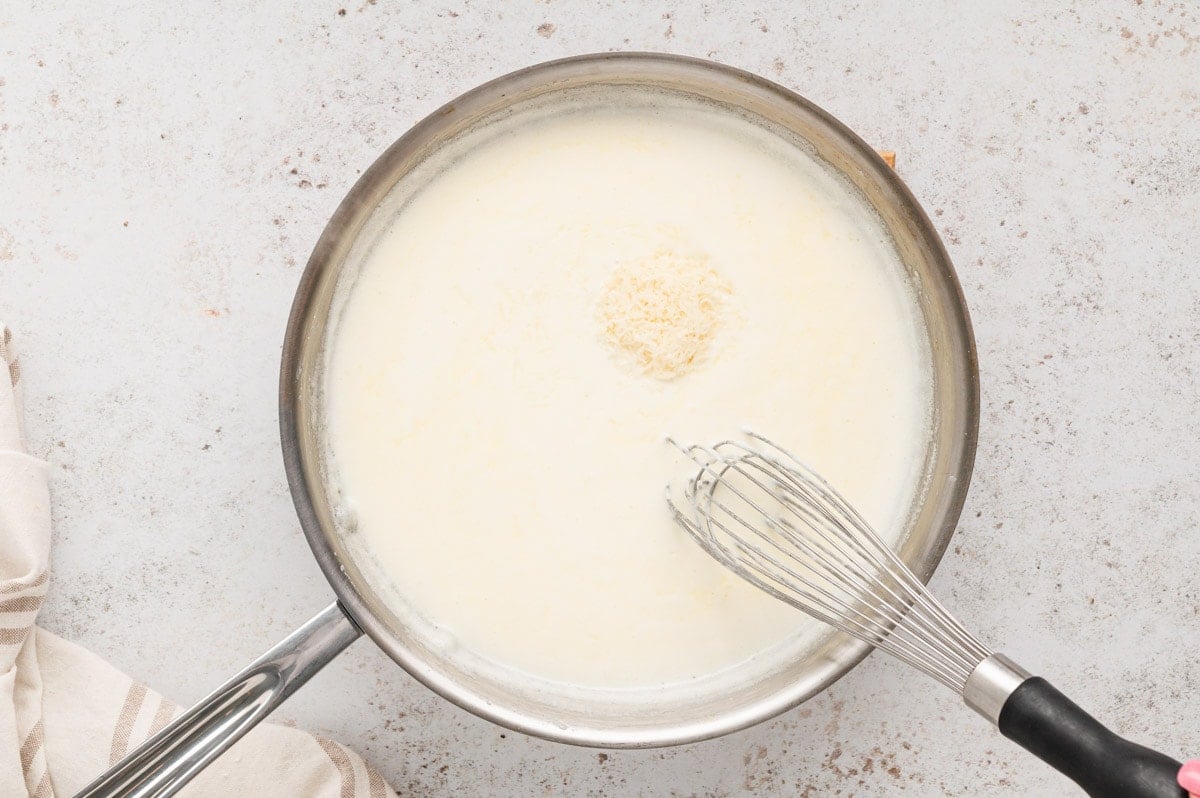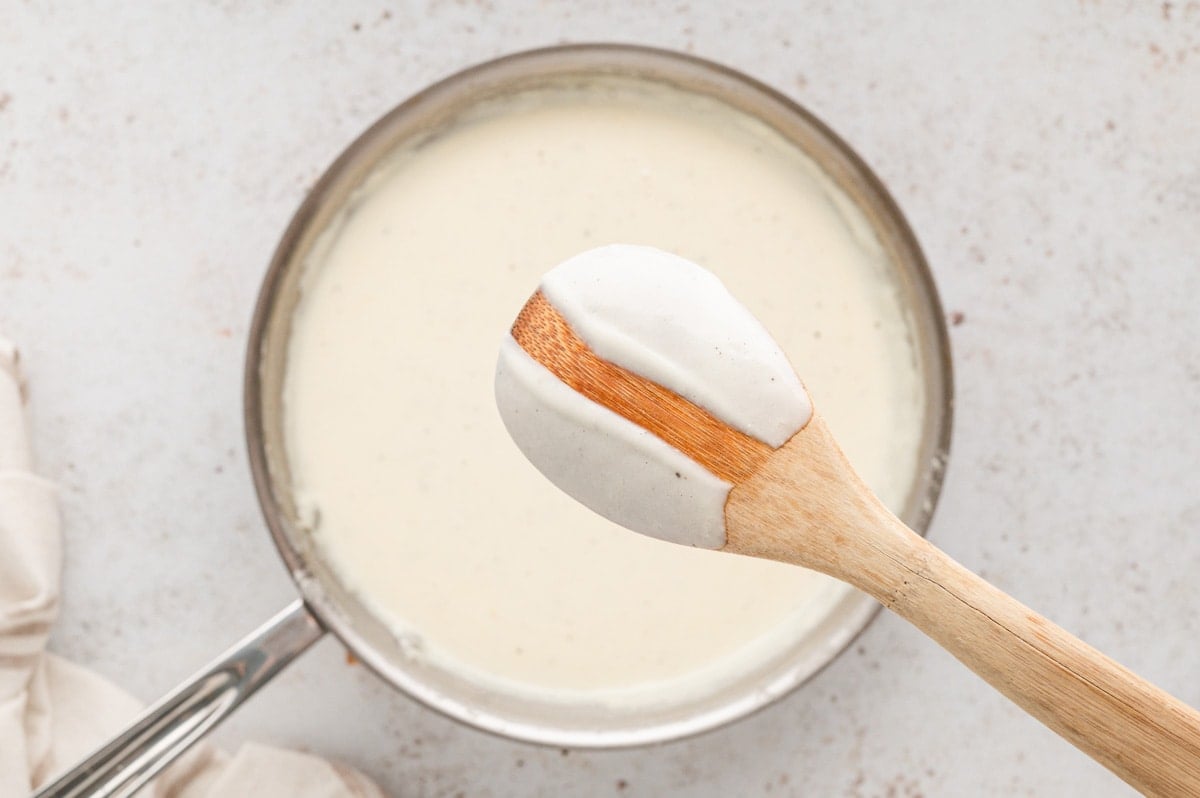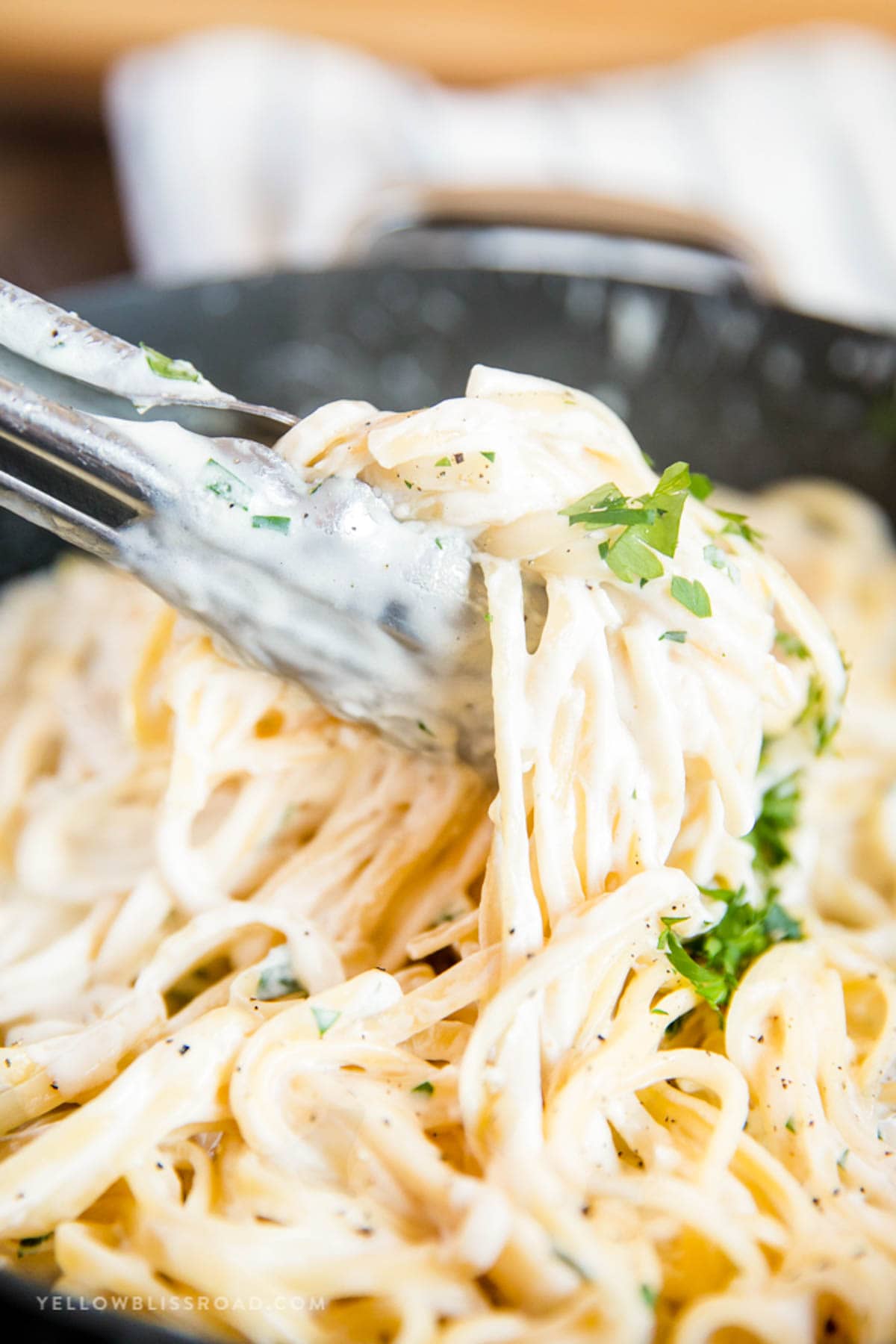 How To Thicken a Thin Sauce
Sauce not thick enough for you? Add a few ounces of softened cream cheese (from the block, not the spread) to your sauce. It will give the sauce a creamier texture and will help it thicken up a bit.
You could also add a roux to the mixture. To do this, melt a tablespoon of butter in a small saucepan, and add a tablespoon of flour. Cook until golden, then add to your simmering sauce and stir until it's completely incorporated.
Recipe FAQs
What is Alfredo sauce?
A classic alfredo is a creamy, cheesy white sauce served over pasta, usually fettuccine. You can make it the traditional way by heating the ingredients on the stove or the non-traditional method which involves creating a roux. Hands down, I prefer the traditional method.

If you're looking for a "Skinny" without heavy cream? Be sure to check out our Chicken Alfredo Baked Ziti.
What does the sauce taste like?
Alfredo is thick and creamy and so delicious. It's got a nuttiness from the parmesan cheese and the garlic adds a whole other level of flavor.

While it's similar in taste and texture to the butter and cheese sauce on Cacio e Pepe, alfredo is slightly more complex and uses heavy cream.
What can I use instead of heavy cream?
If you don't have any heavy cream, you can use whole milk but it will not thicken the same and will be a much thinner sauce. Alternatively, you can make a roux by adding a few tablespoons of flour to the melted butter and garlic and then add milk. The texture will be a little different and it won't be as rich, but it will still taste good.
Serving Suggestions
Over Pasta – Alfredo is most commonly served with Fettuccine Pasta. The long, thick Fettuccine noodles mop up the luscious sauce so you don't miss a drop. Any type of pasta will work: spaghetti, linguine, or even small-cuts like penne and rotini. You could also try your hand at making some homemade pasta.
Garnishes – Sprinkle on some fresh minced parsley or chopped basil for a little color in the presentation.
Sides: Because it's so rich, I usually serve alfredo topped pastas with just a salad like my copycat Olive Garden Salad and some homemade Garlic Bread. It doesn't need much to jazz it up.
Mix-Ins: You can also top with your favorites, like grilled chicken (Chicken Alfredo – YUM), Pan Seared Shrimp, or Garlic Butter Steak Bites.
Storage and Reheating Tips
Storage: If you happen to have some leftover, you'll want to store the pasta and sauce separately if possible. If it's already mixed together, don't freeze it, but keep it in an airtight container in the fridge for 3-4 days.
Refrigerator: If you happen to have leftover sauce, you can reheat it but proceed with caution. Add a teaspoon or two of milk/cream to the pasta and sauce, then simmer it over low heat or heat in the microwave at 50% power, stirring often, until warmed through. Reheat slowly and stir frequently or the sauce can break and create a greasy mess.
Freezer: Freeze the sauce by itself (no pasta) in an airtight container or freezer bag for up to 6 months. To reheat, thaw in the fridge overnight, then place the sauce in a saucepan on the stove over low heat. Stir constantly until heated through to avoid breaking the sauce (when the cream and butter separate and your lovely sauce becomes a greasy mess). Make fresh pasta when you're ready to use the sauce.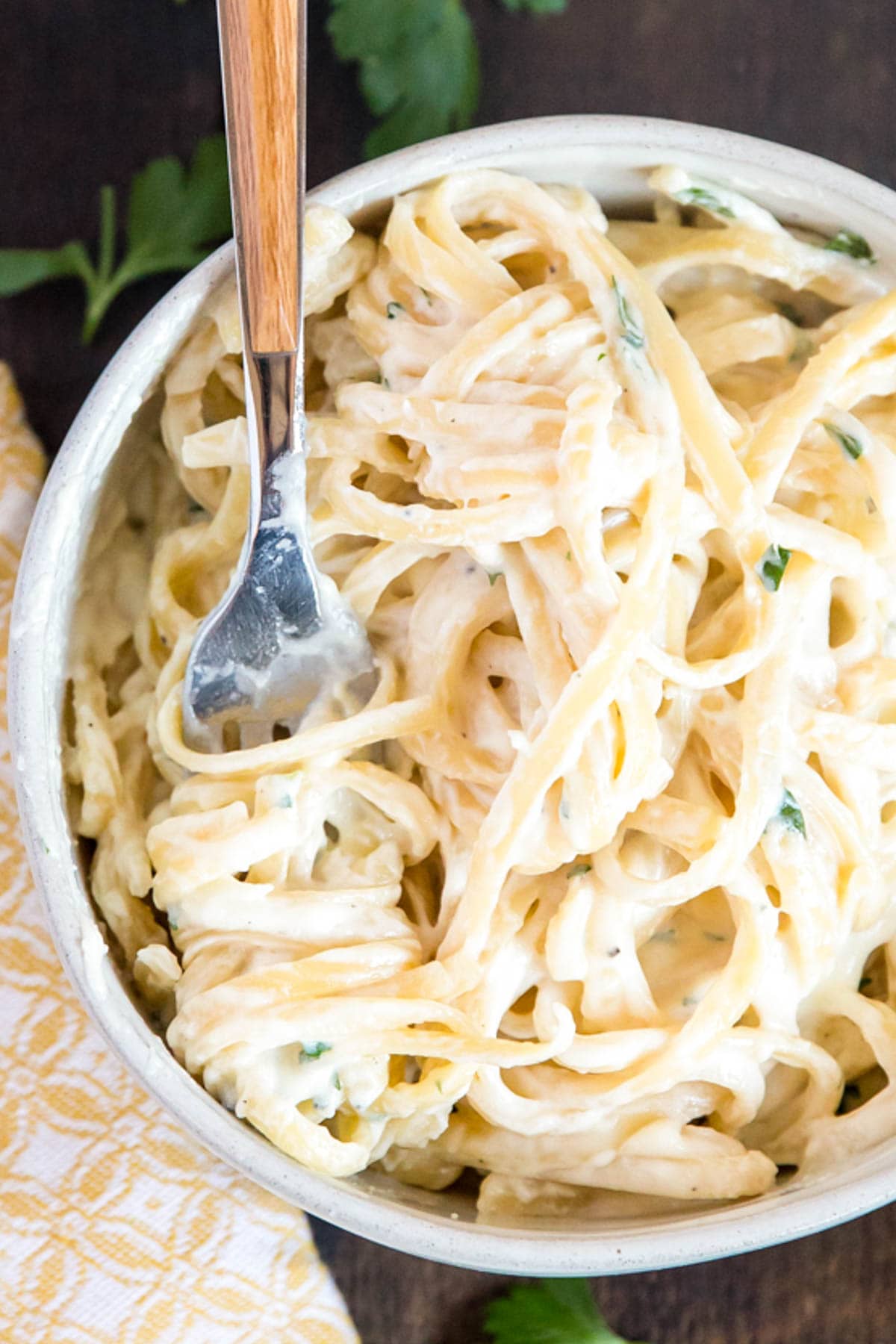 Expert Tips
Buy good quality ingredients – The quality of your ingredients can make or break this dish, so make sure to buy the best quality cheese, butter, and cream that you can.
The cheese is important! Manufacturers coat pre-shredded and pre-grated cheeses with starches to prevent them from sticking together. However, this coating can hinder the cheese from melting smoothly. Make sure to buy a good quality block of cheese and grate it yourself for the best possible texture.
Let it simmer. Be sure to turn the heat down when you add the Parmesan cheese. You don't want to boil this sauce at all, just a simmer (a few small bubbles coming to the top) will do fine. Boiling can cause the butter and cream to separate or "break" the sauce.
Salt your pasta. The sauce won't need any added salt, but do add salt to your pasta water. At least a tablespoon or two to 4-5 quarts of boiling water.
Toss, don't pour. You want to add the pasta to the sauce, not the other way around. Use tongs to transfer the noodles directly from the water to the sauce and swirl around to coat completely. The sauce will thicken more as you combine because of the starches in the pasta.
More Pasta Sauces to Try
Recipe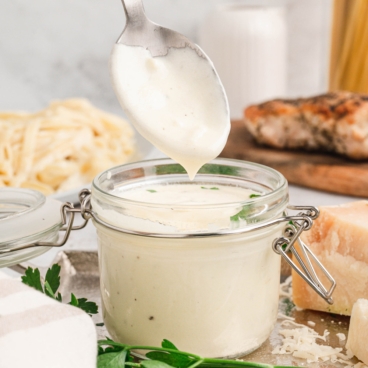 Homemade Alfredo Sauce
The Best Alfredo Sauce is made from scratch! Homemade Alfredo Sauce is so rich and creamy and takes 15 minutes with just a few ingredients.
Ingredients
1/2

cup

butter

1 stick

2

garlic cloves

minced

2 1/2

cups

heavy cream

(not milk)

2

cups

freshly grated Parmesan cheese

off the block

Fresh cracked black pepper and fresh minced parsley

to taste

16

ounces

cooked Fettuccine (or other pasta)
Instructions
In a large skillet, melt the butter over medium-low heat. Add garlic and cook, stirring often, for 1-2 minutes or until fragrant. Be careful not to burn.

Whisk in heavy cream and allow to bubble up to a simmer, then simmer for 2-3 minutes.

Vigorously whisk in the parmesan until melted and bring to a simmer – do not boil – for about 3-4 minutes or until sauce has thickened.

Add fresh cracked black pepper to taste and toss with fresh, hot pasta. Garnish with fresh minced parsley.
Notes
Recipe makes about 3 cups of sauce, which is enough for a pound of fettuccine pasta.
Nutritional information does not include pasta.
Nutrition
Calories:
727
kcal
Carbohydrates:
23
g
Protein:
19
g
Fat:
63
g
Saturated Fat:
39
g
Trans Fat:
1
g
Cholesterol:
228
mg
Sodium:
686
mg
Potassium:
153
mg
Fiber:
1
g
Sugar:
1
g
Vitamin A:
2235
IU
Vitamin C:
1
mg
Calcium:
450
mg
Iron:
1
mg