Chicken Alfredo Stuffed Shells
Chicken Alfredo Stuffed Shells are easy and so creamy and delicious. Stuffed with chicken, mozzarella, and Parmesan, then topped with a creamy homemade Alfredo sauce, these stuffed shells are perfect for a quick weeknight meal but still classy enough for company.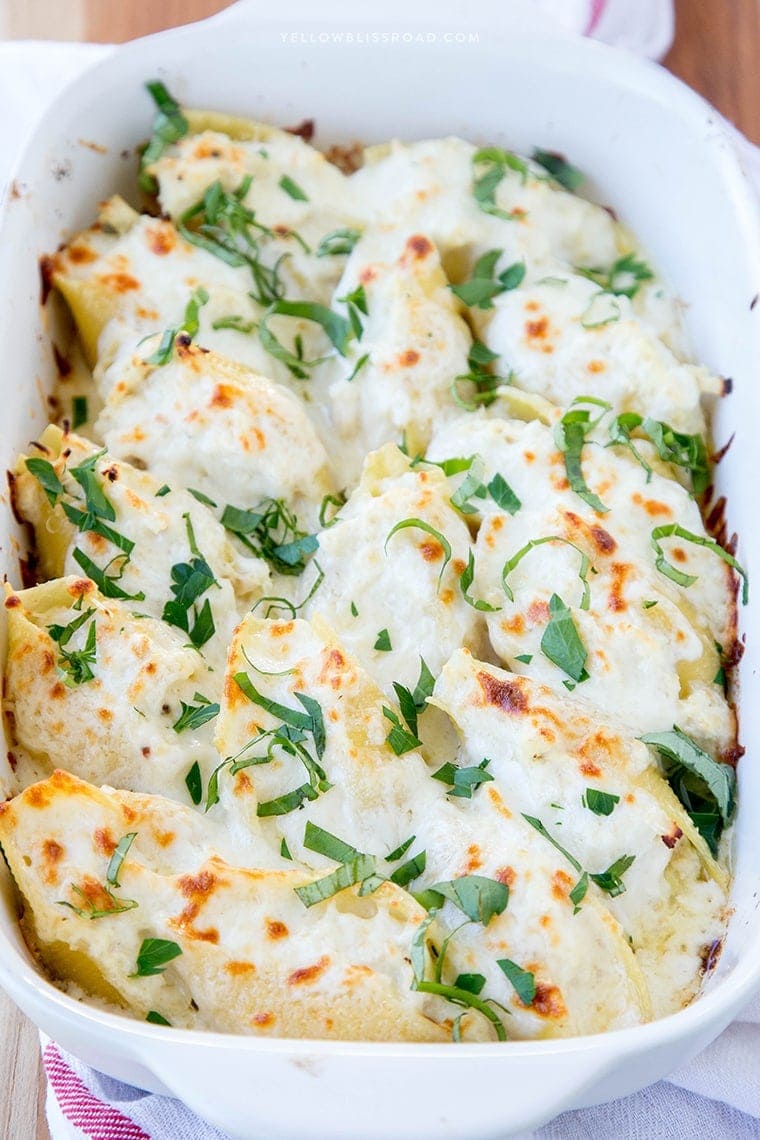 My best friend and I have quite similar palates when it comes to food. We have been lunching together since we were in high school, and we have our favorite local and national restaurants. Don't scoff, but Olive Garden is one of those places. I know some people swear that Olive Garden isn't "real" Italian food, but if it tastes good, who cares?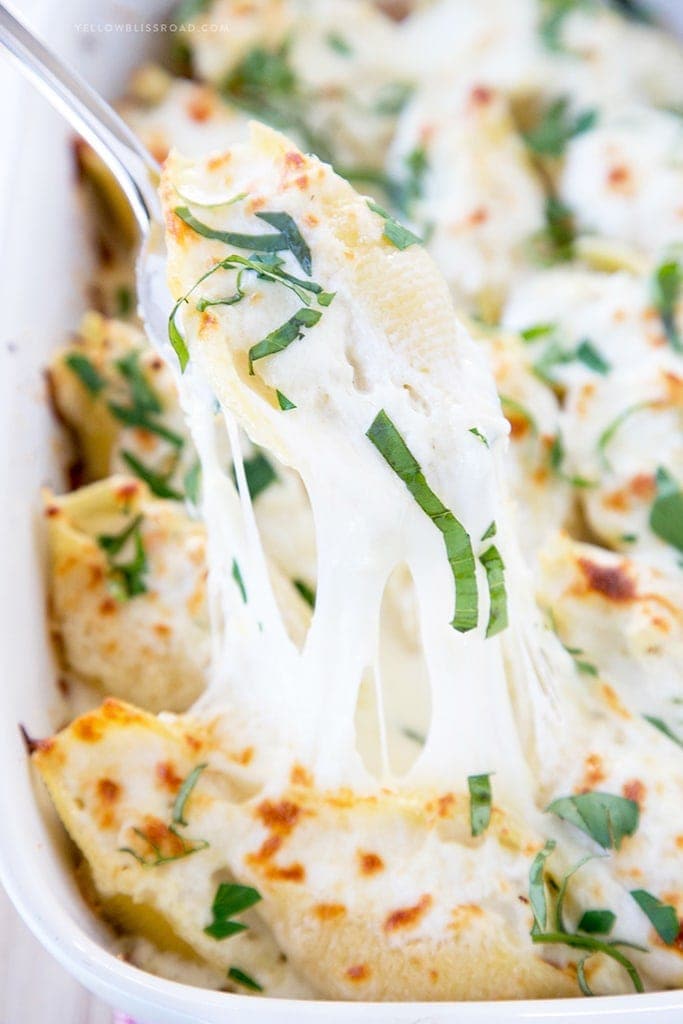 Since we have similar tastes, we tend to order the same food and drinks when we go out. At Olive Garden the Chicken Fettuccine Alfredo is always one of those dishes. Tender pasta, creamy alfredo sauce and savory chicken…it's definitely a winning combination and one that I enjoy replicating at home.
As my family sat around the table enjoy these Stuffed Shells, I couldn't help but wish for some Olive Garden salad and breadsticks to go with it!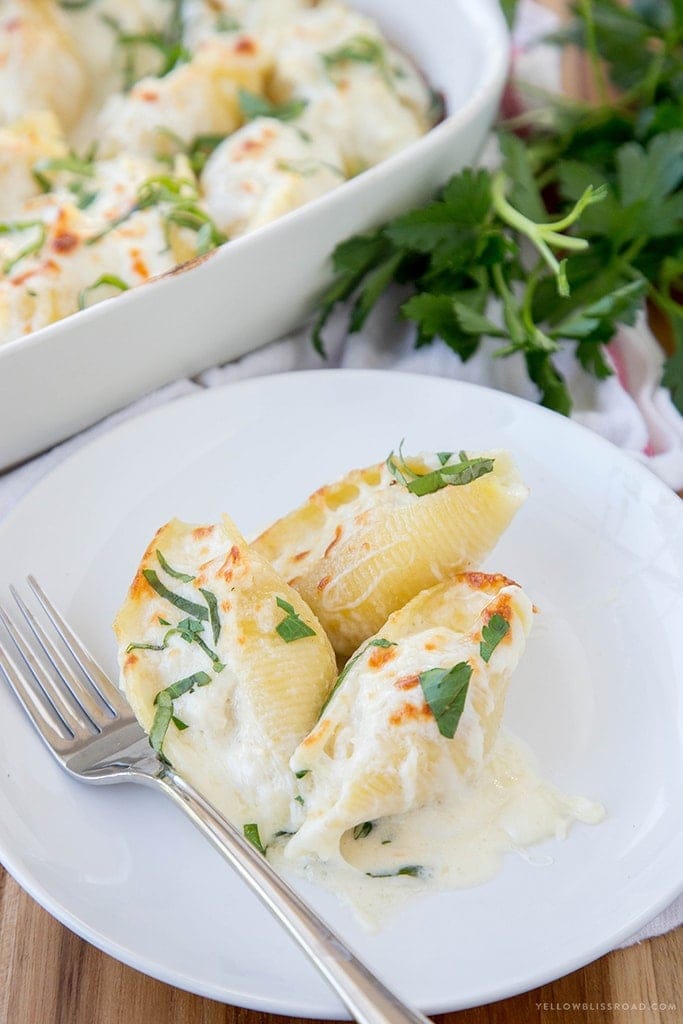 How to Make Chicken Alfredo Stuffed Shells:
I've been wanting to try out these stuffed shells for a while now, but I wanted to do something that wasn't the typical red sauce version. The stuffing is shredded chicken and four kinds of cheese – Ricotta, Mozzarella, Parmesan and Romano. The sauce is a simple Alfredo with only 3 ingredients – butter, heavy cream and Parmesan cheese. Stuff the shells, top them with the Alfredo and more cheese, and you'll have a winning dish your family will be begging you to make again!
How to Make Alfredo Sauce
Alfredo Sauce seems to be one of those sauces that people are scared of, but it couldn't be easier to make. Melt some butter, cook some garlic, add some cream and melt some Parmesan. It's literally as simple as that! The most traditional way to serve Alfredo sauce is over Fettuccine, but Chicken Alfredo is my favorite, no matter what kind of pasta you serve it on…or in! For the Stuffed Shells version, the sauce actually only goes on the bottom of the pan and then is spooned over the stuffed shells.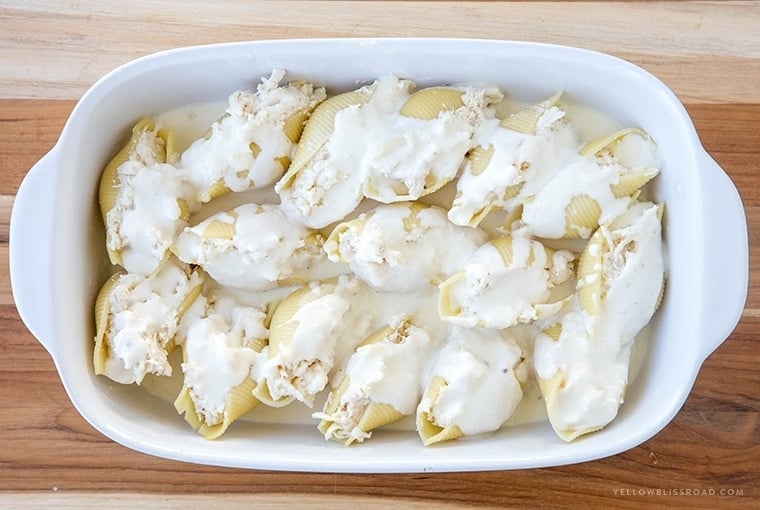 Tips for stuffing the shells
Stuffing the shells for this Chicken Alfredo Stuffed Shells dish is pretty simple. But here are a few tips:
Cook the pasta shells to just before al dente. Anytime you're baking cooked pasta, you run the risk of overcooking it and making it mushy. Cook it about 1 minute under the recommended time and it will still have a nice bite to it.
Cool the shells completely before stuffing. Hot pasta has a tendency to tear when you're trying to stuff it. Cooling the shells makes them not only easier to handle, but they will hold their shape much better.
Use a medium cookie scoop (aff link) for stuffing the chicken mixture into the shells. This makes the stuffing process so much easier! Just scoop the chicken mixture and release it into the shells. I use about 1 ½ scoops to fill each shell.
Once the shells are stuffed and arranged in the baking dish, spoon on the alfredo sauce, sprinkle with cheese and bake for about 15-20 minutes.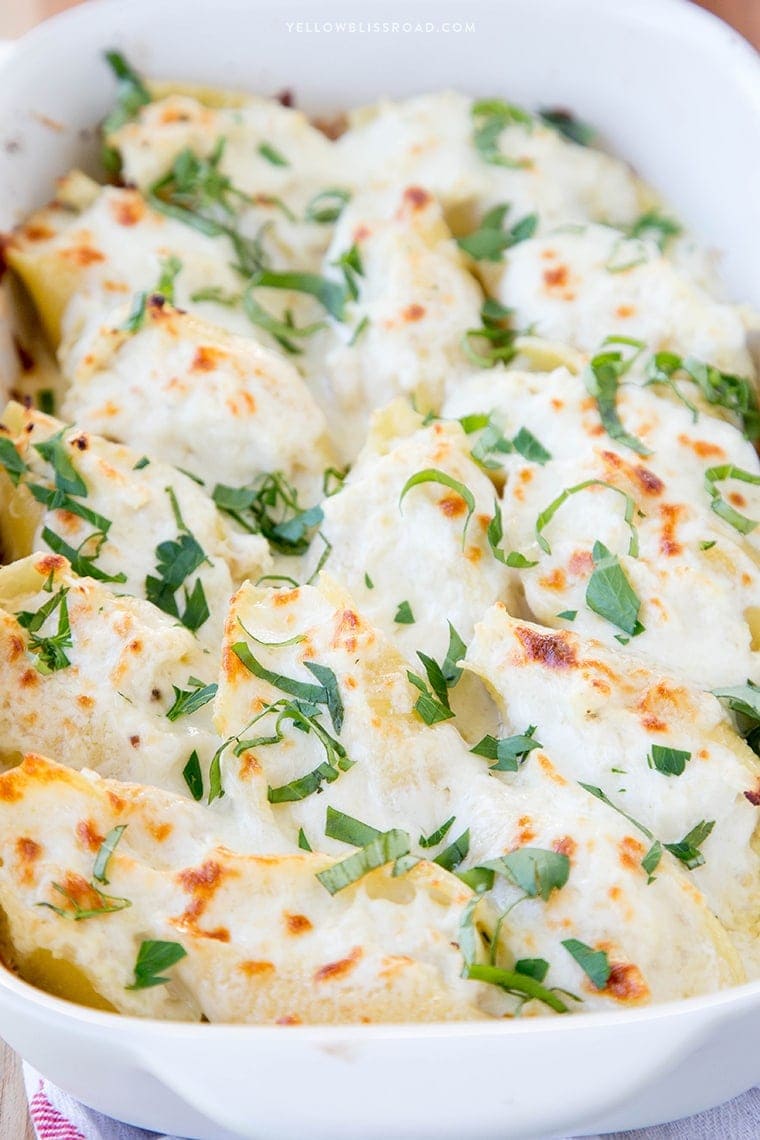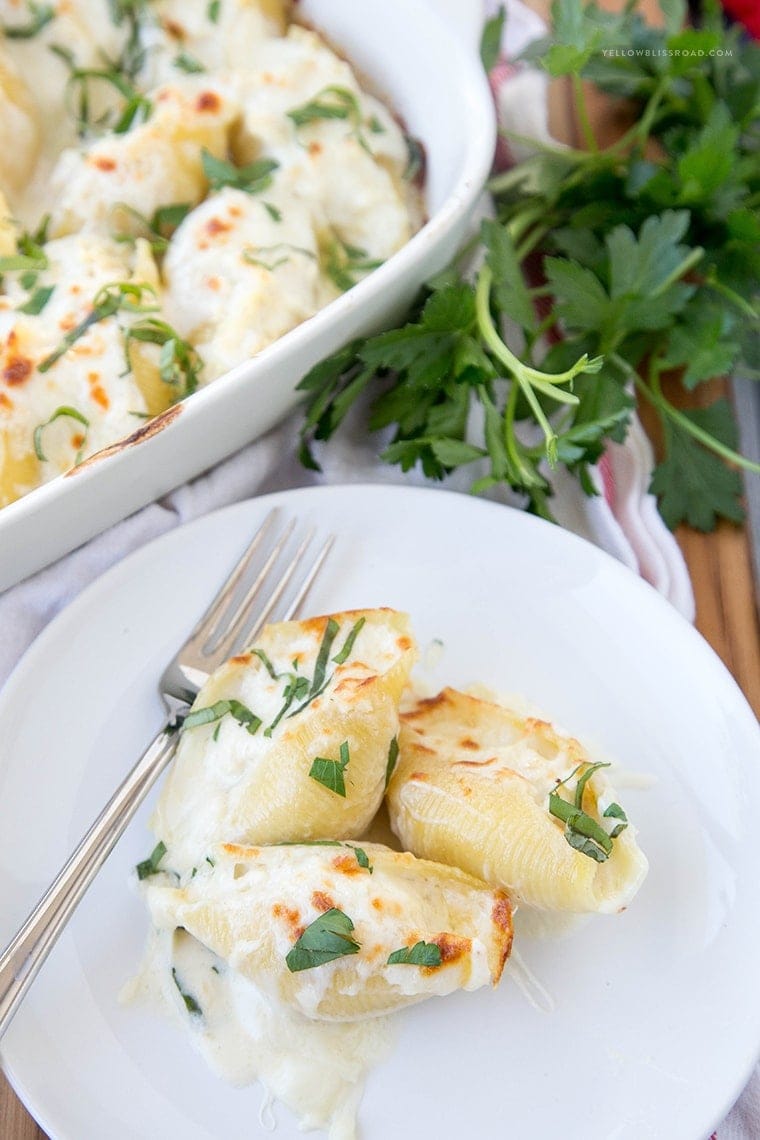 If you loved these Chicken Alfredo Stuffed Shells, here are some more chicken pasta recipes to try:
If you've made this recipe, please come back and leave us a star rating or a comment below. Or, tag us on social media @yellowblissroad or #yellowblissroad for a chance to be featured.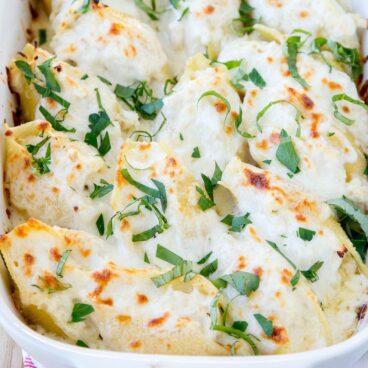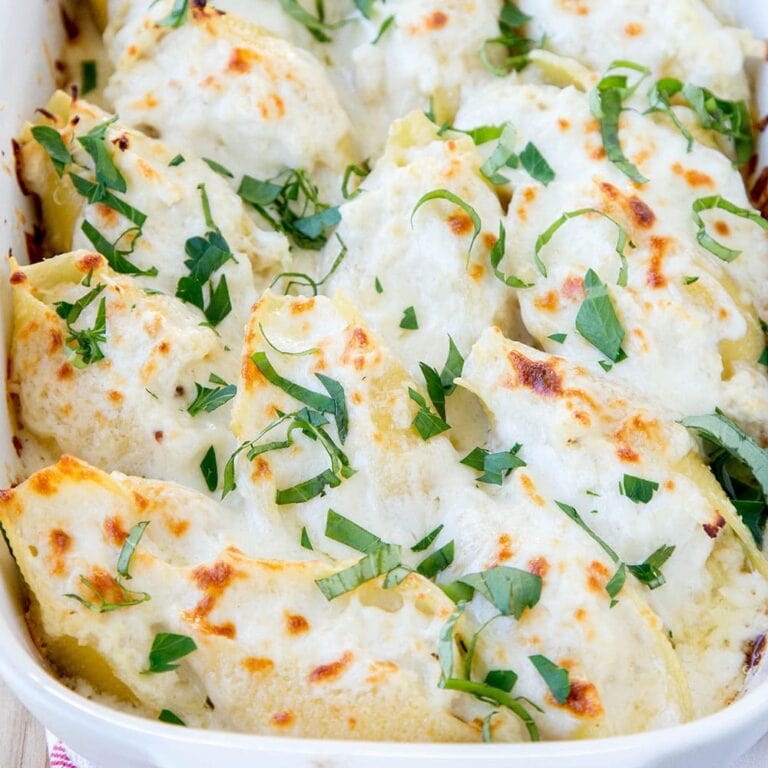 Chicken Alfredo Stuffed Shells
Ingredients
25

large pasta shells

1/2

cup

butter

1 stick

1

cup

heavy cream

3/4

freshly grated Parmesan cheese

1

pound

boneless skinless chicken breasts

cooked and shredded

1 1/2

cups

part skim Ricotta cheese

4

ounces

freshly grated Mozzarella Cheese

1 cup

2

ounces

cup freshly grated Parmesan Cheese

½ cup

2

ounces

cup freshly grated Romano Cheese

½ cup

1

egg

Salt & pepper

Fresh basil

roughly chopped or torn

Fresh parsley

roughly chopped or torn
Instructions
Boil pasta shells to almost al dente (about 9 minutes). Drain water and lay on a flat surface to dry and cool.

While the pasta shells are cooling, make the alfredo sauce and the chicken filling.

Melt the butter over medium heat in a medium saucepan. Add cream and bring to a gentle boil. Remove from heat and stir in the ¾ cup Parmesan cheese. Set aside. Sauce will thicken as it stands.

Preheat oven to 350 degrees F. Prepare a 13"x9" baking dish by lightly

spraying with nonstick cooking spray.

Combine Mozzarella, Romano and Parmesan together. Reserve about ⅓ cup for topping. In a large bowl, combine cheese mixture and Ricotta Cheese with the egg and a pinch pf salt and pepper. Stir in shredded chicken.

Spoon half of the Alfredo sauce into the bottom of the 13"x9" baking dish. Stuff shells with the chicken mixture (a cookie scoop works really well for this) and arrange in a single layer in the baking dish. Spoon remaining Alfredo sauce over the stuffed shells. Sprinkle with the reserved ⅓ cup cheese mix.

Bake in the preheated 350 degree oven for 15-20 minutes, or until cheese is lightly browned and bubbly.

Garnish with fresh basil and parsley, if desired.
Nutrition
Serving:
4
-5 shells
Calories:
642
kcal
Carbohydrates:
13
g
Protein:
36
g
Fat:
55
g