This One Pot Chicken Cacciatore has all of those classic Italian flavors you love…but instead of taking an hour to cook, it's done in 30 minutes and all in one pot!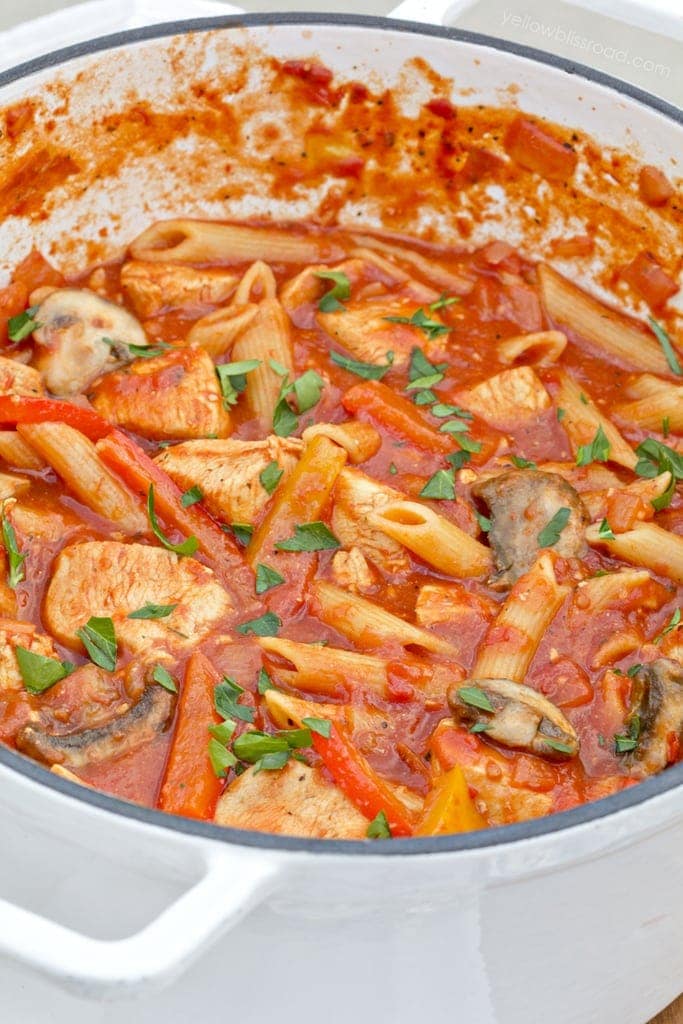 It's been a while since I've added a new one pot meal to my recipe box, so I thought this cold winter day would be the perfect time to test one out. I think I may have only had Chicken Cacciatore once or twice in my life, but I always think it looks so good! So I decided that would be a perfect one to try.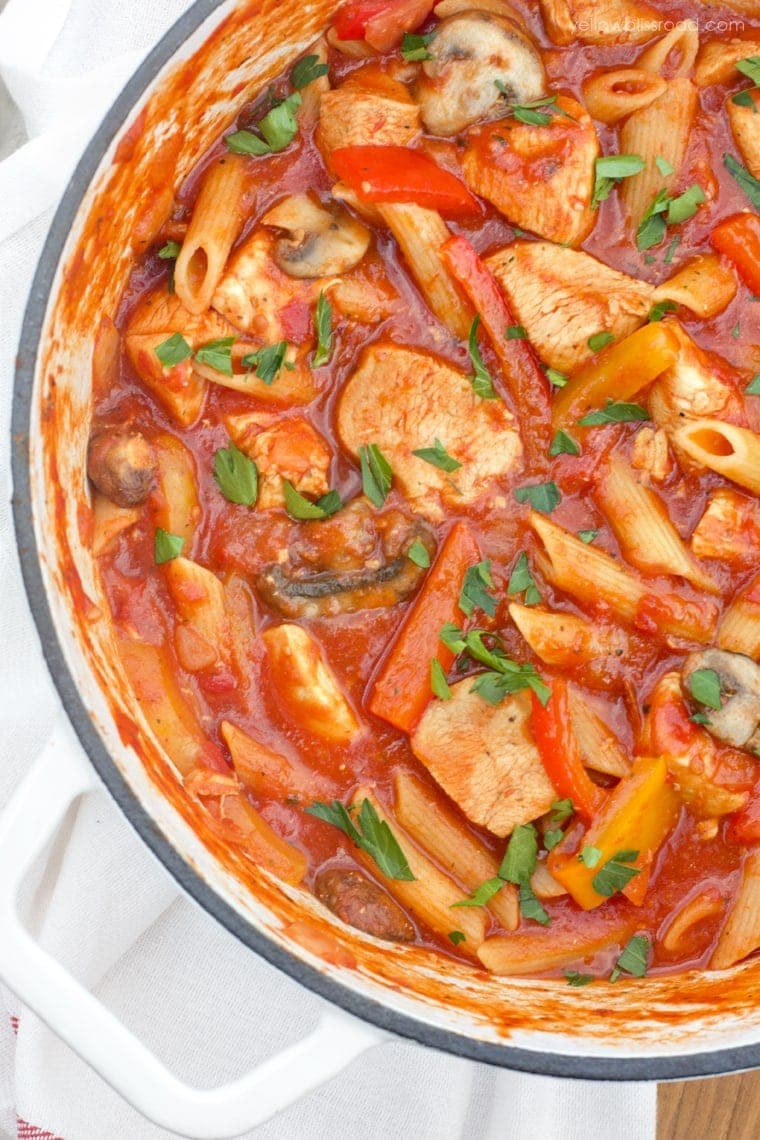 Everyone really enjoyed it. It starts with onions, then nice big chunks of chicken. The chicken doesn't need to be cooked all the way, just browned, because it will finish cooking in the sauce. Next the bell peppers and mushrooms and finally some crushed tomato, pasta, chicken broth, and seasonings. Easy peasy!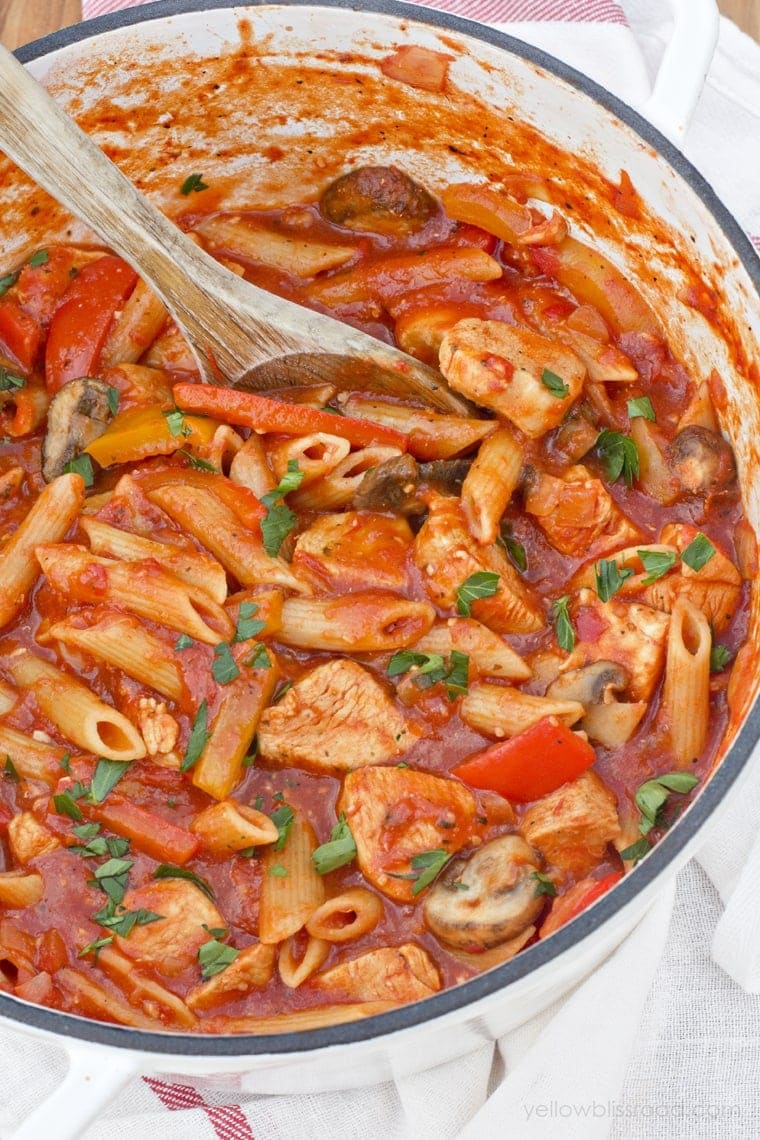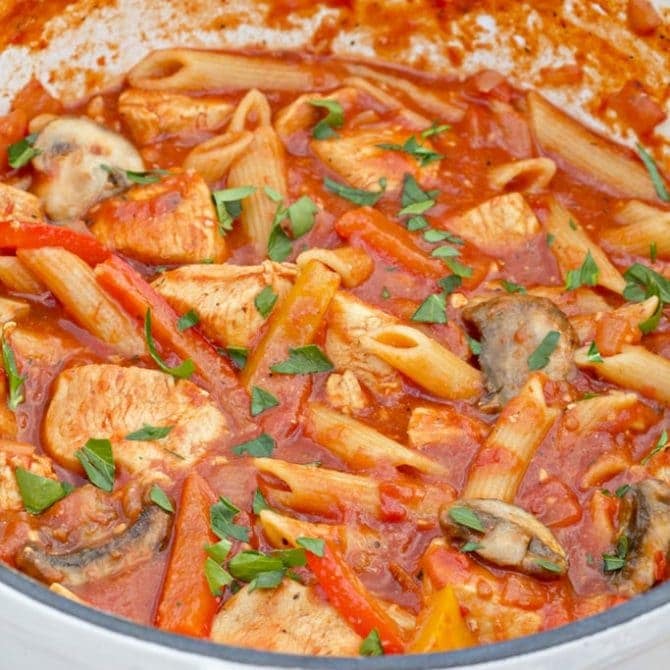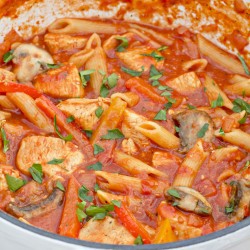 One PotChicken Cacciatore
Ingredients
2 pounds chicken breast cut into 1" pieces
1/2 medium sized onion about 1/2-3/4 cup
1 red bell pepper cut into 1/4" strips
1 yellow bell pepper cut into 1/4" strips
1 cup sliced mushrooms
1-20 ounce can crushed tomatoes
2 cups low sodium chicken broth
2 cloves garlic minced
1 teaspoon oregano
1 teaspoon basil
1/4 teaspoon crushed red pepper
2 1/2 cup small dry pasta (like penne)
1 tablespoon chopped Italian Parsley
Salt & pepper
Instructions
Heat a 5 quart (or larger) pot with a little olive oil over medium heat. Add onions and cook for 1-2 minutes, until they begin to soften. Add chicken in a single layer. Season with salt and pepper.

Brown chicken on all sides (about 3-4 minutes). The chicken does not need to cook through.

Stir in garlic, peppers and mushrooms and cook for a few minutes, until they start to soften.

Stir in crushed tomatoes, pasta, chicken broth, oregano, basil and crushed red pepper. Season again lightly with salt and pepper.

Bring to a boil and reduce heat to medium-low. Cover and cook for about 20 minutes, stirring once to prevent sticking. If the sauce is too thin, remove the lid and turn the heat to medium, stirring occasionally until liquid is reduced. Taste and adjust seasonings if needed.

Garnish with chopped parsley. Divide into bowls and serve hot.
Fore more delicious and easy one pot meals, try these: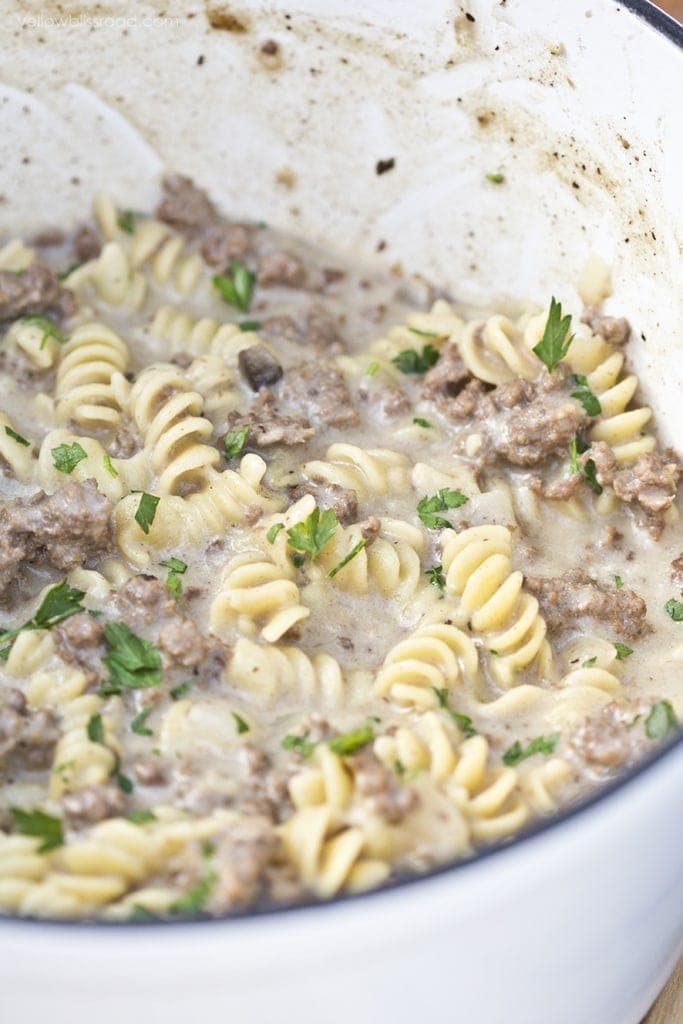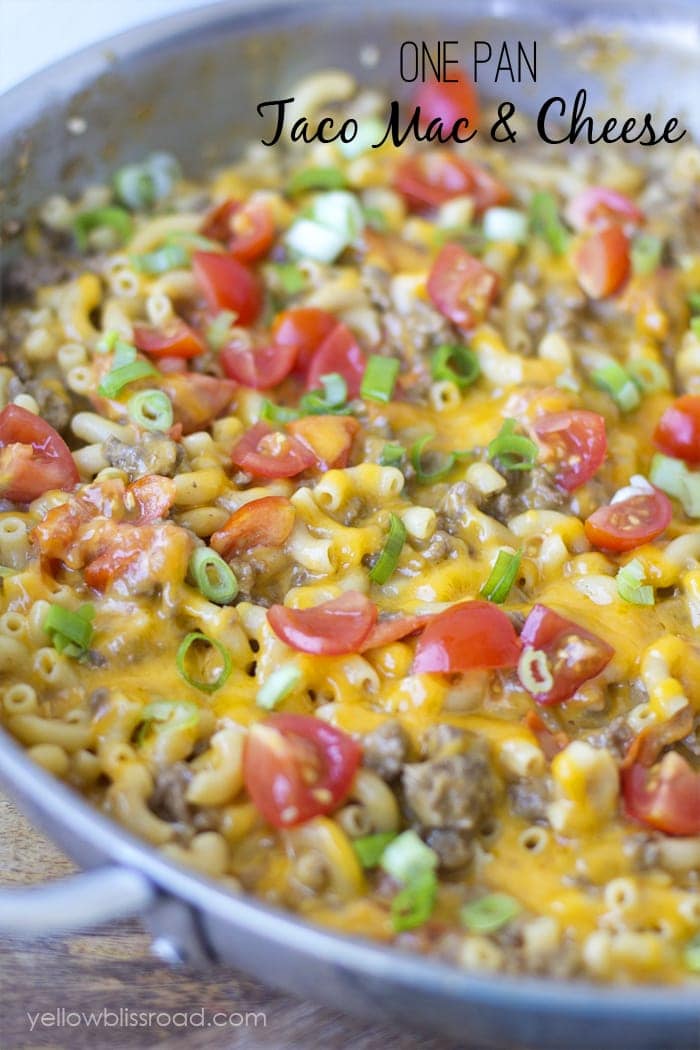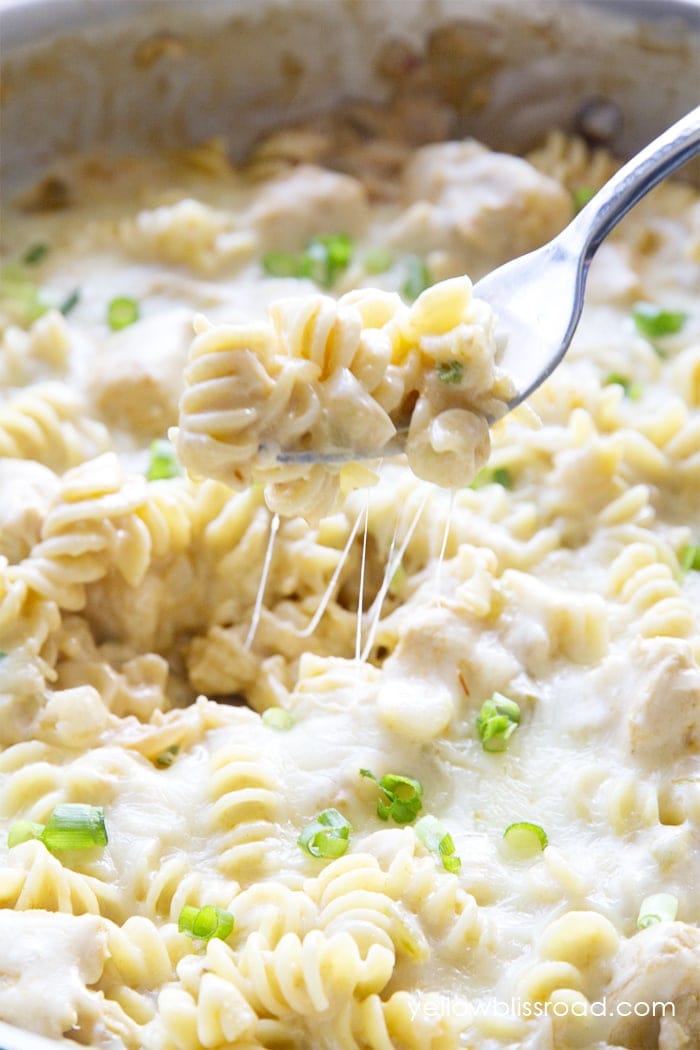 One Pan Green Chile Chicken Enchilada Pasta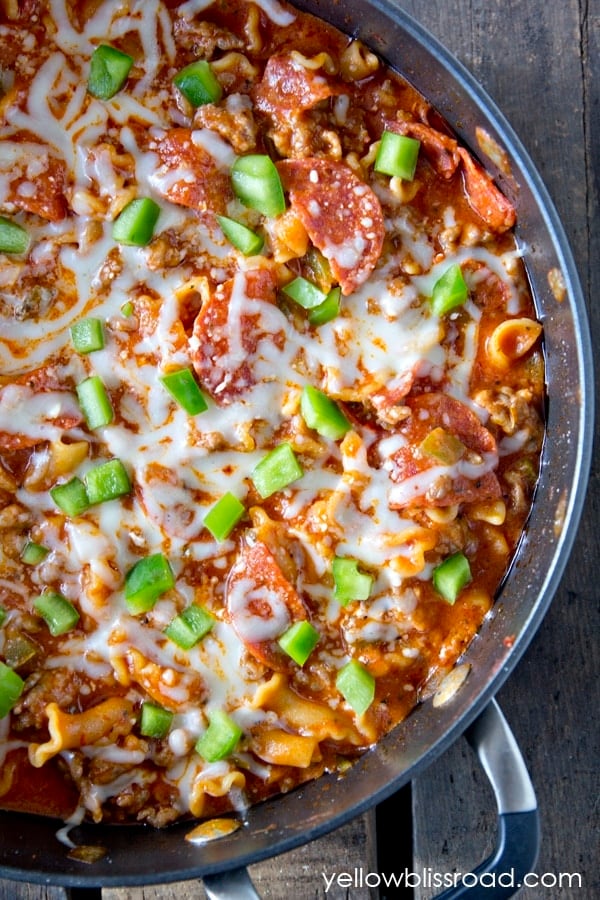 For all one pot meals go HERE and for all recipes go HERE.