My family loves pizza, so when I was brainstorming a new recipe to add to my one pot meals collection, this One Pot Pizza Pasta is what came to mind. This easy recipe takes your favorite pizza toppings – pepperoni, Italian sausage, green peppers and onions – and combines them with the perfect seasonings for a savory Italian dish that's sure to become a household favorite.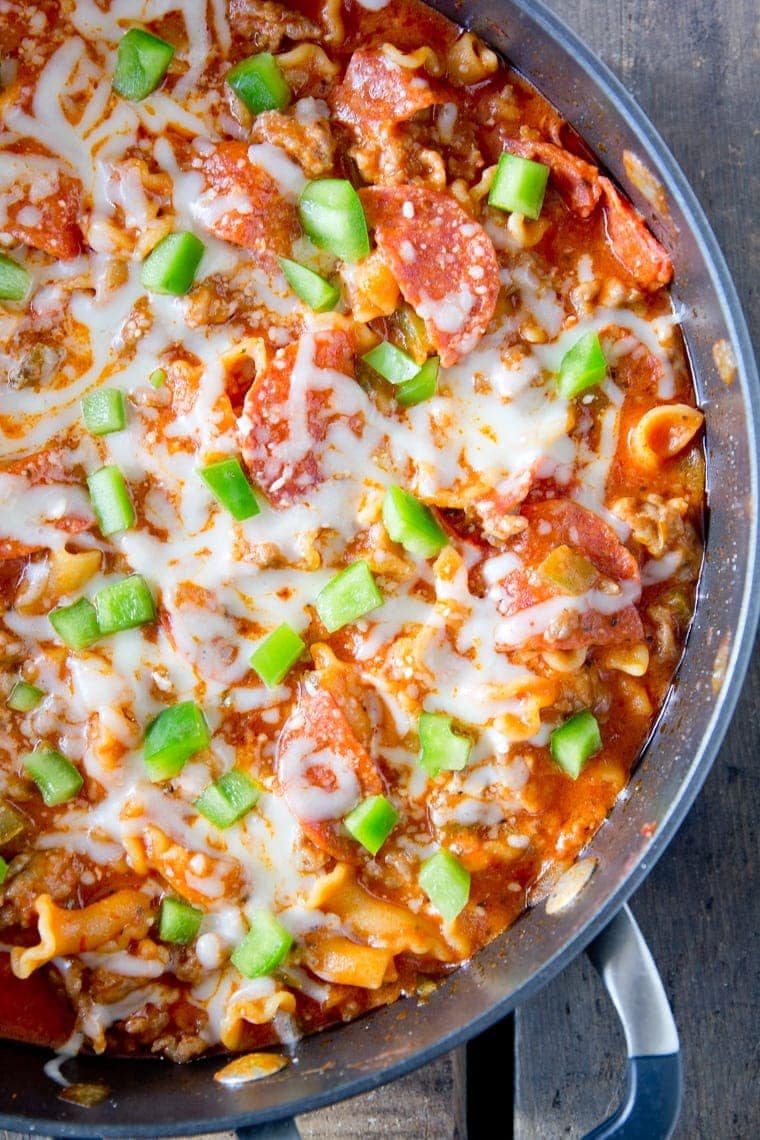 One pot meals make it into the weekly meal plan nearly once a week at my house. They are so easy – just cook the meat and throw in the rest of the ingredients and let it simmer. They are simple and delicious, and this One Pot Pizza Pasta is no exception!
There was a time when I really used to love to cook and made fabulous meals every night. Those days have changed thanks to full time jobs and two small children that keep me pretty busy. So when I cook, it's usually got to be something that will be ready in under thirty minutes. That's why I love my one pot meals! They all take just 20-30 minutes to get on the table.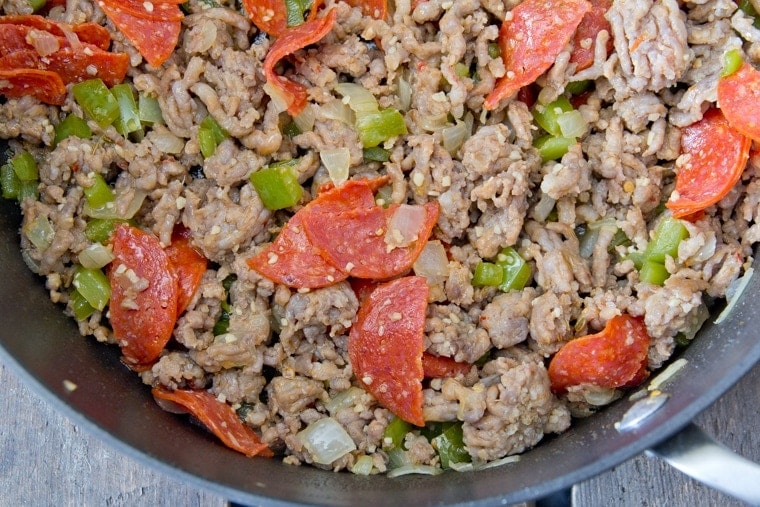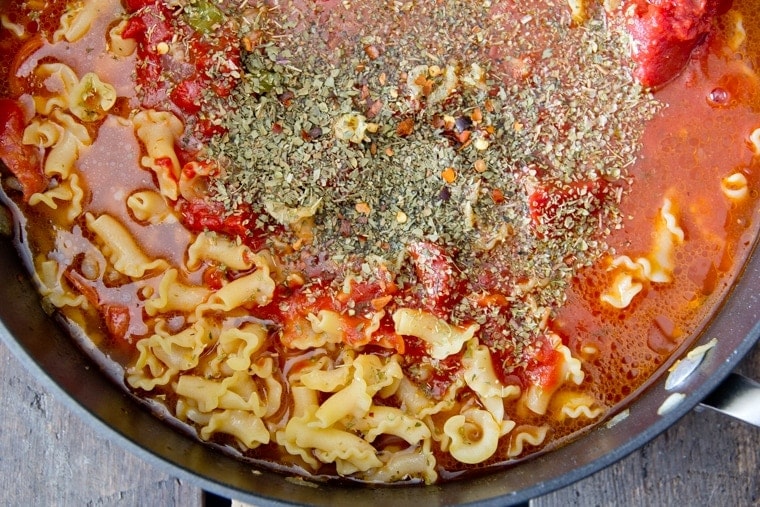 A lot of people ask what pan I use. I use my Simply Calphalon Nonstick 5-qt. Sauté Pan. It's a great non-stick pan, it's held up fabulously for years, and clean up is a snap! I recently purchased a Calphalon Tri-Ply Stainless Steel 12″ Everyday Pan
 and that one is just as fabulous. Both are perfect for my one pot meals.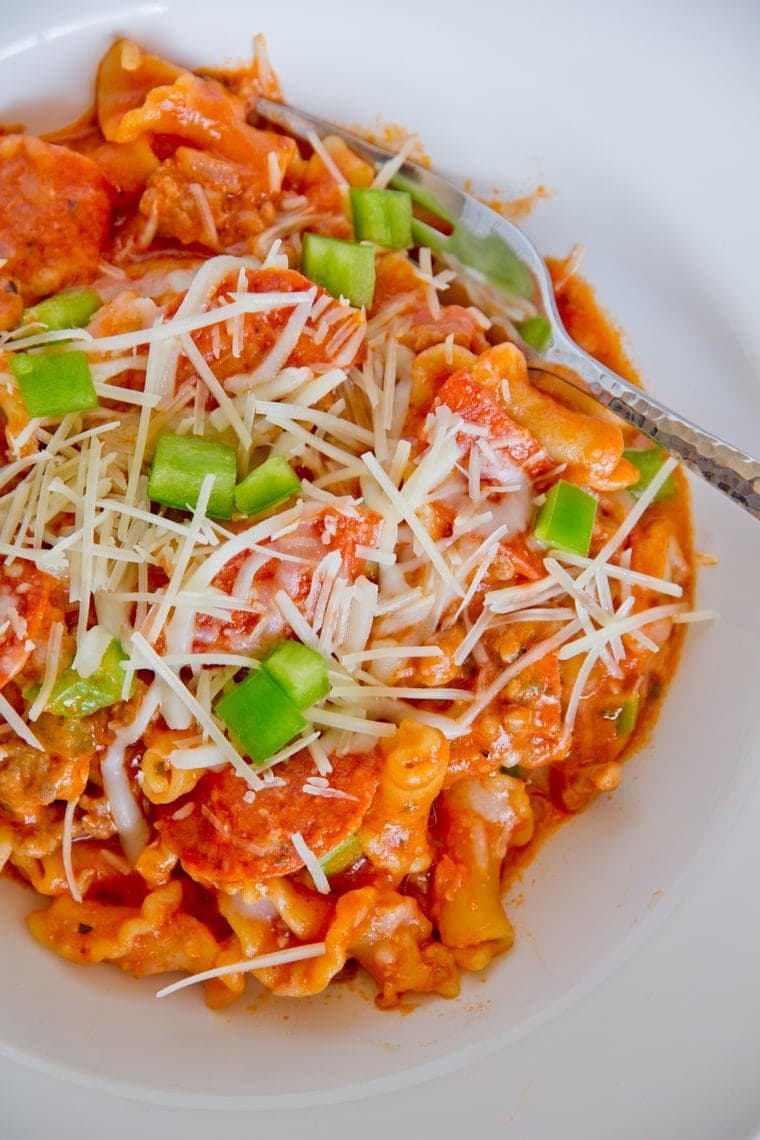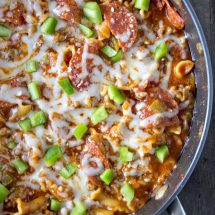 One Pot Pizza Pasta
One Pot Meals – Pizza Pasta
Print
Pin
Rate
Prep Time: 10 minutes
Cook Time: 25 minutes
Total Time: 35 minutes
Servings: 4 -6 servings
Ingredients
1 5- ounce package pepperoni
1 pound ground Italian sausage
1 cup diced onion
1 cup diced green peppers
1 tablespoon minced garlic
1 tablespoon Italian Seasoning
1 10- ounc jar pizza sauce + 1 jar-ful of water
1 2 oz. can tomato paste
2 cups beef broth
3 cups small dry pasta (penne, wheels, macaroni, etc.)
2 cups shredded mozzarella cheese
Instructions
In a 5 quart pot, heat 2 tablespoons olive oil. Add onions and peppers and saute until soft, about 5 minutes. Add garlic and saute about 1 minute, or until fragrant.

Add Italian sausage and pepperoni and cook until sausage is no longer pink.

Add pasta, beef broth, tomato paste, pizza sauce, water and seasonings. Stir and bring to a boil.

Cover and simmer for 15 minutes or until pasta is tender, stirring at least once, .

Remove from heat and stir in mozzarella cheese, reserving 1/4 cup for sprinkling on the top. Replace the cover and let sit for five minutes. Garnish with diced green peppers and shredded Parmesan, if desired.
If you enjoyed this recipe, you might also like: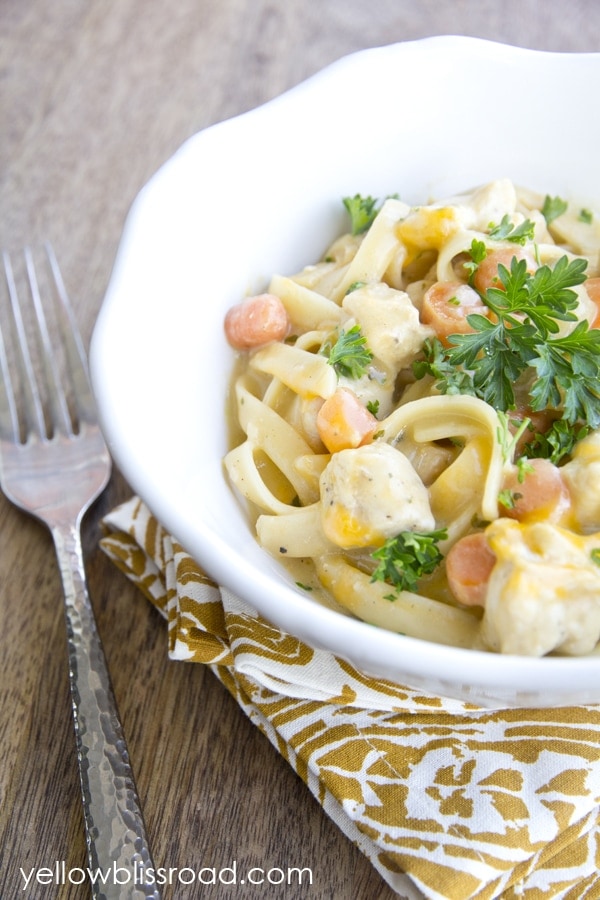 One Pot Creamy Chicken and Noodles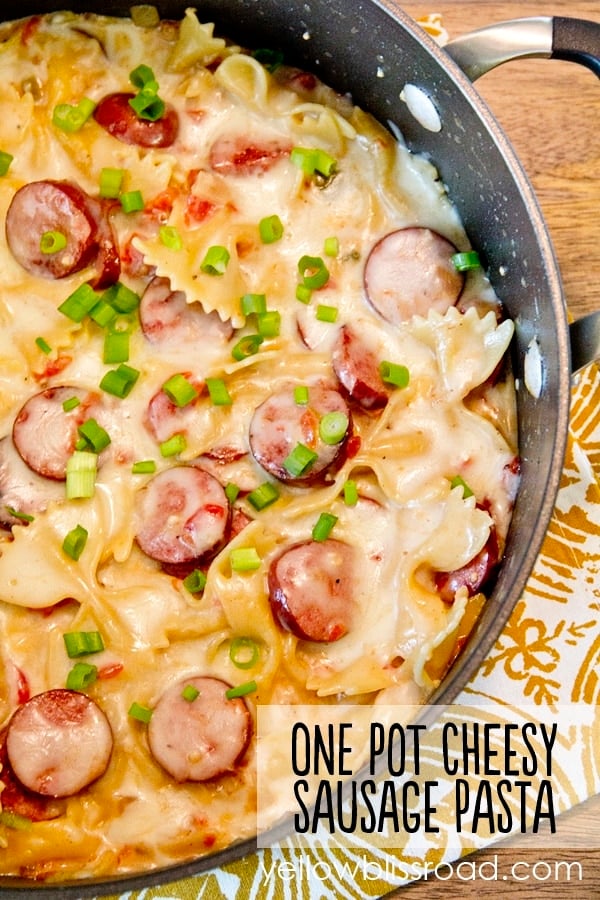 One Pot Cheesy Smoked Sausage Skillet
*this post contains affiliate links
For all One Pot Meals go HERE and and all dinner recipes go HERE. Click HERE for the Recipe Index.
Hi! I'm Kristin, the creative mind behind Yellow Bliss Road where you will be inspired by tons of easy to follow recipes, lots of free printables, and a little sprinkling of life thrown in for good measure.